The landscape in southern Utah is unlike any you've ever seen! Jaw-dropping canyons and incredible arches will wow you while lush valleys make way to funky hoodoos. A Utah National Parks road trip is an adventure of a lifetime!
This is the ultimate guide to a Utah National Parks road trip – everything you need to know before you go.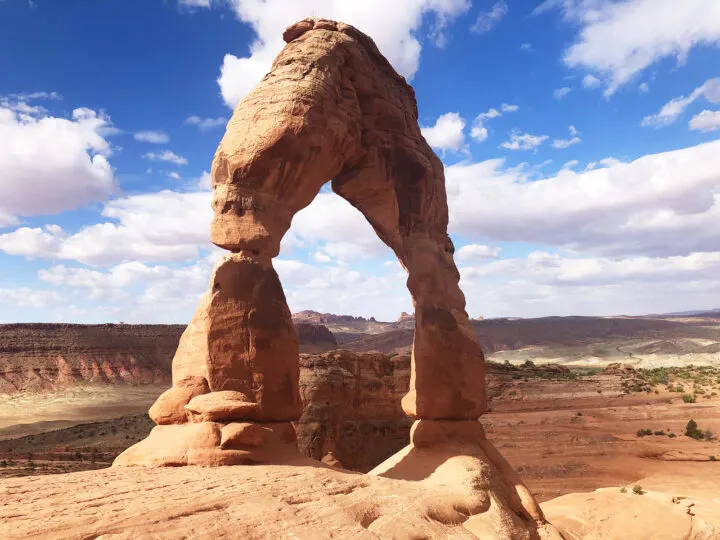 This post may contain affiliate links. For more info, see my disclosures.
Whether Zion has been on your bucket list or hiking in Canyonlands National Park is drawing you in, there's so much to see and do in southern Utah!
At times the landscape is barren. You wonder how anything survives in the mix of sand and rock.
Then you'll see a riverbed and the lush, green life that surrounds it. Those rivers have carved some incredible canyons over the millions of years, making way to some of the most impressive views in the US!
If you're wondering just how to see the Mighty 5 in Utah, this mega guide will help you plan your trip!
Utah National Parks road trip guide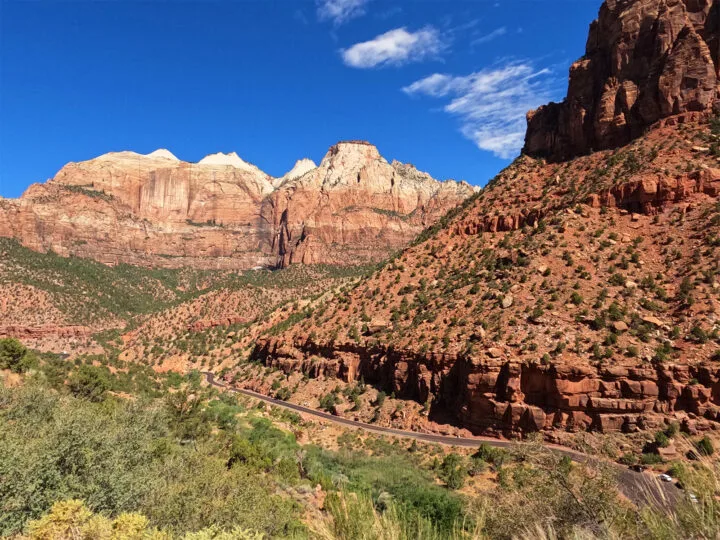 It's an adventure of a lifetime! And honestly, planning it can be overwhelming. This guide covers…
Utah national parks map, including where to start and which scenic drives to take between parks
How much time you'll need to visit the Mighty 5
When to take a Utah big 5 road t rip
Detailed itinerary for a Utah national parks tour, including which parks and attractions you'll need reservations for🎟
Highlights of each park: Arches, Canyonlands, Capitol Reef, Bryce Canyon and Zion
Where to stay along the way
Which of the parks have shuttles, and when you have to use them🚐
What route to take between the parks, including the some of best scenic byways in Utah
Things you'll need to pack for a Utah national parks trip
Tips for an incredible trip
Must-watch video: Utah national parks road trip
Where to start your national parks road trip Utah
If you're driving to the area, then this is an easier decision. 🙂 Living in Omaha, I've done the Denver to Moab road trip a few times, and therefore I usually start on the east side of Utah.
If you're flying to start this west coast road trip, there's a great route to start and end your trip without having to backtrack.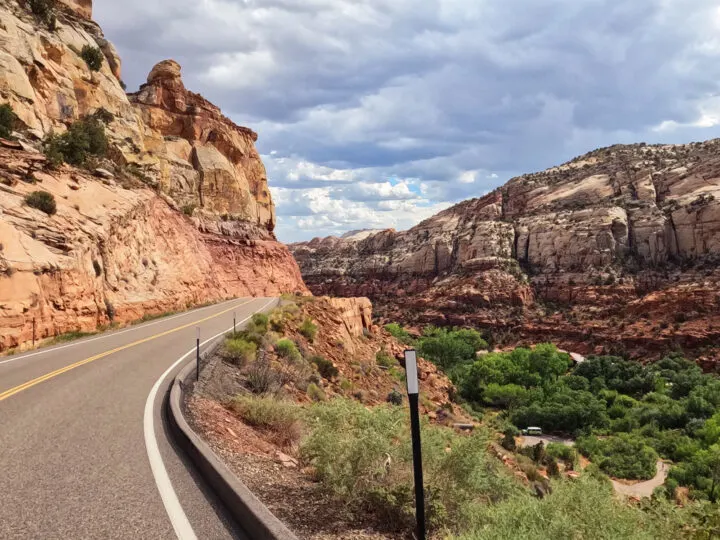 Fly into Salt Lake City, see the Mighty 5 in Utah, depart from Las Vegas
Flying into Salt Lake City and leaving from Las Vegas (or vice versa) allows you to see each park in the most efficient way possible.
After leaving Salt Lake City, you'll see Arches, Canyonlands, Capitol Reef, Bryce Canyon then Zion.
Of course, you could start and end in Salt Lake City or Las Vegas and drive a loop through the Mighty 5, if flight prices are cheaper for round trip.
Arriving in Salt Lake City and departing from Las Vegas, it's 878 miles or 17 hours and 34 minutes…if you made no other stops or drove through the parks at all. So consider this when planning your trip. It's a lot of driving, and tons of sightseeing!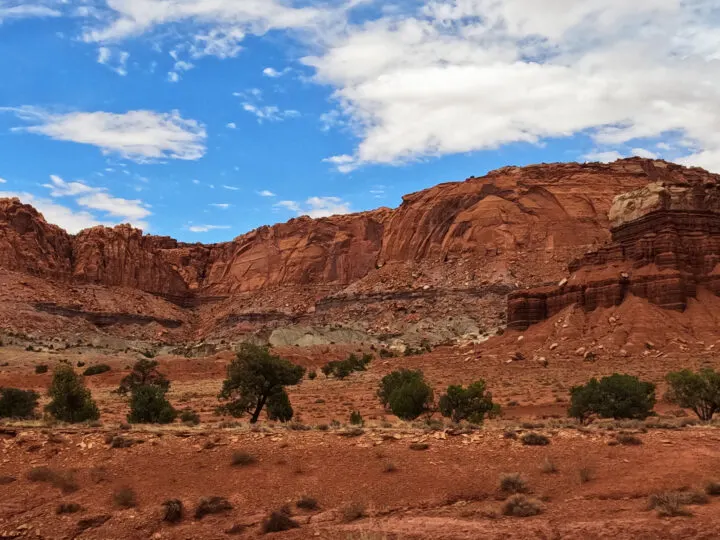 Utah national parks map
The map below follows the route from Salt Lake City then making your way from Arches National Park to Zion National Park and ending in Las Vegas.
The map of Utah national parks includes the scenic byways between the parks. Southern Utah has such incredible scenery, and taking the scenic route will only provide more adventure on this trip. More details below on the routes between parks!
Pro tip: download this map to your phone while you're on good wifi. Because there's not much service while in southern Utah!
Rent a car, campervan or RV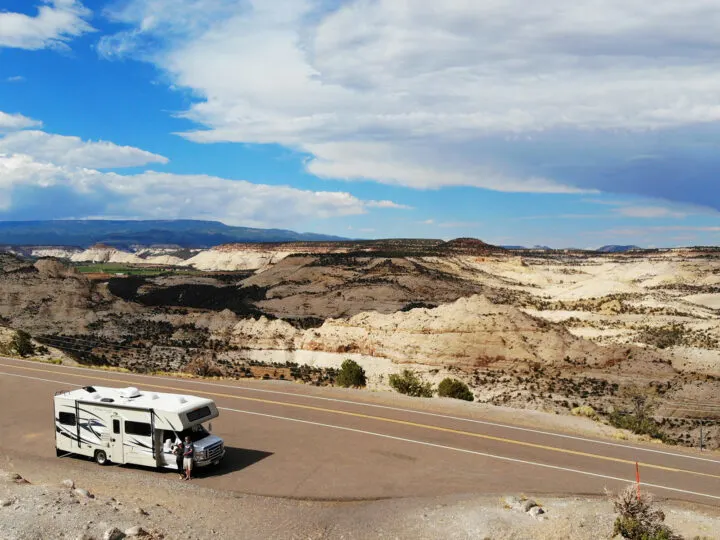 This is one of the best road trips USA and you'll need to be able to get from one park to the next for this epic road trip! The easiest way is to rent a car and get hotels along the way. (See recommendations on where to stay below.)
If you can, get a 4-wheel drive or all-wheel drive vehicle. Some of the scenic routes and hikes are accessible via a non-paved road and the extra clearance will help. Most car companies will allow you to rent from one city and drop off at another, for a (typically small) additional fee.
Renting a car in Salt Lake City or Las Vegas, I recommend using Discover Cars. It's an easy (and free) way to search the major car carriers for the cheapest rate. I typically save 10-30% using Discover Cars.
Of course, if you're feeling adventurous, you could try a campervan or RV for a fun journey between. That involves more planning for campsites, food, gas and extra caution for driving conditions. Plus you'll want to know how to drive and operate the vehicle.
As someone who's done a Southwest RV road trip, I highly recommend that route if you're up for the adventure! It's certainly one of the best RV vacations in the US!
Utah national parks road trip: how many days?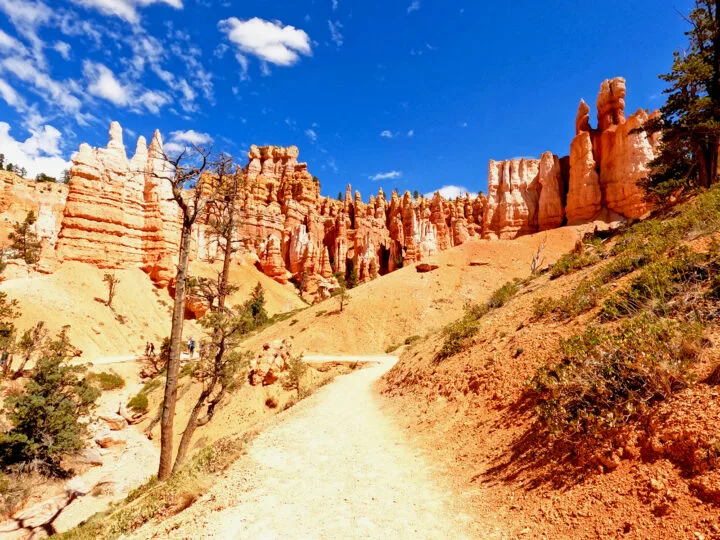 If you're wondering how many days you need to see the Mighty 5 in Utah, it's simple: as many as you can!
You'll want at least 1 day in each park.
With 1.5 – 3 hours driving between each park (except Canyonlands and Arches), the most efficient way to hit the 5 parks is to drive to the next after seeing the park for the day. Of course that means getting to your accommodations late, but there's so much to do at these parks it's worth it. 😉
7 day itinerary Utah national parks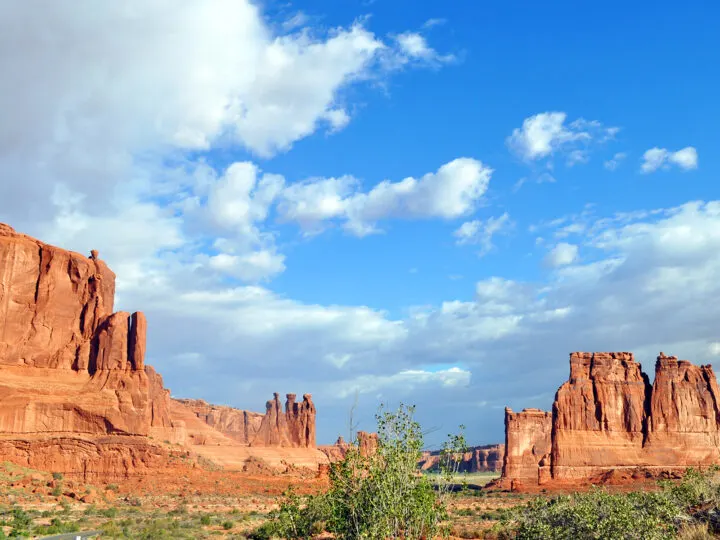 Here's a sample of what a 7-day itinerary for a Utah national parks road trip might look like for you…
Day 1: fly into Salt Lake City in the morning and drive to Moab
Day 2: Arches National Park
Day 3: Canyonlands and drive to Capitol Reef
Day 4: Capitol Reef and drive to Bryce Canyon
Day 5: Bryce Canyon and drive to Zion
Day 6: Zion National Park
Day 7: Drive to Las Vegas and catch an evening flight out
Obviously this is a very simplified version, and honestly it only gives you time to see the park highlights. But it definitely gets you a starting point.
If you have 10 days for a Utah Mighty 5 road trip, you could add a day in the parks that interest you most!
For the best hiking, I'd recommend adding a day to Canyonlands, Zion and Bryce Canyon. If you'd rather spend your time sightseeing and have a few days to add, you might consider spending more time in Capitol Reef, Arches and Canyonlands.
If you have even more time, consider seeing The Needles District of Canyonlands, Goblin Valley State Park near Moab or Valley of Fire State Park between Zion and Las Vegas.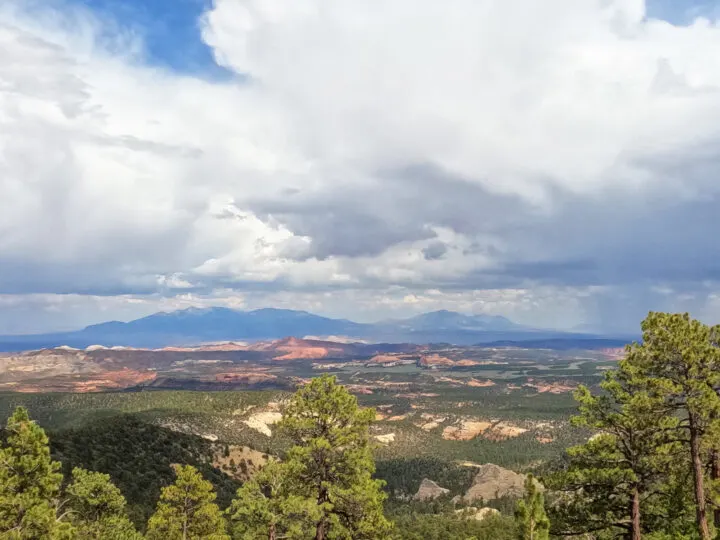 Continue reading the guide for the must-see's in each park.
One of the biggest things when planning a Utah national parks road trip is where you'll stay between each park. If you're traveling during the summer or over holidays, accommodations will fill up fast! Check out the recommendations for the closest hotels and campgrounds to each park throughout the guide.
Best time to take a Utah national parks road trip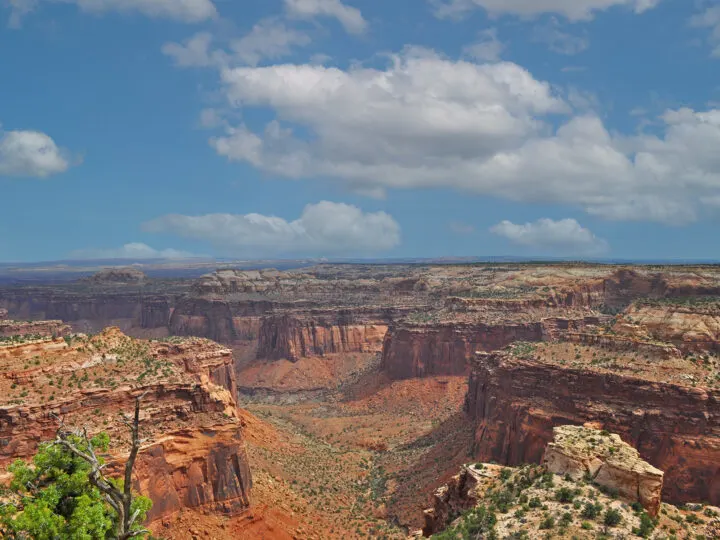 If you're wanting to know the best time to make this epic journey, there's a lot to consider! Between work and school schedules, weather and crowds, each season brings something different to these amazing national parks.
Spring is a great time for a Utah mighty 5 road trip! Waterfalls should be gushing, although there could be ice or snow on some trails, and others may be closed if it's not safe. There are certainly less crowds in the spring!

Summer is the most busy, and the hottest time of year. But if you're traveling with kids in school or you're in college, this may be the easiest option! You'll find longer lines pretty much everywhere, however the trail and roads are the most likely to be open!

Fall is another ideal time to take a Utah big 5 road trip. With less people traveling, accommodations could be more affordable. Early fall tends to still be hot, so watch the heat when planning your days.

Winter is a gorgeous time in southern Utah. Light snow is certainly possible and ice can build up, creating some closures for road and hiking trails. If you go in winter, be sure to pack the right winter hiking gear!
Note: getting into the parks is obviously essential! Be sure to read the guide below in detail to determine which parks need reservations!🎟
If life were perfect, I'd recommend May or October for a national parks road trip Utah. In fact, Bryce Canyon is one of the best national parks to visit in October! Although each time I've visited the Utah mighty 5 it's been in summer so obviously it's doable, even in the busy season. 🤣
Utah national parks itinerary
This is a guide of what to see at each park, where to stay and the best routes to take in between.
You could honestly spend a week (or more!) exploring each of these incredible parks! The scenery is simply amazing, and each offers unique features. But if you're only on this Utah road trip for a week, here are the must-do's in each park.
Arches National Park: must-do's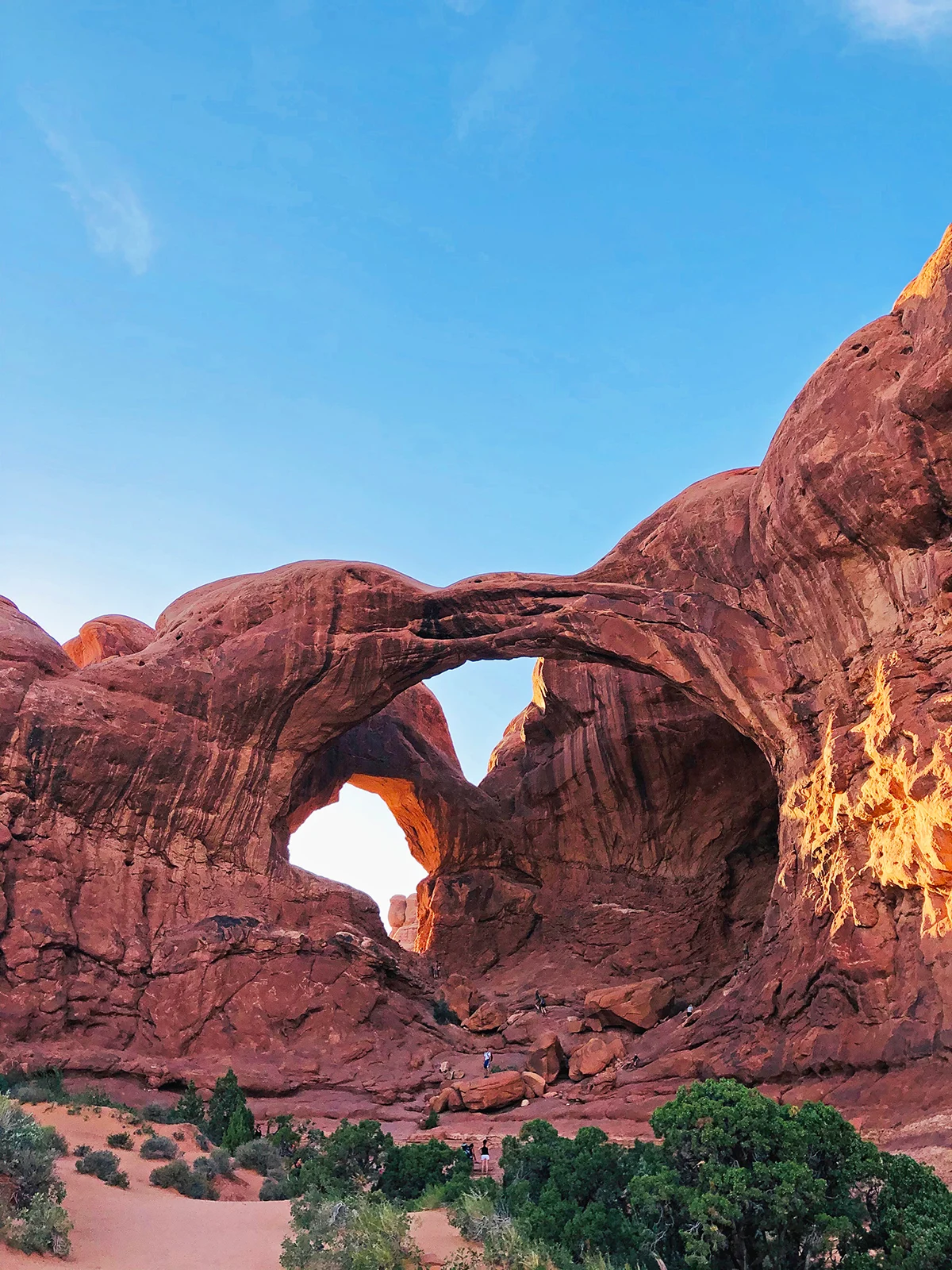 🎟Arches National Park requires a timed ticketed entry reservation from April to October from 6am to 5pm. Reserve your timed entry ticket up to 3 months in advance to get the day and time you want!
If you're traveling during the summer months and wish to enter the park before 6:00am or after 5:00pm, you won't need a reservation.
One day in Arches National Park is best spent seeing some of the coolest arches on the planet! Delicate Arch is the most popular arch, as seen on the Utah license plate, murals around Moab and souvenirs throughout Utah.
Coming in at 3.0 miles with 629 feet in elevation gain, the hike to get to Delicate Arch is rated as moderate. The parking lot fills up quickly, and the trail gets quite crowded so be prepared for that. Sunrise is a popular time for this hike, if you have a head lamp handy!
Note: I've done this hike with and without kids. I'd highly recommend it for older kids, or if you can really have a good handle on your younger kids as there are steep cliffs near the arch.
As you go through the park, the Arches Scenic Drive is really cool. Soak in the unique, natural rock formations that have been carved over millions of years. See Balance Rock, the Fiery Furnace and arches along the way.
Devil's Garden is another fun area, with Landscape Arch, Pine Tree Arch and several others worth seeing. Some of the best Arches National Park hikes are in the Devil's Garden area, so if you're into hiking, don't miss it!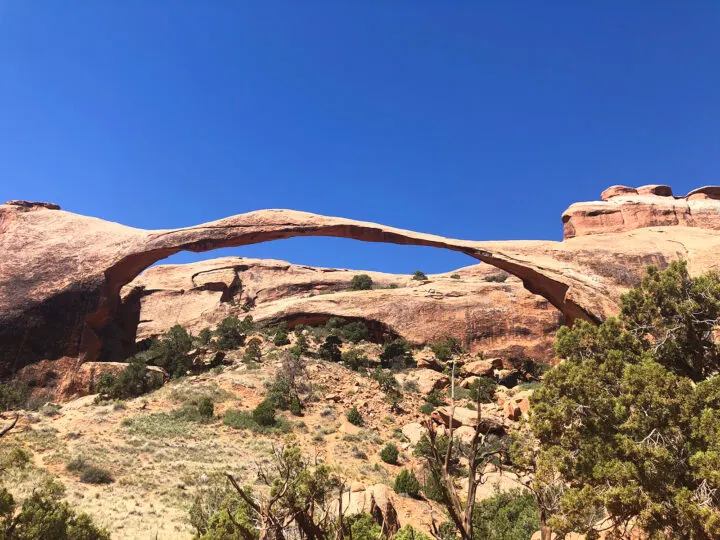 Moab accommodations
There's probably the most options in Moab compared to the other national parks on the list. Moab is a hub for not only Arches and Canyonlands, but also the Colorado River and Dead Horse State Park, which provide a ton of recreational opportunities.
If you've got extra time in the area, be sure to check out all the fun things to do in Moab!
Canyonlands National Park: what to see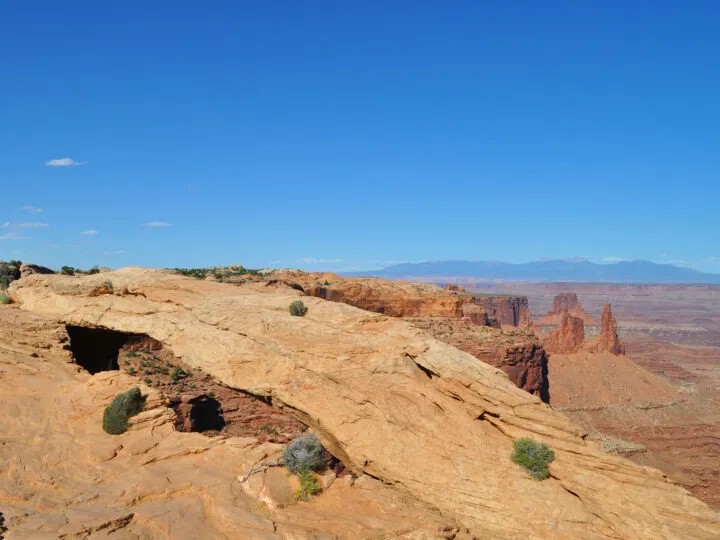 Fun fact: Canyonlands National Park is the largest national park in Utah, and the 23rd largest park in the USA with 3 distinct divisions: The Needles, The Maze and Island in the Sky.
Island in the Sky is the most popular area based on it's proximity to Moab. If you want to see the The Needles District, you'll want to extend your Utah national parks itinerary for at least one more day as its 2 hour drive south of Island in the Sky.
The Maze is an extremely remote area of Canyonlands, and takes about 5.5 hours drive from Island in the Sky, requiring 4-wheel drive. You'll need to be completely self-sufficient with the proper equipment or gear for self-rescue.
The Island in the Sky district has massive canyons, incredible overlooks and fun hikes, Canyonlands is an amazing destination, that's for sure.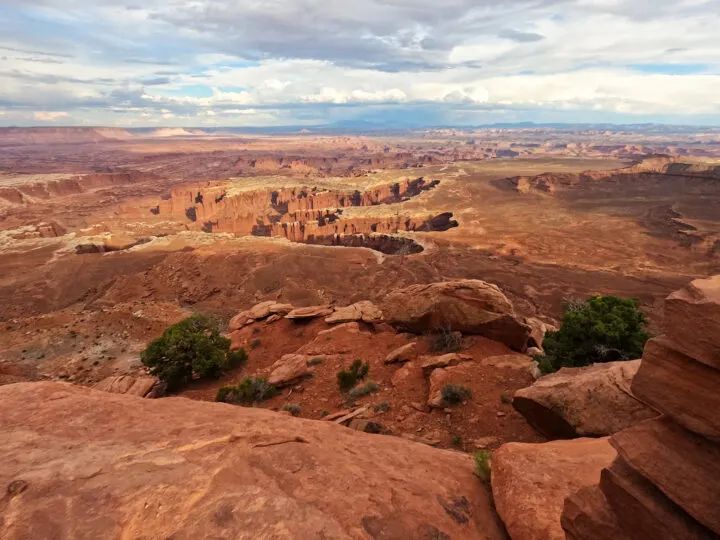 Be prepared for the views to literally take your breath away! A few popular sights in the Islands in the Sky region of Canyonlands are Mesa Arch, Grand View Point Overlook and Green River Overlook.
The Mesa Arch is a quick hike, at just 0.5 miles its doable for almost any skill level. (Note it's not accessible or stroller friendly, based on the rocky terrain). The arch sits right at the edge of the cliff, so use caution when taking photos!
Another favorite hike is Grand View Point. Relatively flat, it provides epic views of the White Rim and the Upper West Basin Zone, for minimal effort of just 2.0 miles. Try Aztec Butte, Upheaval Dome, White Rim, or more of the best hikes in Canyonlands if you have the time on your Utah national parks road trip!
Accommodations near Canyonlands
You'll likely want to stay in the same accommodations in Moab as while visiting Arches National Park. See the list above for recommendations.😊
Up next – let's hit the road!
Canyonlands to Capitol Reef via Utah Scenic Byway 24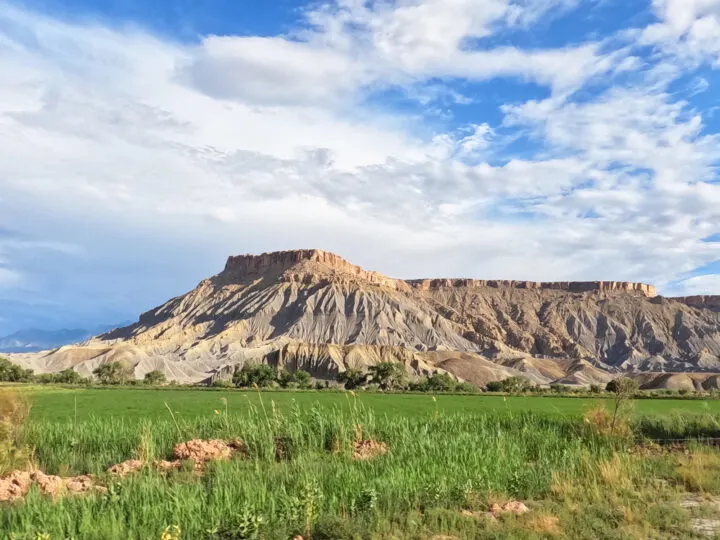 Journey time: the drive from Arches/Canyonlands to Capitol Reef should take you a little over 2 hours.
Southern Utah is truly stunning! The variety of landscapes are impressive, to say the least. This drive from Arches National Park to Zion National Park is as much fun as visiting the parks themselves!
From Moab to Capitol Reef National Park, the scenes start out relatively flat, but continue to build as you go along highway 24.
Pro tip: remember to fill up on gas, ice or any other essentials while in Moab. There's not much for services for a long time!
Refer to the Utah national parks map above, but basically you'll need to backtrack along I-70 for a bit, then turn southwest on Scenic Byway 24. As you approach the official entrance to Capitol Reef National Park, the surroundings will turn more orange and red. You know you're getting close!
Highway 24 runs right through the park, so you technically don't even need a park pass to visit Capitol Reef, as long as you stay along Highway 24 (see more recommendations below off the highway).
Note: if you have an extra day in your Utah mighty 5 road trip itinerary, you might want to consider visiting Goblin Valley State Park, which is just about 30 miles off Scenic Byway 24! It's a true hidden gem in Utah, and a park all ages will enjoy.
Capitol Reef National Park: highlights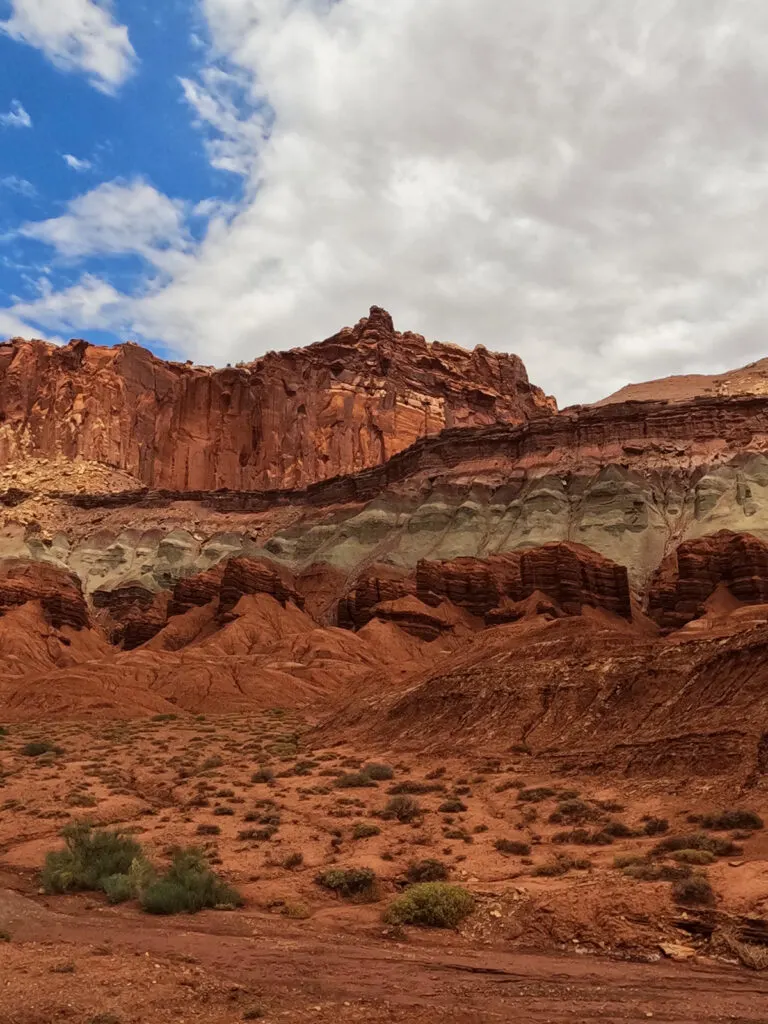 As you make your way through a Utah national parks road trip, Capitol Reef provides beautiful views along many scenic drives and hikes. This is a park that's easy to see the highlights in one day.
One of the most unique things about Capitol Reef National Park is the impressive cliffs that tower over 7,000 feet taller on one side of the park than the other. This 'step up' in rock is over 100 miles long!
Known as a geologic wrinkle in the earth's crust, the official term is a waterpocket fold. As you drive through the Capitol Reef Scenic Drive, you'll see magnificent scenery. It's quite impressive!
Be sure to stop by the Fruita Historic District, too. Check out the visitor center and the orchards, which happen to be one of the largest historic orchards in the National Park System. Enjoy samples of the fruits grown in the orchard, including pear, peach, apple, apricot, cherry and plum.
If you're up for a hike, the Hickman Bridge Trail, Cassidy Arch Trail and Grand Wash Trails are worth considering.
Where to stay near Capitol Reef National Park on this Utah national parks road trip adventure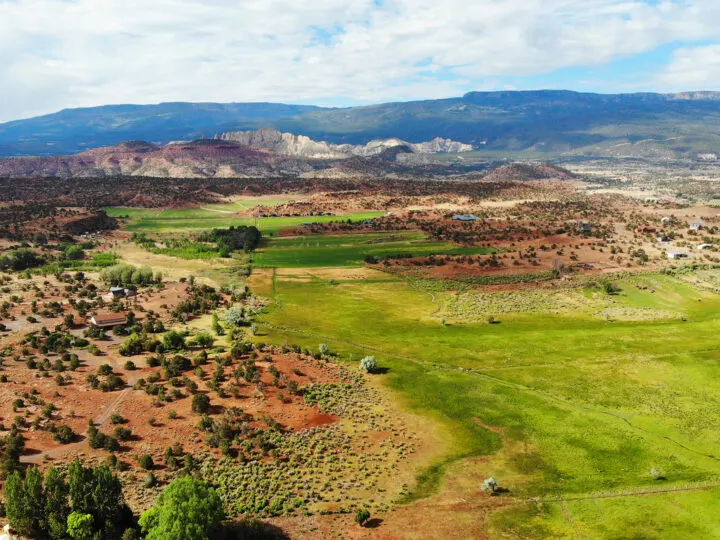 As you make your way further into Southwest Utah, you'll start to see more small towns and the options are limited for accommodations. However, these areas rely on tourist dollars, so there's definitely plenty of places to stay. Once again, plan many months in advance for the widest variety.
The small town of Torrey, Utah is the closest town on the west side of Capitol Reef National Park.
Within the park, Fruita Campground is in the middle of the action. Perfect for tent or RV camping.
Next, continue your Utah national park itinerary by making your way to Bryce Canyon.
Capitol Reef to Bryce Canyon: take Scenic Byway 12 through Dixie National Forest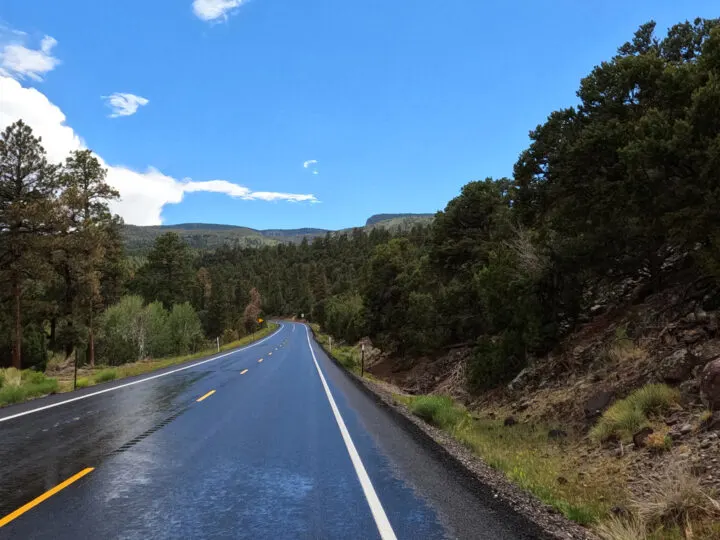 Journey time: the drive from Capitol Reef to Bryce Canyon is a little under 2.5 hours.
Okay, this is important: GPS will likely want to take you west on Highway 24 from Capitol Reef then southwest on Highway 62 to Bryce Canyon. Don't do it! For just 15 more minutes, you can take an incredibly scenic road that you won't want to miss!
Refer to the Utah mighty 5 road trip map above.
From Torrey, Utah just outside of Capitol Reef National Park, take Scenic Byway 12 until just before Bryce Canyon City, where it merges with Highway 63. This is one of the most stunning drives on this Utah national parks road trip!
Scenic Byway 12 weaves through Dixie National Forest. This dense forest is nestled amongst the otherwise desert terrain that you'll find in much of southern Utah. Be sure to stop at the Larb Hollow Overlook, which is at 9,200 feet in elevation and provides stunning views!
You'll also drive through lush river valleys, rolling meadows, drive on top of plateaus and through some crazy rock formations, all on Scenic Byway 12.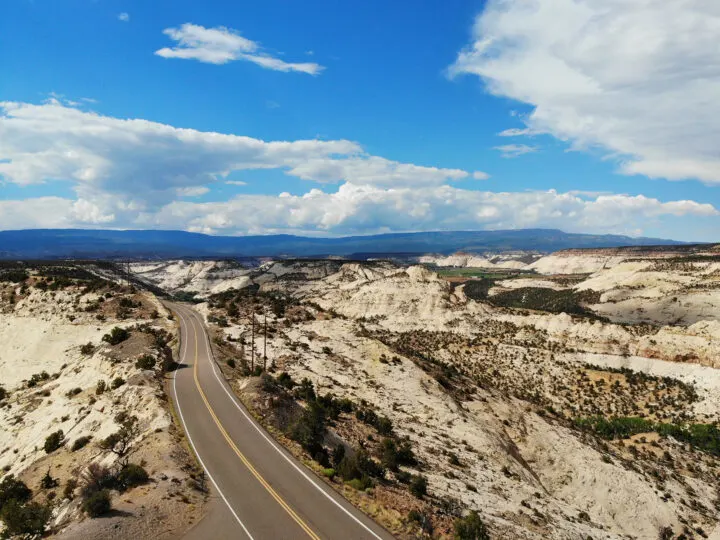 About half way through your drive from Capitol Reef to Bryce Canyon is the town of Boulder, Utah. It's a great spot to make a stop and enjoy some dinner at Hell's Backbone Grill. With a fun menu with offerings like Smoked Chimayo Chicken, Handmade Pappardelle and Baby's Got the Blues Fudge Brownie, you're sure to find something you'll love!
Bryce Canyon National Park: what not to miss on this Utah national parks road trip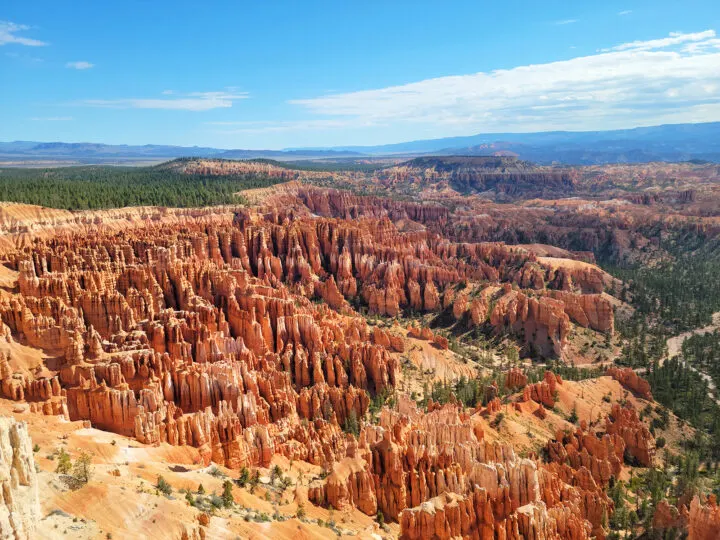 This is one of those national parks where you could take it easy and see the amazing sights by just visiting overlooks. Or you can grab your grippy hiking shoes and trekking poles and enjoy weaving through the hoodoos!
Bryce Canyon National Park is a really large park with many access points along Highway 12 and Highway 63. If you're only spending a day in the park, I'd recommend to visit see the Bryce Amphitheater as the main attraction, located near the Visitor Center. There's still a lot to do in this area of the park alone!
First, let's cover something important: What is a hoodoo?
Bryce Canyon National Park is full of hoodoos, which are irregularly-eroded rock spires. In fact, this area is densely filled with hoodoos and holds the largest collection of hoodoos in the world. And they're insanely cool to see up close.😎
Bryce Point, Inspriration Point, Sunrise Point and Sunset Point offer phenomenal views of the famous amphitheater views.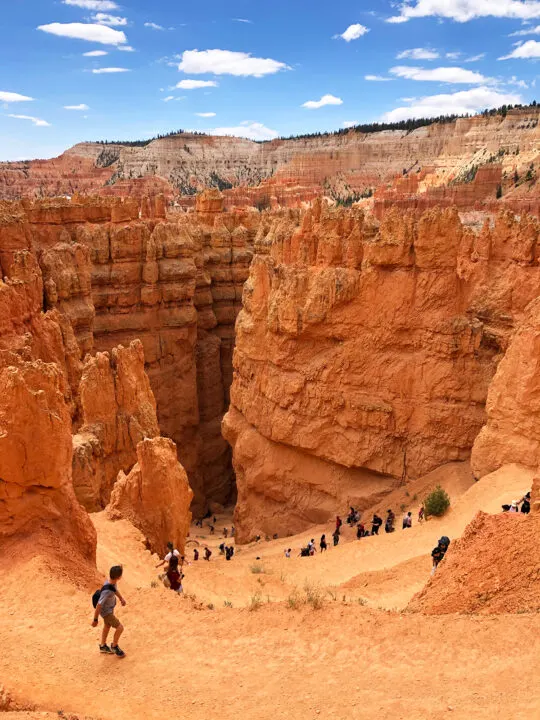 If you're up for a hike, the Queens Garden Trail to the Navajo Loop is a fun, interactive hike with views worth every step! Coming in at 3.2 miles, with an elevation increase of 643 feet, it's a decent hike that's doable for most skill levels and abilities, especially if you take breaks often.
🚐Note: from April to October there's a free shuttle through Bryce Canyon National Park. It's convenient and easy to use, and helps with park congestion. I'd highly recommend hopping on the shuttle when visiting the main area of the park.
Accommodations near Bryce Canyon
Fun fact: Bryce Canyon City was established recently, in 2007. Hotels, campgrounds and restaurants can be found in this tiny town of 200 year-long residents, just outside the national park boundary.
Up next: driving to yet another incredible park – Zion!
Bryce Canyon to Zion via Mt. Carmel Scenic Byway/Highway 89 and Zion Park Scenic Byway/Highway 9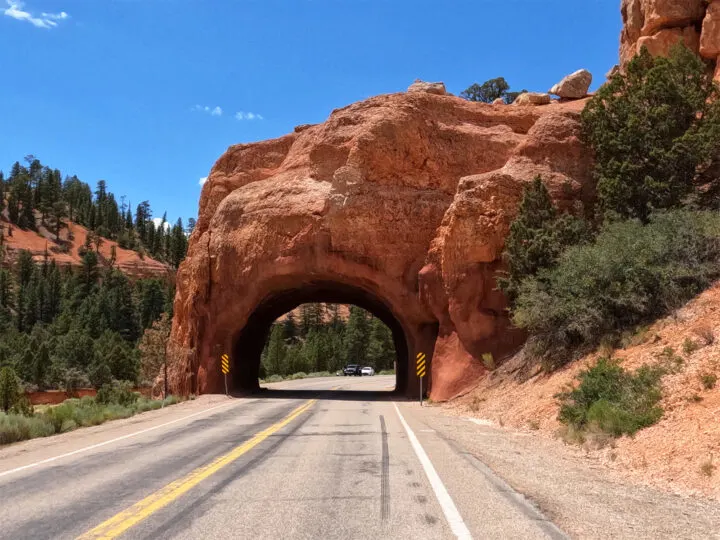 Journey time: it's about 1.5 hours drive from Bryce Canyon to Zion, which is the shortest on this Utah national parks tour.
Leaving Bryce Canyon National Park, you'll head west on Highway 12 to Highway 89, also known as Mt. Carmel Scenic Byway. As you head south on 89, you'll run into Highway 9 at Mt. Carmel Junction. Of course, refer to the map of Utah national parks above for details.😊
Another spectacular adventure through southern Utah, you'll be amazed at the sights along the way!
Glendale and Orderville are places to stop and get gas, ice or other essentials to get you to Zion. The scenery changes quite a bit along the way, and as you approach the east entrance of Zion National Park, you'll start seeing more of the iconic cliffs of Zion.
Enjoy the curvy roads and the crazy mix of landscapes that southern Utah offers as you make your way from Bryce Canyon to Zion. It seems around every curve, you're surprised with yet another incredible scenic view!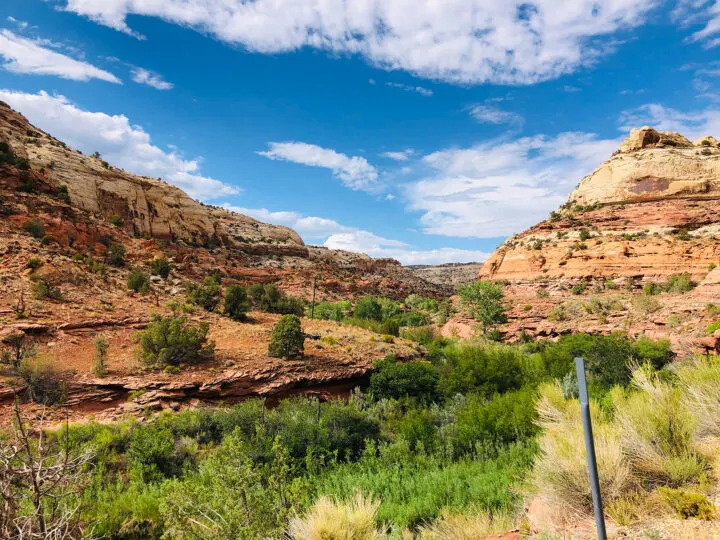 Note: if you're taking an adventurous RV on your Utah big 5 road trip, you'll need to obtain a permit to drive through the Carmel Tunnel on Highway 9. When you enter the park, you'll pay a $15 fee (on top of any park fees, although by now you'll have the America the Beautiful pass).
That will allow park rangers to close down the tunnel to allow your larger RV to drive down the center of the historic tunnel. It's quite the adventure!😉
Zion National Park: what to see and do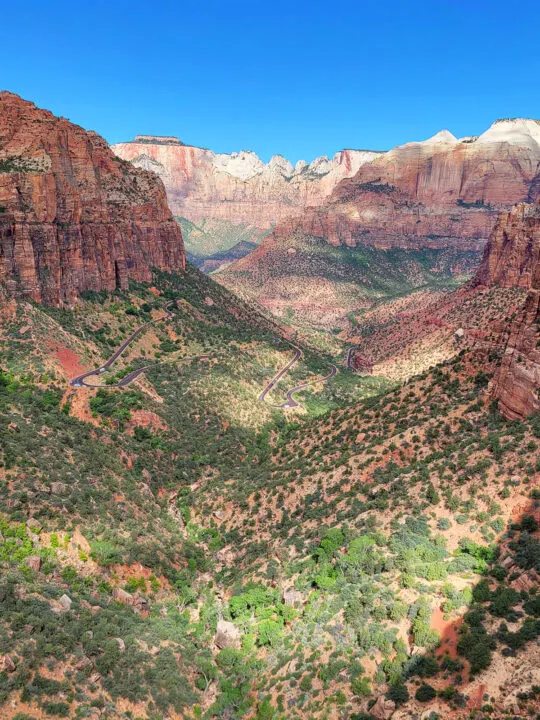 Experience the magic of Zion! Massive cliffs that climb over 2,000 feet from the ground are awe-inspiring to say the least! This is your final stop on your Arches National Park to Zion National Park road trip. Eeeek!
For most people, there are 2 things that come to mind when you're considering a trip to Zion National Park: hiking The Narrows and hiking Angels Landing. They're popular for good reason, too!
🎟You have to apply for a permit to hike Angels Landing, and it's a lottery system so you'll want to apply as soon as you can so you know the dates of your trip. If you don't get selected for the date of your choice and still want to go to Zion, there's also a day-before lottery. Best of luck to you!🤞
If you're lucky enough to hold a reservation, celebrate first and be sure to train and prepare for this strenuous hike. Coming in at 4.4 miles with 1604 feet of elevation gain, it's no joke. The chained section is especially difficult. The views are absolutely worth it, though!
The Narrows at Zion is where the Zion Canyon narrows and the Virgin River flows. It's a much easier hike than Angel's Landing…depending on the water and weather! The hike to get to The Narrows entrance is 2 miles round trip on a paved path. You can then walk as far into the canyon as you'd like, up to 5 miles in.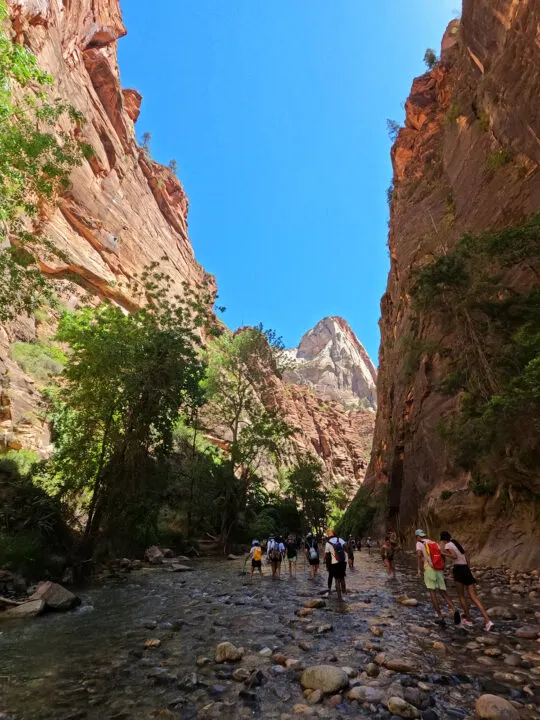 The hike through the canyon where the water can be as high as an adult's chest. You'll want to wear the right shoes, clothing and bring a hiking pole.
These are my favorite water shoes that travel everywhere with me (including my Utah national parks road trip). And this dry bag has a carrying strap, perfect for throwing your gear over your shoulder during this hike.
If you're looking for an easier or less crowded hike than either of these, consider hiking the Canyon Overlook Trail. It's just 1 mile round trip with 187 feet elevation gain. It's rated as moderate, based on the tricky (at times) terrain.
The Canyon Overlook Trail is one of the best hikes if you're traveling to Zion with kids. The views are spectacular and worth every step!
🚐Note: most of the year the Zion shuttles will be running, and you'll be required to take the shuttle. It's free, easy to navigate and reduces congestion in the park. Yay for not having to find a parking spot at a trailhead! 🎉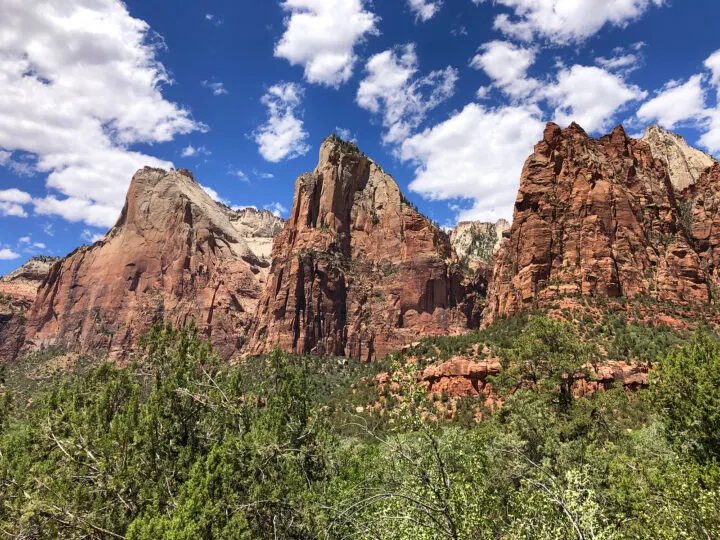 Where to stay near Zion National Park
Zion is one of the most popular national parks in the country, with over 5 million visitors per year. So of course there's places to stay nearby. The town of Springdale is practically on the doorstep of the national park, and has lots of accommodations really close.
There's also the Watchman Campground inside Zion, as well as the Zion National Park Lodge. Be sure to book those wayyy far in advance as they both fill up many months out!
Whew! Now that you've seen the park highlights and the Utah national parks map with best scenic route between parks, let's review some more essentials to making this a successful trip!
What to pack for your national parks road trip Utah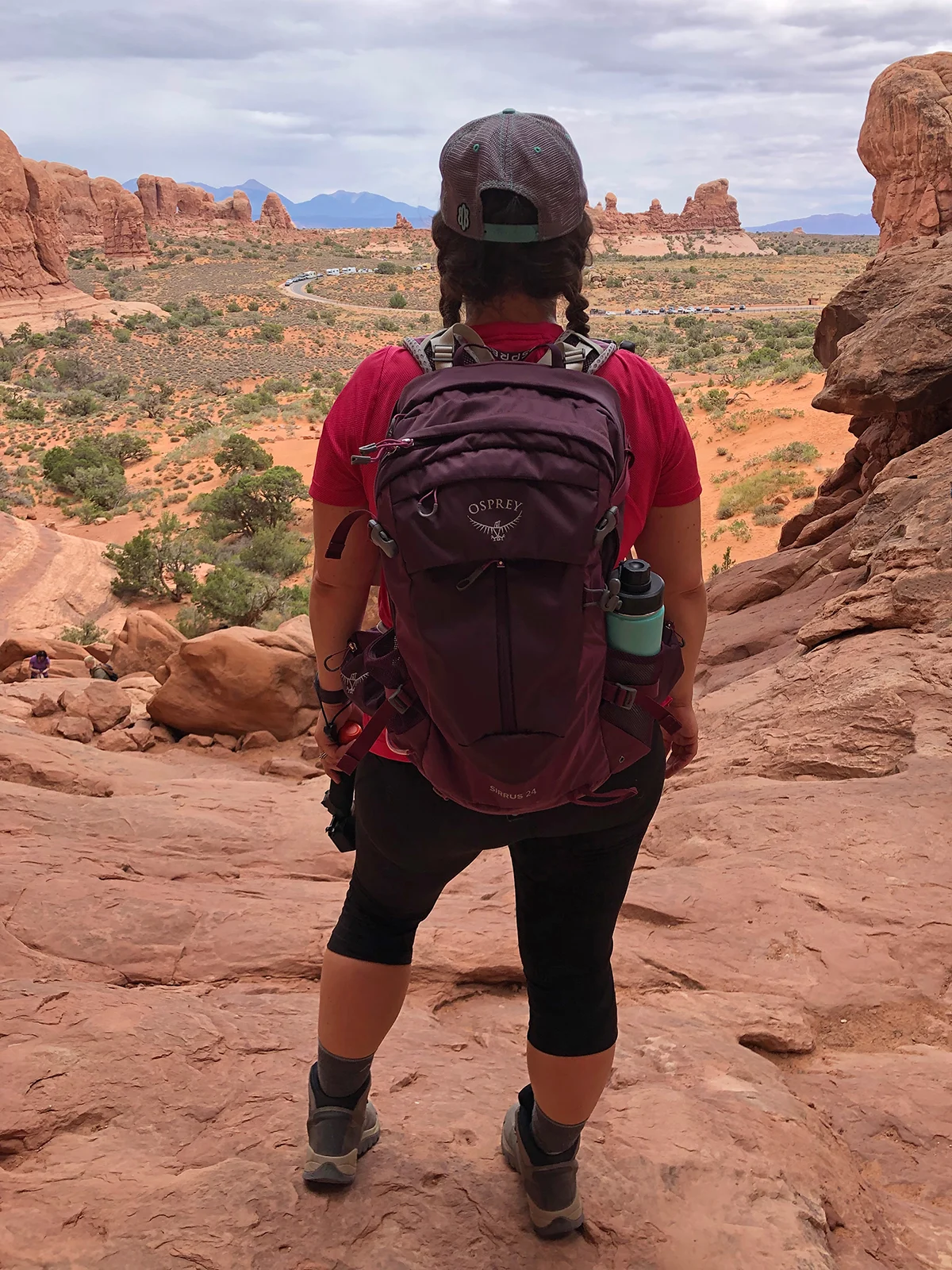 It's essential to be prepared in these national parks. Whether you're flying and renting a car or driving a Utah mighty 5 road trip starting at home, pack everything you need. Services are limited in the parks, and even between parks at times.
Here are the best things to pack for this amazing adventure!
Hiking essentials for Utah national parks tour
Layers! Clothing needs will vary by season. Be sure to wear moisture-wicking material for hiking and in the summertime so you're not overheated. This is my favorite hiking jacket and medium hiking coat that travel with me.

Rain gear. The desert has crazy rain that sometimes appears out of nowhere. Bring a poncho, rain jacket or other protective rain apparel.
Trekking poles. Great to keep your balance, take pressure off your knees and give you a bit of motivation when you're tired, trekking poles are an essential hiking item from Arches National Park to Zion National Park!

Hiking backpack. Get yourself a magical backpack that takes the weight off your shoulders! My husband and I both use Osprey Sirrus 24 backpacks and we love them, especially the extra air flow they provide for sweaty environments!
Water! Fill your hydration bladder in a hiking backpack with ice and water at the beginning of the day. Always take more water than you think you'll need on hikes, especially during the summer.

Sun protection. Pack earth-friendly sunscreen, sun glasses, sun hat, long sleeves or other ways to protect your skin. Being outside any time of year you can get sun damage. Here's your reminder to re-apply frequently.☀️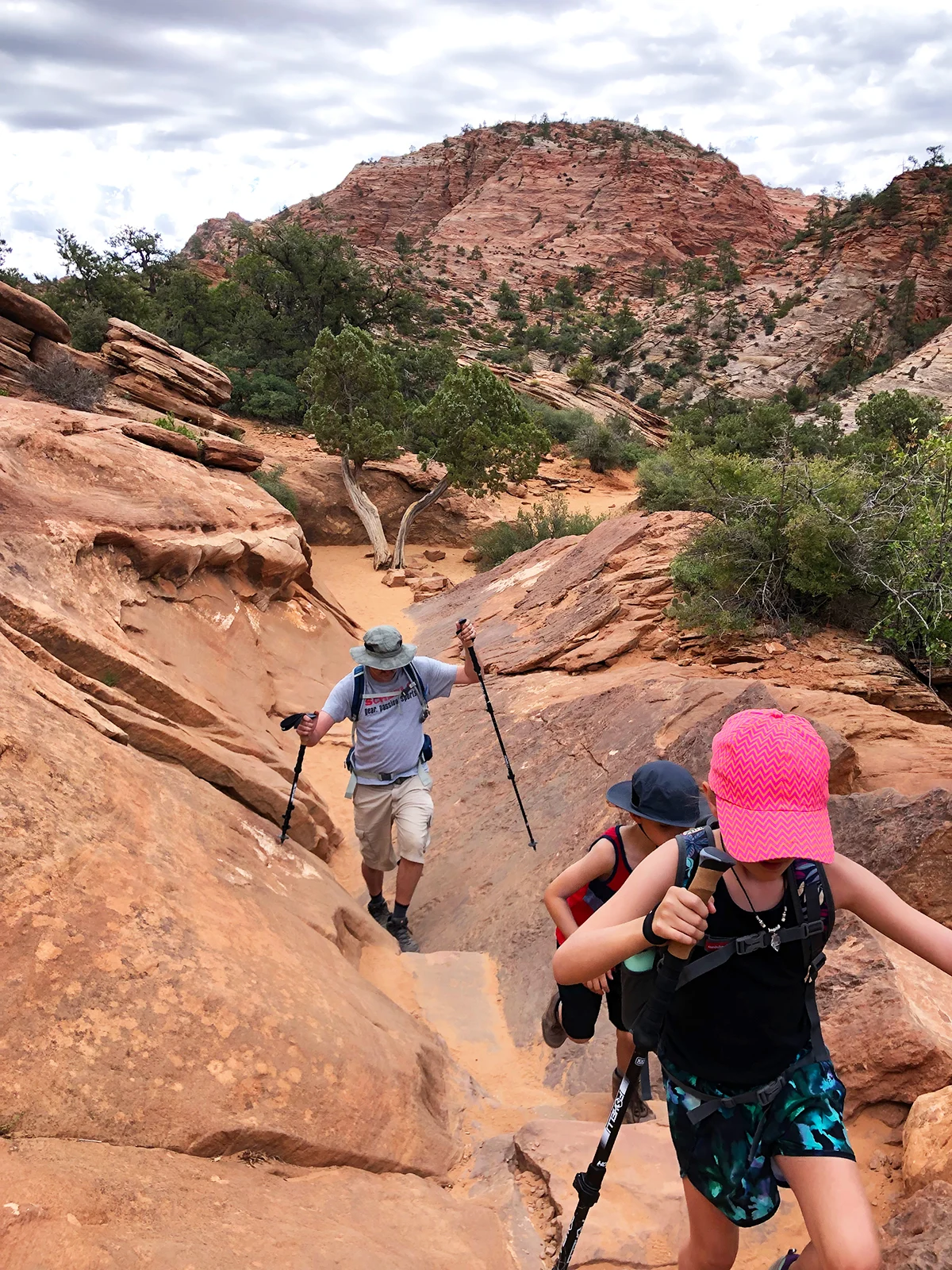 Food, road trip and safety essentials for your Arches National Park to Zion National Park adventure
Water, water, water. Always pack more than you need. Each adult needs one gallon per day when visiting and hiking in the desert climate like Utah. Fill up reusable water bottles or water hydration system for a hiking backpack at hotels, restaurants or park hydration stations to avoid buying too much single-use plastic.

Satellite communicator. National parks typically lack cell phone service, and the mighty 5 in Utah is no exception. A satellite communicator allows you to call for help (for yourself or someone else) when an injury unexpectedly occurs. I love my Garmin InReach Mini, which traveled with me to all 5 Utah national parks.
Collapsible cooler. Perfect for your road trip, load a cooler with ice and lunches in the morning as you explore each park. I love this collapsable cooler because it folds down great for travel.

Snacks! Speaking of food, you'll want plenty of food and snacks throughout your trip. Think high protein and salt to replace your sweat and provide energy. My favorite hiking snacks are these protein bars, beef jerky and trail mix.
Head lamp. Whether you're camping, doing a sunset or sunrise hike or just as a part of the 10 essentials, a head lamp is a great item to pack!

Go Pro. This one is a fun-to-have on this epic road trip! Capture incredible footage as you glide through the scenic byways in Utah, hike to awesome viewpoints and see beautiful overlooks! This GoPro travels with me on all my travels!
Final tips for your Utah Mighty 5 road trip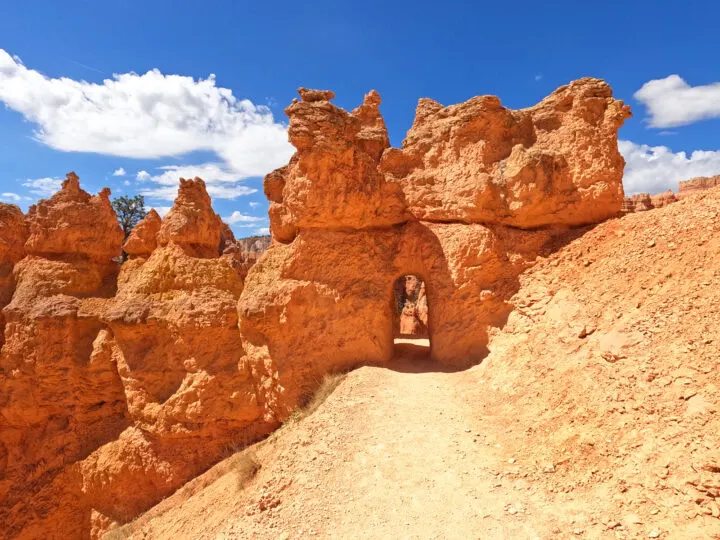 Before wrapping this up, here are the last few tips that will make planning a trip to Utah national parks and your experience within the parks go smoothly!
America the Beautiful pass is a must! This pass gets you into national parks and federally protected lands, and will save you a lot of money on this trip!

Be sure to get timed entry passes and permits in advance. Start researching those now – and be sure you can visit each park and attraction when you want, before booking everything else. (Note the entry requirements are current as of the publication date, but could change at any time.)
Plan extra time. These parks are simply magnificent! You could get caught up with phenomenal views and lose track of time easily. Or let's be honest, long lines and traffic takes extra time, too!

Pack enough food and water. Be prepared as you hike and explore these parks by packing adequate food and water. Trails often times take longer than you think, there are long lines at food spots or even closed restaurants throughout the parks. Always have a back up plan!
Leave no trace. Don't step off the trail, stack rocks, disturb or feed wildlife, leave food (even composable scraps), or anything else that indicates you've been there. These ecosystems are precious and are taxed by all of us humans visiting them. Be kind to the earth.

Figure out your gas plan. You really don't want to run out! Use the (free) GasBuddy app to find affordable gas along the way.

Download offline Google Maps, download AllTrails maps for each trail you plan to hike and grab paper copies of the national park maps as you go through the entrance.
Don't overextend yourself on hikes. Know your limitations and don't take on more than you can handle. It's okay to turn back if it's too much! The NPS has to rescue far too many people that aren't adequately prepared or have enough training for the hiking trails they are stuck on.

Be patient. Not everything will go as planned. Remember to be kind to others and yourself in times of stress.💛
Oh, and above all else – have fun!
Utah national parks road trip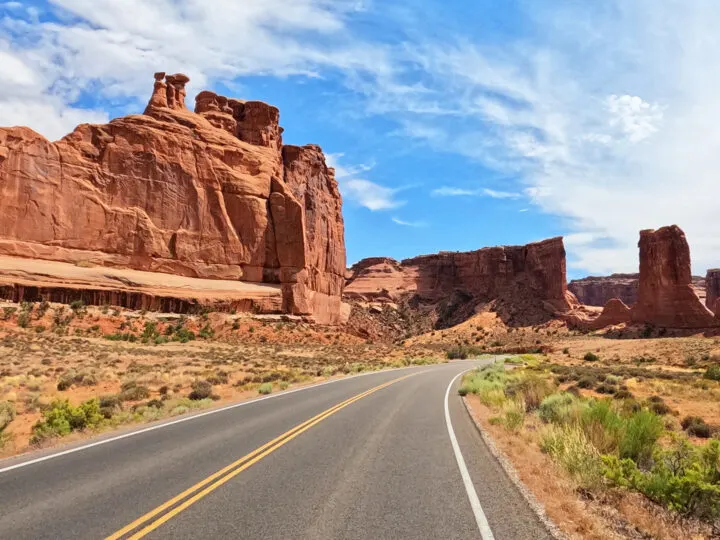 It's an adventure of a lifetime! From Arches National Park to Zion National Park, this journey is quite literally filled with highs and lows!
It's mother nature at her finest! Stunning canyons, incredible cliffs, crazy rock formations and so much more await for you on a national parks road trip in Utah!
Related content you might like:
Zion with Kids: 12 Fun Things to Do You'll Love (Plus Tips, Pics & Video)
Canyon Overlook Trail: Gorgeous Zion Hike You Gotta See to Believe
Queens Garden Trail + Navajo Loop Bryce Canyon: Epic Hike You'll Love
Hickman Bridge Trail: Fun Capitol Reef Hike You Don't Want to Miss
Love a good road trip? Check out these guides!
Red Rock Canyon Scenic Drive from Vegas: 10 Amazing Stops, Hikes + Tips
12 Epic Scenic Drives in Colorado
32 Amazing Stops on a San Francisco to San Diego Road Trip
16 Best Midwest Road Trips – Scenic Routes You Can't Miss
Find this post helpful? Save it for later or share it on social media!