Massive, red cliffs surround you for a jaw-dropping experience in Zion National Park in Utah. There's no place on earth like it! Your family is going to love exploring the incredible canyon. Here's everything you need to know about traveling to Zion with kids.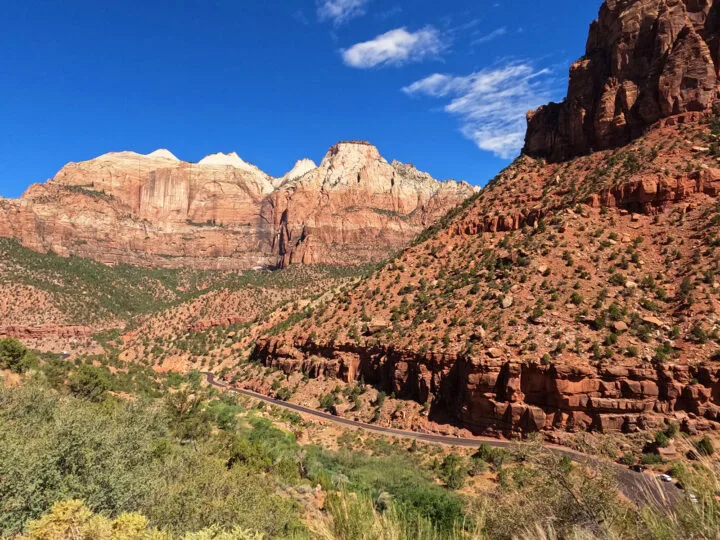 This post may contain affiliate links. For more info, see my disclosures.
Whether you're on a Utah National Parks road trip to see the Mighty 5, a day trip from Las Vegas or spending a week exploring every trail in the park, Zion National Park is one you won't soon forget!
Known for hiking trails like Angels Landing and The Narrows, it can be overwhelming to plan a vacation to Zion National Park for kids. But this guide walks you through the easy hikes in Zion, where to stay, things to pack for your family so you're prepared in the park and a bunch of other kid-friendly tips.
But first, let's go through a few details about Zion…
Must-see video: Zion with kids
Zion National Park family vacation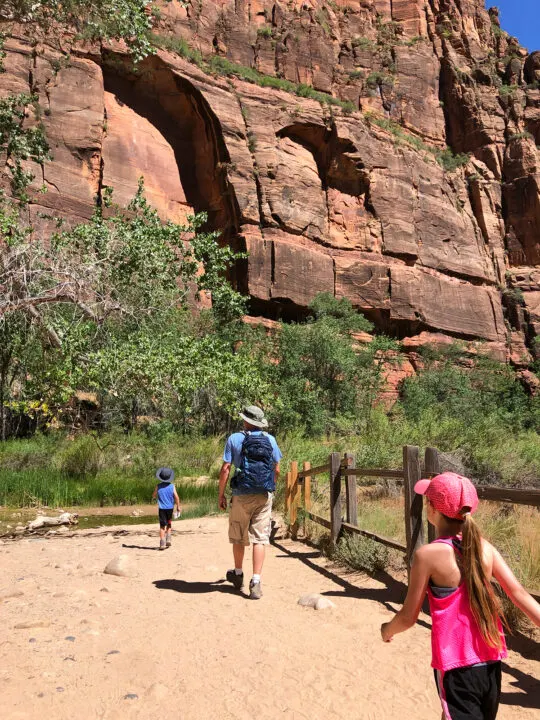 Young and old, you'll love this park! Here's the best time to go, how to get there, and more!
How to get to Zion
The closest major city to Zion National Park with an international airport is Las Vegas, at just over 2.5 hours away. If you're lucky, you can catch a flight into St. George, Utah, which is about an hour west of the park.
To get to Zion National Park with kids, you'll want to rent a car (unless you have your own of course). For a day trip from Las Vegas, you can take a tour. But for ultimate flexibility a rental car is best.
By the way, for best pricing on a rental car, I always search Discover Cars first. It's a free online tool that shows you the best prices from the major carriers. I typically save 10-30% with Discover Cars.
If you're feeling adventurous, you could do an RV vacation in Zion National Park, too!
Map of Zion National Park with kids
If you're a visual person, this map can help you plan your journey. It includes the best things to do in Zion with kids, but if you pinch and zoom out, you'll see the surrounding area.
The blue icons are activities and the orange icon are other landmarks that may be helpful in planning your trip to Zion with kids.
Best time to visit Zion National Park
Truth be told: Zion National Park is awesome any time of year. If you're working around school and work schedules for your family, you may be more limited.
Spring is a great time to go. With varying temperatures and lower crowds, just prepare for weather and have a plan B.
Summer is the busiest time in the park, but also when the park is most open. No worries about closures due to weather – just crowded trails.
Fall in Zion is awesome. Less people but fabulous weather. If you're looking for waterfalls, this is not the time to go. But the foliage is pretty!
Winter can be slick and snowy, but also far less crowds!
Basically, Zion with kids is fun any time of year!🏜 Whether you're here for sightseeing or the best easy hikes at Zion National Park with your family, you really can't go wrong. Just plan accordingly!
Where to stay
If you don't have a place to stay yet in or near Zion, this list is for you! Zion National Park actually has a few accommodation options inside the park, which is a nice option if you plan ahead.
Accommodations inside Zion National Park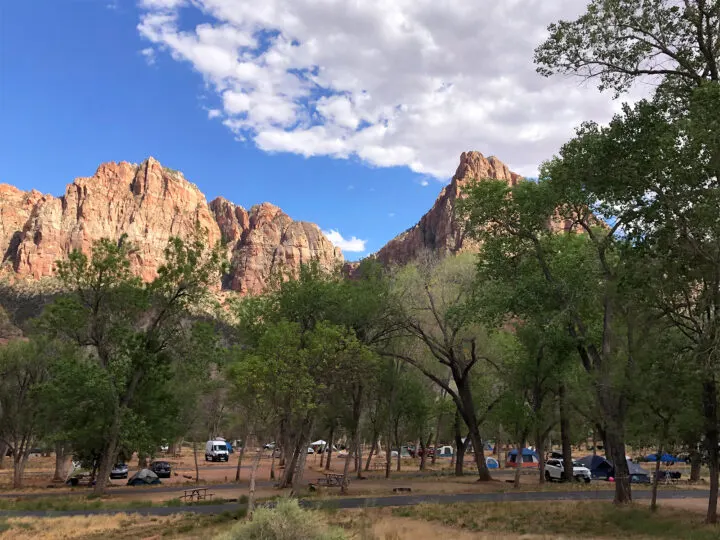 Whether your family likes to be surrounded by nature through camping or like a few more amenities, there's a solution for you inside Zion…as long as you book it far in advance. 😉
Watchman Campground. The most popular and open year-round, it's great for tent and RV camping.

South Campground. Open spring, summer and fall, this campground is slightly closer to the action within the park. It's for tent camping.

Zion National Park Lodge. Stay in the heart of the park at the Lodge! Certainly more pricey than camping, it's much more exclusive, and can be difficult to snag a reservation. Staying here means the ultimate Zion experience!
Just outside the park: Springdale Utah accommodations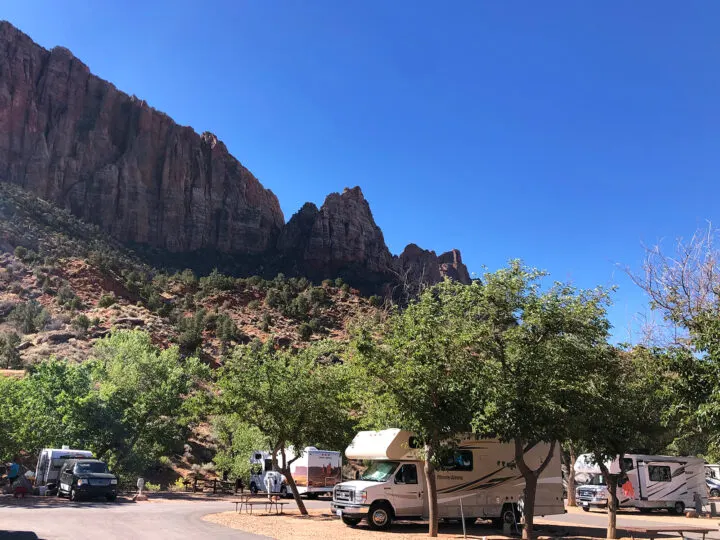 The closest town to the south entrance of Zion is Springdale. It's within walking distance of the park (or you can take the free shuttle – more on that in a bit). Here's the best spots to stay in Springdale, Utah.
Cable Mountain Lodge. As close to the national park entrance as you can get, this lodge has everything you'd hope for after a long day of hiking or exploring the park.

Holiday Inn Express Springdale. This budget-friendly hotel is pet-friendly and has a pool, and is a quick hop on the shuttle to get to the park.

Zion Canyon Campground. Just a few steps away from the Springdale Shuttle and located right on the Virgin River, if you're bringing an RV to Zion, this is the spot you'll want to stay.
Zion National Park shuttle system
To be honest, the Zion National Park shuttles can be super confusing. The timing of the shuttles, number of stops, the fact that there's a Springdale shuttle and Zion shuttle and they're different – – WHAT?!
I'll try to make this as simple as possible, so you can worry more about creating memories with your kids at Zion, and less about the transportation. 😊
**Both shuttles are FREE. You don't have to have a reservation or a ticket.**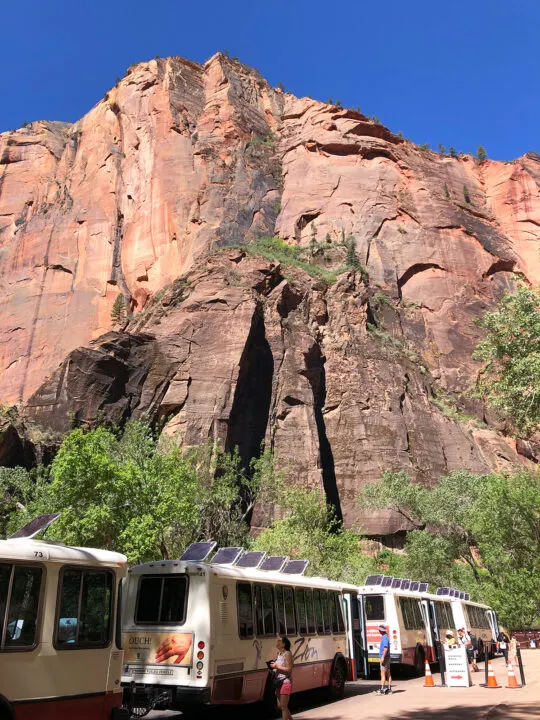 Springdale shuttle
This picks you up in the town of Springdale and transports you to the entrance of Zion. The free shuttle cuts down on congestion at the park entrance. Oh, and there's extremely limited parking at the entrance so just take the shuttle if you're not interested in walking to the entrance.
If you're staying in Springdale, you'll walk to the nearest shuttle stop along Highway 9 (the main road in town).
🗺Here's a map to the Springdale shuttle stops
Zion shuttle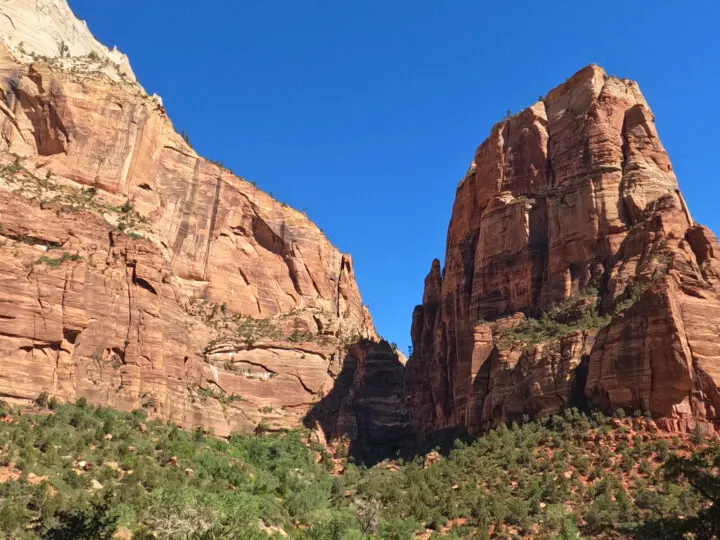 Mid-February through late November, if you want to see the Zion canyon, you cannot take a car into Zion Canyon, you must use the shuttle. You can still drive a car east and west along Highway 9.
But the canyon is a must-see, so just plan to hop on the shuttle, okay? If you're traveling anytime in that February through November timeframe, the shuttle schedule is pretty easy and not worth getting stressed out over.
Once you enter the park, hop in line for the shuttle and just make note for the last shuttle out. You don't want to miss that one! But just know that they're running smoothly most of the day during daylight hours, so no worries!
🗺Here's the Zion Canyon shuttle stops and schedule
What to pack for Zion National Park with kids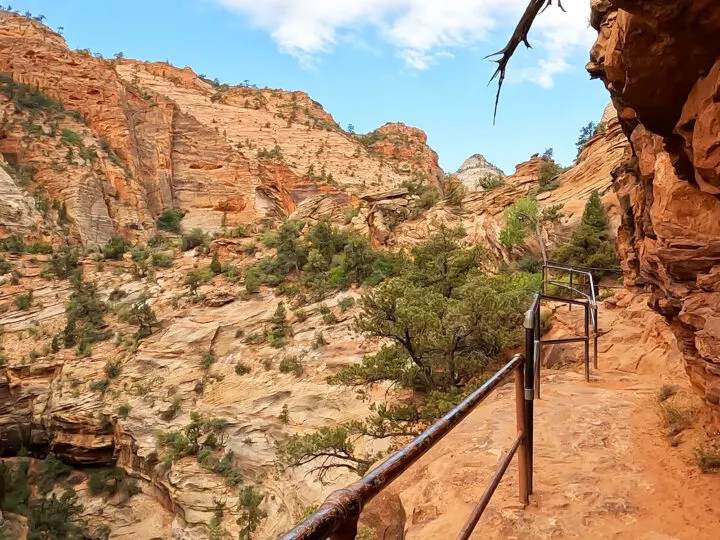 While each family is different, there are some basic items that you'll want to make sure you pack for your kids. If you're planning to step foot on a trial, then you'll want basic hiking gear for the family. Let's start there…
Packing for Zion hikes with kids
Hiking shoes for the whole family. When my kids were toddlers I didn't want to spend the money on hiking shoes. But as they've gotten older, I can tell that these grippy, sturdy shoes give kids more confidence while hiking! Look for ankle support and shoes with traction as you'll likely be on slick rock for some of the easy hikes in Zion.

Hiking socks. I made the mistake of being cheap and not getting the right ones (don't ask how I know.🫣 It truly does matter for kids and adults alike. Get moisture-wicking hiking socks that won't create blisters. Ouch!

Hiking backpacks. If your kids are in school, they can carry their own kids hiking backpacks. This provides the opportunity for everyone to have enough water, snacks, first aid kit and anything else on this list or that you need. A good hiking backpack takes the weight off your shoulders and distributes it for an easier hike.
Trekking poles. Whether you're planning to stick to the easy hikes or go a little more intense on the trails, trekking poles are a win for hiking with kids! They help stabilize as you hike, and can help you get into a rhythm. My kids love their hiking poles and want them on ever surface and hike, no matter how easy.

Water, water, water. It's important any time of year, but especially in the summer. Pack more than you need. Be kind to the earth and pack reusable water bottles that keep the water cold. Or better yet, use a hydration system in a hiking backpack (my husband loves his).

Satellite communicator. This 100% is a peace of mind item, but it's so critical when hiking with kids in Zion. I love my Garmin In-Reach Mini, and it's gone on every hike with my family for years, from the Waihee Ridge Trail in Maui to Inspiration Point in Grand Teton, it allows you to call for SOS without any cell phone service.
More of what to pack for Zion National Park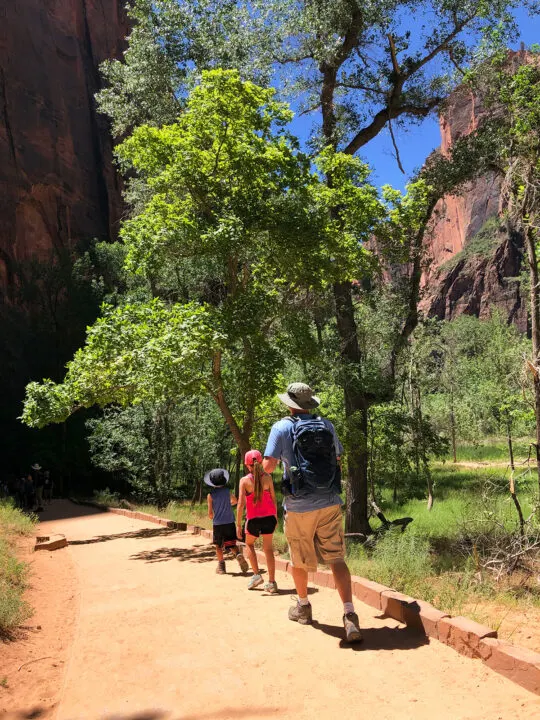 Snacks! Of course if you have kids, you know snacks are a thing. Especially with littles. So whether you're hiking or just planning to take the scenic drive or the shuttle, pack high protein snacks like trail mix or beef jerky to fight hanger. 😉

Layers. Dress for the season and prepare for changing weather. My family usually packs an umbrella, extra rain jacket or medium coat, depending on the time of year.

First aid kit. Keep the essentials on you when hiking. You never know when a kid (or let's be honest, an adult) will injure themselves! I can't tell you how many injured people I've come across on hiking trails over the years. Be prepared. 😊
Zion National Park – original inhabitants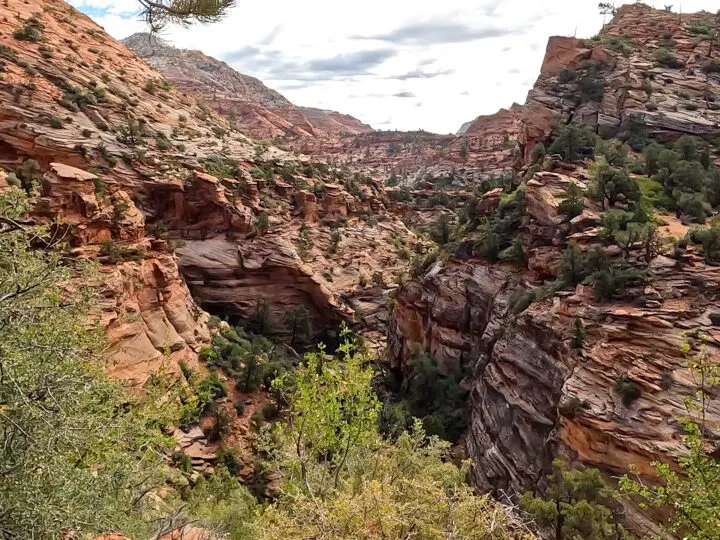 It's easy to get caught up in the beauty of Zion, or any other US national park for that matter. Before these lands were federally protected, they told a different story.
Before it was named Zion by white men, the canyon's name was Mukuntuweap.
📍Originally home to the Ancestral Puebloan and the Parowan Fremont peoples, and later the Southern Paiute tribe, this land must be treated with the ultimate respect. It's truly a privilege to explore this land, and visitors should always treat is as such.
Please follow park rules and boundaries as you explore this beautiful place. Don't forget to follow the leave no trace principles, too.
Alright so now you're planned and prepared for the trip, let's dive into more about what to do in Zion National Park with kids.
Zion with kids – what to do and see
Regardless of the age of your kids, there's something to see and do for everyone! Let's dive into the best things to do in Zion National Park with kids!
1. Canyon Overlook Trail (one of the best, easy hikes at Zion National Park)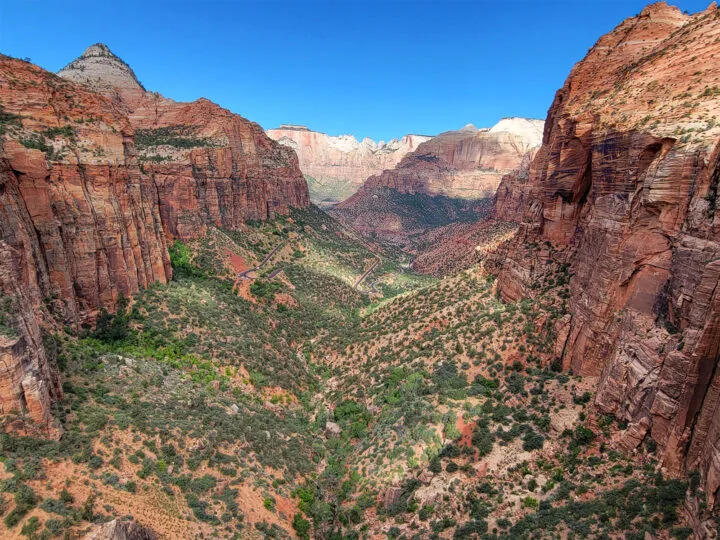 Zion shuttle: none 😊
Recommended time: 45 minutes – 1 hour
Best for: ages 4-18
If you're looking for one of the best things to do in Zion with kids, you don't want to miss this! The Canyon Overlook Trail is just 1 mile out-and-back, but rated as moderate for the incline and tricky terrain.
This trail's views rival that of Angel's Landing! The canyon views are spectacular and ones you'll want to see.
Be sure to use good hiking shoes for everyone in the family. The trail is narrow at times with steep cliffs, so you'll want to watch little ones closely.
Pro tip: parking can be a little challenging, as this is a popular trail. Get there early or go later in the day to find a spot and feel more at ease on the trail.
2. Court of the Patriarchs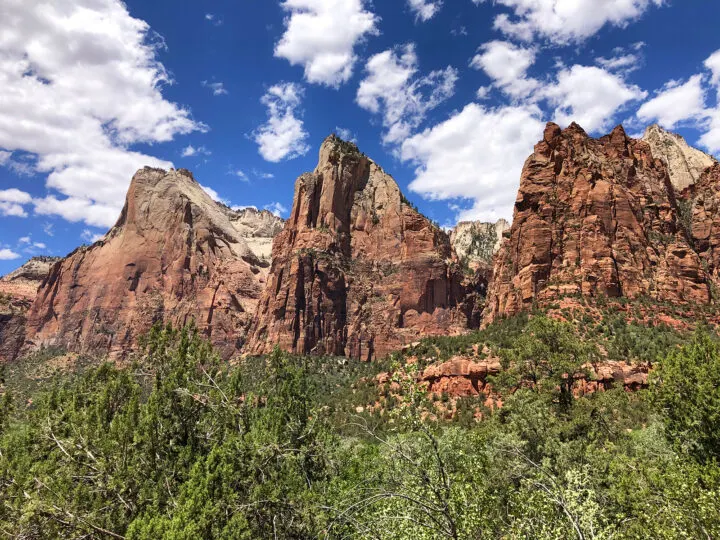 Zion shuttle: stop #4
Recommended time: 15-20 minutes
Best for: ages 0-18
This quick stop in Zion Canyon is great for even the littlest of legs. It's a paved hill (although a bit steep) up to a lookout of this majestic rock formation. This 'trail' is only 0.2 miles round trip, so I'd barely call it a hike.
The shuttle will drop you off and across the street is the viewpoint. Walk up the paved path to see even better views of the Court of the Patriarchs than you can see from the road.
Note: there are cacti immediately beside the trail that may have needles. Keep close eye on your little ones!
The Court of the Patriarchs is 3 towering peaks, Abraham Peak, Isaac Peak and Jacob Peak. These were the names created for them in 1916, although I'm curious as to what the Anasazi people and Paiute Indians called these rock formations.🤔
3. Riverside Walk (one of the best things to do in Zion with kids)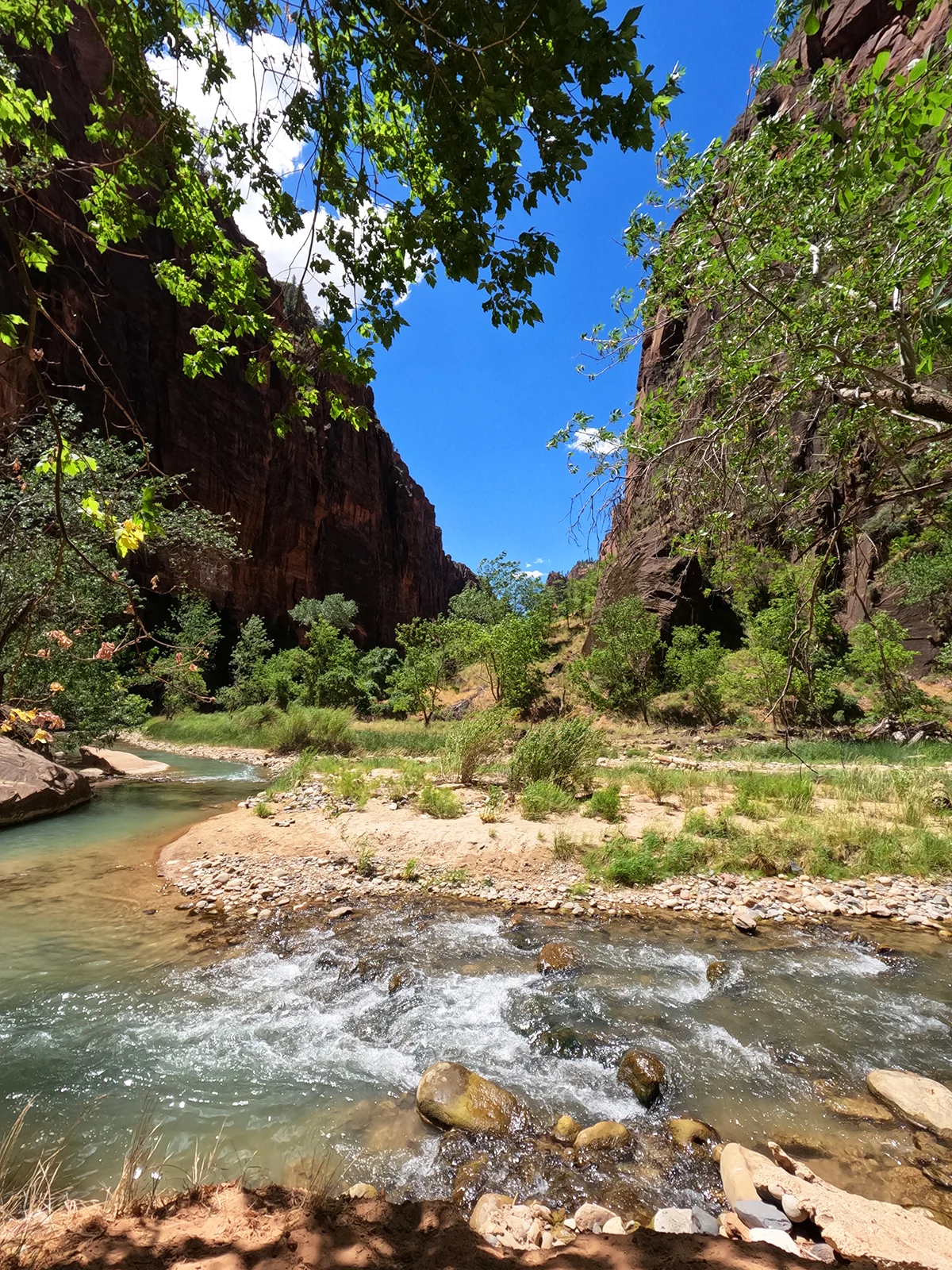 Zion shuttle: #9
Recommended time: 1 – 1.5 hours
Best for: ages 0-14
Located deep in the heart of Zion Canyon is the Temple of Sinawava, Riverside Walk and The Narrows.
Riverside Walk Trail is basically an out-and-back trial that takes you to The Narrows entrance. It's 2.2 miles round trip and mostly flat, paved trail.
It's a fun trail that takes you alongside the Virgin River. With several access points, it's a fun trail for kids and adults alike. Cool down in the summer or have a rock-skipping competition.
Pro tip: bring your water shoes for this one! Playing in the river is fun and you can easily swap out water shoes for hiking or athletic shoes.
Of course, if you're hiking The Narrows with kids, you'll keep going after the end of the trail dives deeper into the canyon.
Note: this area of the park my family saw the most ground squirrels and chipmunks begging for food. Please ignore them. Don't try to touch or feed them. Let's keep wild animals wild.
The Riverside Walk is definitely one of the top things to do in Zion with kids.
4. Play in the Virgin River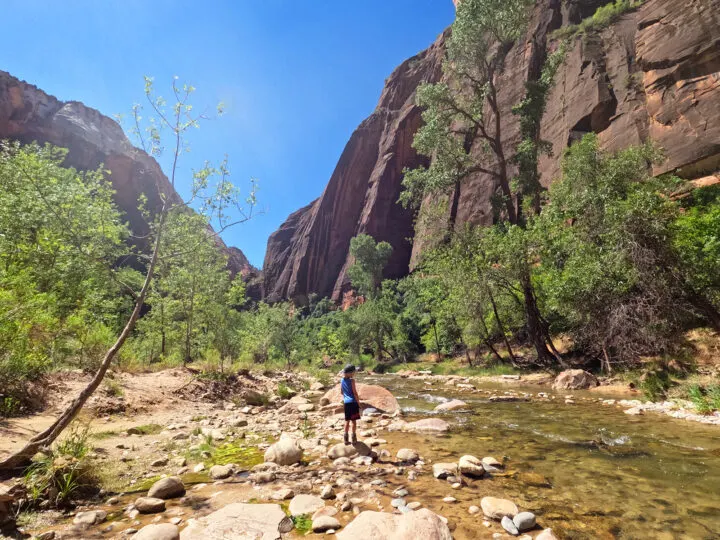 Zion shuttle: #3, #6, #9
Recommended time: up to 1 hour
Best for: ages 0-12
This is one of those things that will probably just happen naturally when you're exploring Zion National Park with kids. But, it's always best to have the right gear!
When my family spent a week hiking Glacier National Park, we took many chances to play in the water, including the stunning Avalanche Lake Trail.
The same is true for Zion. Slow down and enjoy the park to it's fullest!
Wear or pack water shoes and swap them out when needed. In my family, usually one adult carries a small towel in their hiking backpack for everyone to share if we decide to put hiking shoes back on.
The best spots to enjoy the water inside the park are all at shuttle stop #9, at the Temple of Sinawava.
Note: be sure you're wearing mineral sunscreen in Zion, especially when playing in the water. Chemicals in traditional sunscreens wreak havoc on the environment. This is the mineral sunscreen my family used in Zion (and pretty much everywhere else) and it works great.
5. Watchman Trail (older kids will love this trail!)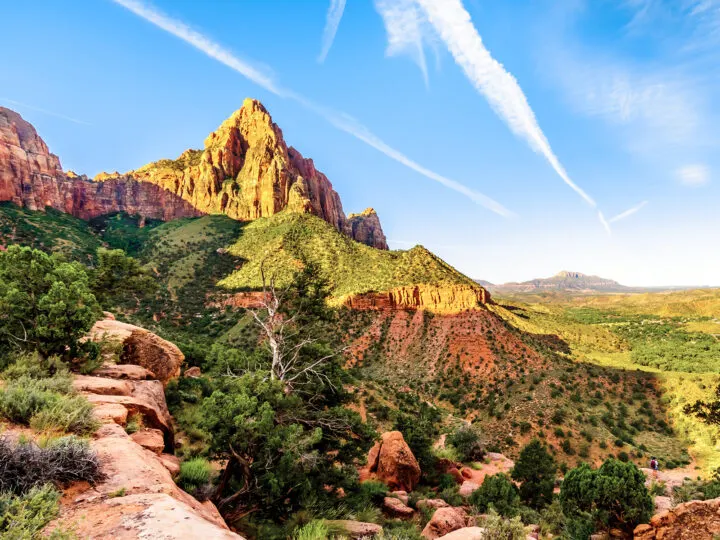 Zion shuttle: Zion Canyon Visitor Center
Recommended time: 2 – 2.5 hours
Best for: ages 4-18
This is one of those hiking trails that many people miss in Zion. The trailhead is located right behind the visitor's center. So many people are headed into the canyon and skip over it. Don't skip this trail!
Rated as moderate and coming in at 3.1 miles round trip, The Watchman Trail is one to put on your short list. The incline is steady and can be a challenge for kids and adults alike, but the views are so worth it at the top!
Note: keep a watchful eye on small kids. Make sure they have grippy hiking shoes and stay away from ledges.
6. Zion Junior Ranger Program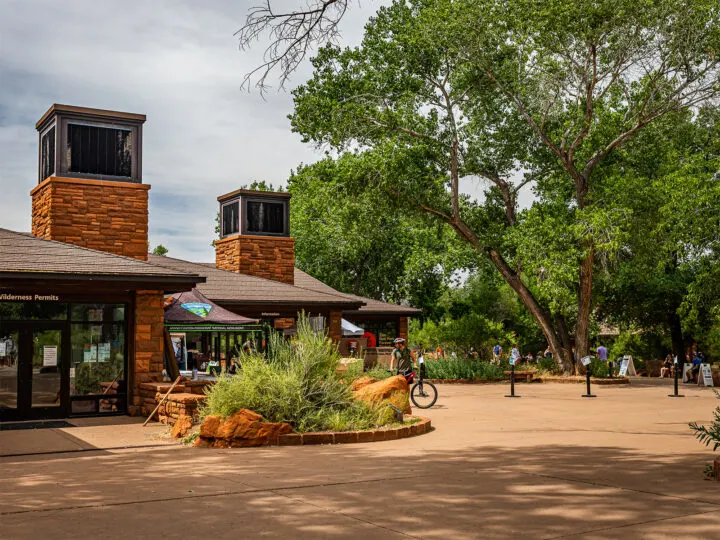 Zion shuttle: #1
Recommended time: 1 – 4 hours
Best for: ages 4-12
I don't know about your kids, but mine love doing stuff like this! Kids can become junior park rangers by completing a series of activities throughout the park. When they complete the booklet specific to Zion National Park, they'll get a junior ranger badge.
It's a fun way to engage kids with protecting the park, while keeping them busy. The nice thing is that you can bring this book on the other adventures in this guide and they can look for things while they hike and explore.
Download the guide in advance so you can see what kinds of activities to expect. Find a tarantula, mule deer or cactus, for example. Find the free booklet at the visitor center.
More things to do in Zion National Park with kids
Any ideas for your must-do list yet? Your family is going to love this park!
Let's keep going!
7. Zion Mt. Carmel Highway Scenic Drive (a must-do when visiting Zion with kids)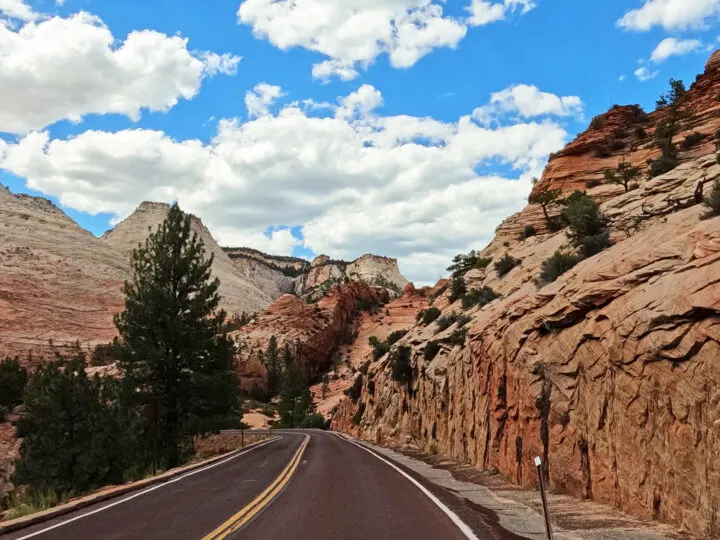 Zion shuttle: none 😊
Recommended time: 2 – 2.5 hours
Best for: ages 0-18
This is a must-see in Zion National Park! My family was on our Mighty 5 trip through Utah, transferring from Bryce Canyon to Zion and we took this route, not knowing at all how incredible it is!
From the main Zion Canyon to Mt. Carmel, Utah is 25 miles, and it's one of the best scenic drives in Utah!
You'll see hoodoos that will remind you of Bryce Canyon National Park and crazy towers and rock formations as you make your way through the winding road.
The Zion – Mount Carmel Tunnel is an engineering feat, and one that provides epic views of the Zion Canyon as you drive from east to west.
There are plenty of places to stop and soak in the views. The Canyon Overlook Trail Zion was one of my family's favorite hikes.
Pack some snacks and enjoy the view on the Zion Mt Carmel Scenic Drive!
Pro tip: if you have an oversized vehicle (like an RV), you'll need a tunnel permit. It's an extra $15 fee, but totally worth it.
This scenic drive is by far one of the best experiences in Zion with kids!
8. Lower Emerald Pool (one of the best hikes in Zion National Park for kids)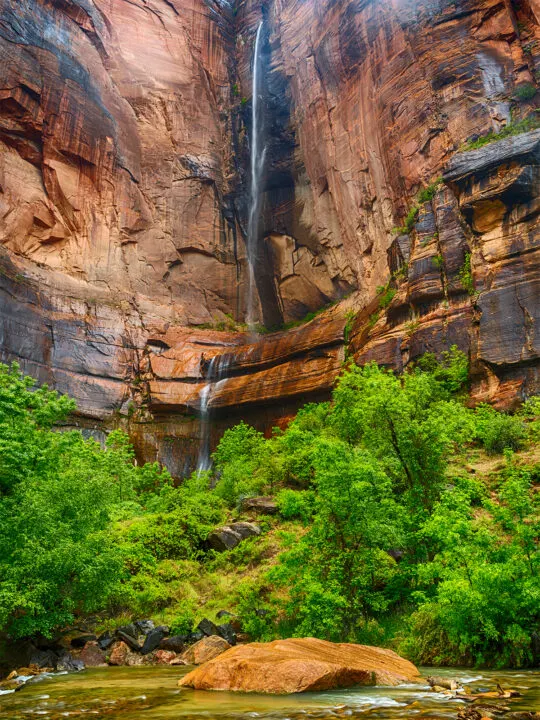 Zion shuttle: #5
Recommended time: less than 1 hour
Best for: ages 0-12
If you're looking for the best things to do with kids in Zion, this is it! This fun, interactive hiking trail is short and easy, and really rewarding.
The Lower Emerald Pool is actually a trail that takes you to 3 emerald pools, and seasonally 2 waterfalls! The lower pool is the first you'll reach, and the easiest part of the trail. To keep going, you'll switch from pavement to more tricky terrain to pool 2 – Middle Emerald and then finally 3 – Upper Emerald Pool.
To the Lower Emerald Pool, it's 1.4 miles out-and-back. This is an easy trail for all ages and one of the best Zion National Park kid friendly hikes.
Pro tip: this trail gets really busy! Try morning or evening to enjoy it to the fullest.
Note: the pools look the best in springtime as they're more full and emerald. In the summer and fall they really start to dry out.
9. Visit the Zion Lodge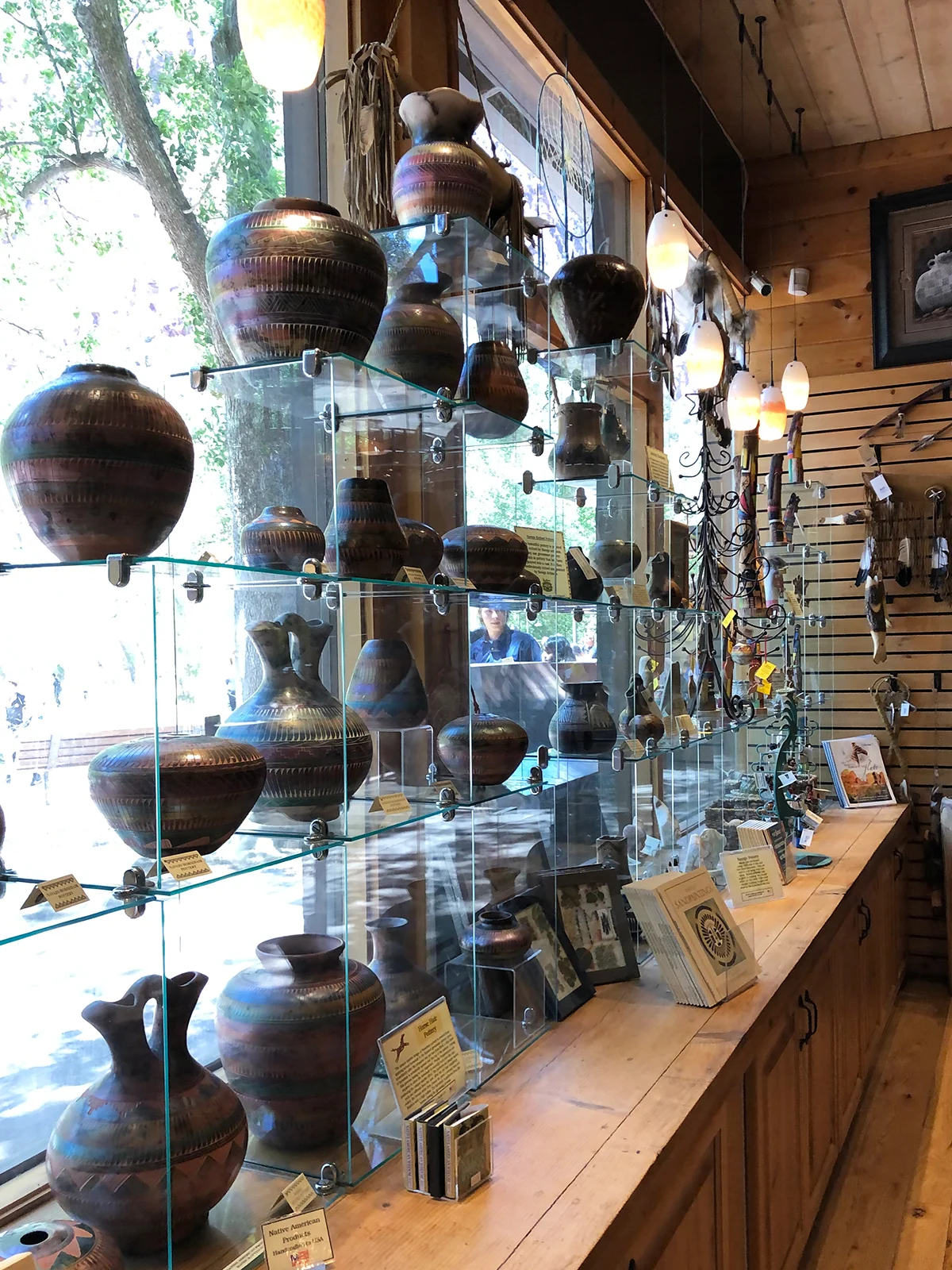 Zion shuttle: stop #5
Recommended time: up to 1 hour
Best for: ages 0-18
Food and souvenirs are plentiful at the Zion Lodge! In fact, aside from the Zion Visitor Center at the south entrance, it's the only spot in the park to buy anything.
The location provides stunning scenery while you're grabbing a bite to eat. Kids of all ages can sprawl out on the lawn in front of the lodge to rest or play, finding cool shade in the summertime. You'll want to plan this on a trip to Zion with kids.
If you pack a snack or lunch, take a rest and enjoy it while observing great views in front of the Zion Lodge. Grab a sandwich or grab a drink at the Beer Garden Cart on the patio after a hike.
10. The Grotto Trail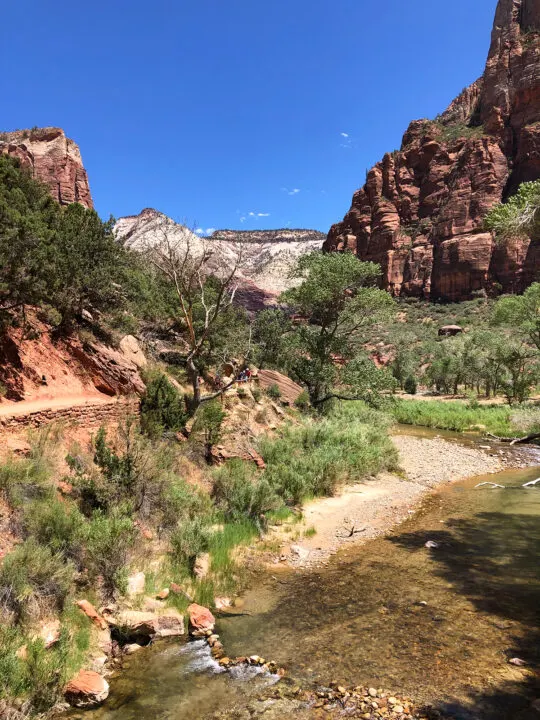 Zion shuttle: #5 or #6
Recommended time: up to 30 minutes
Best for: ages 0-6
The Grotto Trail in Zion is the perfect trail for toddlers and little kids. Fully paved, this path follows the Zion Canyon Scenic Drive, and connects from the Zion Lodge to stop #6.
You'll get more beautiful views of the canyon, and it's an easy walk if you simply don't want to wait for the shuttle.
The Grotto is also the starting point for Angels Landing, so it's a heavily trafficked trail.
11. Ride the free Zion shuttle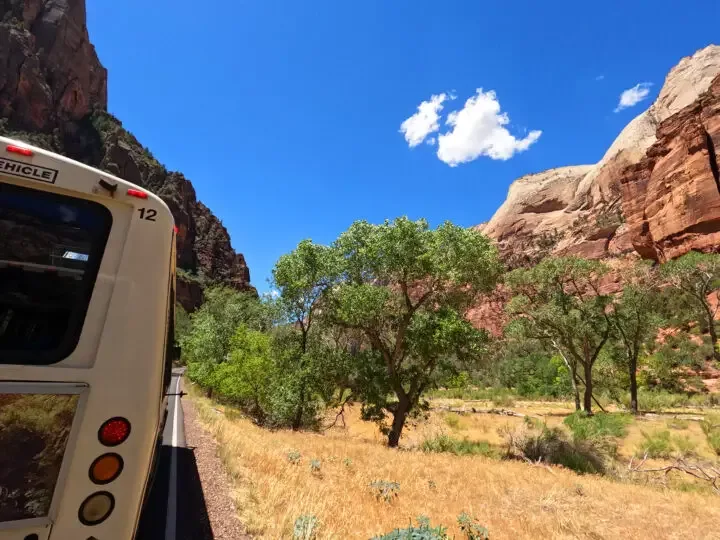 Zion shuttle: all of them 😊
Recommended time: up to 1.5 hours
Best for: ages 0 – 10
Not feeling up for a hike? Simply ride the shuttle through the Zion Canyon! Marvel at the impressive views while you look through the windows out the sides of the bus – and through the sun roof!
The shuttle takes about 45 minutes to get from the Visitor Center to the Temple of Sinawava (stop #9). You'll see the massive canyon all around you, and if you've got tired kids or simply don't feel like hiking, this is an easy way to see the park without much effort!
12. Pa'rus Trail (perfect for a day in Zion National Park with kids and toddlers)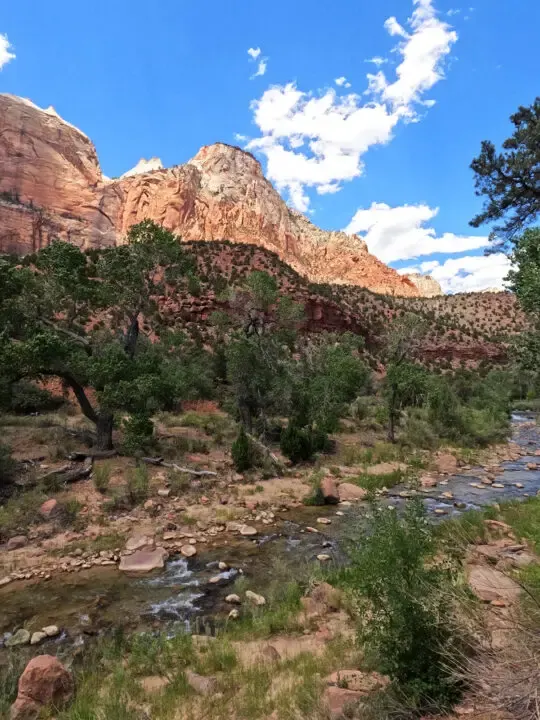 Zion shuttle: stop #3, Canyon Junction (only downward shuttles)
Recommended time: 1 – 1.5 hours
Best for: ages 0-8
The Pa'rus Trail is one of the easy hikes in Zion that's great for young kids. Fully paved and flat, you can even take your stroller and your dog! It's also common for bicyclists, so be sure to share the trail!
You can access the Pa'rus Trail from shuttle stop #3 or from the Zion Canyon Visitor Center. It's 1.7 miles end-to-end. Obviously 3.4 miles round trip, or you can just walk it one-way and use the shuttle. (Pets can't go on the shuttles, though.)
You'll walk alongside the Virgin River and get some of the best views of The Watchman, which is an impressive 6,545-foot summit. Kids will love walking along the river on this easy, flat trail.
Easy hikes in Zion
Before wrapping up this guide, let's review the easy hikes in Zion, perfect for a family-friendly vacation:
Canyon Overlook Trail
Riverside Walk
Watchman Trail
Lower Emerald Pool
The Grotto Trail
Pa'rus Trail
Zion with kids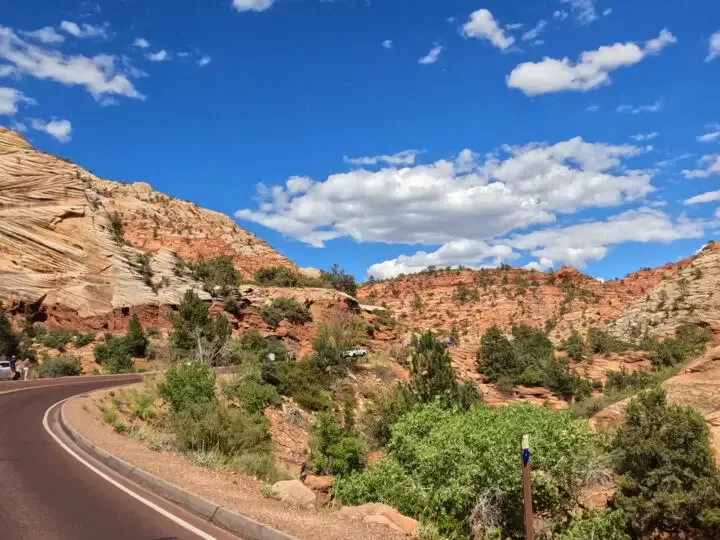 Well there you have it! This amazing national park is full of overlooks, hiking trails and adventures perfect for your family!
A trip to Zion with kids is a family vacation you'll remember forever. I'm wishing you the best memories during your time in this incredible national park!
Let's recap that list one more time, in a quicker fashion…
Things to do in Zion National Park with kids
Canyon Overlook Trail
Court of the Patriarchs
Riverside Walk
Play in the Virgin River
Watchman Trail
Zion Junior Ranger Program
Zion Mt. Carmel Highway Scenic Drive
Lower Emerald Pool
Visit the Zion Lodge
The Grotto Trail
Ride the free Zion shuttle
Pa'rus Trail
Related content to read next:
Canyon Overlook Trail: Gorgeous Zion Hike You Gotta See to Believe
AMAZING Utah National Parks Road Trip (Map, Best Hikes, Scenic Route Between Parks + More)
33 Amazing Spring Break Ideas for Families on a Budget
Find this post helpful? Save it for later or share it on social media!