This is it! One of the best hikes in Bryce Canyon National Park! The Queens Garden Trail provides incredible views of cool hoodoos within the park. Combine it with the Navajo Loop Trail and Wall Street section, and you've got an out-of-this-world experience!
Here's everything you need to know about hiking the Navajo Loop and Queens Garden Trail.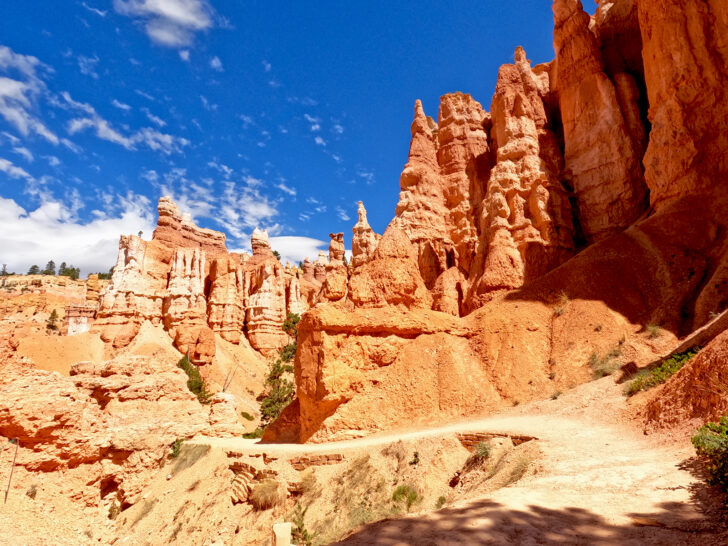 This post may contain affiliate links. For more info, see my disclosures.
Whether you're spending a week on a Utah national parks road trip, or if you've got just one day in Bryce Canyon National Park and want to see some epic sights, this trail is the one you're looking for!
Hike deep into Bryce Canyon and see the hoodoos up close. These funky rock formations are really cool to see as you quite literally hike through them.
Combining the Queens Garden Trail with the Wall Street portion of the Navajo Loop creates and incredible trail that you simply gotta see to believe!
Queens Garden Navajo Loop – combining the trails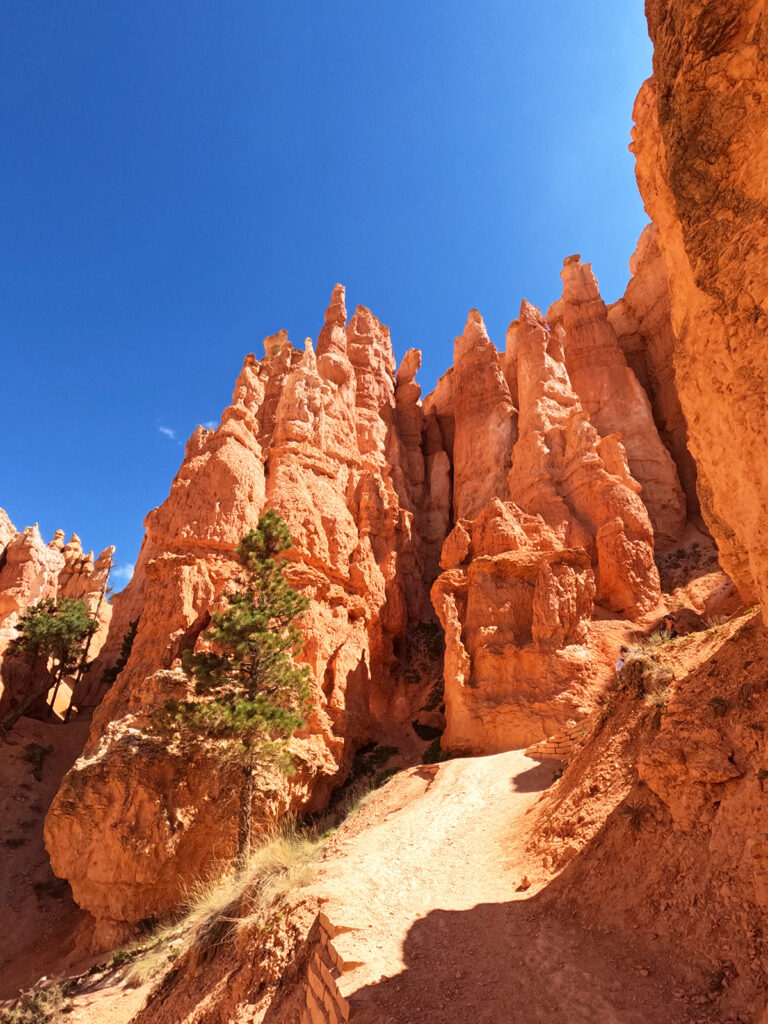 Customize your experience in Bryce Canyon National Park by creating a hiking loop. You'll get the best of 2 trails – without the boring other stuff. (Okay, the rest isn't boring, but this is a very efficient way to see the best sights.😊)
The Queens Garden Trail and Navajo Loop are both spectacular hikes, taking you down into the Bryce Canyon Amphitheatre. 
See the famous Queen Victoria rock formation, and then hike over to the Navajo Loop where you'll experience the crazy zig-zag Wall Street portion of the Navajo Loop trail.
Must-watch Video: Queens Garden Trail Navajo Loop
Queens Garden Trail + Navajo Loop stats
Distance: 3.1 miles
Difficulty: moderate
Elevation gain: 649 feet
Time: 1.5 – 2 hours
Note: if you just do the Queens Garden Trail, it's 1.8 miles out and back and rated as moderate. If you only do the Navajo Loop, it's a moderate 1.3 miles. Combining the trails is 3.1 miles.
Queens Garden Trail and Navajo Loop trail is kid-friendly. Take it slow for beginner hikers with plenty of breaks throughout. The Queen's Garden Trail does have some steep drop-offs, so be sure to watch young kids closely.
There's restrooms located at both the Sunrise and Sunset point, which is quite convenient when starting this hike. If you're really short on time, you can even use the shuttle system to skip the walk between Sunset Point and Sunrise Point.
Queens Garden Trail to Navajo Loop: how to get to the trailhead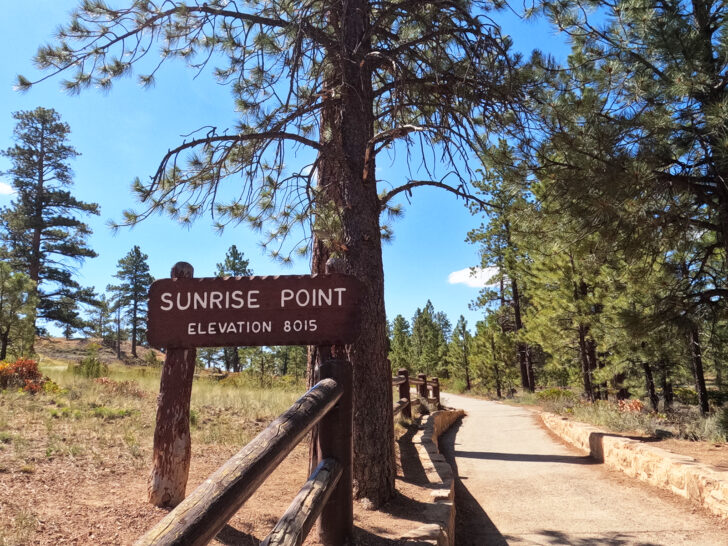 I strongly recommend to do this hike in a clockwise loop, starting at Sunrise Point. This allows you to descend into the canyon on the Queens Garden Trail Bryce Canyon, and make your way back up with crazy cool views of Wall Street towards the end of the trail.
To get to Sunrise Point, take the free park shuttle, which currently operates from April through October. This reduces congestion in the park and it's truly quick and not an inconvenience at all! Check shuttle operating hours, which change based on season.
Alternatively, there is a few parking spaces available at both Sunrise Point and Sunset Point, if you're hiking before or after shuttle hours.
Queens Garden Trail and Wall Street Trail Loop Map
If you're a visual person, this map of Queens Garden Bryce Canyon and Navajo Loop Trial will help.
Go clockwise, starting at the Sunrise Point. Follow the trail to Navajo Loop, where you'll climb back out of the amphitheater and reach Sunset Point. Follow the Bryce Canyon Rim Trail back to Sunrise Point to complete the loop.
Tips for the best hike in Bryce Canyon National Park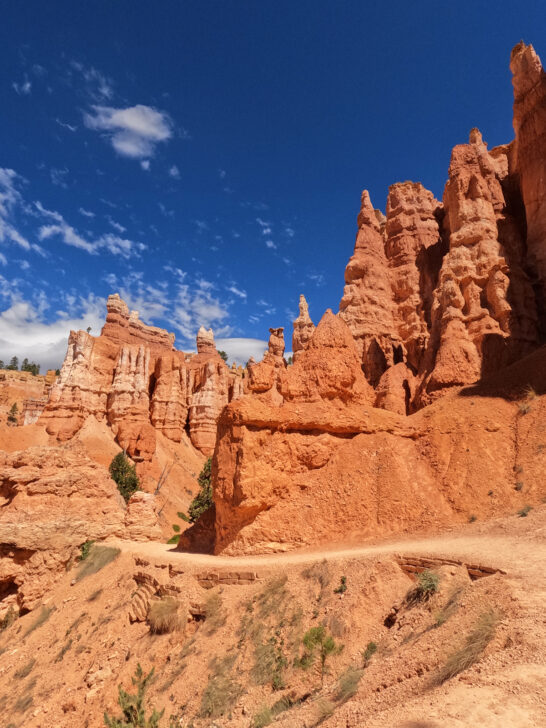 Before we get to the details of this awesome hike, here are a few more tips to keep in mind…
Go clockwise. Mentioning this again because it's the best way to do the Queens Garden Navajo Loop hike! 😊

Wear and take the right gear. Dress for the season, take plenty of water and grippy hiking shoes. More gear recommendations below.

Sunrise and Sunset are epic here. Do an early or late hike and bring a headlamp!
Hikers going up have the right of way. This trail can get busy, especially on weekends and mid-day. Use proper trail etiquette.

Leave no trace. Don't litter (even compostable items), stack rocks, carve into hoodoos or otherwise disturb nature.
Queens Garden Trail Bryce Canyon – what to expect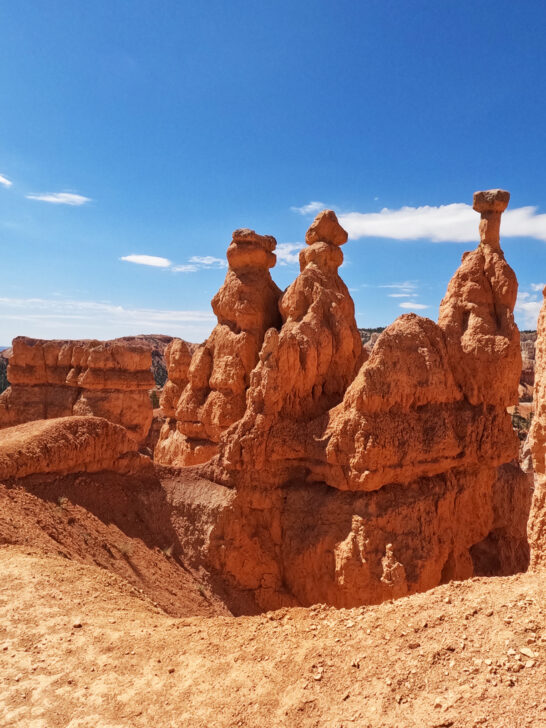 With crazy cool views throughout this hike, you'll love this Queens Garden Navajo Loop combo!
Starting at Sunrise Point, you'll quickly descend into the canyon. If you're new to hiking or are adventuring with kids, remind them when you go down, you'll eventually have to come back up! 😉
Walking past the orange rocky spires, AKA hoodoos, you'll get an out-of-this-world experience. These orange rocks have been shaped through erosion over millions of years, and it's so cool to see up close.
Fun fact: the Bryce Canyon Amphitheater has the largest collection of hoodoos in the world!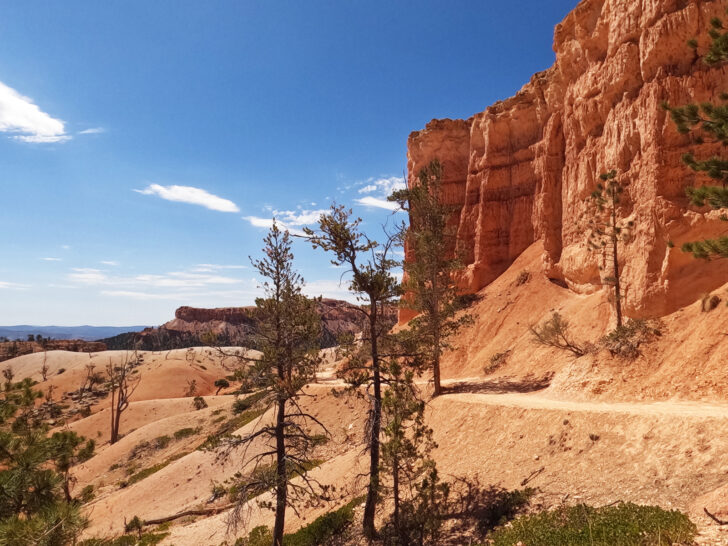 Hiking down into the canyon, you'll start to see the canyon walls looking up, instead of previously below you. The trees and orange rocks create such a unique scenery.
It's sort of like spending one day in Arches National Park and hiking through the massive arches. Truly unforgettable.
Anyways, this part of the trail is relatively easy as you descent, unless of course you're hiking in the snow and ice. You'll need crampons and trekking poles in the winter for this hike, for sure!
Highlights of the Queen's Garden Trail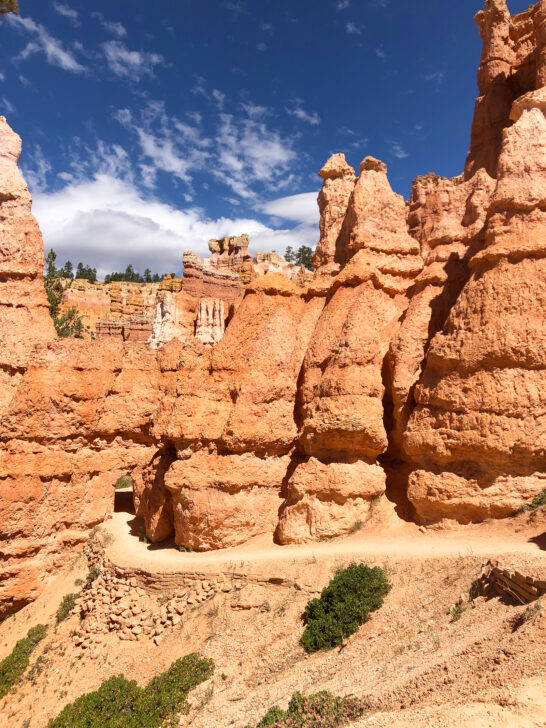 As you hike further into the canyon, the trail actually goes through the hoodoos, which is pretty cool. These man-made cut-outs are another element of this hike that makes it interesting and fun!
About a mile in, you'll find the famous Queen Victoria hoodoo. Honestly, it's sort of hard to see unless you look really close. The rock is high above you and you really have to look to see it. There's a sign nearby and that will guide you.
Although the trail is named after it, I loved other features of the Queen's Garden Trail better. 🙃
If you want to do just a short hike – like your kids are crabby or you're really limited on time – then you can head back up the trail to Sunrise Point and call it a day.
Navajo Loop Trail Bryce Canyon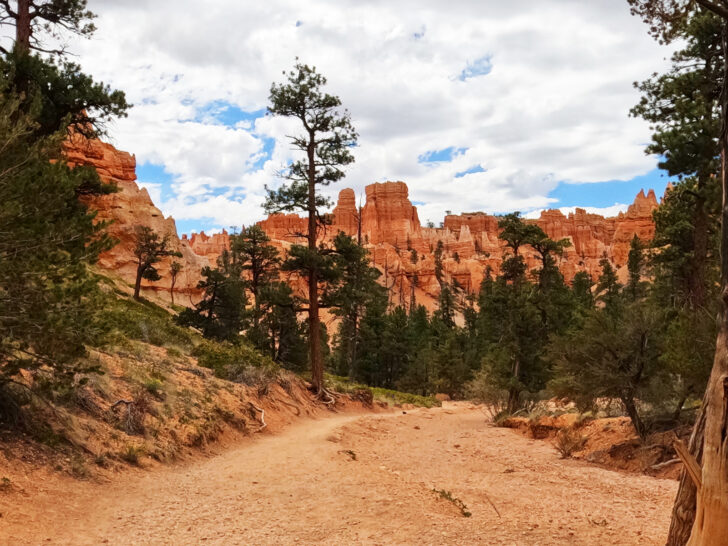 After seeing the Queen Victoria hoodoo, make your way to the west through the base of the Bryce Canyon Amphitheater. Watch for signs to follow the trail to Navajo Loop.
This part of the trail is relatively flat. You won't see a lot of hoodoos up close in the base of the canyon, but you'll get other desert scenes and quite a few trees. Look up throughout your hike to see the walls of the amphitheater!
This stretch connecting Navajo Loop and Queen's Garden Trail is 0.8 miles. There are a few large rocks along the trail, perfect for resting or taking a snack break.
I found this part of the trail was the least busy, compared to the descent on Queens Garden Bryce Canyon and Navajo Loop Trail.
Wall Street Bryce Canyon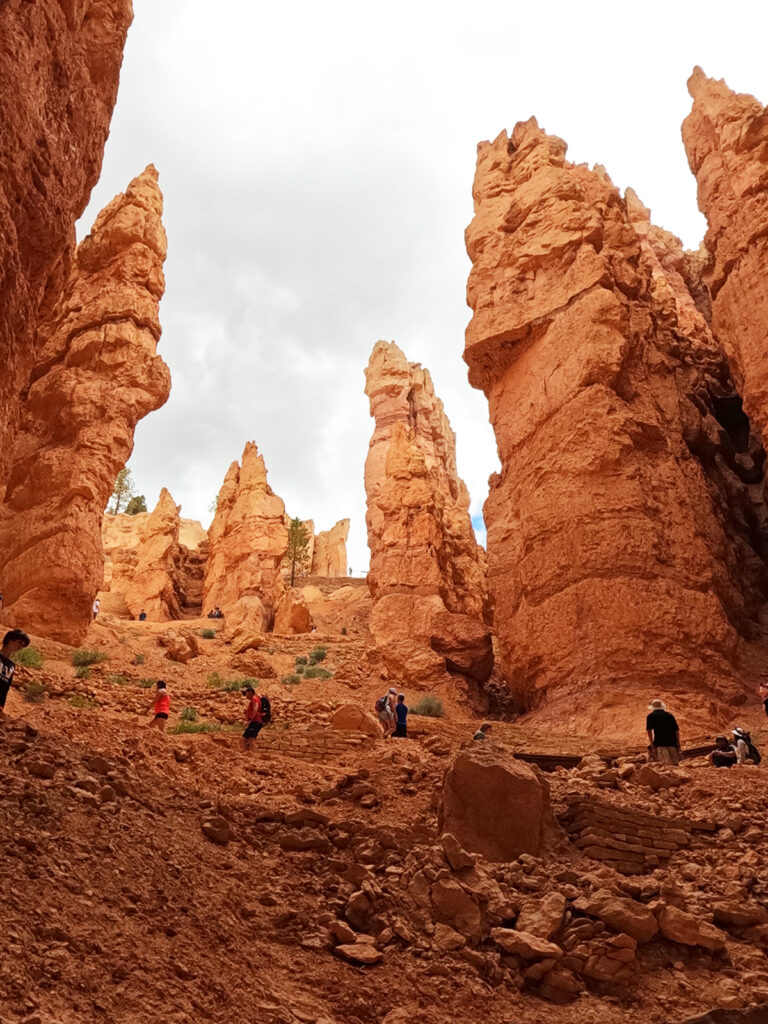 As you make your return out of the amphitheater, you'll take the Navajo Loop and through the Wall Street section. This ascent up the Navajo Loop is fun, especially as you make your way back up past some cool hoodoos.
Take breaks as needed if you get winded or tired – remember you're basically climbing 649 feet in just 0.6 miles. 😮‍💨
Wall Street Bryce Canyon is the short and narrow stretch of zig-zag trail. People hiking the trail quite literally look like ants marching in a row. It's really cool from all angles.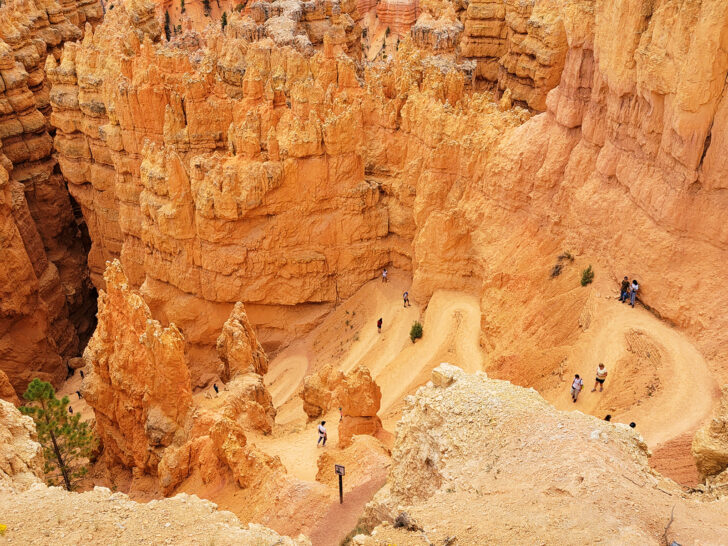 Pro tip: if you're hiking with a group, take a photo together at the base and at the top!
Those thighs are burning as you make your way to the top of Bryce Canyon Wall Street Trail! Once you're at the top, stop to enjoy the views of the trail looking down. So fun!
Wrapping up the hike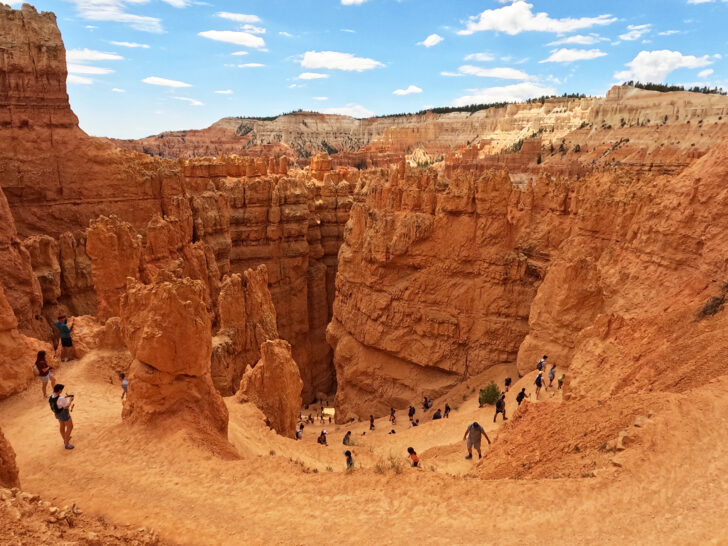 At the top of the Wall Street section of the Navajo Loop Trail Bryce Canyon, there's benches for a rest if you desire. The paved walking path has areas for various viewpoints, which are really cool too.
This is Sunset Point, which is one of the best sights in the park!
After marveling at the views, head back to Sunrise Point via the easy Bryce Canyon Rim Trail. You'll get a picturesque backdrop as you hike back to complete the 3.1 mile loop.
Alternatively, you can take the shuttle back to your car, whether it's parked at Sunrise Point or at the main parking lot at the Bryce Canyon Visitor Center.
What to pack for Navajo Loop and Queen's Garden Trail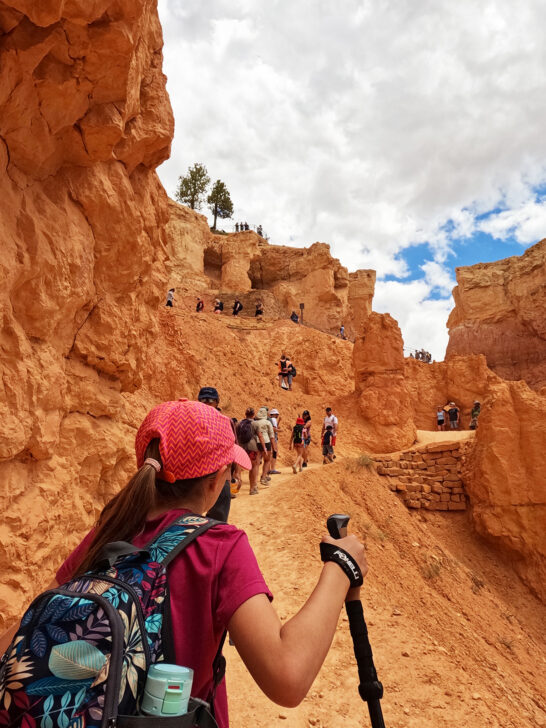 This is a fun hike in Bryce Canyon. You'll want to be prepared for this hike though! Make sure you have the 10 essentials, including the items below plus a few more for comfort and experience…
Things to do nearby in Bryce Canyon National Park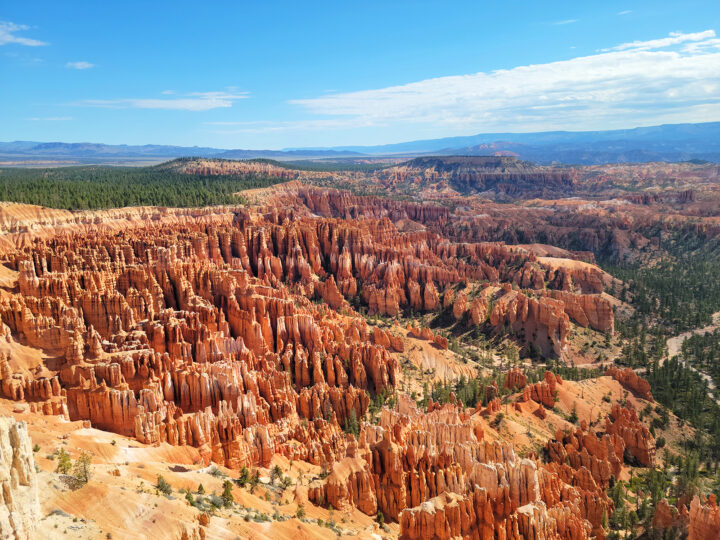 If you're looking for more activities within Bryce Canyon National Park, then you definitely need to see more views of the iconic amphitheater! My favorite stops are Bryce Point and Inspiration Point, which give you a different angle on the park.
Of course, if you want to add another hike to your day or are visiting the park for multiple days, be sure to check out the trails…
More hikes in Bryce Canyon National Park
Mossy Cave Trail, 0.8 miles
Tower Bridge Trail, 3.0 miles
Bryce Amphitheater Traverse, 4.7 miles
Accommodations near Bryce Canyon National Park
If you're still planning your trip to Bryce Canyon National Park and need a place to stay, consider these options! Bryce Canyon City is the closest area for hotels and camping to the hiking trail.
Camping near the Bryce Canyon Queens Garden Trail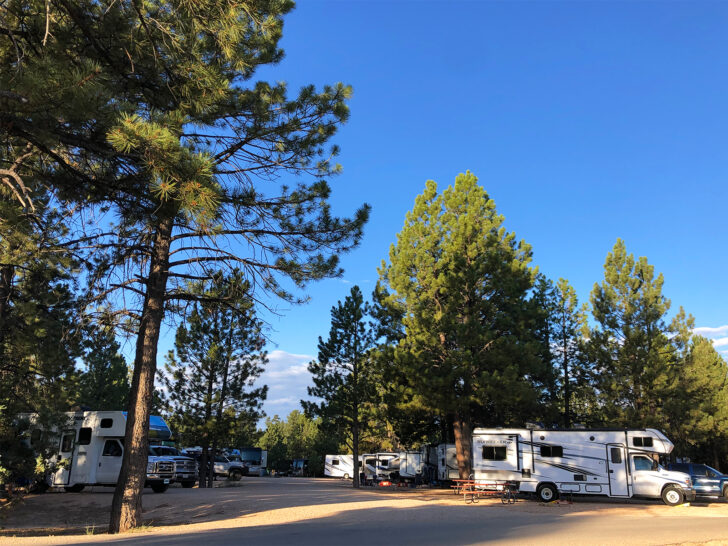 Whether you're tent camping or making your way around southern Utah with an RV, here are some great campgrounds to consider.
Sunset Campground. Located inside the park, this fills up quickly! Great for tent camping and RV's (no hook-ups).
Ruby's Inn RV Park and Campground, located just outside the park, this campground comes with a pool, laundromat and more. It's great for tents and RV camping.
Where to stay near Bryce Canyon National Park
If you're looking for a few more amenities than traditional camping, here's some great options for you.
Queens Garden Trail to Wall Street Bryce Canyon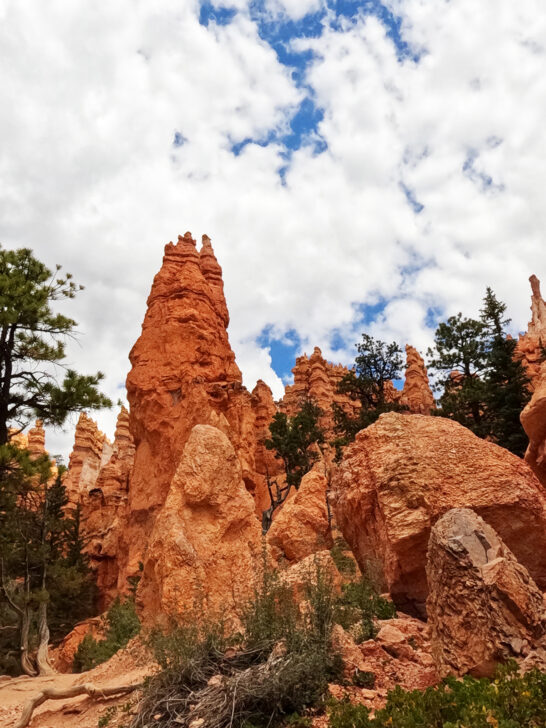 Well, are you ready for this epic hike?! It's one of the most popular trails in the park, and for good reason. The Queens Garden Navajo Loop Trail is a powerful combo trail that provides incredibly diverse landscapes that keep this hike interesting and fun.
Whether you're on a solo hiking adventure, road tripping through the Mighty 5 or get to spend lots of time exploring Bryce Canyon, this is a hike you'll absolutely love!
Related content you might like:
AMAZING Utah National Parks Road Trip (Map, Best Hikes, Scenic Route Between Parks + More)
Find this post helpful? Save it for later or share it on social media!