It's one of the most scenic routes in the USA! The drive on the California Pacific Coast Highway is an absolute gem, and one that begs to be explored. These are the best stops on a San Francisco to San Diego road trip!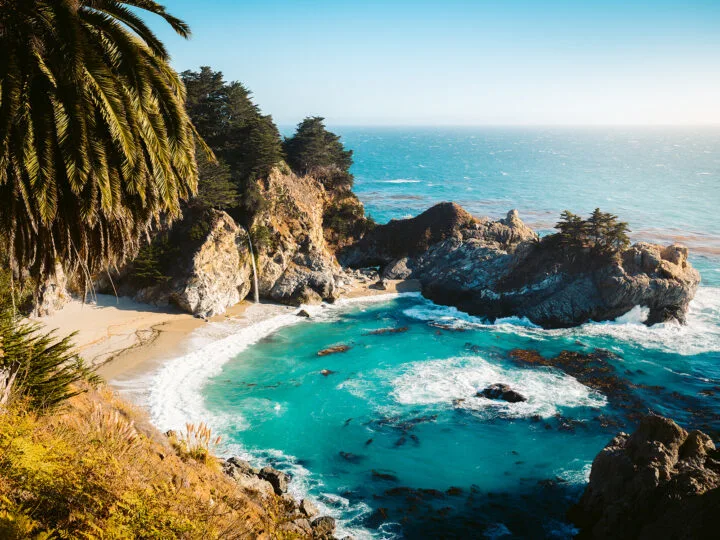 This post may contain affiliate links. For more info, see my disclosures.
From the rugged, northern coast of California to the classic So Cal beaches near San Diego, there's so much to see and do along the way. Whether you have 2 days or 2 weeks to make the trip, you'll love this California Coast road trip!
Speaking of which, the first time I drove the Pacific Coast Highway (PCH) in California, I foolishly only allowed 2 days. And while I've returned to many places along the drive, I haven't seen it all. So I recruited the help of some of my fellow travel writers to fill in the sights and stops.
Let's dive in!
Plan your San Francisco to San Diego road trip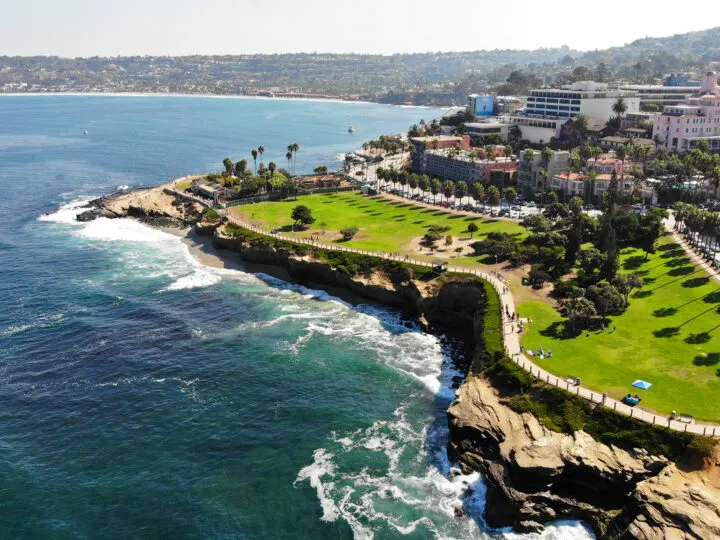 The California Coast drive can be done in 2 days or a month, filling your days with all the incredible sights and activities in San Francisco, San Diego and everywhere in between.
Throughout this guide you'll find the best stops along the coast, tips for visiting each spot and what to pack for your epic drive. Be sure to check out the Pacific Coast Highway itinerary 7 days if you've got a week in the area.
Note: severe weather events can cause road closures, such as the Big Sur closure of 2023. Check out the official website for Highway 1 closure information to see if there are any current closures and if it will affect your trip!
California Coast road trip distance and route
Driving this epic west coast road trip, along the coast from San Francisco to San Diego, you'll primarily take the Pacific Coast Highway, also known as US Highway 101/ California Highway 1. The highway technically starts in Washington state and ends in San Juan Capistrano (just south of the Laguna Beach stop on this itinerary).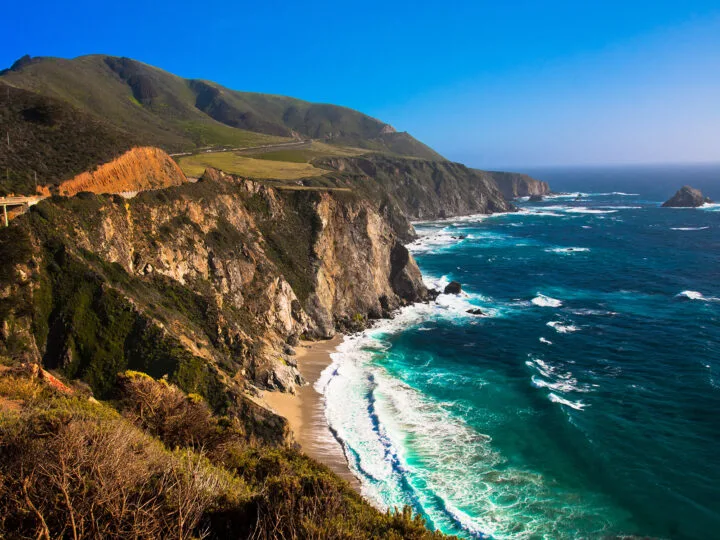 So after the official end of Highway 101, you'll be taking the coastal roads of Camino Del Mar, Torrey Pines Rd, La Jolla Blvd, Mission Blvd and so on into San Diego.
The San Francisco to San Diego drive is approximately 615 miles.
The best way to do this trip is from north to south so you can be closer to the coast as you drive. Fly into San Francisco, rent a car and drive to San Diego, where you'll fly back out.
Pro tip: I always search for discounts on rental cars, and often times save 10-30% using Discover Cars. It's a search engine for the top rental car companies and it's free! Book your perfect PCH car here.
How long does a San Francisco to San Diego road trip take?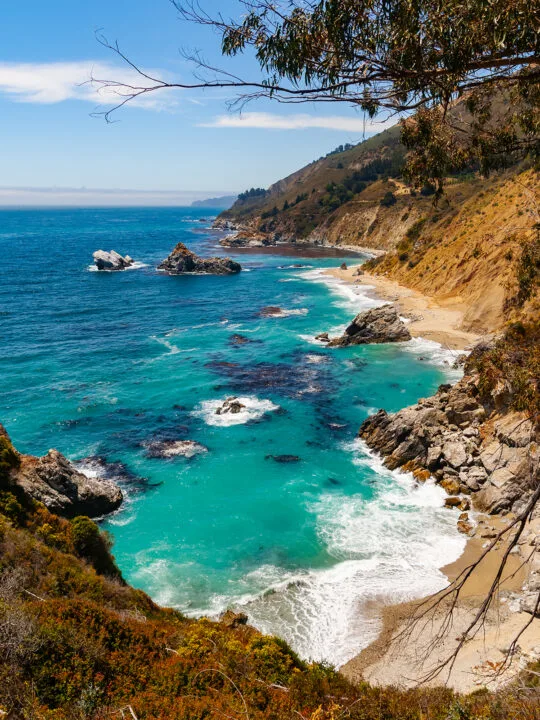 Driving straight through, it's about 17 hours. Of course you'll have required stops along the way for gas or a charge, and plenty places you'll want to see after reading this guide!
It would be incredibly exhausting to do it all in one day! 🥴
At minimum you should plan to spend 1 day in the Bay Area area, 2 days driving and 1 day in San Diego, or 4-days total. But be sure to check out the Pacific Coast Highway road trip itinerary at the end of this post for a suggested timeline!
California Coast road trip map
Here's a preview of the route and all the amazing stops along the way! Eeek! I'm so excited for you to start this adventure!
California Coast drive – best time of year
Honestly, most of the year is great for this amazing road trip.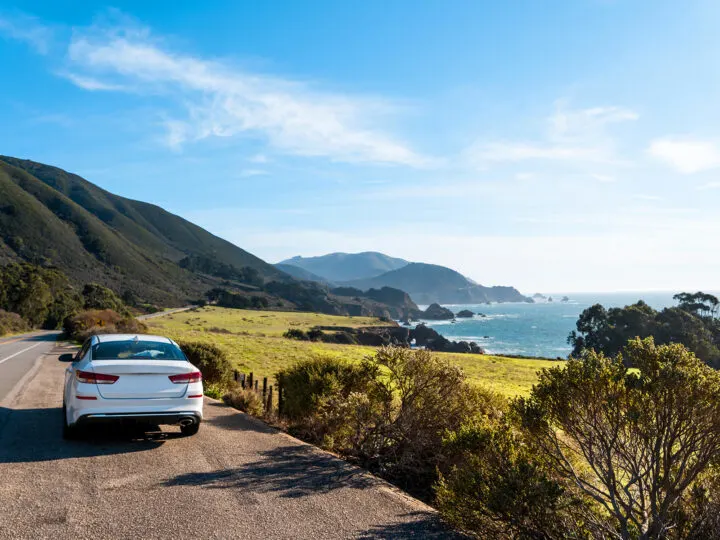 You may have to deal with road closures in the peak of wildfire season in California, which is July through October.
Unfortunately, this area has seen dramatic droughts the last few years, resulting record-breaking wildfires. That means part of the highway can be closed with no way to pass through except going inland.
The California coast also gets a dense layer of marine fog, which makes for moody views and doesn't allow you to see as much.
While the fog is essential and provides much-needed moisture to the local ecosystem, it's not ideal for catching the best sights of the coast. This fog can happen year-round, but is most prevalent in May and June in most areas of the coast.
Therefore, the best time for a San Francisco to San Diego road trip is November through April. The weather tends to cooperate more (in general) and as a bonus, it's not peak tourism season, either.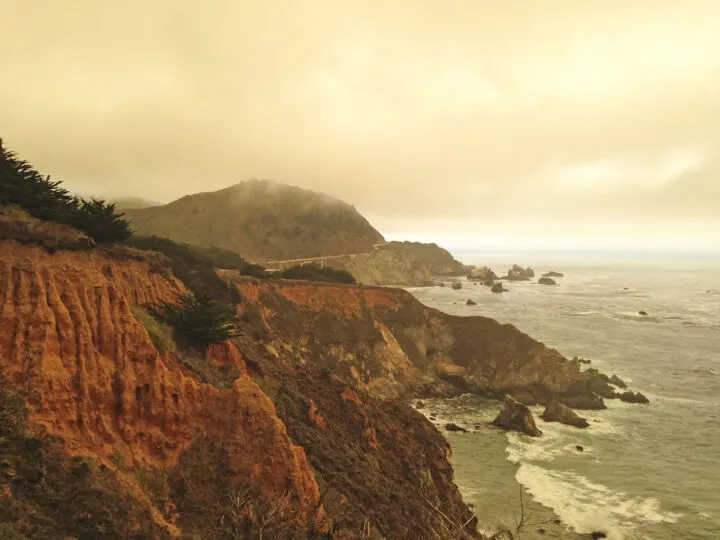 San Francisco to San Diego road trip: first up – San Francisco!
Alright so this is a mega guide for everything to do along the way. But first let's highlight some activities in San Francisco before you start off on your big adventure.
Enjoy these few things – then gas up and hit the road!
1. Golden Gate Bridge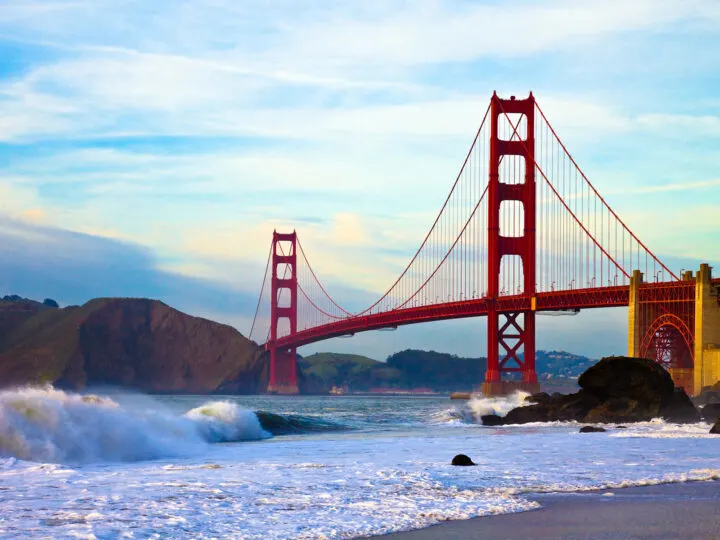 What an iconic sight in the USA – the San Francisco Golden Gate Bridge! Built in 1937, this absolutely must be a stop on your San Francisco to San Diego road trip!
Fun fact: a ferry got people across this waterway before the bridge was built.
The Golden Gate Bridge is recognized throughout the globe as one of the longest and tallest suspension bridges, not to mention one of the most photographed! In person, it's absolutely massive!
Pro tip: I know you're driving for this epic road trip. But parking at the bridge is extremely limited. So if you'd like to visit it by getting out of your car, park elsewhere and take public transportation or a ride share to the bridge.
If you'd like to walk across the bridge, the pedestrian access is on the east sidewalk. Check the hours before you go as it's not open 24/7. Oh, and prepare for a windy walk!
Recommended by me – Nikki of Inspired Routes – follow on Pinterest
2. Muir Woods National Monument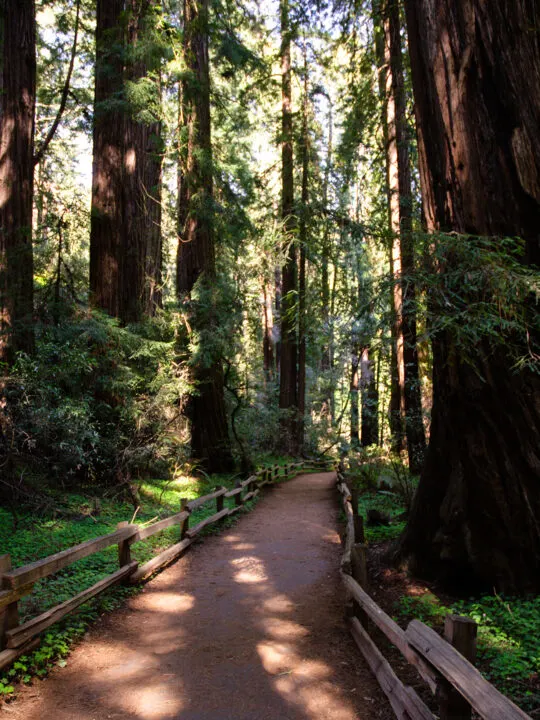 Don't skimp out on Muir Woods National Monument! Technically located about 20 minutes north of San Francisco, it's such a great stop along the coast it simply couldn't be skipped.
Whether you want to get your hiking workout on or stroll around leisurely, Muir Woods offers different trails for you. You can opt to stay on flat terrain or walk on the inclines. You can bike as well!
No matter what, you will be in complete awe with the majestic Redwood trees, some of the largest and oldest trees in the world. The trees are as large as 380 feet, but their seeds are as small as a tomato seed! And while most of them are 500-800 years old, the oldest one is 1,200 years old.
Since it's close to the Pacific Ocean, there is a marine layer which keeps the environment moist and encourages plant growth.
There are also different animal species such as birds, fish, bats, squirrel and chipmunks.
You will need to make reservations to park your car on the way. Weekends and holidays offer shuttle services, where you can make reservations and get picked up from the Muir Woods Shuttle in Pohono State Park and Ride in Sausalito. Admission is $15 for adults ages 16 and over, and free for 15 and younger.
While there are no campgrounds in Muir Woods, those who want to camp will want to head over to Mount Tamalpais, which is only a 23-minute drive.
And if you're heading north for a bit, or if you're starting your trip in Sacramento instead of San Francisco, these Sacramento coffee shops are worth a visit to kick off any road trip!
Recommended by Hannah of Hannah on Horizon – follow on Instagram
3. Land's End Trail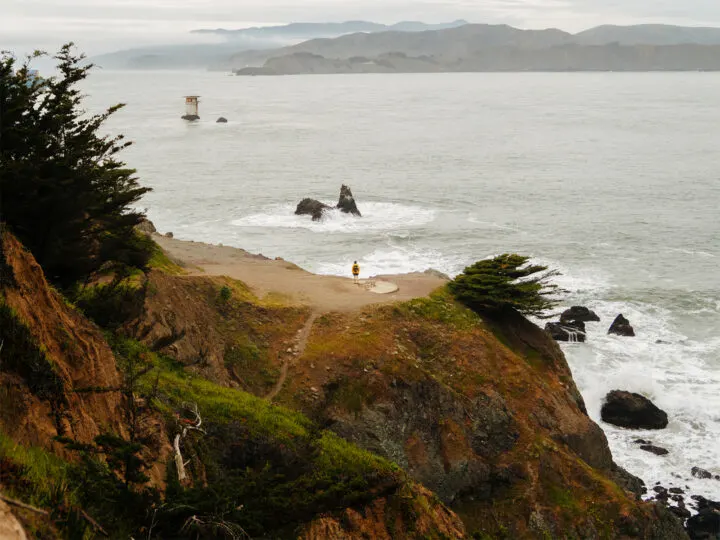 If you're exploring San Francisco and you want to get away from the city, but not too far away, the Land's End trail is the perfect place to go. You'll see gorgeous views of the ocean, the rugged coastline, and you'll get a chance to explore a secluded beach – all without leaving the city!
Land's End Trail is a 3.4 mile loop, but there are several options for parking, and you can make it a shorter out and back trail if you want. The most scenic part is the one that goes along the coast, so most people skip the loop and just walk by the ocean, where you get the best views.
This trail is a must-see, because all the views are absolutely epic!
Land's End trail is close to the city and not too difficult for most people. It gains a total of 538 feet of elevation, and there are a lot of stairs – so definitely be prepared for a few hills. The trail is dog friendly, so you can explore with your pup, as long as they are on leash!
When you hike the trail, make sure to take the little detour that goes down to Mile Rock Beach. This is the most scenic part of the hike, so you can't miss it!
You'll descend down to the Land's End Labyrinth, which is a really gorgeous spot on top of a cliff with views of the ocean and the Golden Gate Bridge. Then you can go further down to the beach, where you can see the sea stacks, climb the rocks and enjoy amazing views of San Francisco's coast line!
Recommended by Anna of Anna Tee – follow on Instagram
Real quick, if you're based in or near San Francisco, you'll want to check out another fun road trip. This guide of the best RV vacations includes details on a route from San Francisco to Lake Tahoe. So fun!
Stops along the way: California Coast road trip
Let's head south from San Francisco to San Diego! These next few stops are just begging to be explored! You'll see gorgeous views from the California Pacific Coast Highway along the way, too.
Let's go!
4. Half Moon Bay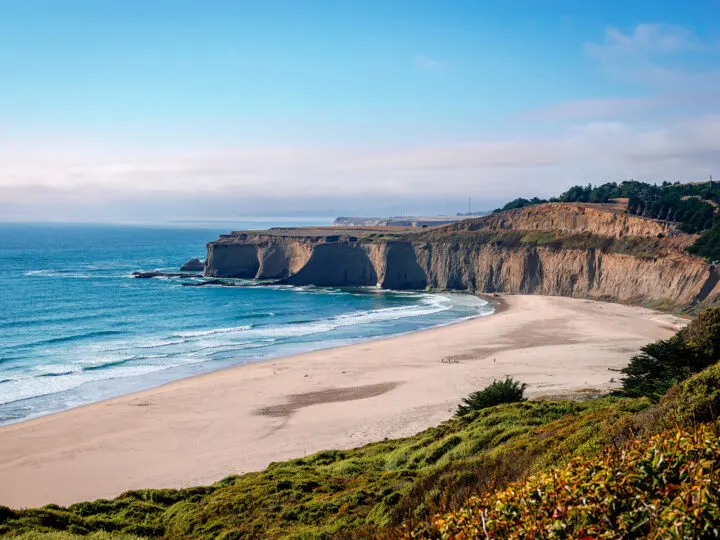 Home to 4 beautiful miles of beaches, Half Moon Bay should absolutely be on your list of things to do on a California coast road trip!
Francis Beach is the main beach with the most amenities, and is actually part of the Half Moon Bay State Beach Campground. You can also visit Dunes Beach, which has equally gorgeous views of the shoreline and soft sand.
It's a great spot to watch surfers catching the waves. Unless you have a wetsuit, this far up on the coast isn't super comfortable for swimming. I would recommend bringing water shoes though, so that walking on the sand is comfortable and you can dip your feet in the water if you'd like to.
There are several walking paths near both Dunes Beach and Francis Beach. In the spring and summertime you'll see beautiful wildflowers, too! Stopping at Half Moon Bay will be a highlight of the drive!
Recommended by me – Nikki of Inspired Routes
5. Santa Cruz (a fun stop on this California Coast drive)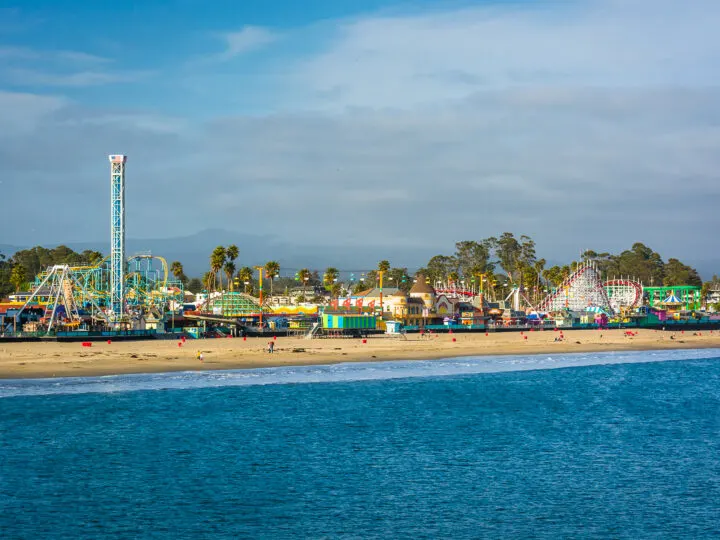 A cute little town nestled along the coast, Santa Cruz is a great spot to stop for food, shopping and adventure. Whether you're road tripping solo, with your partner or as a family, this stop is a must-do along your drive.
The most popular tourist attraction is the Santa Cruz Beach Boardwalk. It's amusement park right along the beach is perfect for classic rides and fair food. Kids – and those young at heart – will love the boardwalk.
You can also visit the Santa Cruz Surfing Museum, home to a hundred years of surfing history in the area. See the historic surfboards and imagine yourself up on this much heavier version of today's surfboard! There's a bunch of photos and newspaper articles displaying the history of the sport, too.
Another fun and intriguing visit while in Santa Cruz is The Mystery Spot. It's a location in the woods where weird things happen.
Simply put, it defies logic as physics and gravity just don't make sense here! You'll feel the sensational gravitational pull on your body while you visit. So cool.
Recommended by me – Nikki of Inspired Routes
6. Monterey (one of my favorite San Francisco to San Diego road trip stops)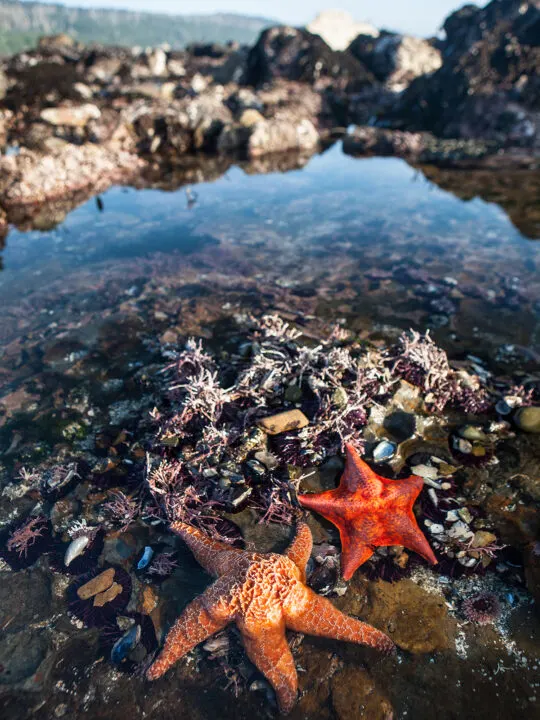 One of my favorite places in California is Monterey. And it's just a bonus that it's a perfect stop on a San Francisco to San Diego road trip!
There's so many things to do in Monterey that you could spend a whole weekend visiting the city! My favorite activity on the water is kayaking on the bay. Take a tour that specializes in sea life because there's so much marine life nearby. I especially loved seeing the otters up close while in the kayaks.
Year-round you can take a whale watching tour and witness the magic of these giant creatures! For other sea life, a must-see is the Monterey Bay Aquarium. There's interactive displays of hundreds of marine life.
Other town highlights include Monterey's Old Fisherman Wharf and Cannery Row for shopping and dining. If you're up for a walk, the Monterey Bay Coastal Recreational Trail is the perfect adventure! It's 18 miles long, although you can hop on and off at various points very easily.
Recommended by me – Nikki of Inspired Routes
7. Pebble Beach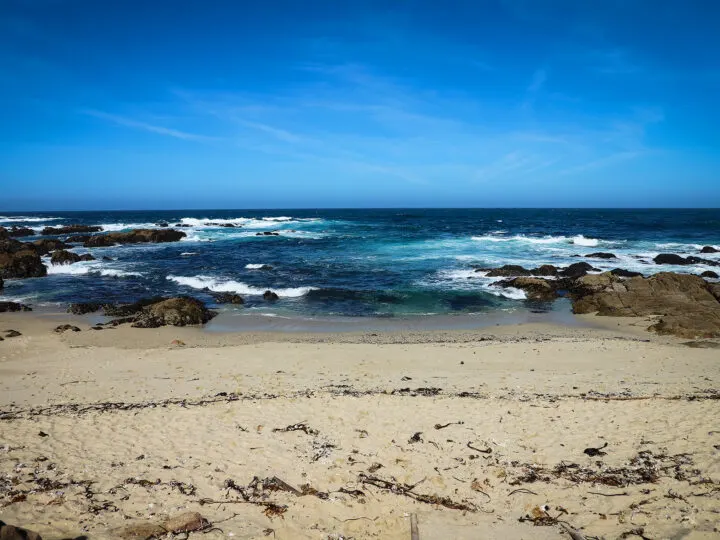 If you're planning a road trip along the gorgeous California Pacific Coast Highway you really need to plan to make Pebble Beach one of your road trips stops.
Pebble Beach is located between Monterey and Carmel and offers out-of-this-world views of the ocean, legendary golf courses and 17 miles of amazing coastline.
Plan to spend the day exploring 17-Mile Drive in Pebble Beach with pull-outs and parking all along the way. Stop for pictures, do a little beach combing or enjoy a picnic by the ocean.
The stunning scenic coastal views along the 17-Mile Drive at Pebble Beach feature beautiful beaches, dramatic cliffs, rare groves of trees and ocean wildlife. Stroll the wooden boardwalk above the snow-white beach of Spanish Bay going North or South as you begin your day.
Get your camera ready for stops at:
Spanish Bay Beach
Restless Sea
Point Joe
China Rock
Bird Rock
Seal Rock
Fanshell Beach
Cypress Point Lookout
Crocker Grove
Lone Cypress
If playing a round of golf at Pebble Beach has always been on your bucket list, there are a number of courses that offer access to the public. Choose from Pebble Beach Golf Links or perhaps The Hay, a 9-hole short course designed by Tiger Woods.
There is an entrance fee of $11.25 charged per vehicle if you wish to enter the private community of Pebble Beach and discover 17-Mile Drive.
Recommended by Jolayne of Simply Jolayne – follow on Instagram
Big Sur: one of the best stops on a San Francisco to San Diego road trip
Here's a brief overview of Big Sur – we'll dive into more detail of our favorite spots in a bit!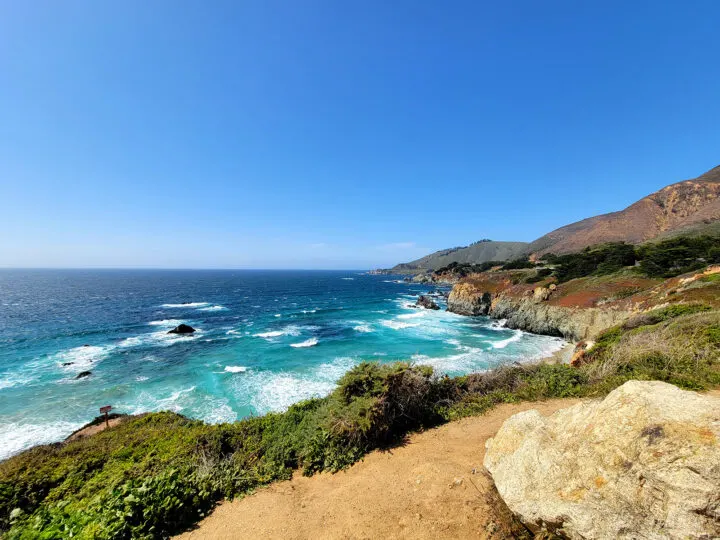 When planning a California Coast road trip, Big Sur is an absolute must-see area. Big Sur is a 90 mile stretch of highway that runs parallel to the Pacific Ocean, with many beaches and parks to stop at for stunning views and relaxing walks along the beach.
You will want to start in Carmel-by-the-Sea, a small one-square mile town that features many quaint and unique eateries and gift shops.
Your next stop will be Point Lobos Natural Reserve, where you can enjoy hiking, a rocky coastline perfect for exploring, and you'll have a good chance of spotting some seals or sea lions hanging out on the coast.
Garrapata State Park is next, where you can enjoy hiking trails along both sandy beaches and redwoods.
A quick stop at the Bixby Creek Bridge, one of Big Sur's most iconic stops, will give you some great views and a great photo op. The purple sand Pfeiffer Beach is next, and you won't want to miss checking out the keyhole rock.
Continue to Julia Pfeiffer Burns State Park, where a short half mile hike will take you to the unique McWay Falls flowing onto the beach. Conclude your visit to Big Sur with a stop at Sand Dollar Beach, where you will find some of the most stunning sunset views.
Before venturing out for a visit to California's Big Sur, be prepared. Having a backup paper map and directions is also essential as wi-fi and cell service is scarce along Big Sur.
The last thing you want to do is get lost or miss one of the great stops! Gas stations are also few and far between along Big Sur, so be sure to fill up before visiting.
Recommended by Melissa of Navigation Junkie – follow on Pinterest
And if you're looking for an incredible adventure along an equally epic coast, consider the Great Ocean Road trips from Melbourne, Australia, where you'll experience coastal views, forests and even epic wildlife!
8. Carmel-by-the-Sea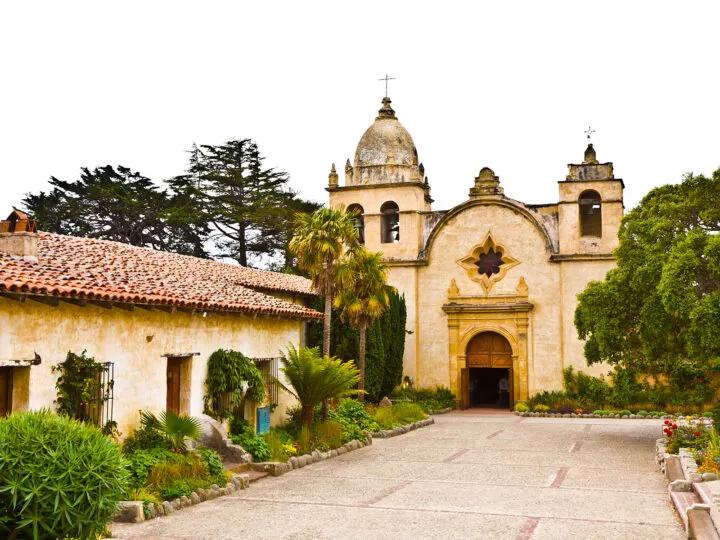 Fun fact: Carmel-by-the-Sea doesn't have any chain restaurants. So if you're hungry by the time you get to Carmel, California, this is the place to stop!
You'll find one-of-a-kind local spots that are simply delicious! Also, if you love charming boutique shops, you'll love stopping in Carmel on your San Francisco to San Diego road trip.
Of course being a beach town, you know there's one of those to visit, too. Carmel Beach is a beautiful stretch of sand that draws tourists in. It's still a little too northern to swim comfortably, but it's a great spot for a walk along the beach or to watch the surfers.
If you love architecture or religious sites, you'll love Carmel Mission Basilica Museum. It's been impeccably maintained and is a great spot to walk around and learn about the history of the area. It is an operating church with services, so be sure to check their schedule for visitations here.
It's easy to get caught up in this romantic coastal town (I know I could have stayed for at least a week!) Between wine tastings, art galleries, sunsets along the beach – it's a dreamy destination without the huge crowds!
Recommended by me – Nikki of Inspired Routes
9. Point Lobos State Natural Reserve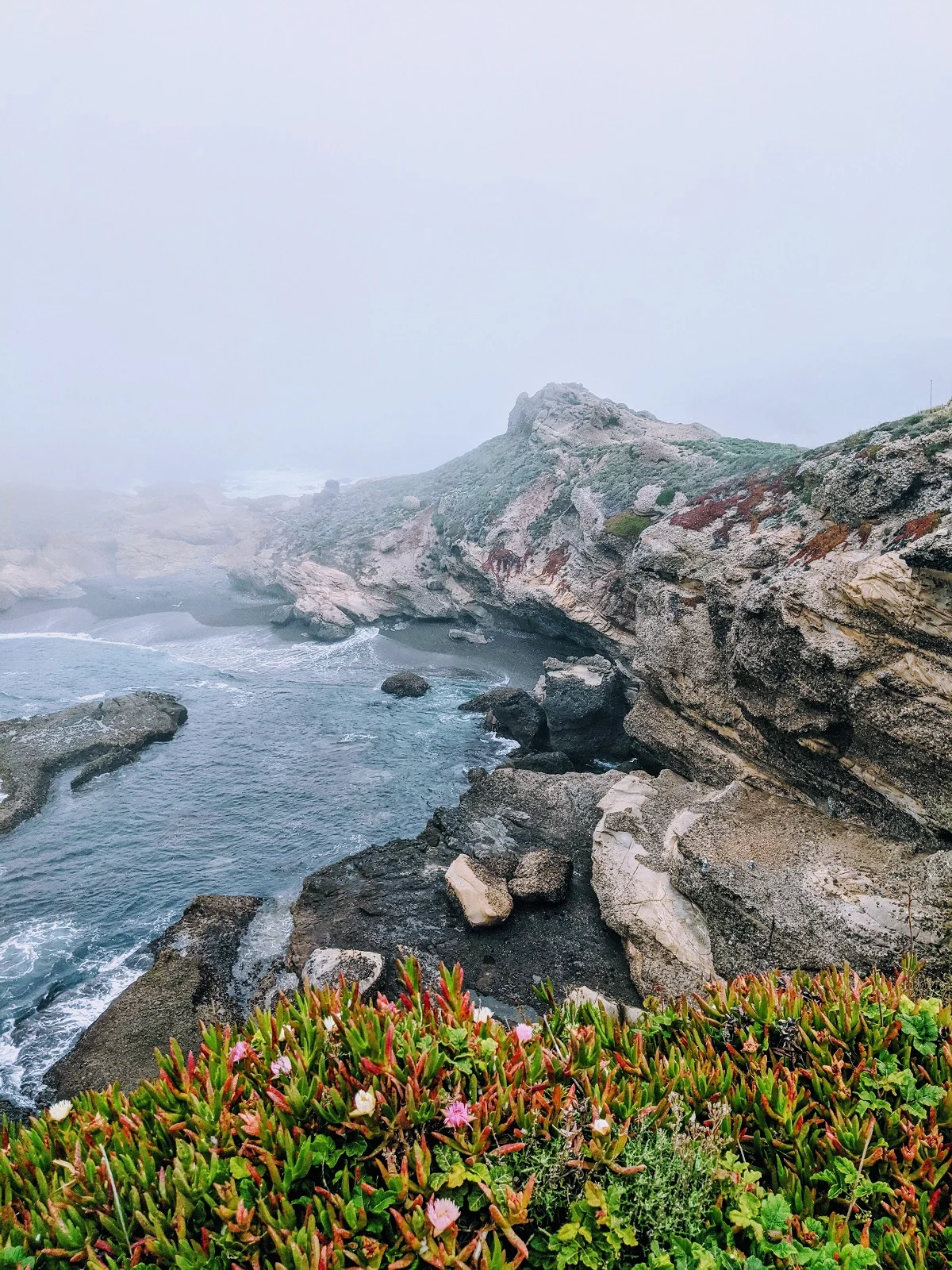 If you're looking for a stop along Big Sur that offers gorgeous scenery, a variety of wildlife and hiking, don't miss Point Lobos State Reserve! This is hands down one of the best things to do in Big Sur.
Point Lobos is teeming with activity throughout the year — in April and May, visitors may catch a glimpse of Harbor Seal pups as these 2 months are affectionately known as pupping season. Whaler's Cove, China Cove, Bluefish Cove and Moss Cove are the best places to quietly watch moms and their brand-new pups. It is illegal to harass, touch or feed the seals, so please be respectful.
From December – May, watch carefully for water spouts in the ocean, marking the migration of gray whales on their way to feed in the Alaskan waters. Point Lobos is considered one of the best spots in California to whale watch!
Aside from watching for various sea life, there are approximately 12 hiking trails ranging from just under a mile that meander cliffs to 3 miles that will take you through the gorgeous meadows and forests. There are so many Big Sur hiking trails, and these are definitely worth checking out.
Hiking is a great way to catch the diversity of land animals and birds that call Point Lobos home — hummingbirds, snowy egrets, great blue herons, gray foxes, badgers and many others.
Before you visit, dogs are not allowed, and there is an entrance fee of $10 per car. You can avoid it by parking on the road and hiking into the reserve.
Point Lobos State Reserve is one of the top things to do on this incredible California Coast drive!
Recommended by Rebecca of Veggies Abroad – follow on Instagram
10. Bixby Creek Bridge (the best views on this San Francisco to San Diego road trip)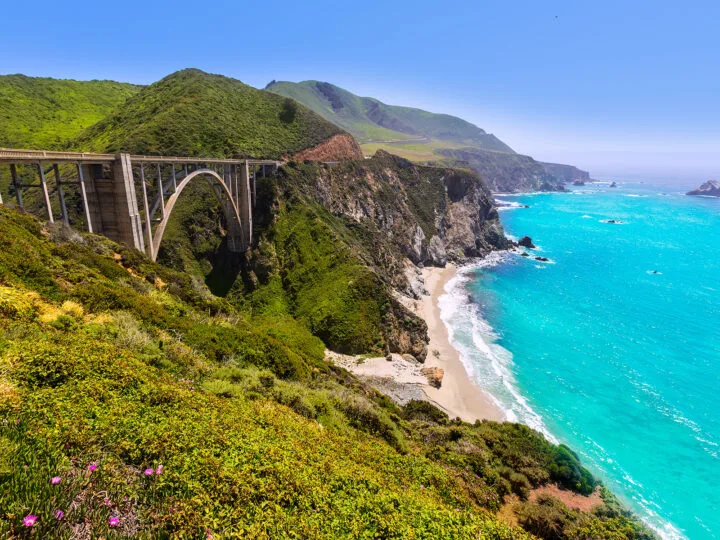 One of the most scenic stretches along the San Francisco to San Diego road trip is Big Sur. And within Big Sur, the Bixby Creek Bridge is the spot for coastal views and scenic photographs.
It's a short stop on the road trip, but one you absolutely cannot miss. Since it's completion in 1932, travelers have been stopping to see the iconic bridge.
There are a few ideal photography points near the bridge, the most popular is on the northern end at Castle Rock Viewpoint. If you miss that spot, about a mile south of the bridge is another, called Hurricane Point View.
Both viewpoints are worth visiting if you have the time!
Recommended by me – Nikki of Inspired Routes
11. Pfeiffer Beach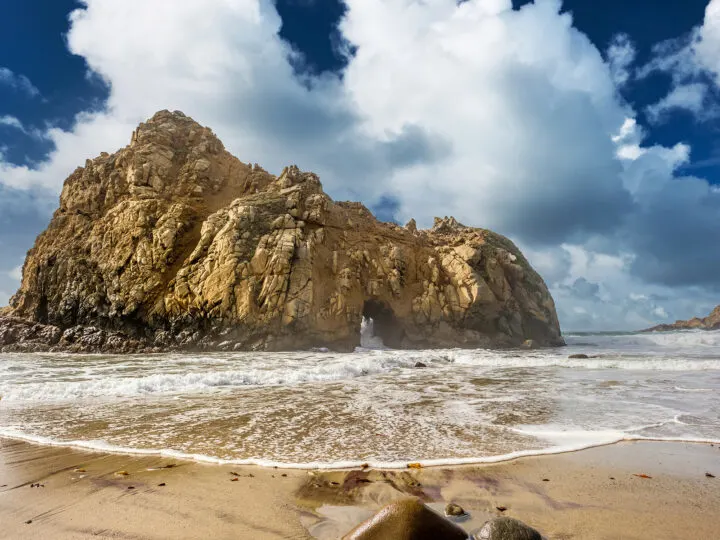 One of the most naturally stunning beaches along the California Coast road trip is Pfeiffer Beach. You could spend an hour here or an afternoon, depending on how much time you have to make the PCH drive.
The most prominent feature is this mega rock along the coast called Keyhole Rock. The waves crashing around the rock are really cool to watch.
Pfeiffer Beach is also known for it's purple sand! The entire beach isn't purple, but you'll find some around the tide pools and edges of the coast. The purple sand is from manganese garnet that washes down the mountainside after it rains. Fascinating!
Pfeiffer Beach isn't a good beach for swimming. But if you bring your water shoes, you can dip your toes in the waves as they come up the sand.
Getting to Pfeiffer Beach isn't too tricky – unless you have an RV or trailer. In that case, you'll have quite the walk! But for most vehicles, you'll find the turn for Pfeiffer Beach at mile marker 45.64. The turn to the beach is on Sycamore Canyon Road.
Recommended by me – Nikki of Inspired Routes
12. McWay Falls (a must-see on this California Coast road trip)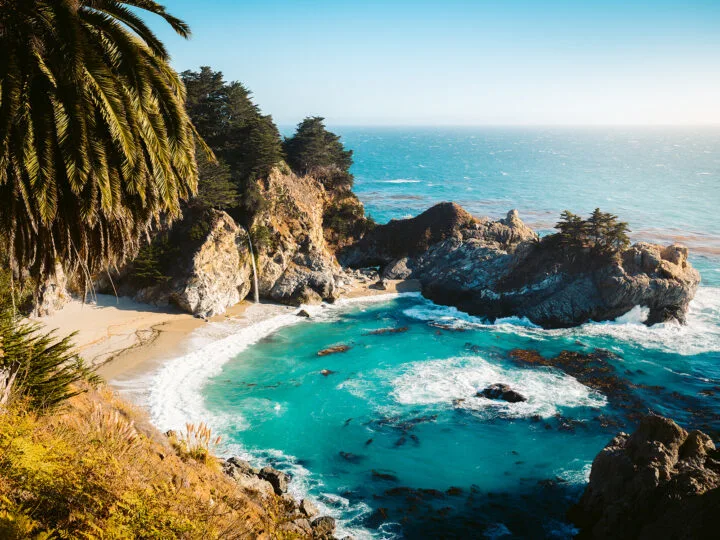 Located in Julia Pfeiffer Burns State Park, McWay Falls is one of the top spots to see in Big Sur. The 80-foot waterfall flows year-around from McWay Creek, situated above the ocean.
For just a little effort, you'll see one of the most beautiful spots along the coast. This waterfall hike reminds me of the best waterfalls in Glacier National Park – it's so picturesque!
The waterfall typically falls directly onto the sand below. However, if you're lucky enough to see it during high tide, you'll watch the water flow directly into the ocean. Super cool!
It's actually illegal to be on the beach at McWay Falls. It's completely off limits due to the fragile nature of the cliffs. The best viewpoint is from the Overlook Trail to McWay Falls.
This out-and-back 'hike' is 1.2 miles round trip on easy terrain and walkable for most still levels, including children. You'll see views from several points along the way, but the closest views to the overlook are at the end of the trail.
Note: there is a $10 per car fee to enter the park.
Recommended by me – Nikki of Inspired Routes
13. Sand Dollar Beach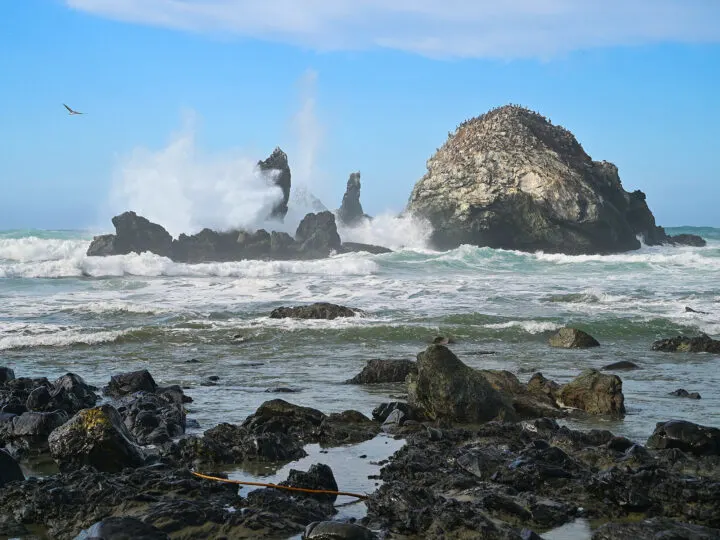 This is the hidden gem along Big Sur you were looking for! Located in the Los Padres National Forest, Sand Dollar Beach requires a parking fee (#worthit).
After you park, there's a short trail and steps down to the beach – 101 to be exact!
Once at the beach, during low tide the beach is wide and expansive. You can walk around and look for sand dollars. After all, it's how the beach got its name.
Parts of the shoreline is rocky and if you're there around sunset, it's a gorgeous spot to photograph those rays dipping into the ocean along the coast.
If you're up for a hike, the Pacific Valley Bluff Trail is one worth taking. It's rated as an easy hike, coming in at 1.6 miles. You'll get stunning views of Sand Dollar Beach and the surrounding Big Sur area.
Recommended by me – Nikki of Inspired Routes
San Francisco to San Diego road trip – more stops along the way
Can you believe this list?! What an action-packed road trip. Whether you have one day left or a week, here's more on this epic California Coast road trip itinerary!
14. Hearst Castle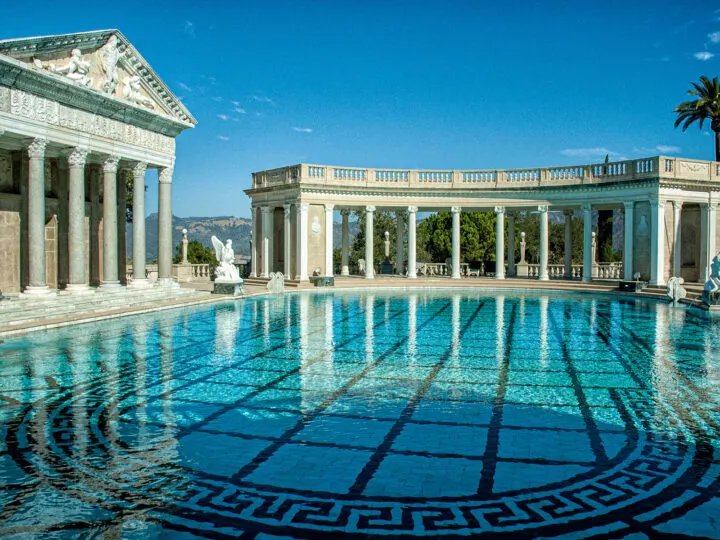 What feels like a testament to America's Gilded Age, Hearst Castle certainly shines in that period's glittering overindulgence. Built by the publishing tycoon William Randolph Hearst, La Casa Grande as it is also called, certainly lives up to its name.
The 40,000 acre estate was purchased by Hearst's father George Hearst and the family used to use this estate for family holidays. Following his inheritance and wealth from publishing, William Hearst began construction in 1919.
It was in the roaring 20's that the Hearst Castle reached its social peak and hosted many celebrities and dignitaries from around the world. Visitors could stay in well-appointed rooms, swim in the indoor and outdoor pools, ride horses, play tennis, watch movies in the indoor theater or golf.
Visitors today can experience some of the grandeur of the house and see many of these sites described above. It has the feeling of many of the old royal estates from Europe and beyond.
There were even an incredible amount of domestic and foreign animals that roamed the estate as well. Visitors and even drivers on highway 1 can still see zebras grazing along the estate on occasion.
Ticket prices start at $30 for adults and $15 for children. There are quite a few different tours guests can take including evening and holiday themed tours. There's even a private tour (up to 6 people) that costs $1,000 per group.
If you love the architecture and history of castles, be sure to add the Downton Abbey Castle to your bucket list, located near London!
Recommended by Anwar of Beyond My Door – follow on Instagram
15. Cambria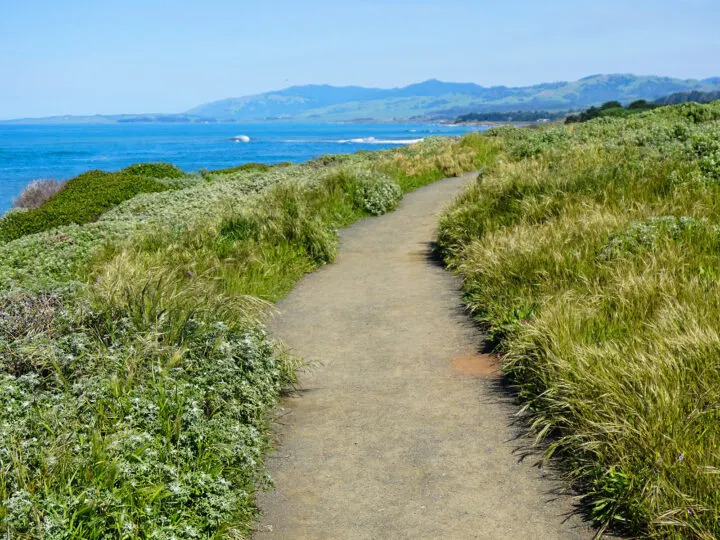 The little seaside village of Cambria makes for a delightful stop on a California Coast drive.
Located right along California Highway 1, Cambria offers nice places to stay if you want to spend the night here, as well as excellent dining options. But if you're just looking to spend a few hours, Cambria is a great stop for stretching your legs as well!
Wandering the village is among the best things to do in Cambria. Admire the charming cottages on the residential sections of Main Street, their gardens spilling over with colorful flowers in season. In the commercial stretch, you'll find lots of one-of-a-kind stores to visit, as well as art galleries with beautiful pieces of fine art and antique shops.
Also in the village, there are numerous quality restaurants, as well as wine tasting and cold brews. Be sure to stop in at Linn's, a Cambria institution, for a slice of their famous olallieberry pie, and pick up some goodies to take home!
If you enjoy easy walks, stroll the boardwalk trail along the beach, or the Bluff Trail at Fiscalini Ranch Preserve. Both hikes offer spectacular ocean views, and the opportunity to spot wildlife and birds.
The walks are easy and family-friendly. In season, you'll see lots of wildflowers. Sunset is a great time to do these walks.
Wine lovers can tour area wineries for tastings with views. Just south of Cambria is California Highway 46, lined with lots of wineries: without venturing too far inland, you can still find several options for tastings.
Whatever you choose to do in Cambria during your PCH road trip, you'll love this charming little coastal village!
Recommended by Dhara of Roadtripping California – follow on Facebook
16. San Luis Obispo (a darling stop on this San Francisco to San Diego road trip)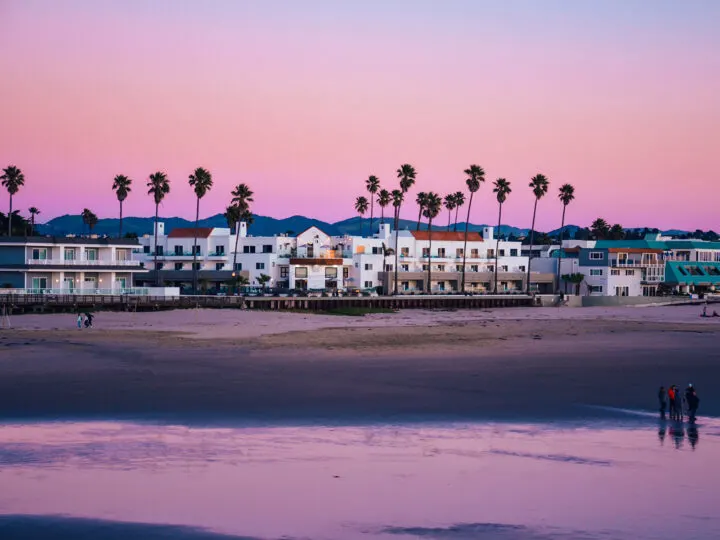 Located along the Central California Coast, San Luis Obispo is nicknamed "The Happiest City in America." The town offers year-round outdoor opportunities and rich culture, but it is overshadowed by the glamorous Santa Barbara located south of it and the famous Big Sur to the north.
And that's exactly what makes San Luis Obispo one of the best Pacific Coast Highway stops. Unlike other places around the Golden state that often feel too touristy during the peak season, San Luis Obispo has a calmer atmosphere and authentic flair.
If you can, spend 2-3 days in the San Luis Obispo area. Explore its charming downtown with a food walking tour.
There's also several cultural landmarks like Mission San Luis Obispo de Tolosa, Bubblegum Alley and Fremont Theater. And if you love the big screen, check out the classic drive-in theater, Sunset Drive-In, San Luis Obispo.
If you want to do some hiking, spare half a day for climbing one of Seven Sisters, the dormant vocalic hills that surround San Luis Obispo. The most popular peak among hikers is Bishop Peak, a 3.5-mile round-trip hike that's considered moderate.
Take a day trip from San Luis Obispo for a nice getaway to Paso Robles located about 30 miles away. This town is located in the heart of one of the top wine producing region in Central California and is famous for its vineyards along the green rolling hills.
Nearby, you can find Montana de Pro State Park, one of California's largest state parks that is a postcard perfect destination with gorgeous beaches and blooming flowers during spring.
There are many beautiful hotels in San Luis Obispo like the famous Madonna Inn or the gorgeous Lomita Ranch in the rustic setting where you can spend a few nights before continuing your trip.
Recommended by Daria of The Discovery Nut – follow on Instagram
17. Pismo Beach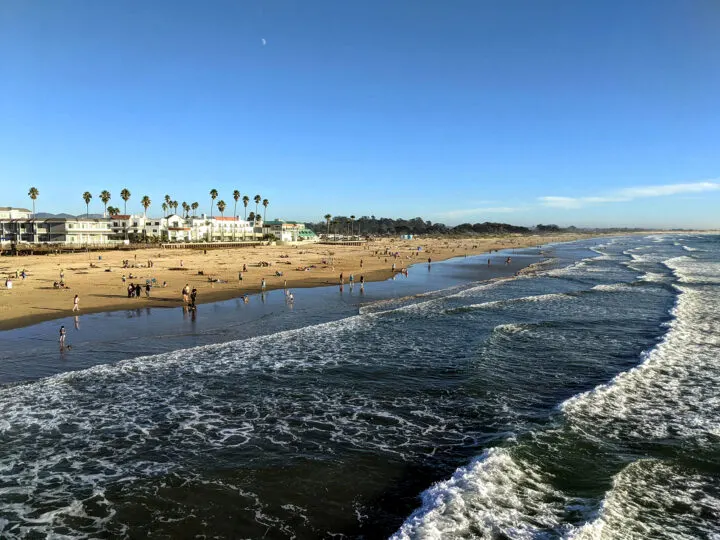 Pismo Beach is a small coastal city located south of San Luis Obispo. It's a fantastic stopover on a San Francisco to San Diego road trip, known for the endless beaches, outdoor activities, delicious seafood and warm weather. Most people spend 1-2 days here.
Many visitors start their Pismo Beach day trip at the pier. It's located in the downtown area where there is easy access to the beach to sunbathe or swim. Surfers can practice their skills catching the waves.
Fishing is allowed from the pier and a handful of people set up their fishing poles to see what their catch of the day is. The pier is also a lovely place to see the gorgeous sunset. Afterward, visitors can walk around to go shopping at the souvenirs and boutique shops.
Another cool spot to visit is the Monarch Butterfly Grove. Tens of thousands of monarch butterflies fly and rest on the eucalyptus trees from late October to February. There is a short walking path to observe the butterflies and learn about the migration process to warmer places.
Try the fresh seafood and clams. Pismo Beach was known as a "clam capital," and in the past, people could harvest clams on the beach. Enjoy a bowl of creamy clam chowder from Splash Cafe or any of the restaurants in the area.
Since Pismo Beach is a small city, it's best to visit on a weekday to have fewer crowds. Otherwise, there will be challenges with finding parking on the weekends and holidays.
Recommended by Jackie & Justin of Life Of Doing – follow on Facebook
18. Lompoc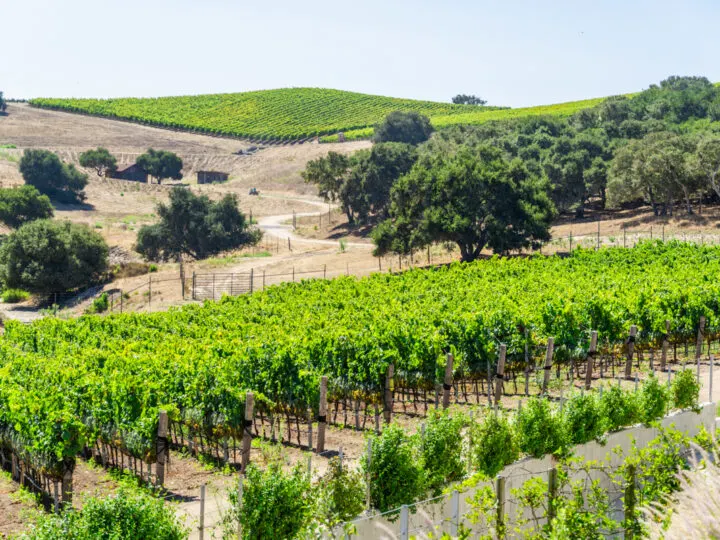 Not many people have heard of Lompoc, California, but it is a seriously underrated stop on a PCH road trip! Lompoc is located about an hour northwest of Santa Barbara.
One of the most popular things to do in Lompoc is to go wine tasting. This lesser-known wine region, called the Santa Rita Hills contains over 60 wineries. Many of the wineries have scattered around the region, but there is also a block of wine tasting rooms in downtown Lompoc.
Some of my favorite wineries include Spear Vineyards and Winery, Sweetzer Cellars and Montemar Winery.
If you're hungry, opt to grab some food at Capulin Eats and Provisions, La Botte Italian Restaurant or Toro Loco.
Other fun things to do in Lompoc include La Purisima Mission State Historic Park, which is dedicated to the Spanish mission of the area. During the spring and summertime, many of the flower fields are also in bloom.
In downtown Lompoc, you can go on a mural walk as the area has over 40 murals. There is also the Lompoc Museum which has 2 floors of exhibits about the area. If you have an Electric Vehicle, there are also plenty of places to charge near the downtown.
Lompoc is a great stop to spend the night as well because hotels are pretty affordable and way cheaper than Santa Barbara. The O'Cairns Inn and Suites is a very affordable option that comes with a delicious breakfast and happy hour.
Recommended by Francesca of Homeroom Travel – follow on Instagram
19. Solvang (one of the most underrated stops on this California Coast road trip)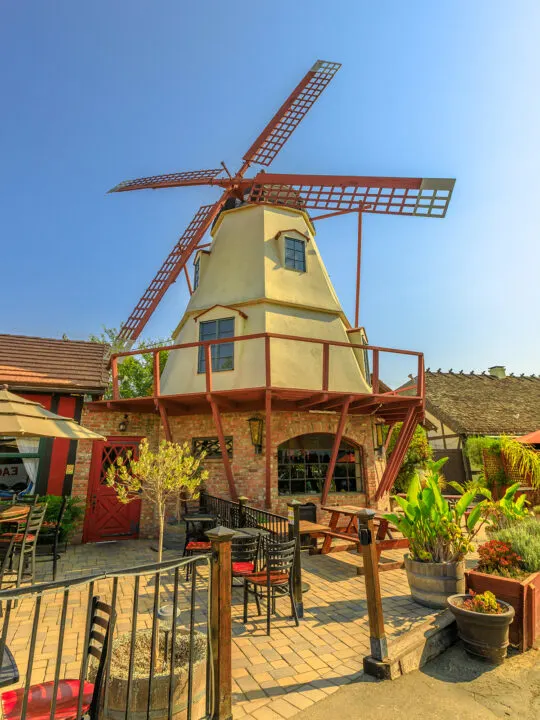 Step back into time with a visit to Solvang, California! It has the cutest town center inspired by Scandinavian heritage. Solvang is the perfect spot to stretch your legs after being in the car on a San Francisco to San Diego road trip.
One of the must-see attractions in the town is the windmills. Combine that with the Danish architecture, and the young and old will love to see the interesting buildings in the town! For a fun way to experience Solvang, take a pedicab tour to see the sights!
Solvang is actually known as the Danish Capitol of the US, and enjoying some delightful Danish food is one of the best ways to celebrate that. Many restaurants have outdoors dining in the summertime, which is honestly just perfect.
Of course, surrounded by the beautiful hills of the Santa Inez Valley, you're in wine country! One of the top things to do in Solvang is to do wine tastings or visit a winery. While you might want to rush through to continue on with your California Coast road trip, Solvang will keep pulling you in to stay with it's cute town and fun activities!
Recommended by me – Nikki of Inspired Routes
20. Santa Barbara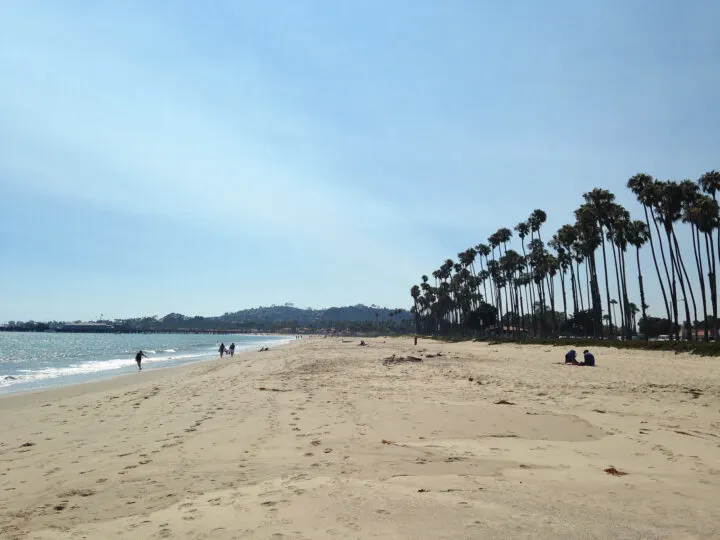 Santa Barbara is one of the most iconic stops on a San Francisco to San Diego road trip. From beaches to tacos, iconic Spanish-style architecture and water activities, Santa Barbara is a must-see.
One of the area's top attractions is the Stearns Wharf. Walk the pier and enjoy scenic views of the mountains and palm trees in the distance. Get on the water during a kayaking tour to see the shore and wildlife like dolphins and seals.
Of course, while in Santa Barbara, you must have the wine! The entire region is great for wineries, but the Urban Wine Trail is a great way to experience the best and most unique wineries in the area. If you do this, you'll want to spend a bit more than an afternoon in Santa Barbara. 😉
For a more artsy vibe, be sure to check out the Funk Zone for murals, art galleries, boutique shops and restaurants. Oh, and if you're looking for the best shots for the 'Gram or TikTok, be sure to hit the Chromatic Gate.
Pro tip: if tacos is your thing, be sure to eat at La Super-Rica Taqueria. There's usually a line out the door, so you know it's delicious! 😋
Recommended by me – Nikki of Inspired Routes
21. Carpinteria State Beach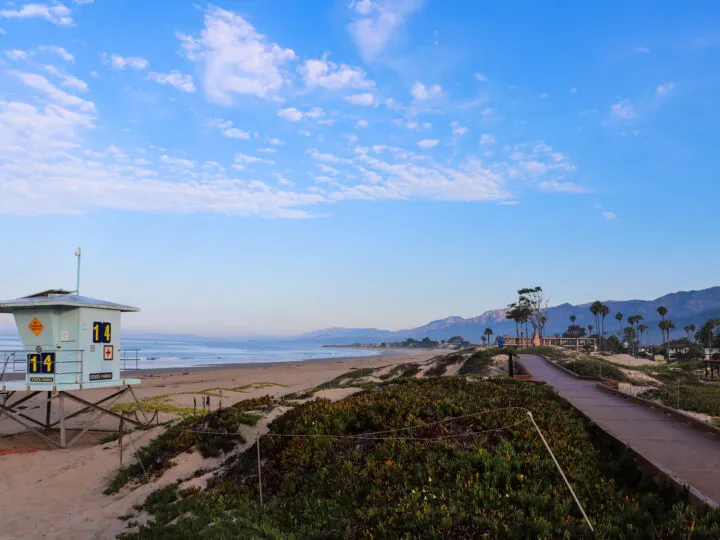 Carpinteria State Beach is a must-see during a road trip along the California Pacific Coast Highway.
The beach is located 57 miles north of Malibu and only 12 miles south of Santa Barbara. It's one of the nicest beaches on the coast since it has a lot to offer to adventure travelers. It's even one of the best swimming beaches in the state of California.
Carpinteria State Beach has many amenities for travelers to enjoy. You'll find a wooden boardwalk overlooking the beach where you can walk or bike. Then, the beach has miles of white sand.
You'll also find small surfing waves for surf amateurs and amazing sea creatures to look for in the tide pools like sea urchins, starfish, sea anemones and so on. From the beach, there is an amazing view of mountains, palm trees and the Channel Islands.
There is also a campground with hookups that can accommodate tents, but also trailers and motorhomes up to 35 feet long. As with many other California campgrounds, it's important to reserve in advance to have a chance to secure a site.
The good thing with the Carpinteria State Beach is that they have en route sites for last minutes campers. The campground is not directly on the beach, it's a short walk. You'll still get to fall asleep to the sounds of the ocean waves.
If you're traveling with children, there's a fun playground called the Tomol Interpretive Play Area near the campground. There's also a statue of a seal harbor the kids will like to see.
Recommended by Emilie of Love Life Abroad – follow on Instagram
San Francisco to San Diego: Southern California stops
As we continue to move south in this epic road trip adventure, these next stops are all considered Southern California. By now you've seen so much!
Let's keep the sights and adventure going!
22. Malibu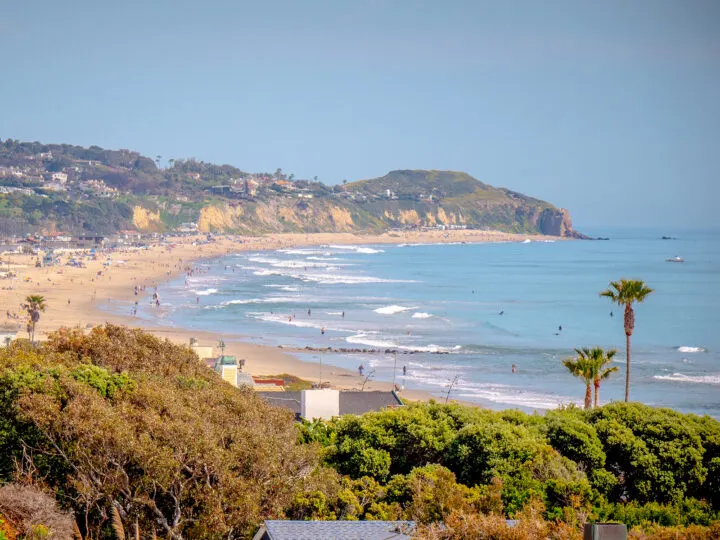 If you're taking a California Pacific Coast Highway road trip to San Diego, a stop to do some Malibu wine tasting should be on your list. Responsibly, of course!
Rosenthal, Malibu's first winery, even has a tasting room right on the PCH, across the street from the ocean.
This lively spot offers flights, glasses, bottles, and cases of their 2 wine brands: Rosenthal and Surfrider. The former being all estate wines, ie: grown on the Rosenthal property in Malibu. The latter comes from a variety of wine aviations.
For a more in-depth wine tasting experience, take a break from the ocean and head for the hills. From the PCH, turn north on one of LA county's prettiest roads, Kanan-Dume, through the Santa Monica Mountain canyons. You will see grapevines on the hills, and at the intersection of Mulholland Highway, Cielo Winery will be on your right.
The Cielo Chardonnay blend, Honey Pie, is their most popular wine, and the reds are some of the best in the area. Tasting at the outdoor tables in front of their Tuscan-style barn provides sweeping views of the vineyards. You'll notice their neighboring winery, Rocky Oaks, perched high on the next hill (appointment required).
If you're in this area, Cornell Winery and Tasting room is a must Thursday-Sunday. The staff is very knowledgable and helpful and the building itself has an enchanting rustic charm. Sing along to the live weekend music while sipping a tasting flight, enjoying a glass of wine on the patio, or perusing all of the local wines available by the bottle.
Recommended by Denise of Chef Denise – follow on Pinterest
23. Santa Monica Pier (another favorite on this California Coast road trip)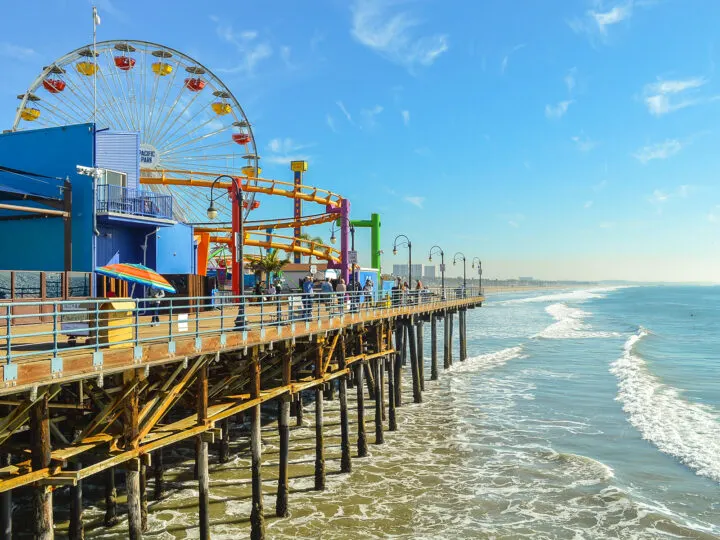 There aren't many more iconic places along the California Pacific Coast Highway than the Santa Monica Pier in Los Angeles. It's somewhere you must stop on your PCH road trip and on every Los Angeles itinerary!
Santa Monica Pier has been a beacon of the PCH since the route was built back in 1934 as the pier had already been open for 25 years! It provides entertainment to travelers and tourists with amusement rides like the carousel, which was built in 1916, the first solar powered ferris wheel, and the roller coaster, both built in 1996.
There are a number of fun things to do along the Santa Monica Pier starting with Heal the Bay Aquarium at the base of the pier. It houses over 100 animals and species and costs $10 for adults and kids, and $8 for students, seniors and military.
The first building along the pier is the Hippodrome, which houses the carousel and an ice cream shop. The carousel costs $3 per person.
You'll find lots of restaurants and shops as you walk toward the end. There's even an arcade where you can try your hand at skeeball.
The highlight of the pier is Pacific Park, the amusement park with numerous carnival games and rides. Entry is free, but rides are priced from $5-12. If you want to ride a bunch, invest in a wristband for $45.
For parking, the easiest lot to get to is 1-North, which is at the base of the pier and accessible along PCH. It costs $7-18 depending on the season, but the prime location is worth the price.
For beach access, you can head to the beaches surrounding the pier easily, but if you're looking for a less crowded option, Will Rogers Beach just north on PCH is the best option!
Recommended by Alanna of Periodic Adventures – follow on Instagram
24. South Bay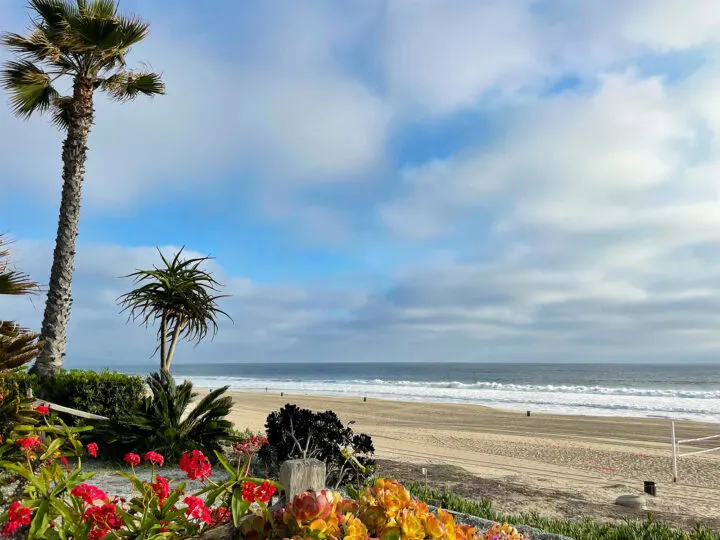 The charming, laid-back coastal towns of Manhattan Beach and Hermosa Beach in the South Bay of Los Angeles and are just south of the Los Angeles International Airport and west of Sepulveda Blvd (Highway 1). It's literally the perfect stop on this epic California Coast drive!
Visitors can easily lose track of time while spending an afternoon exploring these cute towns or soaking up some rays on the wide soft sandy beaches. A visit to these neighboring beach towns quickly reveals why they are considered a hidden gem.
There are a wide variety of things to do in the South Bay. Start your day with breakfast in North Manhattan Beach at North End Caffe, Fishbar, or Local Yolk.
After you are full, head to Manhattan Beach E-Bike Rentals to rent a bike for the day. It's a short 10-15 minute ride south to Manhattan Beach Pier, where you can walk around and check out the cute shops. Once you have had a chance to browse the stores, keep heading south to Hermosa Beach Pier, where you can find additional shops and restaurants.
Manhattan Beach and Hermosa Beach have several terrific lunch spots such as Tacolicous, Sugarfish, Martha's, Gum Tree, Rockefeller, Source Café, Palmilla and even more places to enjoy a drink while admiring the beach views.
After lunch, you can wander Hermosa Beach, browsing the local merchandise. You can spend the rest of the day relaxing on the beach and admiring the gorgeous views or head back to North Manhattan Beach to return your bike.
If you're a surfer, you should grab a board and head out to catch a few waves in Manhattan Beach.
Surfers can rent boards in North Manhattan Beach at Player's (above the liquor store) or downtown Manhattan Beach from Spyder Surfboards or Nikau Kai. There are great surf spots up and down Manhattan Beach. The surf is best in the morning before the wind picks up.
Pro tip: Stay for sunset. Watching the sunset over the ocean is a favorite local activity and the views are incredible!
Recommended by Michelle of The Trav Nav – follow on Instagram
25. Long Beach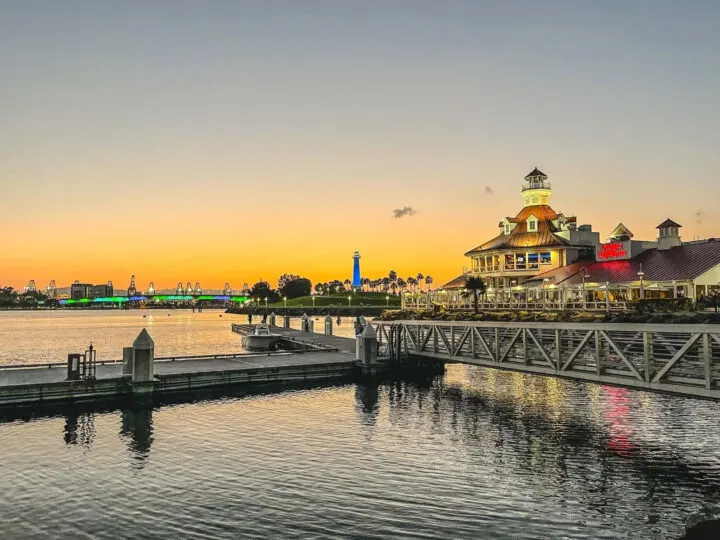 Located just south of Los Angeles, Long Beach feels like it's worlds away with walkable streets, a pretty waterfront full of shops and eateries and a laid-back seaside vibe.
Get up close to the area's marine life on a harbor cruise. You very likely could see gray, fin and humpback whales, dolphins and sea lions. Or explore the huge variety of exhibits at the expansive Aquarium of the Pacific.
Long Beach is famously the home of the R.M.S. Queen Mary, the former luxury ocean liner that's reportedly the most haunted ship in the world. Although it's currently closed pending potential restoration, visitors can still get up close to the ship at the cruise port. Or, simply admire its sparkling lights across the harbor in the evening.
Outdoor enthusiasts are in for a treat on a visit to Long Beach! The El Dorado Park and Nature Center features almost 100 acres of activities, including walking and bike trails, golf and fishing. Pack a picnic lunch to enjoy in this gorgeous green space along the San Gabriel River.
Or spend a few peaceful hours visiting the Earl Burns Miller Japanese Garden on the campus of California State University, Long Beach. There you can take a leisurely walk along the winding pathways, feed the koi, and relax at the Zen Garden.
Before getting back on your California Coast drive, complete your time in Long Beach with dinner at one of the waterfront's restaurants. Parkers' Lighthouse in the colorful Shoreline Village is a favorite, with fresh seafood and stunning views of the harbor and the nearby Lion Lighthouse.
Recommended by Carrie Ann of Should Be Cruising – follow on Instagram
26. Huntington Beach (don't miss this PCH road trip stop!)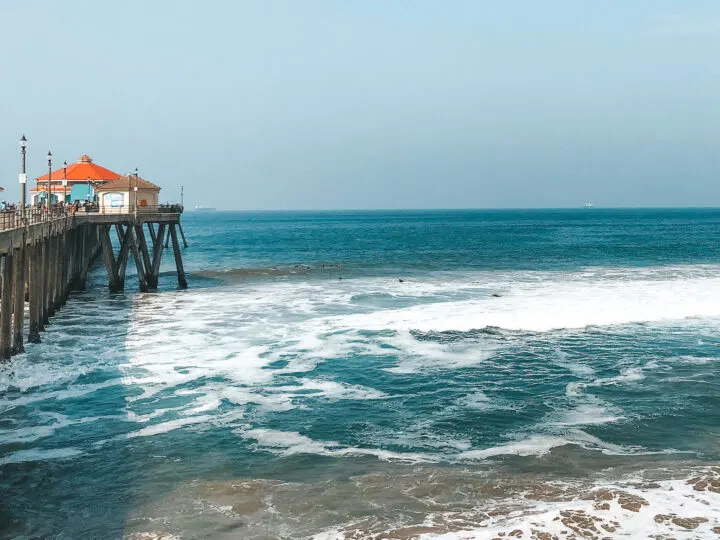 Huntington Beach is a quintessential stop on a California Coast drive! Located just a short distance from Los Angeles, this beach town is known as "Surf City USA" and offers a laid-back lifestyle with plenty of fun things to do, see and experience.
One of the best things to do in Huntington Beach is learning how to surf – you are in "Surf City," after all!
You can rent a surfboard from a local company on the beach, like Jack's Beach Concession, or a surf shop in Downtown Huntington Beach, like Huntington Surf & Sport. You can even sign up for a guided surfing lesson if you're looking for some basic skills to get started.
If you'd rather stay out of the waves, there's plenty of shopping and dining to do in Huntington Beach! You can try authentic tacos, burritos, and margaritas at Fred's Mexican Café and Cantina, which overlooks the ocean. Or head to Pacific City for some popular retailers, local shops and tons of great restaurants, like Old Crow Smokehouse and Philz Coffee.
Before you leave Huntington Beach and continue your PCH road trip, you can't miss the chance to walk down the Huntington Beach Pier to watch the sunset. It's always a spectacular sight to behold!
Recommended by Brittany of Travel by Brit – follow on Pinterest
27. Laguna Beach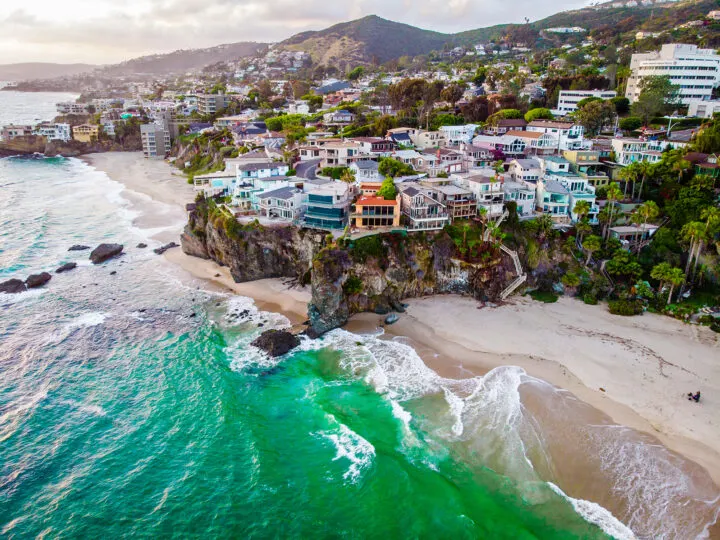 Laguna Beach is the perfect oceanside destination for your California Coast road trip.
An artist's dream, Laguna beach has quaint shops, art galleries and restaurants. It's home to California's oldest museum and famous art festivals like the Sawdust Art Festival, Laguna Art-A-Fair, Festival of Arts, and Pageant of the Masters.
Hikers will love Laguna Coast Wilderness Park with mountain and ocean views. The city is home to more than 20,000 beautiful acres of protected wilderness, making it ideal for hiking, biking and adventurous exploration.
Surfers can hit the waves on any of the more than 30 beaches in Laguna Beach. If you need surfing lessons, there are plenty of options for that as well. Plus lessons for stand-up paddle boarding or even skimboarding.
If under the sea is what you're after, Laguna Beach offers snorkeling and diving opportunities as well. With abundant kelp beds and plenty of sea life, Laguna Beach is a diver's paradise.
For a calmer, more relaxed ocean experience at Laguna Beach, there are protected tide pools. These unique ecosystems are filled with snails, slugs, barnacles, mussels, crustaceans, sea stars, anemone, urchins and more just waiting to be discovered. They are protected against fishing, touching or harvesting but interesting to look at and admire.
And it doesn't get any better than sunsets at Crescent Bay Point Park or Heisler Park. Sometimes there are even dolphins splashing in the distance.
There is a wide variety of hotels to choose from in Laguna Beach as well. From 26 boutique hotels to luxury resorts like The Ranch Laguna Beach and Montage Laguna Beach, it's easy to find the perfect fit regardless of your needs.
Recommended by Lesley of Bucket List Publications – follow on Instagram
28. Oceanside (another favorite on this San Francisco to San Diego road trip)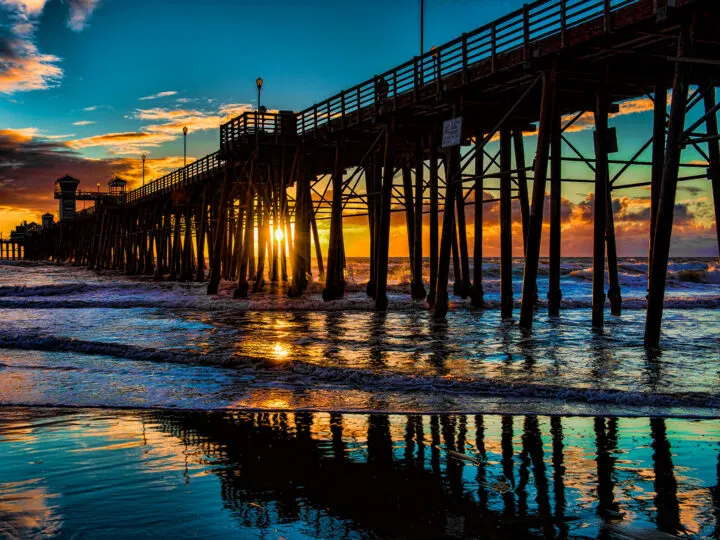 The city of Oceanside has gone through a extreme makeover in the past 2 decades – from seedy military town to beach town gem. It's a surfer's paradise and the vibe of laid back SoCal beach town can be felt around the city.
One of the most iconic structures the city is the famous Oceanside Pier. With a total length of 1942 feet, this wooden pier is the longest over-water pier on the West Coast. It's the perfect spot to go for a walk, watch the surfers and pier fishermen and simply sit back and listen to the crashing of the waves.
If you're a movie buff, one of the small victorian houses right across from the pier might look familiar. It's the famous "Top Gun House", where Maverick fell for his flight instructor Kelly McGillis. Now it's a nostalgic pie shop. So go check out this famous movie location and enjoy some delicious pie.
Oceanside is also a distinct foodie town. There are many excellent restaurants in the city, such as Wrench & Rodent Seabasstropub, which is renown for their Omikase all over San Diego county.
If you are lucky enough to visit on a Thursday, you can enjoy the Oceanside Farmer's Market in the morning and the Night Market in the evening. Then there are the craft breweries, wineries, meaderies, cideries and distilleries along the O'side sips craft trail that will quench your thirst.
This little town really has become what I would call a picture perfect example of a Southern California beach town: beautiful, laid back and lots of cool stuff to do. Definitely worth a stop on your PCH road trip!
Recommended by Maria of San Diego Explorer – follow on Instagram
29. Torrey Pines State Reserve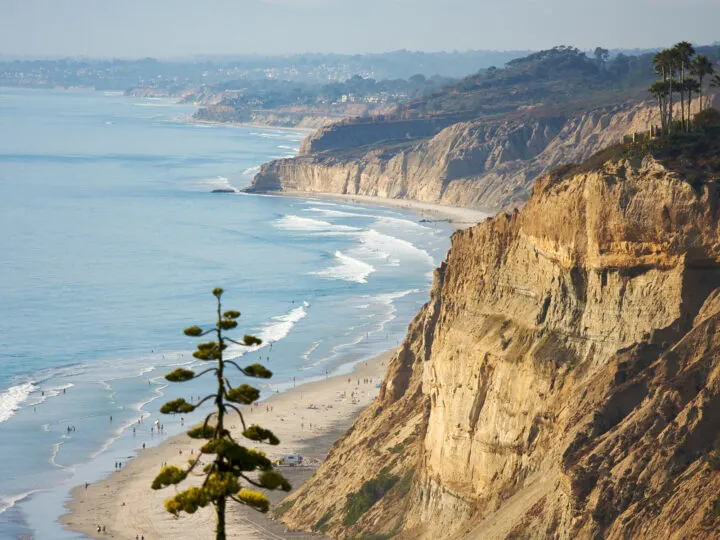 Just before you reach the San Diego metro, you'll get to Torrey Pines State Reserve. It's a fascinating place for hiking and one that simply begs to be explored!
Regardless of your fitness level, you'll find a trail – or 2 – that are perfect for a stroll along the coast. From beautiful wildflowers to classic Southern California beaches, the views just don't stop.
For a challenging trail in the Torrey Pines State Reserve, try Flinkote Torrey Pines Trail, a moderate hike at 3.8 miles. You'll find great cliff views and fewer crowds on this hike.
For a lighter hike try the Torrey Pines Beach Trail Loop. Coming in at 2.3 miles and rated as easy, you'll get beautiful beach views. I'd definitely recommend going at low tide to walk the beach.
The beach trail loop is actually perfect for hiking in water shoes. My favorites are comfortable enough for hiking yet perfect for the beach. These beach shoes are literally perfect for Torrey Pines State Reserve!
Recommended by me – Nikki of Inspired Routes
30. La Jolla (must-see on this PCH road trip!)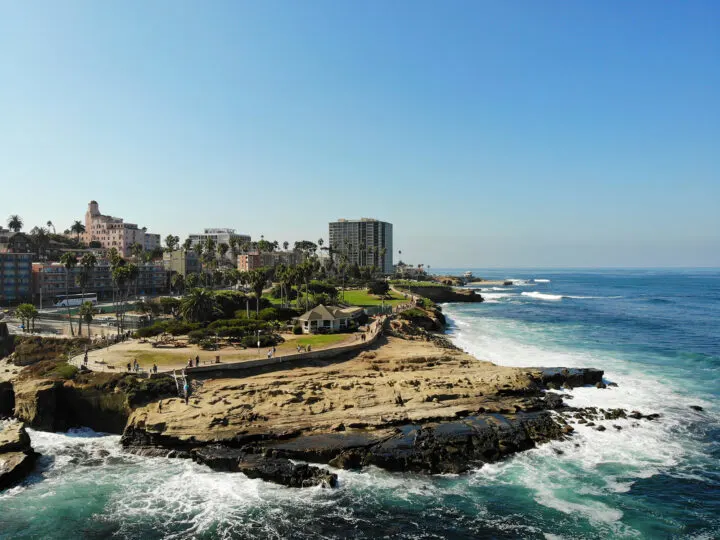 We're almost to San Diego! La Jolla is a suburb, although still a bit up the coast from San Diego.
When you stop in La Jolla on a San Francisco to San Diego road trip, there's a variety of things to do. My first visit to La Jolla, I did this amazing kayaking tour of the cove. The wildlife is incredible and I'd highly recommend it!
Parking can be a bit of a challenge, but park your car and walk the coastal path for not only gorgeous views, but also entertainment from the local sea lions who have claimed the area as their own!
La Jolla is also known for its upscale shopping and dining. My favorite views are at Duke's. Oh, and you've gotta try the hula pie! Reminds me of going to Maui with kids every time!
Recommended by me – Nikki of Inspired Routes
San Francisco to San Diego road trip – what to do in San Diego
Gah!! You've made it! The best road trip of your life is almost complete! Your last city and stop on this road trip is San Diego.
I know you don't want the adventure to end. This road trip is so incredibly memorable – I know I'll have pics of my times up and down the PCH for years to come!
As someone who's been to San Diego almost more times than I can count, I recommend spending 2 days or a weekend in San Diego if it's possible. Check out these stops at the very least…
31. Ocean Beach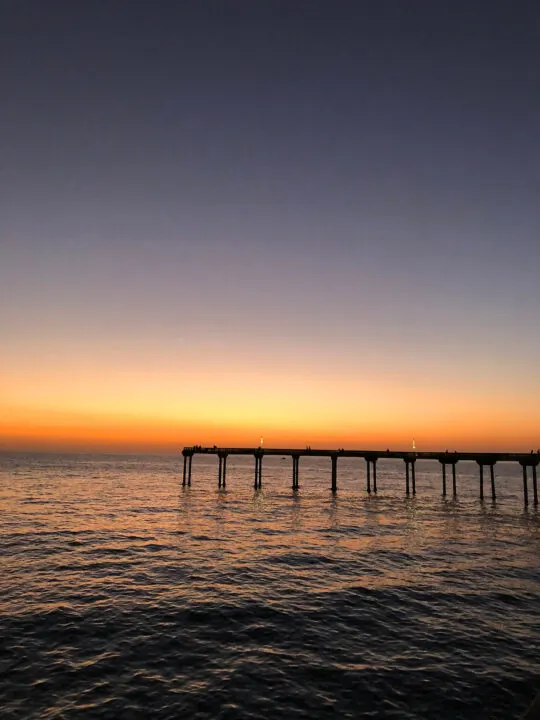 You know you haven't seen the beach enough yet, right? Well a fun area in San Diego is Ocean Beach. It's got a more retro, eclectic vibe than some of the other places on this list.
Often hosting music events, street performers and festivals, Ocean Beach a fun place to go for an afternoon at the beach. There's a long walking trail right along the beach, great for exercising or renting bikes for a scenic ride.
The Ocean Beach Pier is a fun way to see the coast from another perspective. It's actually the longest pier on the west coast, coming in at over 1/3 mile long. Fishing is available from the pier, and there's actually a restaurant on the pier, Walking on Water Cafe (WOW Cafe).
The sunsets are pretty great along Ocean Beach, too!
Recommended by me – Nikki of Inspired Routes
32. Coronado Beach (last on this list of Pacific Coast Highway stops)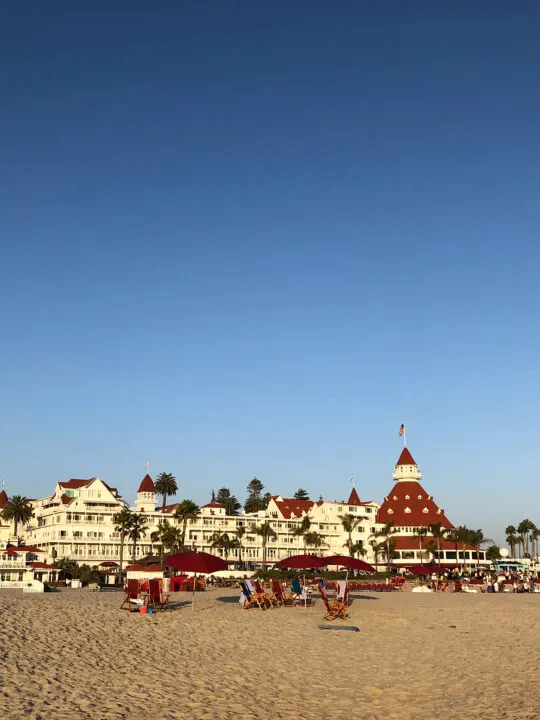 The last stop on this San Francisco to San Diego road trip takes you all the way to the tip of Southern California. Coronado Island is a little more bougie than the other parts of San Diego, and is home to one of the most beautiful beaches on the California Coast.
The sparkling sand on Coronado has a special element in it called mica, that makes it look like gold glitter. Add in a gorgeous sunset and you've got an amazing spot to sit and watch the sun dip below the horizon!
You'll find upscale dining and shopping on Coronado, too. But perhaps the most famous landmark is the Hotel Del Coronado. With over 125 years of history, hosting the rich and famous, it's an iconic hotel right on the beach.
Recommended by me – Nikki of Inspired Routes
Note: if you want to keep going south, there's so much to see in Baja California and Baja California Sur. In fact, it's a trip for all ages. Some of the best things to do in Cabo with kids include whale watching, ATVing, swimming, parasailing and various other water sports. Combine this road trip down into Mexico for more adventure!
Pacific Coast Highway itinerary 7 days
Whew! Now that we're through with all 32 stops on this route, here's a week-long suggested itinerary for this epic adventure! Of course you can adjust it depending on how much time you have.😊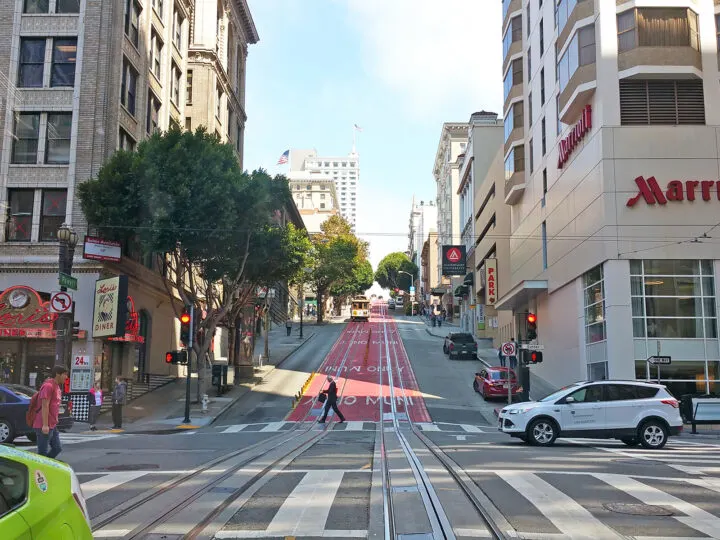 Day 1: San Francisco
Arrive in San Francisco the night before
Spend the day exploring the sights:

Golden Gate Bridge
Hike the Lands End Trail
Ride a cable car
Visit Fisherman's Wharf
Check out Muir Woods National Monument

Dinner and overnight in San Francisco
Day 2: San Francisco to Monterey
Breakfast in San Francisco
Pick up your rental car and hit the road
Visit the beach at Half Moon Bay
Lunch, shopping or The Mystery Spot at Santa Cruz
Kayaking for views in Monterey Bay
Dinner and overnight in Monterey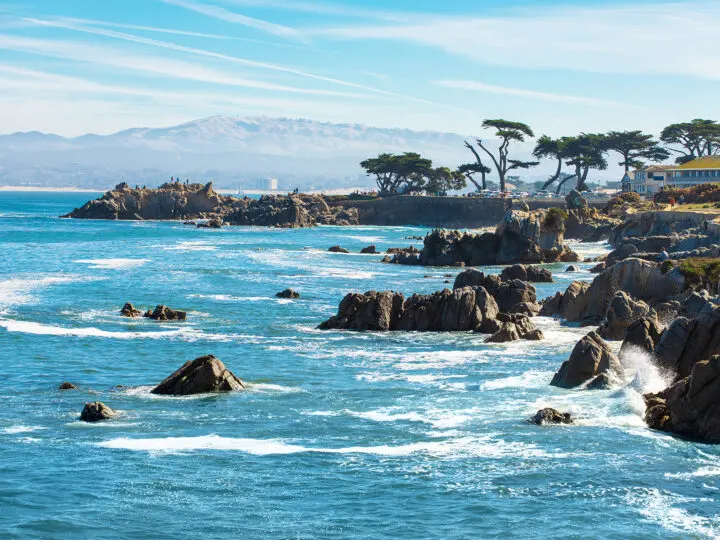 Day 3: Monterey, Big Sur to San Luis Obispo (my favorite day on this California Coast drive)
Quick stop at Pebble Beach for the sunrise or a morning stroll
See the incredible area known as Big Sur

Carmel-by-the-Sea for breakfast
Whale watch or hiking at Point Lobos State Reserve
Drive the winding roads to see Bixby Creek Bridge
Picnic lunch at Pfeiffer Beach
Hike to overlook at McWay Falls
Watch the surfers at Sand Dollar Beach

Tour the Hearst Castle
Stroll the boardwalk and dinner in Cambria
Overnight in San Luis Obispo
Day 4: San Luis Obispo to Santa Barbara
Breakfast in San Luis Obispo
Take a walk downtown or visit the butterflies in Pismo Beach
Go wine tasting and visit the flower fields in Lompoc
Lunch in Solvang and walk around, admiring the architecture
Beach time in Santa Barbara or grab your Insta-worthy shots at the Funk Zone
Dinner and overnight in Santa Barbara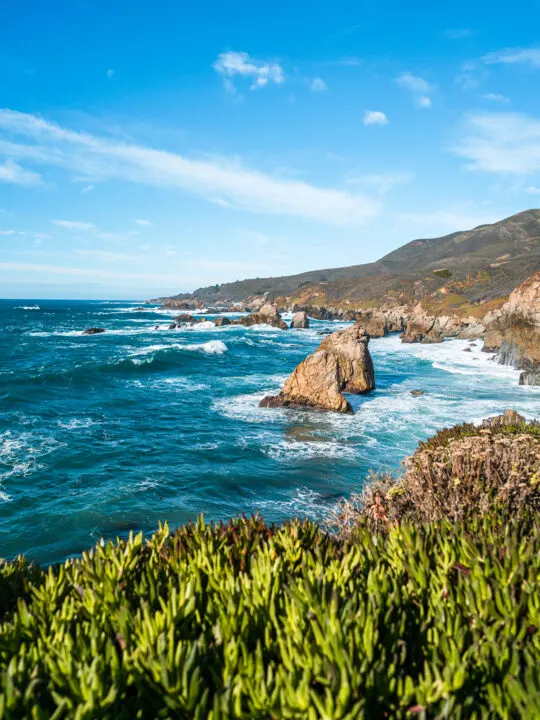 Day 5: Santa Barbara to Huntington Beach
Catch a sunrise or watch the surfers at Carpinteria State Beach
Bruch at a winery in Malibu
Hit the beach or amusement park at the Santa Monica Pier
Rent bikes to see South Bay
Grab an early dinner in Long Beach, then choose an outdoor activity to round your day
Overnight in Huntington Beach
Day 6: Huntington Beach to San Diego (so many beaches along this PCH road trip!)
Breakfast and shopping in Huntington Beach
Catch a festival or hit the beach at Laguna Beach
Walk the famous pier and grab lunch in Oceanside
Go hiking in Torrey Pines State Reserve
Watch the sea lions and dinner in La Jolla
Overnight in San Diego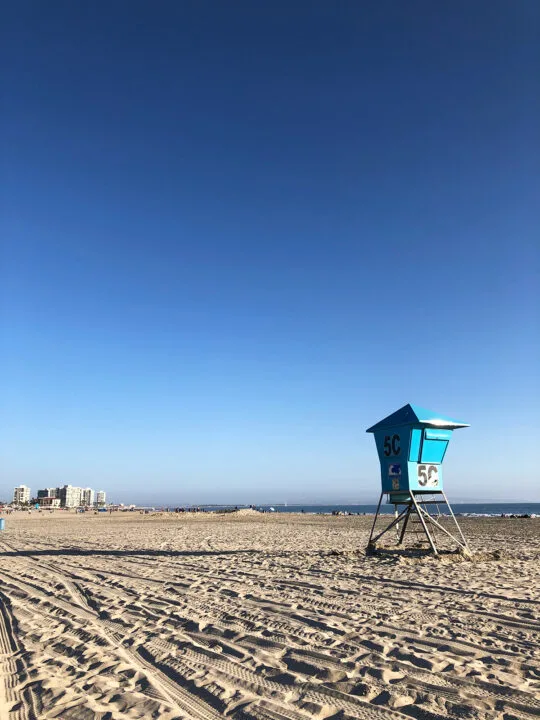 Day 7: San Diego
Breakfast in San Diego
Explore the city full of activities and great food:

Mission Beach
Balboa Park
Old Town San Diego
Little Italy

Dinner and overnight in San Diego to catch a flight home in the morning
Woah! What an action-packed week, right? This incredible adventure along the California Pacific Coast Highway has some of the best sights in the USA! Customize this itinerary based on what you'd love to do most and how much time you have. ❤️
What to pack for your California Coast road trip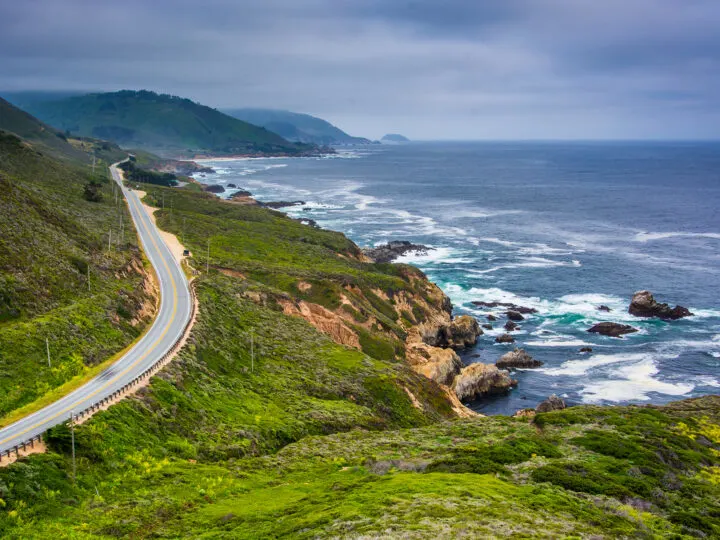 As you plan for this amazing journey, let's talk about must-haves for this trip. These items will make your experience way better!
Road trip food. This is a given, right? Load up on snacks before you go! I personally love a mix of healthy options that way wineries or desserts at dinner feel a little better. 😉

Collapsable cooler. You'll need it for drinks along the way. I love this cooler because it folds down for the flight yet keeps things cold when it needs to!

Reusable water bottle. There's no need for single-use plastics when you can buy a couple reusable water bottles and fill them up at hotels and restaurants.

Action camera. Driving down the coast, this camera is 1000% worth it to capture those fun memories! I use this GoPro to capture footage underwater, while driving, hiking and literally anything else.

Lots of layers. The weather is going to be dramatically different during your PCH road trip! Bring rain jackets and light coats (depending on season) for the cool, windy coast in the north. And thinner layers for Southern California!

Sunglasses and sunblock. Essential no matter where you're at in the journey. Grab your favorite sunglasses and eco-friendly sunblock, which is better for marine life.

Beach towel. You'll want to dry off here and there! I love this lightweight beach towel because it has a hidden zipper pocket for valuables while on the beach! There's so many beaches along this San Francisco to San Diego road trip!

Water shoes. Not all beaches are soft. Slip on your water shoes anytime you want to feel the Pacific without scraping your feet on a sharp rock. These are my favorite water shoes that have traveled with me to Avalanche Lake Trail in Glacier National Park, El Yunque in Puerto Rico and other adventurous bucket list destinations.
San Francisco to San Diego road trip – that's a wrap!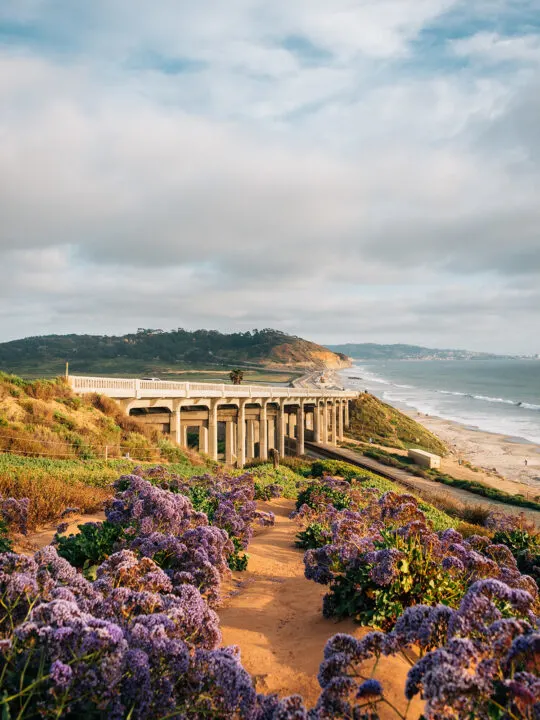 Okay, exactly how excited are you for this trip? You're in for a once-in-a-lifetime adventure!
Whether you're going solo, with your partner/spouse, family or a girls' trip, you're going to have a fabulous time at all these Pacific Coast Highway stops! There's so many sights to see and things to do along the way.
One of the best things about San Francisco to San Diego road trip is that the variety is endless. From beaches to hiking, shopping to wineries, this scenic drive will have you begging to come back for more!
Let's recap the list one more time, in a more succinct manner…
California Pacific Coast Highway stops
Golden Gate Bridge
Muir Woods National Monument
Lands End Trail
Half Moon Bay
Santa Cruz
Monterey
Pebble Beach
Carmel-by-the-Sea
Point Lobos State Natural Reserve
Bixby Creek Bridge
Pfeiffer Beach
McWay Falls
Sand Dollar Beach
Hearst Castle
Cambria
San Luis Obispo
Pismo Beach
Lompoc
Solvang
Santa Barbara
Carpinteria State Beach
Malibu
Santa Monica Pier
South Bay
Long Beach
Huntington Beach
Laguna Beach
Oceanside
Torrey Pines State Reserve
La Jolla
Ocean Beach
Coronado Beach
Related content you might like:
33 Cool and Unique Things to Do in Big Sur You'll Love
30 Gorgeous West Coast Road Trip Routes You Gotta See to Believe
Find this post helpful? Save it for later or share it on social media!