It's one of the most beautiful spots in the Smoky Mountains. A hike you'll love leads you to an amazing waterfall in the heart of Tennessee. Here's a guide for everything you need to know about Grotto Falls Smoky Mountains.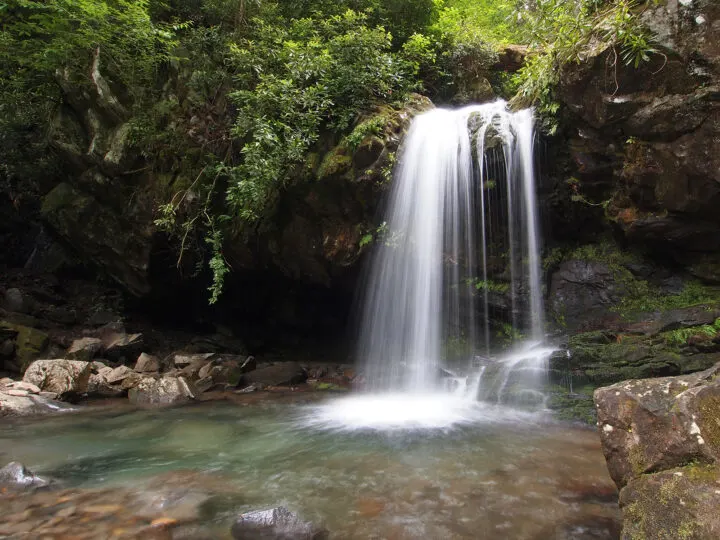 This post may contain affiliate links. For more info, see my disclosures.
This waterfall hike in the Great Smoky Mountains National Park is one of the most easily accessed in the park, and is perfect for nearly any skill level!
Grotto Falls is a gorgeous 25-foot waterfall you'll want to add to your Smoky Mountain itinerary.
In the spring, expect a gushing waterfall and beautiful wildflowers along the trail. In summer, it's lush greenery draws you in. During fall, you'll see the colorful leaves changing all along the trail.
The area is closed over winter.
Grotto Falls Trail stats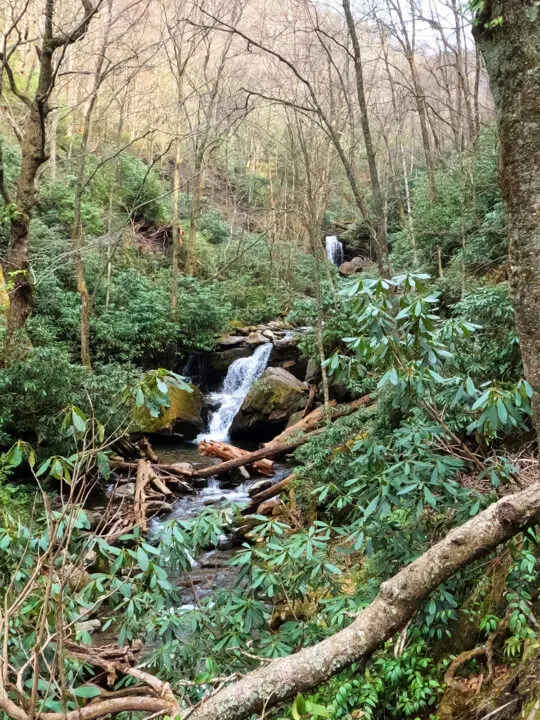 Distance: 2.6 miles
Elevation gain: 544 feet
Rating: moderate
Estimated time: 1.5 hours
There are restrooms located at the trailhead.
This is a very family-friendly hike! Just a reminder, pets are not allowed on this trail. Whether you're traveling with your kids, a friend, partner or solo, this will be a hike to remember! 😊
How to get to the Grotto Falls Trailhead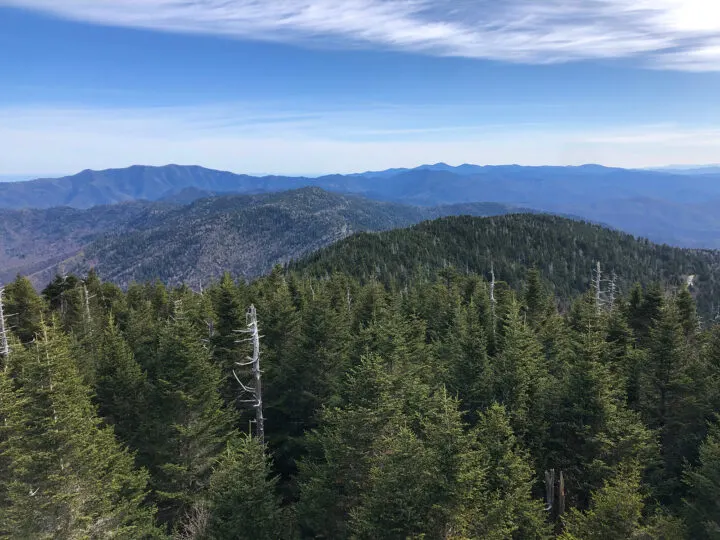 The Great Smoky Mountains National Park is in the Southern Appalachian Mountains, spread across the Tennessee and North Carolina state line.
It's easiest to get to this area of the Great Smoky Mountains National Park from Gatlinburg, Tennessee. You enter the park from Gatlinburg at the Historic Nature Trail Road into the park, unlike other popular waterfall hikes such as Abrams Falls and Laurel Falls.
Nestled along the Roaring Fork Motor Nature Trail, getting to Grotto Falls is an adventure, that's for sure!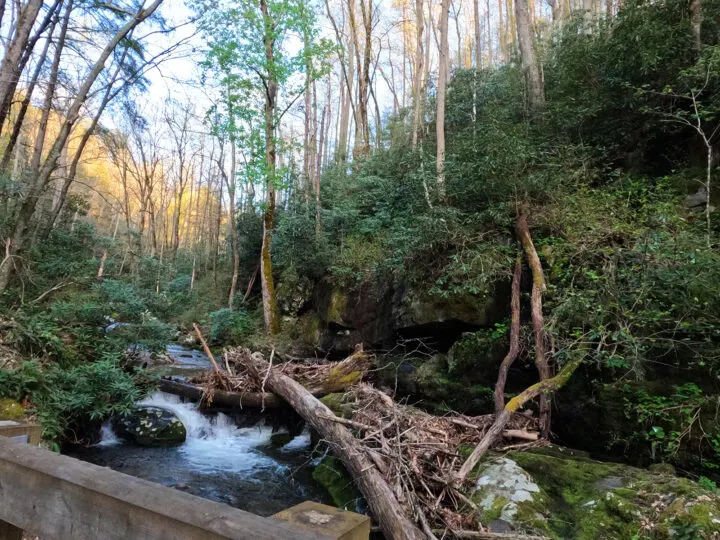 The scenic drive is a 6-mile loop that twists and turns through a heavily wooded area. It features several waterfalls and historic farmsteads.
If you're a visual person, here's a map of the trailhead. The yellow icon is the Grotto Falls Trailhead. The orange icon is the Roaring Fork Motor Nature Trail entrance. The blue icons are other nearby attractions.
Grotto Falls parking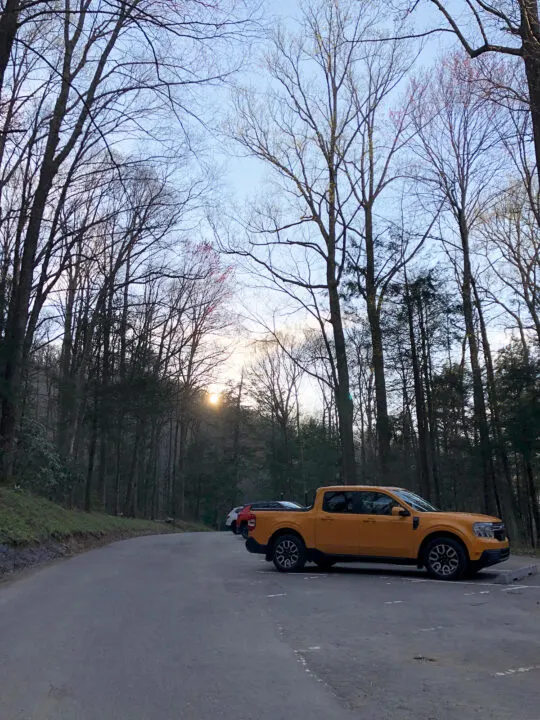 Not gonna lie here, this one is tough. Unlike some larger parking lots like Clingman's Dome or along Cades Cove, the parking lot is small.
Situated along stop #5 on the Roaring Fork Motor Nature Trail, the parking lot comes up without much warning, and it's impossible to turn around. Therefore overflow parking is typically past the main parking area, and can add quite a bit of distance to your hike if the trail is busy.
Go early or late. The scenic drive gets busy, especially on weekends and in the summer months. Arrive at the trailhead by 8:30am, or after 4:00pm for easiest parking.
Tips for hiking Grotto Falls Smoky Mountains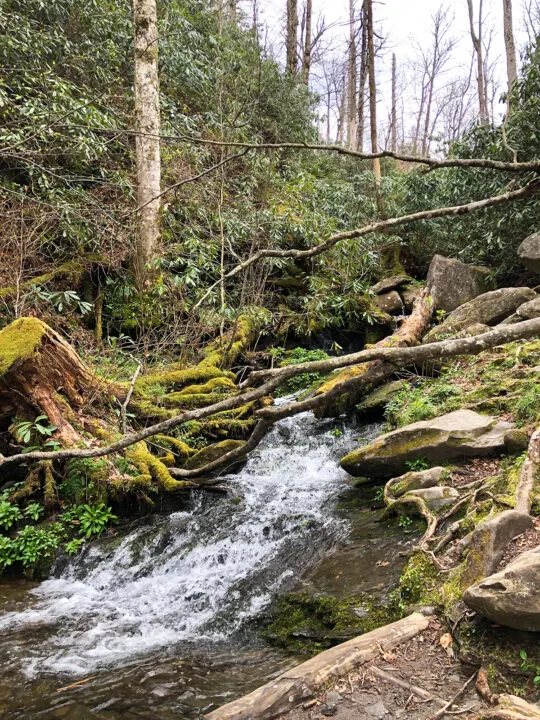 Here are a few tips to make the best of your time hiking to this beautiful waterfall!
Road closes over the winter. Depending on the season you're visiting, check with a visitor center or park ranger to see if you should hike this trail.

Be courteous to others at the waterfall. Everyone wants a photo, so wait patiently and you should be able to get the photo you want (within reason 😊).

Leave no trace. This means make sure you take out what you take in (like wrappers and food peels), stay on the trail and don't otherwise disturb nature.

Bring the right gear. Hiking shoes and trekking poles will make this hike more enjoyable. See more gear recommendations below.

Swimming and climbing rocks at Grotto Falls is dangerous. The mist and algae creates a slippery surface for the falls. The pool at the base of the falls is generally possible to get into, but it's tricky and the National Park Service recommends against it.
What to expect hiking Grotto Falls Smoky Mountains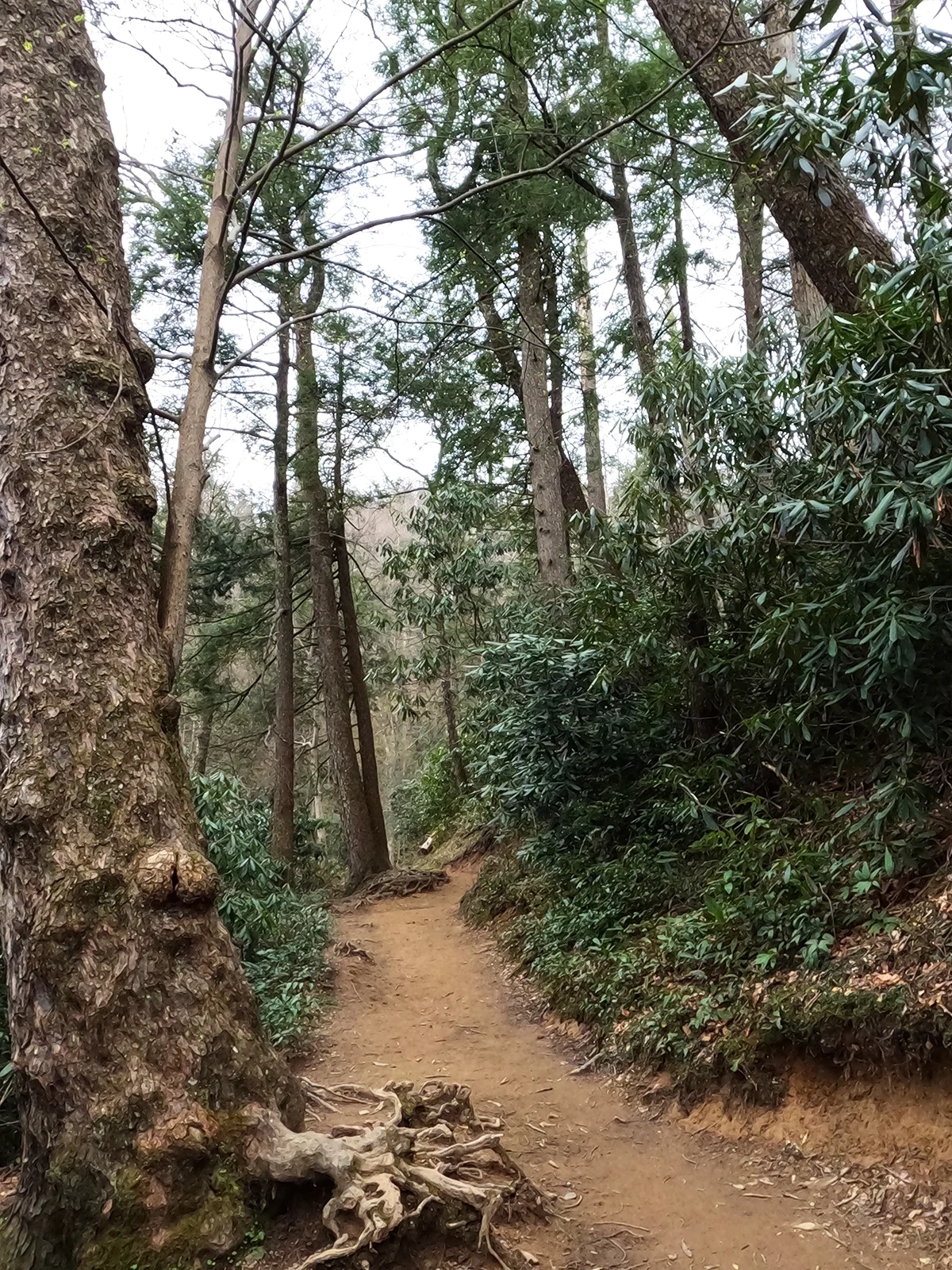 Once you arrive at the Grotto Falls Trailhead, you'll make your way through a winding dirt path, unlike other popular hikes like Clingmans Dome or Laurel Falls Trail that have a paved path.
Grotto Falls Smoky Mountains is and out-and-back trail. It's on the easier side of a moderate hike, and is doable for most skill levels.
It's a gradual uphill trail, so stop as much as needed and take your time. Based on the time of year and recent rainfall, Grotto Falls Trail can get really muddy!
The path has some obstructions like tree roots and rocks. There's also a few fun streams you'll have to pass over. Use caution if the water is rushing!
I'd recommend to wear waterproof hiking shoes for this trail with plenty of traction. You may have to walk through streams so waterproof shoes are essential! These hiking shoes worked great – I've also worn them to places like Capital Reef National Park, Pinnacles National Park, the Hitchcock Nature Center and so many more hikes all over the US!
There are several spots where you'll see small waterfalls around the trail. These are so picturesque and make the trail really fun!
Grotto Falls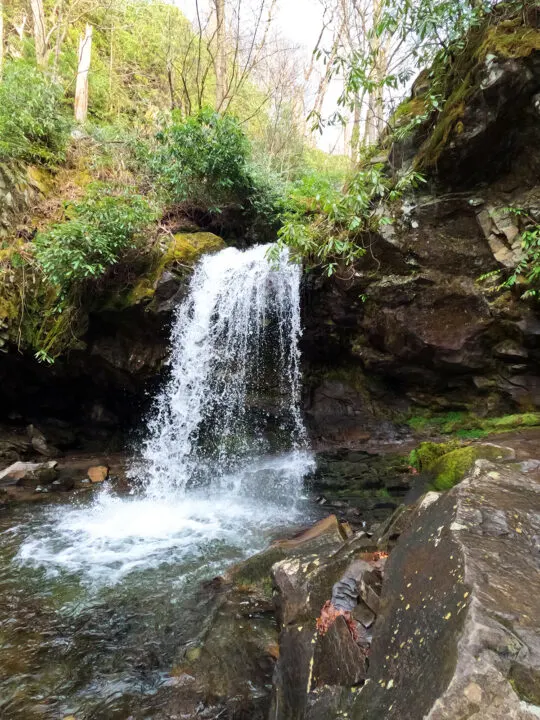 You'll hear the falls from the distance, and it feels a bit magical when you first see them!
The falls have several portions downstream where the falls make smaller waterfalls, which is so pretty! Keep walking to get to the main attraction.
Grotto Falls is a beautiful waterfall! It's so picturesque!
One of the main appeals of Grotto Falls Smoky Mountains is that you can walk behind the falls! It's refreshing on a hot summer day, and on the cool side in the spring and fall.
Kids (or those young at heart 😉) especially love walking behind the falling water.
Take some time to enjoy the falls while you're here! The walk up is worth the extra time to hang out at the falls a bit. But also remember to be considerate to other hikers and visitors who are hoping to get a picture of the falls without the crowd. Everyone is there to enjoy the beautiful waterfall.
The pure sound of the waterfall and cascading stream it creates is so incredibly peaceful!
When you're ready to say goodbye to the falls, make your way back to the parking lot through the fun trail, and enjoy the scenic drive back out of Roaring Fork Motor Nature Trail.
Best gear for this waterfall hike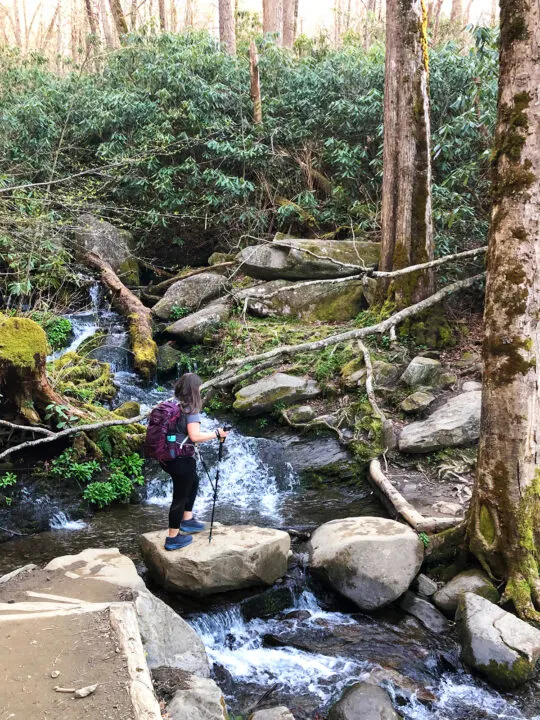 This is one of the best waterfall hikes in the Smoky Mountains! There are some ups and downs, and the terrain can be challenging at times. This hiking gear is recommended…
Accommodations near Grotto Falls Trail
This beautiful waterfall hike isn't too far away from comfortable accommodations. Whether you like to be in with nature or are more comfortable with walls around you, here are a few options to consider when planning your trip to the Great Smoky Mountains National Park.
Camping near the falls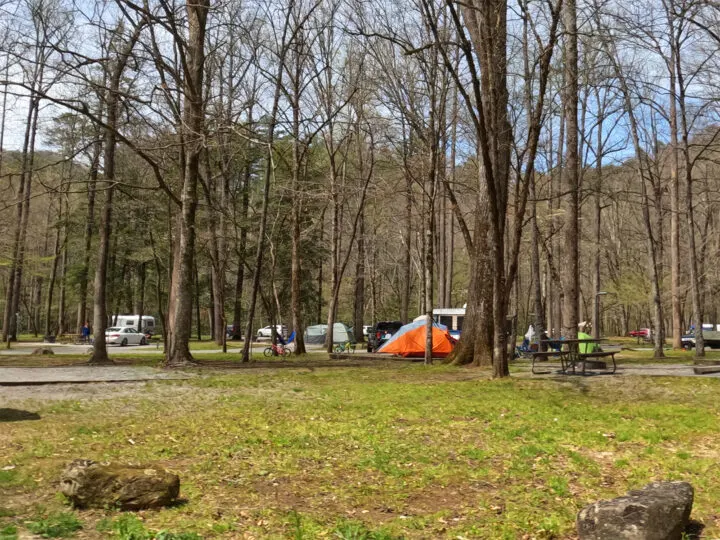 Unlike camping in places like the Gulf State Park in Alabama, there isn't a campground that fits 500 RVs and tents nearby. Here's a list of the closest spots for tent and RV camping.
Elkmont Campground for tents and RVs. It's the busiest campground in the Great Smoky Mountains National Park. Make reservations early, especially if camping over the summer or holidays.

Backcountry camping. Pack your tent and hike to one of the many spots within the surrounding park. Grab your permit and reservation here.

Greenbrier Campground for tents, RVs and cabins. Located just outside the park, this park has the amenities you're looking for within a short drive to Grotto Falls.
Where to stay in Gatlinburg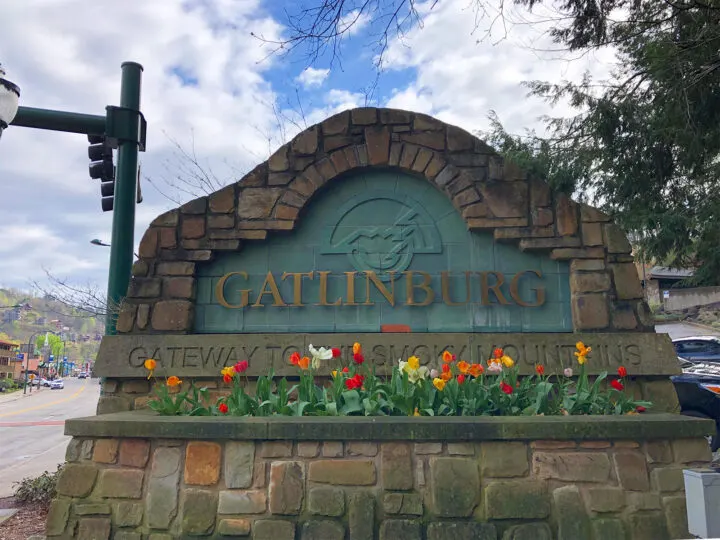 If you're not into camping, staying at a vacation rental property or hotel in Gatlinburg is really close to the park. Gatlinburg has a fun downtown area that's bustling with tourists all year long. Here are a few places you might like:
I personally love using Booking.com because I can search for hotels and rental properties at the same time. And it happens to be one of the more affordable travel sites, which is a nice perk!
Looking for more adventure? Just 2 hours outside of Gatlinburg is The Sassafras in Johnson City, which is one of the best hobbit huts you can sleep in! So fun!
Fun facts about Grotto Falls Smoky Mountains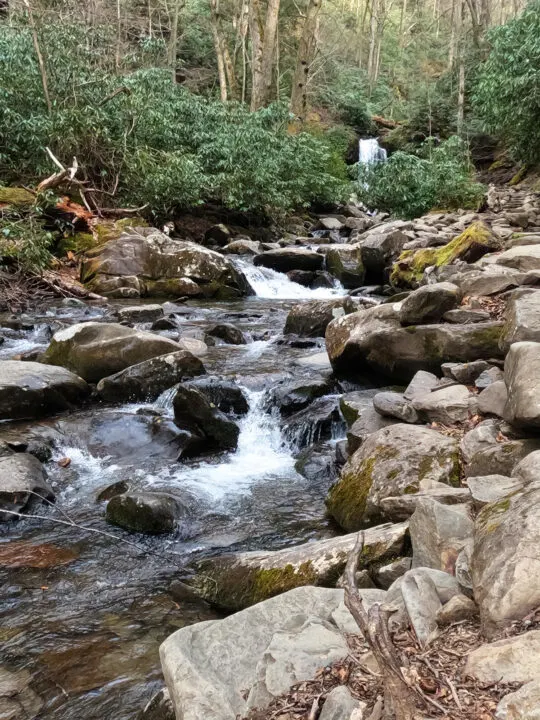 Here are more things to consider as you explore this fun waterfall hike.
Cherokee Indians are the original inhabitants of this land. White settlers pushed them out of the Great Smoky Mountains in the 1700s. Please be respectful of this sacred area when visiting.

Grotto Falls is actually located on the Trillium Gap Trail. You can actually hike to Mount LeConte from this trail, at 13.9 miles and a strenuous climb of 3401 feet in elevation gain.

Alpacas use this trail to carry supplies a few times a week to and from Mount LeConte, so if you're lucky, you'll catch them on the trail!
Grotto Falls Smoky Mountains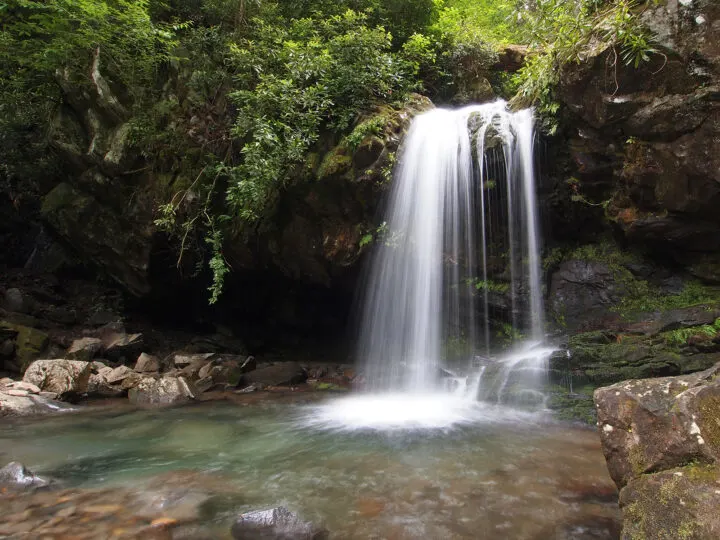 This beautiful waterfall welcomes you! Grotto Falls in the Smoky Mountains is an amazing spot to explore. Take plenty of photos and make those memories you'll cherish for years down the road!
Enjoy your hike to the falls!
Related content to read next:
Laurel Falls Trail Smoky Mountains: How to Get There, What to Expect & More
Abrams Falls Trail, Smoky Mountains: Everything You Need to Know
Find this post helpful? Save it for later or share it on social media!