Zion Canyon is incredible from nearly every angle within the park. For some of the most spectacular views, then the Canyon Overlook Trail is one you've simply gotta experience for yourself!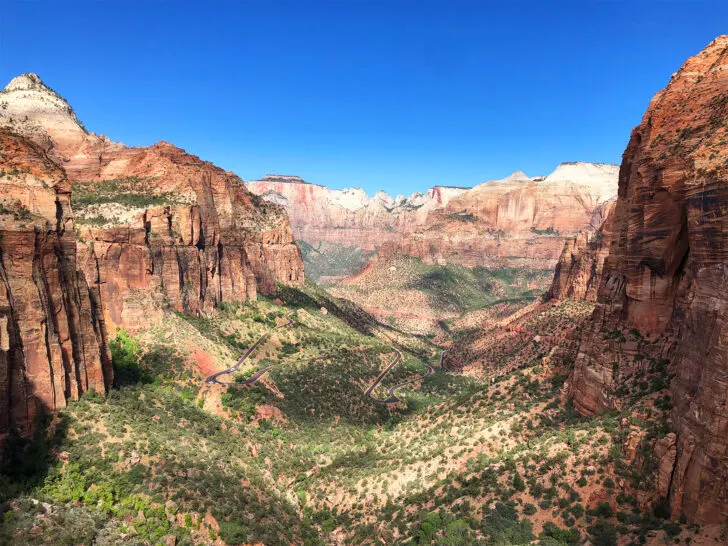 This post may contain affiliate links. For more info, see my disclosures.
Short and rewarding – this hike packs a punch! Get spectacular views without permits or treacherous hiking trails. This fun, short hike can be a bit tricky, but is overall relatively doable for most skill levels.
It actually reminds me of hiking to Inspiration Point in Grand Teton National Park. Short and fun!
The trail has hidden surprises along the way, making it a really fun hike. Then you're rewarded with phenomenal views of Zion Canyon National Park, and you'll be really glad you did this hike!
Must-watch video: Canyon Overlook Trail
Canyon Overlook Trail stats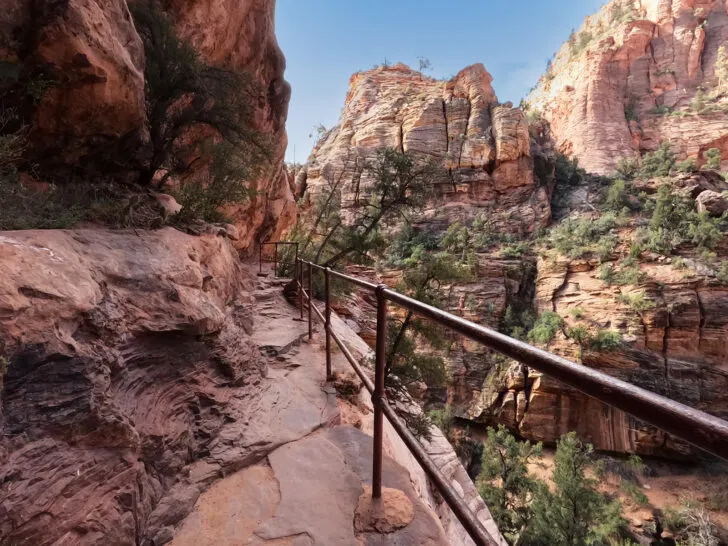 Distance: 1.0
Difficulty: easy to moderate
Elevation gain: 187
Time: less than 1 hour
This fun, out-and-back trail can be done relatively quickly, even if you've got limited time for hiking in Zion National Park.
Although it's short and fairly easy, there are exposed ledges and cliffs so use caution and watch young children closely. The National Park Service has this trail ranked as moderate based on the terrain, but other popular hiking apps rank it on the easy side.
Restrooms are located just to the east of trailhead at the secondary parking spaces along the Zion-Mount Carmel Highway.
Zion Overlook Trail: how to get to the trailhead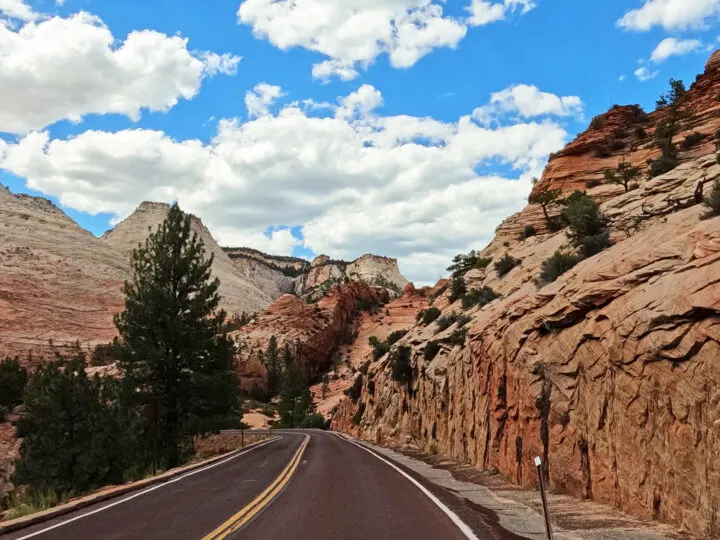 Located just to the east of the Zion-Mount Carmel Tunnel, this trailhead is not on the shuttle system.
The Canyon Overlook Trail is located along Zion Mount Carmel Scenic Drive, or Highway 9, which runs east and west through Zion. If you're coming from the east entrance of the park, you'll drive past Checkerboard Mesa, Keyhole Canyon and all that the scenic drive as to offer before arriving at the Zion Overlook Trail.
Zion Canyon Overlook Trail parking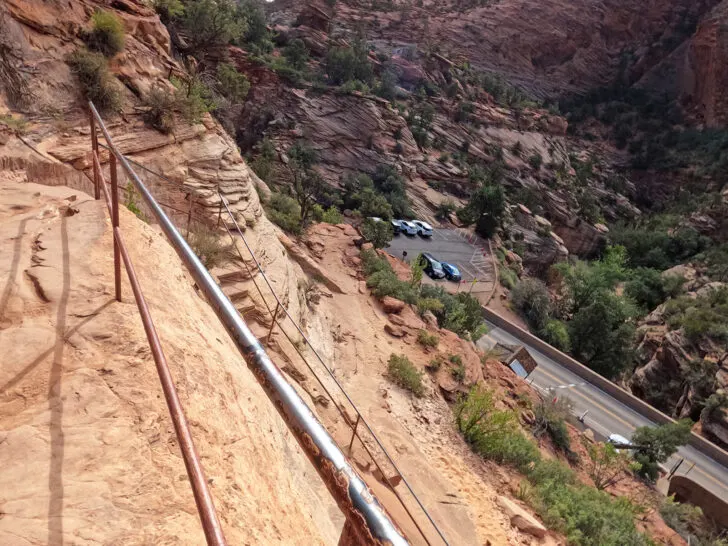 Not going to lie: parking can be tricky! There's only about 12 parking spaces just across the street of the trailhead. Within 0.1 mile to the east, there's another small parking lot large enough for 6-7 cars.
There are areas to park alongside the road as you go further east on Highway 9. Be prepared to walk further from the trailhead, adding more length to the overall hike. And of course, only park where it's safe and follow no parking signs.
Pro tip: if you want a coveted spot in the parking lot during the summer or weekends, arrive for a sunrise hike. Otherwise, have a plan B when it comes to this hike and be patient until a parking space is available. 🙂
Canyon Overlook Trail Map
If you're a visual person, this map of the Canyon Overlook Trail Zion will help you plan your hike. The orange icon is the trailhead. Blue icons are other nearby landmarks.
📍Zion was originally home to the Ancestral Puebloan and the Parowan Fremont peoples, and later the Southern Paiute tribe. Let's all remember this land must be treated with the ultimate respect as we explore Zion National Park!
Tips for Canyon Overlook Trail, one of the best Zion hikes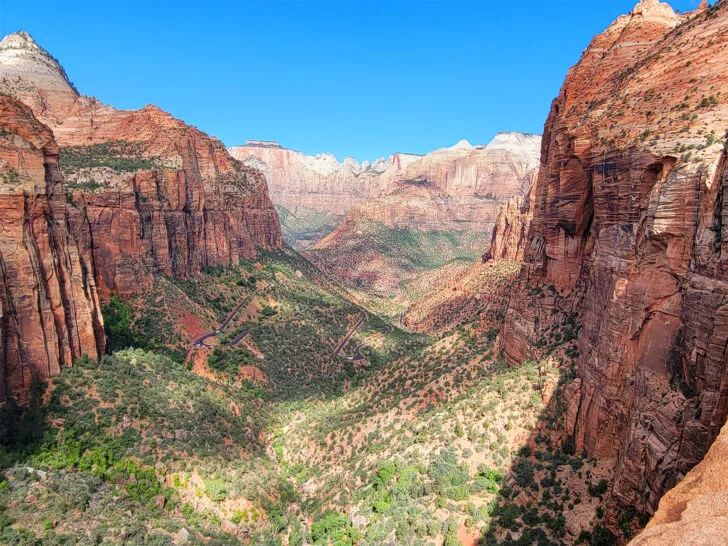 Gah!! You're going to love this hike! Here's a few things to keep in mind to make the best of your experience hiking the Canyon Overlook Zion National Park.
Go early. Avoid crowds by going early in the day, especially if you're visiting Zion during summer or on a weekend.

Watch the weather. You don't want to get stuck on this trail during a rainstorm, as the rain can quickly turn into torrential downpour and these ledges are no joke.

Bring and wear the right gear. This is one of the easier hikes in the park, but being prepared is a must. Gear recommendations, including grippy hiking shoes, are later in this guide.

Hikers going up have the right of way. General trail etiquette is important in this hike due to the narrow path. Be courteous to others, especially if you're taking your time or are hiking with kids. The path can be really narrow at times.
Canyon Overlook Trail Zion National Park: what to expect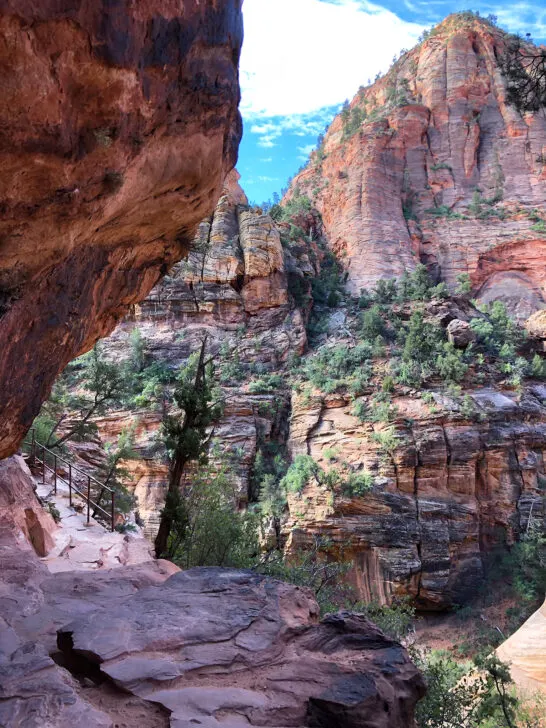 With impressive views during much of the hike, this trail is fun for all ages! It's on the moderate side of easy, for the narrow ledges and tricky terrain, which could be tricky for unexperienced or young hikers.
The Zion Canyon Overlook hike starts off with steep steps levels off soon after. Throughout the hike, you'll get small portions of uphill sections, but nothing extensive. Only ascending 187 feet, it's not a thigh-burner, unlike the Waihee Ridge Trail in Maui or the Skyline Trail in Mt Rainier National Park.
As you hike towards the lookout, you'll pass sections with railings alongside steep cliffs, and even a few wooden platforms where the rock path is too narrow.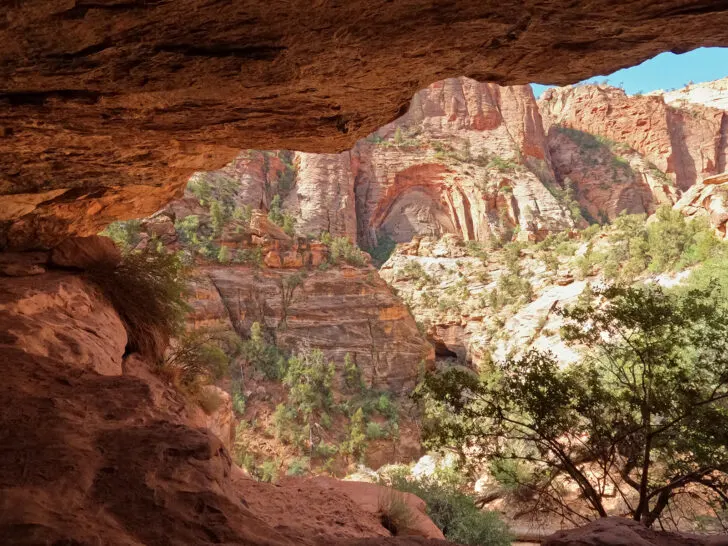 Pine Creek runs in the valley alongside the trial. The rocky cliffs don't allow you to really see the creek or hear it, based on the position and height of the trail from the valley below.
The surrounding scenery is beautiful throughout the hike, keeping the short 0.5 to the overlook quite interesting.
If you're hiking during the winter months, be prepared for ice and snow, and wear the right gear for it. More on gear below.
Zion Canyon Overlook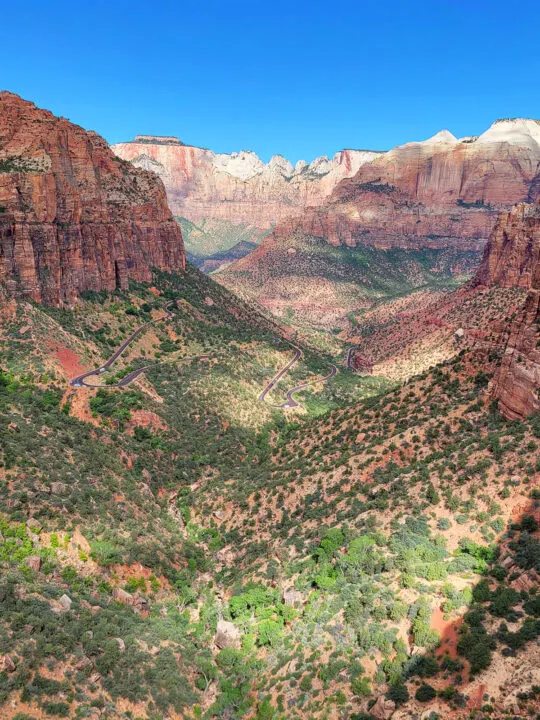 Simply put: the overlook is incredible!
You're actually looking at the Pine Creek Canyon, which opens up into Zion Canyon in the distance. Pine Creek Canyon runs east to west and is significantly smaller than the massive Zion Canyon, which runs north to south. Consider you can see the majestic canyon walls of Zion Canyon, the trail name is certainly fitting.
In the distance you can see the twisted road in the valley of the canyon, which is Zion Park Boulevard / Zion-Mount Carmel Highway. As you drive through the Zion-Mount Carmel Tunnel and through that road, you can actually see the Canyon Overlook Trail viewpoint from way below, but most people don't know what they're looking at!
The Canyon Overlook Trail viewpoint is situated just above The Great Arch, which is shown in the photo below. It's pretty magnificent to think that you're standing above the arch when at the viewpoint. 😳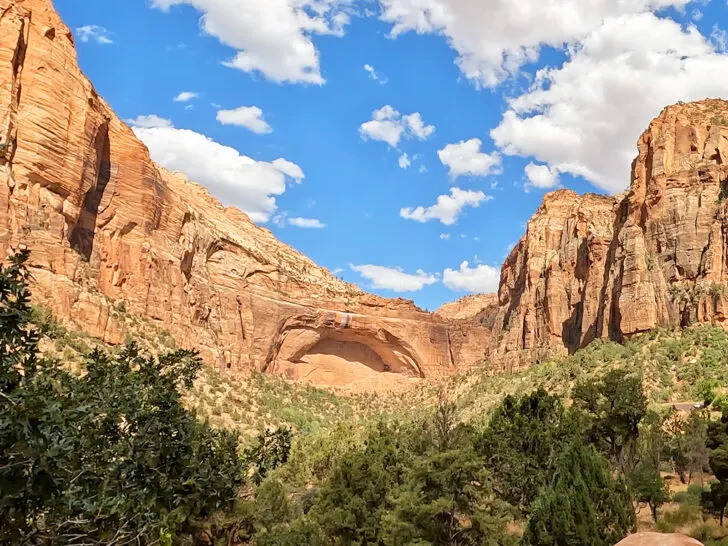 There's plenty of spots at the viewpoint to rest and relax or soak in those incredible views.
And once you're ready to head back, it's a relatively leisurely descent. Watch for narrow paths and slick rock, of course.
Things to bring on this hike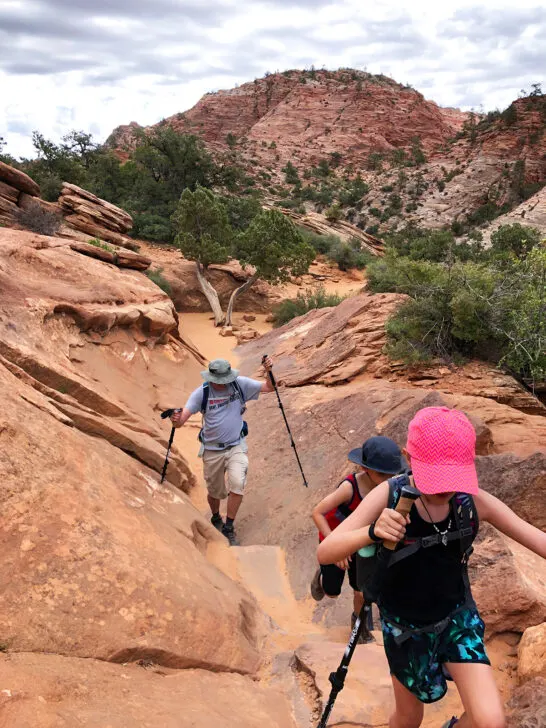 Great news! With this being a short hike, you won't need to carry around lots of water to get you through. Bu there are definitely some things that will make this hike go smoothly…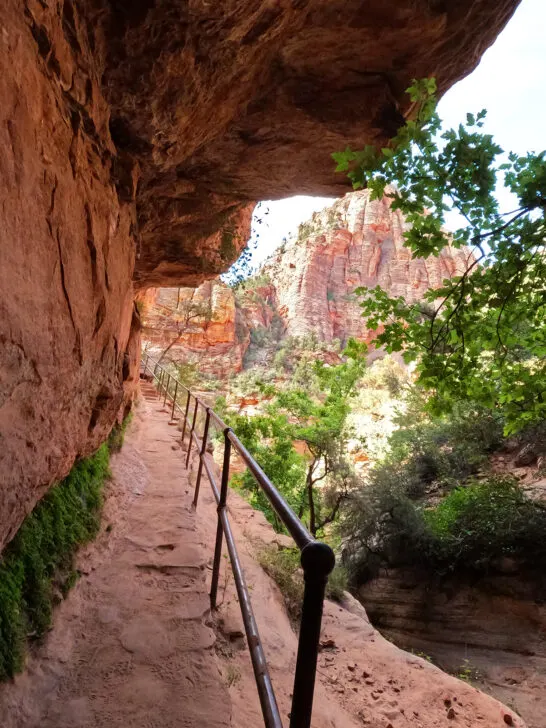 Weather-appropriate attire. Crampons in winter, rain jacket during spring and fall or sun hat during summer are just a few items you may need depending on when you're hiking the Canyon Overlook Trail Zion National Park.

Hiking backpack. Carry all your layers, snacks, first aid kit, umbrella and the other 10 essentials with a hiking backpack. It magically takes the weight off your shoulders so you'll enjoy your hike that much more. My family loves our Osprey hiking backpacks!

Satellite communicator. I've seen so many people injured on hikes over the years, this has become a staple on hiking trips! I love my Garmin inReach Mini because it allows for 2-way communication for help in case of an emergency. And it doesn't rely on the cell network, meaning it can work even when you don't have cell reception, which national parks are notoriously known for.
Other things to do nearby in Zion National Park
Zion National Park is full of adventure! Before or after you hit the Canyon Overlook Trail, be sure to find more amazing views and fun things to do with these park highlights:
Hike the Riverside Walk and The Narrows
Watchman Trail, which provides similarly epic views
Emerald Pools – hike to beautiful pools and waterfalls
Zion Mt. Carmel Highway Scenic Drive to see the Checkerboard Mesa
Accommodations near Zion National Park
If you're looking for a place to stay for your trip to Zion, the town of Springdale, Utah is likely the best option. Situated right at the entrance of the park, Springdale has something for nearly every budget. From camping options to luxury, there's something for everyone.
Camping near the trail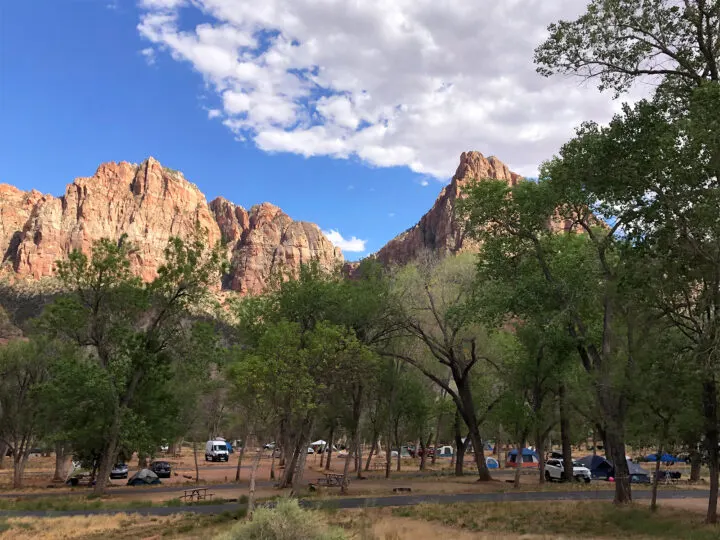 Of course staying in the park is as close to the Zion Canyon Overlook Trail as you can get!
Where to stay near Zion National Park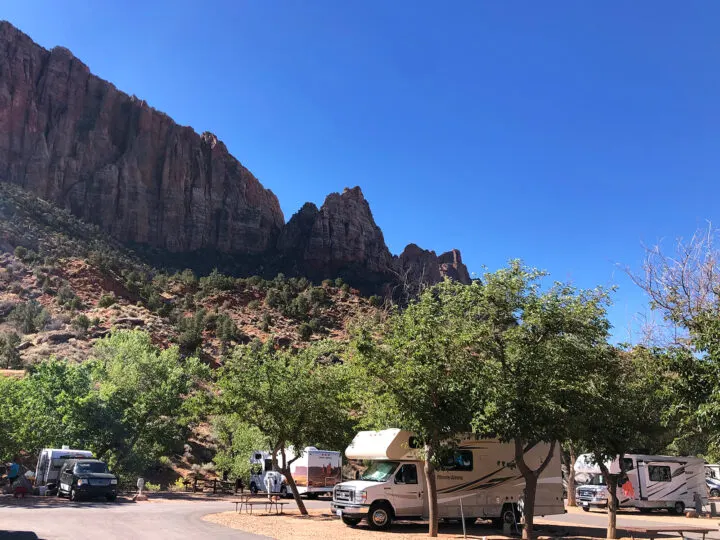 Within Springdale, there are so many options! Here are a few worth considering…
Holiday Inn Express Springdale. This hotel is pet-friendly and easy on the budget, too. It includes a pool, and is just a shuttle ride to get to the park.
Zion Canyon Campground. Located right on the Virgin River, this picturesque park is awesome. If you're bringing an RV to Zion, this is the spot you'll want to stay.
Driftwood Lodge. This cozy and modern lodge provides just what you'll need during your time in Zion. A swimming pool, laundry center and plenty of amenities for your ultimate comfort.
Canyon Overlook Trail Zion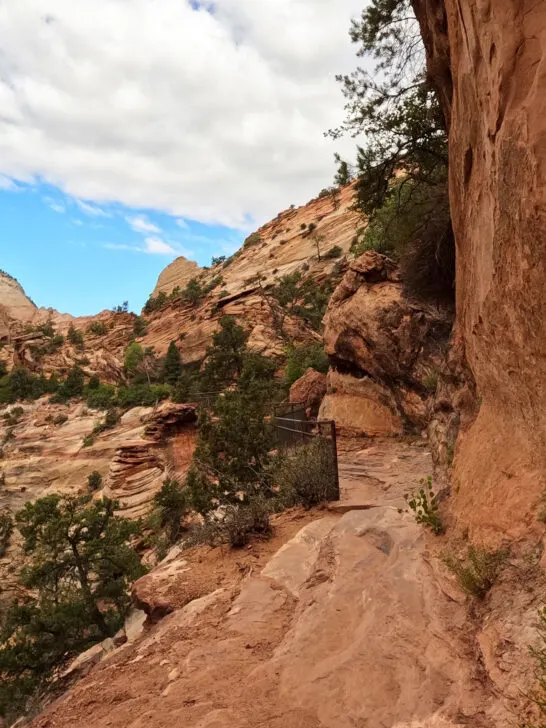 So, are you ready for amazing views on this awesome hike? The Canyon Overlook Trail is one of the best hikes in Zion, and worth the effort.
You'll love this interactive hike in the gorgeous Zion National Park!
Related content you might like:
Zion with Kids: 12 Fun Things to Do You'll Love (Plus Tips, Pics & Video)
AMAZING Utah National Parks Road Trip (Map, Best Hikes, Scenic Route Between Parks + More)
Find this post helpful? Save it for later or share it on social media!