You found it! One of the best hikes in Grand Teton National Park is Inspiration Point at Jenny Lake. Home to a waterfall and spectacular scenery of Jenny Lake, this is everything you need to know about Inspiration Point Grand Teton.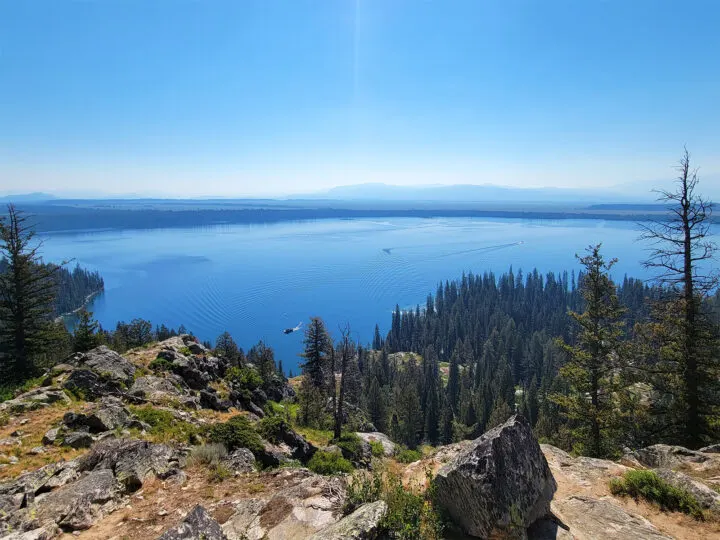 This post may contain affiliate links. For more info, see my disclosures.
Jenny Lake is one of the most picturesque mountain lakes, and a stunning sight in Grand Teton National Park! Inspiration Point hike is one of the most fun and interactive trails and a must see in Grand Teton National Park.
You'll get to see the crystal clear water up close, then a beautiful scene at the top of Inspiration Point Grand Teton. Oh, and the Hidden Falls is a huge bonus on this fun hike!
You can opt to hike the circumference of Jenny Lake for stunning views of the Tetons and lake. Or, you can opt for the shorter route and take the Jenny Lake boat shuttle across the lake.
This guide covers everything you need to know about taking the Jenny Lake boat shuttle and starting the hike past Hidden Falls and to Inspiration Point.
Read the guide below for details!
Must-see video: Inspiration Point hike
Grand Teton Inspiration Point stats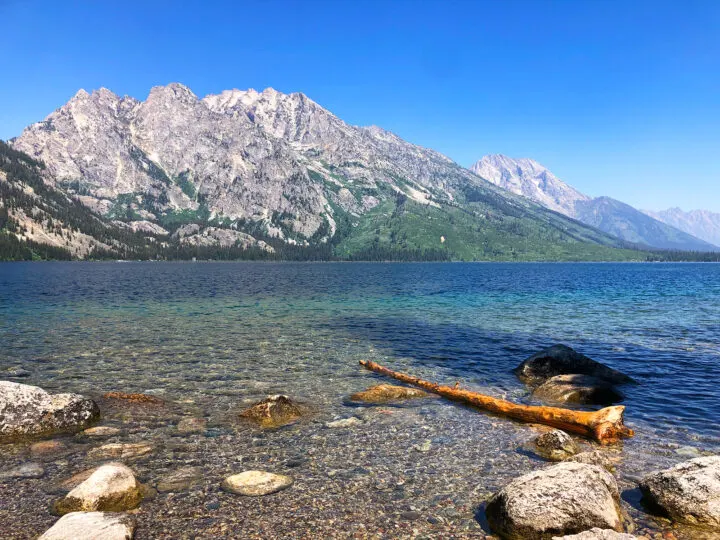 Distance: 1.8 miles
Elevation gain: 550 feet
Rating: moderate
Estimated time: 2 – 3 hours
This is a family-friendly hike and good for most skill levels. The terrain can be tricky with steep so take plenty of breaks as the climb can get strenuous at times.
As with most national park trails, dogs are not allowed on this hike.
Restrooms are at the Jenny Lake Visitor Center, near the main boat dock. There are no services at the trailhead across the lake.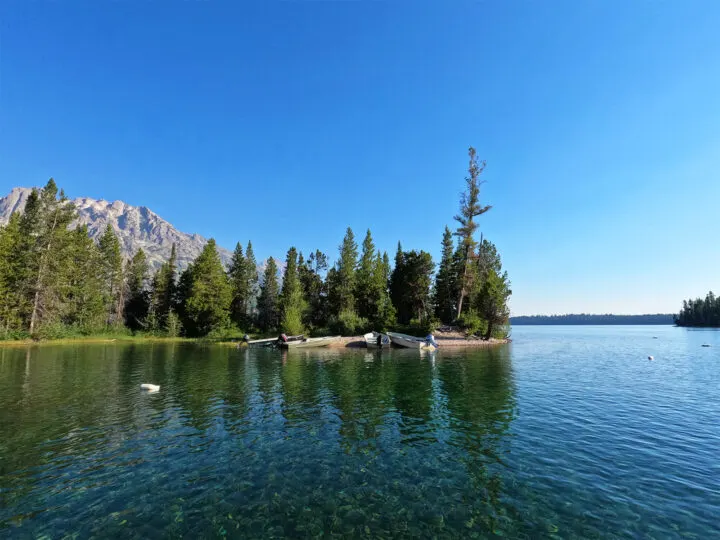 How to get to Inspiration Point Jenny Lake
The Inspiration Point hike is one of the easiest to locate in the park. It's nestled right past the Jenny Lake Visitor Center.
Here's a map of the Inspiration Point Grand Teton area. The boat dock and trailhead at the west boat dock are in orange. Hidden Falls and Inspiration Point are the purple icons. Other nearby points of interest are in yellow.
Parking at Inspiration Point Grand Teton
The Jenny Lake Visitor Center has quite a bit of parking. However, it fills up really fast! The overflow parking is out on Teton Park Road and can add up to a mile to your hike.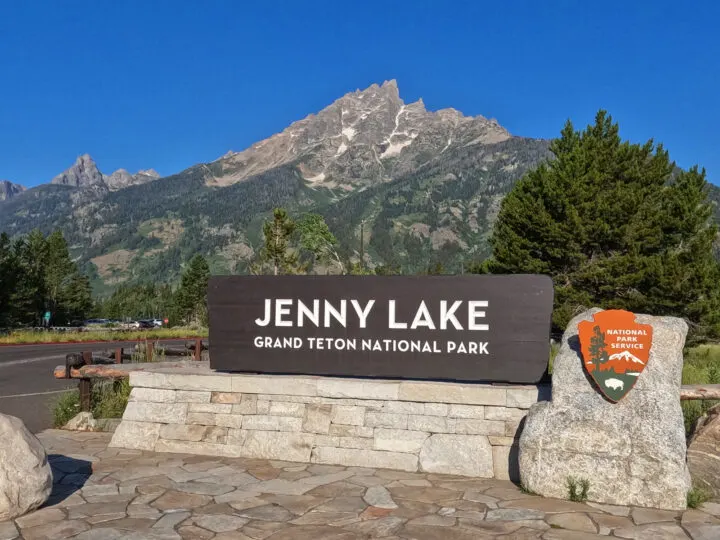 I recommend doing the Grand Teton Inspiration Point hike early – by 9:00am or later in the day – after 4:00pm in order to avoid parking challenges, long waits at the boat ramp or returning back.
Jenny Lake boat shuttle to Inspiration Point
You have 2 options for the Inspiration Point hike:
5.8 miles round trip to hike the perimeter of Jenny Lake to Inspiration Point
Take the boat across the lake to shave off 4 miles, making it a 1.8 mile hike
Most people visiting the park (and reading this guide) take the Jenny Lake boat, so that's what this guide focuses on. Also, in full transparency, I visited Grand Teton National Park with kids, so we opted for the shorter hike.
Jenny Lake boat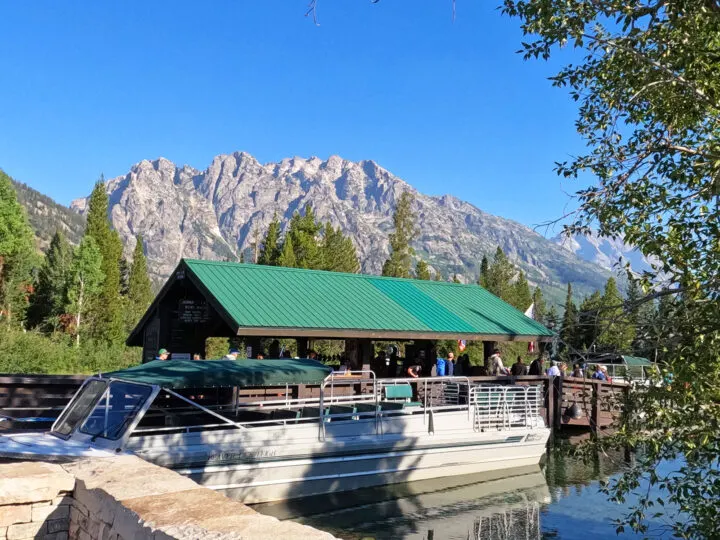 Taking the Jenny Lake boat is really easy and smooth. It's only about a 10 minute ride. You'll likely wait longer in line!
Price: $20 per adult round trip / $12 per child round trip
Hours: 7:00am – 7:00pm during peak season / 10:00am – 4:00pm early and late season
Open seasonally from May 15 – Sept 30
The boats run every 10-15 minutes, so it's really convenient before or after your hike. Reservations are not needed in advance.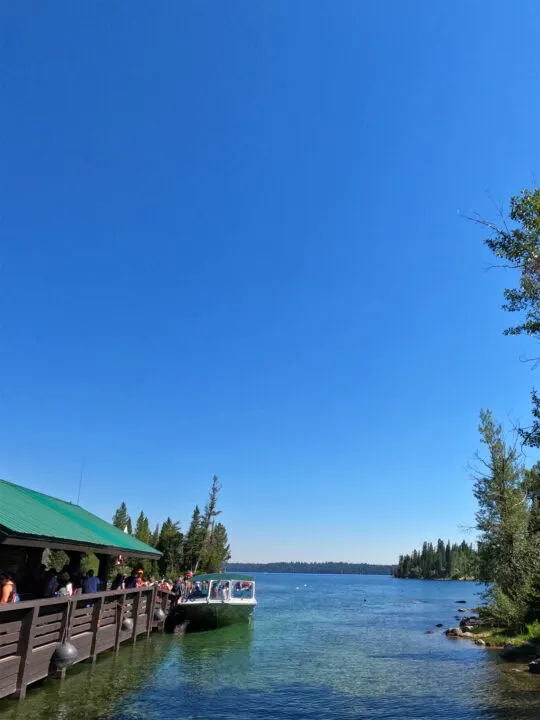 Pro tip: buy the round trip tickets to Hidden Falls Jenny Lake and Inspiration Point! You can purchase one-way but it's pro-rated for the return trip. If you get out there and decide not to hike back, it's more expensive.
Note: pricing and hours are current as of the time of publication. Check official website for up to date info.
Tips for Inspiration Point hike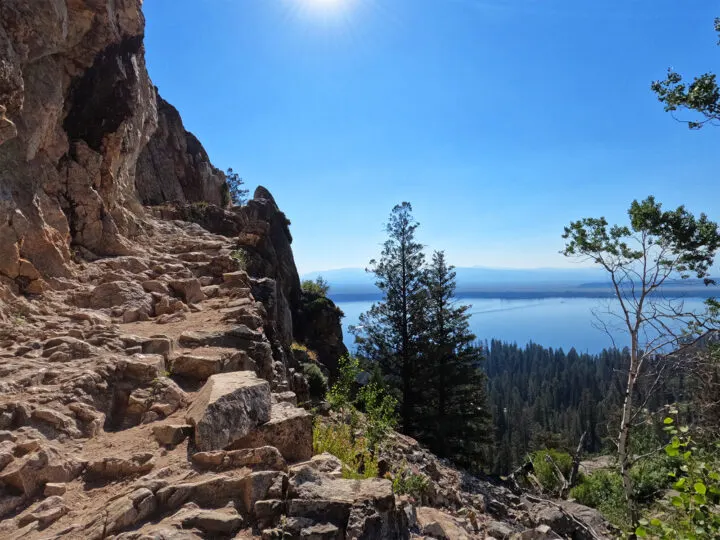 Here are a few tips to make the most of your time during this awesome hike!
Avoid peak busy hours. Mentioned previously but worth saying it again. It's a headache for parking and hiking when there's already hundreds of other people there.

Take bear spray! Black and Grizzly Bears thrive in the park and every adult in your group should have a can while hiking. We saw an elderly couple resting on a bench between Hidden Falls and Inspiration Point who had just seen a bear in close proximity and didn't have any bear spray on them. They were very freaked out!
Leave no trace. All trash and biodegradable foods need to go back off the trail with you. When animals rely on humans for food, it's dangerous for everyone.

Be courteous to others at the waterfall and at the overlooks. Everyone wants a photo and has the right to enjoy it. So wait patiently, grab your shot and then hang out a little further away so everyone has the same chance. 🙂

Bring the right gear. Good shoes with traction and trekking poles will make this hike comfortable – even on the tricky parts. Full gear recommendations below.
What to expect during the hike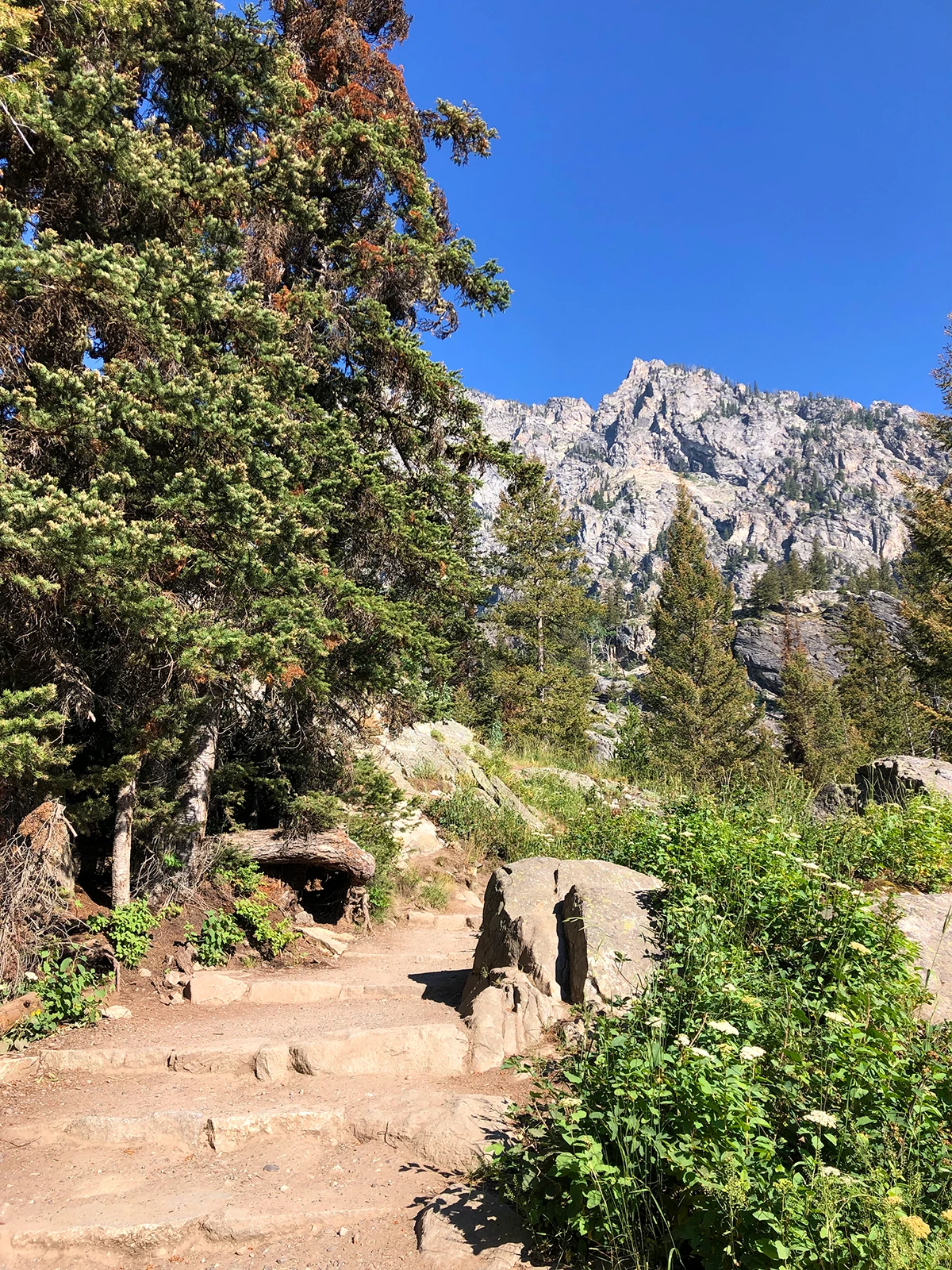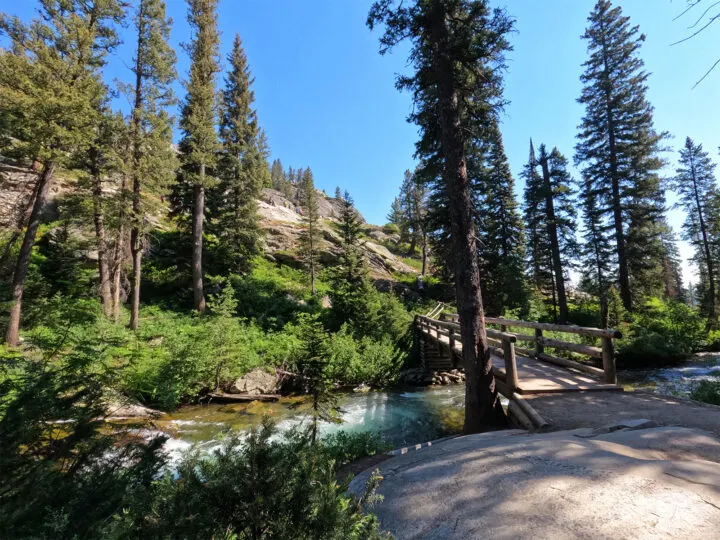 The 0.9 mile hike from the boat dock is an uphill climb almost the entire way! The terrain is rock and dirt, and reminds me of the Hickman Bridge Trail in Capitol Reef National Park – it's just a fun trail!
Grand Teton Inspiration Point is an out-and-back trail. The steps can get steep so take your time and take breaks as needed. Watch your step for uneven rocky surface throughout the hike, especially as you approach the viewpoints.
From the West Boat Dock at Jenny Lake, you'll hike about 0.5 miles to the gorgeous Hidden Falls. After witnessing that beauty, climb another nearly 0.5 miles to Inspiration Point. More details below…
Hidden Falls Jenny Lake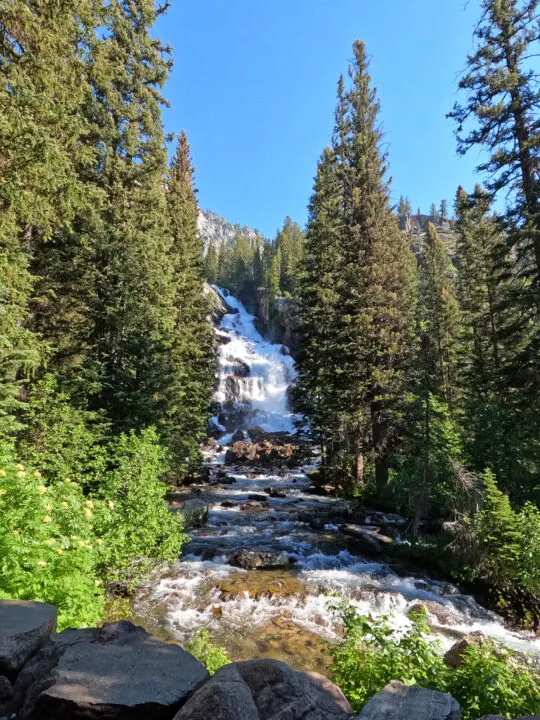 About half way to Inspiration Point is the Hidden Falls waterfall. I personally don't understand how this could be called this considering how many people know about it and it's not really even hidden.😆
It reminds me of Hidden Lake Overlook at Glacier National Park in Montana. It's obviously not hidden anymore!
Anyway, you'll hear the waterfall as you approach. There's a bridge that goes over the water coming from the falls, but you can't really see it well until you take the short path up to the Hidden Falls. Turn left before the bridge for the best view of Hidden Falls Grand Teton.
It's a fabulous viewpoint to a full, lush waterfall!
Hop back on the trail to continue the 0.5 miles to the lake overlook at Inspiration Point.
Inspiration Point Grand Teton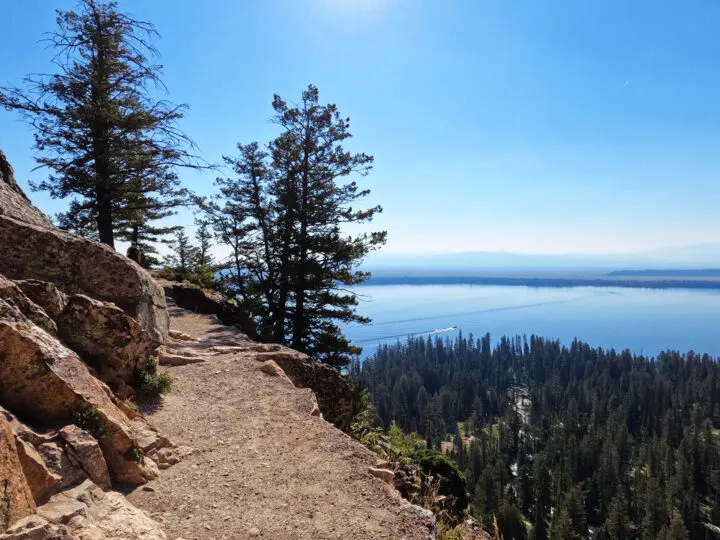 The climb get steeper after Grand Teton Hidden Falls, with more steps along a rocky cliff. The National Park Service has done a great job of putting in steps and a few benches for resting. Plus there's quite a few scenic overlooks to stop and take a break as needed.
When you start getting to the narrow trail with the large drop-off, you're getting really close!
There's a couple of rocky overlooks that trick you into thinking you're at main overlook. But don't stop until you see the Inspiration Point sign! That's when you've finally made it!
Grand Teton Inspiration Point sits at 7,200 feet, after you've climbed up 550 feet in elevation. And if you're from a lower-elevation area, you can probably feel that when you breathe! 😉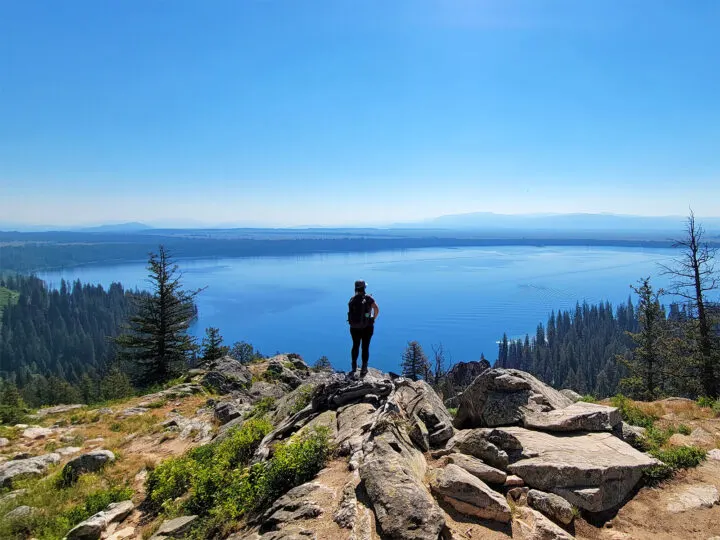 While you're at inspiration Point, you'll see the beautiful Jenny Lake down below. Behind you is Mount Saint John, and directly to the south is Teewinot Mountain towering above you!
Enjoy a snack or picnic lunch and enjoy the view. Now's also a good time to re-apply sunscreen!
Soak in the views and enjoy the hike back down to the boat dock. It's way easier going downhill than up!
Best gear for this hike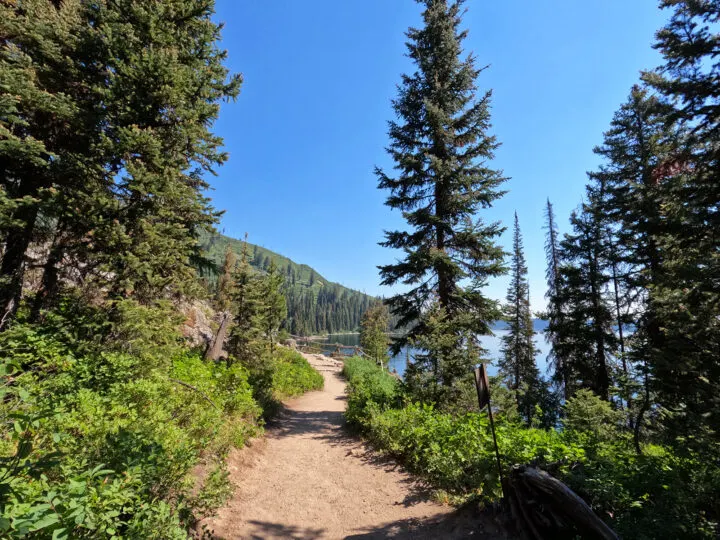 This is one of the best hikes in Grand Teton National Park! The terrain can be tricky at times. Make sure to have these hiking essentials to enjoy your hike to the fullest…
Hiking shoes with traction. The rocks can get slippery and I saw several people who wore sandals (not recommended at all!) or even basic athletic shoes struggle. These are my favorite hiking shoes I've to national parks all over the country, including a Utah national parks road trip.

Hiking socks. Prevent blisters by wearing wicking socks. Good hiking socks are worth it, every time!
Trekking poles. While not 100% necessary on this hike, they sure make inclines while hiking Inspiration Point Grand Teton way easier! They help with balance but also allows you to use more of your arm strength while hiking, too.

Hiking backpack. Carry your water, snacks and the 10 essentials while you hike. A good hiking backpack will magically take the load off your back and you'll hardly feel your backpack on! My husband and I both use Osprey backpacks and we love them!
Satellite communicator. My Garmin has come in so handy, and is such a peace of mind tool. I can't tell you how many hiking trails I've been on where someone was injured, like while hiking the Laurel Falls Trail in the Smoky Mountains. Getting help isn't easy, but with a satellite communicator, you know you'll be taken care of in an emergency.

Layers for weather. We all love hiking on great weather days, but it doesn't always happen. Carry a rain jacket or medium hiking coat as needed based on the time of year you're hiking Inspiration Point Jenny Lake trail.
Things to do nearby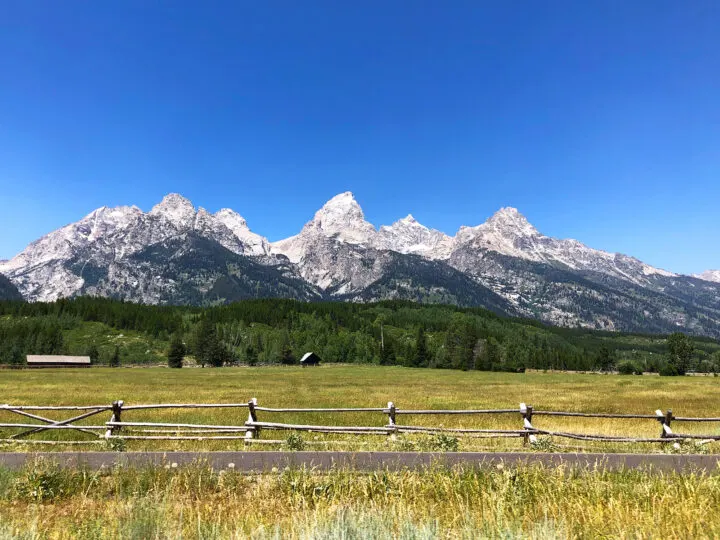 Since you're in the area, you may as well check out the nearby attractions, right? If you opt for the full trail from the Jenny Lake Visitor Center past Hidden Falls and Inspiration Point and into Cascade Canyon, it can be a 9+ mile hike, which would likely take most of the day.
If you take the Jenny Lake boat and shave off 4 miles hiking just to Inspiration Point, you'll have more time back in your day for more adventures around the park. Here are some suggestions…
Jenny Lake Scenic Drive. This is a must when visiting Jenny Lake! Located north of the Jenny Lake Visitor Center, this loop is a one-way drive that takes to to the Jenny Lake Overlook, which provides spectacular views of the Tetons across the lake.

Taggart Lake Hike. Coming in at 3.8 miles round trip and rated as easy, the hike to Taggart Lake will blow you away! It's a popular hiking spot so either plan to avoid peak hours (10:00am – 4:00pm) or add extra mileage for parking along the road.

42-mile Scenic Loop. You'll want 1-2 hours to complete the drive. More, if you want to see wildlife or if you're coming at sunrise. With numerous turnouts providing excellent views of the Tetons, this is worth doing when visiting the park.
Accommodations near Inspiration Point Teton
This awesome waterfall and overlook hike isn't too far away from great accommodations. Whether you're camping or you like more amenities, here are a few options to consider when planning your trip to Grand Teton National Park.
Camping near Jenny Lake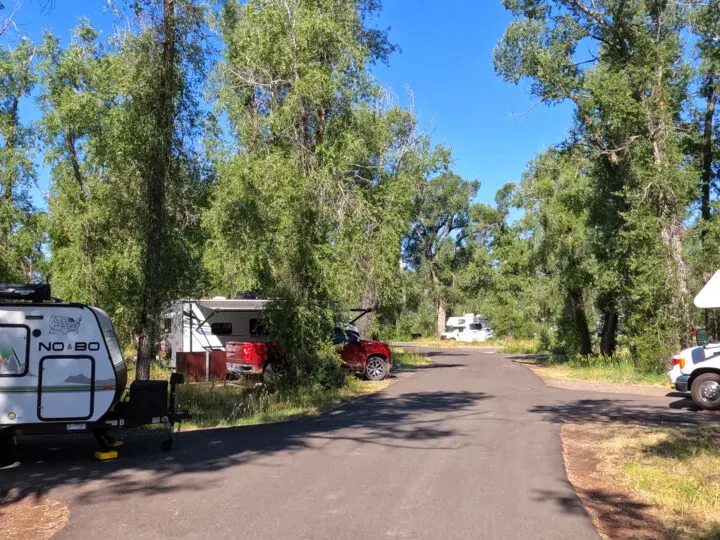 You'll want to make reservations far in advance! With it's close proximity to Yellowstone, campsites book pretty far out.
My favorite campground in this national park is Gros Ventre Campground. It's right within the national park and is perfect for RV camping, especially.
Colter Bay Campground and RV Park. Within the park and at Colter Bay Village which includes a general store and restaurants, this campground is super convenient. And bonus – the campsites are beautiful and spacious.
Avoid the crowds by staying at the Lizard Creek Campground. Perfect for tent camping or dry camping with little amenities, Lizard Creek is at the north end of Jackson Lake within the park boundaries. It also provides quick access to Yellowstone.
Where to stay in Jackson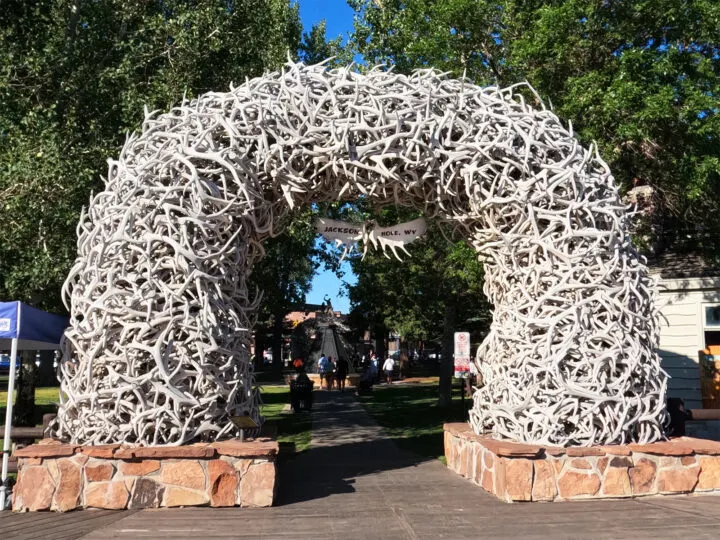 If you're not into camping, there's a ton of great vacation rental properties and hotels in nearby Jackson Hole. Not to mention an adorable downtown with tons of things to do! Here are a few places you might like:
Elk Country Inn. Located in downtown Jackson, this property has a variety of room sizes and lofts for families. They also allow pets, are right on the shuttle line and offer a lot of amenities.
Rustic Inn Creekside. Stay in luxury complete with a huge spa, sauna and pool. This hotel is located on the north end of Jackson, with really close proximity to Grand Teton National Park.
Huff House Inn and Cabins. Perfect for couples visiting the park and complete with 2 hot tubs, this property is located in Jackson.
Fun facts about Grand Teton Inspiration Point
Shoshone Natives are the original inhabitants of this land. White settlers pushed them out in 1800's. Please be respectful of this sacred area when visiting.

The government declared Grand Teton a national park in 1929. But over the next few decades more land was added. In 1950, the protected and preserved land was combined to create present-day Grand Teton National Park, approximately 310,000 acres.
Jenny Lake was named after a tragic story of the loss of Jenny and her 6 kids to smallpox in 1876. Jenny was her English name after marrying Richard "Beaver Dick" Leigh, a homesteader who was originally a Shoshone native.

Grand Teton National Park is the 7th most popular national park in the US according to visitor data from the NPS.
Inspiration Point Grand Teton hike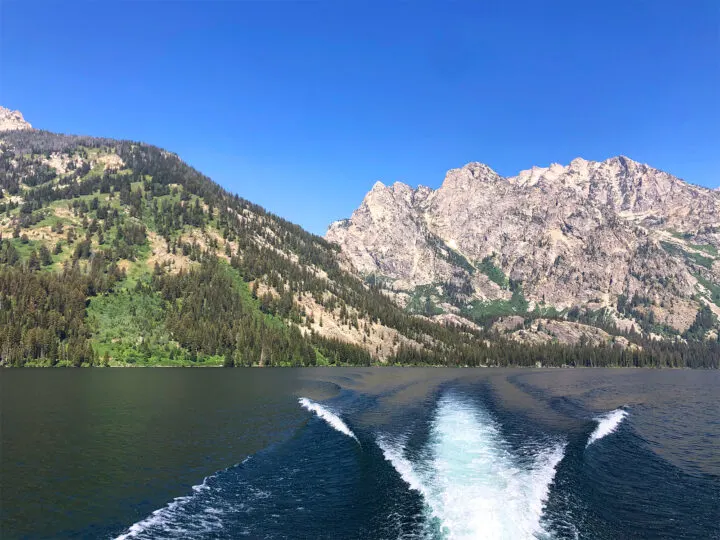 The Inspiration Point hike at Jenny Lake is a favorite amongst park visitors. You'll see a lush waterfall and beautiful views of the mountain lake!
Grand Teton Inspiration Point is a fun spot to explore for nearly all ages and skill levels. So pack up your bag and get ready to create memories for years to come!
Enjoy your hike!
Related content you might like:
Must See in Grand Teton National Park: 10 Amazing Activities You'll Love
Find this post helpful? Save it for later or share it on social media!