It's an adventure just outside the city of Las Vegas. The Red Rock Canyon Scenic Drive is a must when visiting Nevada. With plenty of hiking and sights along the drive, here's everything you need to know before you go!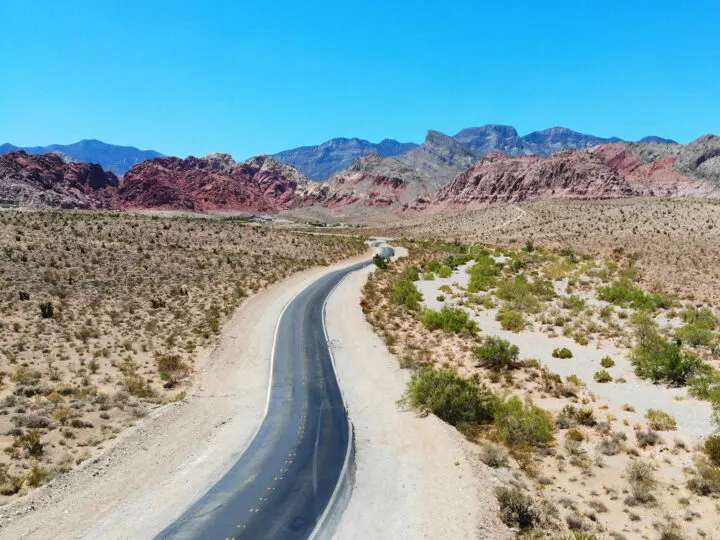 This post may contain affiliate links. For more info, see my disclosures.
Red Rock Canyon National Conservation Area is in the heart of the Mojave Desert. Some of the most stunning landscapes await on this fun drive! Hiking and rock climbing are popular within the conservation area, too.
See ancient hieroglyphics, witness the fire-red cliffs or hike to an overlook with views of the Las Vegas strip. You could spend a day – or more – in Red Rock Canyon!
First, let's go over some details about the area before diving into the guide for what to see along the scenic loop.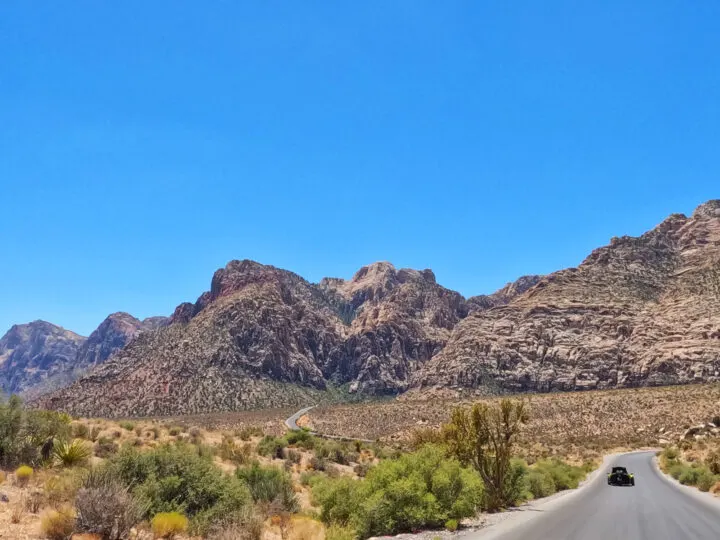 Red Rock Canyon Scenic Drive is a one-way loop
Keep this in mind as you plan your trip, especially if you want to go to the visitor center or hike a specific trail.
You'll pay the entrance fee once you turn off Highway 159 and onto the Red Rock Canyon Scenic Drive, and the end of the loop takes you back to the highway. This means you can't re-enter the area without going back through the gates.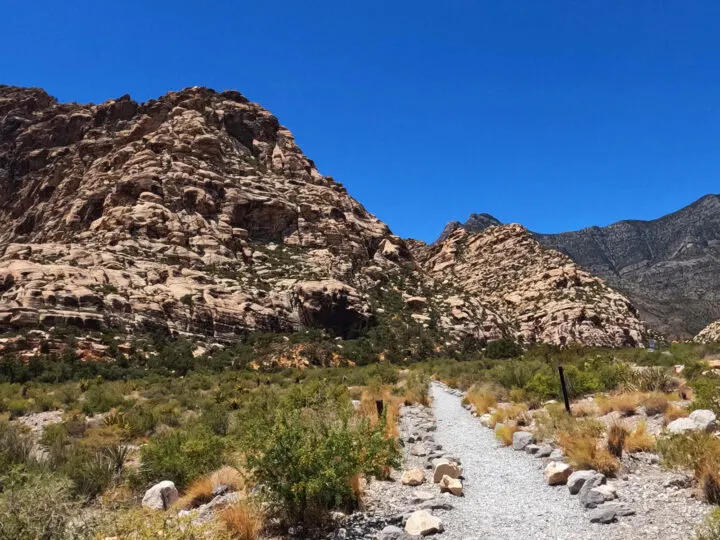 Red Rock Scenic Byway Map
Located just 17 miles from the Las Vegas strip is Red Rock Canyon National Conservation Area.
At just 13 miles long, the Red Rock Canyon Scenic Drive is one-way with 12 parking areas and 21 trailheads.
Here's a map of must-see attractions along the Red Rock Canyon Las Vegas. Details are highlighted below in the guide.
Pro tip: cell service is spotty at Red Rock Canyon. Download this map for offline viewing once you're there!
📍Red Rock Canyon was originally home to the Paleo-Indians, San Dieguito, Pinto- Gypsum Archaic, Ancestral Puebloans, Patayan Culture and Southern Paiute peoples. Please be mindful while visiting this conservation area, and treat it with ultimate respect.
Red Rock Canyon scenic drive reservations
From October through May, you'll need a timed entry reservation to enjoy the area between 8:00am – 5:00pm. This helps with overcrowding (it's nice to actually find a parking spot!) and protects the natural resources.
There is a fee to enter Red Rock Canyon, however, a USA National Parks pass (America the Beautiful pass) will work to enter.
Pro tip: I highly recommend purchasing the America the Beautiful Annual Pass if you're planning to visit any other national parks or federally protected land. My family has used it during our Utah National Parks road trip, on a Sequoia National Park visit, while hiking in Grand Teton and so many more spots!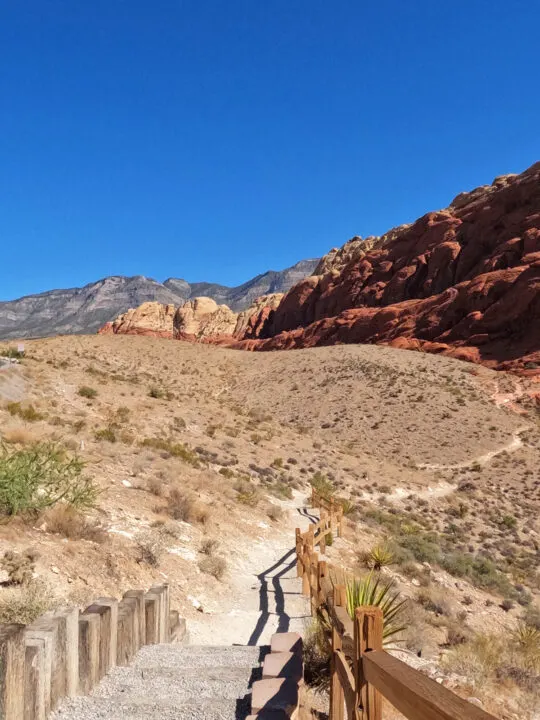 If you're traveling during the summer months and September, it's hottest in the Mojave Desert. But it's much easier to experience the scenic drive without a reservation. Remember to avoid excessive heat and pack accordingly (more packing tips below).
Side note: the first time I visited Red Rock Canyon my husband and I packed plenty of water, and while hiking we came across a group who didn't pack enough, wore sandals, and one of them had fallen.
We gave them an extra liter of water as they were struggling in the canyon near Las Vegas. Please, please go prepared!
National Conservation Area vs. National Park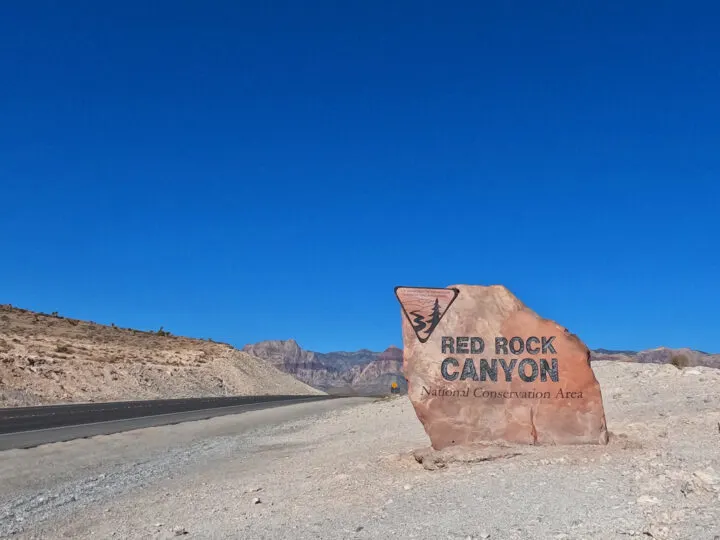 Red Rock Canyon Scenic Drive is a conservation area, not a state or national park. This means that it's a protected area for the purpose of conserving, enhancing, and managing public lands. Unlike a national or state park, which is also protected land that's designed for recreation.
There's definitely fun things to do in the National Conservation Area (NCA), but it's not designed for as many people as larger parks are. There are also less amenities than most state and national parks, so keep that in mind.
Things to pack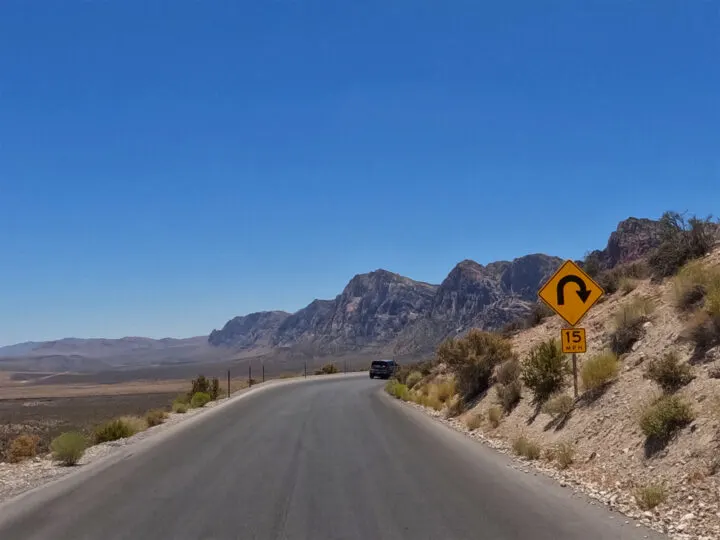 After visiting the area and doing the scenic loop multiple times, I've learned what to bring over the years. These are the things you'll want to pack along…
Road trip essentials for Red Rock Canyon Las Vegas
Water, water, water. You're in the desert so it's essential any time of year. In the summer, pack at least twice as much as you think you'll need, and avoid peak hours of the day. Be kind to the earth and use reusable water bottles, or a water hydration system inside a hiking backpack.

Satellite communicator. Like most national parks, Red Rocks Canyon has extremely limited cell phone service. Be prepared with a 2-way satellite communicator, like this Garmin In-Reach Mini. In an emergency you can call for help, even if you don't have cell phone service.
Sunscreen. You'll need it in the desert, and especially if you're planning to do any hiking adventures. Be kind to the earth and get eco-friendly mineral sunscreen. 🙂

Snacks or a picnic. High protein snacks are perfect for hiking. And if you just want to enjoy a leisurely drive, you can pack a lunch and enjoy the views! The Willow Spring Picnic Area is perfect for that! (See stop #6 below)

Collapsible cooler. Easy for traveling, this cooler will keep your water or lunch cold while it's in your car. Pro tip: pack some frozen water bottles and it will double as ice and as it melts you can drink it!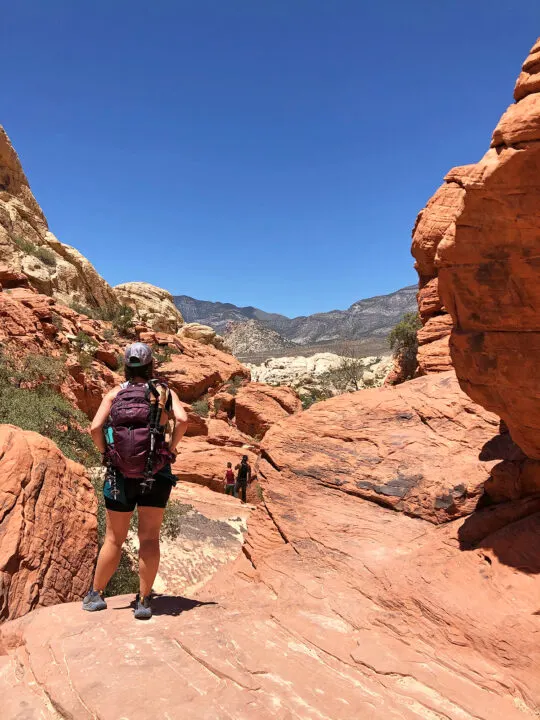 Hiking essentials for Red Rock scenic loop
Hiking shoes and socks. If you're planning to enjoy Red Rock Canyon outside of your car at all, pack the proper gear! These hiking shoes are my absolute favorite, and have been on the best hikes in Red Rock Canyon plus Avalanche Lake Trail in Glacier NP, during the perfect Zion National Park itinerary and so many more places. Oh, and moisture-wicking hiking socks help to prevent blisters.

Hiking backpack. Carry your first aid kit, a water hydration system, extra sunscreen and so much more! It's like magic, pulling the weight off your shoulders. I love this hiking backpack because it's got extra vents so you don't get as sweaty – so helpful when you're hiking in Red Rock Canyon.
Trekking poles. If you're planning to walk any of these trails, grab a pair of hiking poles. I've hiked in this area with and without poles, and it was definitely way easier with a sturdy pair of trekking poles!

Hat. For extra sun protection and to keep the heat off your face and neck, choose a wide-brim hat.
Enough chatting already! Let's get to the best scenic drive stops!
Red Rock Canyon Scenic Drive – best stops along the way
It's one of my favorite day trips from Las Vegas! The Nevada Red Rock Canyon is an exciting adventure!
Note that when you enter the area, you'll get a Red Rock Canyon map with 26 attractions. The numbers below don't line up because they're not all note-worthy (like the restroom stops). I've condensed this list to the must-see stops along the Red Rock Canyon scenic drive. Enjoy!
1. Red Rock Canyon Visitor Center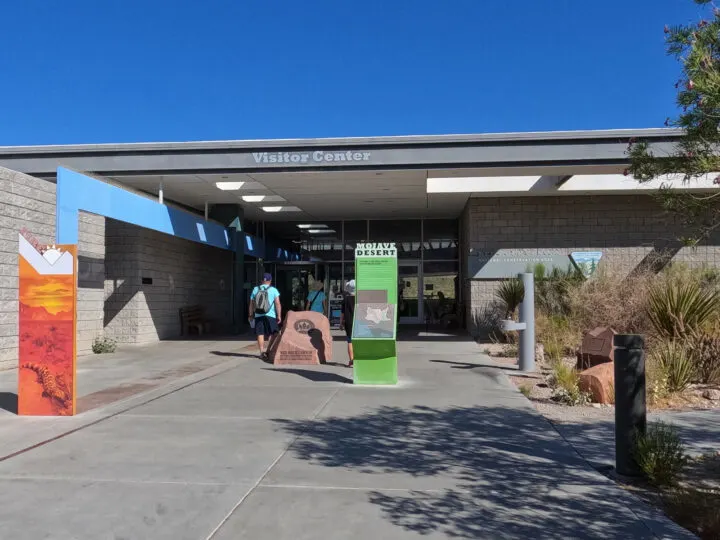 The first point of interest along the Red Rock Canyon Scenic Drive after the entrance is the visitor center. Check the hours before you go, as it changes seasonally.
Check out the NCA programs, grab a souvenir or simply check out the view while in the cool air conditioning! There are restrooms outside the main entrance, and drinks available for purchase outside too. (Fair warning: use this as your back-up plan as they're often times empty!)
Pro tip: once you enter Red Rock Canyon Scenic Drive and pass the Visitor Center, you won't be able to get back to it without re-entering the park. So be sure to make your stop and ask any questions while you can.
2. Calico I and Calico II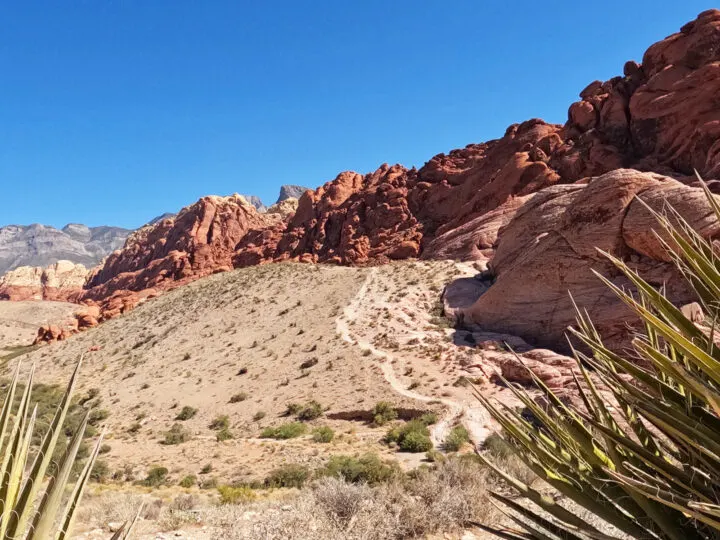 The first area past the visitor center is Calico Hills. It's a must-see when on a Las Vegas Red Rock Canyon tour!
Calico I and Calico II are connected by the Calico Hills Trail. It's a moderate trail with some elevation gain. You could hike out and back starting at Calico I, past Calico II and loop in with the Calico Tanks Trail for a total of 6.4 miles. Or just hike part of it until you want to turn back!
You'll get stunning views along the hike of the red sandstone rocks! Of course, you can just stop at the lookouts and see some pretty great views, too. There's plenty of parking at both Calico I and Calico II. Hop out and read the informational signs and soak in the red sandstone views!
Pro tip: at Calico II you'll find restrooms, which is a nice option if you're hiking.
3. Calico Tanks (a favorite on this list of stops on the Red Rock Canyon Scenic Drive)
Hands down, one of the best hikes in Red Rock Canyon is the Calico Tanks Trail. It's one of the most popular hikes in the NCA, likely in large part to the trail's feature – the view of the Las Vegas Strip.
Rated as moderate and coming in at 2.2 miles round trip, this trail has approx. 406 feet in elevation gain. There's some scrambling towards the end that can get quite difficult, so be sure to have grippy hiking shoes for this trail!
This is one of those trails you'll want to get to start early in the morning, especially if you're visiting in the summertime. It's almost completely exposed to the sun and it gets very hot!
4. Highpoint Overlook (one of the most popular stops along the Red Rock Canyon Scenic Drive)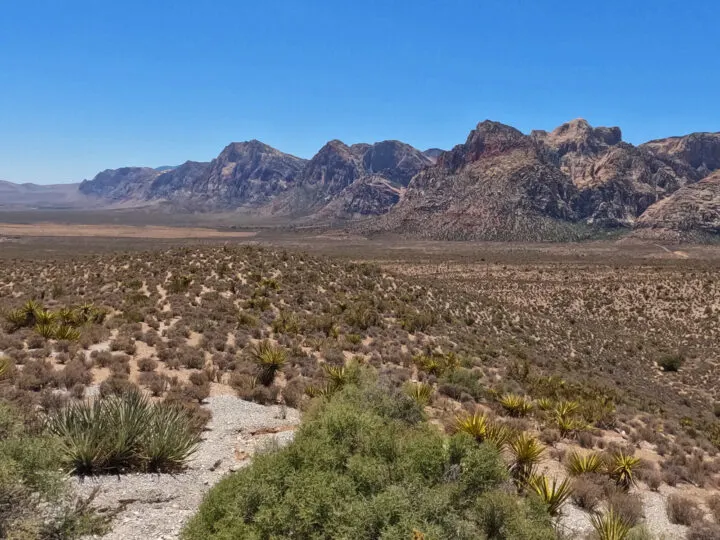 Early on in the scenic drive is the highest spot along the loop. Sitting at 4,780 elevation, the Highpoint Overlook is a must-see to soak in the views.
To the east you'll see the red rocks of the Calico Basin. And looking west, you'll see the more rugged peaks of the Bridge Mountain.
There's not a place to sit outside and linger much, but it's worth a stop to enjoy the view!
5. Keystone Thrust and White Rock Mountain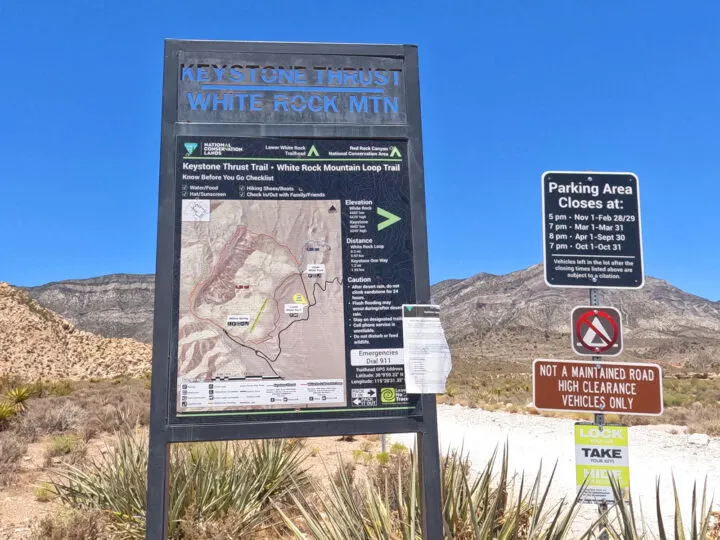 Heading back down the curvy road is Keystone Thrust and White Rock Mountain trails. Here there are restrooms and a trailhead.
Pro tip: this is a pretty secluded area of Red Rock Canyon, so if you're looking for a peaceful hike, this just might be it!
Keystone Thrust Trail is an out-and-backtrail at 2.4 miles round trip. With an elevation gain of 567 feet, it's rated as a moderate trail. You'll actually climb gradually up, up, up until you reach a large canyon with red sandstone 'thrusting' up out of the earth. Such a spectacular sight!
White Rock Mountain Loop Trail is 6.2 miles and 1,135 elevation gain. The longer length is ranked as a moderate trail, and the overall elevation gain could be challenging for beginner hikers.
One of the unique features of the White Rock Mountain Loop trail is that it's partly shaded, which isn't easy to come by in this NCA! If you start early in the morning and go in a counterclockwise direction, you'll really take advantage of the shade.
6. Willow Spring Picnic Area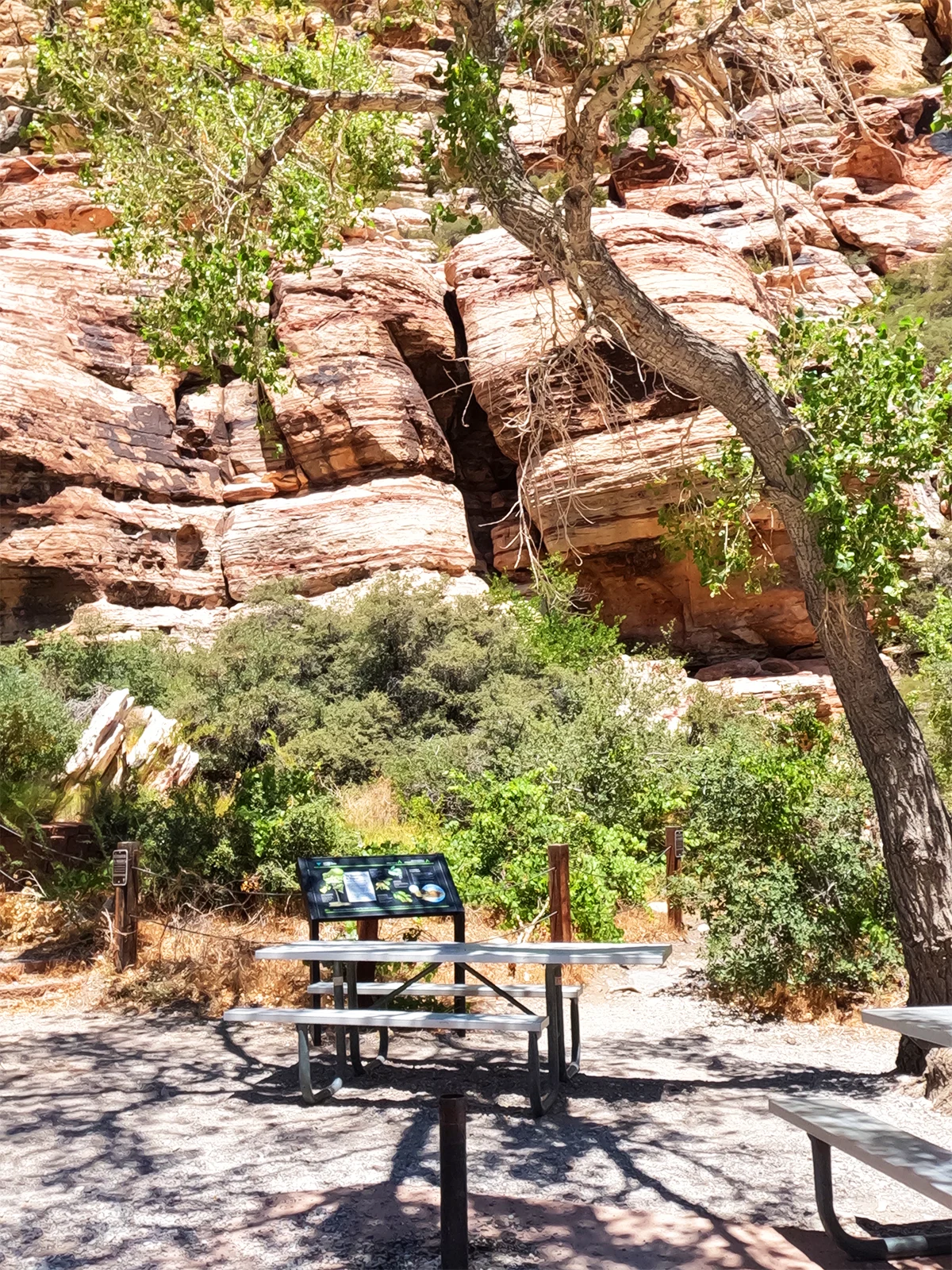 Ready for a picnic or snack break? The Red Rock Canyon Scenic Drive is beautiful and it's a great opportunity to soak in those views with a stop at the picnic tables at Willow Spring.
There's restrooms here as well, so it's a great spot to break up the drive.
The Willow Spring Loop Trail is actually one of the shortest hikes in the park, too if you're looking for something short and simple. At just 1 mile, you'll go through some rocky terrain and loop through some beautiful scenery.
Note: the Willow Spring Loop Trail isn't clearly marked so watch for cairns (stacked rocks). If you can, download the AllTrails trail guide before you go so you can stay on the trail.
7. Petroglyph Wall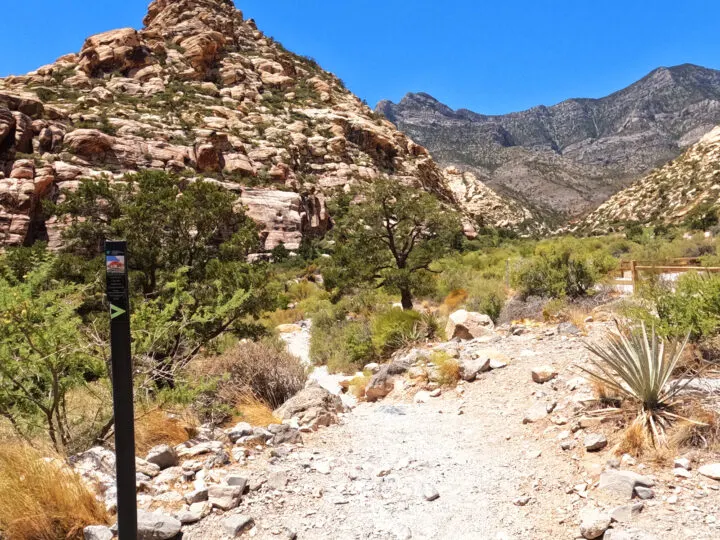 Okay, so this is one of those stops that's great for young and old alike. This short hike is right across from the Willow Springs Picnic Area. At just 0.2 miles, I'd barely even call this a trail, either!
Walking into the open canyon to the Petroglyph Wall is a really cool feeling – like you're realizing just how small you are on this great planet Earth! But obviously the main feature here are the petroglyphs.
These ancient carvings are fun to try to decipher. See people, animals and maybe plants. Or families? No one really knows what these 800+ year old carvings mean. But it's sure fun to try to guess! 🙂
8. Ice Box Canyon (awesome hike along the Red Rock Canyon Scenic Drive)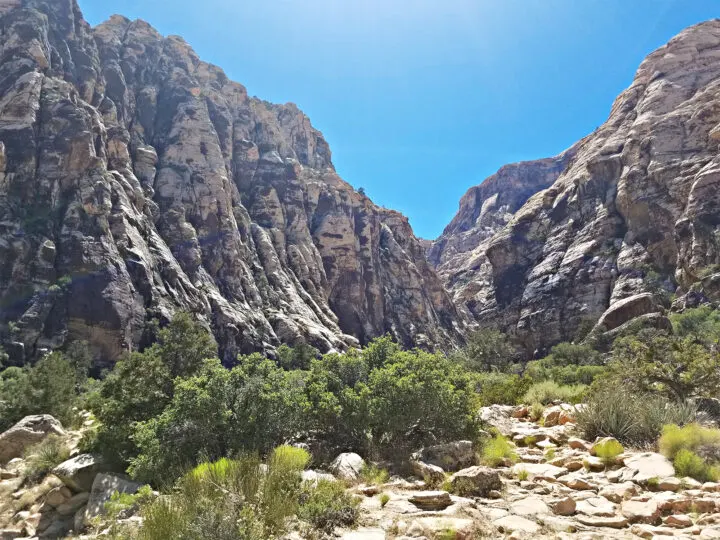 This is one of my personal favorite stops on this adventure at Red Rock Canyon Las Vegas in the Mojave Desert! The Ice Box Canyon Trail is just 2.3 miles, but with an elevation of 577 feet and some scrambling and bouldering, it's definitely a moderate trail.
Be sure you're wearing grippy hiking shoes for this trail as you'll need them. Being a shorter person, I struggled a bit with the size of the boulders. My husband had to push me over some of them because my legs weren't long enough to climb up. So needless to say, this trail isn't for young kids.
If you're visiting Red Rock Canyon from Vegas in the springtime, you should get a nice surprise at the end of the trail – a waterfall! Both times I've visited the waterfall has been dried up but it's still a nice hike without. The last almost half of the trail is shaded, which is a bonus!
9. Red Rock Wash Overlook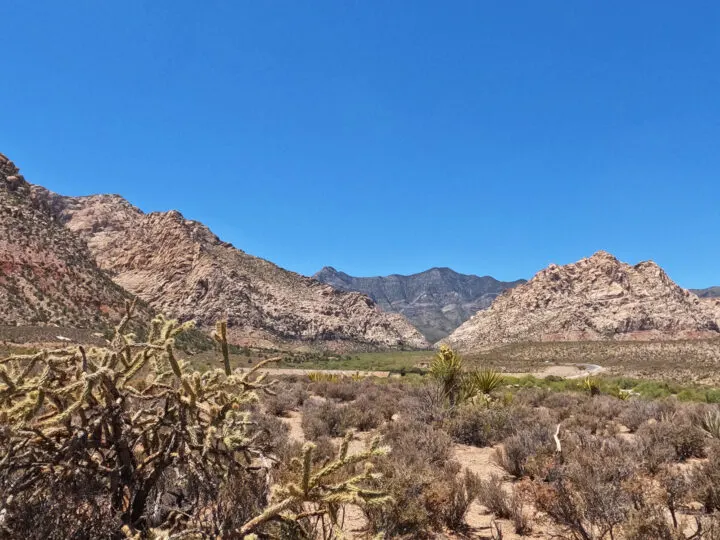 Enjoy 360 degree views of the Red Rock Canyon National Conservation Area at Red Rock Wash Overlook. To the west you'll see the Bridge Mountain and Pine Creek Canyon. To the east, you'll see a vast desert landscape with the vivid red colors that are on the Calico range in the distance.
This is one of the last stops on the Red Rock Canyon Scenic Drive, unless you plan to stop at the restrooms or go hiking near Pine Creek Canyon. Enjoy these last few moments on the scenic loop!
10. Red Rock Canyon Overlook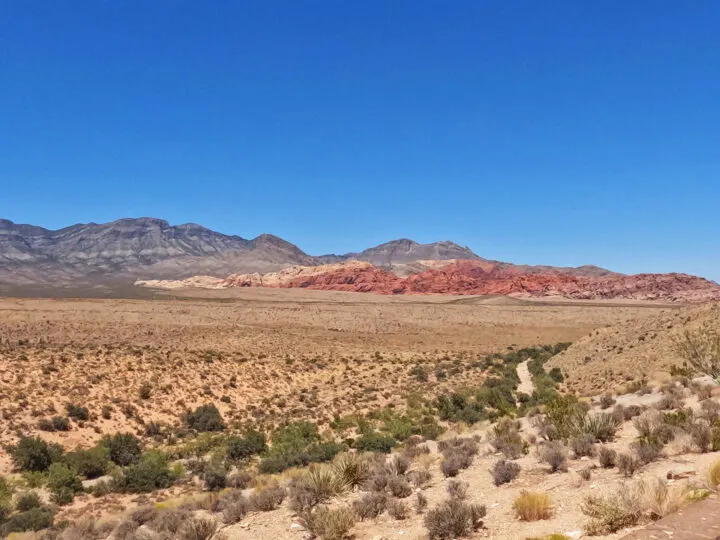 Located after you exit the scenic drive, as you make your way back towards Las Vegas on Highway 159. It's the left turn immediately after you get back onto the highway. This is the last stop is on the Red Rock scenic loop.
This overlook provides panoramic views of the Red Rock Canyon NCA from a distance. See the areas you've just visited from afar. For such a short drive, there sure is some spectacular scenery!
With restrooms and a shaded area, it's the last unofficial stop on this Red Rock Canyon scenic drive.
Red Rock Canyon Scenic Dive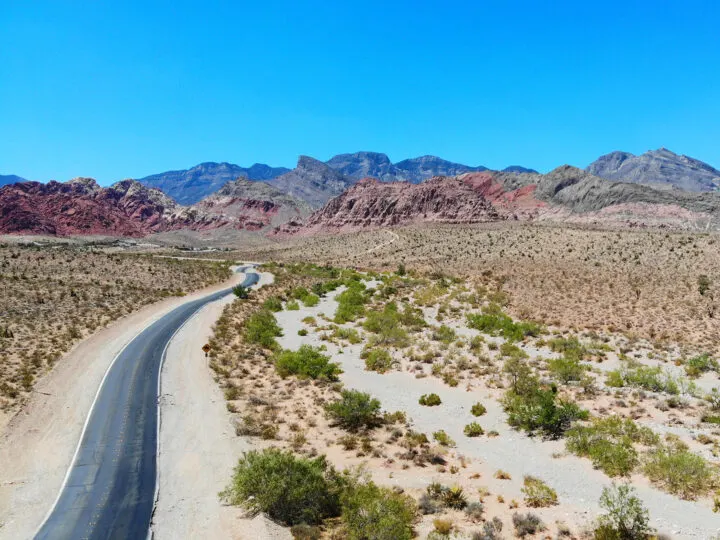 So, how does this road trip sound? The Red Rock Canyon Scenic Drive is such a great adventure in the Mojave Desert. It's a nice break away from the crowds if you're spending time in Las Vegas, too.
Pack your car with water, food and some outdoor essentials to prepare for this adventure. And October through May, don't forget to make your reservations in advance!
Enjoy the road trip!
Related content you might like:
Calico Tanks Trail: Amazing Hike You'll Love in Red Rock Canyon
30 Gorgeous West Coast Road Trip Routes You Gotta See to Believe
AMAZING Utah National Parks Road Trip (Map, Best Hikes, Scenic Route Between Parks + More)
Find this post helpful? Save it for later or share it on social media!