The US is filled with amazing sights, hikes and adventures from coast to coast. The absolute best way to experience everything it has to offer is by taking an amazing road trip! Here's an epic list of the best road trips USA to find your next adventure.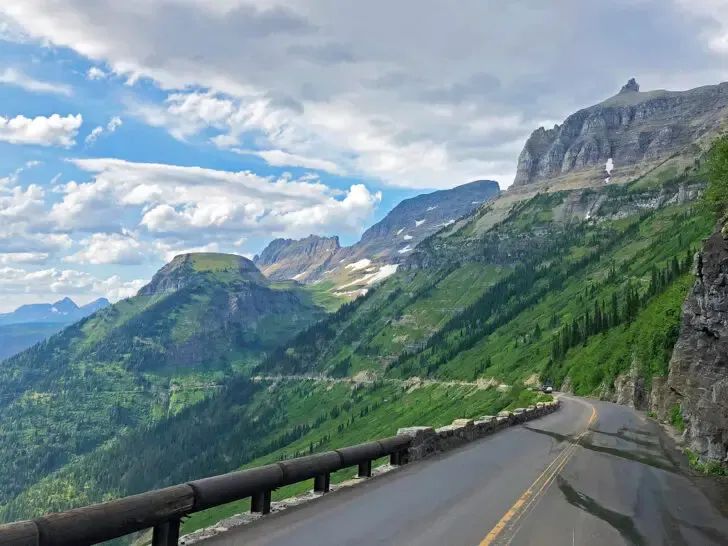 This post may contain affiliate links. For more info, see my disclosures.
One of the best perks about US road trips is you can take your time, admire the views, stop at fun road-side attractions and design the route exactly how you like! Whether you have a long weekend, a week, or even longer, these road trips across the US are full of a variety of cities, wide open spaces and some underrated spots you're going to love.
From coast to coast and even a few bonus routes, this guide will help you get started in planning the greatest American roadtrip that's just perfect for you!
Must-see video: road trips USA
Best road trips in USA map
Whether you're hoping to explore close to home or take a bucket list cross-country road trip, this USA road trips list has something for everyone! Check out the map below to find which one works best for you.
By the way, I haven't been everywhere (yet), so I've asked some of my fellow travel writers to help with this list of the best American road trips.
Essentials to pack on the greatest road trips in America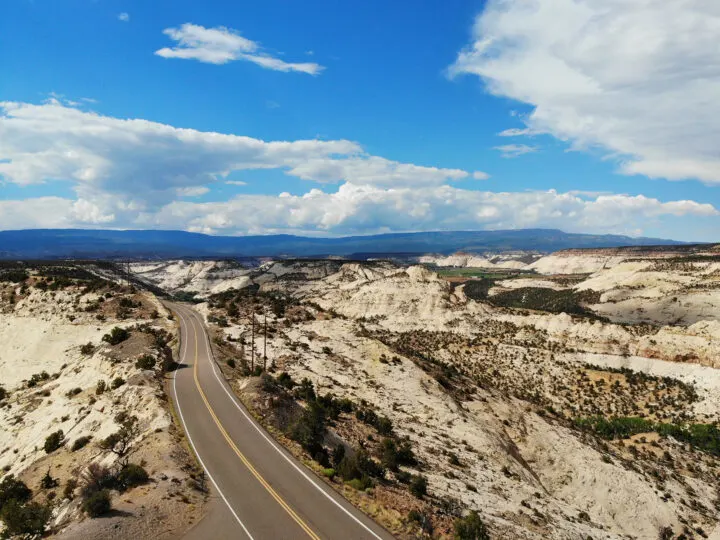 Before we dive into the list of USA road trip routes, make sure you've packed the right gear to help make your road trip go smoothly. Here are some top recommendations…
Food and water. Regardless of how long of an adventure you choose, you'll want some food or at the very least some snacks to keep that energy up! Here are 101 road trip food ideas. Don't forget to bring reusable water bottles to fill up at hotels, restaurants and national parks so you can avoid buying single-use plastic bottles.

Collapsible cooler. Store your food and drinks in a handy cooler, then fold it down when it's empty for storage or to easily pack it up.

Layers for weather. Depending on which epic US road trip you choose and the time of year you take it, be prepared for anything! From a light jacket or medium coat for hiking, an umbrella, sun hat or even the perfect merino wool layers for any season, you'll want to be prepared.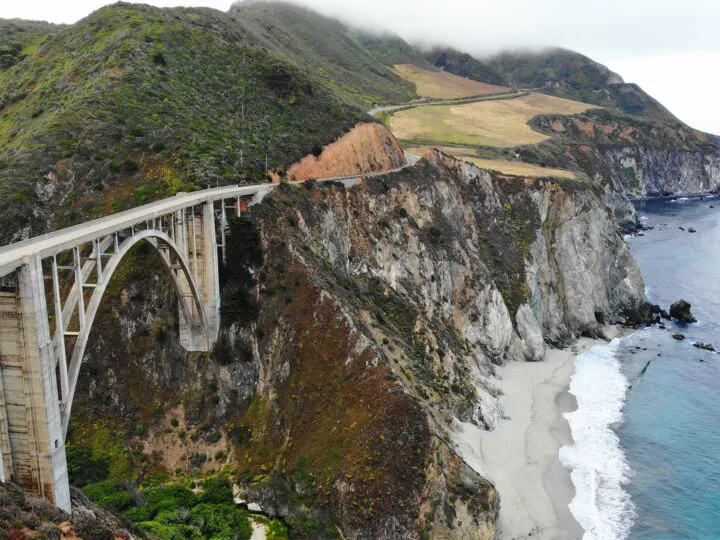 Good hiking gear. If you're stepping foot in a national park on this list, or any other outdoor space with trails, you'll want the right hiking gear. That means hiking shoes, socks, trekking poles and hiking backpack. As someone who's hiked with and without the proper gear, I can say with confidence hiking is a lot easier and more comfortable with the right gear.

Emergency preparedness items like satellite communicator and first aid kit. Whether you're in your vehicle or are renting a car, be prepared for anything. This satellite communicator allows for 2-way communication anywhere it can see the sky – regardless of if you have cell phone service or not. Call for help on a hiking trail or road out in the middle of nowhere.

GoPro. This awesome camera is perfect for recording epic road trips! Hang this GoPro out the window or sunroof while another person is driving, go underwater with it or use it to capture amazing landscapes. Maybe not an 'essential,' but certainly fun if it's in your budget! 🙂
By the way, if you need to rent a car for these epic road trips, try using Discover Cars. It's a search engine for the major car carriers that finds the lowest price, and it's free to use. I typically save 10-30% on car rentals with Discover Cars.
Best road trips USA
YAY! You're ready to start planning your bucket list road trip! You're going to love this amazing list of the best road trips in America!
1. Utah national parks road trip (one of the absolute best road trips in America)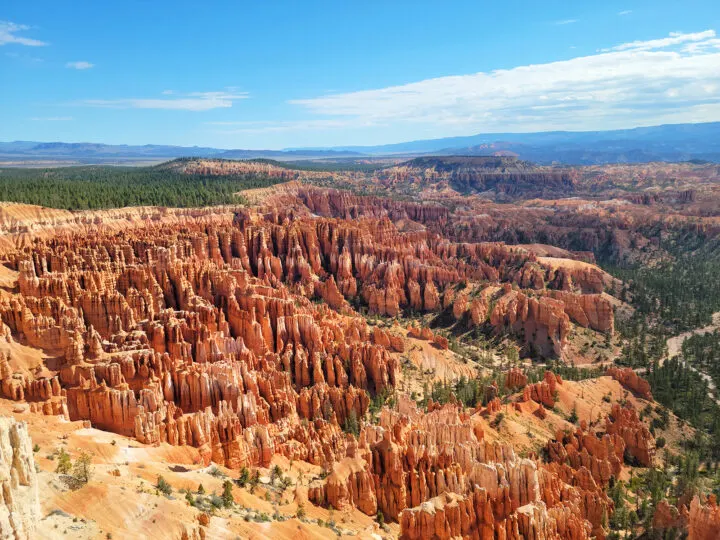 Distance: 878 miles
Recommended time: 6-10 days
Best time of year: spring, summer or fall
For out-of-this world landscapes, you'll love an Utah national parks road trip through the Mighty 5! From crazy rock spires known as hoodoos in Bryce Canyon to the vast, wide open spaces in Canyonlands National Park, there's so much to see and do on this road trip!
For the most efficient use of your time, fly into Salt Lake City and start your adventure in Moab. Home to Arches National Park and Canyonlands National Park, you'll want to spend at least 2 days exploring this area – more if you have time!
Spend one day in Arches by hiking to Delicate Arch – the most famous rock arch in the world! See Landscape Arch and The Windows areas of the park, too. With the popularity of this park over the last 5 years, you'll need a timed entry reservation, so be sure to plan in advance!
Discover the best hikes in Canyonlands National Park. From the short, 0.5 mile trail to Mesa Arch, to the breathtaking Grand View Point trail. Don't forget to stop at the scenic overlooks – Green River and Grand View Point.
From there, head west to Capitol Reef National Park. Visit the Fruita orchards and do the Hickman Bridge Trail hike. Allow at least an hour for the scenic drive as well. It's easy enough to see the park highlights in day, or take more time to explore more hiking trails.
Next is Bryce Canyon National Park. Home to the funky hoodoo rock formations, these views are incredible any time of year. Be sure to check out the views at Inspiration Point, and if you're up for a hike, do the Queens Garden Trail and Navajo Loop combination. So cool!
Lastly, head to Zion. One of the most visited national parks in the country, and for good reason! This massive canyon is so incredible from almost anywhere in the park. Popular hikes like The Narrows and Angels Landing (permit required) and Canyon Overlook Trail don't disappoint!
The final part of this trip is just heading to Las Vegas to fly back home. This trip can be done year round, but some of the roads and hikes in the national parks will be closed during the winter months due to snow and ice, so it's recommended during spring, summer and fall.
Recommended by me – Nikki of Inspired Routes
2. Ozark Mountains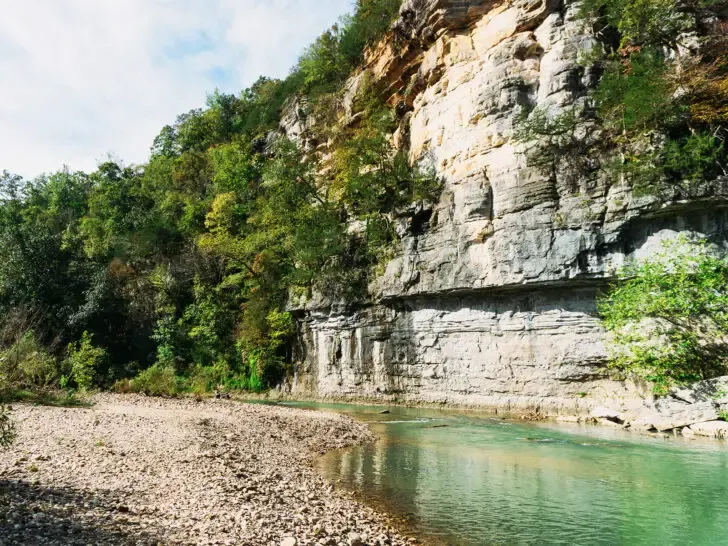 Distance: 200 miles
Recommended time: 2-3 days
Best time of year: April-June or September-November
One of the best road trips in USA is a trip through the Ozark mountains in northern Arkansas. There is so much to see and do on this road trip and it's perfect for a 2-3 day weekend.
This exciting road trip will start in Little Rock and end in Eureka Springs. The total mileage of this trip is 200 miles and driving straight through takes 3 hours and 25 minutes.
One of the best stops along the way is at the Natural Bridge just outside of Clinton. It spans 100 ft and was actually used as a bridge in the past. The next best stop on this road trip is at the Buffalo National River. You can go on an awesome Buffalo River float trip, and stay in one of the adorable VRBO cabins the area has to offer.
After spending a day floating down the river, head to excursion train, one of Arkansas' best towns. You can spend days checking out this charming town. Make sure that you check out the Eureka Springs & North Arkansas Railway while you're there! You can go on an excursion train, a lunch train, and a dinner train and see some of the gorgeous scenery in the area.
One of the best places to stay in Eureka Springs is at this incredible unique Hobbit Cave Hotel where you can actually stay in a cave for the night. The best time of the year to do this road trip is either in the spring or fall when the weather isn't too hot and the Buffalo River is great for floating.
Recommended by Jessica of Unearth the Voyage
3. Beartooth Highway (one of the greatest road trips in America)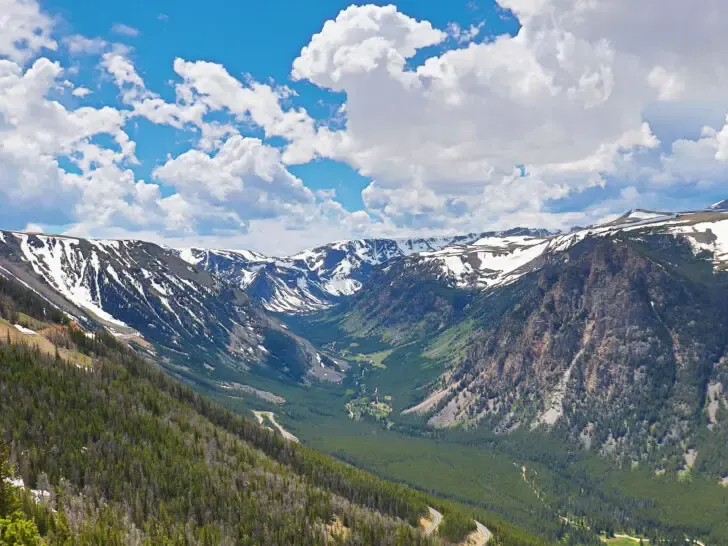 Distance: 68.7 miles
Recommended time: 1+ day
Best time of year: June-September
Charles Kuralt called the Beartooth Highway "the most beautiful drive in America." This scenic USA road trip route begins in Red Lodge, Montana, and ends in Cooke City and the northeastern entrance to Yellowstone National Park. At 68.7 miles, it's a short drive, but you'll want to allow several hours to take advantage of as many scenic views as possible.
While Beartooth Highway is a route where the drive is the destination, there are some must-stop places. A stop at Beartooth's scenic overlook will give you a glimpse of the peak for which the mountain range and the highway is named after. During this US road trip, you should also stop at Rock Creek Vista Point where you'll be met with majestic views at 9,190 feet. Don't be surprised to see marmot and scampering chipmunks while you admire the views.
If you're looking for a place to stay, Top of the World Resort has vacation rentals. They also have camping for tents and RVs, and you can rent UTVs and Snowmobiles. Skiers will love Beartooth Basin Summer Ski Area.
Because Beartooth Highway is the highest elevation road in the Northern Rockies, it's closed most months of the year. It typically opens in late May or early June and closes around October. Summer squalls have been known to happen, so it's always best to find out ahead of time if the road is open.
Recommended by Theresa of The Local Tourist
Looking for adventure a little further north? This guide will help you plan an amazing Canadian road trip!
4. Florida Springs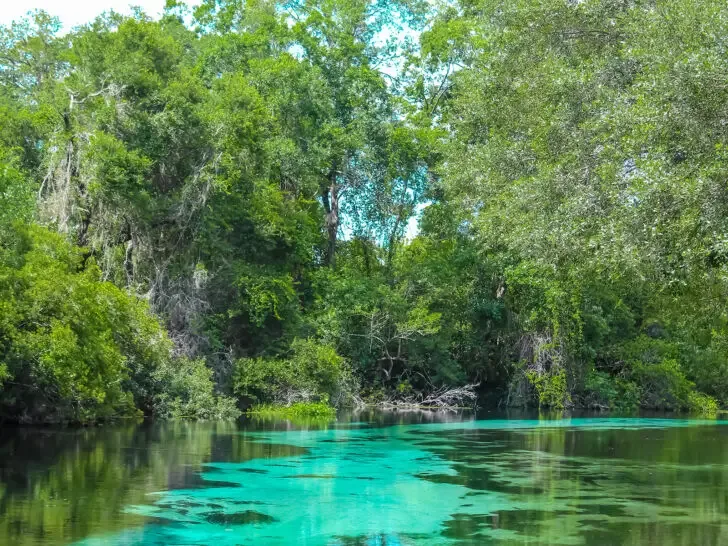 Distance: 165 miles
Recommended time: 3-5 days
Best time of year: November-February
Without a doubt, a Florida Springs road trip is one of the best US road trips of them all. In fact, Florida is actually home to more freshwater springs than any other state in the nation. So, make the most of this fact and enjoy a fantastic road trip to some of the best natural springs in Florida.
Now, if you're starting near Tampa then this road trip will take between three and five days to complete. After all, many of these spots are secluded in the wilderness and require that you have an RV or do a bit of camping.
So, while this USA road trip really only covers a distance of 165 miles, each spot is truly awesome and could easily keep you busy for a day.
Once in Tampa go a bit north to see the Weeki Wachee Springs. Sure, this natural spring is amazing but the real highlight of your visit will be the mermaid show. In fact, it is held in an underwater theater and is one of the coolest things you will ever see.
Continue to Three Sisters Springs in Crystal River Natural Wildlife Refuge. Rent a kayak and enjoying all that Manatee Springs has to offer.
Just know that while this is a great place to see Manatees, there are typically only found in the water here during the winter months. Plan your visit for this time of year so that you can get up close and personal with these gentle giants.
Whatever you do though, don't forget to visit Ginnie Springs. There are some great camping spots here. It's an epic place to relax, take in the scenery, and do a bit of tubing.
Finally, head to Ichetucknee Springs and end your road trip here. Check out the famous blue hole which is a great place to go cave diving, snorkeling, tubing, hiking, swimming, and more. There's also tons of cool fish in the water so be on the look out for them as they swim by.
Recommended by Victoria of Florida Trippers
5. Extraterrestrial Highway, Nevada (out of this world USA Road Trip!)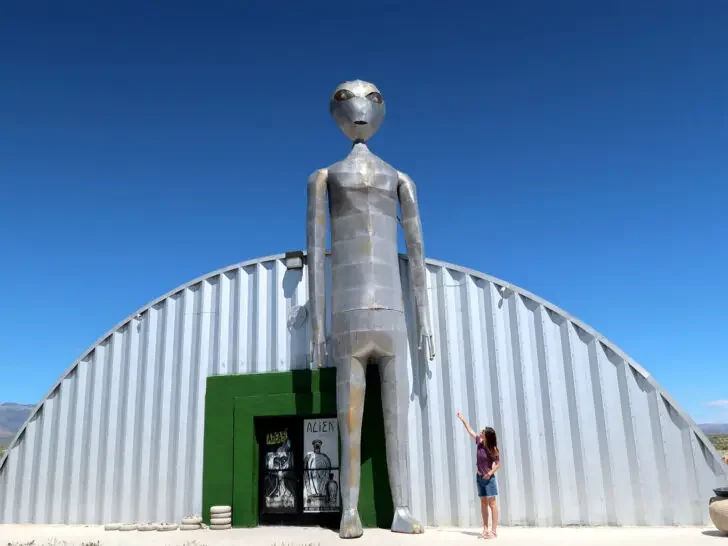 Distance: 98 miles
Recommended time: 1 day
Best time of year: October-April
If you're looking for a quirky USA road trip you won't soon forget, consider driving Nevada's Extraterrestrial Highway!
This road trip spans 98 miles on State Route 375 between the towns of Crystal Springs and Warm Springs. Along the way, you are treated to arid desert landscapes, mostly desolate roads, and plenty of alien-themed attractions.
There are lots of unique stops along this route. You have ET Fresh Jerky where you can buy alien-themed snacks. There's the iconic Extraterrestrial Highway sign plastered in stickers left behind by pilgrims who've made the trek from far and wide. And don't pass up the Alien Research Center where you can buy souvenirs and hear some UFO lore.
As you continue driving along the ET Highway you'll see the Black Mailbox, where believers come to leave mail and other trinkets for otherworldly creatures. And lastly, there's the Little A'le'inn, which is a motel, bar and restaurant which is hard to miss thanks to the UFO-towing pick-up truck out front!
This is a road trip that can be easily done in one day. However, you can tack it onto a bigger Nevada itinerary.
Also, while the Extraterrestrial Highway can be driven any time of year, it's probably best to avoid the summer months when the desert temperatures are a scorcher. This road trip would be much more enjoyable if done in spring or autumn.
As far as accommodations go, you can stay in Las Vegas which is only 1 hour 37 minutes from the starting point of Crystal Springs.
As a final tip, fuel up before you begin driving the ET Highway; this area is fairly remote with very little traffic, so you wouldn't want to get stranded!
Recommended by Audrey of That Backpacker
6. Washington DC to Boston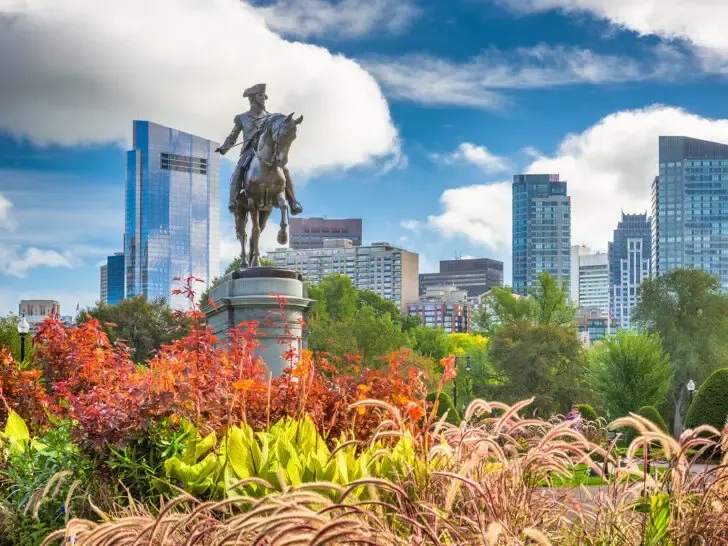 Distance: 440 miles
Recommended time: 2+ days
Best time of year: September – October
A road trip from Washington DC to Boston is the perfect way to take in the changing colors of fall. The journey will take at least 2 days and cover a total of 440 miles with stops in New York, Philadelphia and Providence.
Starting out from Washington DC, you'll have a chance to explore the nation's capital. It's home to famous monuments like the Lincoln Memorial and the White House. If you're taking a longer route towards New York City, you can even stop off at Gettysburg National Military Park along the way.
Once in New York, there's plenty to keep travelers entertained! From iconic landmarks like Central Park, Times Square and Rockefeller Center to exciting attractions like Broadway shows, shopping boutiques and gourmet restaurants.
From there it's just a short drive up to Philadelphia. Visit historic sites such as Independence Hall or experience some of its world class cultural institutions like the Philadelphia Museum of Art or Liberty Bell Center. You may also want to make sure that your itinerary includes stops at local favorites like Reading Terminal Market and South Street for an authentic Philly cheesesteak sandwich!
Continuing northward towards Providence, you'll be surrounded by stunning natural scenery as you pass through Connecticut and Rhode Island. On this leg of your journey, you should make time for some outdoor activities. Think whale watching on Narragansett Bay, biking along Newport's Cliff Walk or hiking in Lincoln Woods State Park.
Finally reaching Boston will be worth all 7 hours and 30 minutes of total drive time it takes to get there! Take some time to explore picturesque spots such as Harvard Yard or Fenway Park before enjoying a classic lobster roll dinner at one of the city's seafood restaurants. Don't forget about all the shopping opportunities in downtown either – including everything from vintage bookstores to designer apparel stores.
If you're looking for family-friendly adventures even further north, consider expanding your trip into Ontario, Canada. Silent Lake Provincial Park is outside of Bancroft, Ontario and offers excellent recreation, including some of the best campgrounds in Ontario.
Recommended by Victoria of Guide your Travel
7. Seward to Denali, Alaska (one of the best US road trips for wildlife)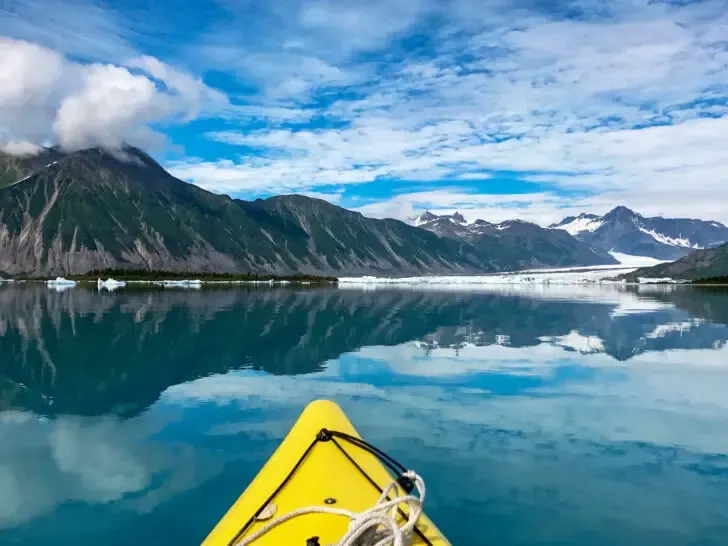 Distance: 767 miles (from Anchorage airport)
Recommended time: 7 days
Best time of year: June-September
For adventurers looking to add to their road trips USA bucket lists, a 7 day Alaska road trip itinerary from Seward to Denali should be at the top of your list.
Fly into Anchorage and rent a car before making the 2.5 hour drive on the Seward Highway to the start of your trip in Seward. Stop at the Alaska Wildlife Conservation Center to break up the drive and stretch your legs while you check out the bears, moose, reindeer and more that they care for in their sanctuary.
Seward is a perfect base for a visit to Kenai Fjords National Park. Spend 2 days here doing an iceberg kayaking excursion at Bear Glacier lagoon. Or take a whale watching cruise where you'll see tons of aquatic wildlife in addition to a glacier calving. The Exit Glacier hike is another interesting thing to do.
Then it's time for a 2 hour drive north to the popular Alyeska Resort. They have plenty of summer activities including terrific hikes and stunning views from the top of the Gondola ride. Stay overnight.
Next stop is Talkeetna – the small town made famous for being the inspiration for TV show Northern Exposure. It's also the starting point for climbers planning a Denali summit.
You can get a bird's eye view by taking a flightseeing tour of Denali with a glacier landing before spending your last 2 days at Denali National Park exploring wildlife and nature.
The total distance from Seward to Denali is 397 miles. Doing the trip in a loop from the Ted Stevens Anchorage International Airport is 767 miles. Not too bad for 7 days of non-stop fun!
The best time for this road trip is summertime but if you can brave cold autumn weather you'll also have the chance to be rewarded with spectacular Northern Lights! Make sure to plan your trip well in advance to get the best rates.
Even though it's not in the continental US, it's still one of the very best road trips in America!
Recommended by Jenifer of The Evolista
8. Newfound Gap Road, Smoky Mountains USA road trip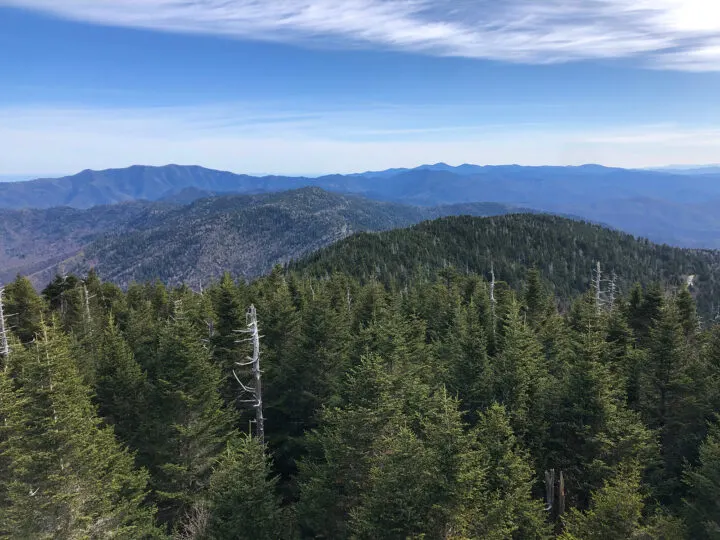 Distance: 30 miles
Recommended time: 1 day
Best time of year: September-Early November
Smoky Mountains is one of the most visited national parks of the USA! It covers South Carolina and Tennessee in the southeastern region of the US. Many scenic drives on the Smoky mountains road trip are worth doing, but the most famous is Newfound Gap Road (US-441).
This American roadtrip starts from Sugarlands Visitor Center and ends at the Mountain Farm Museum in North Carolina. It connects Cherokee and Gatlinburg and is an approximately 30 Mile one-way trip.
Many scenic stopovers are on Newfound gap road in Smoky Mountain National Park and can be done in one day trip. Chimney Tops, Campbell Overlook, Newfound Gap, Rockefeller Memorial, Morton's Gap Overlook, Oconaluftee Valley Overlook, and Mingus Mill are the most famous stopovers.
The whole road trip is scenic, passing through a forest of Smoky Mountains with a view of foggy, misty peaks overlooking valleys and tunnels. The best time to make this road trip is during fall. You can see a fantastic riot of fall colors throughout this drive.
Book your stay in the mountainous town of Gatlinburg for this road trip in the Smoky mountains. There are many cozy cabins with amazing views to choose from.
It's important to note that the whole area is foggy and misty throughout the year, so it's worth it to check the fog conditions before driving as sometimes it can be very foggy, and driving becomes very difficult.
This is one of the best USA road trip routes, and can be done in conjunction with a larger trip to the Smokies.
Recommended by Yukti of Travel with me 24 x 7 Blog
More of the best road trips USA
With so many good options all over the country, how do you ever choose? Let's keep exploring more options before you choose your perfect adventure…
9. Route 66 (one of the classic US road trips!)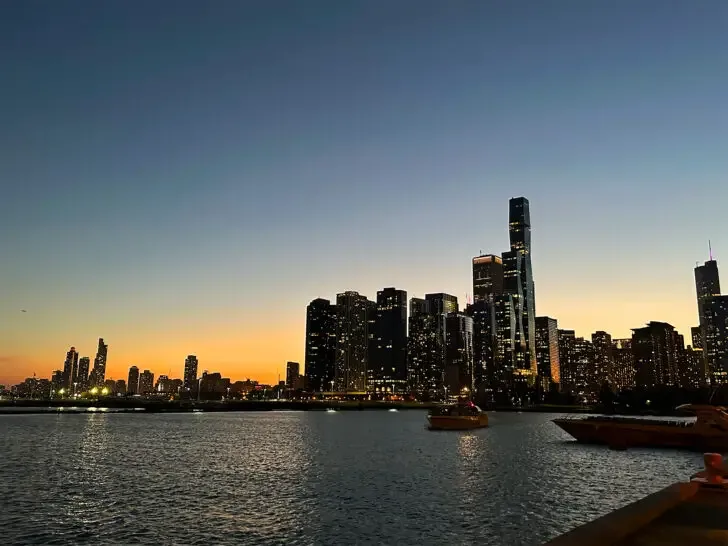 Distance: 2,448 miles
Recommended time: 7+ days
Best time of year: September-Early November
Route 66, also known as the Mother Road, is one of the most iconic road trip routes in the USA. Starting in Chicago, IL, and ending in Santa Monica, CA, the route goes through Illinois, Missouri, Kansas, Oklahoma, Texas, New Mexico, Arizona and California.
Covering a total of 2,448 miles, the route offers tons to see and do. Set aside a week to do justice to the trip, more if you can afford it!
Take in the many sights along Lake Shore Drive in Chicago, from Lincoln Park to Soldier Field, before heading out. Admire the State Capitol in Springfield and visit the Cahokia Mounds, a UNESCO World Heritage Site before crossing the Mississippi River.
In Missouri, admire Gateway Arch in St. Louis. Then snap a photo of Red's Giant Hamburg, the world's first known drive-through! Stay at the Drury Plaza Hotel at the Arch in downtown St. Louis.
In Texas, possibly the most famous attraction along the route is Cadillac Ranch, in Amarillo, but Shamrock makes for a nice stop as well.
In New Mexico, the route passes through the major cities of Santa Fe and Albuquerque, both of which offer tons to do. Adventure-loving travelers should try hot air ballooning in Albuquerque!
Spend a night in Tucumcari, where you will find some iconic Route 66 motels such as the Blue Swallow Motel.
In Arizona, the stretch between Kingman and Seligman is considered historic. Also be sure to check out the Wigwam Motel in Holbrook. In Seligman, stay at the Supai Motel, a vintage Route 66 motel.
Route 66 in California passes through the Mojave Desert and a string of small ghost towns and roadside attractions. Elmer's Bottle Ranch is one of the more popular stops.
Pasadena is home to several Route 66 sights, and also to The Huntington, a complex of beautiful Southern California gardens.
Although not where the original road ended, today you will find the End of the Trail sign on the Santa Monica Pier. Pose for a photo under the sign to celebrate the completion of your road trip!
Recommended by Dhara of Roadtripping California
10. Coastal Carolinas road trip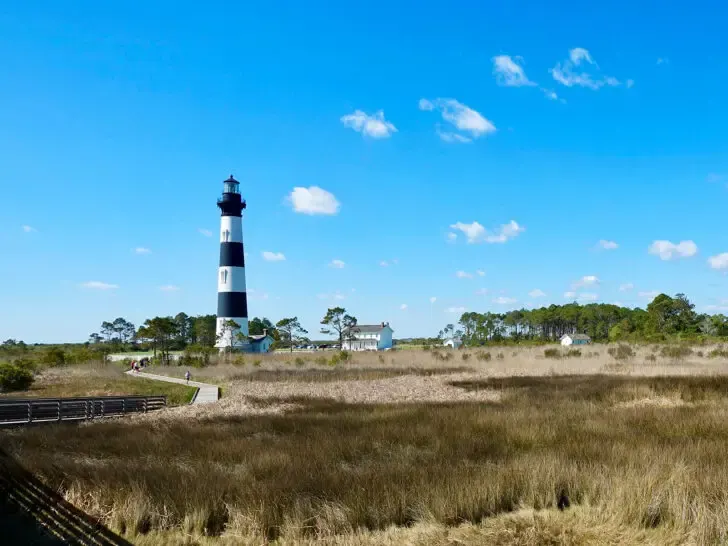 Distance: 600 miles
Recommended time: 7 days
Best time of year: June-October
If you're a foodie, history buff, or family, you're going to love a Coastal Carolinas Road Trip. This approximately 600-mile route (one way) takes you from the Deep South starting in Charleston, SC, up the entire Carolinas' coast, and ends in the small naval city of Norfolk, VA.
Budget about a week of travel to immerse yourself in this land of pirates, beaches, and the North Carolina marshes you might know from Where the Crawdads Sing.
Plan to spend at least one full day in Charleston's historic downtown. As you make your way north, consider a night or two in either Myrtle Beach, SC or checking out the Wilmington beaches in North Carolina.
Don't miss a stop in New Bern to visit the birthplace of Pepsi Cola. Devote at least 2 days to exploring the beaches and lighthouses of the Outer Banks. Be sure to check out the hidden gem – Pea Island, particularly the wildlife refuge!
The Wrights Brother National Monument is another Outer Banks must-see. Also, if you're not eating your weight in seafood on this road trip, you're not doing it right!
You can do this road trip any time of year, but you'll find the most crowds over school vacations, especially summer vacation and spring break. Autumn is an ideal time to do a Coastal Carolinas road trip. Just keep in mind that many Outer Banks businesses – especially restaurants – operate seasonally, so plan accordingly.
It's most convenient to do this road trip with a multi-city plane ticket and one-way car rental. Fly into Charleston, drive north in your rental car, and fly out of Norfolk.
For a cheaper, but more time-consuming option, fly in and out of either Charleston or Norfolk. If you opt for a round-trip plane ticket, you'll need to make a 7-hour drive on Interstate 95 at either the start or end of your adventure.
Recommended by Ada of Beyond the Yellow Brick Road
11. LA to Joshua Tree National Park – (a desert oasis road trip in the USA)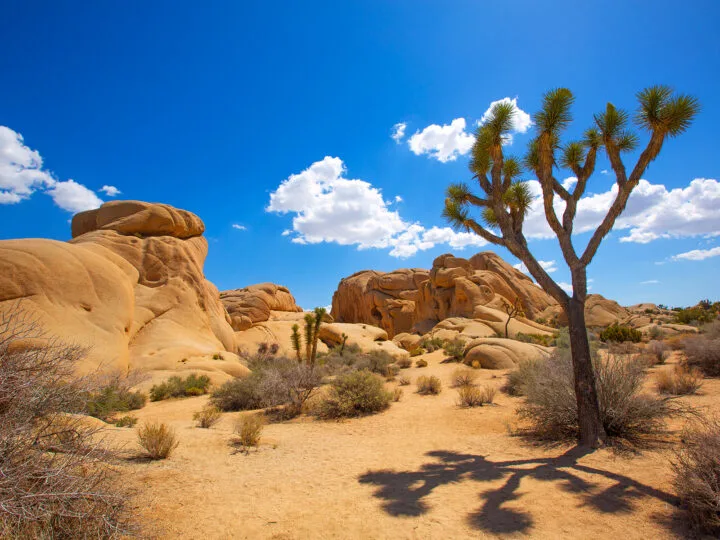 Distance: 130 miles
Recommended time: 3+ days
Best time of year: April-May or September-November
One of the best USA road trip routes is driving from LA to Joshua Tree National Park. It's a relaxing way to escape the hustle and bustle of the city, and in only a few hours, you'll be in a desert oasis. While it's only 130 miles one way, traffic can take up more of your time than you want. That's why I recommend taking 3 days to go from Los Angeles to Joshua Tree and back so you can fully enjoy all the different sites there.
On the first day, start off by checking out the Cabazon Dinosaurs. They're giant roadside dinosaurs you've probably seen on Instagram, and there's even a museum to learn more about them. From there, continue until you get to Big Morongo Canyon Preserve for gorgeous views and hiking trails.
Finally, crash in Twentynine Palms for the night – they have affordable lodging and fun places to see, like the Twentynine Palms Historical Society and Adobe Museum.
On the second day, head out to explore Joshua Tree National Park! You could spend days exploring! If you're short on time, Jumbo Rocks is a great spot to watch rock climbers in action, and Barker Dam offers a chance to find water in the desert and see some historic ruins. Lost Horse Mine is an abandoned gold mine you can explore, and the Cholla Cactus Garden is a great place to catch the sunrise.
For your last day, check out the Palm Springs area. Downtown has many options for amazing food, drinks, museums, and shopping. Who knows, you might even bump into a celeb!
The Palm Springs Aerial Tramway is a fun ride with epic views of the desert landscape and access to Mount San Jacinto State Park's hiking trails. Grab dinner up there and catch the last tram of the night for a memorable end one of the greatest road trips in America.
Recommended by Marissa of Postcards to Seattle
12. Talimena Scenic National Byway (a completely underrated route on this road trips USA list)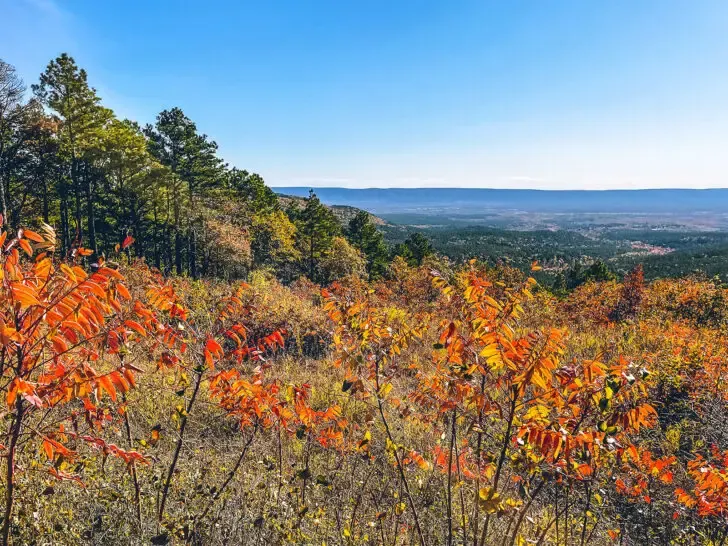 Distance: 54 miles
Recommended time: 1-3 days
Best time of year: October-November
The Talimena Scenic National Byway is a 54-mile scenic route that winds its way through the Ouachita Mountains in southeastern Oklahoma and southwestern Arkansas. It's one of the best US road trips in the south!
Stretching between Talihina, Oklahoma, and Mena, Arkansas, the route's name is a portmanteau of these two terminal cities. You can drive the route one way or as an out-and-back, depending on the remainder of your trip itinerary. For example, those on a cross-country road trip will typically do the route one-way. But those enjoying a vacation in nearby Broken Bow or Hochatown will do the route as an extension of their trip and usually drive both ways.
While you can accomplish the trip in one day, it's best to spend a weekend of 2 to 3 days exploring. This way you can spend time in Talihina and Mena as well as explore the state parks and hiking trails along the route.
Talimena State Park in Oklahoma and Queen Wilhelmina State Park in Arkansas both offer camping sites and hiking trails. The US Forest Service maintains them.
Whether you choose to camp along the way or stay in one of the towns on either end of the route, you need to make your bookings in advance. This is a more rural part of the country. There are many times of the year when there won't be any rooms available at the last minute.
The best time of year is to take the trip in the last week of October or the first 2 weeks of November when the fall foliage is peaking. However, the viewpoints and vistas along this national scenic byway are beautiful any time of year.
Recommended by Stephanie of History Fangirl
13. Pacific Coast Highway (a favorite on this list of road trips USA)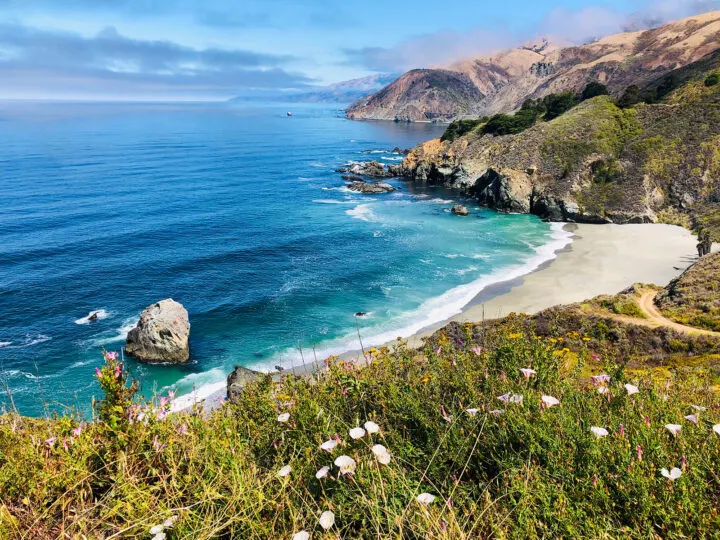 Distance: 615 miles
Recommended time: 2 – 7 days
Best time of year: anytime
Undoubtedly, the Pacific Coast Highway is one of the greatest road trips in America. Incredible coastal views greet you from a mix of big cities and untouched land. This San Francisco to San Diego road trip is one you absolutely must do in your lifetime!
While you could *technically* do this road trip in 2 days, you'll see and experience a lot more of this incredible drive if you give yourself more time. Fly into San Francisco and rent a car and head south towards San Diego!
While there are so many amazing stops along the way, you absolutely must stay for a moment in Carmel-by-the-Sea. A charming beach town with beautiful architecture, this is one of the last stops to eat and fuel up before heading deep into Big Sur.
Along the way, there are so many cool and amazing things to do in Big Sur. Highlights include the Bixby Creek Bridge, McWay Falls and Sand Dollar Beach.
As you head further south in California, you'll get to quaint beach towns than large Southern California cities. Go surfing or hiking near San Luis Obispo. Wine tastings in Lompoc, hang out on the beach in Malibu and visit the Santa Monica Pier.
The end this epic American roadtrip in a city that's easy to love – San Diego. Visit the birthplace of California in Old Town San Diego and indulge in one of the many Mexican restaurants there. Check out the nightlife in the Gaslamp district or watch the sunset on the sparkling Coronado Beach.
This road trip can be done at any point in the year. The weather along Big Sur can be a bit moody with marine fog in the late spring/ early summer and wildfire season during early fall. Just pack layers for comfort and bring your camera for amazing landscapes!
Recommended by me – Nikki of Inspired Routes
14. Athens to Macon, Georgia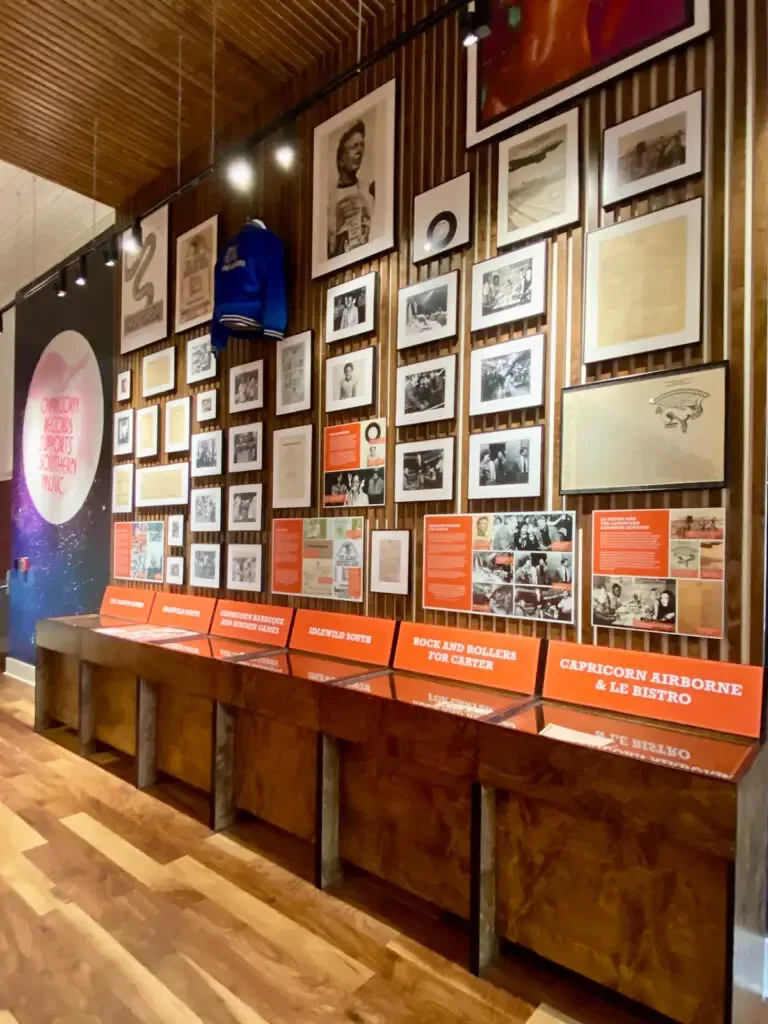 Distance: 93 miles
Recommended time: 3-4 days
Best time of year: anytime
Even though about 93 miles (less than two hours) separate Athens and Macon, Ga., the destinations share something in common besides just being college towns: both have played (and continue to play) a role in shaping American music culture.
A three- or four-day getaway is suitable throughout the year, even in the winter, since the weather in Georgia tends to be mild-ish. Still, it is weather and can change ~ always have an umbrella available and except for summer, dress in layers.
It can be crowded in Athens during University of Georgia home football games in the fall. The best thing to do is to check the calendars and watch the weather reports. Accommodations in both places include vacation rentals, bed and breakfasts, chain hotels and boutique hotels. Something suitable for all needs and budgets.
Begin this American roadtrip in Macon. It's a little over an hour from Atlanta (for those who may be flying into Atlanta-Hartsfield Jackson Airport) and a straight drive down I-75 South.
Macon's music history ranges from soul with Otis Redding, funk with Little Richard, Southern Rock with Allman Brothers and much more. Download Macon's Macon Music Trail app for stories and locations of attractions like the Allman Brothers Band Museum at the Big House and The Little Richard House.
For true fans, a guided walking tour with Rock Candy Tours provides a detailed look at Macon's music heritage. Finally, grab lunch at H&H Soul Food for the fried chicken and the connection to the Allman Brothers and end the evening at a music venue.
The drive from Macon to Athens is on highways. If you're on good on time, take a break in Madison (about 35 minutes from Athens) to enjoy its quaint historic downtown.
Athens was at the forefront of the indie and rock alternative rock movement, introducing America and the world to R.E.M and B-52s, among others. A self-guided Athens Music History Tour highlights the many sites that played a role during these times. And don't miss the Athens Music Walk of Fame, a two-square-block area downtown showcasing the people and places of the city's rich music scene.
Live music venues are plentiful in Athens, and festivals like Athfest, a three-day music event. This will surely be one of the best road trips in America for music-lovers!
Recommended by Apryl from Southern Hospitality Magazine
15. Road to Hana, Maui (a quintessential route on your road trips USA list)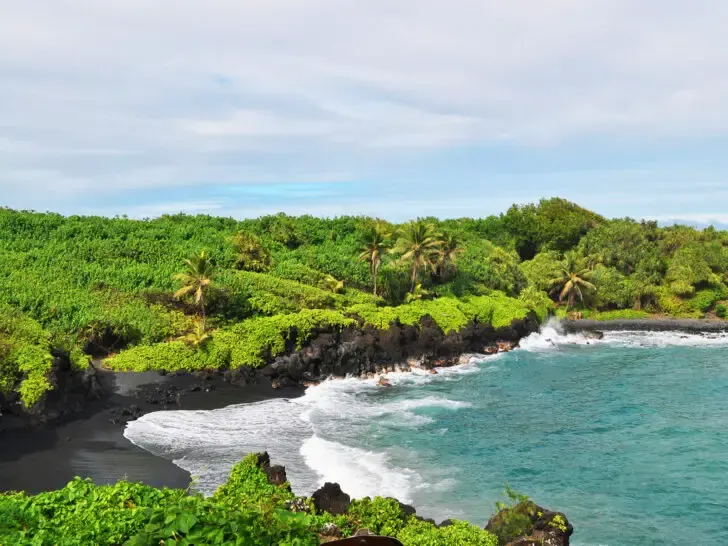 Distance: 52 miles
Recommended time: 1- 2 days
Best time of year: any time of year
The Road to Hana is a scenic 52-mile highway on Maui's northern coast. A bucket list road trip, it provides one of the most iconic experiences in Hawaii, and for a good reason. It's truly one of the greatest road trips in America!
On the narrow road, you will encounter 620 curves and 59 bridges, with many sections only accommodating one vehicle.
Whether staying in Maui or visiting for the day by cruise ship, pick up a car rental at the Kahului Airport to begin your journey. Expect to spend at least 2-1/2 hours making the drive or longer if you intend to go beyond Hana to Haleakala National Park.
You can make the trip any time of year (thanks to Hawaii's great weather). You'll need to purchase a visitor's pass to visit the national park.
What makes this drive so spectacular is the plethora of scenery you can observe along the way. Imagine roadside cascading waterfalls, rainbow eucalyptus trees, a lava tube, and colored beaches begging for exploration.
For one of the best opportunities to view Hawaiian sea turtles, stop at Ho'okipa Beach, where they often bask in the sun. Keanae Landing, another can't-miss stop, allows you to taste Aunt Sandy's Banana Bread, rated highly worldwide.
If you want to spend more than a day exploring the Hana area, the Hana-Maui Resort, a Destination by Hyatt Residence, offers a luxury stay with a restaurant and spa.
USA road trip tip: If you aren't visiting Maui by cruise ship, plan to drive the Road to Hana when there are no ships in port. Then you'll share the highway with fewer tourists.
Recommended by Karen of Forever Karen
16. Blue Ridge Parkway (vibrant fall colors American roadtrip)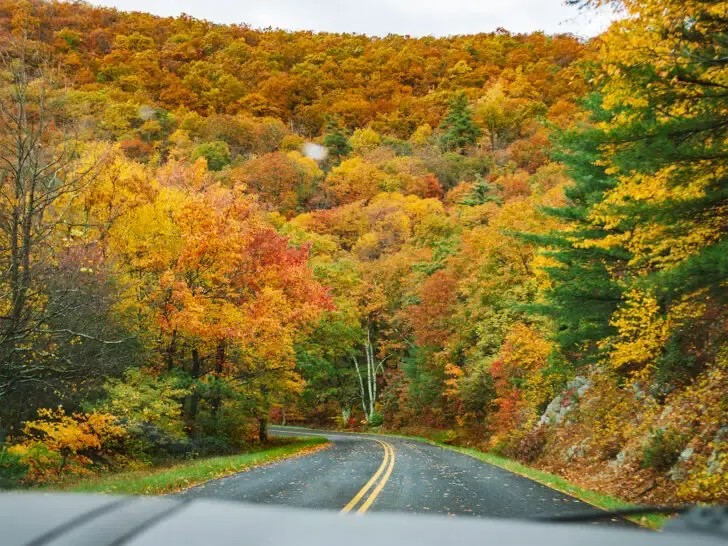 Distance: 469 miles
Recommended time: 3+ days
Best time of year: October
Blue Ridge Parkway is one of the most iconic scenic drives in America. It passes through Virginia and North Carolina where the endpoints are two national parks – Shenandoah National Park and Great Smoky Mountains National Park.
It spans 469 miles so it's recommended to spend 3 days driving Blue Ridge Parkway so you have plenty of time to stop at overlooks, go hiking to waterfalls and explore local museums along the way.
If driving from north to south, on day one, be sure to stop at Humpback Rocks Visitor Center to learn about mountain pioneers. Then head to Yankee Horse Ridge for an easy to get to multi-tiered waterfall, Kanawha Canal Lock to learn about this historic innovation, and Mabry Mill, one of the most beautiful and iconic stops along the parkway.
Stay at the Grassy Creek Cabooses your first night for a unique experience sleeping in a converted train car.
On your second day, visit Puckett Cabin, where a mountain midwife helped deliver over 1000 babies! Visit the Blue Ridge Music Center where you can catch bluegrass concerts, and Linn Cove Viaduct, arguably the most iconic curve of the parkway that's a photography hotspot.
You'll end day two in Asheville where there are a number of places to stay, especially downtown!
On the final day of this US road trip, explore Great Smoky Mountains National Park where the highlights include Laurel Falls, Cades Cove, and Clingman's Dome.
If hoping to catch the most spectacular views, try to visit during autumn when the fall foliage is out in full swing – it's one of the best fall drives in the country!
Important Note: When traveling on Blue Ridge Parkway, be sure to check the official notices by the National Park Service as some parts of the road may be closed due to construction or weather damage.
Recommended by Alanna of Periodic Adventures
17. Oregon Coast (one of the absolute greatest road trips in America)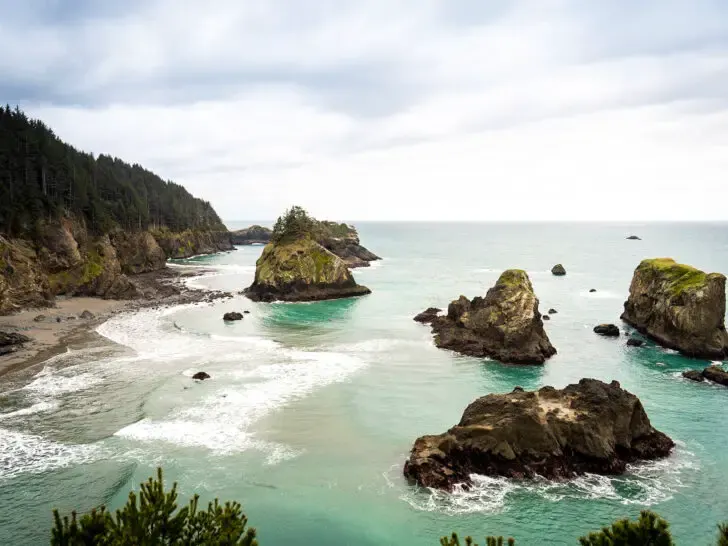 Distance: 730 miles
Recommended time: 2-7 days
Best time of year: June-August
If you're looking for one of the most dramatic road trips in the United States, consider driving along the Oregon Coast. This awesome American roadtrip offers rugged beaches, jaw dropping seascapes, and dozens of charming towns to explore.
Start the drive in Portland and head an hour and a half west to Cannon Beach, one of the most adorable towns along the coastline and known for its iconic sea stack, Haystack Rock. Here, you can peruse its quaint downtown, explore the beach's tidepools, and hit any of the incredible hikes near Cannon Beach. For example, head to Ecola State Park for the Crescent Beach trail, where you'll hike to a secluded beach.
Continue further south to the town of Newport. Here, you stop by the town's docks to see dozens and dozens of sea lions. They happily bark the day away and stop at Seal Rock State Park, known for its wildlife sighting opportunities and unique sea stacks.
Finally, head further south to the southern section of the Oregon coast, Brookings. This is home to the Samuel H. Boardman Scenic Corridor, with some of the most stunning views in the state. There's a variety of things to do in the park, from stopping at scenic overlooks to exploring its hidden beaches. Once you're done taking in the breathtaking sights, head back to Portland, completing a 730 mile loop around the western portion of the state.
While you could drive the coastline in a day or two, the small towns along the way are best savored slowly. If you can build in about a week to mosey your way down the coastline, that would be best. If you can swing it, visiting in the summertime is the best. The temperature is warm, the skies are clear, and you'll have the best chance of spotting wildlife, like gray whales and puffins.
Recommended by Jessica from Uprooted Traveler
18. Savannah to Charleston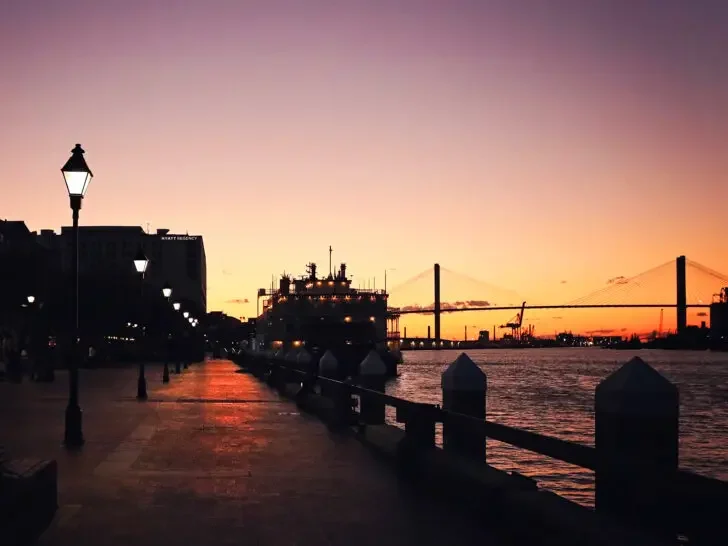 Distance: 107 miles
Recommended time: 4 – 7 days
Best time of year: April – June, September – November
If you're interested in a coastal getaway and are a fan of majestic old oaks, Southern-style dining, and incredible architecture, then a road trip from Savannah to Charleston might be just the ticket! A week is an ideal amount of time to get a taste of these two pretty cities and the stunningly beautiful South Carolina Lowcountry that lies between them.
Begin your journey in Savannah, where you might feel as if you've stepped back in time a couple hundred years! The Historic District is filled with architecture from the mid-1800s. Cobblestone streets line the waterfront, and each square is shaded by old oaks covered in Spanish moss.
Stay in a historic property like The Marshall House or Hamilton-Turner Inn.
While in Savannah, be sure to take a stroll down Jones Street, view the interior of the Cathedral Basilica of St. John the Baptist, and dine at one of the city's award-winning restaurants. (Common Thread, The Grey, and Brochu's Family Tradition are three excellent options!)
Savannah and Charleston are 107 miles apart, and the drive between them takes about 2 hours. HWY 17 to I-95 back to HWY 17 is the fastest route, but Okatie HWY is the most scenic way to go. Don't miss a brief stop in Yemassee to see the Old Sheldon Church Ruins.
Beaufort is an ideal halfway stopping point along the route. It's such a small city that you only need to stay one night to get a good overview (try the Cuthbert House Inn). Be sure to take a sunset stroll along the waterfront park and go on a walking tour to see the beautiful historic homes in The Old Point area.
As you head into Charleston, the Angel Oak is a must-see on the outskirts of the city. It's approximately 400 years old, with twisted branches that are a sight to behold!
Stay at The Spectator Hotel, which is within easy walking distance to restaurants, shops, and landmarks. Charleston is known for award-winning restaurants like Husk, so a Charleston food tour is always a good idea!
Spring is the best time of year to take this road trip, with fall running a close second.
Recommended by Erin of Savannah First Timer's Guide
Best road trips in USA – continued
Can you believe this list?! With some of the best American road trips yet to come, one of my favorites is up next!
19. Going-to-the-Sun Road, Glacier National Park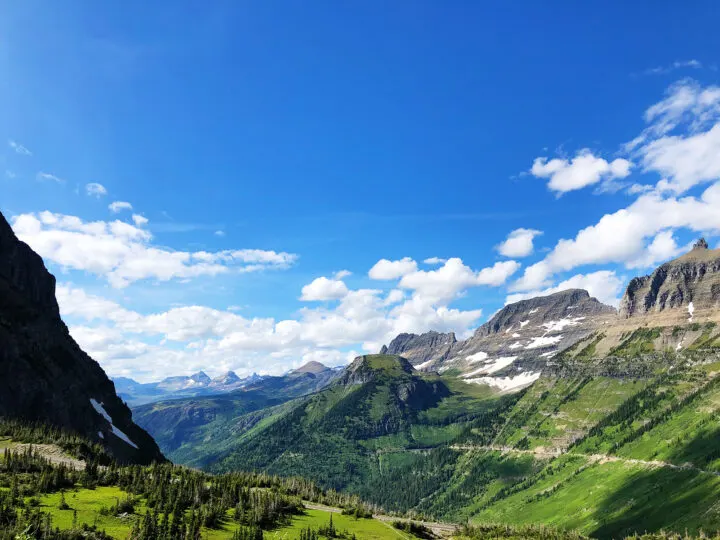 Distance: 50 miles
Recommended time: 1 -3 days
Best time of year: July – September
If you're looking for one of the very best USA road trip routes, this is it! The Going-to-the-Sun Road in Glacier National Park is one of the most breathtaking experiences you'll have.
In just 50 short miles, this road trip really packs a punch! The Going-to-the-Sun Road can obviously be done in one day, but taking 3 (or more) days to explore is ideal.
Located in northern Montana and at over 6600 feet in elevation, the Going-to-the-Sun road experiences heavy snowfall and isn't cleared of snow until July. And because it typically starts snowing again by October, the season to do this incredible road trip is short.
Note: due to the high volume of visitors, a vehicle reservation is required for the Going-to-the-Sun Road (and most of the rest of the park as well).
These can be a pain to get, with strict deadlines and they go super fast. However, you can enter the park before 6am or after 3pm without a reservation and drive the road and explore all that it has to offer.
It truly is a stunning drive! Along the way, you'll pass Lake McDonald, which hold's nature's skittles – brightly colored rocks that line the shores of the lake.
If you're up for hiking, you'll love Avalanche Lake Trail, Hidden Lake Trail, and Virginia Falls, one of the best waterfalls in Glacier National Park.
Pro tip: vehicle passes don't ensure you'll find a parking spot. Arrive at the park early and have a plan B if parking is full. Use this Glacier National Park itinerary to set up your plan for this incredible park!
Recommended by me – Nikki of Inspired Routes
20. Phoenix to Page Arizona (one of the BEST southwest US road trips)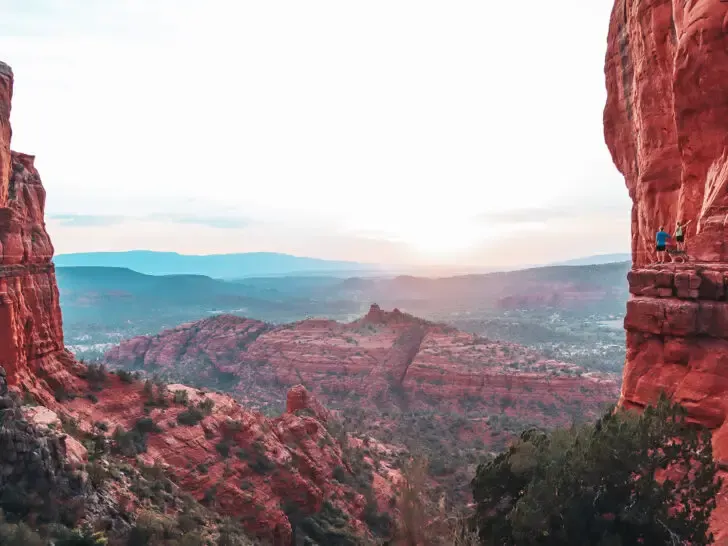 Distance: 600 miles
Recommended time: 7+ days
Best time of year: March – May, September – November
The Phoenix to Page Arizona road trip itinerary is one of the best road trips in America that offers a blend of natural beauty and urban charm. The journey starts and ends in Phoenix, covering approximately 600 miles in total, making it a perfect loop trip for travelers who want to explore the best of Arizona.
To fully appreciate the journey, it is recommended to take at least 7 days to complete the route.
Phoenix is the starting point of this road trip, and it is a city worth exploring. Visitors can experience fun hikes, mouthwatering restaurants, interesting museums, and beautiful shopping areas. The neighboring city of Scottsdale is also worth a visit. Known for its luxurious spas, resorts, and golf courses, there's so many things to do in Scottsdale.
After exploring Phoenix, head to Sedona, famous for its red rock formations and stunning natural beauty. Visitors can enjoy outdoor activities such as hiking, exploring their vortexes, or visiting wineries.
Next up is Flagstaff, which is famous for its beautiful mountain scenery and historic downtown. Here, visitors can explore the famous Route 66 and visit the Lowell Observatory, which was where Pluto was discovered.
From Flagstaff, the journey continues to Page, which is home to the famous Antelope Canyon and Horseshoe Bend.
After Page, you'll head to the majestic Grand Canyon, which is one of the seven natural wonders of the world. The Grand Canyon offers stunning views, and visitors can explore the park on foot or helicopter tour.
The best time to take this road trip is during the spring and fall when the weather is mild and comfortable. During the summer, the temperatures can reach up to 100 degrees, making outdoor activities challenging.
It's also important to note that some parts of the road trip itinerary may be closed during the winter due to snowfall.
Recommended by Destiny of Guided by Destiny
21. New England during the fall (one of the best road trips in USA)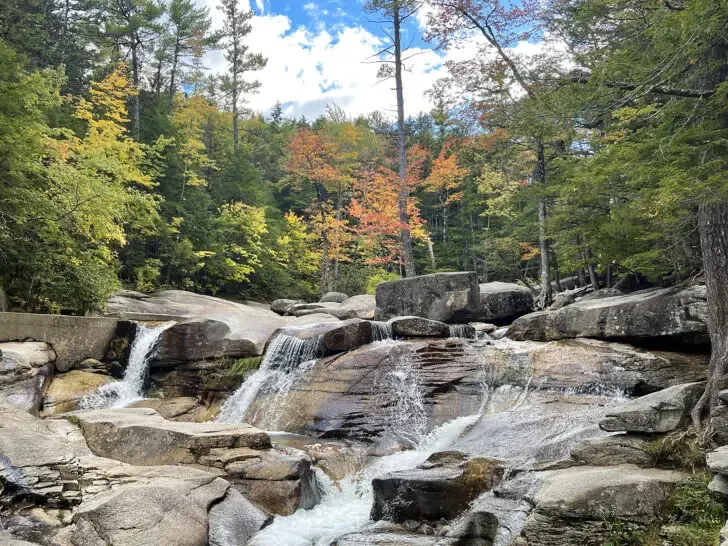 Distance: 830 miles
Recommended time: 5+ days
Best time of year: October
For a true bucket list experience, you have to do a road trip in New England during the fall. It's truly one of the best road trips in America! Enjoy the stunning array of colorful foliage and classic, charming small towns in the region.
If you're flying in, plan to start and end at Boston Logan International Airport with a rental car. Otherwise, adapt this loop to your own starting point.
This road trip is a loop spanning about 830 miles. You can certainly add more destinations if you have more time! You can do this trip in 5 days but a week or more would be ideal to add even more stops into the mix.
Start in Boston and head just north of the city to the iconic fall town of Salem, Mass. Whether you're into Hocus Pocus or history, visitors love Salem for its Halloween vibes and fun fall events. Just be sure to book accommodations early during this very busy season!
From Salem, head north to Bar Harbor, Maine. En route, stop in Portland for a foodie adventure. This is the longest drive at just over 200 miles, but there is ample opportunity to stop along the way for coastal views and foliage photo ops.
You could spend a week in Bar Harbor alone, but from there, your road trip will backtrack a bit before cutting west into New Hampshire. Spend the night in Conway so you can start your drive through the White Mountains early the next morning. This is a truly idyllic destination in the fall!
From Conway, take a 15-minute detour up to Bartlett for a quick, easy morning hike to the very pretty Diana's Baths. Then you'll drive across NH along the incredibly scenic Kancamagus Highway; plan to stop several times for photo ops! After crossing the state, you'll basically follow the border between NH and VT before cutting across Vermont to the pretty town of Manchester.
From Manchester, you can skirt Green Mountain National Forest and head southeast back toward Boston. If you do have more time, add more stops for a more robust 1-week New England fall road trip to maximize your adventure.
Recommended by Amanda of Hey! East Coast USA
22. Texas Hill Country (an underrated American roadtrip)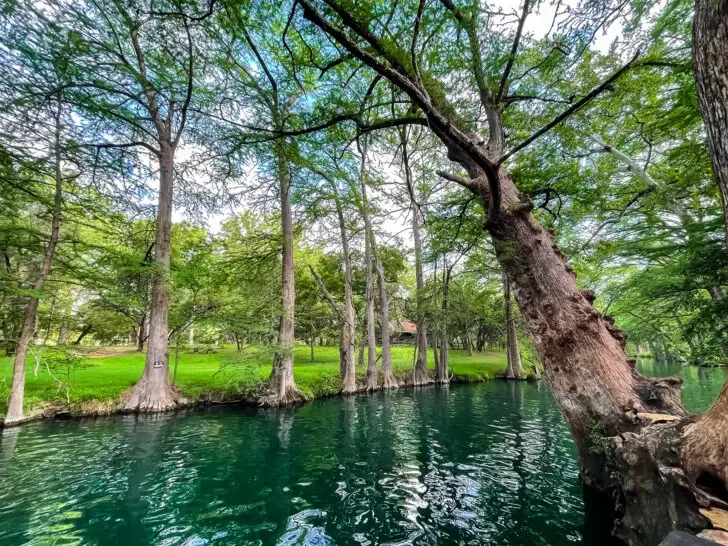 Distance: 300 miles
Recommended time: 2 – 7 days
Best time of year: March – April
A road trip through Texas Hill Country is one of the best road trips in the US due to the amazing things to do and sights to see along the way. This drive starts in Austin, ends in San Antonio, and has dozens of charming small towns along the way.
At just under 300 miles long, this road trip can be completed in one day. However, travelers can easily fill 7 days with all there is to experience.
There is plenty to explore year round. Beware of the Texas heat in summer months and plan plenty of swimming hole stops. Spring is the best time of year for this road trip. Hill country comes alive with Texas bluebonnets and other wildflowers making for a gorgeous scenic drive.
Starting in Austin, consider checking out the Capitol building, live music in the Red River District, and the beautiful metropolitan park, Zilker Park. Head out west toward the sweet towns of Burnet and Marble Falls. Explore Longhorn Caverns, discover Devil's Watering Hole at Inks Lake, and pick up a slice of pie at the Bluebonnet Café.
Fredericksburg is the next highlight on your road trip and also a great spot for staying overnight.
The numerous wineries, beautiful German heritage woven throughout the town, and the beauty of a hike at Enchanted Rock can keep you busy for several days. In spring, head to Jenschke Orchards to pick strawberries or for fresh peaches in the summer. An overnight stay at the Behr House is sure to please!
As you start heading south, check out the historic post office in Luckenbach, lavender fields in Blanco, cowboy boots tour and Blue Hole in Wimberley, and the Comal River in New Braunfels. Don't miss brisket from Salt Lick in Driftwood.
End your road trip in historic San Antonio by visiting Riverwalk and the Alamo. Dinner at The Pearl Historic District and pastries from Mia Tienda will end your Hill Country road trip with delicious local fare.
Such a fun adventure, and one of the best USA road trip routes!
Recommended by Sierra from Very Truly Texas
23. Southern Colorado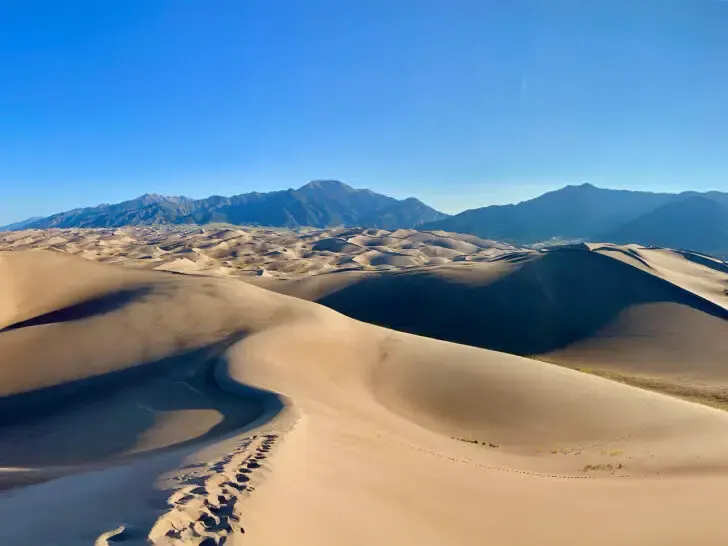 Distance: 800 miles
Recommended time: 7 – 14 days
Best time of year: June – September
Colorado has some of the most beautiful places in the country, and nothing makes that more clear than a road trip around southern Colorado. While most people visit to explore the Rockies, there is so much more to Colorado than just the Rockies. This road trip will show you why southern Colorado is really where you want to be.
Assuming you start and end in Colorado Springs, the road trip will cover about 800 miles through some of the most scenic places in the country. If you're flying into Denver International Airport, add about 180 miles total.
Start your trip off with a scenic drive through Garden of the Gods in Colorado Springs before ascending up to Pikes Peak. It's the second highest paved road in the United States, just outside of the city.
From the peak head straight across Highway 50 to southwest Colorado, stopping by Black Canyon of the Gunnison National Park. While far less known than the Grand Canyon in Arizona, Black Canyon is impressive in its own right with its sheer 2700 foot drop to the river below.
From Black Canyon, head south through the San Juan Mountains, stopping by Silverton to do one of the best hikes in Colorado, the Ice Lake Hike. When your legs are sufficiently exhausted, continue to Mesa Verde National Park. Mesa Verde protects the most impressive and well-preserved ancient Puebloan cliff cities in the US.
You'll then head across southern Colorado on highway 160, a simply stunning drive with breathtaking scenery around every turn. Be sure to stop in for a craft beer in Durango before making your way to Great Sand Dunes National Park. There, you'll find the tallest and most impressive sand dunes in North America. Do some dune hiking before heading back to Colorado Springs.
The best time of year to complete this road trip is summertime between June and September. It's possible to visit all the places on the route year-round (except the Ice Lake hike). Summer will have the most pleasant weather and best hiking opportunities.
This is certainly one of the best road trips in America, and one full of unexpected adventures.
Recommended by Chris of Around The World With Me
24. Florida Keys from Miami to Key West (another favorite on this list of road trips USA)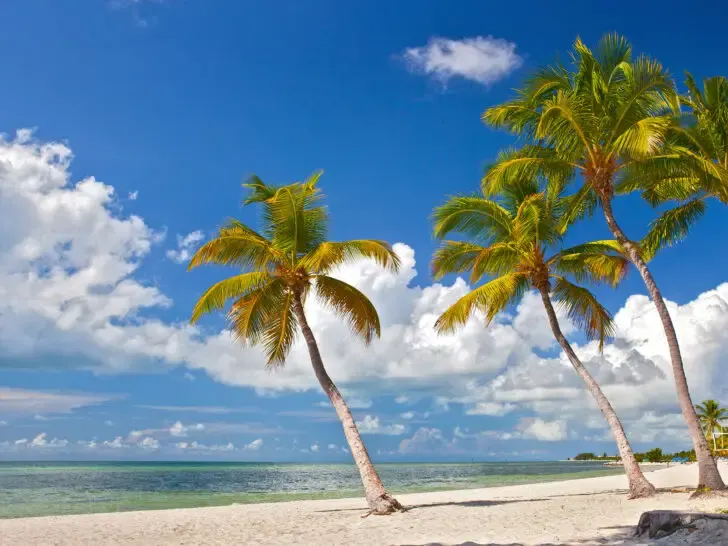 Distance: 165 miles
Recommended time: 1- 3 days
Best time of year: December – June
One of the very best road trips in America is driving the Florida Keys on Highway 1. From big party cities on either end to tropical vibes along the way, this is one fun road trip you'll want to drive!
The Miami to Key West road trip can technically be done in a day, but it's best done over 3 days, at minimum. That would give you one day in Miami, one day in Key West and one day to explore the islands between.
Although if you have a week or more, that's even better! Just after leaving Miami, make a stop in Everglades National Park. From birdwatching to the short Anhinga Trail hike, you'll love seeing nature in this park.
Another stop along the way is Key Largo. From a glass-bottom boat tour to snorkeling, this island offers a lot of water activities. Robbie's in Islamorada is a popular spot to stop and feed the tarpons – so fun!
The famous 7-mile bridge is an engineering feat as you drive down Highway 1. Finally making it to Key West, you'll find shops, restaurants and historic hotels greet you with open arms. It's quite the busy little island, welcoming passengers from cruise ships by the day and a live party scene at night.
Stay in the Kimpton Winslow's Bungalows in the historic district, or on Smather's Beach at Margaritaville Beach House Key West. You can fly back out of Key West, although it may just be more affordable to drive back to Miami.
This fun route from Miami to Key West down Highway 1 is truly one of the greatest road trips in America, and holds a deserving spot on this list!
Recommended by Nikki of She Saves She Travels
25. Oahu Circle Island Tour (a tropical USA road trip route)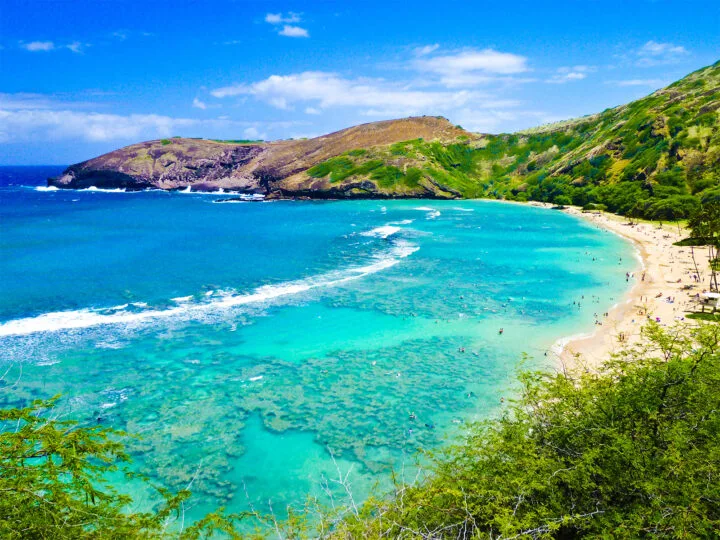 Distance: 60 miles
Recommended time: 1-3 days
Best time of year: year-round!
Dive into the depths of Hawaiian culture and explore the sights, sounds, scents, and flavors of Oahu on a classic circle island tour. It's absolutely one of the best road trips in USA, even though it's on an island thousands of miles offshore. 🙂
This route is an ideal way to get a better sense of all Oahu offers. From world-famous beaches, lush rainforests, and vibrant cities to small towns with uniquely local flair.
Start and end the trip in Honolulu, driving 60 miles around the island's perimeter. You can spend from 6 hours to 2-3 days on this route, based on where you want to stop and how much time you want to spend there.
No trip around Oahu is complete without a stop at the iconic Waikiki Beach. You can take in the crystal-clear waters and picturesque sunset views.
Other highlights include…
Byodo-In Temple, located on the Windward Coast
Chinaman's Hat, a small islet off the shore of Kualoa Ranch
Banzai Pipeline, a world-famous surfing spot on the North Shore
Dole Plantation for its famous pineapple fields and ice cream
Laie Point or Makapu'u Point Lookout for some of the most beautiful views in all of Hawaii
Be sure to also marvel at Waimanalo Waterfall, tucked away in the Ko'olau Mountains, and the breathtaking Ka'ena Point Natural Area Reserve.
Embarking on this journey during the summertime is ideal due to the longer days, yet it can still be a memorable experience year-round. Just keep in mind that you may encounter crowds at beaches on weekends and holidays and when the waves are high.
If you're looking for a guided tour, there are many tours you can book to do the circle island tour of Oahu. If you'd rather have an adventure of your own, renting a car is the perfect option! With apps like Shaka and Gypsy to assist with planning and managing your itinerary, you can guarantee yourself an extraordinary experience.
Recommended by Melodie of Travel Must Do's
26. Badlands to the Black Hills (an unexpected one on this list of best road trips in USA)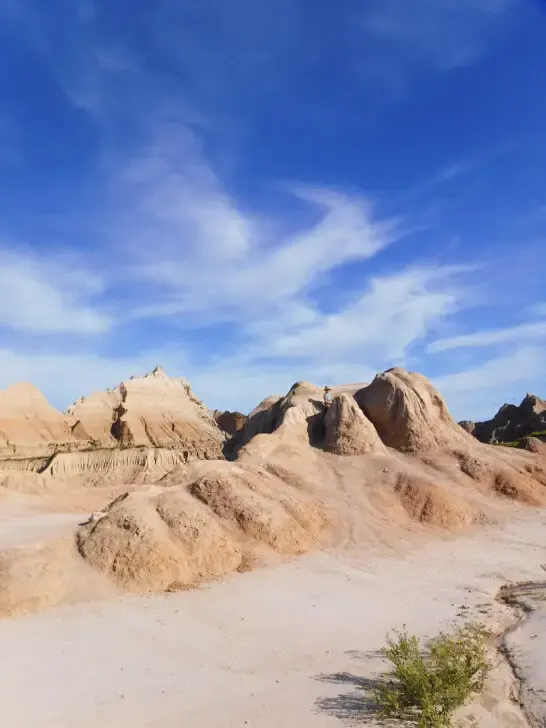 Distance: 60 miles
Recommended time: 1 – 3 days
Best time of year: May – September
In western South Dakota, visitors find a land of great contrasts and great beauty. The Black Hills got their name because the dense, dark pine trees make the hills appear almost black. The landscape is so starkly bare in Badlands National Park that it appears almost otherworldly.
Luckily for visitors, you can visit both within just a few hours–although you could easily spend weeks exploring all the beauty and fun in western South Dakota. This is one of the best, unexpected US road trips!
For the ultimate western South Dakota road trip, visitors can start at Badlands National Park in Interior, South Dakota.
Inside the park, visitors drive the 31-mile Badlands Scenic Loop Road to the Ben Reifel Visitors Center. There are so many things to do in Badlands National Park like hike the park's beautiful trails and stop at scenic overlooks for spectacular views of the park's colorful rock formations. Be sure to watch for bison, bighorn sheep, and prairie dogs!
After exiting to Wall, South Dakota many visitors stop at Wall Drug for free ice water (and snacks and souvenirs.)
Then, it's a short jaunt on interstate 90 to the South Dakota Air and Space Museum. This free aerospace museum on Ellsworth AFB is home to more than 30 aircraft and tons of other artifacts and exhibits.
A few minutes further and you're in Rapid City and can check out all the town has to offer. Check out Storybook Island, Dinosaur park, Presidential statues downtown, and fossils at the Museum of Geology on the Campus of the South Dakota School of Mines and Technology.
Then, it's less than a half hour from downtown Rapid City to the Black Hills. Take the Peter Norbeck Scenic Highway to see attractions like Mount Rushmore, Custer State Park and Wind Cave National Park.
The beauty of the rock formations in the Black Hills, the trees, the wildlife, and the view are absolutely breathtaking.
Recommend by Lindsay of Siouxland Families
27. Washington DC to Asheville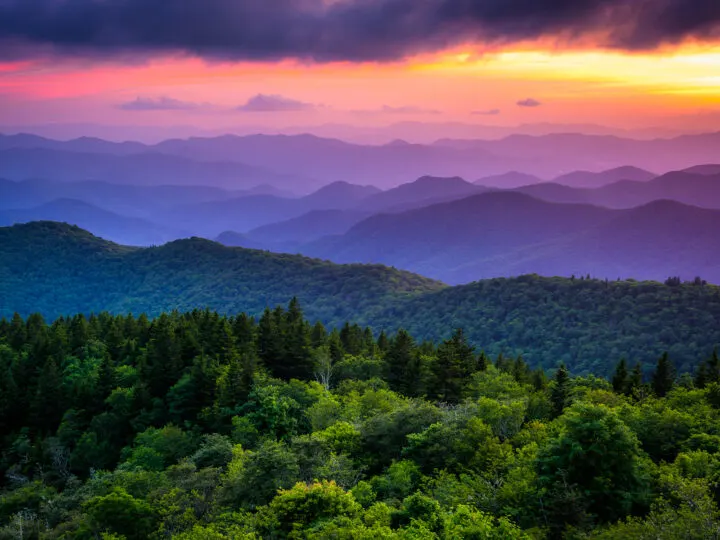 Distance: 471 miles
Recommended time: 5 days
Best time of year: March – May, September – October
A road trip from Washington, DC to Asheville, North Carolina can be driven in just eight hours but you'll miss a lot of historic southern towns. Plan on a long five-day vacation and make frequent stops.
Your first stop on this American road trip is Front Royal via Route 66. This charming town offers the best apple donuts to pack for your all-day hiking in Shenandoah National Park. Rent an Airbnb or book a campsite inside the national park.
Wake up bright and early the next day to enjoy a big flapjack breakfast then head out on 1-81 South via I-66 W. Select a detour to Luray Caverns or antique shopping in Strasburg.
Plan to reach the 215-foot-tall Natural Bridge by noon. Carved out by Cedar Creek, the limestone bridge offers vistas of the forests and rolling meadows. Explore seven miles of hiking trails and the beautiful Lace Falls, a 30-foot waterfall cascade.
Then, spend time touring the Monacan Indian Village or participate in seasonal living history programs. Book your second night at Wyndham's Natural Bridge Hotel surrounded by Blue Ridge Mountains.
On your next morning head into the hills of east Tennessee to explore Johnson City. Choose between hiking at Buffalo Mountain Park or boating at Winged Deer Park.
In the afternoon, explore Sycamore Shoals Historic Park, which is a former Cherokee site. Alternatively, visit Gray Fossil Site and Museum to see mastodon fossils. Schedule the hour drive to Asheville before nightfall where you can pplurge and book a room at the historic Omni Grove Park Inn.
On your last morning, book a morning walking tour to learn about the city's Art Deco architecture. Then head to the Arts District to explore working artists' studios. Leave time for a two-hour drive on the Blue Ridge Parkway to admire the stunning scenery at road stops. Extend your USA road trip (if time permits) to tour the Biltmore Estate.
Recommended by Terri of Female Solo Trek
28. Southwest USA (one of the BEST road trips USA)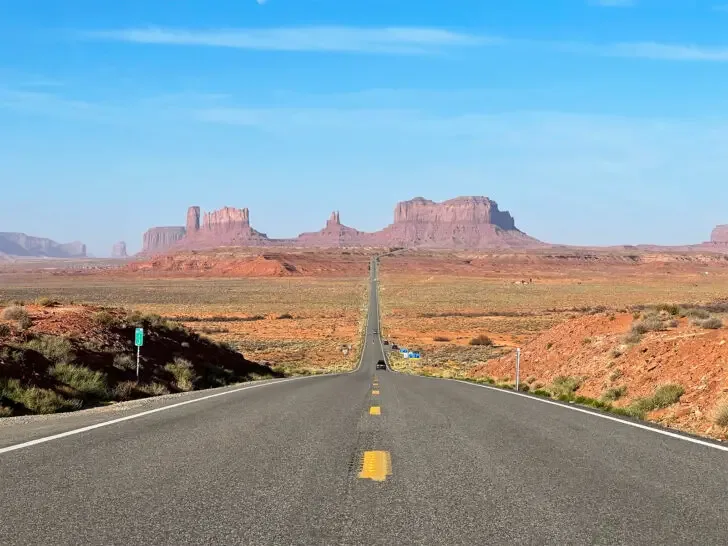 Distance: 950 miles
Recommended time: 6 days
Best time of year: March – May, September – November
Going from Las Vegas to Grand Canyon is only the beginning of an epic southwest USA road trip. It starts and ends in the City of Lights – Las Vegas. To complete the itinerary in a moderate way, you will need 6 days (not counting the days in Las Vegas). The distance of the whole itinerary is around 950 miles.

Along the way, you will get your 'kicks on Route 66', visit 3 US States, and the most Instagram-worthy national parks. From Grand Canyon to Page with Horseshoe Bend you'll surely be in awe of America's natural wonders.
In Page you will also visit the famous Antelope Canyon, but before that, make a stop at the the famous spot where Forrest Gump stopped running, Monument Valley.
The best place to stay in the Monument Valley in Goulding's Lodge, where you get stunning sunset and sunrise views of Table Mountains and Monolites.
On your way back to visit Zion National park, and add Bryce Canyon as an optional stop. The last stop before returning to Vegas should be Valley of Fire, a popular wedding photoshoot location with amazing hikes.

The great part about this road trip is that it can also be done in reverse. You can do this road trip at any time of the year, but winter would be the least favorable.
The best time would be spring or autumn, when temperatures are moderate and there is no snow on the roads. Summer, also a great time to follow this southwest itinerary, can be crowded and extremely hot.
Whichever time of year you choose, you won't be disappointed. Just be careful if driving at night as the roads are full of wildlife that will be extremely hard to spot. This may just be one of the very best US road trips you will take!

Recommended by Anja of Anja On Adventure
29. Milwaukee to Minneapolis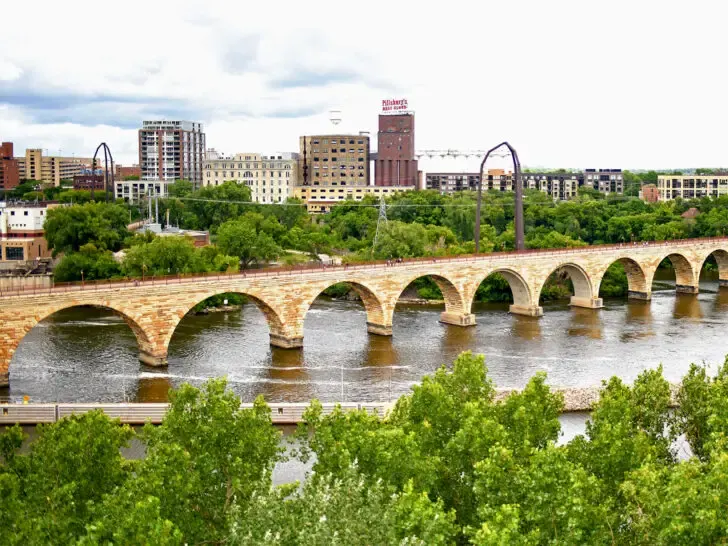 Distance: 336 miles
Recommended time: 5-8 days
Best time of year: June-October
If you're looking for a great northern Midwest road trip, plan a road trip from Milwaukee, Wisconsin, to Minneapolis, Minnesota. You'll be able to see some of the best of the upper Midwest, including important US cities and charming small towns.
Start with two days in Milwaukee. Explore the iconic Milwaukee Art Museum, eat a fabulous lunch at the Milwaukee Public Market, and spend time strolling through the historic Third Ward.
Leaving Milwaukee, you can spend a few days enjoying Wisconsin's smaller but still important cities and towns. Three stops worthy of spending a night or two include Madison, Wisconsin Dells, and Eau Claire. If you make your road trip during the fall, look to see if there are any football or basketball games happening in Madison during your trip. This is truly one of the greatest college towns in America!
Continue on to Minneapolis. Devote 3 days to enjoying the best of the Twin Cities. There are tons of great free things to do in Minneapolis and St. Paul. See the Stone Arch Bridge from the Guthrie Theater, wander through the Minneapolis Institute of Art and tour the Cathedral of St. Paul.
Other can't-miss sites along this USA road trip include the Mall of America, the Museum of Russian Art, and Fort Snelling State Park.
Recommended by Stephanie of History Fangirl
Road trips USA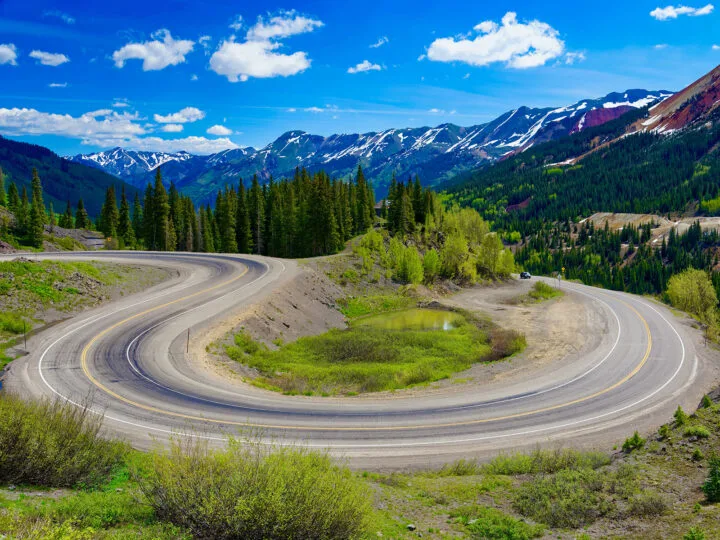 There you have it! 29 of the very best US road trips you'll find. From driving through vibrant fall colors, to marveling at the sparkling blue water in Hawaii, to hopping in a helicopter over the Grand Canyon, the adventures are truly endless.
Let's recap this amazing list one more time (in a slightly quicker fashion…)
Best US road trips
Utah national parks
Ozark Mountains
Beartooth Highway
Florida Springs
Extraterrestrial Highway, Nevada
Washington DC to Boston
Seward to Denali, Alaska
Newfound Gap Road, Smoky Mountains National Park
Route 66
Coastal Carolinas
LA to Joshua Tree National Park
Talimena Scenic National Byway
Pacific Coast Highway
Athens to Macon, Georgia
Road To Hana, Maui
Blue Ridge Parkway
Oregon Coast
Savannah to Charleston
Going-to-the-Sun Road, Glacier National Park
Phoenix to Page, Arizona
New England
Texas Hill Country
Southern Colorado
Florida Keys from Miami to Key West
Oahu Circle Island Tour
Badlands to the Black Hills, South Dakota
Washington DC to Asheville
Southwest USA
Milwaukee to Minneapolis
Related posts to read next:
30 Gorgeous West Coast Road Trip Routes You Gotta See to Believe
26 Absolute Best (and Underrated) Fall Drives in the US You've Gotta See to Believe
12 Epic Scenic Drives Colorado (Map + Tips + Photos)
Find this guide helpful? Save it for later or share it on social media!