This perfect escape from the city is for any adventure lover! It's one of the best Red Rock Canyon hikes with a variety of terrain and views you'll love. Here's everything you need to know about the Calico Tanks Trail.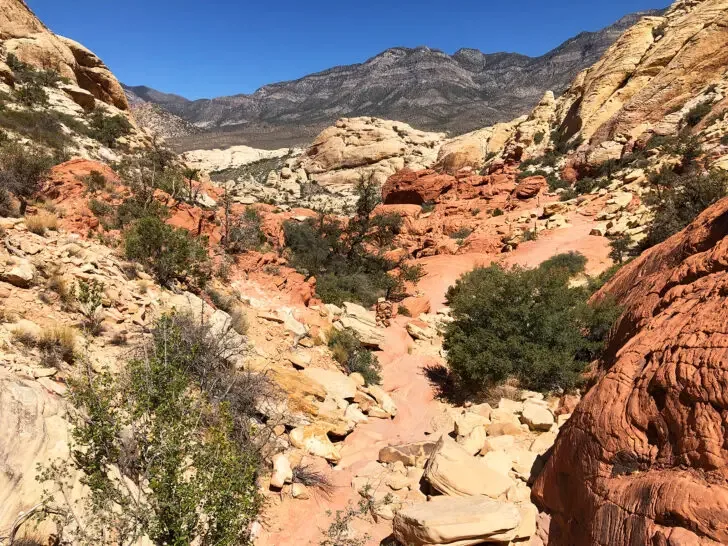 This post may contain affiliate links. For more info, see my disclosures.
This fun, interactive hike near Las Vegas is perfect for a break from the busy city! Located just 17 miles from the Las Vegas strip, the Calico Tanks Trail is in the heart of the Red Rock Canyon National Conservation area and the Mojave Desert.
Calico Tanks Trail is one of the best stops along the 13-mile Red Rock Canyon Scenic Drive. This stunning conservation area near the big city is one of the best day trips from Las Vegas, offering plenty of hikes and opportunities to be outdoors.
Grab your hiking shoes with plenty of grip, and enjoy vivid scene in the Red Rock Canyon National Conservation Area.
Must-watch video: Calico Tanks Trail
Calico Tanks Trail stats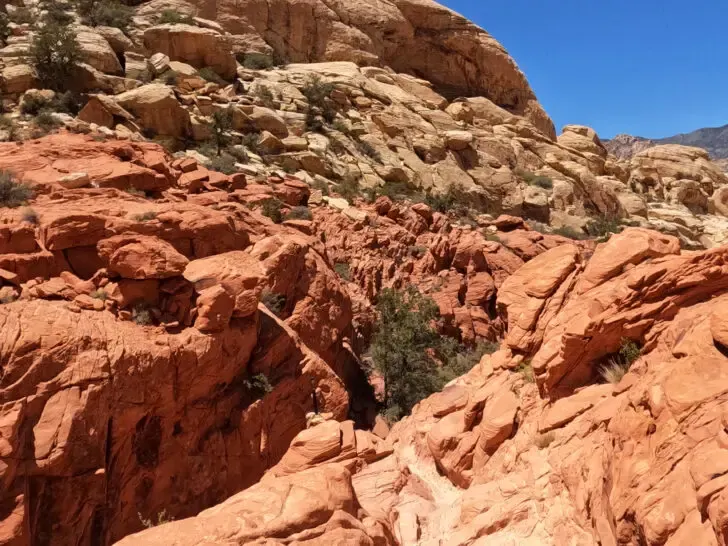 Distance: 2.2 miles
Difficulty: moderate
Elevation gain: 406 feet
Time: 1.5 – 2.5 hours
The main thing to see is the 'tank' at the end of the trail. It's a pond of water, which is typically full during spring but dries up after. Many people continue scrambling to get a view of the Las Vegas Strip.
There's a pit toilet at the parking lot, but no other amenities. The parking lot is decent sized, but arrive early during spring and fall to get a parking spot.
The trailhead is along the one-way scenic drive, so once you go past it you won't be able to get back to it without exiting and re-entering the conservation area. More tips below!
Red Rock Canyon National Conservation Area Reservations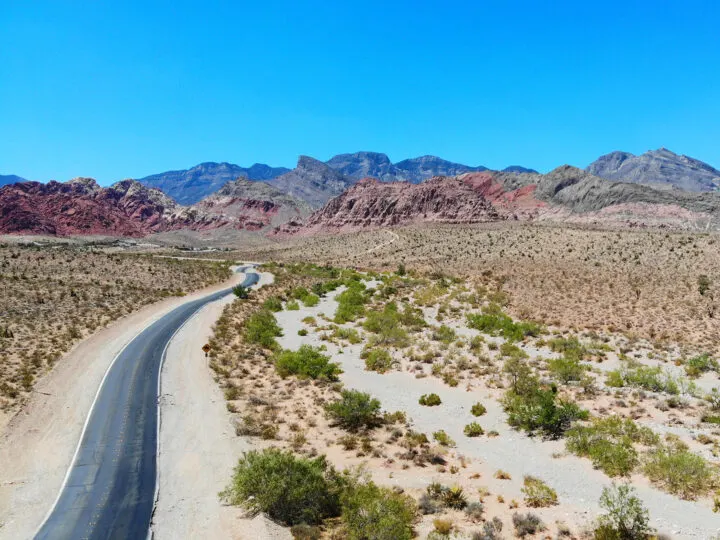 Before going into any further detail, it's important to know that there's a reservation system to get into Red Rock Canyon National Conservation Area. This is in effect October through May, between 8:00am – 5:00pm.
This is to reduce overcrowding and ensure the land is protected and conserved.
If you're traveling outside of this timeline, or arrive outside of those hours, you'll just need to pay an entrance fee to the National Conservation Area. However, a USA National Parks pass (America the Beautiful pass) will work to enter.
This pass is an essential part of a traveler's checklist, allowing you access to over 400 national parks, monuments and federally protected land in the USA. If you plan to visit more than 2 areas, it pays for itself!
My family has used it during a Utah national parks road trip, during a Sequoia National Park visit, while checking out the best waterfalls n Glacier National Park, and so many more spots!
Calico Tanks Trail: how to get to the trailhead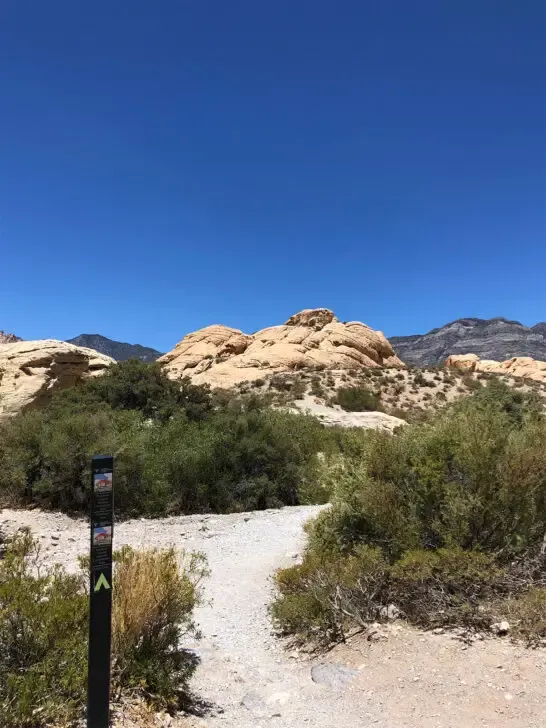 Stop by the Red Rock Canyon Visitor Center before beginning the one-way, scenic loop and before making your way to the trailhead. Here, you can chat with a ranger or grab any last-minute essentials. (A checklist of what to pack is below so you can be prepared.)
The trailhead is located at the 3rd stop along the scenic drive, and is just past the Calico I and Calico II. There will be a well-marked sign and a parking lot to turn into.
The Calico Tanks trailhead actually shares a parking lot with another trail, Turtlehead Peak. As you begin your hike, be sure to watch for signs to stay on Calico Tanks. You'll angle to the right, as Turtlehead Peak goes toward the left.
Calico Tanks Trail map
If you're a visual person, this map of the Calico Tanks Trail will help you plan your hike. The orange icons the trailhead and viewpoint. Blue icons are other nearby landmarks within the conservation area worth visiting.
📍Red Rock Canyon was originally home to the Paleo-Indians, San Dieguito, Pinto- Gypsum Archaic, Ancestral Puebloans, Patayan Culture and Southern Paiute peoples. Please be mindful while visiting this conservation area, and treat it with ultimate respect.
Tips for hiking the Calico Tanks Trail
You're going to love this hike! Here are a few things to keep in mind to make the best of your experience.
Go early. The parking lot fills up quickly, as this is one of the best Red Rock Canyon hikes.

Be prepared for heat. Located in the Mojave Desert, the heat here is no joke. If you're planning this hike during summer, try to get there really early and be done by noon.

Do not attempt during the rain. Sandstone and flash flooding are not a good combination!

Gear matters! This slick rock is exactly that – slick! Grab grippy hiking shoes to feel confident on this trail. More recommendations below.

Leave no trace. Don't stack rocks (only rangers should do it for a trail marker), stay on the trail and otherwise don't damage nature. Pack out what you bring onto the trail, including compostable food.

Dogs are allowed on this trail. Be sure to keep them on a leash, pick up waste and bring water for them!

Hikers going up have the right of way. Use basic trail etiquette and have fun!
Calico Tanks Trail Red Rock Canyon: what to expect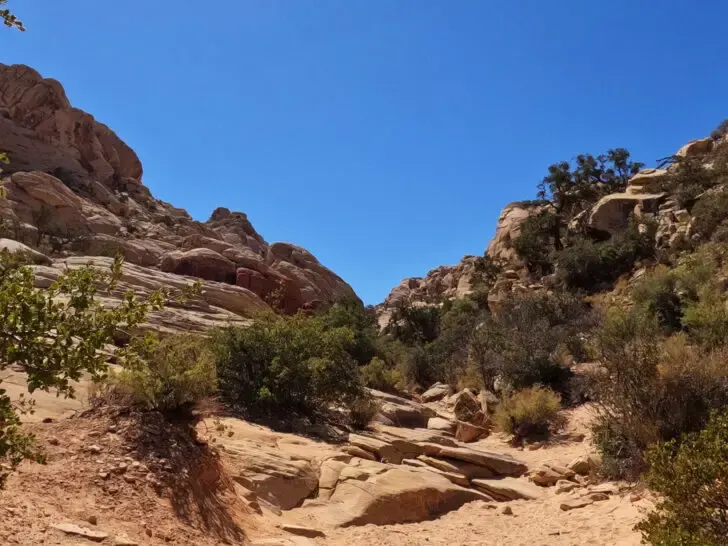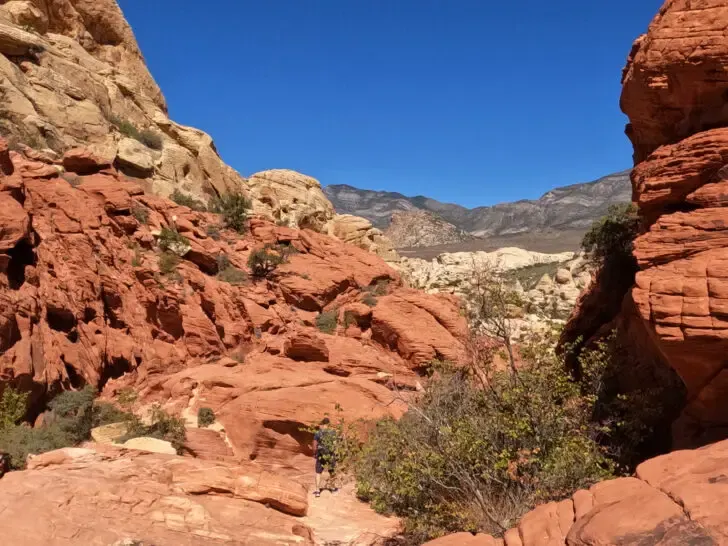 Eeek! This is such a fun trail! Just beyond the Calico Tanks trailhead is mostly flat. You'll be walking on a variety of gravel, sand, dirt and then to slick rock.
There's just a few points of shade in the first part of the trail, depending on the time of day you hike. Enjoy them because they don't last!
As you get further into the trail, you'll start to slowly gain in elevation and begin walking on the slick rock. Grippy hiking shoes are essential on this hike, and trekking poles are helpful for the incline, too.
There are cool rock formations through the hike, so stop to soak in the views! Don't forget to look at the views behind you as well. Many hikes, like the Waihee Ridge Trail in Maui are about the journey!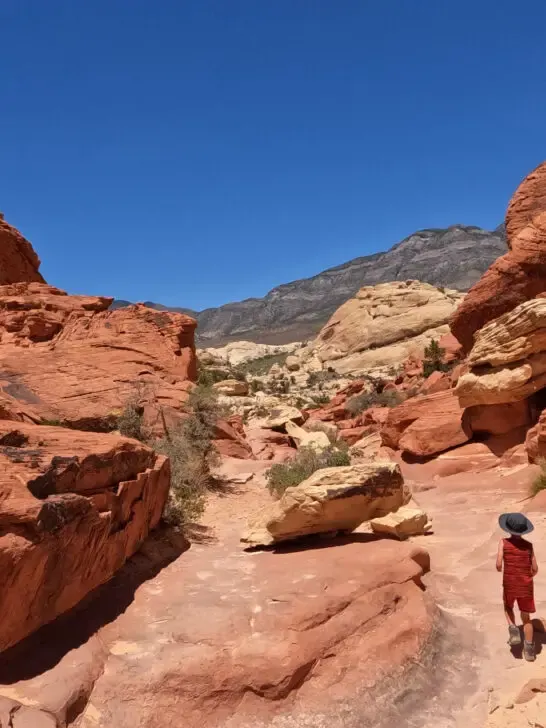 The trail can be a bit tricky at times to follow – watch for cairns (stacked rocks) to stay on the path.
Calico Tanks Trail has a variety of slick rock terrain, including steps and some light scrambling as you make your way to the tank.
If you enjoy this hike in winter or early spring, you'll likely see water in the basin of the pool. Every time I've hiked it the pool as been dry, so just tall grasses or dirt are in the pit. 🙂
Viewpoint at the Calico Tanks Trail
After you reach the pool or large pit that looks like a pond could be there, you can continue going for a fabulous view of the Las Vegas strip. This part requires some skill, balance and scrambling.
Stick to the right of the trail and walk along the narrow ledge. Now is a good time to attach your trekking poles to your hiking backpack.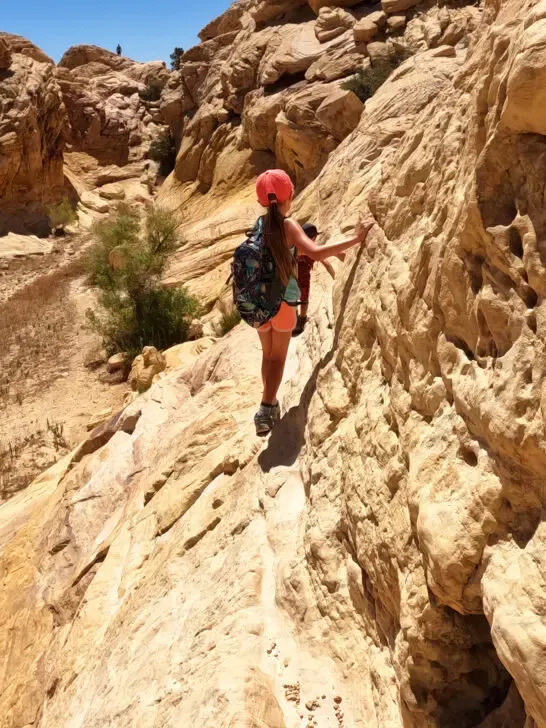 After scrambling up the end of the trail, you'll get to a phenomenal viewpoint! See the Las Vegas strip in the distance on a clear day. Take a seat and enjoy a snack or cool water while soaking up the views. This might just be your highlight of the Calico Tanks Trail!
Use caution because this area can be windy and there's a giant cliff. And as you make your way back down, be aware that scrambling up is often easier! 🤣
Things to bring on the trail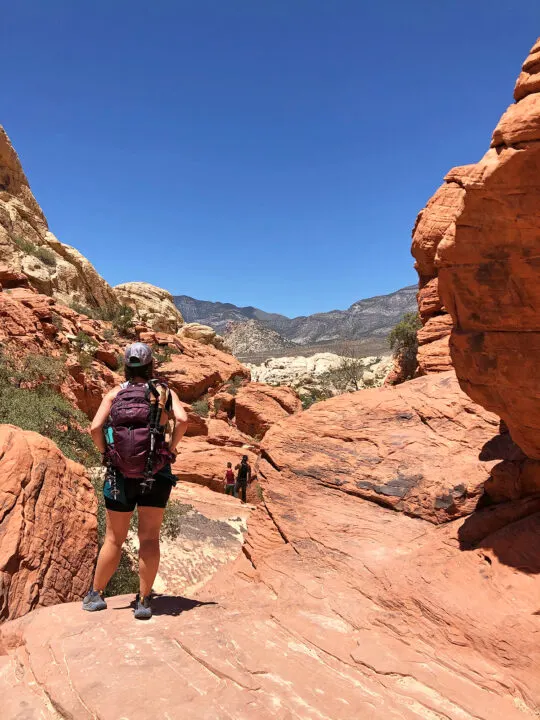 Bringing and wearing the right gear will make this hike go smoothly…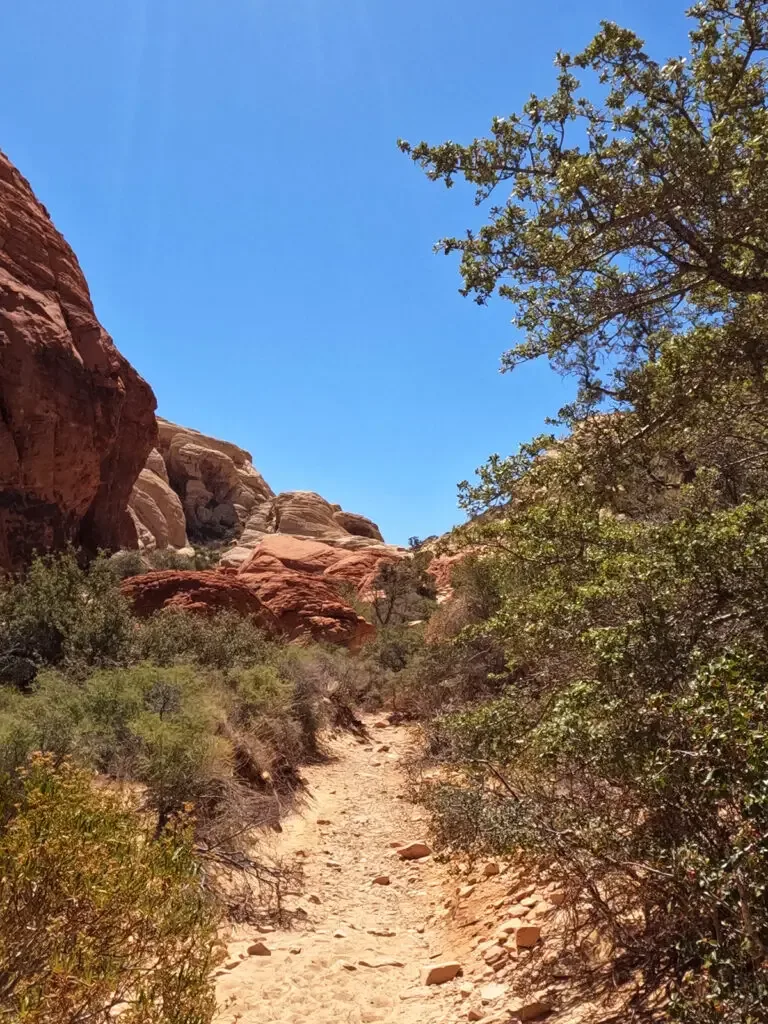 Other things to do in Red Rock Canyon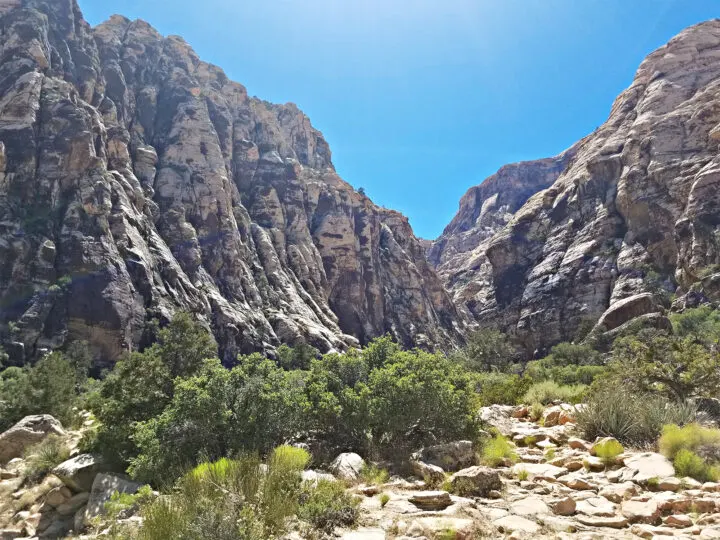 This fabulous conservation area has other fun activities. The scenic drive is perfect for rounding out your day, or you can some other adventures. Here are a few ideas for ya…
Stop at the overlooks or hike Calico I and Calico II.
High Point Overlook along the scenic drive.
Willow Spring and White Rock Spring hiking loop.
See ancient carvings at the Petroglyph Wall.
Hike Ice Box Canyon (another one of my favorite Red Rock Canyon hikes).
Accommodations near Red Rock Canyon
If you're looking for a place to stay for your Red Rock Canyon Calico Tanks hike, Las Vegas is a natural fit. Of course there's bougie options but also some affordable accommodations, including camping, too.
Where to stay in Vegas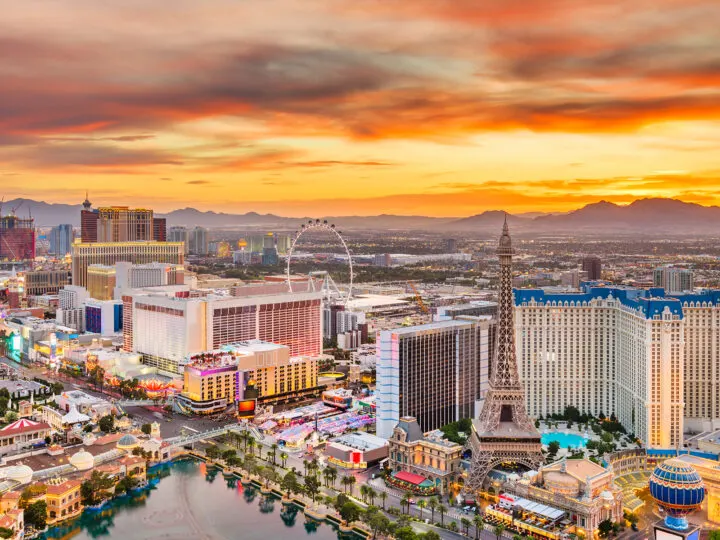 Whether you're looking for excitement or a little more peace and quiet near Calico Tanks Trail, there are so many options for staying in Las Vegas!
Camping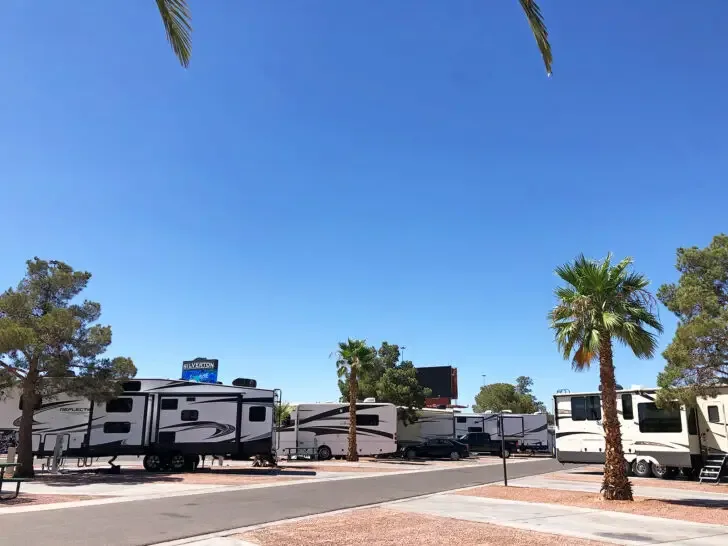 Tent camping? Prefer an RV? There are quite a few options near Calico Tanks for both! Here are some options for you…
Red Rock Canyon Campground. Very basic campground right in the park. Basic tent camping is recommended, no hook-ups for RV's and extremely limited spaces. Book months in advance because it goes fast!

Oasis Las Vegas RV Resort. Located in Las Vegas with plenty of amenities, this is perfect for RV camping. Complete with a pool to cool down after hiking.
Calico Tanks Trail
So, are you ready for a fun hike just outside of Vegas? The Calico Tanks Trail Red Rock Canyon is a fabulous hike with some pretty impressive views.
Whether you're making a day of it at the Red Rock Canyon National Conservation Area or just want a quick escape from the city, this is a hike you won't soon forget!
Related content you might like:
Red Rock Canyon Scenic Drive: 10 Amazing Stops, Hikes + Tips
Canyon Overlook Trail: Gorgeous Zion Hike You Gotta See to Believe
AMAZING Utah National Parks Road Trip (Map, Best Hikes, Scenic Route Between Parks + More)
Find this guide helpful? Save it for later or share it on social media!