In the heart of Capitol Reef National Park, the Hickman Bridge Trail is a gem in the national park system, and one that's begging to be explored!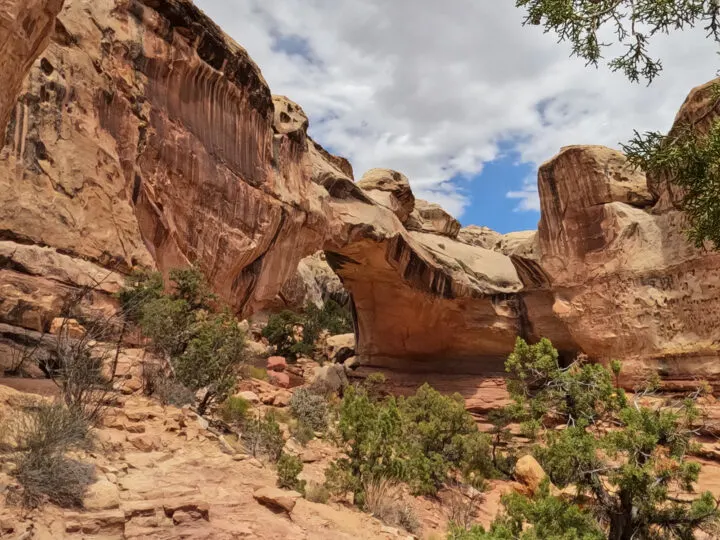 This post may contain affiliate links. For more info, see my disclosures.
It's one of the best hiking trails in Capitol Reef National Park, and one you'll want experience for yourself. This fun, interactive trail leads you to a natural arch, carved over millions of years. Yet standing under it, you'll feel so small.
Hickman Bridge is a natural bridge – or arch made of stone, standing 125 feet tall at the highest point. It reminds me of a sight you might see on an Arches National Park hike, but with way fewer crowds!
Must-watch video: Hickman Bridge Trail
Hickman Bridge Capitol Reef stats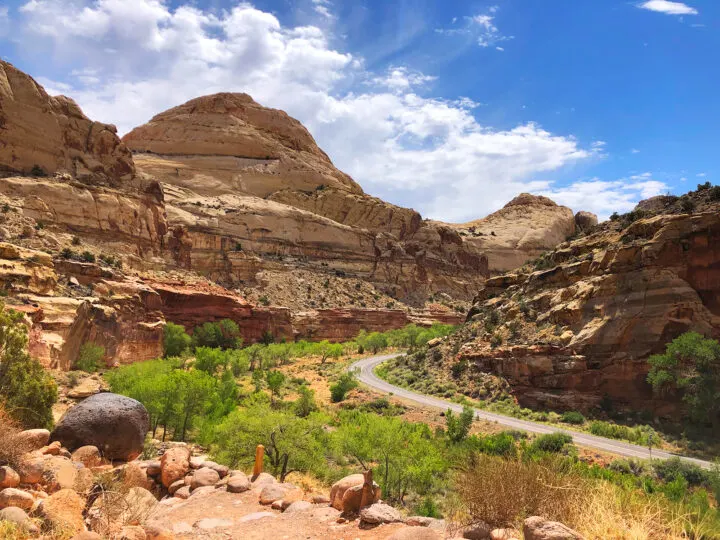 Distance: 1.7 miles
Difficulty: moderate
Elevation gain: 416 feet
Time: 1 – 1.5 hours
Hickman Bridge Trail is family friendly! It's easy enough for younger kids to navigate, and there's no steep inclines or declines for those carrying babies or toddlers in backpack carriers. There's even restrooms at the trailhead.
Hickman Bridge Capitol Reef: how to get to the trailhead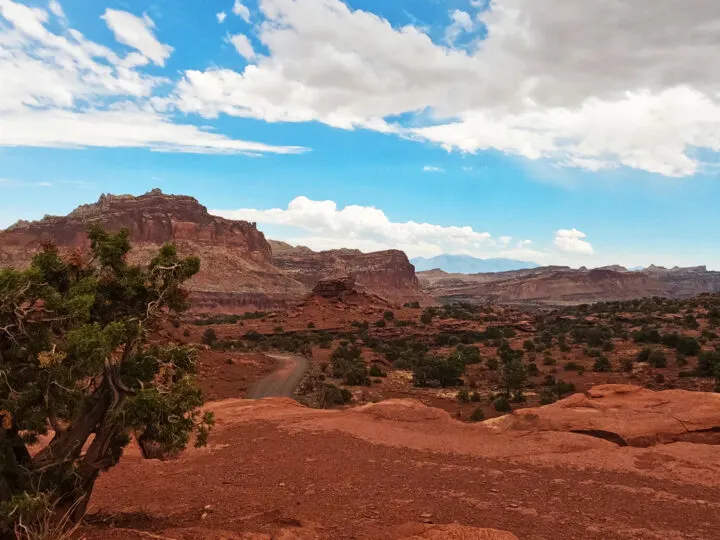 Located along Scenic Byway 24 in Utah, the trailhead is really easy to get to. Stop by the Capitol Reef Visitor Center to grab a map, souvenir or talk with a park ranger. It's just 2 miles west of the trailhead.
Fun fact: this area of Capitol Reef National Park is actually free! Since it's along Utah's Scenic Byway 24, anything along this road is free.
The other areas of the park like the Capitol Reef Scenic Drive and the Fruita Historic District, you'll need to pay a park entrance fee.
Actually, I highly recommend buying an America the Beautiful Pass. My family has enjoyed Mt. Rainier, our Utah national parks road trip and seeing the Mighty 5, Grand Tetons and so many more using the annual pass option.
Hickman Bridge Trail Map
Here's a map of Hickman Bridge, one of the best hikes in Capitol Reef. The trailhead is in yellow and the bridge is in orange. Other local landmarks are in blue.
Tips for Hickman Bridge, one of the best Capitol Reef hikes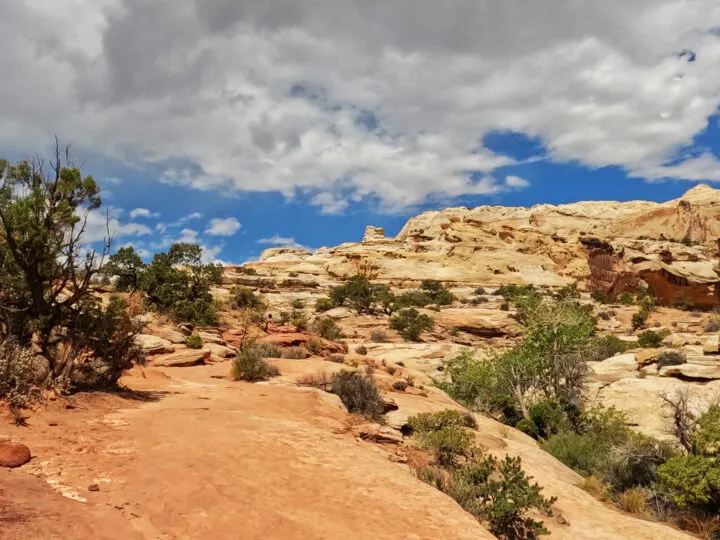 Before we get to the hiking trail details, here are a few more tips to keep in mind…
The parking lot is big with overflow parking across the street. Avoid peak hiking times (like 10am-2pm) to ensure you get a spot.

Hickman Bridge Trail starts out by the Fremont River, which is beautiful! Unfortunately, the path is prone to rocks falling, so don't stop on this part of the trail and linger.

The trailhead is actually for 3 trails: Hickman Bridge, Rim Overlook and Navajo Knobs Trail Head. Be sure to pay attention to signs in the first half of the trail.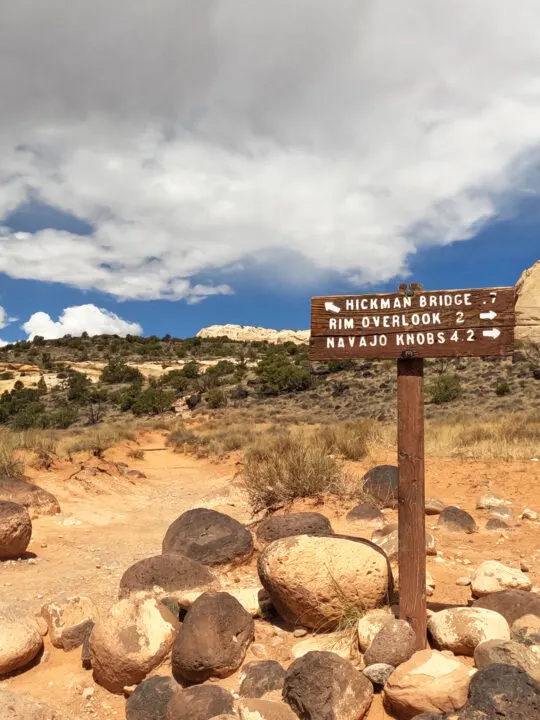 The trail is out-and-back, except when you get to the natural bridge. Then you can hike a loop through it. The more impressive views are by taking the path to the right and going counter-clockwise.

Be courteous to others at the natural bridge. Everyone is there for a photo of the arch, and they don't necessarily need you lingering under the stone bridge awhile to grab their photo.

Bring the right gear, including grippy hiking shoes. More gear recommendations below.
Hickman Bridge Trail: what to expect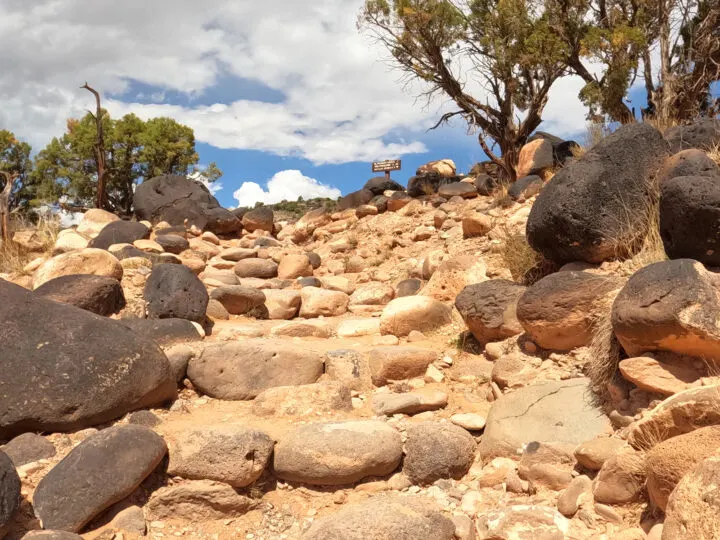 This hike is fun for all ages! It's on the easy side of moderate, and totally doable for most skill levels.
Once you arrive at the trailhead, you'll immediately see the Fremont River and the beautiful valley surrounding it. You'll hike next to the rock wall for a bit, then start to climb!
The first part of the Hickman Bridge Capitol Reef hike is the most steep. Considering the Capitol Reef park is at more than 8,000 feet in elevation, you might feel winded while climbing up.
The Hickman Bridge Trail is a fun, interactive trail with plenty of ups and downs. It provides a variety, unlike hikes like the Delicate Arch Trail in Arches NP, which is almost a continuous upward hike until you reach the summit.
You'll gain 416 feet in elevation, but with the declines throughout, the Hickman Bridge Trail Capitol Reef is just a fun trail to hike!
Pro tip: the sand can get slippery on the slickrock, so be sure to wear good hiking shoes with traction for this hike. Don't try it in sandals!
Hickman Bridge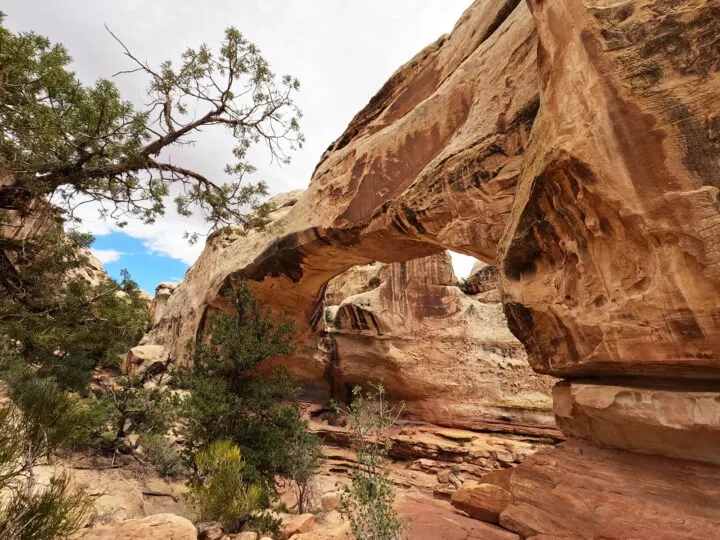 The valley where the natural bridge is located makes it difficult to see the arch from a distance, mostly because it blends in. 🙂 However as you climb closer you'll begin to see the massive stone bridge in front of you.
There's a loop around the natural bridge so you can hike through it. Choosing the right path instead of left provides the better view.
Hickman Bridge is a cool sight to see up close!
If it's a sunny day, you'll find plenty of shade below the stone bridge. The rocks directly underneath provide lots of space to sit and enjoy a snack or just rest.
Note: if you sit on the rocks furthest from the trail, you'll be out of most people's photos yet still in the shade.
When you're ready to hop back on the trail, make your way through the arch. Don't forget to turn around and admire it from that direction, too! Then the hike back to your vehicle is fun with plenty of ups and downs to enjoy along the way.
Things to bring on your hike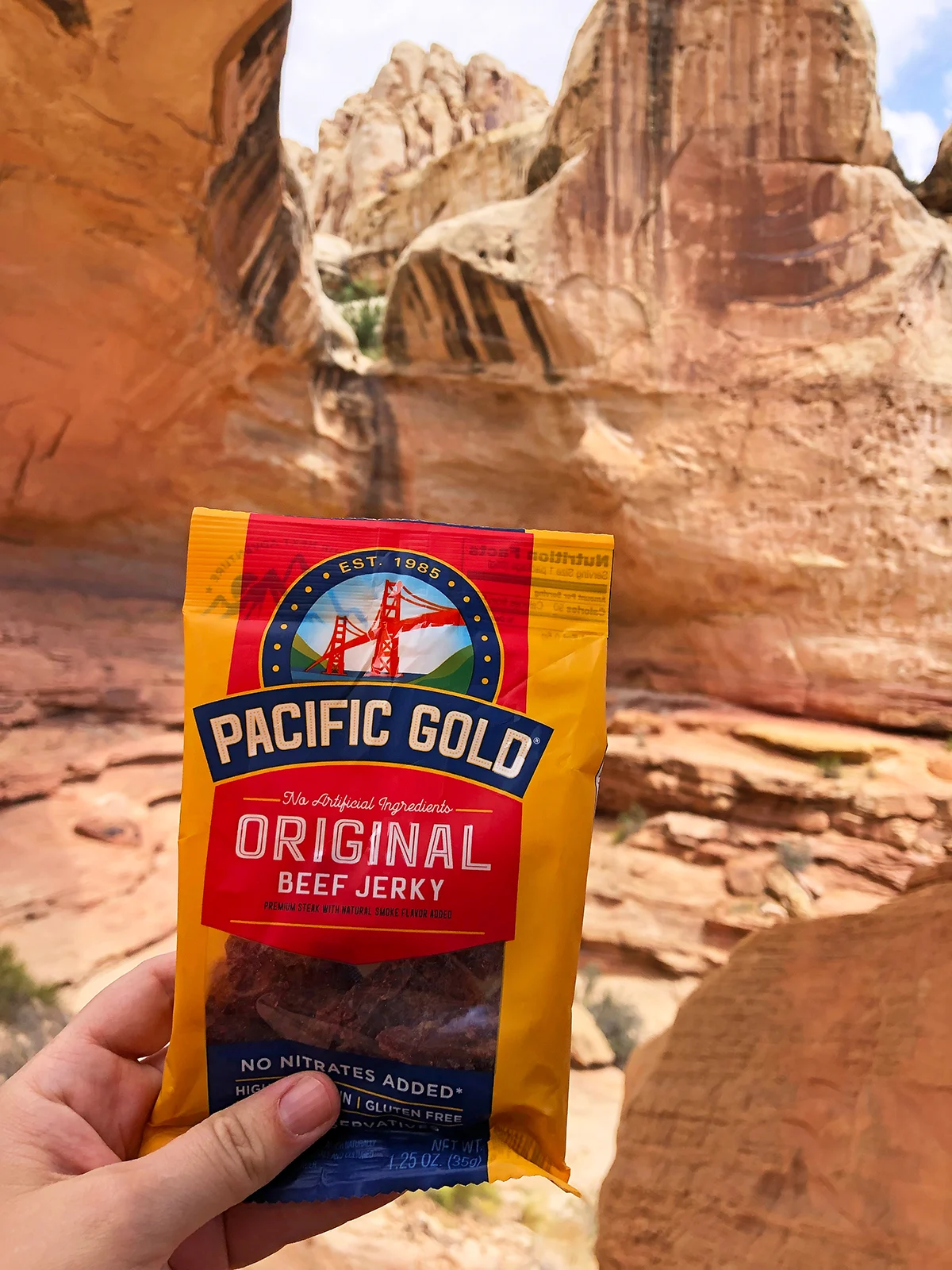 The Hickman Bridge trail is certainly one of the best hikes in Capitol Reef National Park. It's a relatively short hiking trail, but you definitely want to be prepared. Here's a list of items that will make your experience even better…
Water, water, water. Regardless of what time of year you hike, you should stay hydrated. However in the summer months even more so! I always take a few reusable water bottles on hikes. My husband uses his hydration bladder, and he loves it.

Hiking backpack. For carrying water and all your other gear, listed below. Hiking backpacks are like magic, keeping the weight off your back. My family uses Osprey hiking backpacks and love them.
Other Capitol Reef National Park highlights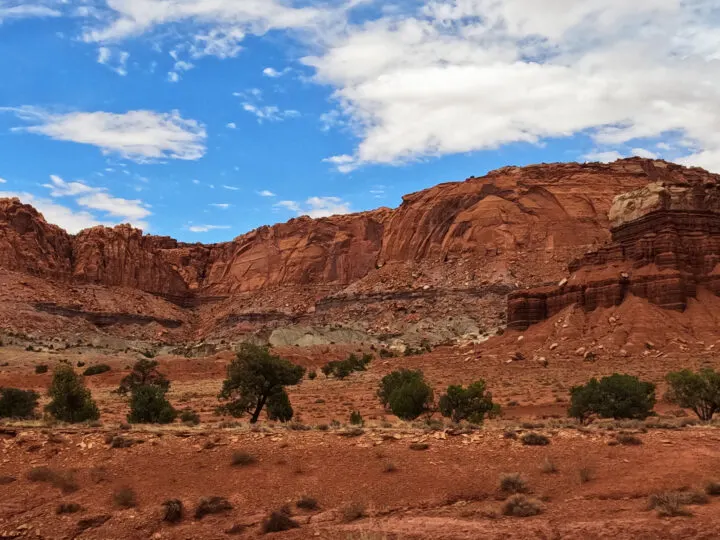 While you're in Capitol Reef National Park, be sure to visit these other areas of the park:
Capitol Reef Scenic Drive. It's one of the best scenic drives in Utah! It's about 16 miles round trip, and provides stunning views of the park.

Fruita orchards and the Gifford House. Pick fresh fruit in season, and explore the homestead of early Mormon settlers.
Goosenecks Overlook. A quick drive off Highway 24, offering spectacular views of the park.
Hike to Cassidy Arch. A little further at 3.1 miles, this moderate trail actually allows you to hike over the top of the arch, and is another favorite of the Capitol Reef hikes!

Fremont Petroglyph Panel. Discover what the ancient Fremont Culture carved into stone, and try to interpret it yourself!
Accommodations near Capitol Reef National Park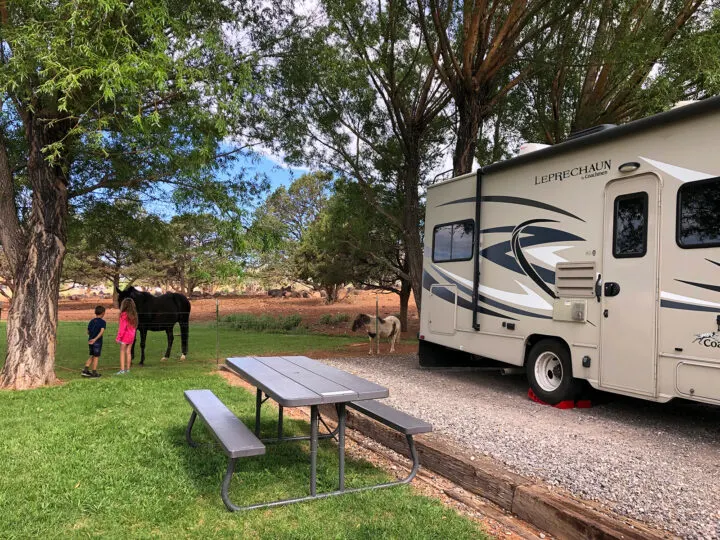 The Hickman Bridge Trail isn't very far away from comfortable accommodations. Whether you're taking a Utah national parks road trip in an RV or camping, or prefer more amenities with hotels or vacation rentals, here are a few suggestions to consider.
Camping near the trail
Unlike camping in places like Big Sur or Gulf State Park in Alabama, there isn't a 500-spot campground near by. But there's still plenty of options!
Fruita Campground, within the park. It's as close to the trial as you get, just 2 miles away and within the park. Just be sure to make reservations far in advance because it sells out quickly.

Wonderland RV Park. This picturesque spot is just 15 minutes away, and the farmland backdrop offers quite the view.
Where to stay near Capitol Reef National Park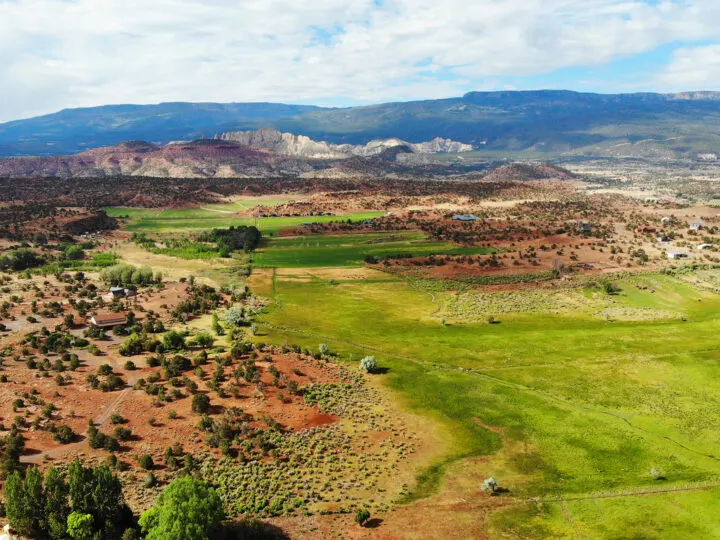 If camping isn't your thing, there's plenty of additional options for you.
The towns in the area are quite small, so depending how far in advance you're planning your trip, you may have to go further out. Torrey, Utah is the town nearest to the park. Here are a few places you might like:
Fun facts about Capitol Reef National Park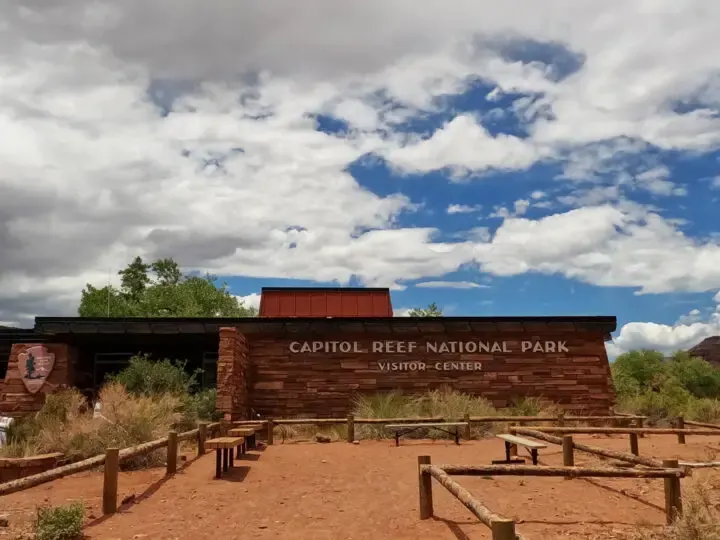 During my family's first visit to the park, we wondered why it was called Capitol Reef. Here's your answer, with a few other fun facts about the park. 🙂
'Capitol' is in reference to the similarity of the dome formations in the park to the US Capitol Building. 'Reef' is because the way the earth folds resembles a coral reef.

Speaking of fold, as you take the Scenic Drive, you'll see the 7,000 feet drop, or the fold in the earth's crust. Known as a geologic wrinkle, the official term is a waterpocket fold.

Capitol Reef National park is an International Dark Sky Park. With very little light pollution, it's a fantastic spot to view the stars!
Hickman Bridge Trail Capitol Reef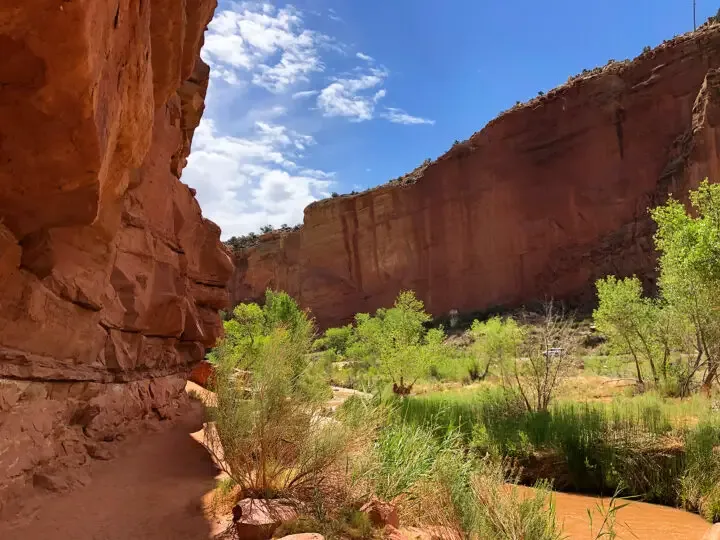 This fun hike in southern Utah is one that simply begs to be explored! Fun for all ages and skill levels, it's a must do during your time in Capitol Reef National Park.
Enjoy your hike to the natural bridge!
Related posts you might like:
AMAZING Utah National Parks Road Trip (Map, Best Hikes, Scenic Route Between Parks + More)
Find this post helpful? Save it for later or share it on social media!