Gah! You found it. One of the most beautiful hikes in Glacier National Park! Get ready to experience a gorgeous lake through a fun, interactive trail. This is the guide to everything you need to know about Avalanche Lake Trail.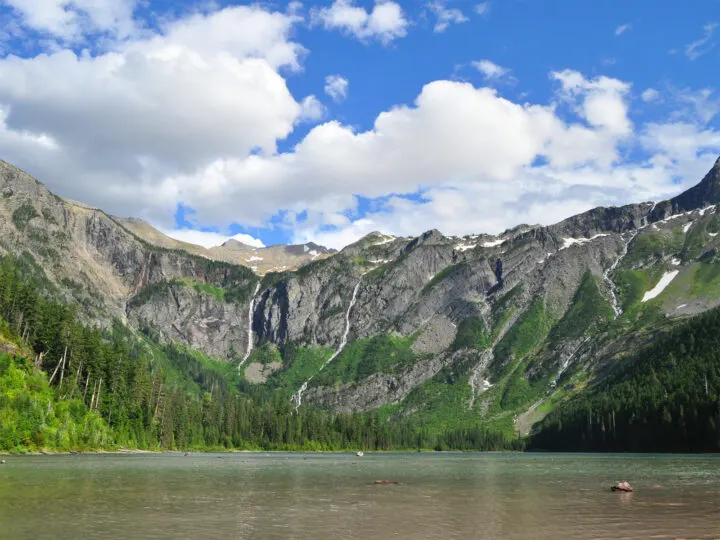 This post may contain affiliate links. For more info, see my disclosures.
This hike in Glacier National Park in Montana is one of the most entertaining trails in the whole park!
The trail's main feature, the gorgeous Avalanche Lake is surrounded by majestic mountains. It's like an enchanted forest hike in real life.
During the spring and summer the waterfalls flowing from the mountain side into the lake are simply amazing to witness. And if you're hitting this trail as part of an epic fall road trip, you'll see a stunning array of fall colors, too!
Avalanche Lake Trail is just the right mix of challenge and entertainment for most skill levels. And if that's not awesome enough, you'll get 2-for-1 trails within this hike.
Let's dive in!
Avalanche Lake Trail stats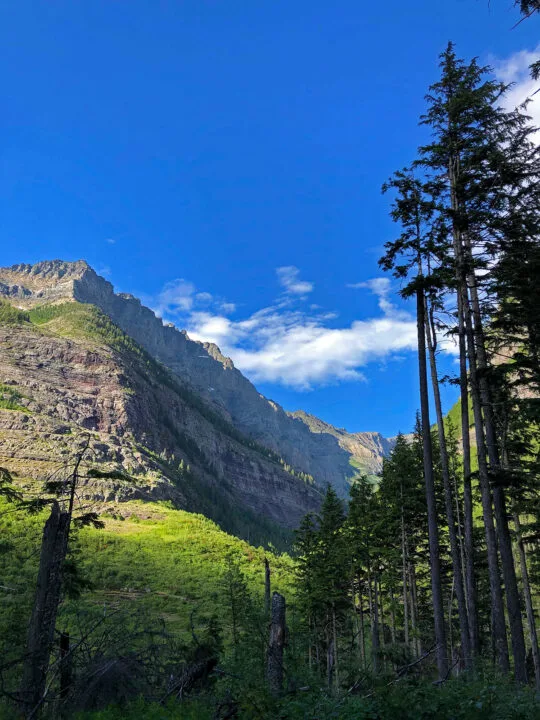 Distance: 5.9 miles
Elevation gain: 757 feet
Rating: moderate
Estimated time: 2-3 hours
There are restrooms located at the trailhead. Just a reminder, pets are not allowed on trails in Glacier National Park.
How to get to Avalanche Lake Montana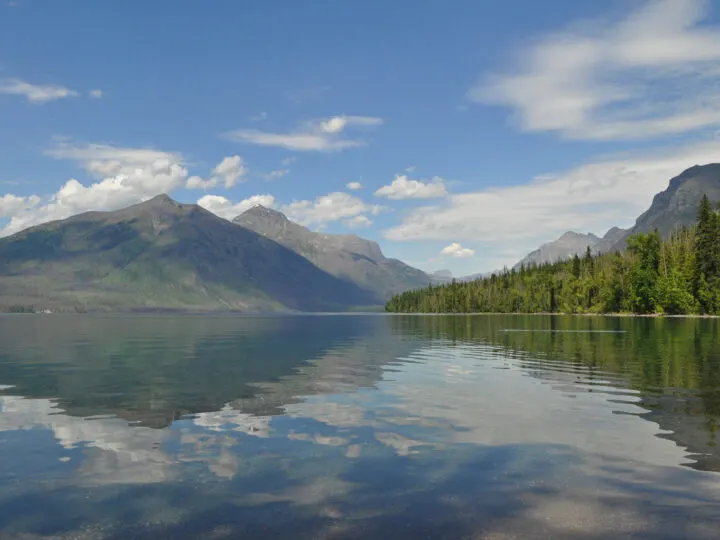 Avalanche Lake is situated on the western side of Glacier National Park. It's easily accessed through the West Entrance of the park.
Note: depending on what time of year you go, you'll need a vehicle reservation through the National Park Service to access this area of the park. Find more details here.
After entering the park, you'll drive past the famous Lake McDonald, which is truly stunning!
Keep your eye out for the turn to Avalanche Lake Trailhead after passing Lake McDonald.
The map below can help you plan your hike.
The yellow icons are the lake itself and the Avalanche Lake Trailhead (it shares the same trailhead as Trail of the Cedars). The orange icon is the West Entrance. The blue icons are other popular landmarks nearby.
Note that the Avalanche Lake Trail Glacier National Park is located on the Going-to-the-Sun Road, but the elevation is low enough that the trail is typically open year-round.
Because it's easily accessible, this is one of the most popular hikes in the park!
Tips for hiking there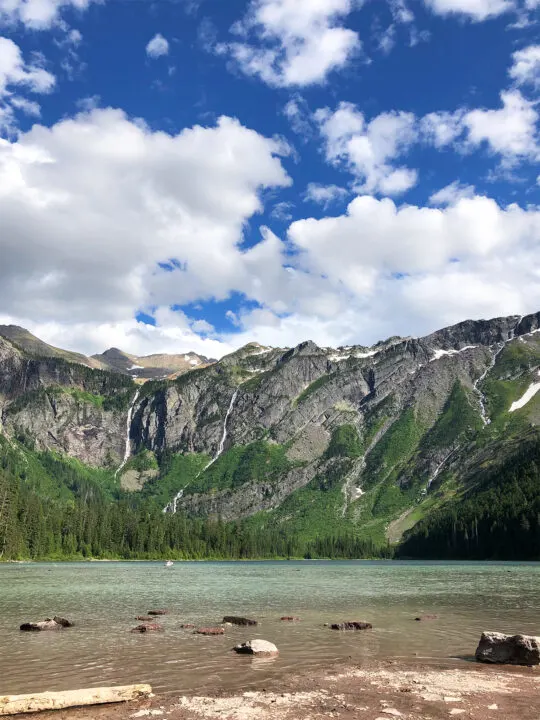 These tips may help create the best experience on Avalanche Lake Trail!
Go early or late. The parking lot is large, but it's also an extremely popular trail. Aim to get to the trailhead by 8:30am or after 4:00pm, especially on weekends and in the summer.

Bring and wear the right gear. Hiking shoes, trekking poles and a quality hiking backpack are just a few things you'll want for this hike. See more gear recommendations below.

Leave no trace. Pack out what you packed in. Don't leave food wrappers or trash on the ground. Stay on the trail and don't disturb nature along the trail or at the lake.

Pack a snack and water. This is a long enough trail you'll want to hydrate and give yourself fuel for the return trip to the parking lot.

Be courteous to other hikers. Hikers coming uphill have the right of way. When you're at the lake, wait patiently for your turn to take the best photos. Then step aside so others can do the same.
As you visit Glacier National Park and Avalanche Lake Montana, remember to respect the land and its original inhabitants. This was once home to the Blackfeet, Pend d'Oreille, Kootenai and Salish American Indian tribes. Learn more here.
Avalanche Lake via Trail of the Cedars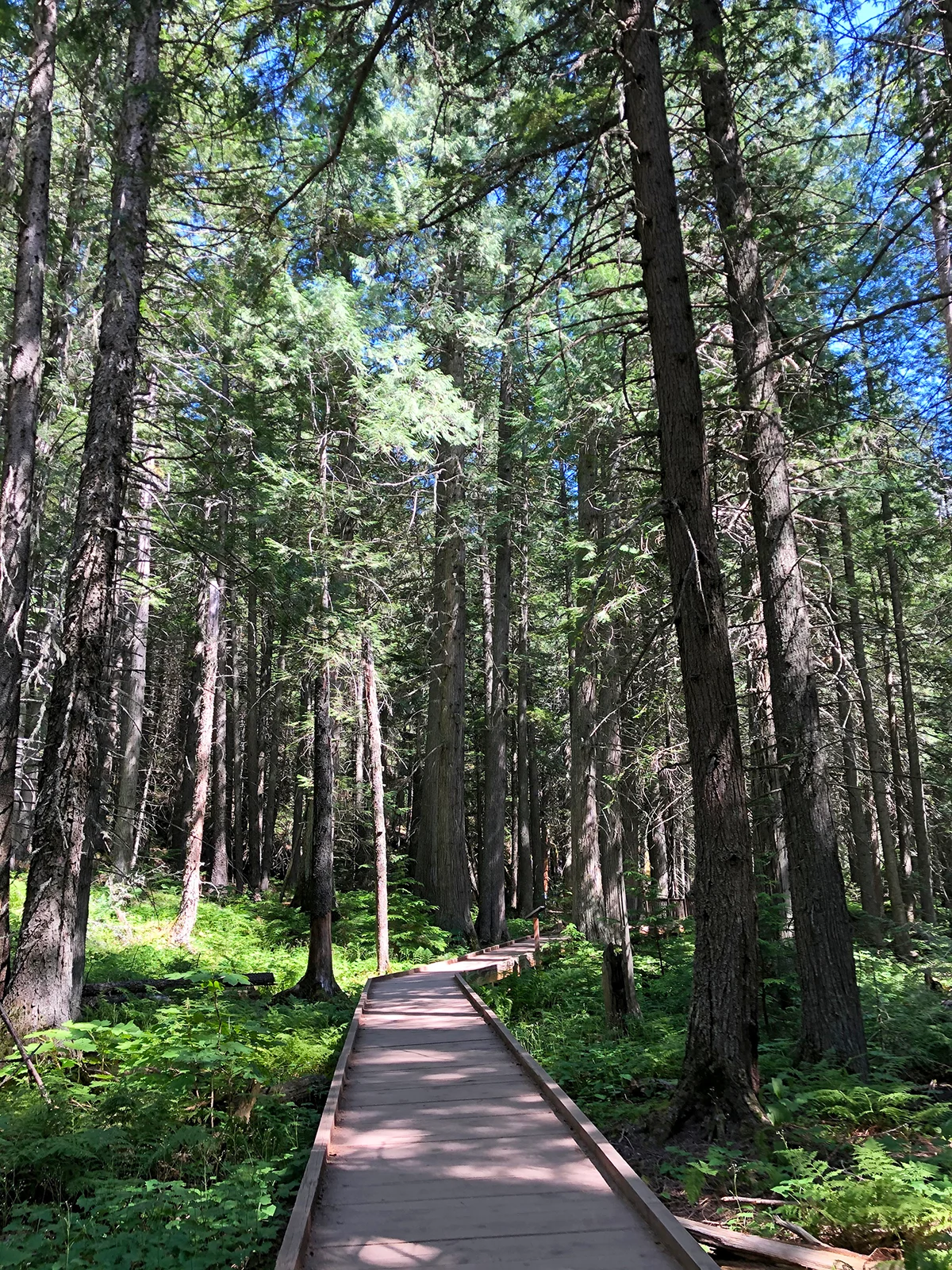 The trailhead to get to Avalanche Lake shares the same trailhead as Trail of the Cedars. That's your 2-for-1!
This trail is a lot of fun. The scenery changes dramatically beginning at the Trail of the Cedars, follows a beautiful stream and ends at the gorgeous lake.
Trail of the Cedars is one of the best, easy hikes in Glacier National Park. Coming in at just 0.9 miles, it's a flat trail that weaves through incredible trees along a boardwalk and dirt path.
One of the highlights from this portion of the trail is an incredibly vibrant stream with brightly colored green moss and alpine blue water. I've never seen anything like it before!
What to expect during the Avalanche Lake hike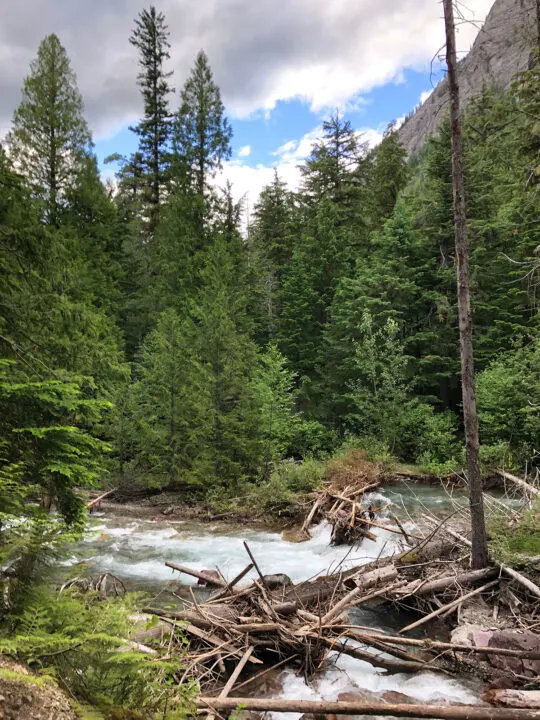 Trail of the Cedars is a loop, and you'll see a turn uphill to start the ascent to Avalanche Lake.
You'll hike along the stream for awhile, getting glimpses of the nearby mountains as you go.
Avalanche Lake Trail is mostly a dirt trail with tall trees surrounding you. There's plenty of uphill and downhill sections, with tree roots, rocks and some tough terrain.
With plenty of breaks, this trail is doable for most skill levels. My 4 and 7 year old children were able to complete this fun trail!
Avalanche Lake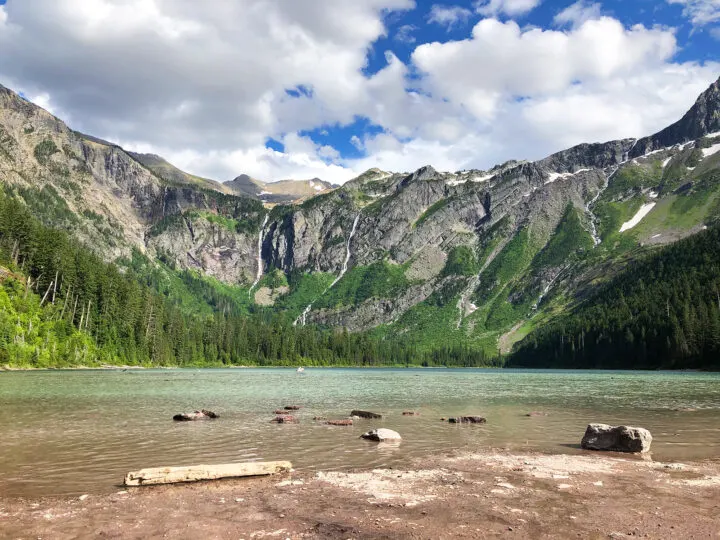 Once you arrive at the lake, you'll be rewarded from your hike with one of the most beautiful scenes in Glacier National Park!
Avalanche Lake is a gorgeous alpine lake with green water surrounded by stunning mountains. Depending on the time of year you visit, you'll be able to see many waterfalls cascading down the mountain in the distance.
It's an incredibly serene setting, and one that will make you wonder how a place this beautiful even exists! 😍
There's plenty of logs to sit on and soak in the view. The further down the shoreline you walk, the fewer crowds you'll see.
This is a great time to get out your snacks or picnic lunch and enjoy the view of Avalanche Lake Montana.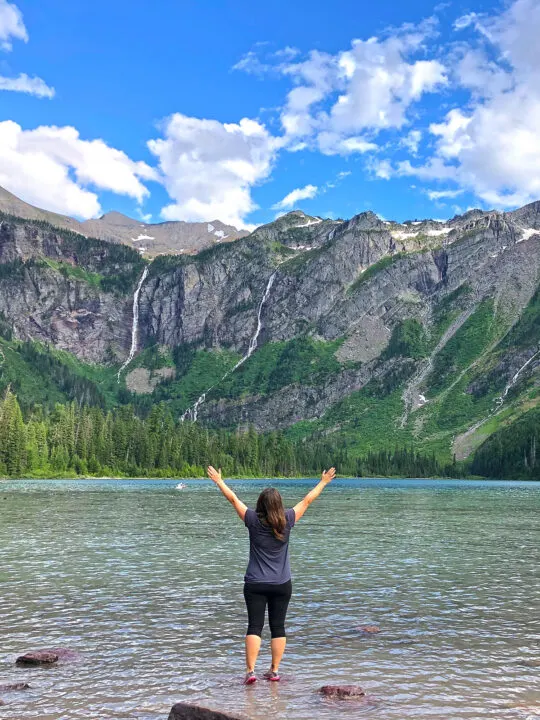 Pro tip: while I do recommend to wear good hiking shoes with traction for the trail, it's really fun to swap them out for water shoes and take a dip in the lake!
My family likes to hook water shoes to our hiking backpacks, along with a lightweight towel and enjoy splashing in many streams and waterfalls. It was definitely one of our favorite things to do in Glacier National Park!
Relax and enjoy your time at the lake. After all, it's what you worked for!
When your ready, start the hike the Avalanche trail back to your car.
Best gear for the trail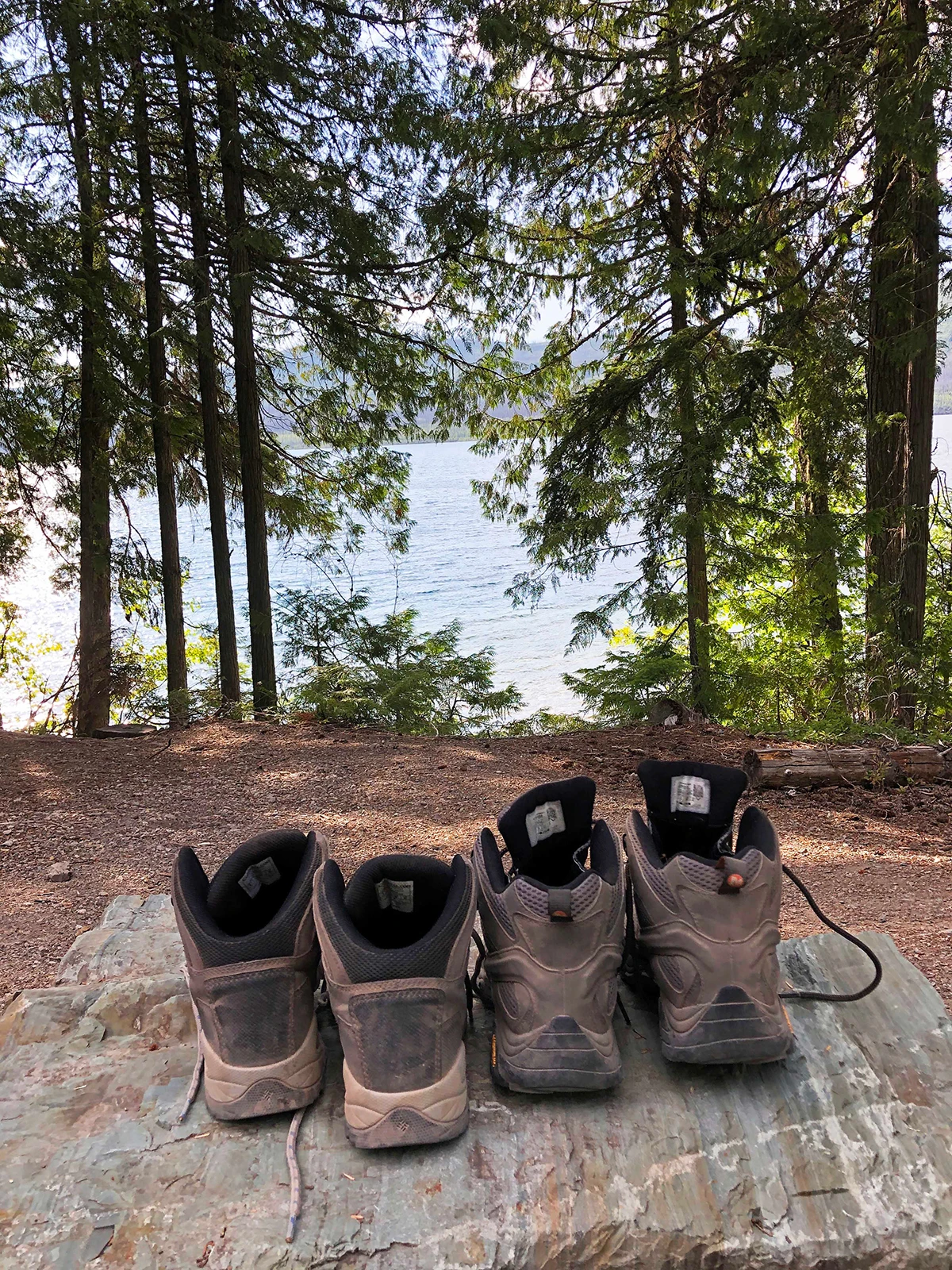 This 5.9 mile hike will be much more enjoyable if you're prepared. This is the list of recommended gear for this hike.
Bear spray. Black bears and grizzly bears call this park home. Be prepared – each adult should carry a can of bear spray where it's easy to access in a moment. (Note that you cannot take bear spray on planes, so if you're driving grab some in advance or buy some at or near the park if you're flying into the area.)

Good hiking shoes. You'll want good traction and stability as you hike this terrain. These are my favorite hiking boots I wore on this hike and they worked perfectly. My husband's favorite hiking boots for men came in handy on this trail, too!

Trekking poles. You're going to want these. If you don't have a good pair of hiking poles, you're missing out. They help with stability and support while you hike. I've taken these to some of my favorite hiking destinations like Mt Rainier National Park, Bryce Canyon National Park, the Waihee Ridge Trail Maui and so many more places.

Quality hiking backpack. They work like magic – taking the weight off your shoulders, versus a regular backpack. Here's my favorite hiking backpack, which is perfect for carrying the 10 essentials, water, snacks and water shoes!

Layers for weather. We experienced sunshine and rain on this trail – and it can turn quickly! Prepare for layers based on the season. This is my favorite rain jacket for hiking, grab a poncho, medium hiking coat or anything else you might need!

Reusable water bottle. I prefer really cold water while hiking, versus the water bladder in my hiking backpack. So I fill a couple of these reusable water bottles while hiking, which work perfectly!

Snack or picnic. High-protein snacks help you regain energy while hiking. You'll want to pack something to feel good after your hike! My favorite hiking snacks have protein and a bit of salt since you'll be sweating too.
Where to stay near Avalanche Lake Trail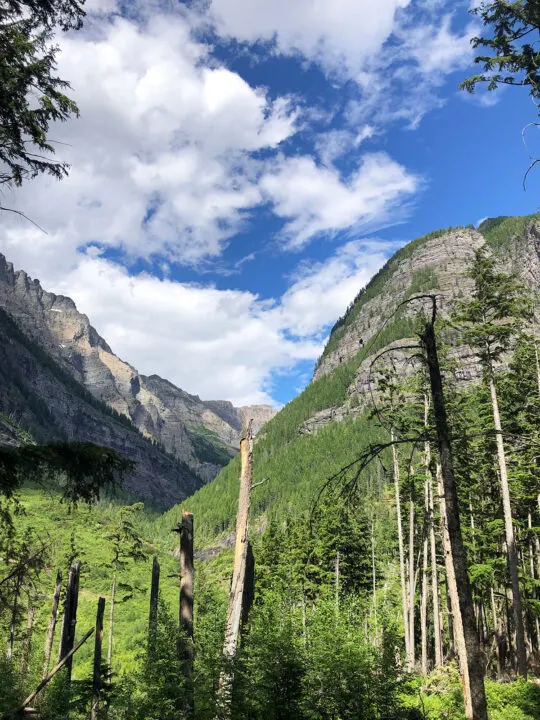 West Glacier, Montana is the nearest town to Avalanche Lake. Staying on the west end of the park make it convenient to see Lake McDonald, Avalanche Lake and so much more!
I love using Booking.com because I can search hotels, cabins and vacation rentals all at the same time. And bonus – it's one of the most affordable booking platforms out there.
Camping near the trailhead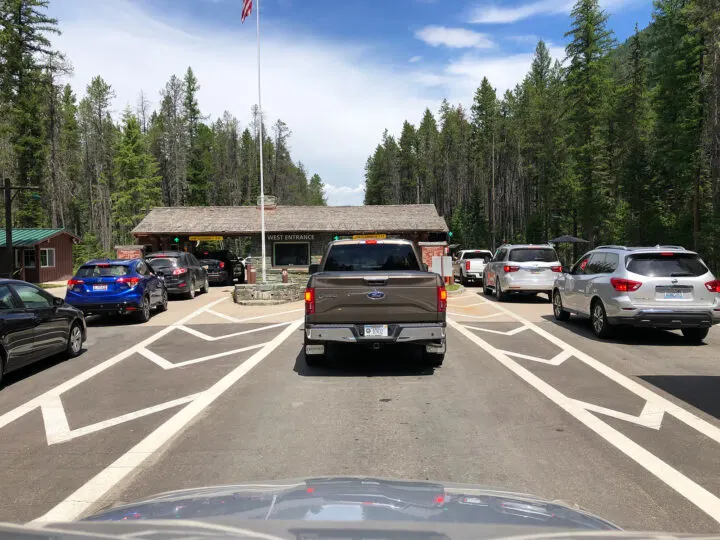 If traditional tent or RV camping is more your style, here are a few options close to Avalanche Lake. Remember you're in bear country, so store your food accordingly.
Just be sure to book really far in advance, as campgrounds fill up 6-12 months in advance!
Avalanche Lake Trail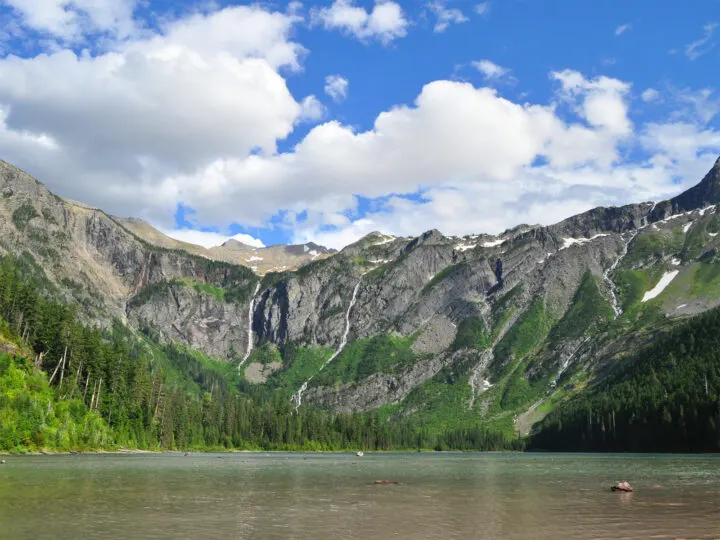 Are you ready to lace up your shoes and hit the trail?! It's easily one of the best hikes and most scenic spots in the park.
Avalanche Lake hike is such an adventure, and you're rewarded with an incredibly scenic lake you'll just love. It's a great way to spend an afternoon in Glacier National Park!
Related content to read next:
13 STUNNING and Easy Hikes Glacier National Park You Can't Miss
Find this post helpful? Save it for later or share it on social media!