Who says road tripping has to end when summer is over? Whether you're hoping to escape the cold or hit the snowy ski slopes, here are the most amazing winter road trips around the US!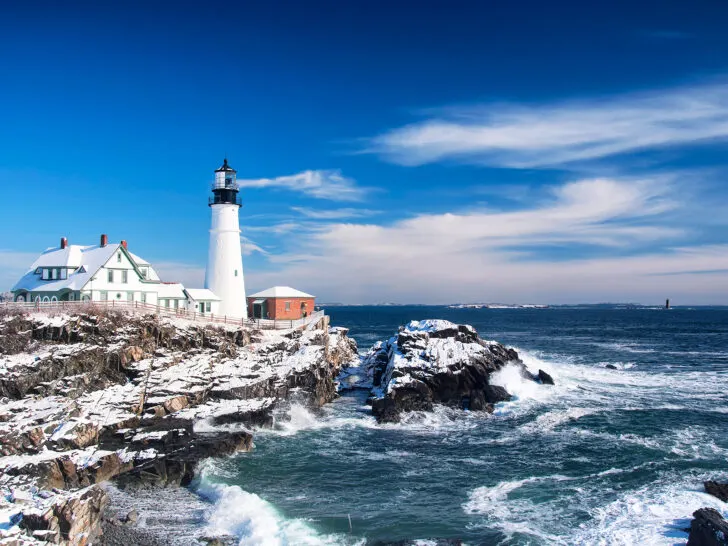 This post may contain affiliate links. For more info, see my disclosures.
For some parts of the US, winter transforms landscapes into breathtaking scenes with snow-covered mountains, frozen lakes and dazzling white trees. Yet some regions in the US offer an escape from the snowy weather. Seeking sun is like an escape plan from the winter gloom!
So, which is better for you?
This list of the best road trips in winter takes you on routes like through quaint snowy New England towns or the sunny Florida beaches. Whether you love skiing and winter hikes or desert landscapes and palm trees, this list has something for everyone!
Must-see video: winter road trips
Map of road trips in winter
From marveling at the frozen waterfalls in Oregon to exploring desert landscapes in Arizona, these winter road trips should not be missed.
Check out the map below to start planning your US winter road trip Each icon on the map represents a city or stop along the routes below.
By the way, since I haven't been everywhere (yet), I've enlisted the help of some of my fellow travel writers to prepare these recommendations for the best US road trips in winter. Enjoy!
Packing list for road trips in the winter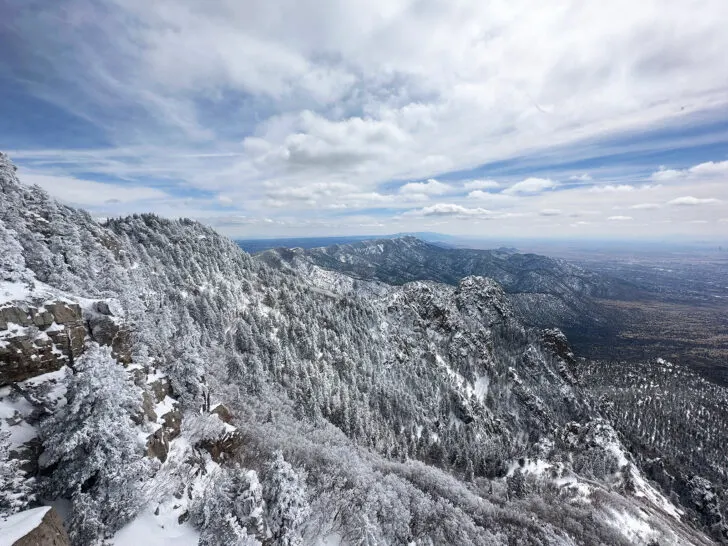 It's no secret that temperatures drop throughout the United States during the winter months. Even Florida sees chillier nights than what you may be expecting. In order to have an enjoyable winter road trip, it's important to be prepared.
Here's a packing list to get you started!
Snacks/food and water. Perfect for any weather, you'll want to stay fueled during your road trip adventure. My family especially loves trail mix, beef jerky and fresh fruits and veggies for snacks.

Reusable bottles. More eco-friendly than single use plastic, fill up at restaurants, national park refill stations or your hotel/accommodations.

Collapsible cooler. Keep your cold items cold when needed, and fold it down to store or pack it away.
Satellite communicator. Critical for outside communication in an emergency, this device allows for 2-way communication, even if you don't have cell phone service. This satellite communicator has traveled with me everywhere for years!

First aid kit. Another emergency item. This travel-size kit is small enough to pack in a suitcase if your'e flying to your road trip destination, too.

GoPro. Capture really cool road trip footage (when you're not driving, of course). My GoPro has traveled the country – and the world with me, actually, and I wouldn't leave home without it.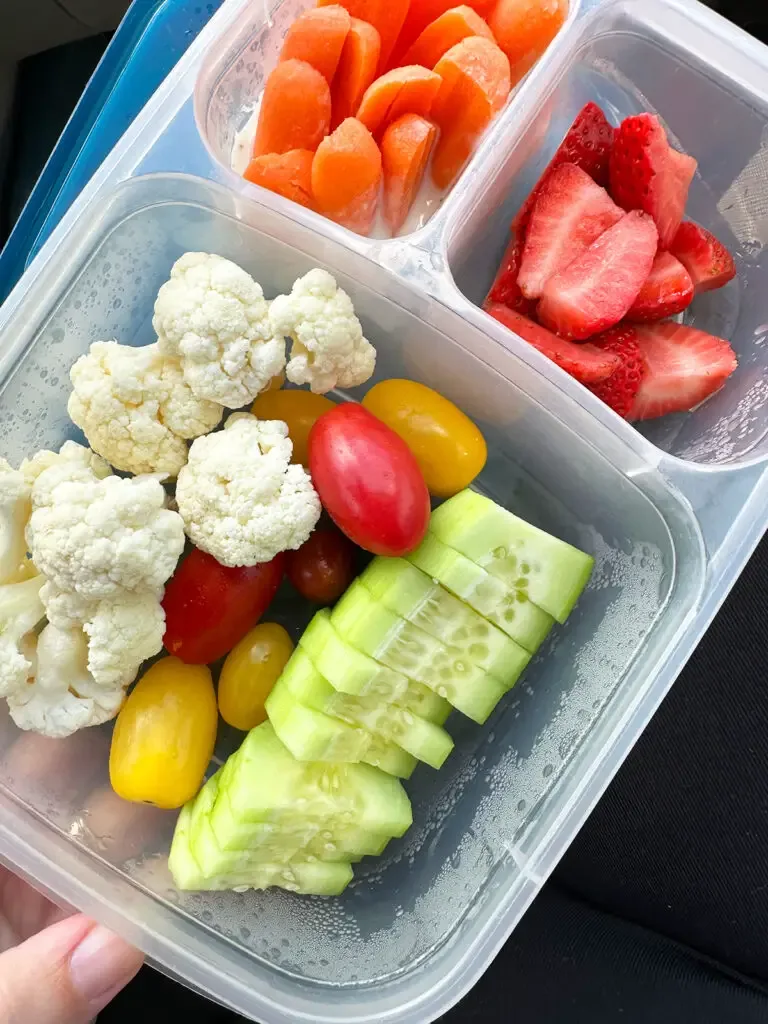 What to pack for road trips to cold climates…
Extra layers. In case it's colder than you expect when adventuring around. Don't forget the hats and gloves, too!

Blanket. For emergencies or just to stay extra cozy!

Hand warmers. Another handy item just in case.
Best US winter road trips
Let the winter road trip planning begin! Below you will find the very best winter road trips in the United States. From coast to coast and beyond, this list has some really fun ideas!
1. Denver to Albuquerque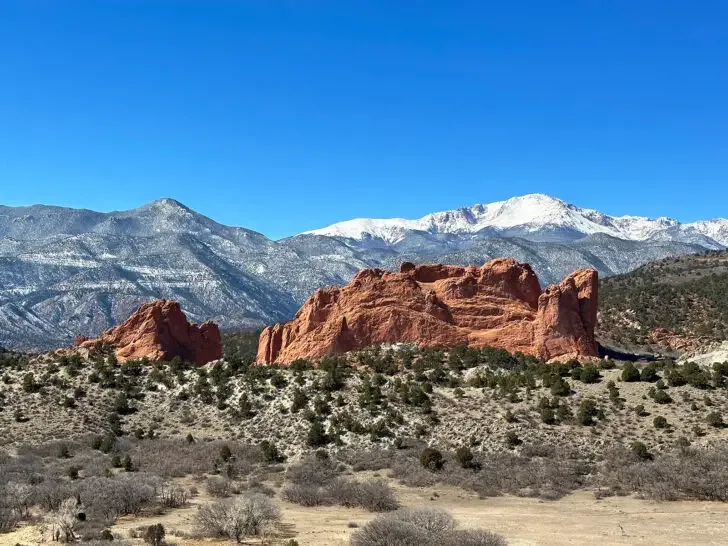 Distance: 449 miles
Recommended time: 2 – 7 days
One of the very best winter road trips is the drive from Denver, Colorado, to Albuquerque, New Mexico! With adventures around every turn, this road trip is so amazing in the winter.
Interstate 25 south from Denver in to New Mexico is such a gem. There are so many places to stop and things to see along the way! You could spend a day (or more) in Denver seeing the main sights before heading south.
Be sure to spend some time in Colorado Springs, including Pikes Peak and Garden of the Gods. (My favorite trail in the park is the Siamese Twins Trail.) From there, if you have the time, take the quick detour to see America's highest suspension bridge – the Royal Gorge Bridge and Park in Canon City.
Next, spend a day exploring Great Sand Dunes National Park – an underrated park in the USA! And during the winter, you'll likely encounter very few crowds, making it extra peaceful.
As you enter New Mexico, you'll want to visit Taos, and specifically the Taos Pueblo indigenous village. Taos Ski Valley is also a popular wintertime activity if you want to hit the slopes!
Next is Santa Fe, which is full of southwestern charm with plenty of museums and indoor activities to do in winter. Be sure to visit Santa Fe Old Town for amazing food, artisans selling crafts and so much more.
Finally, as you make your way to Albuquerque, you could spend a day – or many – enjoying Old Town Albuquerque, Sandia Peak Tramway and even hiking the Petroglyph National Monument.
During the wintertime on this Denver to Albuquerque road trip you can expect snow, especially at high elevations. Keep an eye on the weather and come well prepared for the drive.
Recommended by me – Nikki of Inspired Routes
2. The Oregon Coast (an underrated region on this list of winter road trips USA)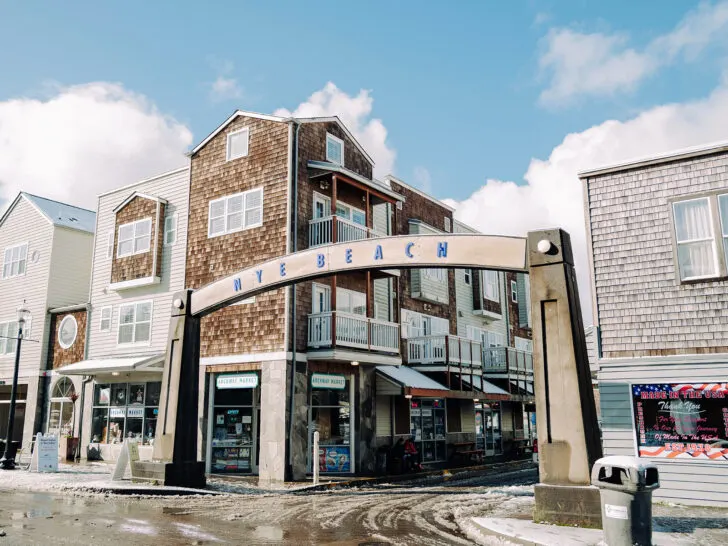 Distance: 364 miles
Recommended time: 4-5 days
If you're looking to escape the snow for a bit, head to the Pacific Ocean and plan an Oregon Coast road trip! The entire route is on Highway 101, with 364 miles from Astoria to Brookings, Oregon.
The entire drive can be done in 7 hours, but it's definitely recommended to spend your time seeing all the sights over a few days instead. Plan for the trip to take 4-5 days and to make plenty of stops throughout the day.
Driving along the Oregon Coast is a great place to enjoy a winter road trip, because the weather is great. There are rarely road closures because of snow!
Winter is also considered shoulder season on the coast. You may encounter more rainy days than sunny ones, but if you are prepared with some good rain gear, you'll get a lot of popular beaches to yourself!
You will also be able to find plenty of affordable hotels and cabins along the coast. You'll get the best deals on entry fees, accommodations, and travel costs in the winter season.
The Oregon Coast is special for a lot of reasons, but the biggest one is whale watching! During the months of December and January, you can spot whales making their annual migration south. Visit the OPRD Whale Watching Center in Depoe Bay for more information!
There are also lots of gorgeous hiking trails along the coast, and the winter season provides perfect peace and solitude from the crowds.
If you love the outdoors and are looking for ways to get outside this winter season, head over to the Pacific Northwest! It'll surely be one of the best US winter road trips you'll ever take!
Recommended by Emily of The Mandagies
3. Florida Keys (a favorite on this list of best road trips in winter)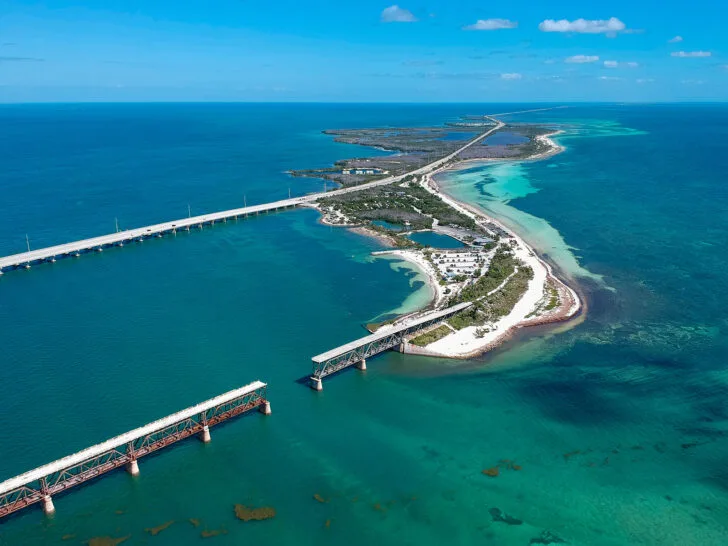 Distance: 165 miles
Recommended time: Minimum of a weekend and maximum of a week
One of the best winter road trips in the USA is a Florida Keys road trip from Miami to Key West. Not only is this drive stunning but it is best enjoyed in the winter when hurricane season is over. Plus, the daily highs are in the 70s F while daily lows are in the 50s F.
To start, this route will take you from downtown Miami, where you can stop at the Perez Art Museum and Biscayne Bay National Park. This is a great place to go snorkeling since the park is free to enter and is covered by beautiful water.
Next, continue to the Everglades and go on a fun airboat ride before heading to John Pennekamp Coral Reef State Park in Key Largo. Here, you can do a bit of scuba diving among some of the only living coral in the country.
Take some time to explore the beautiful waters of Key Largo as you jet ski, kayak, and scuba dive through cool offshore wrecks.
When you're ready, continue your road trip and stop for lunch at Robbie's Waterfront. This way you can feed the giant school of Tarpons here before learning about local wildlife at the Dolphin Research Center and the Turtle Hospital.
You can then get out and walk along the old 7-mile bridge before driving from the middle keys to the lower keys.
End your trip in Key West where you can do a day trip to Dry Tortugas National Park, sample some Key Lime Pie, and explore the Ernest Hemingway Home.
Recommended by Victoria of Florida Trippers
4. Seattle to Leavenworth, Washington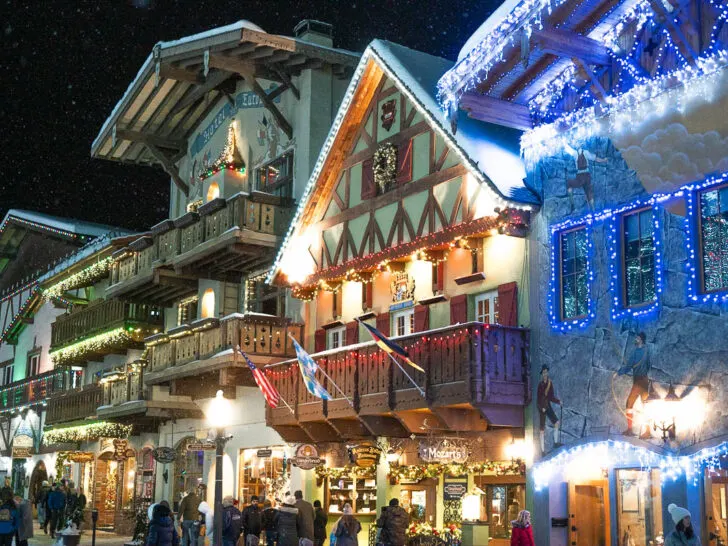 Distance: 117 miles
Recommended time: 3 days
If you're looking for a wintery wonderland road trip, through pine trees and mountains covered in snow, make the two hour and 15 minute drive east from Seattle to Leavenworth, Washington. You could obviously drive this all in one go, but the incredible alpine landscape is best savored.
Make your first stop in the cute town of Skykomish, which is surrounded by Snoqualmie National Forest, home to some of the best snow-shoeing trails in the area!
Continuing on your journey, consider a stop at Scenic Hot Springs. They are a unique series of tubs with steamy water, tucked 2.2 miles up into the Cascade Mountains. The springs are on private property so you'll need to book a permit to make the trek here well in advance.
Next up, Stevens Pass Ski Resort is one of the most popular ski resorts in Washington, with an eye-popping 1,125 acres of skiable terrain. It offers something for beginners and advanced skiers and snowboarders alike, with 37 major runs and 10 chairlifts.
Finally, your end destination during this road trip in the winter will be Leavenworth, a charming Bavarian-themed town that looks straight out of the Sound of Music.
While Leavenworth is adorable all year round, it explodes with Christmas cheer in the wintertime, with over half a million Christmas lights festooning its downtown. And good news—even if you're visiting past the holidays, the decorations here actually stay up through February!
While you're here, book a stay at any of the Bavarian-style hotels in Leavenworth, like the Bavarian Lodge or the Blue Elk Inn, so you can get cozy in the town and enjoy a steaming mug of gluhwein or two.
The mountains passes along the main road you'll take, US 2, can get large amounts of snow in the wintertime and close in inclement weather.
Keep an eye on the Washington Department of Transportation website for closures and pack some tire chains in your car. They come in handy (and can even be legally required in some instances) when it's particularly snowy out!
Recommended by Jess of Uprooted Traveler
5. New England (one of the best winter road trips in the Eastern US)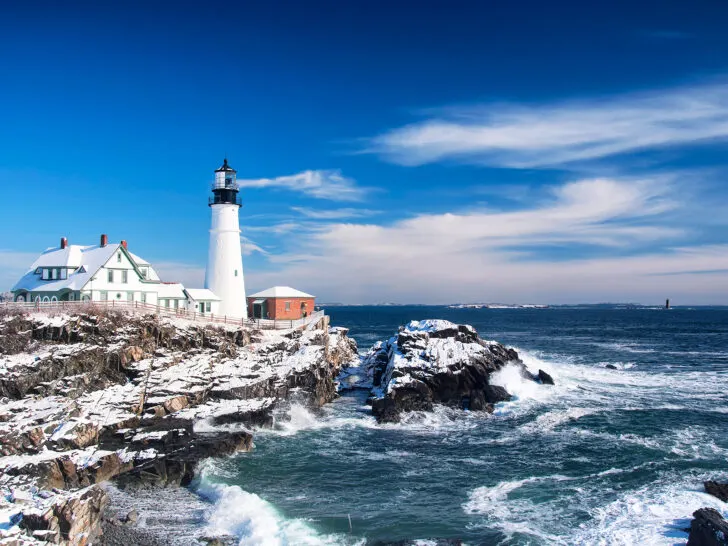 Distance: 465 miles (Round-trip to and from Boston)
Recommended time: 7+ days
While a snowy, winter road trip through the charming towns of New England may not be a popular one to take this time of the year, it's most definitely a magical and cozy option!
Between tons of options for skiing, cozy inns, covered bridges, fantastic dining, and easy to navigate roads, it has everything for a wonderfully memorable road trip in the Northeast.
The best place to start any New England road trip, even in the winter, is Boston. This gorgeous city is worthy of a day or two on its own, but also offers the most flight options, and is centrally-located to many popular destinations.
Winter is the off-season in Boston, too, which means you'll find some fantastic hotel rates!
Next, head off to Vermont, where you'll find quaint villages and picturesque winter scenery at every turn. Stowe and Woodstock are the best towns to visit in Vermont in the winter, and you'll find great ski resorts here, adorable Main Streets, covered bridges, and winter activities during your visit.
Next, make your way over to New Hampshire's White Mountains, where you can enjoy more world-class skiing, and book a stay at a cozy cabin or a homey inn. Take a sleigh ride or go ice skating at Nestlenook Farms in Jackson, ride The Cog to roast marshmallows on Mount Washington, and book a table at the lovely Christmas Farm Inn's restaurant.
Lastly, make your way through Maine, where you can see some of the beautiful lighthouses in their off-season (and if you're lucky, catch them after a gorgeous snowfall).
Maine is also home to some of the best breweries in New England (Portland has over 60 of them!). This is a great time of year to sample all the local brews while enjoying the spectacular coastline – which you'll probably have all to yourself.
End your time in Maine by visiting the coastal town of Kennebunkport, and book dinner and hand-crafted cocktails in a private fish shack at Batson River, which are decorated perfectly for winter on the inside.
While New England does average about 90 inches of snow each winter, the roads are generally safe to drive on, as plows come through often. However, it's a good idea to rent or drive a car with snow tires for added peace of mind during your road trip.
Recommended by Sam of New England Wanderlust
6. San Francisco to Lake Tahoe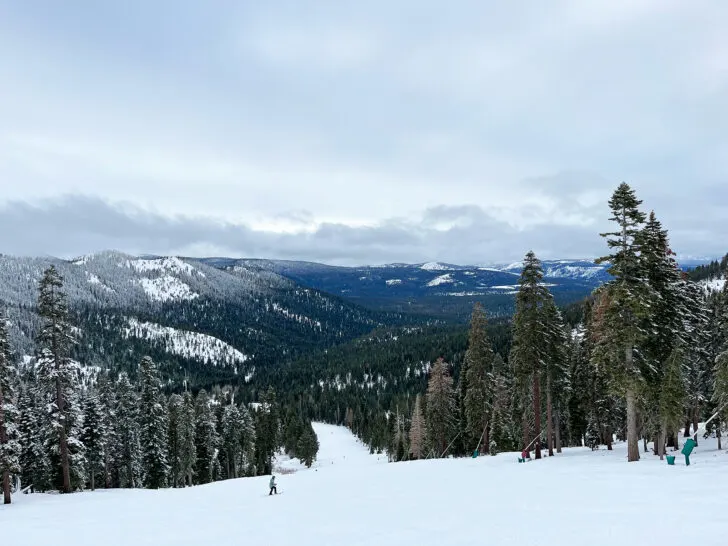 Distance: 200 miles
Recommended time: 2-3 nights
For anyone looking for a beautiful winter road trip through the mountains, this is for you! The route from San Francisco to Lake Tahoe takes you through the Sierra Nevada Mountains to end at Tahoe City, one of the major towns on the North Shore of Lake Tahoe.
The route travels exclusively along Highway I-80, which traverses from coast to coast through the northern states!
This route is perfect during winter because you will see the gorgeous snowfall once you start climbing the Sierra Nevada Mountains. The evergreen trees are something special when covered in snow and something everyone should see at least once!
Lake Tahoe is absolutely stunning when covered in snow, and there are so many things to do in Tahoe in the winter!
Along the route, you will travel through Donner Pass, which is an infamous pass in the Sierra Nevada Mountains. It gets its name from the Donner Party, who tragically got stuck while traveling through the mountains by wagon. Donner Memorial State Park is located near the pass, and is worth a visit while on your trip.
When traveling from San Francisco to Lake Tahoe during winter months, it is important to be prepared for driving in the snow.
Although snow plows frequently plow the snow along the highway, there is tight regulation by rangers on who can go on the highway during snow storms to ensure the safety of all travelers. A car with 4-wheel drive or chains is often required on this route when there is snowfall, and the rangers will ensure all travelers have either before entering the Sierra Nevadas.
Road closures can happen, and will be available to view on Go Tahoe North. Road closures are typically only present during severe winter storms, with the road closure lasting anywhere from hours to days depending on the severity.
This route gets heavy traffic during the holidays, and on Friday afternoons as the Bay Area residents come to Tahoe for a weekend ski trip! To avoid traffic, plan to leave early in the day or during a weekday is possible.
Recommended by Jess of Travel + Tannins
More road trips in winter
Are you packing your winter coat or bathing suit for your winter road trip? Keep reading for more of the best US winter road trips!
7. Big Island of Hawaii (a perfect road trip in the winter for sunshine)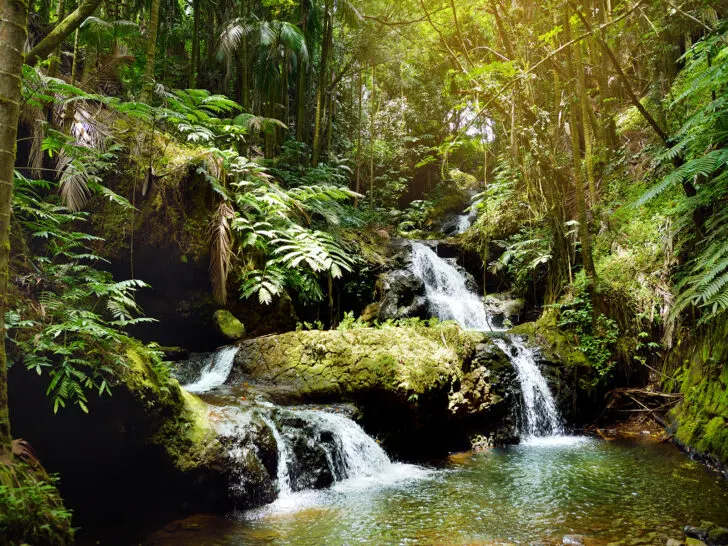 Distance: 125 miles
Recommended time: 3+ nights
If you are looking for one of the best road trips in winter, then head to the Big Island of Hawaii.
This fun road trip starts in downtown Hilo and takes you around the island. Although you can do this in one day, I recommend spending at least 3 nights to fully appreciate the island. Staying overnight at any of the places along the way will make your visit and experience more impactful and fun without needing to rush.
The total distance around the island is about 125 miles or 3 hours in each direction. But you will definitely want to stop at many points along the way.
Start by driving down the Belt Road through the Hamakua coastline. Here, you can visit scenic roadways like the Onomea scenic drive. Be sure to save time for a stop at the beautiful Hawaii Tropical Bioreserve and Gardens.
Then, continue on to Akaka Falls. It's one of the most striking waterfalls and natural garden to visit.
As you traverse along cliff roadways, you can stop by the western town of Honoka'a and then see the largest gluch area of Wapio Valley from the observation area lookout.
Lunch can be in the Paniolo town of Waimea with some shopping fun at Parker Ranch or the many daily public markets in the area.
Continue down the belt road to Kona side and visit Waikoloa area and the gorgeous white sandy beaches in the area. Kona town is historic with a fun old downtown to explore. You'll also find The Summer Palace and gorgeous stone church of Mokuaikaua.
You might want to stay overnight in Kona or you can continue on towards the Hawaii Volcanoes National Park. On your way down to the south of the island, be sure to visit the Green Sand beach or the Black Sand Beach at Punalu'u.
The national park is the biggest attraction of the island and can easily be a day trip on its own. You might want to consider an overnight stay to enjoy some hikes, vistas, visit to lava tubes and gorgeous fern forests in the park area.
After the national park, continue back towards Hilo to do more exploring in the old town and many lush gardens, waterfalls and fun outdoor activities and adventures.
Recommended by Noel of This Hawaii Life
8. Bryce to Capitol Reef via Escalante, Utah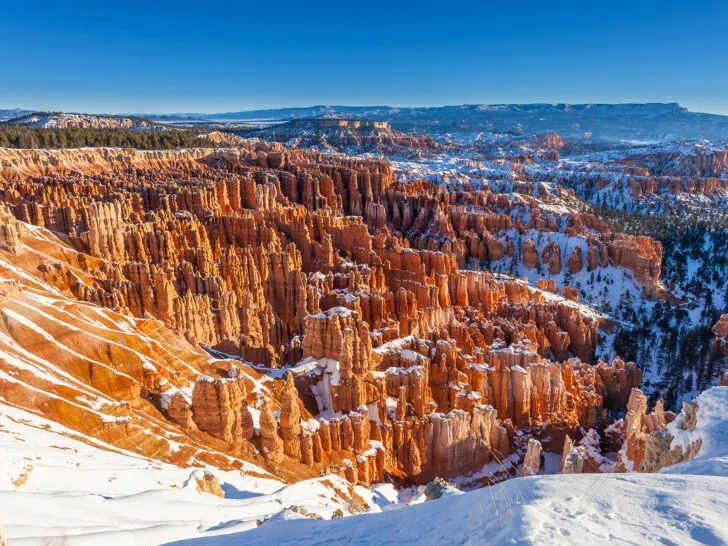 Distance: 150 miles
Recommended time: 4-6 hours
Southwestern Utah is a beautiful destination for a winter road trip. Most sights will be far less crowded, allowing you to visit the state's finest landmarks in peace.
Winter temperatures range from 11°F to 38°F, which makes a warm car the best way to explore Utah during this season.
Take a scenic drive from Bryce Canyon to Capitol Reef via UT-12 for a winter wonderland road trip. This 150-mile road connects two national parks via Dixie and Fishlake National Forests. Budget at least 3.5 hours to complete the drive and another 1-2 hours to stop at the viewpoints.
This route reaches a maximum elevation of 9,593 ft. Other than a few small patches of ice, the drive is accessible year round, and is one of the best routes for sightseeing during an Utah national parks road trip. It's still a good idea to check the national park websites for road and attraction closures after heavy snowfall.
You will likely drive across a snowy landscape, which makes this one of the best road trips in the winter. Get ready to be mesmerized by Utah's winter colors. Red rock, green pine trees, white snow, and blue sky are a combination to see. These views are sure to make this winter road trip a memorable adventure.
You should save about half a day to explore Bryce Canyon and Capitol Reef. You can enjoy the park overlooks right from your car. But pack snacks, layer up, wear sturdy shoes, and bring crampons if you plan on hiking. Be sure to take your Interagency pass to save on the entrance fees.
Recommended by Anastasia of Travel Realist
9. Niagara Falls to New York City (one of the best winter road trips USA)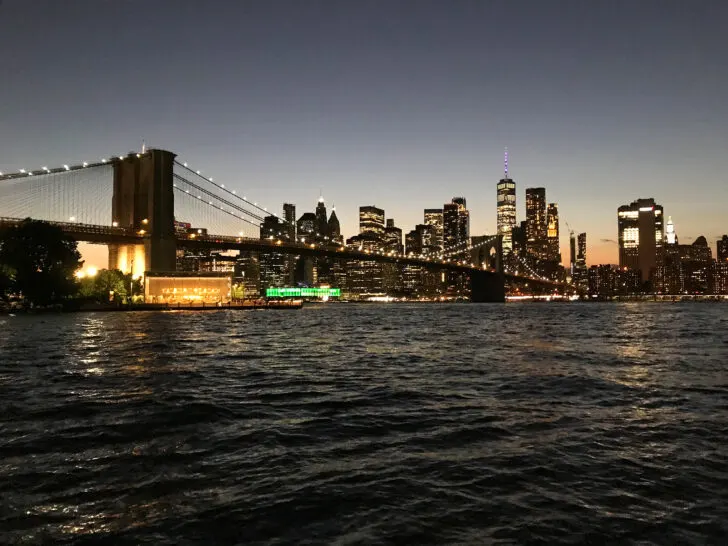 Distance: 410 miles
Recommended time: 3 days
One of the best winter road trips to do on the east coast is from one of the biggest natural attractions to one of the biggest cities in the world. This Niagara Falls to New York City road trip is one of a kind.
There is a beautiful scenic road from the Niagara Falls, to Buffalo, Syracuse to New York. The route is known for its stunning scenery, with picturesque views on the vast forests, and charming small towns.
It snows a lot in this region and the temperature in winter ranges from 20° to 35°F. In fact, Syracuse is one of the snowiest cities in the United States. It creates a white winter fairytale that becomes especially magical at the Niagara Falls, the starting point of the road trip.
Then, visitors can head east to Syracuse and the Ithaca area. There are stunning parks and waterfalls in this region and you should explore it for one or two days. Taughannock Falls State Park and Buttermilk Falls State Park become frozen wonderlands in winter.
If you want to visit a third park before reaching New York, Harriman State Park offers stunning hikes and has beautiful lakes.
Last but not least, New York in winter is wonderful to experience the festive atmosphere. You could see a snowy Central Park, enjoy seasonal Christmas shows and even sleep in a skyscraper in Midtown Manhattan which is the best area to stay in New York for first-timers.
Recommended by Soline of On The Road Diary
10. Phoenix to Page, Arizona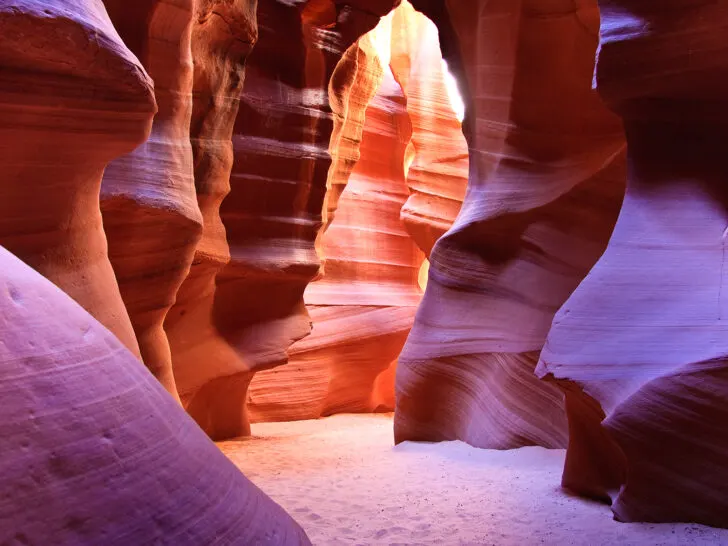 Distance: 273 Miles
Recommended time: 2-3 Days
One of the best road trips in winter is from Phoenix to Page Arizona. While Phoenix and Page are less than 300 miles apart, there are a few great stops between them.
In fact, you pass directly through two of my favorite towns in Arizona – Sedona and Flagstaff. The best of Phoenix includes museums and outdoor activities so spend some time there if you can.
For the best road trip itinerary, I recommend spending one night in Sedona on your way up. While in Sedona be sure to take a Pink Jeep tour of the red rocks area to admire the scenic views and unique terrain.
Between Sedona and Page, stop in Flagstaff for a half day. It's a great stop for lunch while being surrounded by the amazing alpine scenery.
Then, spend one or two nights in Page, depending on your schedule. Some of the best things to do in Page are hiking and outdoor adventure tours. Two must-see sights in Page are Antelope Canyon and Horseshoe Bend.
To see Antelope Canyon, you must take a tour due to local regulations. However, it's well worth the time and money to see these iconic slot canyons. Horseshoe Bend is a quick hike that takes around 1 hour total.
Many people think of Arizona as a hot desert state. While that is true for places like Scottsdale and Phoenix, the north of Arizona is quite different.
Winter temperatures in Sedona, Flagstaff, and Page are often in the 30's – 40's. There's even a ski area in Flagstaff!
Overall, a winter road trip from Phoenix to Page is guaranteed to be super scenic and will show you the diversity of the state's geography.
Recommended by Lauren of The Traveling Moore
11. Highway 30A, Florida (one of the warmest and best road trips in winter)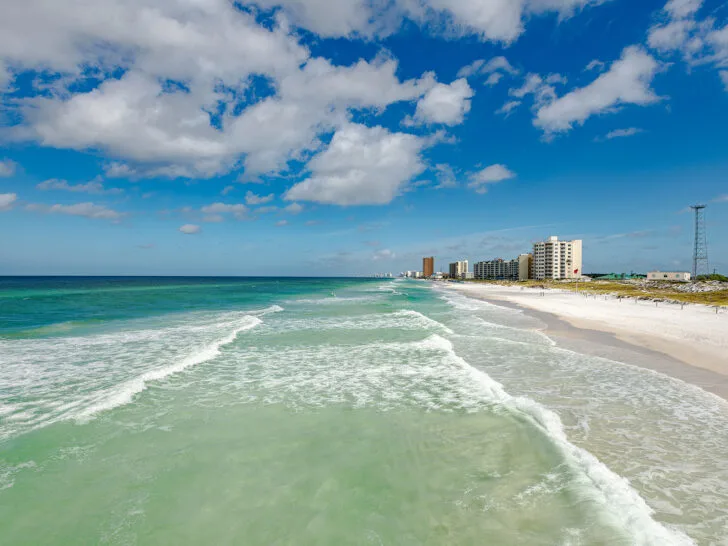 Distance: 24 miles
Recommended time: 2 to 6 hours
One of the most fun road trips in the Florida Panhandle is taking a drive along Scenic Highway 30A in South Walton County.
The winter is a perfect time to visit since it's the slow season. You can expect temperatures in the low 60's for a high and 40's for a low in the winter months.
This stretch of highway is located on the backroads between Destin and Panama City Beach and winds along the Gulf Coast. Start by visiting Topsail Hill Preserve State Park which is in Santa Rosa Beach, and has several walking trails and a secluded beach area.
If state parks are your thing, then you'll also want to visit Grayton Beach State Park and Point Washington State Forest, both on or near 30A.
While in Santa Rosa Beach, visit Gulf Place, Ed Walline Beach Access, and Dune Allen Beach.
As you make your way east, recommended stops are Blue Mountain Beach and the Blue Mountain Beach Creamery. If you love seafood, grab a lobster roll at Chiringo in Grayton Beach. There's also the popular Red Bar and AJ's nearby.
Arguably, the most iconic part of 30A is Seaside, Florida, where you take a step back in time in this slow beach town.
You can't miss Airstream Row food trucks since they're located on 30A as you enter Seaside. From here, you're right by the town square, shops, waterfront restaurants, and the Van Ness Butler Beach!
Seaside is most known for being the place where the Jim Carrey movie, The Truman Show, was filmed.
Recommended by Wayne of Always on the Shore
12. Las Vegas to Zion National Park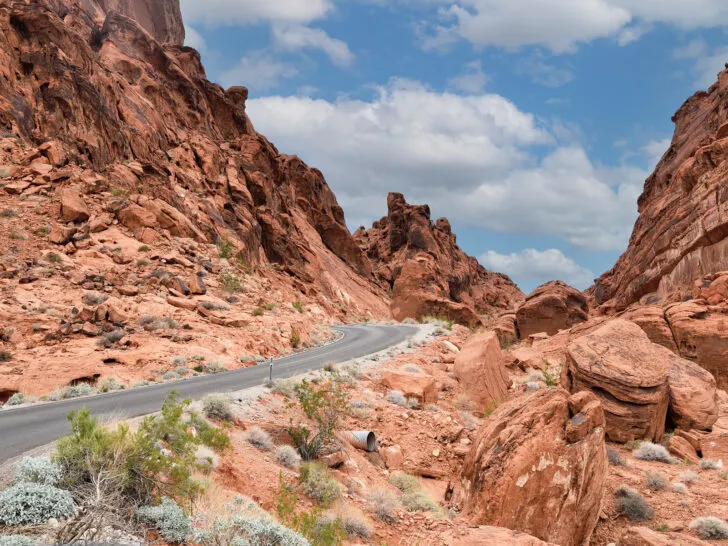 Distance: 151 miles (2 hours if driving non stop)
Recommended time: 4 days
Las Vegas to Zion National Park is a great short (and safe) road trip to take in winter as the roads are in good condition, even if it snows. You would not expect road closures along this route as it follows major highways (Interstate 15 then Highway 9).
While you can technically make this trip in a day and it's even one of the best day trips from Las Vegas. However, it would certainly be a mistake to only spend one day in Zion, as it is one of the best national parks in the USA!
There are also some great stops to make along the way including the very photogenic Valley of Fire State Park, Lake Mead and Toquerville Falls. If you are traveling with friends or as a couple, you can also make an overnight stop in the town of Mesquite Nevada which is a mini Vegas in the desert.
Winter is a great time to visit Zion National Park as there are way less crowds and still lots of fun activities to do! You can still hike the popular Angel's Landing in winter, provided there is no snow.
Hiking the Narrows is also a possibility in winter with appropriate gear including a dry suit. Alternatively, you can do the easy and quick Canyon Overlook Trail, which has amazing views for less effort.
Expect the weather to be cold with a possibility of snow. Winter in Vegas reaches lows of 28 °F. You can expect Zion to reach a few degrees lower as it is located at a higher altitude.
Recommended by Bett of Utah Vacationers
Road trips in the winter continued…
In case you haven't decided where to road trip this winter yet, here are more options – whether you're seeking sunny weather or perfect ski conditions.
13. Albuquerque to Taos, New Mexico (an underrated winter road trip for ski-enthusiasts)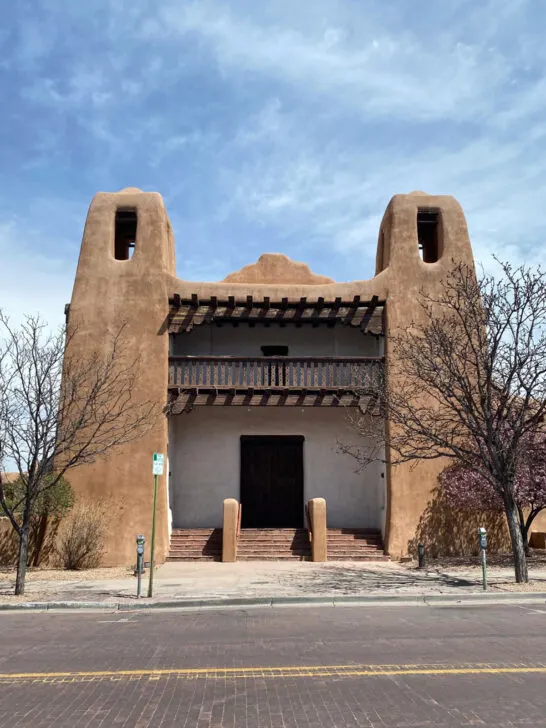 Distance: 266 miles
Recommended time: 5-7 days
Traveling through New Mexico is magical during the winter! One of the ideal routes starts in Albuquerque, the state's largest city with biggest airport, heading north on the iconic Turquoise Trail (State Route 14).
This scenic highway leads travelers through historic mining towns and the picturesque Sandia Mountains.
Spend a few days in Santa Fe, the state's capital and primary tourism destination (1 hour from Albuquerque). You can explore art galleries, museums, and the historic adobe architecture of the city. The Old Town is walkable.
The winter season brings a unique charm to the city, with holiday markets like the Santa Fe Indian Market Winter Showcase and the Canyon Road Farolito Walk, where thousands of luminarias (paper lanterns) light up in the streets on Christmas Eve. To warm up on chilly winter days, get a bowl of the famous Green Chile stew, a Santa Fe specialty.
Continue further north to Taos Ski Valley, which is an hour and a half from Santa Fe. You'll find wintery white slopes, and offerings for skiers of all levels. Visitors can also enjoy snowboarding, snowshoeing, and relaxing in hot springs like the famous Ojo Caliente Mineral Springs Resort & Spa.
Travelers should be prepared for winter weather in New Mexico, which can vary from mild to cold temperatures, especially in the high-altitude regions. The daily temperature in winter in Santa Fe is 48 degrees.
From December to February, snowfall is common, making road conditions unpredictable. Check weather forecasts and road conditions regularly, as occasional road closures can occur due to snowstorms, especially in the Taos Valley.
If flying back home, travel back to the Albuquerque Airport to complete your journey.
Recommended by Eleanor of Elevate Your Escapes
14. Lincoln to Conway, New Hampshire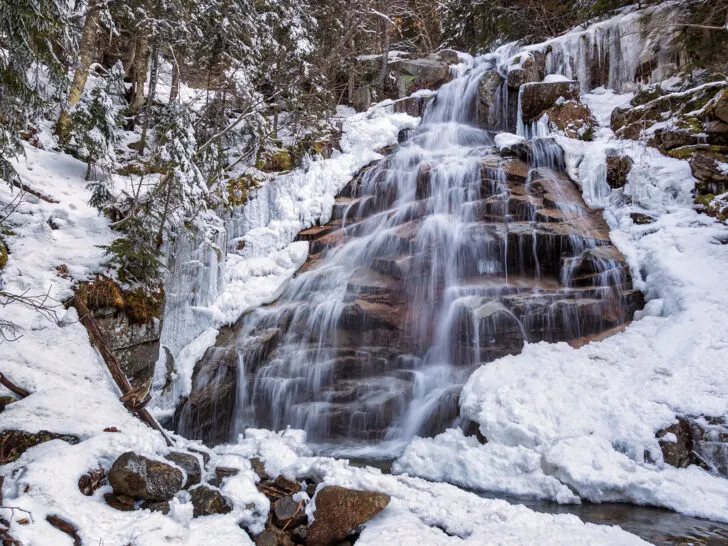 Distance: 34 miles
Recommended time: 1-2 days
If you're looking for a picturesque winter road trip destination, look no further than New Hampshire. The state has charming New England towns straight out of a Hallmark movie as well as stunning four-season mountain scenery.
One of the best ways to experience this natural beauty is by taking a road trip along the Kangamangus Highway.
Start your road trip along the Kangamangus Highway, a 34 mile stretch of road through New Hampshire that offers stunning views of the White Mountains. I'd suggest starting in Lincoln and taking the highway to Conway for optimal views.
The highway will remain open in the winter but be sure to keep an eye on the weather. I'd also suggest 4-wheel drive on your vehicle. Always drive prepared with water and blankets in case of an unexpected breakdown.
Take the Kangamangus Highway to the town of North Conway. This charming town is known for its quaint storefronts, delicious restaurants, and outdoor activities.
Outdoor activities such as skiing, snowboarding, and even four-season fun can be found in North Conway making it an ideal destination for adventurers.
It was named one of the Top 10 Best Small Towns in America for Adventure, offering an exciting winter ski scene. There are six mountain resorts providing state-of-the-art lifts and trail grooming.
This road trip is perfect for those who want to view a combination of quaint towns and stunning snowy scenery.
Temperatures will be quite cold in the winter from 40-10 degrees Fahrenheit so make sure you are prepared. Winter (as well as fall) is considered high season in New Hampshire so make any hotel bookings well in advance.
Recommended by Sierra of Your Guide to Wandering
15. California deserts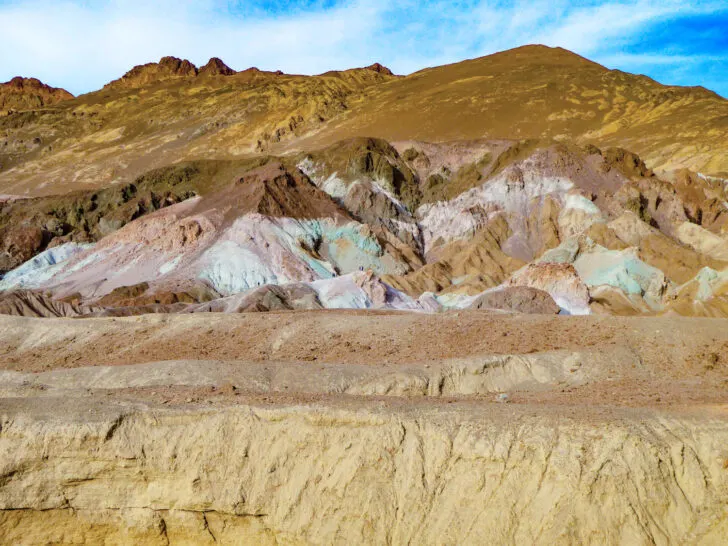 Distance: 880 miles
Recommended time: 6 days
If you are looking to do a winter road trip in the western part of the country, consider a California deserts road trip! Starting and ending in Los Angeles, this road trip offers balmy weather, sunny skies, and some of the most majestic landscapes in the USA.
Fly into Los Angeles, pick up your rental car, and get ready to be wowed as you head first to Death Valley National Park, the hottest and driest place in the country. Spend a full day exploring the many sights here.
Then drive through the starkly beautiful Mojave National Preserve to California's other great desert national park, Joshua Tree, which actually straddles two deserts.
Next, take a city break in Palm Springs, with its mid-century modern architecture and great eateries.
Then drive to Borrego Springs, where you will explore Anza-Borrego Desert State Park, which features oases and badlands. Finally, return to LA!
You'll find great weather along this route in the winter, with daytime highs in the 60s and 70s. Nights will get cold, though, so bring layers if you want to gaze at the night skies!
Roads are usually open along this route in the winter, but you'll want to check right before you go. Bring sun protection and remember to stay hydrated during this epic winter road trip in the US!
Recommended by Dhara of Roadtripping California
16. Denver to Glenwood Springs, Colorado (another favorite on this list of best US winter road trips)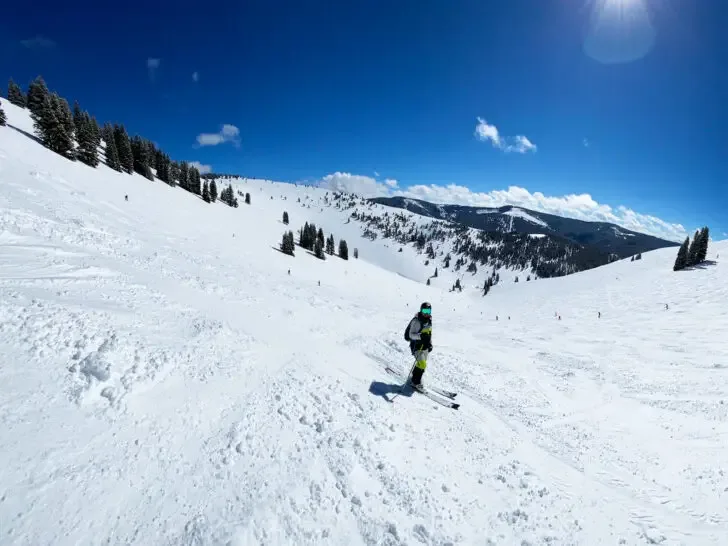 Distance: 157 Miles
Recommended Time: 6 hours with stops
In the heart of the Rocky Mountains, you will find one of the most gorgeous road trips in winter in the US. The popular route connecting Denver, CO to Glenwood Springs, CO takes travelers on a magical journey on I-70 passing through mountain towns, ski resorts, and jaw-dropping scenery.
Along the route, you will find many amazing points of interest including the world-famous Red Rock Ampitheater, Loveland Pass Viewpoint, Frisco, CO, and multiple ski resorts.
Just off the interstate, you will find Copper Mountain Ski Resort, known for its massive Superpipe that you can see right off I-70!
Additionally, this drive is home to one of the most beautiful stretches of highway in America,
the Glenwood Canyon. This picture-perfect 12.5-mile stretch of road weaves travelers through a canyon following the Colorado River.
During the winter months, this drive turns into a winter wonderland. This means it can become very dangerous, so having the proper equipment and tires for your car is important. In fact, sometimes it's even closed due to the weather!
When driving this route in winter, it is important to be flexible with the weather and drive safely. The drive from Denver, CO to Glenwood Springs, CO takes drivers through some of the most spectacular mountain scenery with many fun stops along the way.
Recommended by Danika of Destination Danika
17. Fort Pierce to Fort Lauderdale, Florida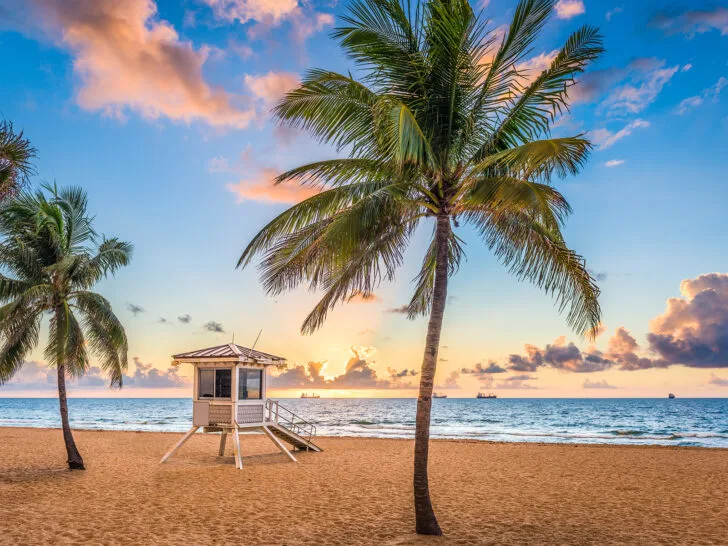 Distance: 110 miles
Recommended time: at least one weekend.
Driving from Fort Pierce to Fort Lauderdale, Florida is undoubtedly one of the best winter road trips USA for travelers to explore. This route is considered to be one of the best routes during winter for two main reasons.
Firstly, you will be driving through some of the warmest places in Florida, featuring warm and mild temperatures and sunshine, ranging from 62 to 81 degrees. This makes it the perfect escape from the chilly weather of northern states.
Secondly, there are several interesting stops along the way – both manmade and natural – that are worth exploring.
The quiet shores of Hutchinson Island are the perfect place to have the beach all to yourself. Soft sand, lush palms, and blue ocean stretch for miles.
The Riviera Marina at Palm Beach is a great place for snorkeling and stand up paddleboarding, for anyone looking for fun water sports. You can even paddleboard to small islands and islets off the shore!
Also on the way is Boca Raton, a city known for its golf courses, green parks and beaches. Animal enthusiasts will find a butterfly garden and a sea turtle sanctuary here, too. Downtown is the well known Boca Raton Museum of Art, with modern and contemporary collections for the art lovers.
Once you reach Fort Lauderdale, a lot of exciting venues await. Plentiful museums and an active nightlife grace the city of Fort Lauderdale.
One important thing to note while traveling during this period is that it gets dark quite early, so it's essential to plan accordingly. Be sure to start all water activities well before sunset.
Overall, driving from Fort Pierce to Fort Lauderdale Florida during winter is a fantastic choice, with the striking landscapes along the route making the trip even more memorable.
Recommended by Monica from This Rare Earth
Winter road trips recap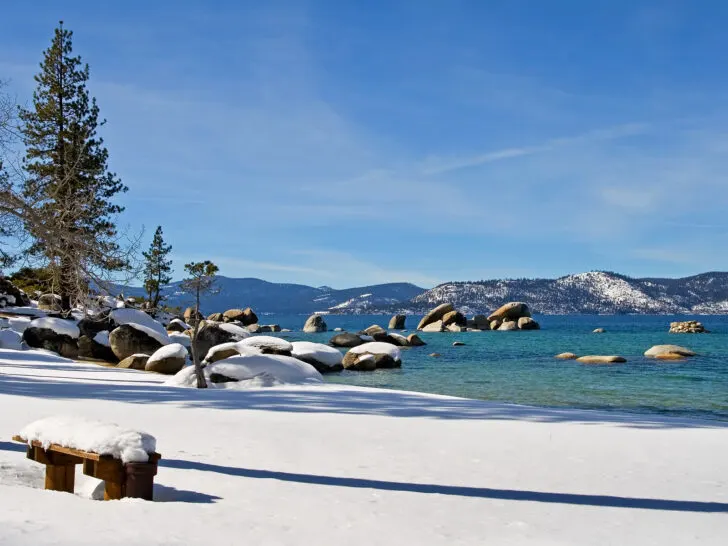 Gah! So many good options, right?! Whether you're looking to keep those Vitamin D levels in check or seeking outdoor activities with brisk air, there's so many great routes to take during the best US winter road trips.
From Florida to New England, Utah to Oregon, the possibilities seem endless when it comes to adventure in the winter months in the USA.
Here's a quick recap of the best winter road trips in the US!
Best road trips in winter
Denver to Albuquerque
The Oregon Coast
Florida Keys
Seattle to Leavenworth, Washington
New England
San Francisco to Lake Tahoe, California
Big Island of Hawaii
Bryce to Capitol Reef via Escalante, Utah
Niagara Falls to New York City
Phoenix to Page, Arizona
Highway 30A, Florida
Las Vegas to Zion National Park
Albuquerque to Taos, New Mexico
Lincoln to Conway, New Hampshire
California deserts
Denver to Glenwood Springs, Colorado
Fort Pierce to Fort Lauderdale, Florida
Related posts to read next:
29 Amazing Road Trips USA: Scenic (& Underrated) Routes You'll Love
30 Gorgeous West Coast Road Trip Routes You Gotta See to Believe
26 Absolute Best (and Underrated) Fall Drives in the US You've Gotta See to Believe
23 Incredible RV Vacations: Scenic RV Road Trips You Need to Take
Find this guide helpful? Save it for later or share it on social media!