When visiting the Great Smoky Mountains National Park, Laurel Falls Trail absolutely must be on your list. One of the tallest waterfalls in the park, Laurel Falls is so beautiful!
Here's your guide to everything you need to know about Laurel Falls in the Smoky Mountains of Tennessee.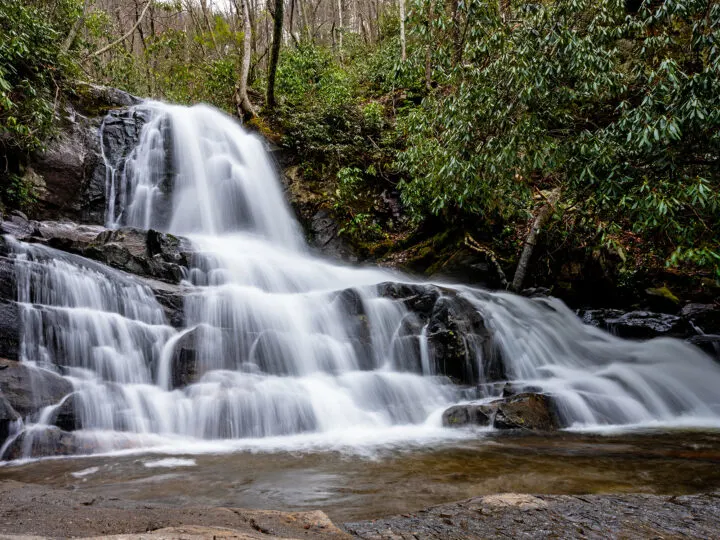 This post may contain affiliate links. For more info, see my disclosures.
People flock to Laurel Falls for it's double-waterfall effect. You'll get up-close and personal with the falls, including the picturesque spot to take a photo at the base of the upper waterfall.
The lower falls are unique in that you can't really access them, but instead can view them from afar. And they're so pretty!
The sound itself is enough to put you at ease. Combine that with the gorgeous Smoky Mountain scenery, and you've got yourself a perfect afternoon. 😊
Laurel Falls Trail stats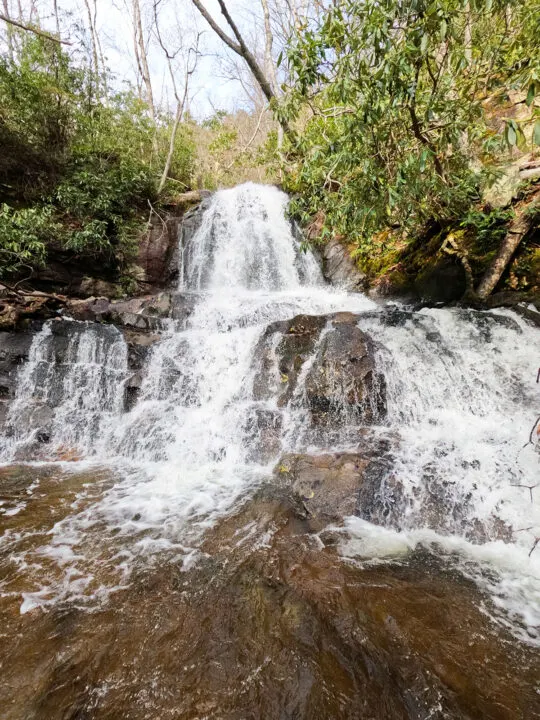 Distance: 2.4 miles
Elevation gain: 396 feet
Rating: easy
Estimated time: 1.5 hours
This trail is great for kids, just be sure to keep a close eye on them near steep cliffs and the waterfall!
Just a reminder, pets are not allowed on this trail.
How to get to Laurel Falls Trailhead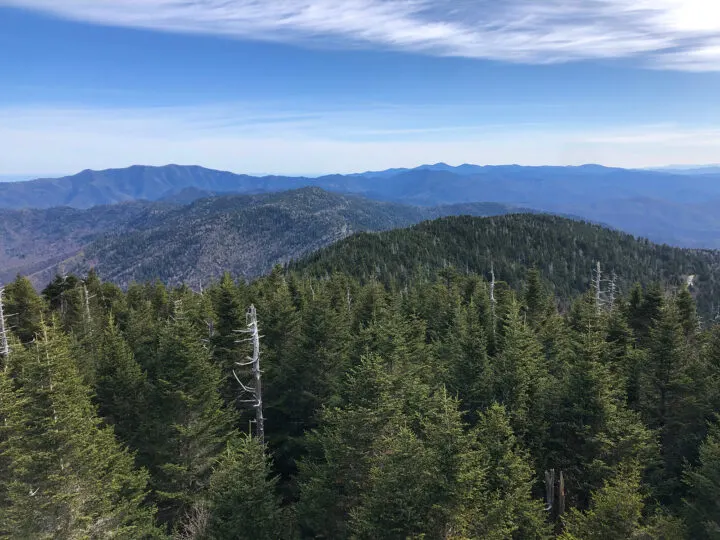 Located about 5 miles west of the Sugarlands Visitor Center, this is one of the most easily accessed trails in the Great Smoky Mountains National Park. By the way, the Sugarlands Visitor Center is a cool spot to see. I'd recommend stopping there before or after your waterfall hike.
Unlike other great waterfall hikes like Grotto Falls Smoky Mountains or Abrams Falls Trail, Laurel Falls doesn't require a lot of driving to get there.
Because it's easy to access, Laurel Falls Trail is one of the most popular spots in all of Great Smoky Mountains National Park. So it's best to plan accordingly!
Located along the Fighting Creek Gap Road after you turn off Highway 441, there's a pretty decent size parking lot. However, the parking lot overflows as much as 1/2 mile in either direction, adding up to a mile to your hike.
Avoid the crowds by going early in the morning (by 8:30am) or in the evenings (after 4pm), especially if it's a weekend or peak travel season.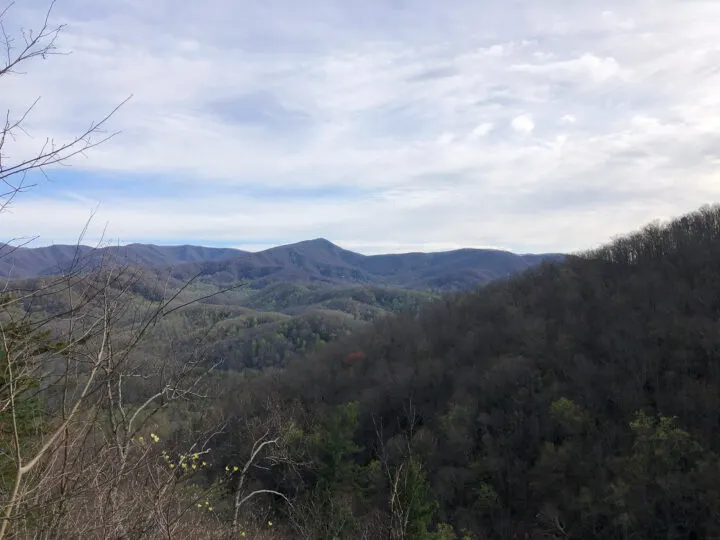 Laurel Falls Smoky Mountains map
If you're a visual person, this map may help you plan for your hike. The yellow icon is the Laurel Falls Trailhead. The orange icon is the Sugarlands Visitor Center and the blue icons are nearby landmarks within the Great Smoky Mountains National Park.
Depending on traffic, it will likely take you around 20-30 minutes from the southern edge of Gatlinburg to the Laurel Falls Trailhead.
By the way, if you want to make a day of it, I highly recommend continuing on this road until you get to Cades Cove Scenic Loop. There's so much to see, including lots of waterfalls, wildlife and more amazing Smoky Mountain views!
RV vacations like the drive from Asheville to Gatlinburg and exploring the Great Smoky Mountains National Park – including Laurel Falls is popular. So beware of traffic, especially on the weekends and during the summer.
Tips for hiking the trail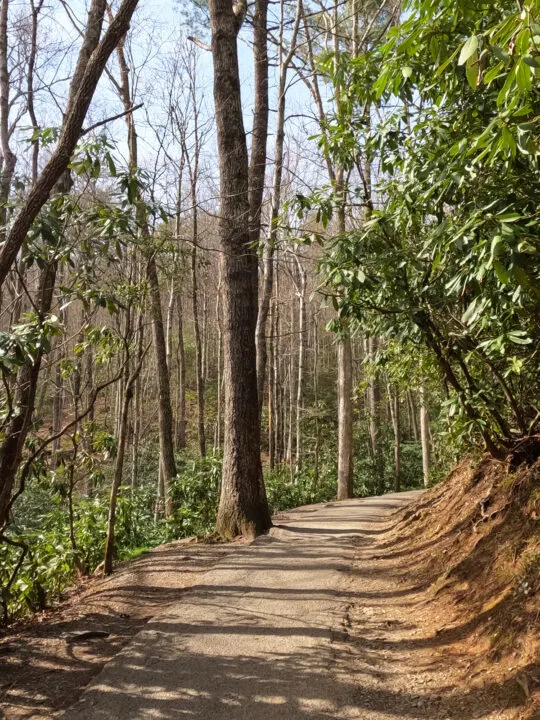 Here are a few tips to make the most of your time while hiking Laurel Falls Smoky Mountains!
Avoid the peak of the day. Go early morning or later afternoon. Mentioned twice already because it's that important! Don't expect to find a parking spot between 10am – 3pm, especially on a good weather day.

There are no facilities. Use the restrooms at the Sugarlands Visitor Center before or after the hike as needed.

Leave no trace. Take out any food waste or other garbage. Stay on the trail and otherwise don't disturb nature.

It's kid friendly, but not for wheels. The trail was once paved but is in disrepair and isn't very accessible. Strollers or wheelchairs will struggle on this trail.

Be kind to other hikers. The waterfall is there for everyone to enjoy. Wait your turn, take photos of the falls then step back so others can enjoy it, too.

Swimming at Laurel Falls is dangerous. The National Park Service discourages swimming because the nearby rocks and base of the pool can be slippery due to algae.

Do not attempt to climb down to the lower falls. More details on this in a bit!
What to expect hiking to Laurel Falls Smoky Mountains
Once you arrive at the Laurel Falls Trailhead and find parking, you'll enter on a paved path.
The trail gradually ascends almost the entire time. So while this is categorized as an easy trail, you'll be walking uphill. There's no shame in taking breathing breaks, either! 🙂
This is an out-and-back trail, and is doable for most skill levels.
The partially paved trail is surrounded by tall trees. Unlike Abrams Falls where there's beautiful scenery the entire way, you'll be mostly surrounded by trees with little views. But that's ok – you're going to be rewarded by amazing views of the most beautiful waterfall in the park!
The pavement on Laurel Falls Trail is very old, and in pretty rough shape throughout the trail. Watch your step, as it would be very easy to twist an ankle on the pavement drop-off.
When it's raining out, this trail can be slick. And when you pass others, you'll end up using the dirt path immediately on either side of the pavement.
Based on the trail type, I'd recommend good hiking shoes with traction. I used super grippy hiking shoes on this trail, and they worked perfectly! I was super confident in my footing, even on the wet, slick spots.
These hiking shoes have traveled with me everywhere – including Avalanche Lake Trail in Glacier National Park, while exploring in Mt Rainier, while hiking in Dillon during these scenic drives in Colorado and so many more places.
Along the trail, there are a tiny waterfalls where water trickles across the pavement, especially in the spring. Enjoy these fun little moments as you make your way to the main attraction!
Laurel Falls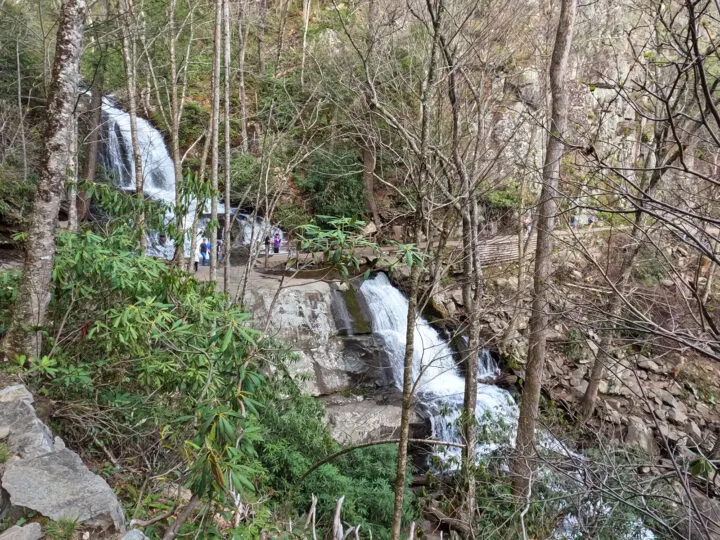 There's a small descent as you approach the falls. You'll start to hear it and this is where the exciting part happens!
From a short distance on the trail, you can see the upper and lower falls. You'll walk across a small bridge to get to the upper falls.
It's so beautiful! Laurel Falls creates a cool mist, which feels great on a hot day!
If it's not crowded and being used, there's even a bench to sit on and watch the falls.
There's a rocky trail just past the falls alongside the cliff. If you're wearing good hiking shoes, you can walk the trail out a bit and get a better picture of the upper and lower falls. Be careful though – it will likely be wet and slippery.
Warning:do not climb down to the lower falls. There's a warning sign put in by the National Park Service saying deaths have occurred. It's just not worth it!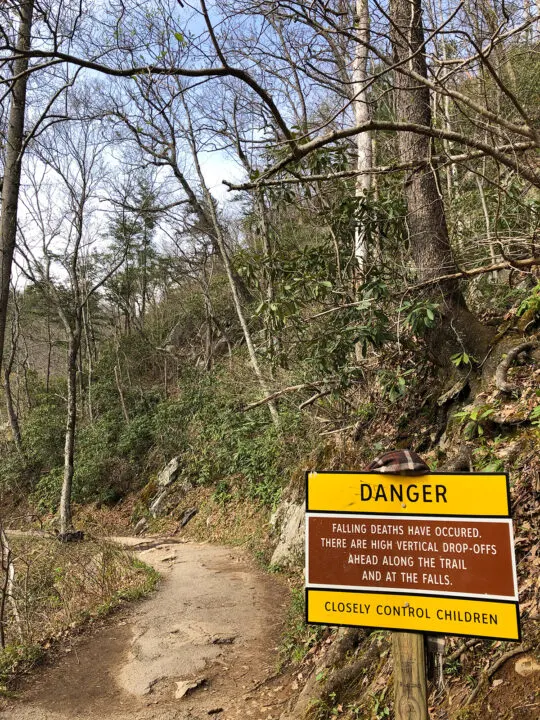 Considering this is one of the most popular trails in all of the Smoky Mountains, you'll likely have to wait your turn for a picture in front of the falls. Just be patient and courteous of others!
Relax and enjoy the beautiful waterfall! Once you're ready, you'll have an easy, downhill hike returning to the parking lot.
Best gear for this hike
Having the right hiking gear can create the best experience anywhere. My first time hiking the Waimea Canyon Trail in Kauai, I didn't have the right shoes and it was a disaster. Learn from my mistakes, ok? 😊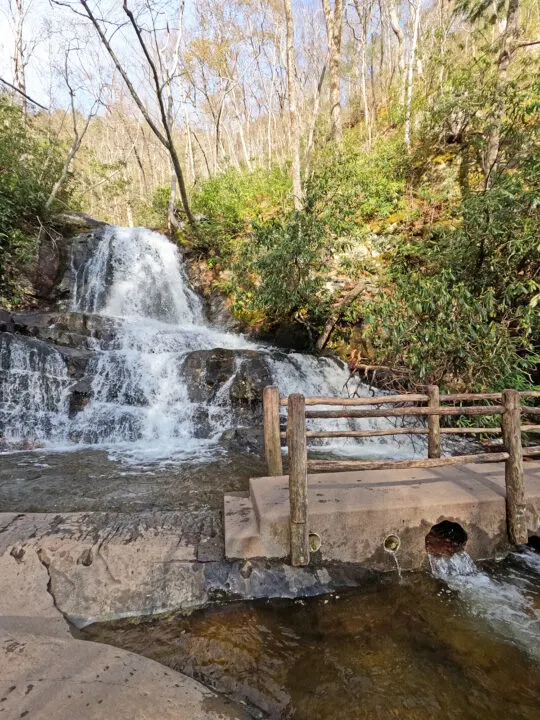 These are the things you'll want for Laurel Falls Trail…
Good shoes with traction. Lightweight, waterproof hiking shoes are key here. Definitely no sandals!

Hiking socks. I know it sounds silly, but it really is key! Traditional socks create more blisters, hold moisture in and create a mess while hiking. Ever since getting blisters while hiking in Canyonlands National Park, I've used Darn Tough socks and they're amazing!

Water. You'll want to stay hydrated during this hike! The trail to Laurel Falls is not too difficult, but drinking some refreshing water during your hike will help keep you going – especially during a hot day. Remember to be kind to the earth and use reusable water bottles instead of buying plastic all the time!

Hiking backpack. Anytime you're on a hike, you should carry the 10 essentials. That's a whole lot easier if you have a proper hiking backpack, which takes the weight off your shoulders and distributes it – sort of like magic, really. This is my favorite hiking backpack that's come with me while hiking in Big Sur California, Grand Tetons National Park and so many more adventures!

Layers. Anything could happen while on the trail and the weather can change in an instant! Pack a rain jacket, medium hiking coat or cold weather layers according to the season you're hiking.
Fun facts about Laurel Falls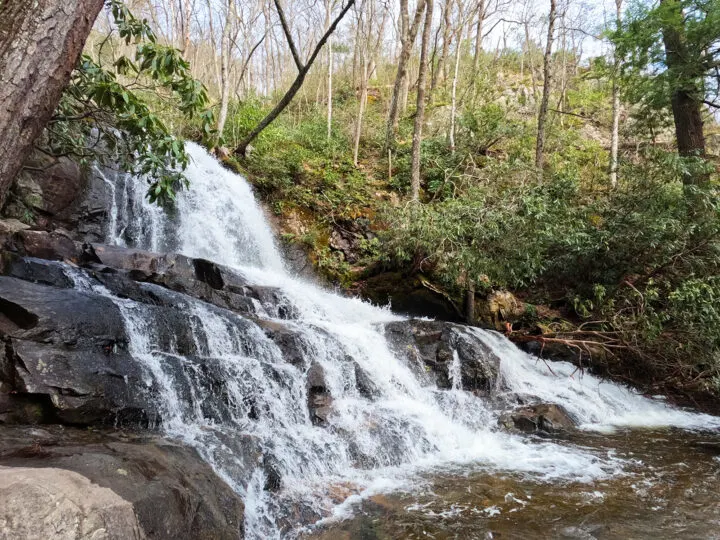 Cherokee Indians are the original inhabitants of this land. White settlers pushed them out of the Great Smoky Mountains in the 1700s. Please be respectful of this sacred area when visiting.
Laurel Falls is 80 feet tall, the largest accessible waterfall in the park.
The trail to the waterfall was first paved in 1932, and again in the 1960's due to it's popularity. The pavement helps to prevent erosion of the area.
Camping near the Laurel Falls Trail
Considering the Great Smoky Mountains National Park has more visitors than any other park in the US, camping spots fill up quickly, especially if you're trying to camp within the park borders.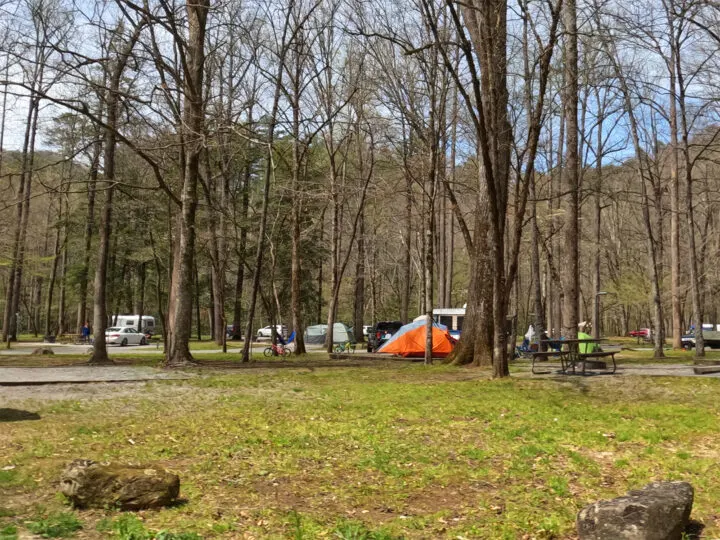 Here's a list of the closest spots for tent and RV camping to Laurel Falls Trail. Just be sure to make your reservation early!
Elkmont Campground (tents and RVs). It's the busiest campground in the Great Smoky Mountains NP, but also a conveniently located one!
Backcountry camping. Really connect with nature with your tent in your pack as you hike to one of the many spots within the park. Grab your permit and reservation here.
Greenbrier Campground (tents, RVs and cabins). Located just outside the park on the edge of Gatlinburg, this campground is privately owned and just a short drive from Laurel Falls.
Where to stay in Gatlinburg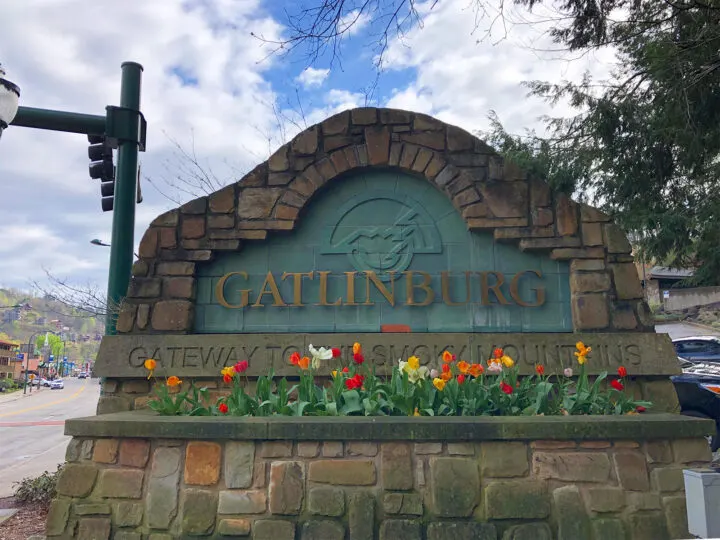 If camping isn't your thing, staying at a hotel or vacation rental property in Gatlinburg is really close to the park. It has a fun, lively downtown that's bustling with tourists year-round. Here are a few places you might like:
I personally love using Booking.com because I can search for hotels and rental properties at the same time. And it happens to be one of the more affordable travel sites, which is a nice perk!
Just be sure you find accommodations with free parking and/or close to the action in Gatlinburg. Parking can be a pain in town.
Laurel Falls Trail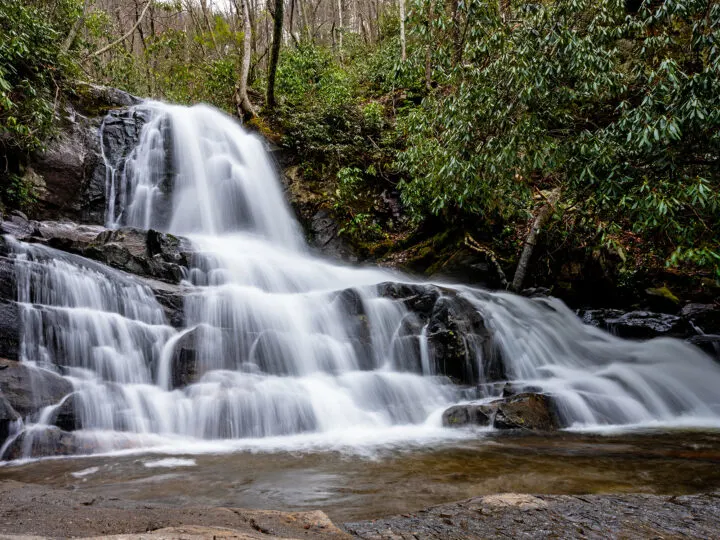 Well, are you ready for your waterfall hike? Laurel Falls Trail is an incredible hike, and one of the most beautiful waterfalls you'll see!
This popular Smoky Mountain waterfall is one worth visiting. You'll love experiencing the upper falls and the beautifully cascading lower falls, too.
Enjoy the hike!
Related content to read next:
Abrams Falls Trail, Smoky Mountains: Everything You Need to Know
Grotto Falls Smoky Mountains: Ultimate Guide to the Scenic Hike You'll Love
Find this post helpful? Save it for later or share it on social media!