You found it! One of the most incredible views on the island of Maui. The Waihee Ridge Trail is a fun hike with spectacular views of the valley, coastline and Haleakala in the distance.
Here's everything you need to know before hiking the Waihee Ridge Trail!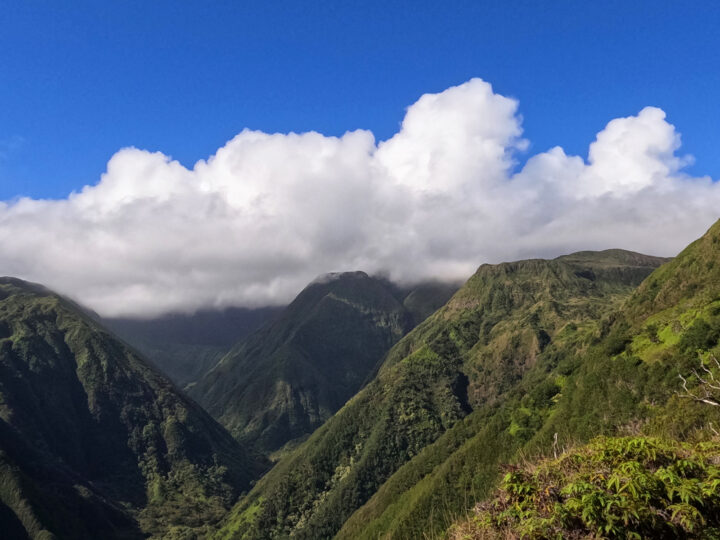 This post may contain affiliate links. For more info, see my disclosures.
Hawaii is known as an elite destination: gorgeous beaches, unique culture, adventure activities and a hiker's paradise. Perhaps one of the best hikes in all of Hawaii is Waihee Ridge Trail!
This out-and-back trail is challenging enough you'll question if your thighs are in good enough shape, while rewarding you with phenomenal views along the way.
Let's dive in!
Waihee Ridge Trial elevation and stats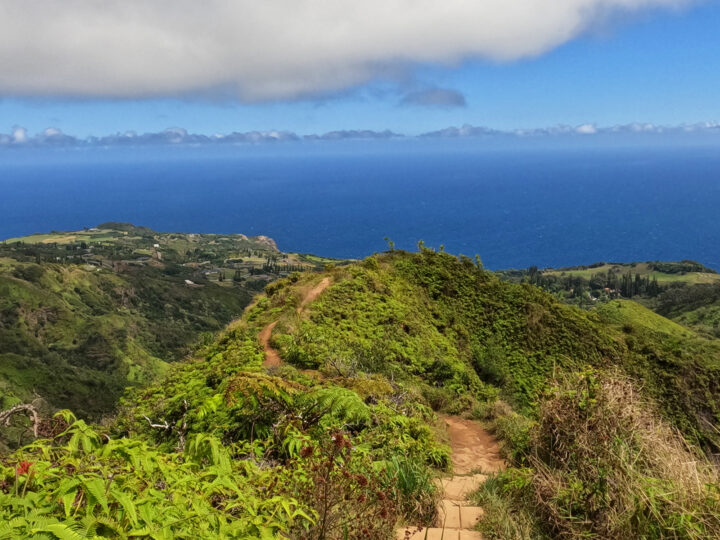 Distance: 4.0 miles
Elevation gain: 1610 feet
Rating: moderate
Estimated time: 2-3 hours
The starting point of the Waihee Ridge Trail elevation is 1,000 feet and you'll climb to over 2610 feet with incredible views of Maui!
This doesn't have much for amenities so be prepared. There is a portable toilet but no running water.
The Waihee Ridge Trail is one of the top things to do with kids in Maui, so trail may take you longer than 2-3 hours, or if stop to take a lot of photos.
Watch the video: Waihee Ridge Trial
How to get to Waihee Ridge Trail Maui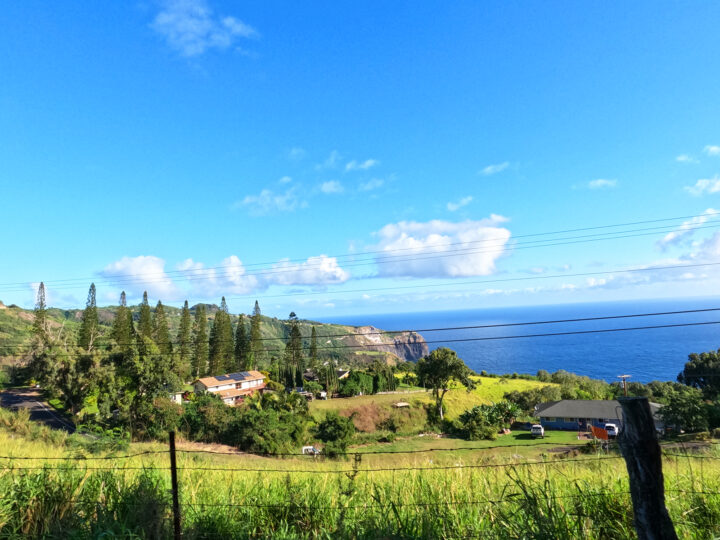 Official address: Waihee Ridge Trail, Kahekili Hwy, Wailuku, HI 96793
The Waihee Ridge Trail is located on a gorgeous ridge in west Maui. It's about an hour drive from Lahaina and 45 minutes from Kihei, depending on traffic.
To get to the Waihee Ridge Trail, head towards Kahului. The trailhead is situated at the beginning of the Kahekili Highway. If you're not familiar, the one-lane Kahekili Highway can be a dangerous drive.
However, the trailhead for the Waihee Ridge hike is located on the road while the road is still 2 full lanes.😆 Google has the correct address and location information, so you can use that to navigate.
Waihee Ridge Trail Map
Basically, once you turn west along Highway 340 at Kahului, keep going until you see the Mendes Ranch on the right. Immediately following on the left is a turn up to the trailhead.
The Waihee Ridge Trail map shows the trailhead in orange and the summit is a yellow icon. I've also listed some nearby landmarks in blue, if you're a visual person.
When you first turn off Highway 340, you'll see a parking lot. That's the overflow lot and it's another approx. 0.8 miles to the actual parking lot. Considering the elevation gain on this hike, you don't want to park at the overflow lot! 🤣
Keep going up the hill. The road will wind and climb until you get to the actual trailhead. There's space for about 40 cars in the main parking lot.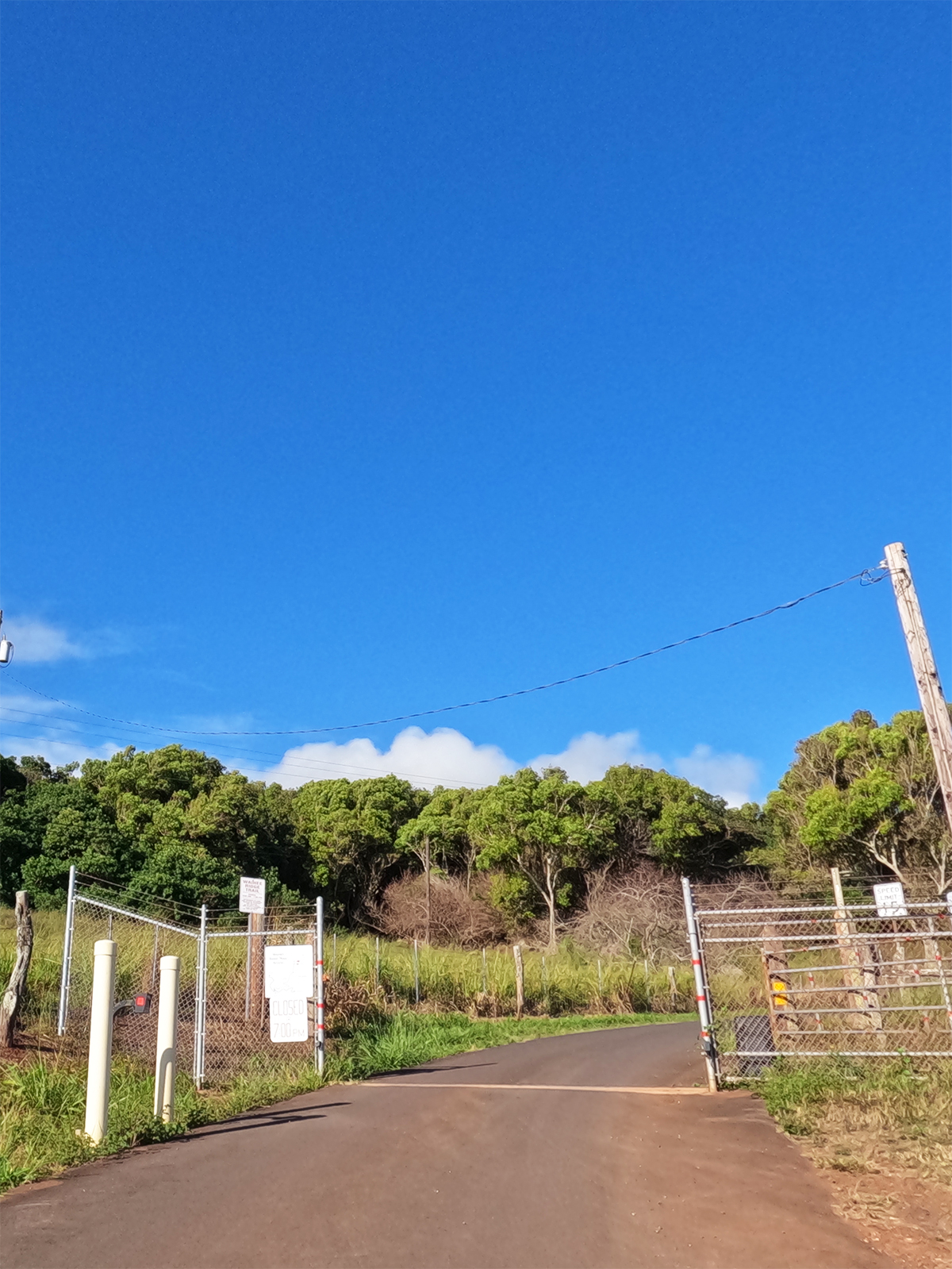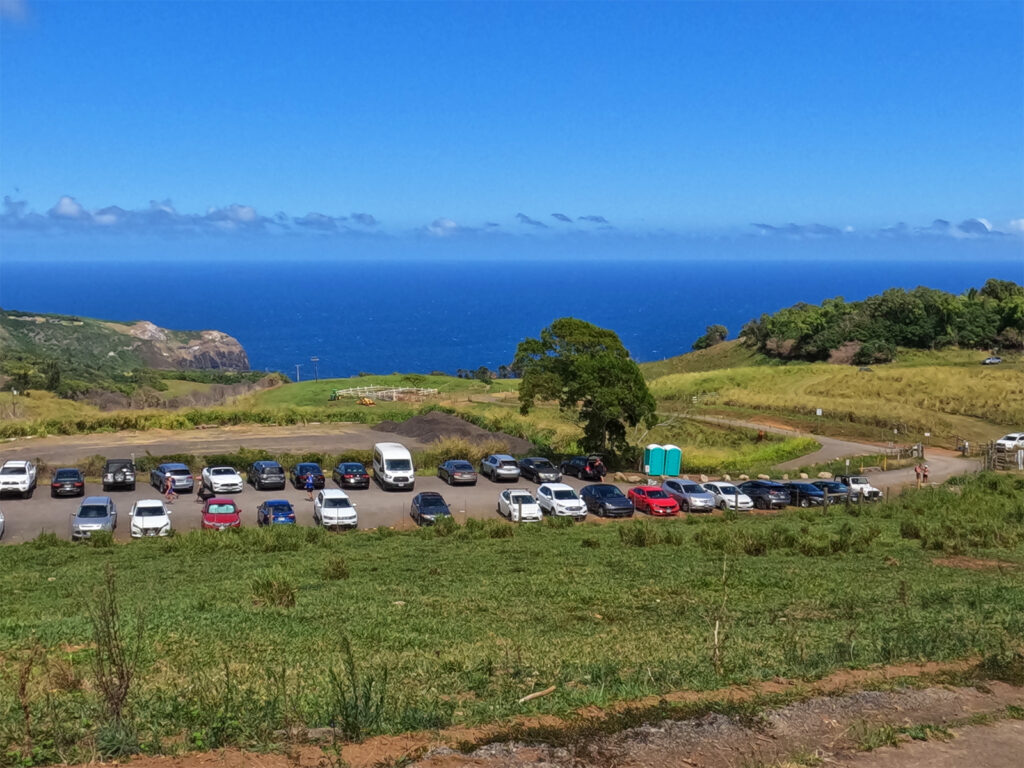 Waihee Ridge Trail reservations
Good news! Reservations are not required for the Waihee Ridge Trail (as of the publication date of this article).
However, the trail gets really busy, especially during peak travel like summer, winter break and spring break. Be prepared by checking out these tips…
Tips for hiking this awesome trail in Maui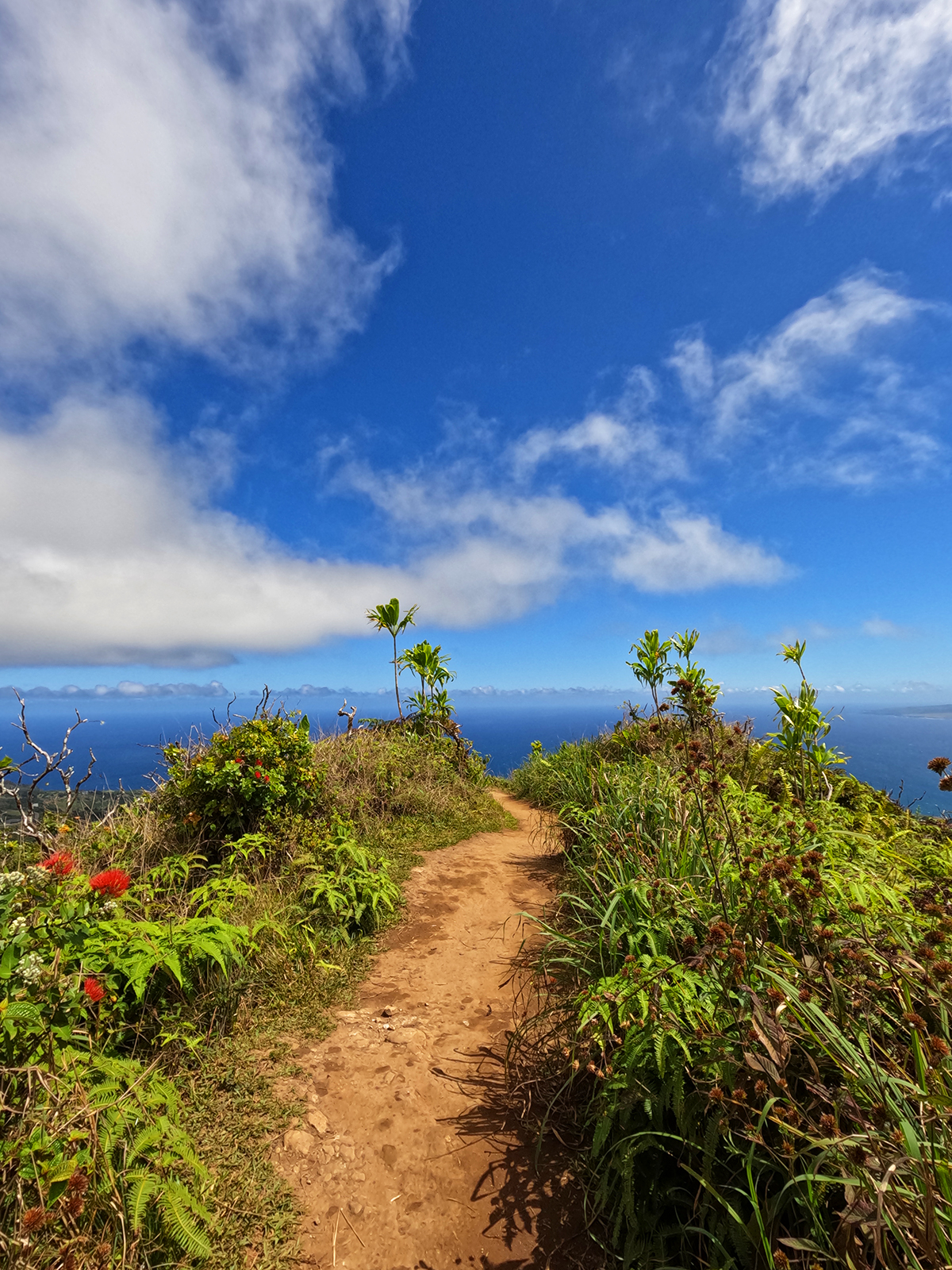 Here's a few things to keep in mind to make the best of your experience on the Waihee Valley trail.
Go early. The trail opens at 7am and the parking lot regularly fills up by 9am. Get to the trailhead by around 8am to ensure you have a spot. Otherwise plan to add more than a mile to your hike or come back later in the day. PLUS the clouds tend to accumulate in the afternoons so you'll likely have better views earlier.

Check the weather before you go. Hawaii is notoriously known for a chance of rain almost daily in most areas so planning this hike may be a bit difficult based on the forecast. If you get to the trailhead and the radar says rain for the next few hours, maybe plan another time to do this hike. Because it's not worth the hike if the views are covered in clouds or rain.
Wear and bring the right gear. This isn't as easy as the Mahaulepu Heritage Trail on Kauai or some of the easy hikes near Kaanapali. The right gear is essential! More gear details are later in this post.

Leave no trace. Be considerate of this island and pick up after yourself. Pack up food wrappers and stick to the trail. Leave nature be 😊

Hikers going up have the right of way. Use general trail etiquette – slide off to the side of the Waihee Trail when possible and let people pass if they're faster. This trail runs along the ridge so it's very narrow in some places. Use caution!
Side note: I'm sad to admit that it took me 5 trips to Maui to do this trail! Considering it's one of the best things to do in Maui on a budget, it's sooo worth the hike for those views!
What to expect during the hike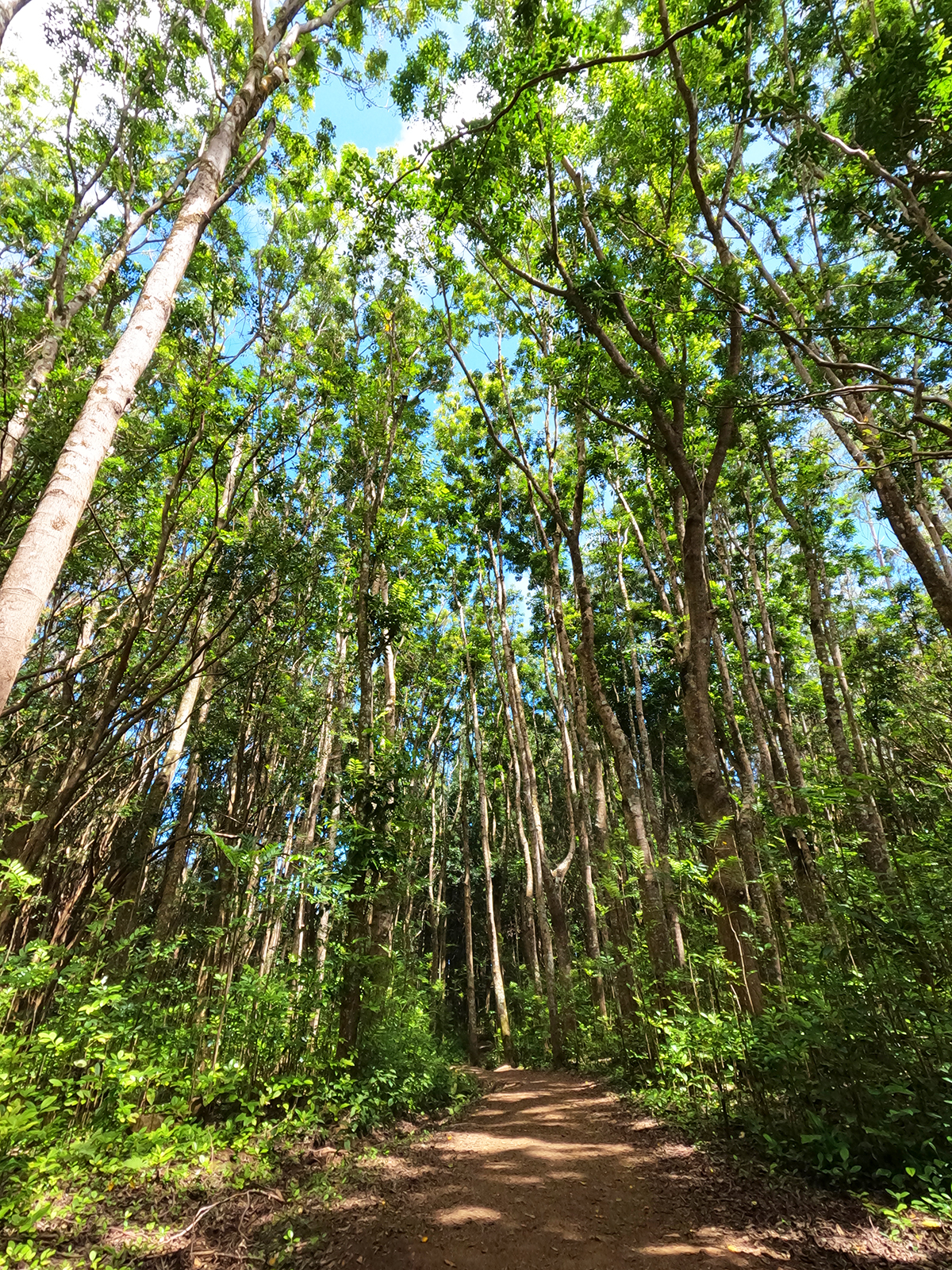 The trail starts off really steep! It's paved at the very beginning but that doesn't last long.
You'll go through a heavy tree area, which is so nice to enjoy the shade! The incline is steady uphill and the break from Hawaii's intense sun is nice. Even if you go early in the morning you'll be able to feel the sun!
The first real lookout with awesome views is about 0.6 miles in. There's a bench for resting if needed. From here, you'll be able to see the coast.
Swing around the corner from the bench and you'll get the first views of the Waihee Valley. They're stunning!
There's a viewing platform where you can grab photos. If you want to take it easy, this is a great spot to turn around. However, the views get better as you go up Maui's Waihee Ridge Trail!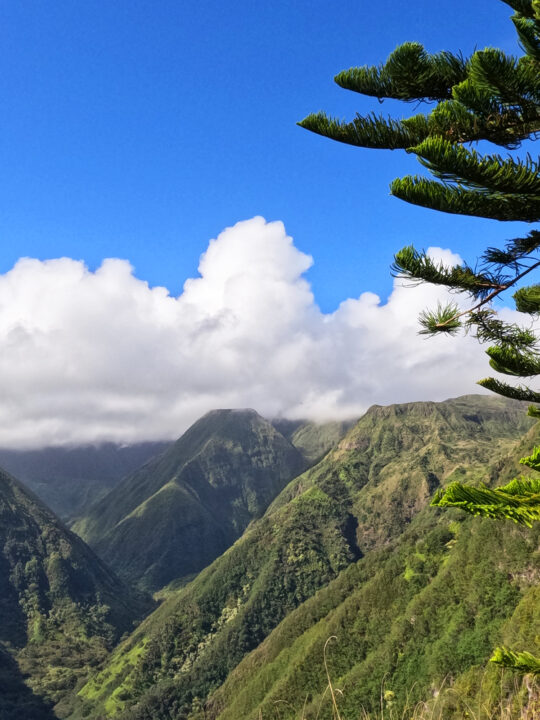 After the first lookout, you'll start to lose your shade. It's a fun trail with many switchbacks!
Drink plenty of water and take breaks as needed. This is the fun part of the trail with breathtaking views.
Pro tip: use hiking poles to get in a rhythm for hiking uphill. Perfect for all ages!
Views from the Waihe'e Ridge Trail
As you climb the 2.0 miles upward, you can look out to the north and see the West Maui Coast. You'll get fabulous views of the Waihe'e Valley by looking southwest.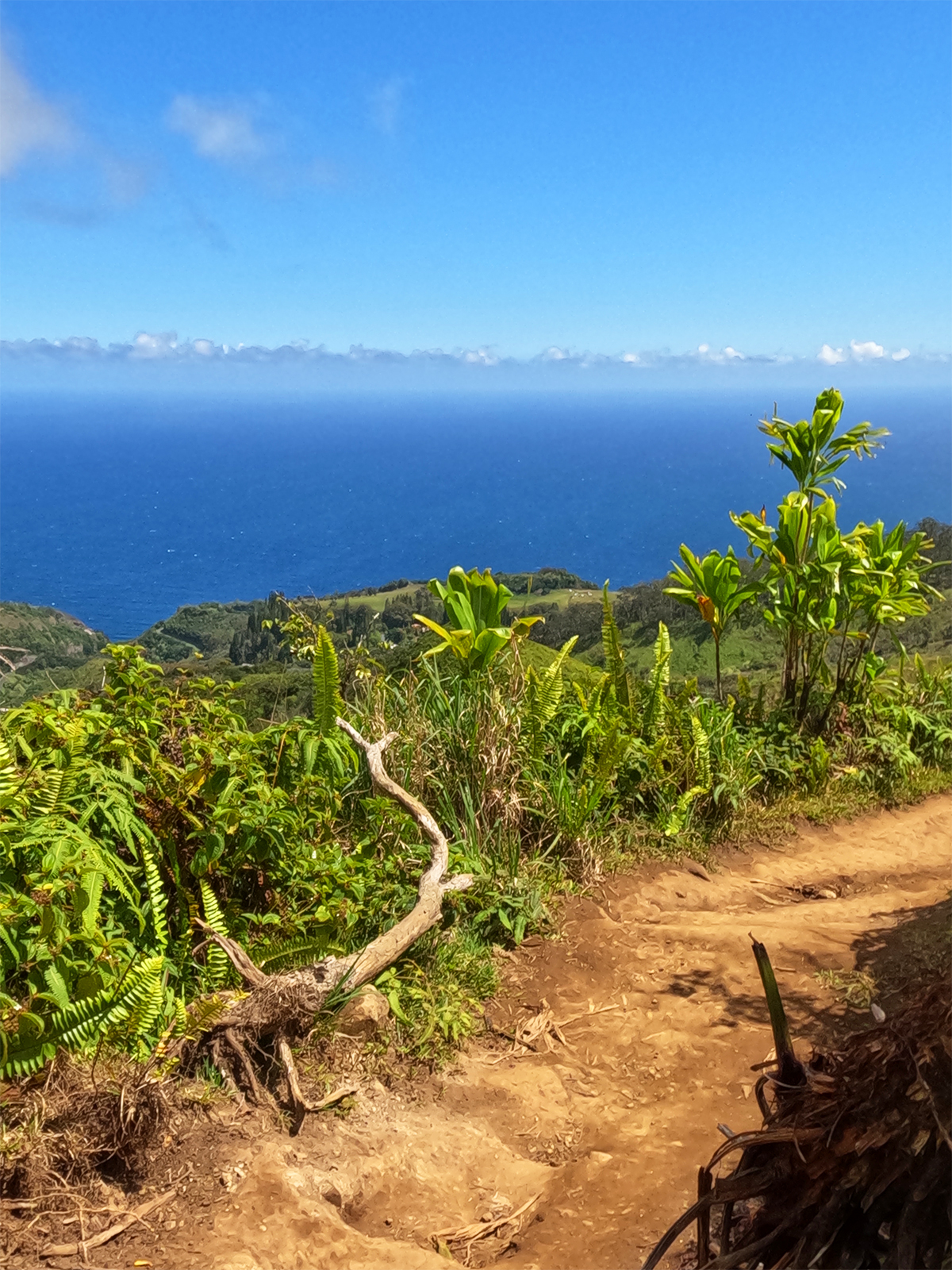 And don't forget to look behind you! On a clear day, you'll see Haleakala National Park to the east.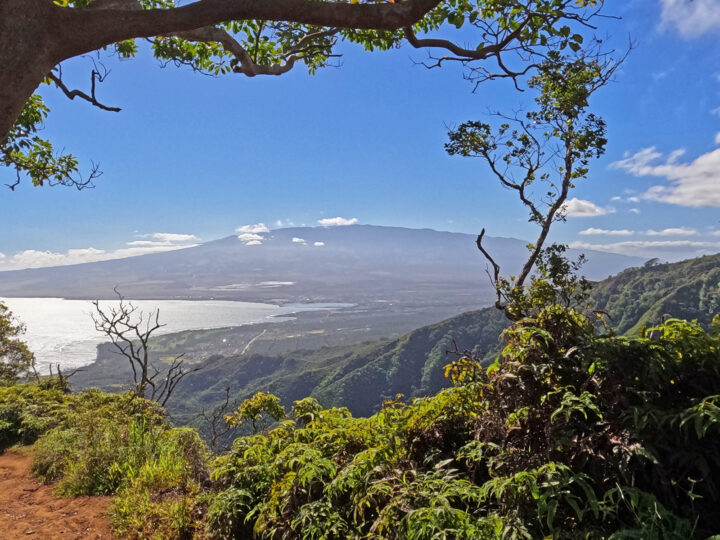 Because the Waihee Ridge Trail is opened up, you'll get awesome views almost the entire way until the top!
Summit fake-out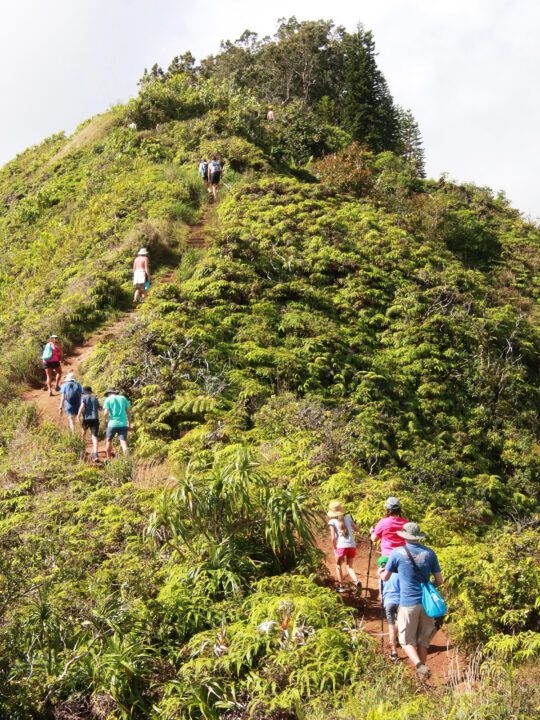 As you're climbing the 1610 feet in elevation gain within just 2 miles, it seems like an endless climb. So you'll be delighted to see a peak ahead!
Climbing this hill is so much fun! 😅 It actually reminds me of the time I hiked the Skyline Trail in Mt Rainier – it just seemed to keep going up!
Anyway, when you see the summit you'll get giddy inside. Only to make it to the top and realize you have another slight downhill and then another steep hill to climb to get to the actual summit.
(At this point in time my 9-year old daughter definitely told us she was calling 9-1-1 to have a helicopter come pick her up and take her back to our condo!😆)
After the false summit it's only another 0.25 mile or so until the actual summit. Just keep going!
Reaching the Maui Waihee Ridge Trail summit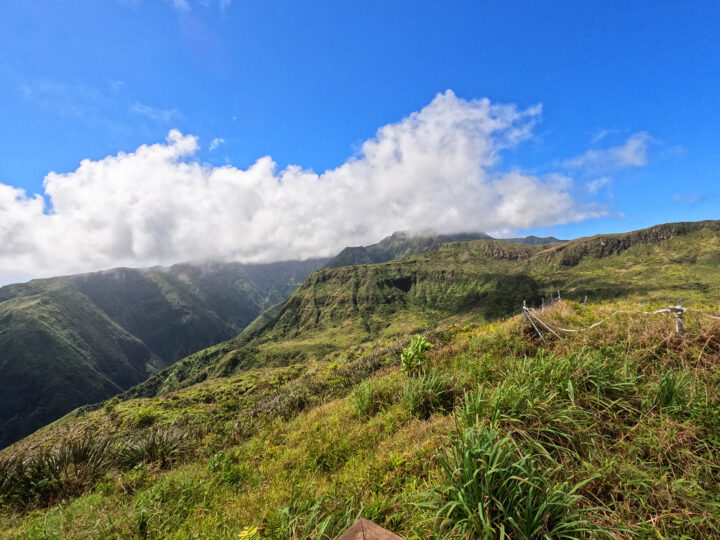 The scene at the Waihee Ridge Trail summit is nothing short of spectacular! You've made it to the top and you're rewarded with 360-degree stunning views of Maui!
There's a viewing platform at the top to enjoy. If it's busy, there's plenty of nearby space to plop down on the ground for a little rest, either facing the valley or the coast.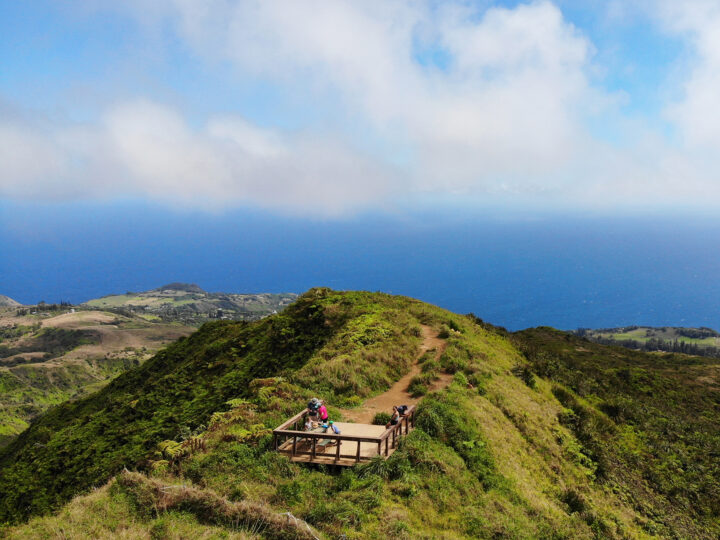 The picnic table at the top is a fantastic spot for a snack or lunch. Fuel up on some protein for the way back and take a water break. Re-apply your sunblock while you're resting.
Just be sure to be courteous to other hikers. Take your photos then hop out of the way so they can take theirs, without people in it.
Pro tip: standing on the corner of the platform provides the best photos!
Returning to the car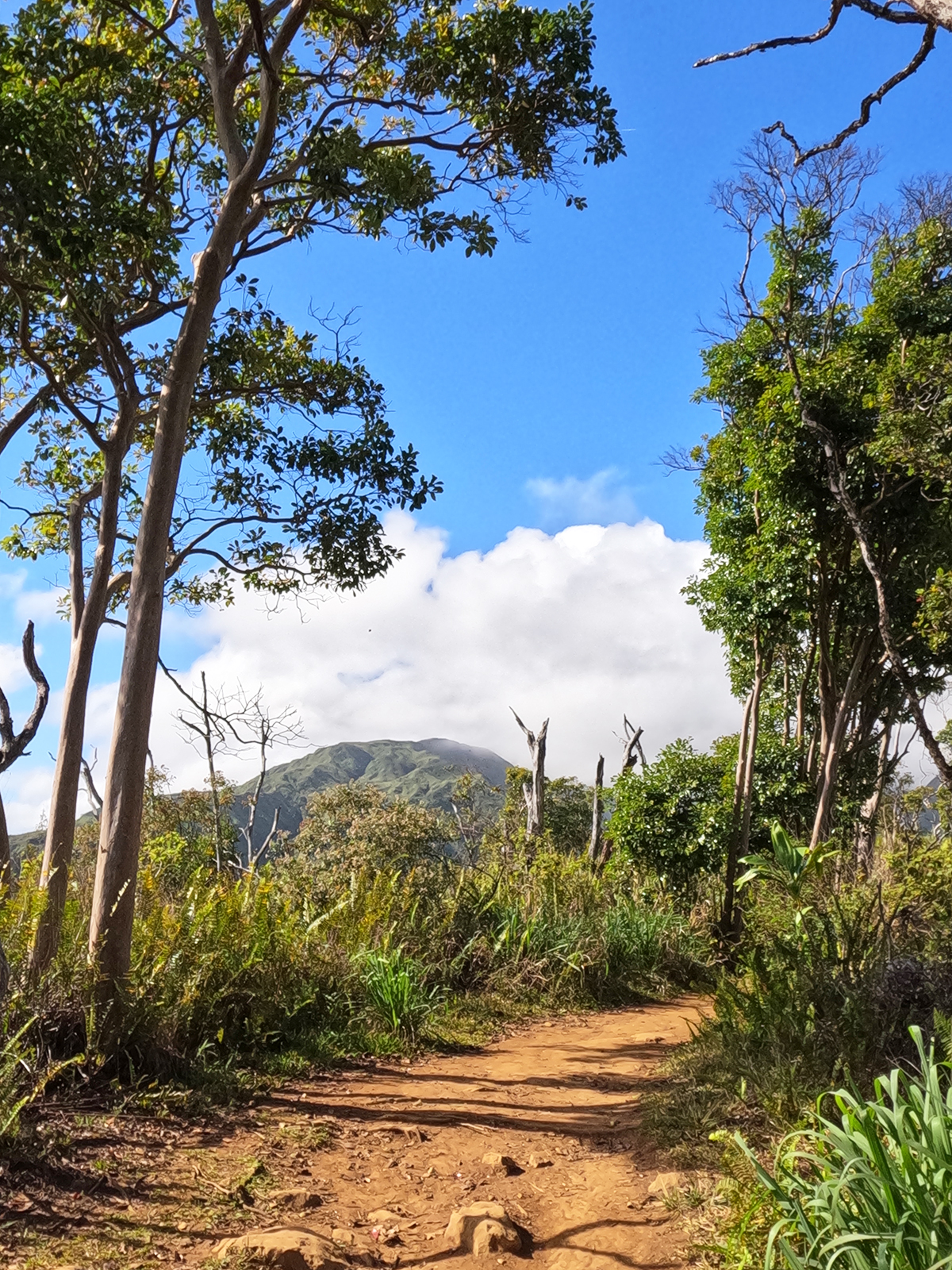 As you begin your descent on the Waihee Ridge Trail Maui, this is where your hiking poles really come in handy for stable footing – especially if it's muddy!
Note: my family didn't get caught with mud on this trail, so the pictures are all dry dirt. However, we did get stuck on the Pihea Trail in Kauai in deep mud, when our poles did come in handy. Rain in Hawaii is no joke!
If you prefer downhill hiking, you'll love this part! Considering the hike back to your car is about 95% downhill. 😄
If you're hiking with kids or need to take it slow, be sure to let faster hikers pass you by stepping to the side when needed. Don't forget to grab a few more photos on the way down – the views are so amazing!
Best gear for hiking the Waihe'e Ridge Trail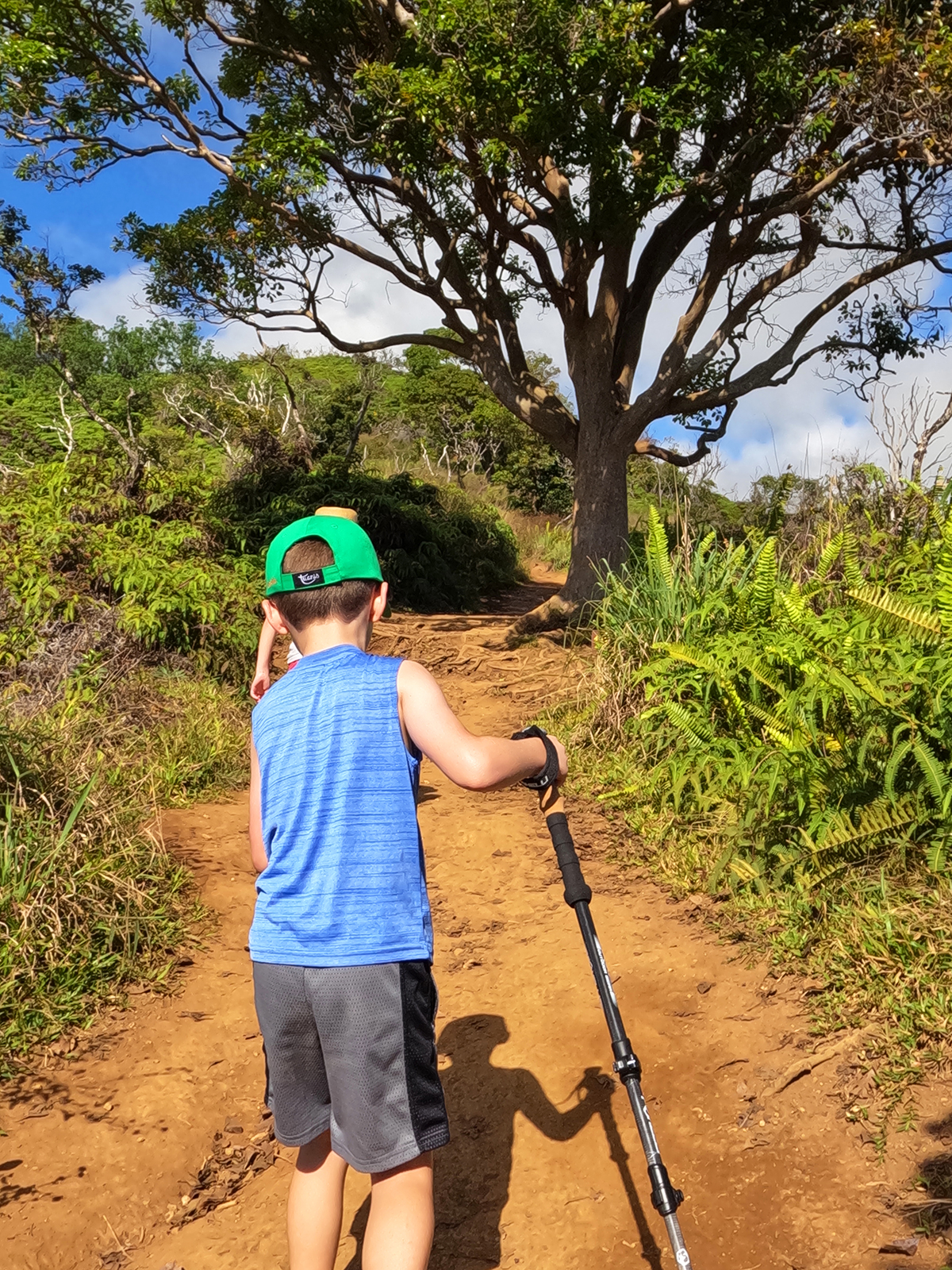 This is a phenomenal hike! However the amount of times I've seen people get injured on trails because they weren't prepared is crazy. Take the right gear for your best experience.
Magical (hiking) backpack. Take the weight off your back and use a proper hiking backpack with you to carry your gear is incredibly helpful! It will be worth it to haul your stuff to Maui, especially if you plan to hike the afternoon before watching the sunset on Haleakala. My favorite hiking backpack has gone with me everywhere, including Pinnacles National Park, Avalanche Lake Trail in Glacier National Park and so many more!

Satellite communicator or personal locator beacon. Nobody ever expects bad things to happen. But this device literally saves lives for hikers who get injured, lost or caught in severe weather. I love my Garmin and have taken hit while hiking in the Smoky Mountains, while hiking in Big Sur, Zion National Park with kids and many other places.
Reusable water bottle and snack. You'll need water while on the Waihee Valley Trail. And a snack at the top is surely delightful (just ask my kids!)

Rain gear and the other 10 essentials. Weather can change in an instant while hiking! Pack a lightweight rain jacket just in case. Also make sure you have a first aid kit and other hiking essentials.

Reef-safe sunblock. Yes, you're hiking in the ridges and valleys, but the drain off goes to the ocean! So even here, you'll need ocean-friendly sunblock. Here's my favorite sunblock that goes to Hawaii with me.
Things to do nearby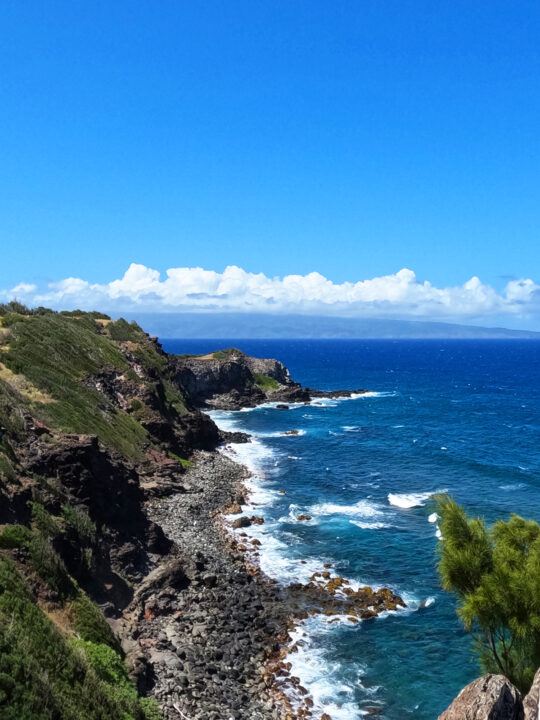 If you want to make a day trip while doing the Waihee Ridge Maui hike, here are a few ideas of nearby attractions to consider.
Helicopter tour of West Maui. A great alternative to the views you'll see along the trail, the helicopters actually fly through the valley!
ʻĪao Valley State Monument. Swim in the natural pools and see more awesome scenery on the opposite side of the Waihee Valley.
Maui Ocean Center. If you're coming from the south – either Kihei or Lahaina, swing by the Maui Ocean Center on your way to or from the hiking trail.
Drive the scenic Kahekili Highway. Not for the faint of heart, but it's an adventure for sure! From the Waihe'e Ridge Trail, you can continue on Highway 340 west around West Maui.
Where to stay nearby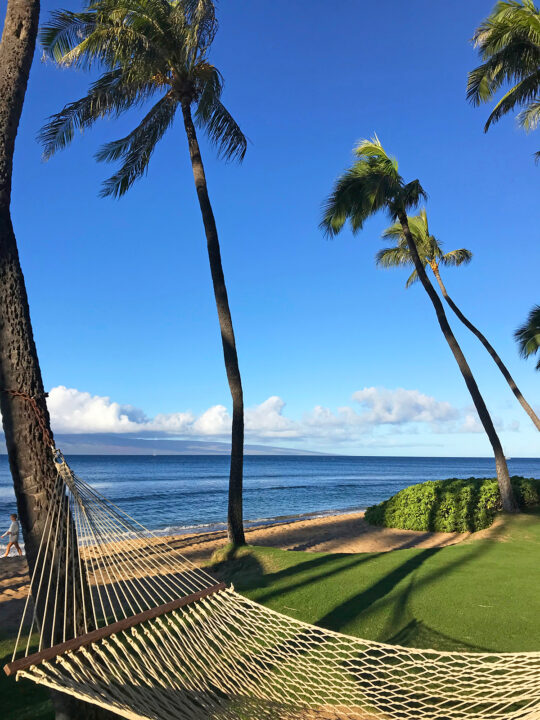 If you don't have your accommodations picked out yet for Maui, here are a few options, including some of my favorites I've ever stayed at!
Hyatt Regency Maui Resort & Spa. Located right on Kaanapali Beach, this property is home to great restaurants and even better swimming and snorkeling.
Maui Sunset Condos in Kihei. With a variety of room configurations, these condos are perfect for groups or families.
Maui Seaside Hotel. Centrally located in Kahului, this hotel is perfect if you're planing to explore a lot of the island – including a quick hop to Road to Hana. Plus it's really close to the Waihee Ridge Trail Maui!
I love using Booking.com because they have a variety of hotels and vacation rental properties, which work well when I take couples vacations or family trips. And bonus – it's one of the more affordable hotel booking tools out there.
Waihee Ridge Trail – that's a wrap!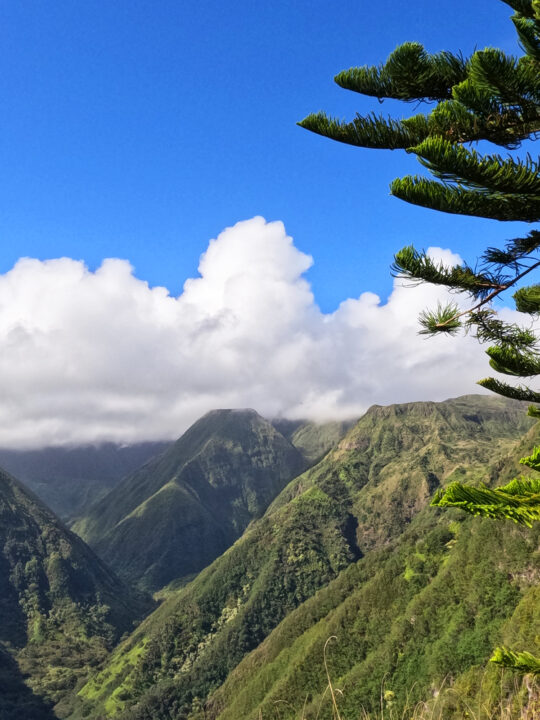 Can you believe this epic hiking trail? It's a moderately challenging trail you'll absolutely love!
The Waihee Ridge Trail Maui offers some of the best views on Maui, perfect for the adventure traveler and those looking to escape the crowds a bit.
Enjoy this delightful hike. It's pretty awesome. 😎
Find this post helpful? Save it for later or share it on social media!