The most underrated trail in all of the Smoky Mountains, you'll love this beautiful waterfall hike! Here's your guide to everything you need to know about Abrams Falls Trail.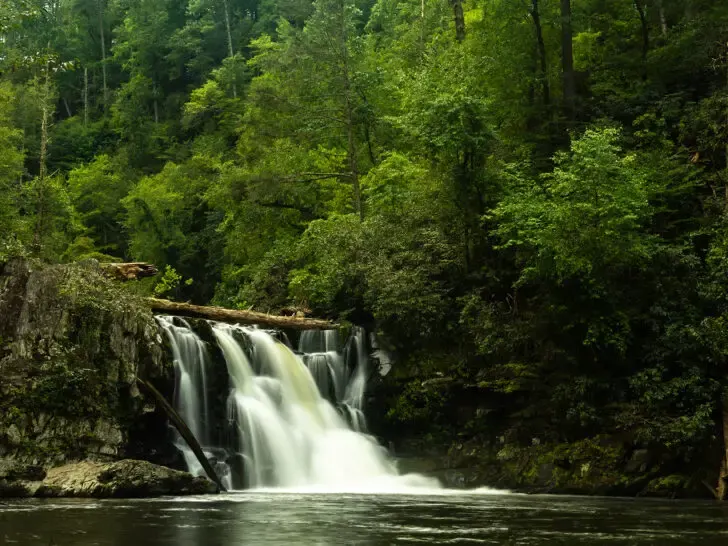 This post may contain affiliate links. For more info, see my disclosures.
This waterfall hike in the Great Smoky Mountains National Park is one of the most interactive and entertaining trails in the whole park!
Abrams Falls is the trail's main feature, the 20 foot waterfall is gorgeous, yes. But so is the stream you can see and hear almost the entire trial to the falls. That sound is just so soothing!
And if that's not awesome enough, there are 4 wooden log bridges to cross that continually provide interest as you hike to the falls.
Must-watch video: Abrams Falls Trail
Abrams Falls Trail stats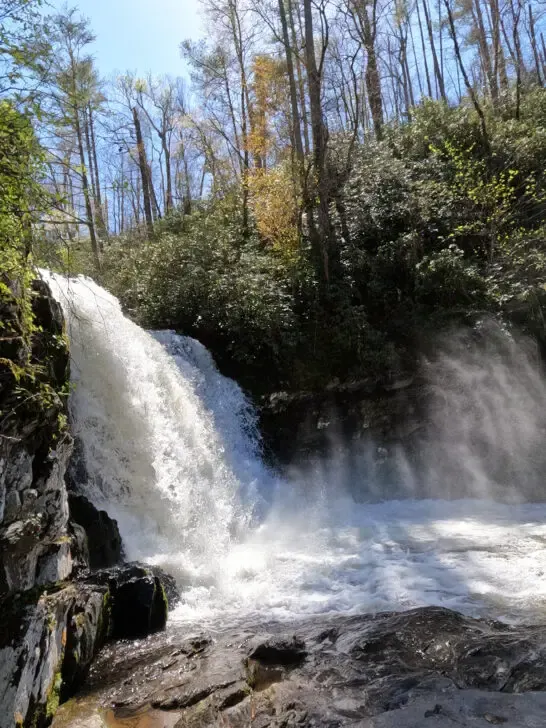 Distance: 5.5 miles
Elevation gain: 629 feet
Rating: moderate
Estimated time: 3 – 4 hours
There are restrooms located at the trailhead, which is super handy considering this is a longer hike. Remember to bring antibacterial wipes or sanitizer along with. 😊
Just a reminder, pets are not allowed on this trail.
How to get to Abrams Falls Smoky Mountains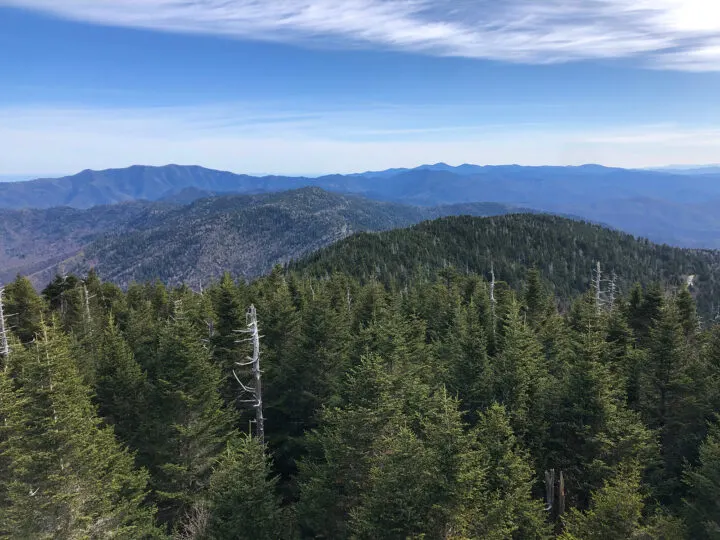 The Great Smoky Mountains National Park straddles the Tennessee and North Carolina state line, in the southern Appalachian Mountains.
Abrams Falls Trail is easily accessed by the entrance from Gatlinburg, Tennessee. It's further into the park than other popular attractions, including Grotto Falls and Laurel Falls Trail.
Located on a turn-out from the Cades Cove Loop Road, past stop #10, getting to this trailhead is an adventure! You pass through some of the most amazing sights in all of the Smoky Mountains!
Abrams Falls hike map
The map below might help you plan your waterfall hike. The yellow icon is the Abrams Falls Trailhead. The orange icon is the Cades Cove entrance. The blue icons are other popular nearby landmarks.
📍The Cherokee Indians are the original inhabitants of the Great Smoky Mountains. Unfortunately, white settlers pushed them out beginning in the late 1700s. The falls and creek get its name for the Cherokee Chief Abram. Be respectful of this sacred land when visiting.
Abrams Falls Cades Cove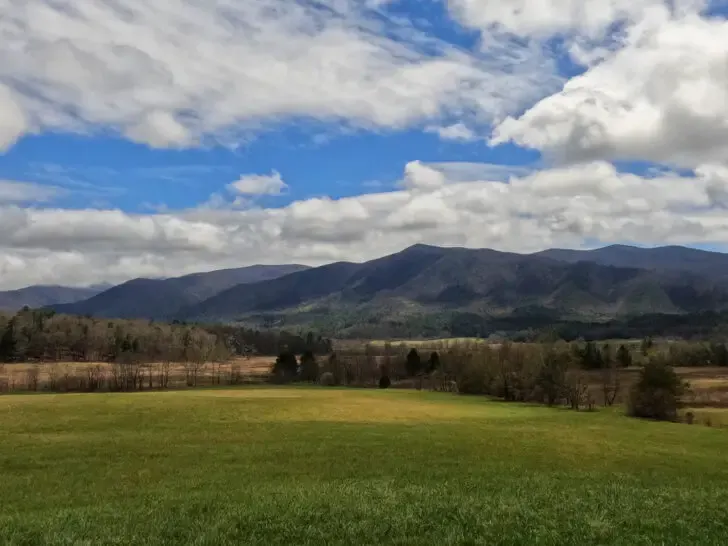 Abrams Falls is located within the beautiful drive that is Cades Cove Scenic Loop. About 1/2 way through the scenic loop, past stop #10, you'll see a sign for Abrams Falls. It's one of the most popular drives in all the park, so be prepared for crowds – and a lot of beautiful sights!
The scenic loop is an 11-mile, one-way loop, and once you get on you can't go back or pass any vehicles unless they pull over.
Cades Cove is a fascinating area where there's ample opportunity to view nature and history all in one spot! A farming community in the 1800's, remnants of housing, churches and other structures still stand today.
Plus, there are a total of 7 hiking trails that can be taken from this scenic loop!
In Cades Cove, wildlife can be abundant! Elk are really common here. I saw a mama bear and 2 cubs, a coyote and several deer. So keep your eyes peeled!
Tips for hiking to the falls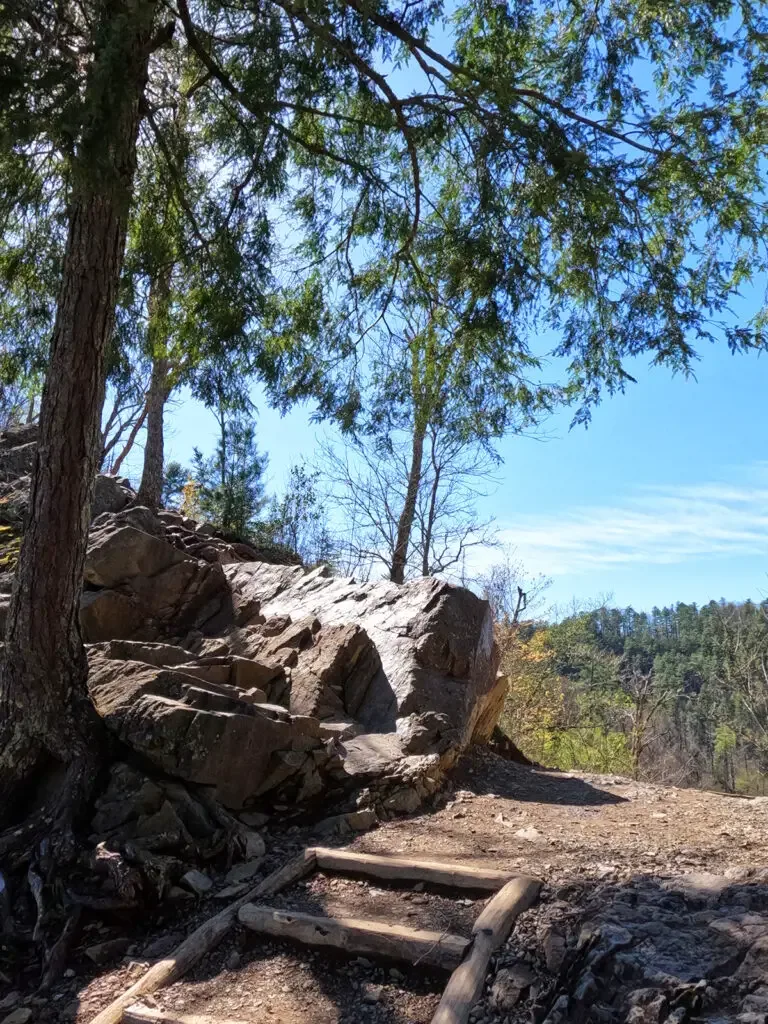 These tips may help create the best experience at Abrams Falls Cades Cove!
Get there early. The parking lot is quite large, with plenty of overflow parking. But the trail is much more peaceful without the crowds. Arrive by 9:30 am or after 4:00pm, especially on weekends and holidays.

Bring the right gear. Hiking shoes and trekking poles are a must for this one. See more gear recommendations below.

Pack a snack. This is a decent hike at 5.5 miles so come prepared.

Leave no trace. Pack out what you packed in, don't leave wrappers or food remnants on the ground, stay on the trail and otherwise don't disturb the nature around the trail and waterfall.

Be courteous to other hikers. Everyone is here to enjoy – and take photos of – the falls. Wait patiently, take your turn and be kind to know when it's time to step out of the way for others' to take their photos.

Swimming at Abrams Falls is dangerous. The pool at the base of the falls looks great, but the undertow creates hazardous conditions.
What to expect while hiking one of the best Cades Cove waterfalls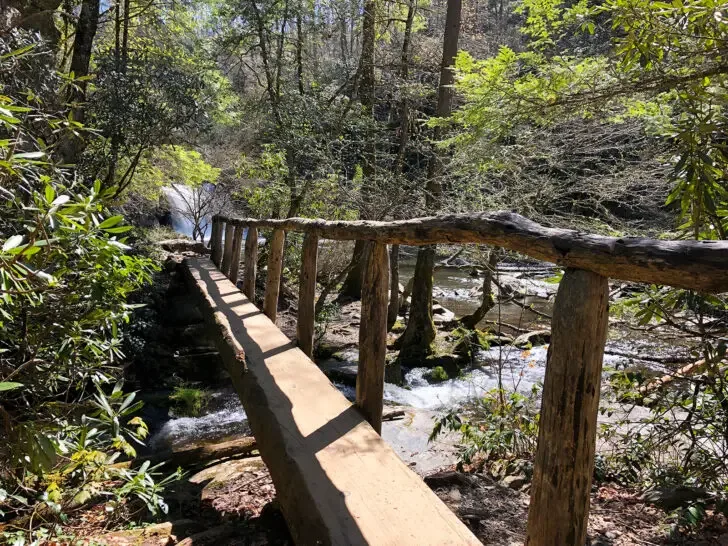 This trail is fun! The scenery is engaging and really keeps your interest.
This is an out-and-back trail on a dirt path. There are tree roots and rocks occasionally to watch for as you hike.
If you're traveling with your family, it's a little long for young kids, but older kids should be fine.
Based on the time of year and recent rainfall, the trail can be quite muddy. Be prepared with good hiking shoes with traction and hiking poles to help you navigate the tricky terrain.
There are 4 log bridges on Abrams Falls Trail as you cross over various streams. They're so picturesque and add an element of fun to the trail!
About 1/2 way to the waterfall, there's a steep incline which leads to a lookout. It's the kind that will raise your heartrate, so be prepared for that. The Abrams Falls hike is especially challenging on the way back from the falls as it's a longer incline than the way there.
As you approach the falls, there are steps during the especially steep portions of the hike.
Abrams Falls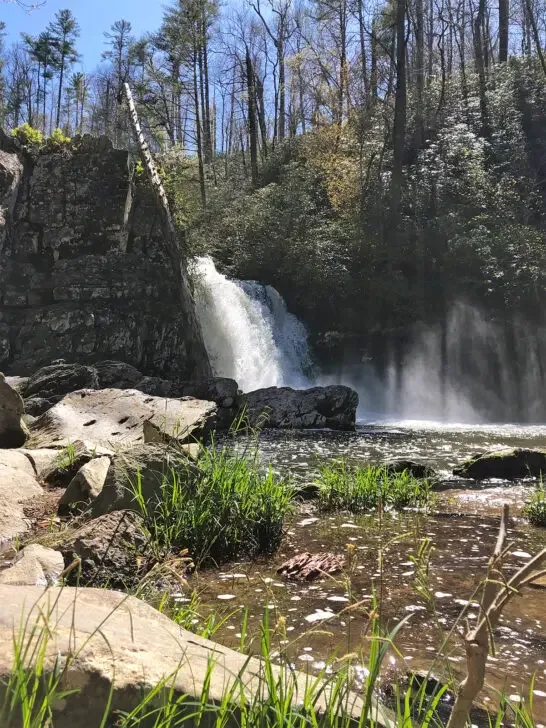 The hike is so incredibly peaceful, with the sound of cascading water along the stream right beside the trail. As you get closer to the falls, it gets louder and you know you're about ready to see this beautiful scene!
You'll cross over the 4th bridge as you get a peek at the falls, then you're there!
One glimpse of the beautiful Abrams Falls and the hike was all worth it!
The falls have a large volume of water flowing down it (especially in the spring), creating a large pool at the base of the falls before flowing down stream. The mist from the falls is cool to the touch and feels great on a hot day.
The rocky area near the falls is a great spot to rest and have a picnic or snack while enjoying the view.
Kids will especially love climbing the rocks and observing nature, just be sure to watch them closely near the water, as the current is powerful.
Relax and enjoy your time at the falls. You worked to get here, and the way back is even more challenging due to the gradual incline. 😅
When you're ready (and only then), make your way back to the parking lot and to enjoy the rest of Cades Cove Scenic Drive.
By the way, if you're looking for more waterfall inspiration, check out this hidden gem in Dublin Ohio: Indian Run Falls!
Best gear for this waterfall hikes Smoky Mountains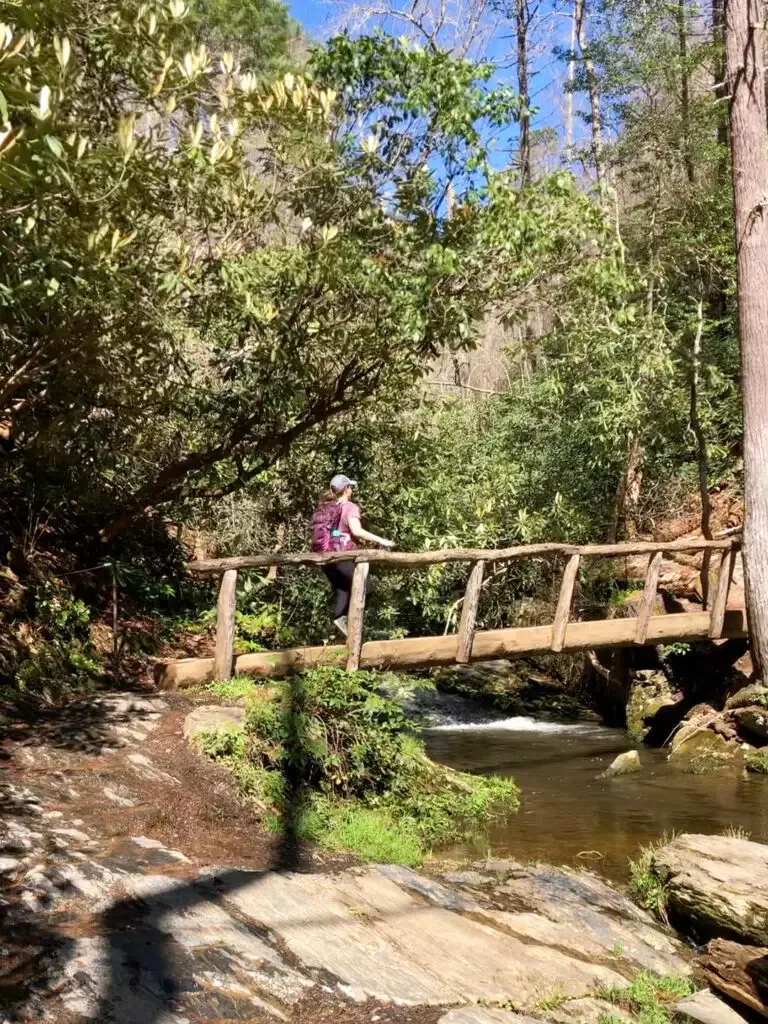 This moderate 5.5 mile hike will go much smoother if you're prepared. Here is the list of recommended gear for the Abrams Falls Trail.
Hiking backpack. It makes such a huge difference carrying a hiking backpack versus any other type of backpack or bag on your hike. Carry the 10 essentials with you, including enough water and snacks to get you through this hike.

Plenty of layers. The weather can change in an instant in the Smoky Mountains. Pack your rain jacket, medium hiking coat or anything else you might possibly need based on the season.

Picnic or a snack. At 5.5 miles, this is one of those hikes you'll want a snack for. Pack protein and water in reusable bottles or fill your hydration bladder in your hiking backpack to keep you feeling good after your hike!
Where to stay near Abrams Falls
There's so many great options for places to stay near Abrams Falls trailhead! Immerse yourself in nature while camping or stay in town. Here are some options if you don't have a place to stay in the Smoky Mountains yet.
Camping in the Smoky Mountains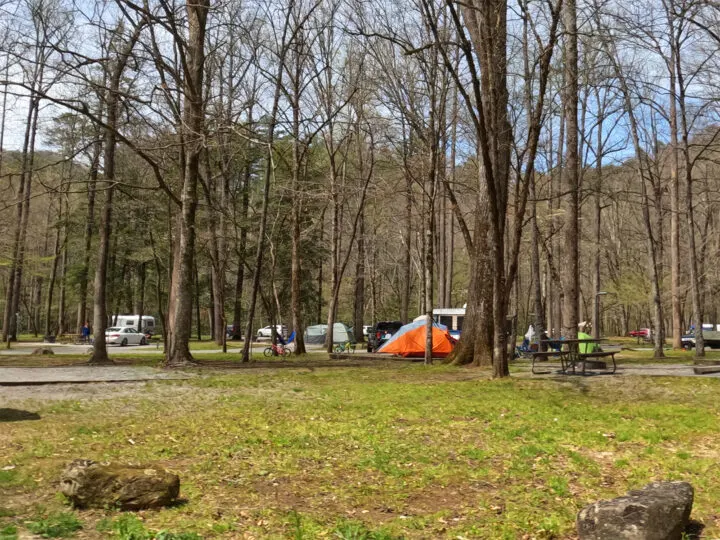 If you love camping, it's hard to find a better spot than the Smoky Mountains! Be bear aware and book your campsite early, because it will fill up fast!
Elkmont Campground for tents and RVs. Right in the heart of the park, it's the busiest campground in the Great Smoky Mountains National Park so you'll want to make reservations early!

Backcountry camping options. With your tent on your back, hike to one of the many spots within the surrounding park. You'll need a permit and reservation, here.

Greenbrier Campground for tents, RVs and cabins. This is just outside the park, and has plenty of amenities, too.
Where to stay in Gatlinburg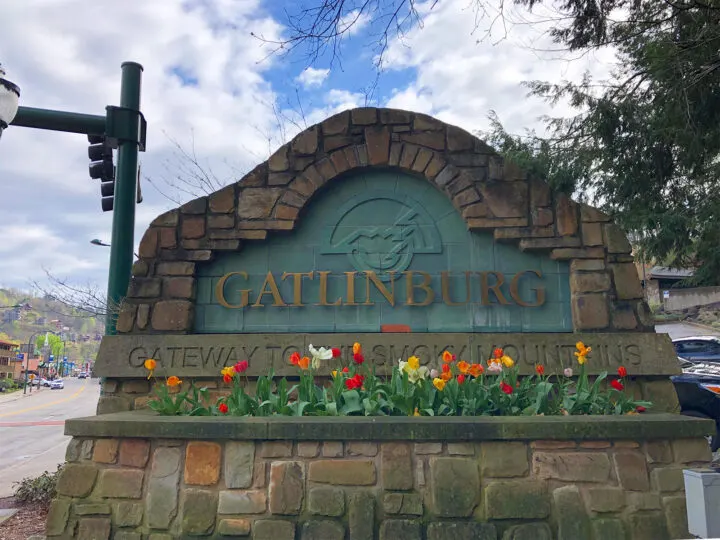 Gatlinburg, Tennessee is the nearest large town to Abrams Falls. It's a lively town busy almost year-round, and there's plenty of great choices. Here are a few you might like:
I love staying in hotels and vacation rental properties, and using a search site like Booking.com allows you to search both at the same time. Plus it's one of the more affordable travel sites out there!
Pro tip: parking can be a pain (or expensive) in Gatlinburg. Find a spot within walking distance to restaurants or plan to eat at your accommodations to avoid the headache.
Abrams Falls Trail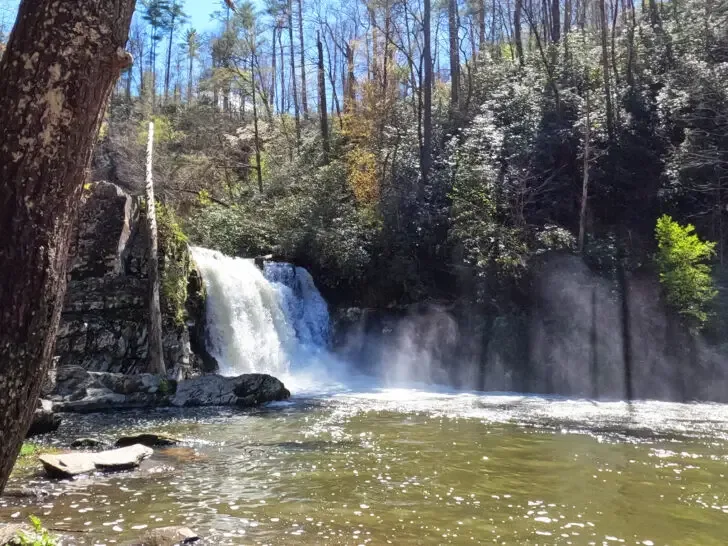 Are you so ready to hike to this beautiful waterfall?! It's one of the most underrated hikes in the park, and one of my personal favorites!
The entire area around it is so scenic! Abrams Falls Cades Cove is such an adventure, and the perfect way to spend an afternoon during your time in the Great Smoky Mountains National Park.
Related posts to read next:
Laurel Falls Trail Smoky Mountains: How to Get There, What to Expect & More
Grotto Falls Smoky Mountains: Ultimate Guide to the Scenic Hike You'll Love
21 Absolute Best National Parks to Visit in May You Can't Miss
26 Best National Parks to Visit in October (Amazing Spots You Need to See)
Find this post helpful? Save it for later or share it on social media!