Colorado has some of the most breathtaking landscapes, hikes, lakes and adventures in all of the USA! With amazing experiences throughout the state, there's so much to offer visitors and residents alike. Here's an epic Colorado bucket list to help you start planning the ultimate Colorado adventure!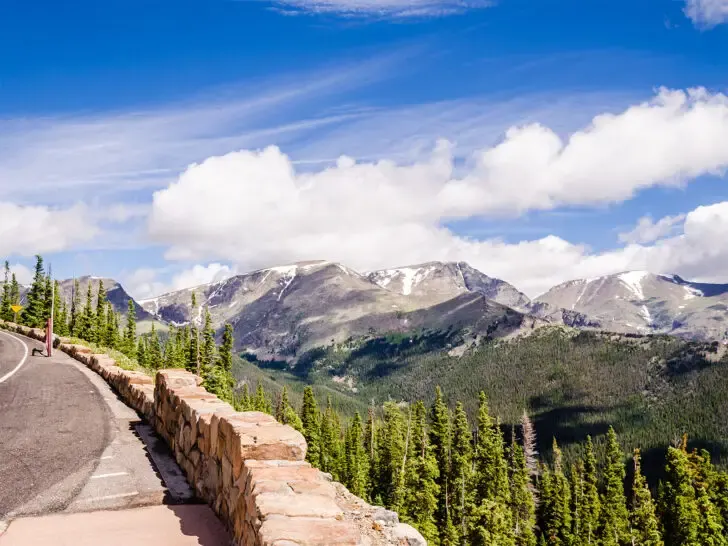 This post may contain affiliate links. For more info, see my disclosures.
This guide includes something for everyone! From hiking, to picnics, to digging for fossils, your Colorado bucket list will grow exponentially after reading this post!
Whether you're staying in the big city of Denver, hitting the white powdery slopes in the Rockies, walking the streets of a small town, taking one of the many Colorado scenic drives, or any one of the other adventures on this list, there's so many amazing things to do in Colorado.
Let's dive in!
Must-see video: Colorado bucket list
Best things to do in Colorado map
Whether you're hoping to check off each of these Colorado bucket list stops one-by-one or you are in the process of planning an epic west coast road trip this map will help you stay organized! Make sure to keep reading to check out the details on each activity!
Colorado bucket list
It's time! Get out your pen and paper (or phone nowadays) and start adding to your Colorado bucket list! You're going to love this list of all the best things to do in Colorado! ❤️
1. Soak in the view at Sapphire Point Overlook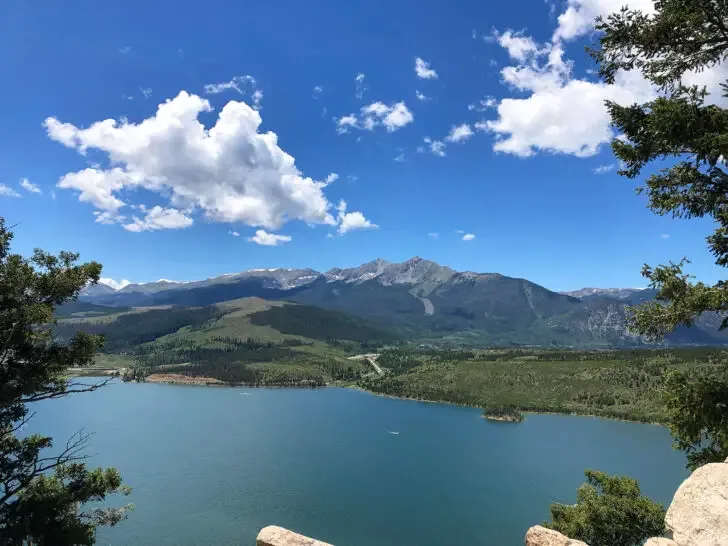 One of the most beautiful views, and one of the best places to see in Colorado is Sapphire Point Overlook. Located on the Dillon Reservoir, it's one of the best things to do in Dillon, Colorado.
Technically located in White River National Forest on Lake Dillon, this overlook is absolutely stunning! On a sunny day, the water truly looks sapphire blue – hence it's name.
To get to Sapphire Point Overlook, there's a short hiking trail from the parking lot. The entire Sapphire Point Hike is 0.6 miles, but takes you around a loop providing beautiful views of the Rocky Mountains at an elevation of 9,500 feet. So beautiful!
Fun fact: if you visit Sapphire Point Overlook on a weekend, you may just see a wedding. It's the only place where weddings are permitted to take place in the White River National Forest.
While in Dillon, be sure to check out the breweries and other lake activities. And if you have some extra time, head to nearby Frisco, just minutes away from Sapphire Point. The quaint downtown is the perfect spot for catching live music, visiting a museum or grabbing an ice cream cone.
Recommended by me – Nikki of Inspired Routes
2. Ride Pikes Peak Cog Railway (a family-friendly Colorado bucket list item)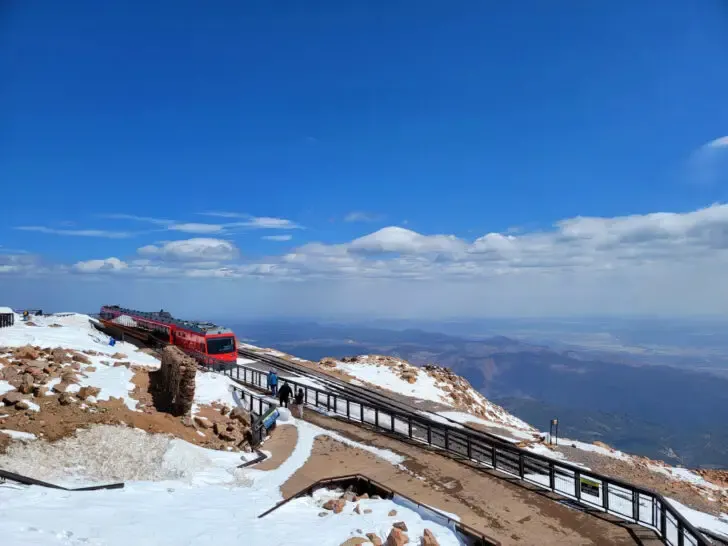 If you're looking for an unforgettable experience in Colorado, look no further than the Manitou Springs Pikes Peak Cog Railway. This remarkable train journey begins in Manitou Springs and takes you all the way to the top of America's Mountain. It's a three-hour trip that's not to be missed.
Once you reach the summit, you'll have about 40 minutes to explore the area. There's a walkway that encircles the peak and a variety of interactive signs that offer insights into the region's history and geology.
While you might be tempted to try the famous doughnuts, instead of waiting in line, consider skipping them and focusing on the views instead.
It's important to stay hydrated during the trip as well. Dehydration is a leading cause of altitude sickness, and you'll be gaining around 6,000 feet in elevation in a short amount of time.
Keep in mind that the train may not always reach the summit. If that's the case, you can opt for a shorter ride and receive a partial refund, or simply plan to come back another day.
Tickets are $58.50 for guests 13 and up when booked online, and $61 at the Depot. (accurate as of the time of publication)
If you're looking for a place to stay, why not choose The Broadmoor itself? As the owner of the Cog Railway, the historic resort is an ideal home base for exploring the area. It has luxurious lodging options and spectacular on-site restaurants to enjoy.
Recommended by Theresa of The Local Tourist
3. See Bear Lake, Rocky Mountain National Park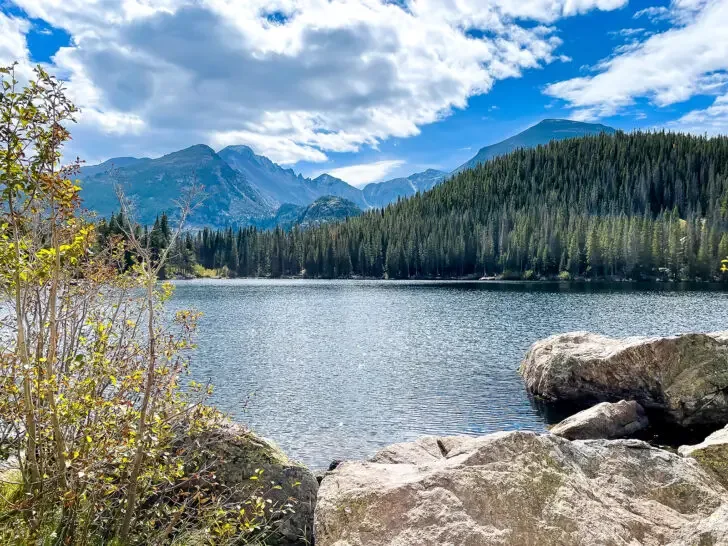 Bear Lake is one of the most iconic views in Rocky Mountain National Park. It's an absolute must on your Colorado bucket list. It's also one of the most beautiful spots in Colorado's national parks, no matter what time of year you visit – provided Trail Ridge Road is open.
Note: you'll need a timed entry reservation for Trail Ridge Road from May through October. Plan in advance and grab it here.
The best thing to do here is to complete the short 0.5-mile hike around the lake. This wheelchair and stroller-friendly hike is one of the most popular things to do in the entire park, so expect crowds, even in the shoulder season.
If you want to see more mountain lakes, you can continue past Bear Lake and go on to Emerald Lake and Dream Lake. Both are accessible from the Bear Lake trailhead.
To get to the Bear Lake trailhead, you can park your car or take the shuttle. However, once the parking lot is full you will be required to shuttle in. The shuttle is free and frequent, though often packed.
There are no concessions at Bear Lake, so bring your own water as well as a snack or meal if you want to enjoy lunch at Bear Lake. A picnic at one of the lakeside benches is an idyllic way to enjoy the view.
You can stay in Estes Park or Grand Lake to access RMNP, or you can camp in the park. The nearest campsite to Bear Lake is the Aspenglen Campground.
Recommended by Stephanie of History Fangirl
4. Hike Kenosha Pass (fall Colorado bucket list item)
If seeing the vibrantly colorful Aspen trees are on your Colorado bucket list, the stunning Kenosha Pass is where you can find the largest concentration of them!
Just 65 miles (90 minutes) southwest of Denver, Kenosha Pass is the perfect place to hike year-round. However, it really comes alive during the fall months. Late September to early October is when the Aspen trees are at their peak!
With a starting elevation of 10,000, the Kenosha Pass has trails that hikers of any fitness level can enjoy. These trails range from less than one mile in length to 14.5 miles round-trip.
Two of the most popular trails include The Colorado Trail and The West Side Trail. The Colorado Trail is on the east side of the Kenosha pass. It boasts an easy gradual 3 mile out-and-back hike to a panorama overlooking the South Park mountains plains.
There is also an option to continue on to Denver, but this would require multiple days of backpacking and requires a higher level of physical fitness.
The other trail is The West Side Trail that leads all the way to the town of Durango. This trail winds through conifer and aspen forest to a stunning overlook of the South Park and the Mosquito Range, before ending at Guernsey Creek.
The total distance of this route from the trailhead is about 3 miles for a 6 mile out-and-back. Be sure to pack sunscreen and plenty of water regardless of the season. These trails remind me of the ones in Logan County, West Virginia – so fun!
During the fall months, arrive early to get a parking spot. There's parking located at both trailheads (East and West side of 285) with additional parking on the East side after going through the cattle gate.
Make sure you track weather patterns and road conditions prior to traveling to Kenosha Pass as conditions can change quickly.
If you plan to stay overnight, the Residence Inn by Marriott in Breckenridge is a top-rated property nearby.
Recommended by Alex of East Coast Contessa
5. Explore Chatauqua Park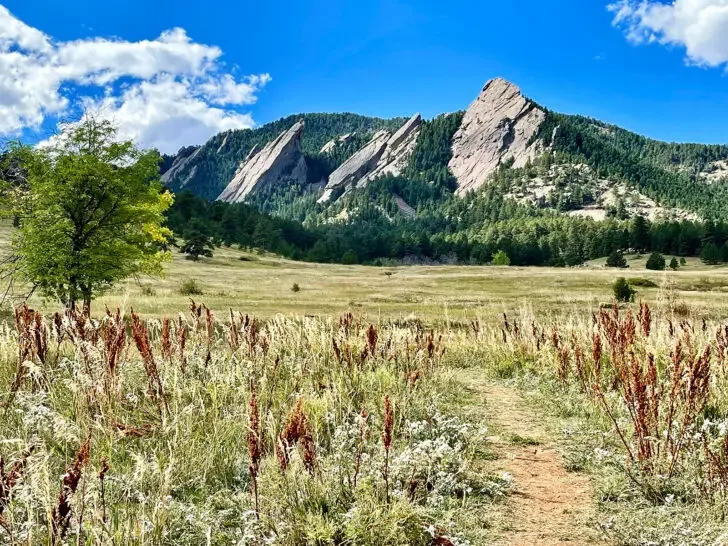 If you love beautiful scenery, hiking, and delicious food, visiting Chatauqua Park in Boulder should be on your Colorado bucket list. The park sits at the foot of the iconic flatirons, so you'll have stunning views and ample opportunity for awesome photos.
Weekdays during the spring and fall are the best time to visit the Chatauqua. The entrance is always free, but depending on the season and the day of the week, you may have to pay a small fee for parking, or park on a nearby street for free.
After exploring the trails, you can picnic at the Bluebell Shelter or enjoy a meal at the historic Chatauqua Dining Hall instead (reserve ahead). The building dates back to 1898 and is one of the best restaurants in Boulder to sample some of the local specialties. The elk burger, the bison Rueben, and the pork green chili will not disappoint!
Plan to spend a full day at Chatauqua and then stay downtown at the Hotel Boulderado. It's just 10 minutes away by car. The Boulderado has been running since 1909 and feels like a gorgeous museum with comfy and cozy rooms.
Recommended by Denise of Chef Denise
6. Visit the Colorado National Monument (one of the most iconic places to see in Colorado)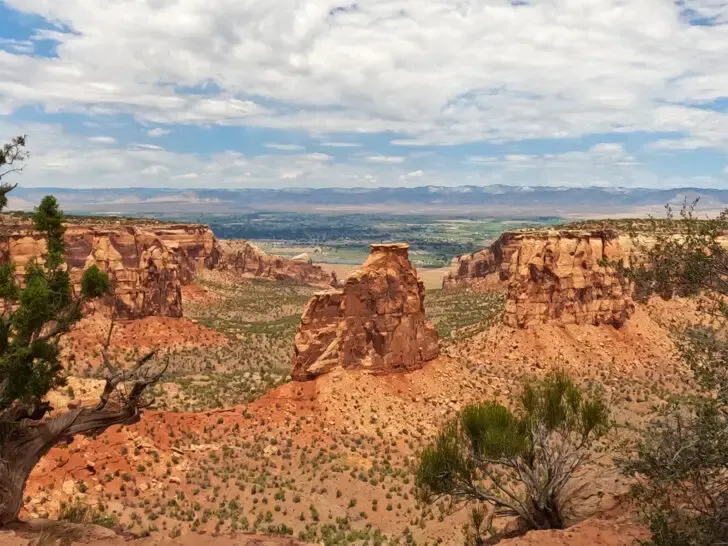 Your Colorado bucket list absolutely must include seeing the Colorado National Monument! Located in the far western part of the state along I-70 just outside of Grand Junction, this is a perfect stop on a Denver to Moab road trip.
The Colorado National Monument features unique rock formations like Independence Monument, the Kissing Couple and Cove Ovens. They're so cool to see!
The Rim Rock Drive is the most popular way to explore this the Colorado National Monument. It's 23 miles long and takes about an hour, depending on how many stops you make. There are 19 viewpoints and 14 hiking trails, so you could spend quite a bit of time if you have it!
Lace up your hiking shoes and explore the 1.8 mile Canyon Rim Trail to Window Rock, or the 0.7 mile hike, Otto's Trail. For a more intense hike, try the Monument Canyon Loop Trail at 4.5 miles.
After exploring the Colorado National Monument, be sure to spend some time in Grand Junction. With museums and gardens, theaters and wineries, there's so much to see in do in this little corner of the state!
Recommended by me – Nikki of Inspired Routes
Bucket list Colorado, continued
Gah! There's so much to see and do in this great state. Let's keep going with a couple of unique attractions, up next.
7. See the Breckenridge Troll
It's one of the best things to do in Colorado, and one of the most unique attractions as well! Visiting the Breckenridge Troll near downtown Breckenridge is fun for kids and adults alike.
This giant troll, named Isak Heartstone, was created by artist Thomas Dambo, who creates trolls all over the world out of scrap materials. His mission is to emphasize the importance of recycling and using local resources.
Getting to the troll is fairly easy, as there are free shuttles from downtown Breckenridge, and it's just a short walk (0.25 miles) along Trollstigen trail to get there. Open year-round, you can grab photos of you and your family or friends with the troll in any season.
After a visit to the famous troll, be sure to hang out in Breckenridge for a while! While it's a popular wintertime destination for skiing and snowboarding, there's also quite a bit of things to do during summer in Breckenridge, too.
From alpine roller coasters, museums, breweries and hiking, Breckenridge has so much to offer visitors! The Breckenridge Troll is absolutely deserving of a spot on this Colorado bucket list, but be sure to explore more of Breck (as the locals call it), too!
Recommended by Nikki of She Saves She Travels
8. Go back in time at Dinosaur Ridge (a kid-favorite on this Colorado bucket list)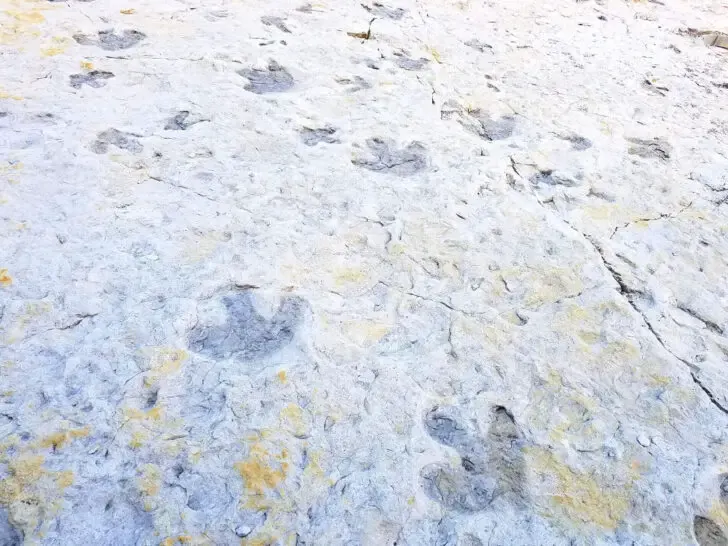 One of the best things to do in Colorado is to visit Dinosaur Ridge in Morrison. It's just 25 minutes outside of Downtown Denver and it's great for people of all ages. Plus, it's open year-round, so you can visit at any time.
At Dinosaur Ridge, visitors will be able to see and even touch real dinosaur fossils. There are also impressions of large palm fronds and other leaves and plants. The most popular attraction, however, is the over 300 footprints left by various dinosaurs.
You can explore Dinosaur Ridge on guided tours or on your own. Guided tours are by bus or on a guided walk and cost between $18 and $20 per person. Self-guided tours are free.
On-site, visitors will also find the Discover Center. Inside are exhibits that feature fossil replicas of claws, teeth, spikes, eggs, and bones. There is also a simulated dig site, snacks, and a gift shop.
If you're looking for a place to stay in the area, consider the Fairfield Inn & Suites by Marriott. It's between Morrison and Denver, so you can have both city and outdoor experiences. The hotel also offers free breakfast and free parking.
Visiting Dinosaur Ridge in Morrison is one of the best bucket list Colorado activities, and one the whole family will love!
Recommended by Vicky of Buddy The Traveling Monkey
9. Ski in Steamboat Springs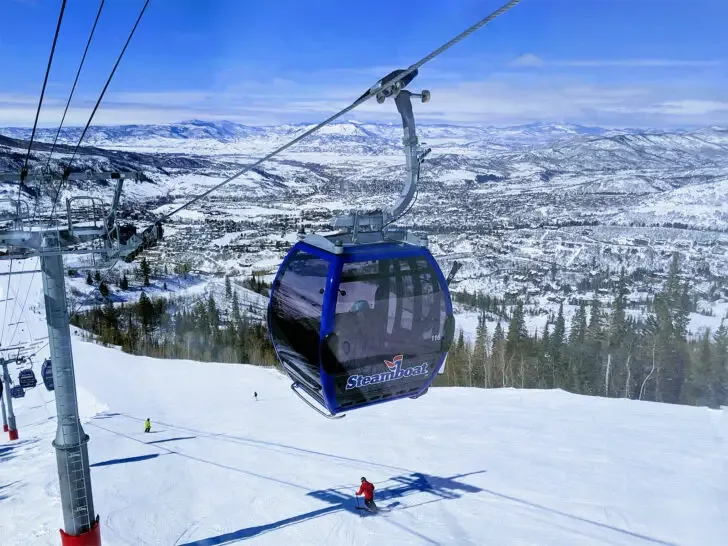 Steamboat Mountain Resort is one of the largest ski resorts in Colorado, with over 2,965 acres of skiable terrain, 169 trails, and 18 chair lifts. It's a must for your bucket list Colorado!
Affectionately called "Ski Town USA", the mountain town has produced more winter Olympians than any other place in the United States. But, you don't have to be an advanced skier to enjoy this family-friendly mountain. The ski runs cater to all skill levels, from beginner to expert.
The mountain resort located in far northwest Colorado is renowned for its unique snow quality, which is famously called "Champagne Powder Snow." The light, dry, and fluffy snow is perfect for skiing and snowboarding.
If you visit Steamboat in winter, there is so much to do beyond skiing, as well. The town is also famous for its natural hot springs, which are located in the heart of downtown. After a long day of skiing, soaking in the hot springs is a perfect way to relax and unwind.
So, if you are looking for a unique and unforgettable winter experience in Colorado, Steamboat has something for everyone.
From the novice skier to the extreme sports fanatic and even the non-skier who just wants to experience the pristine snow capped mountains, this cozy and laid-back resort town is an ideal Colorado destination.
Recommended by Melissa of Parenthood and Passports
10. Adventure around Garden of the Gods (one of the classic bucket list Colorado attractions)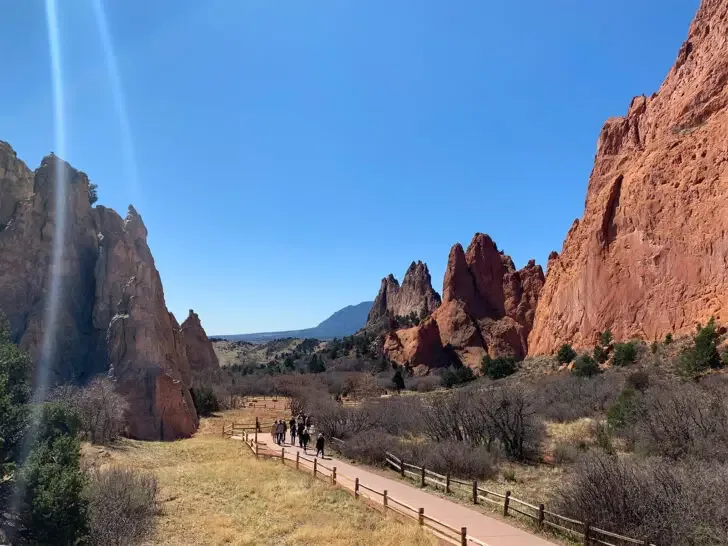 Whether you are visiting Colorado Springs with kids, friends, or solo, Garden of the Gods is a beautiful, must-see attraction. It's one of the best places to see in all of Colorado!
Here, the garden is not made of flowers and plants, but of sandstone formations that rise high out of the ground. The flatter formations appear organized in a specific area, with plenty of formations all around the park.
The Garden of the Gods' name comes from a surveyor in the 1800's who saw the garden and declared it "a fit place for the gods to assemble." Its beauty is striking to all who visit.
To find Garden of the Gods, Exit I-25 and head west on Garden of the Gods Rd. When it ends, head south on 30th street.
As you approach, you'll pass right by the Garden of the Gods visitor center, which you should not miss. Inside you'll find exhibits, current activities and events happening in the Garden, and a café.
You can hike all over the park with your choice of 21 miles of trails. If you want to explore the main Garden, you'll want to drive the one-way loop up to the Central Gardens parking area. The lot is big, but fills up quickly. Arrive early for better chances at a parking space.
The Central Gardens have a nice, paved sidewalk of a little over a mile, making it very accessible and easy to bring kids and strollers. The best part of Central Gardens is the beautiful views and close-up encounters with these magnificent red walls.
Recommended by Megan of Let's Jet, Kids!
11. Sandboard at Great Sand Dunes National Park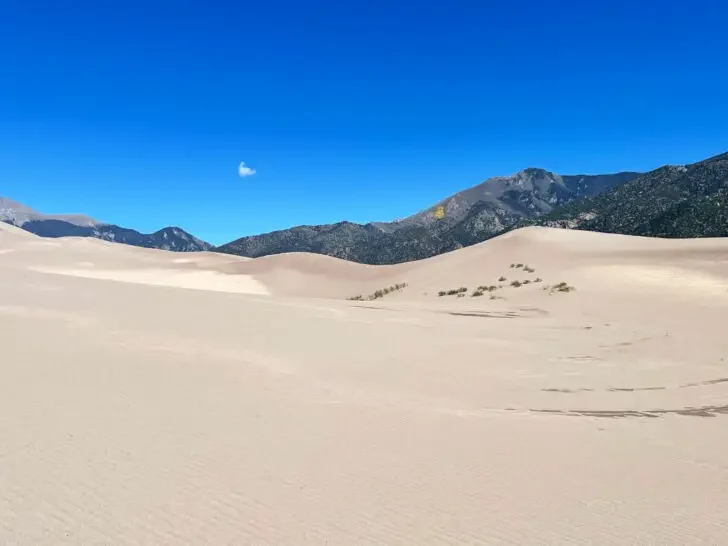 Great Sand Dunes National Park is located in Southern Colorado. This small but unique National Park offers an incredible experience, you can't find in other parks: Sledding down sand dunes! It's definitely one of the best things to do in Colorado for adventure-lovers!
It's hard to visualize the grandeur of these dunes until you see them in person. The sand dunes inside the park are the tallest in North America, with some being over 750 feet tall.
You can hike to the top, or just wander around on the dunes, but the best way to experience them is to climb up and glide down on a sled or board.
Getting into the park is free, and open year-round. You can rent boards or sleds for under $15 at the store near the park entrance.
They will also give you wax to rub on the bottom of the boards, so they slide faster. You'll want to be sure and rent a board as plastic snow sleds will not work here as they don't glide properly.
In the summer the dunes can get incredibly hot. The sand can get over 100 degrees even if the air temperature is not that hot. If you are visiting in the summer, aim for sledding first thing in the morning, or in the evening time.
Bring plenty of water, and wear sun protection. There is no shade, and the sun reflecting off the sand is brutal! After you've had fun sledding on the sand, head to nearby Zapata Falls to cool down with a short hike to a gorgeous waterfall.
In the winter, you might find snow on the dunes, which is beautiful but does make it harder to sled.
Great Sand Dunes National Park is off the beaten path, and you'll need to plan your lodging in advance. The best hotels to stay at are Great Sand Dunes Lodge or Zapata Ranch. If you like camping, Rustic Rook is a great glamping site nearby!
Recommended by Chantelle of Flannels or Flip Flops
12. Get hot in Glenwood Springs (a year-round Colorado bucket list activity)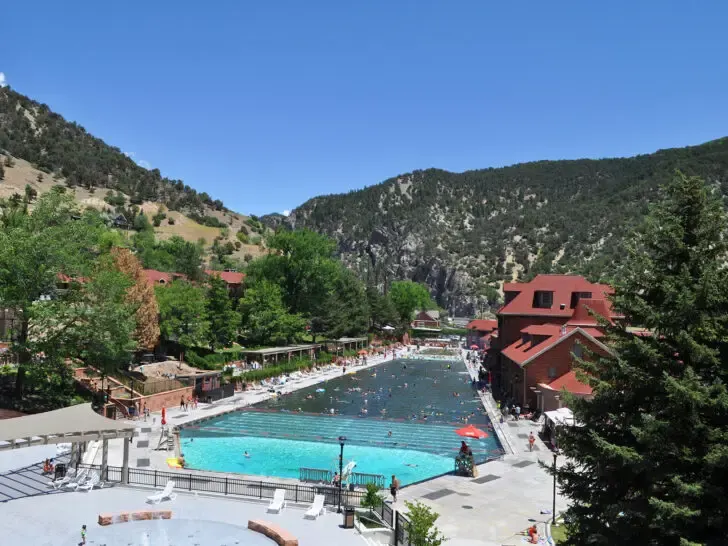 If you're looking for Colorado bucket list activities, look no further than visiting the largest natural hot springs pool in the world in Glenwood Springs! Located in western Colorado along I-70, Glenwood Springs is a must-see when visiting Colorado!
Open year round, the largest mineral hot springs pool in the world is an icon in the state. The mountains make the perfect backdrop any time of year.
The main pool at Glenwood Hot Springs is kept at a balmy 90 degrees Fahrenheight, and the therapy pool (hot tub) is at 104 degrees. To think this is cooled down from 122 degrees is insane!
The pool has a splash zone for kids and a white water tube ride for kids and adults alike. Be sure to check hours as they change seasonally.
The charming downtown of Glenwood Springs is within a short walk from the hot springs pool. Grab a bite to eat, shop and walk the streets, listening to live music and people-watching.
If you're taking a Colorado road trip from Denver, Glenwood Springs is just about 3 hour drive. While you could technically make it a day trip, spending at least one night in Glenwood Springs is recommended. The Glenwood Hot Springs Resort makes a convenient stay!
Recommended by Nikki of She Saves She Travels
13. Catch a show at Red Rocks Park and Amphitheater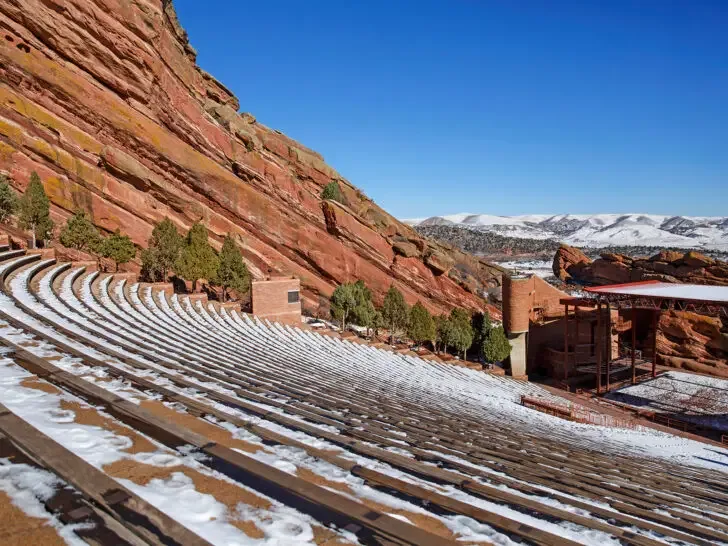 Red Rocks Park and Amphitheater is located near Denver and is one most unique outdoor stages in the world and one of the amazing places to see in Colorado.
It is in Morrison, Colorado, which is a quick drive from Denver and a spectacular day trip for the avid outdoor traveler, hiker, or anyone that appreciates beautiful views of stunning red rocks!
The Amphitheater and Red Rocks hiking trails are free and open every day all year from dawn until dusk. They do hold concerts, yoga sessions, and movies in the amphitheater which are all paid events and require a ticket to the amphitheater but the trails are still free to roam.
When an event is not being held, there is no admission charge to the amphitheater and park.
The amphitheater is the main attraction of the park. It is huge and surrounded by naturally made red rocks. It was built into the rocks to be a part of the landscape with huge, mouth-dropping sandstones framing each side of the stage.
The view beyond the stage of the city of Denver and its surrounding mountains is equally breathtaking.
There are 380 steps in the amphitheater which lead down to the park's two popular hiking trails. The trails wind around all the red rocks and through the park, providing amazing views of natural landscape and wildlife, including prairie dogs.
Since Denver is only a half hour drive from the park, the best place to stay is in downtown. There are many convenient hotels located downtown Denver that offer easy access and a quick drive to Red Rock Amphitheater.
Recommended by Michelle of Empty Nest Travel Adventures
14. Admire the views along the Trail Ridge Road (one of the very best things to do in Colorado)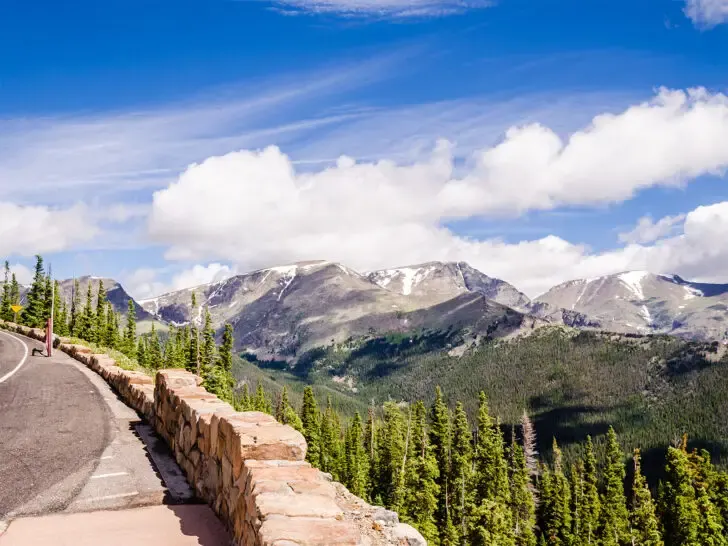 A trip to Colorado is not complete without time spent in Rocky Mountain National Park. While most people come to Rocky Mountain National Park to hike or camp, a day trip from Denver to drive the Trail Ridge Road is a bucket list experience in itself.
Note: you'll need a timed entry reservation for Rocky Mountain National Park from May through October (when the road is open). Plan in advance and make reservations here.
Trail Ridge Road is the highest continuous paved highway in the nation. The road rises to just over 12,000 feet from ponderosa pine to alpine tundra. You will marvel at how quickly you climb over 4,000 feet to get a bird's eye view of the entire park.
At the crest, you can opt for a short hike to look out at the spectacular peaks of the Rockies. But even if you choose never to leave your car, you are certain to experience stunning views, wildlife sightings, and during wildflower season, bright bursts of color.
The road, which was completed in 1932, starts in Estes Park and goes 48 miles to Grand Lake. You can choose to drive part of all of it. Regardless of how much you travel the title of "scenic wonder road of the world," you will not be disappointed no matter how much you see.
If you are day-tripping from Denver, consider staying at the Brown Palace, a luxury hotel and spa that has been one of the most beloved Denver hotels since the gold rush.
If you prefer to stay closer to the start of Trail Ridge Road and want another iconic hotel, try the Stanley Hotel in Estes. The gorgeous hotel was the inspiration for Stephen King's book, The Shining. But don't fear, there is absolutely no horror to be found at the Stanley Hotel, just pure luxury.
Recommended by Faith of 3 Ticket Please
15. Ski in Vail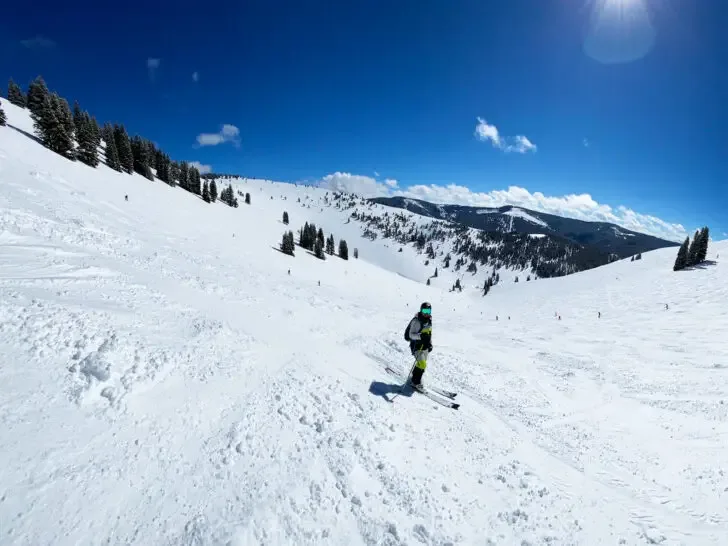 Vail, Colorado is a skier's paradise. With over 5,000 acres of terrain, 193 marked trails and 31 lifts, Vail has runs for every level of experience. From steep, powdery glades to wide-open groomers, Skiing in Vail is one of the best things to do in Colorado.
For obvious reasons, this activity can only be enjoyed in the winter during ski season which runs roughly from mid November to mid April when there's snow. Vail is known for its world renowned skiing and blue bird days which attract adrenalin junkies from all over the world.
This Colorado bucket list item comes at a cost though as lift tickets start at $225 a day. If you live in the area or are a dedicated weekend warrior, buying a ski pass will save you a ton of money.
Whether you are a beginner, intermediate or expert skier, you will quickly realize why Vail is an ideal location for winter sports and the Mecca when it comes to ski mountains and ski towns.
Vail also offers a variety of lodging options and one of the best places to stay in Vail is the Sebastian. This ski-in/ski-out hotel offers luxurious accommodations and the perfect spot to relax and rest after a day of shredding powder on the mountain. Located directly in Vail Village, restaurants, apres bars, shopping and lifts will be at your fingertips.
Recommended by Jess of I'm Jess Traveling
More of the best places to see in Colorado
Year-round, Colorado offers amazing opportunities to explore for residents and visitors alike. Some of my favorite places to see in Colorado are still up next…
16. Hike in Rocky Mountain National Park (one of the most incredible Colorado bucket list activities)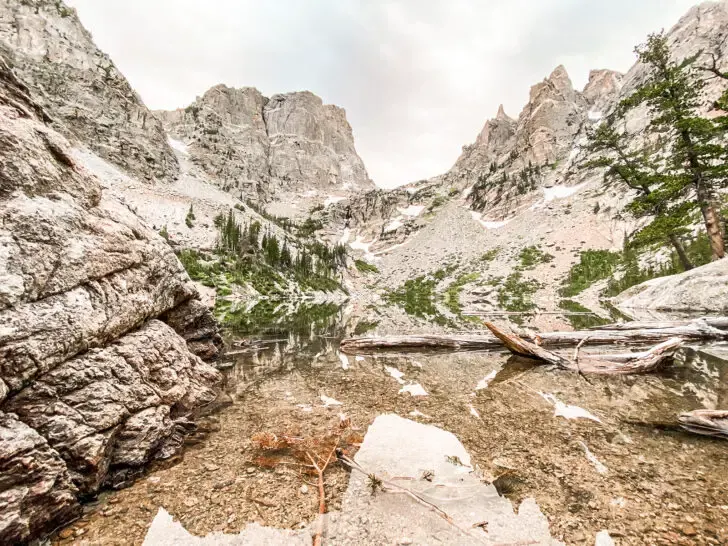 One of the top things that should be on your Colorado bucket list is hiking in Rocky Mountain National Park. This iconic park is one of the most popular in the US, with over 4.3 million visitors in 2022, making it the 4th most-visited national park.
Rocky Mountain National Park's beauty is hard to match! From stunning lakes and snow-capped mountain peaks to towering pine trees and flowing rivers, the natural beauty of this park is hard to beat!
One of the best ways to enjoy Rocky Mountain National Park is by hiking one of the many trails available. There are over 300 miles of trails that hikers of all ages and experience levels can enjoy.
While you really can't pick a bad trail, the hike to Emerald Lake in Rocky Mountain National Park is a great option. While Emerald Lake is the star of this hike, you'll also come across several other peaceful lakes along the way, each more beautiful than the last.
Hiking in Rocky Mountain National Park is an activity that you can enjoy year-round. In the summer, you will find the most trails open and able to use. However, there are still many trails that you can use in the winter with the assistance of snowshoes and winter hiking gear.
Make sure to grab your passes for the park in advance!
There are plenty of places to stay outside Rocky Mountain National Park in Estes Park, Colorado. You can camp inside the park if you're up for a more adventurous trip.
Recommended by Janae of Adventures with TuckNae
17. Climb the Manitou Incline (an epic Colorado bucket list workout)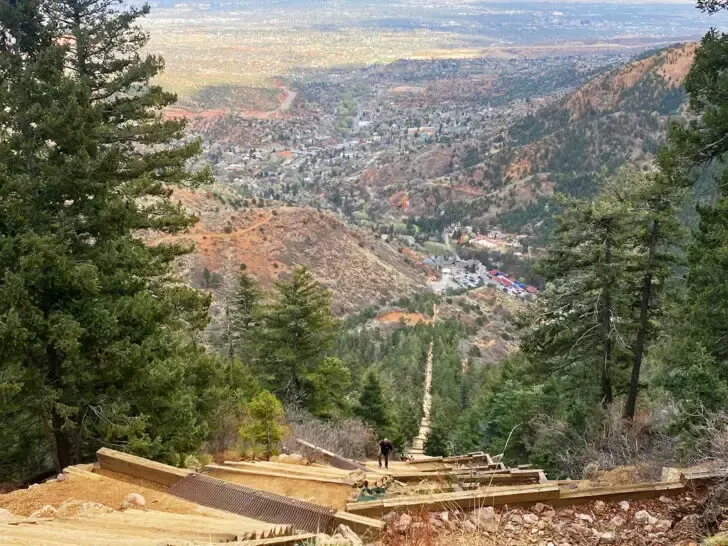 This bucket list item in Colorado Springs is 2,744 steps of excitement! The Manitou Incline is one of the more difficult hikes in Colorado, but you'll be rewarded with the most beautiful views of Pike Peak when you get to the top.
In the one mile of steps leading all the way to the top, you'll hit a 2,000-foot elevation change. Needless to say, slow and steady wins the race.
The best time to visit is April-May when it's not too hot. Most importantly, you'll want to start before sunrise or sunset. Not only does this make the views from the top even better, but the weather is perfect for making the trek.
Once you make it to the top, don't worry, there's a non-step trail to take down to the bottom with equally incredible views.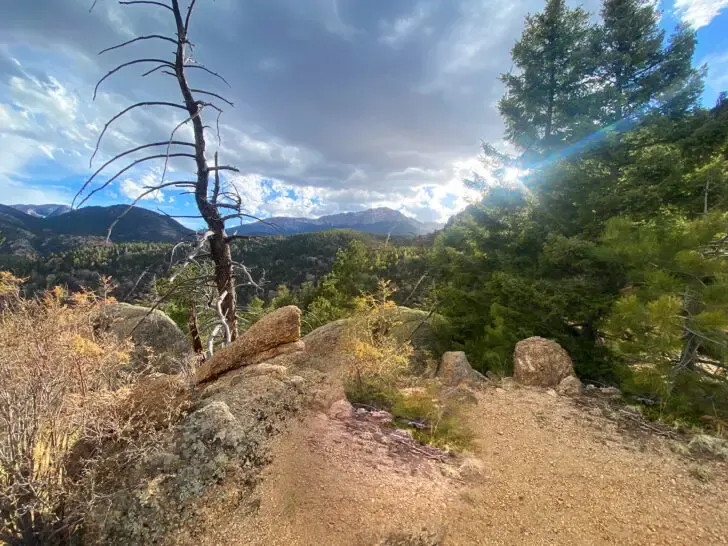 There's no fee, but you do have to make reservations as they only allow a certain number of reservations to begin the hike each hour.
If you're looking for even more of a challenge, you can hike from the incline all the way to Pikes Peak summit. This definitely isn't for the faint of heart, though!
Nearby, you can also visit the popular Garden of the Gods and Seven Falls. Both stops offer less strenuous trails that you can take before or after you head to the incline.
The Cliff House at Pikes Peak is located in Manitou Springs and makes for an excellent stay. You can walk down the streets and visit the small local bars and restaurants. You'll likely make a few new friends during your stay!
Recommended by Rachel of Caribbean Uncovered
18. Explore Mesa Verde National Park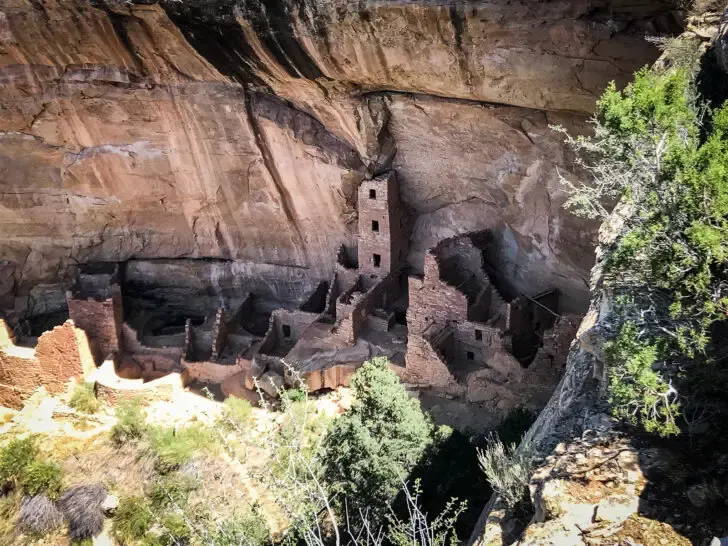 Mesa Verde National Park, located in the southwestern corner of Colorado, is one of the most amazing places to visit in Colorado.
As one of the first places in all of the world designated as a UNESCO World Heritage Cultural Site, it features the archaeological heritage and cliff dwellings of the ancient Pueblo people who inhabited the area from 600 to 1300 CE.
The park is open year round, though timed-entry reservations are required between the months of May and October. Don't miss the opportunity of seeing the cliff dwellings up close and personal! Thera are separate tickets are available for ranger-led tours of the Cliff Palace, the Balcony House, and the Square Tower House.
Mesa Verde NP sits atop a mesa and gets pretty hot in the summer months. You will want to get an early start to avoid peak crowds and to visit at a cooler time of the day. Be sure to pack the essentials for a day hike, too!
The visitor center and entrance kiosk are both located outside the park. Once you enter Mesa Verde National Park there is still a 20 minute drive to reach the top of the mesa. Entrance requires an annual America the Beautiful Park Pass or a 7-day pass to Mesa Verde.
Interested in immersing yourself in the atmosphere of the park? Options for lodging within the park include the Far View Lodge and Morefield Campground.
Recommended by Jolayne of simplyjolayne
19. Hike a 14er – Mt. Evans (a must-do on your bucket list Colorado)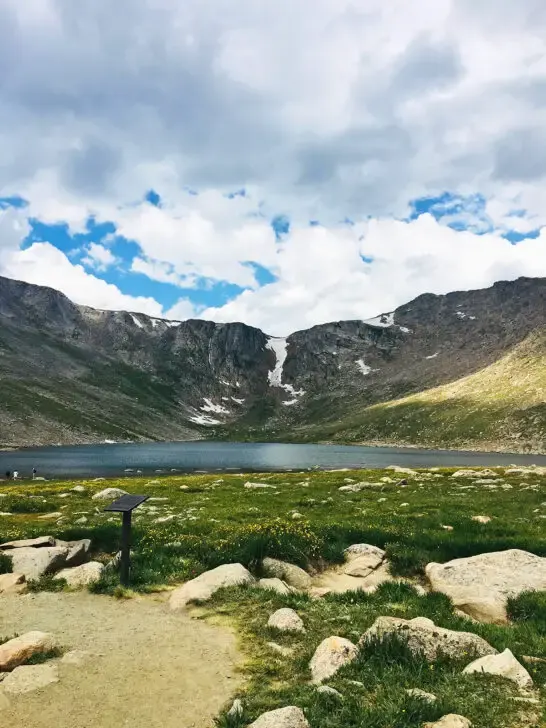 Mt. Evans is the 14th tallest 14er in Colorado and is an epic Colorado bucket list item. Standing at 14,265 feet above sea level, Mt. Evans is the highest summit in the Front Range. It offers spectacular views of the Rocky Mountains from its summit.
The mountain can be reached by driving a winding road up to its peak, which provides stunning scenic views along the way. This winding road to Mt. Evans is also America's highest paved road!
From the peak of Mt. Evans, you can see majestic views of the Rocky Mountains, and a variety of wildlife. The mountain is home to bighorn sheep and other animals that inhabit its slopes.
On the way up to this breathtaking view, you can also view stunning lakes like Echo Lake and Summit Lake at the base of Mt. Evans.
For adventurers, you can hike up Mt. Evans instead of driving up to the peak. The trailhead for Mt. Evans is located at Summit Lake where you can park your car. There are facilities here if you need to fill up your water bottle or use the restrooms.
The Mt. Evans hike is a very strenuous and rocky trail. You'll scramble over boulders and rock formations to get to the peak. Be cautious of the higher altitude and lack of oxygen when you ascend up.
You will need to make a reservation to gain access to Mt. Evans, but the magnificence of this peak makes the effort worth it!
Recommended by of Pafoua Her Wanderful World
20. Drive Old Fall River Road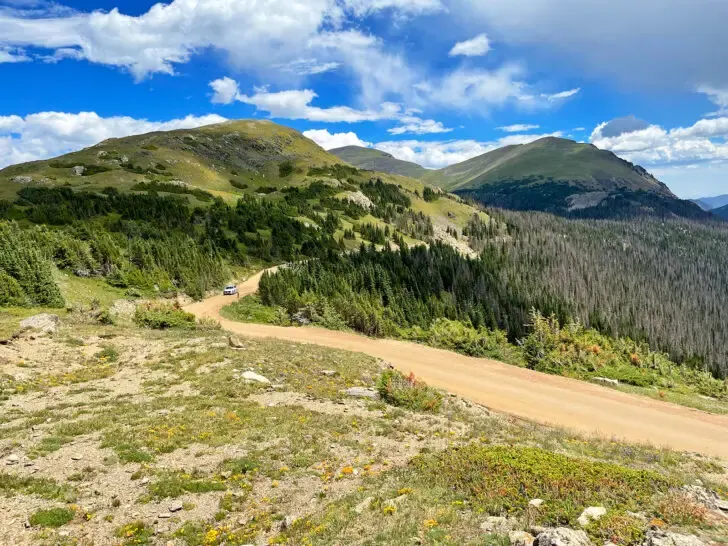 Driving Old Fall River Road is one of the best things to do in Colorado. This scenic drive is located in the beautiful Rocky Mountain National Park.
Old Fall River Road is 11 miles long and is a one way, uphill road only. The speed limit tops out at 15 mph as the route is windy, made of dirt and gravel, and does not have guard rails.
The road is safe, but narrow with many switchbacks. First used by Native Americans as a hunting path, the road later became the first path open to motor vehicles in the mountains of the park over a century ago.
The first stop along the path is the Alluvial Fan carved out of the mountain during a flood decades ago. A beautiful sight to see with plenty of boulder hopping to experience here! A few miles into the road is the peaceful Chasm Falls. There are viewpoints at two different posted spots along the road.
Old Fall River Road eventually meets up with Trail Ridge Road above the tree line near the Alpine Visitor's Center. While visitors could experience the whole route in less than an hour, most will find that taking their time and picnicking at Willow Park is well worth the time!
Due to the high levels of snowfall at this elevation and the windy design of the road, Old Fall River Road is only open to vehicles from approximately the first week of July until the first week of October of each year.
Outside of that narrow window, visitors can only explore the historic road on foot or by bicycle. Snowshoes are welcome too!
Access to Rocky Mountain Park requires a National Park entry pass as well as timed entry ticket reservations during the summer months.
Recommended by Sierra of Island and Alpine
21. Kayak on Grand Lake (one of the best things to do in Colorado)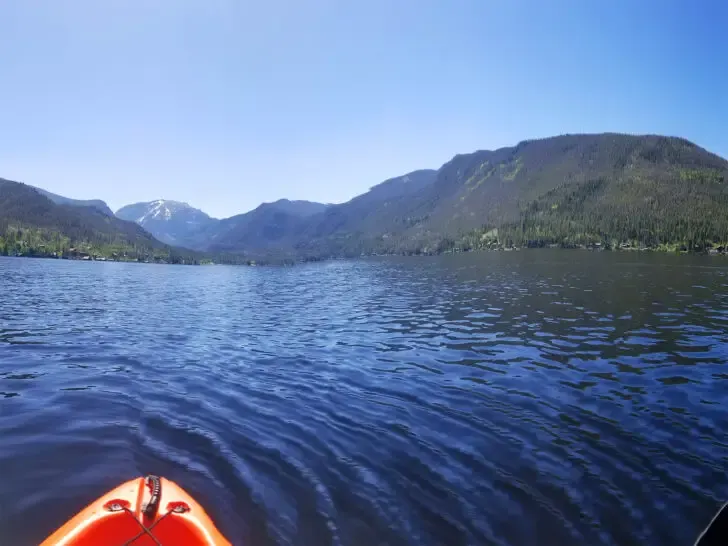 It's a stunning oasis at the western edge of Rocky Mountain National Park, and is often overlooked by tourists. The quaint town of Grand Lake really packs a punch!
Known as the snowmobiling capital of Colorado, it's a year-round destination for those looking to experience the best things to do in Colorado. In fall, rent UTV's and enjoy the local trails.
It's on this bucket list Colorado for the summertime lake activities – like kayaking! You can kayak on Grand Lake, or the larger Shadow Mountain Lake, by a fun pass-through on the water. The nearby Granby Lake is also so beautiful!
Right in downtown Grand Lake, you can rent kayaks, paddle boards, pedal boats and more at the shop next to the pier. Book a rental reservation from May through September.
Of course, this could be part of a larger road trip, combining it with Rocky Mountain National Park from Estes Park. Grand Lake is one of the best places to see in Colorado, and is worthy of a trip!
Recommended by me – Nikki of Inspired Routes
More activities on this Colorado bucket list
In the final stretch! With more national park activities and cool attractions across the state, here are some of the very best things to do in Colorado…
22. Marvel at the Black Canyon of the Gunnison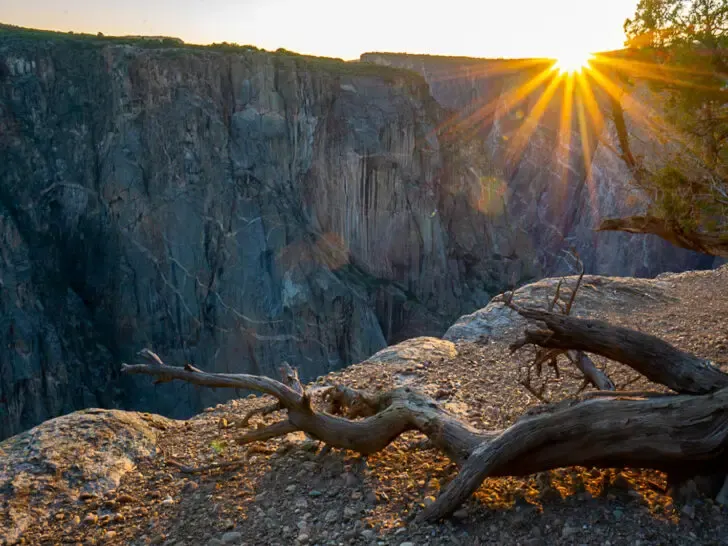 If you're searching out the best things to do in Colorado, then you cannot beat a visit to the Black Canyon of the Gunnison.

After all, it's one of the most underrated national parks in the state. Therefore, you will likely have the park all to yourself as you admire stunning views of 1,000-foot canyon walls with the Gunnison River running through them.

To enjoy all that this magical park has to offer, take a scenic drive along the South Rim. During the drive be sure to stop at overlooks like Devil's Lookout, Chasm View, and Painted Wall View.

Afterward, head to the infinitely more peaceful North Rim. Here, you can use the East Portal Road to climb into the bottom of the canyon – one of the most epic bucket list Colorado activities there is!

While any time is a great time to visit the Black Canyon of the Gunnison, late spring or early fall are perfect times to visit. This way, you can avoid the overbearing heat of summer while enjoying all the amenities the park has to offer.

If you can, try to spend at least 2 days in the park so that you have ample opportunity to explore both the north and south rim. You can also spend the night in Montrose at The Hitching Post. It's an awesome, country-style hotel with well-priced rooms.
Recommended by Meg of Fox in the Forest
23. Admire the RiNo Street Art (a Colorado bucket list stop for art-lovers)
One of the advantages of visiting Denver over Boulder is the wonderful street art. The best place to see these pieces is in the River North Arts District (RiNo). Here, you'll find murals on the sides of businesses, spray painted onto the sidewalk, and even smaller pieces tucked into unexpected places like the inside of a set of stairs.
Making the time to explore a neighborhood like RiNo offers an up-close view of the city's spirit. Wander up and down Larimer Street and Walnut Street for some of the best views, especially on a sunny, clear day.
This free activity is perfect for solo travelers, families, and everyone in between.
Although Denver is a good spot year around, the late summer/early fall is the best time to see RiNo. During this time, the temperatures will drop slightly from their summer swelter. People will still be flocking to outdoor patios to enjoy the sunshine.
After you've explored the art in the area, you can grab a beer at Improper City, a cider from Stem Ciders, or a glass of wine and some tapas from Barcelona.
Choose a hotel in RiNo, both for the street art and because it's a fabulous jumping off point for the rest of the Colorado Front Range. The Ramble Hotel is the perfect choice for travelers who love a stay with style and charm.
Recommended by Amber of Amber Everywhere
24. Cheer on the race at Colorado National Speedway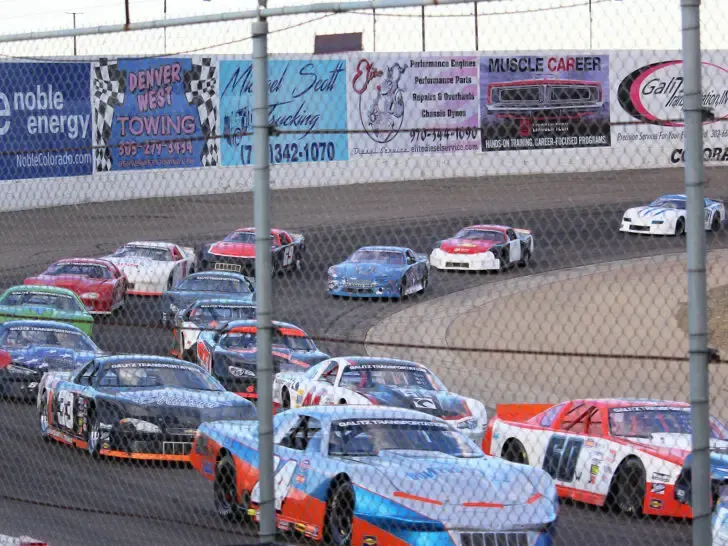 If you enjoy sporting events and the excitement of a cheering crowd, then a visit to Colorado National Speedway in Dacono needs to be on your Colorado bucket list! This Colorado racetrack makes a great date night or family outing.
Watch local racers compete from different divisions, including Late Models, Legends, and Bandoleros – the youngest drivers between the ages of 8-15. The stadium is considered Colorado's Premier NASCAR short track.
The racing season goes from April to October, including special events throughout the season. Tickets can be purchased for $35 for adults and $25 for ages 13 and under. The stadium also includes a family-friendly section if you plan to bring your kids. Join the pit after the night's races to get autographs and photos taken with your favorite drivers.
If you are visiting the area, the Omni Interlocken Hotel in Broomfield makes a fun stay with 2 pools, a spa, and a golf course.
Nearby you'll also find some of Colorado's best breweries. The Avery Brewing Company in Boulder and Left Hand Brewing Company in Longmont are good choices to start with!
If you're looking for more adventure, Boulder is known for its outdoor and adventurous activities. While in Boulder you can go rock climbing, hiking, and enjoy its college atmosphere. It's home to the University of Colorado.
Recommended by Tiffany of Destination Momhood
25. Marvel at Geyser Spring (one of the most underrated places to see in Colorado)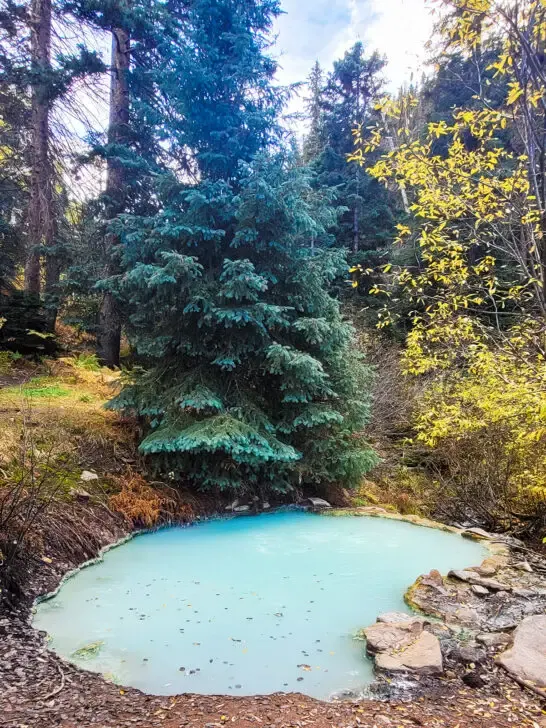 Just five minutes from the renowned Dunton Hot Springs nestled between Telluride and Dolores, Geyser Spring should be on your Colorado bucket list.
It's the only true geyser in the entire state, and while it doesn't shoot up into the air like Old Faithful, it's unforgettable in its own right. The geyser is a small, milky blue pool that bubbles every 12-15 minutes, and the only way to reach it is hiking in. Note that it's not safe for swimming, as it emits hydrogen sulfide.
The 2.6-mile round-trip hike is absolutely stunning from start to finish, and it's family-friendly while also offering a handful of gentle switchbacks that get your heart pumping a bit. You'll start at a postcard-worthy bridge over the Dolores River, then hike through dense aspen groves.
The fall foliage is incredible here throughout October!
Another reason to hike to Geyser Spring is the super scenic drive to the trailhead. You'll take the famous Highway 145 and Forest Service Road 535, a back road that runs along the Dolores River.
There are ranches and historic homesteads dotting the road, as well as ruins from old mining operations, all surrounded by the dramatic San Juans. The road may be impassable during the winter months, so it's best to visit between May and late October.
Geyser Spring is close enough to do as a day trip from Telluride. You can, of course, stay at a hotel in town, but there are also several amazing campsites along the route — and if you've never experienced Telluride camping (especially in the fall!), you may want to add that to your Colorado bucket list, too.
Recommended by Taryn of Chasing Trail
26. Soak in the hot springs of Pagosa Springs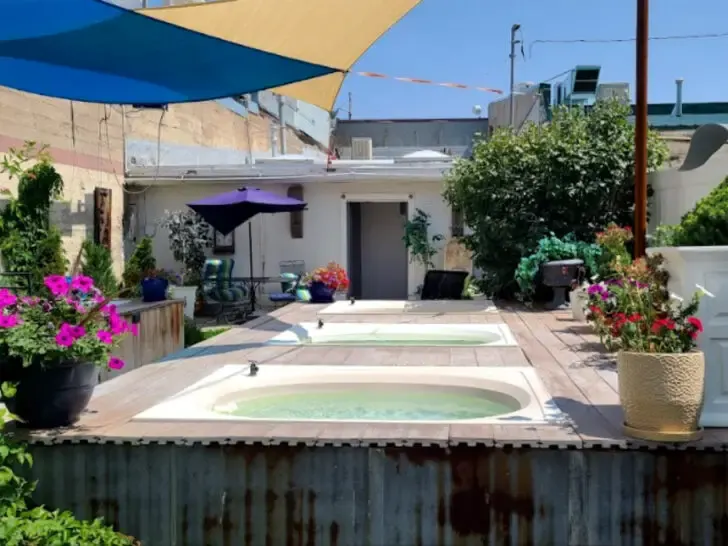 Nestled in the San Juan River Valley in southwestern Colorado, Pagosa Springs is a small town renowned for its natural hot springs. The name "Pagosa" means "healing waters" in the Ute language, and it's no surprise that Pagosa Springs hot springs have been attracting visitors for centuries.
Today, this small town is a popular destination for those seeking relaxation and rejuvenation. It's a relaxing stop on this Colorado bucket list!
The Mother Spring in Pagosa Springs, Colorado is world famous for being the deepest hot spring in the world. It has a measured depth of over 1,000 feet! This natural geothermal wonder feeds into the pools at the Springs Resort and Spa, providing visitors with a truly unique experience.
The largest and most popular hot springs resort in the area is The Springs Resort and Spa. This spa features 23 pools with temperatures ranging from 83 to 114 degrees Fahrenheit. However, at $65 per person, it's not the most budget-friendly option.
Other hot springs, such as the Overlook Mineral Springs Spa and the Healing Waters Resort and Spa, offer more affordable alternatives.
If you're looking for a free hot springs experience, there are several options around Pagosa Springs. The Piedra River Hot Springs and the Rainbow Hot Springs are both popular choices, but be prepared to hike to reach them.
Pagosa Springs is a year-round destination, with each season offering its own unique charm. Summer is ideal for hiking and fishing, while winter is perfect for skiing and snowboarding.
Keep in mind that the high altitude of Pagosa Springs can cause altitude sickness in some visitors. Be sure to stay hydrated and take it easy if you're feeling lightheaded.
If you're planning to visit Pagosa Springs, there are plenty of nearby accommodations to choose from. The Springs Resort and Spa offers on-site lodging, but there are also several hotels, motels, and bed and breakfasts in the area.
The Nightingale Motel is a popular choice, located downtown that offers a cocktail lounge called The Neon Mallard.
Recommended by Nicoll of Living Tiny with a Wolf
27. Check out the petrified trees at Florissant Fossil Beds National Monument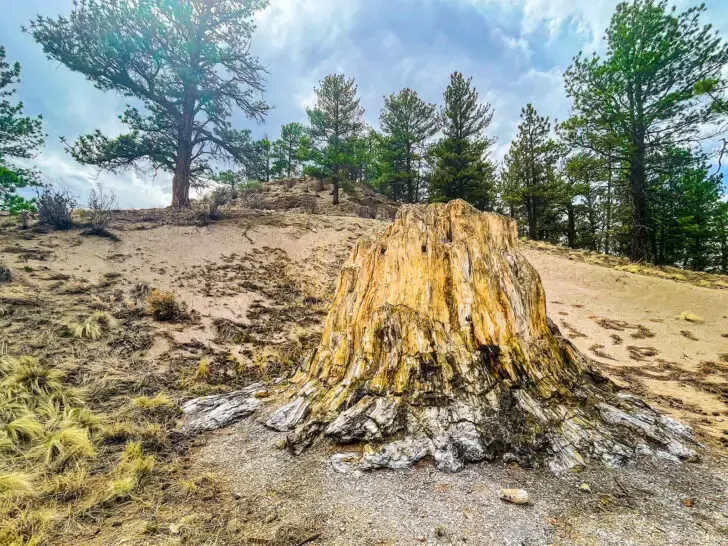 Located about 1 hour west of Colorado Springs, Florissant Fossil Beds National Monument protects one of the most unique set of fossilized remains in the world.
The site contains some of the most unique and plentiful remains of fossilized insects and plants. Many of which are only found here and nowhere else.
Within the site of the national monument, visitors can also see incredible petrified redwood trees. Redwoods used to exist in the area millions of years ago when the climate of the area was so very different. It's rare to find such specimens of petrified trees elsewhere in Colorado.
The park has several hiking trails visitors can explore to experience the park. The popular ones explore the petrified redwood trees, with enormous stumps to view throughout the park and trails. There is also a geological trail to explore the geological formations and history of the park.
After hiking, be sure to check out the old homestead within the park. Visitors can view and explore around as well as old streams, mills, and creek throughout the many acres of the park.
Fossils are illegal to harvest within the park and most are still buried within the park. To view fossils there are many on display in the visitor center at the site.
The park is a day-use only park with parking areas closing nightly. There are occasionally evening programs for star watching held throughout the year at the park which allows visits to the park after hours.
Daily fee for the park is $10 per adult however those with the NPS Annual Pass, the park is included. There's also a $35 annual pass for just the national monument alone.
The park is best visited in late spring to early-mid fall while the weather is warm, the park can get very cold and snowy in the winters. There are no campsites within the park, however there are several nearby campsites at Mueller State Park.
There are hotels available in Woodland Park such as the comfortable Microtel Hotel or many more options further east in Colorado Springs (1 hour away).
Recommended by Anwar of Beyond my Door
Colorado bucket list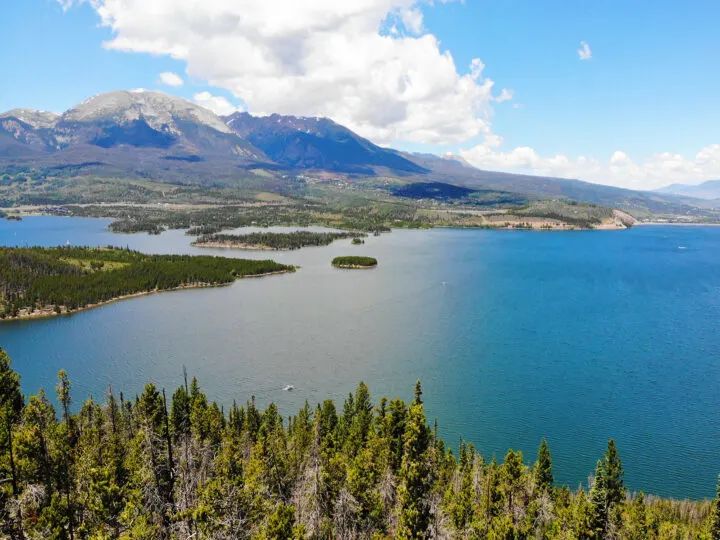 Wow! What an amazing list! Here were 27 of the very best places to see in Colorado. Where are you heading first?
Let's recap this amazing list one more time (in a slightly quicker fashion…)
Best things to do in Colorado
Sapphire Point Overlook
Pikes Peak Cog Railway
Bear Lake, Rocky Mountain National Park
Kenosha Pass
Chatauqua Park
Colorado National Monument
Breckenridge Troll
Dinosaur Ridge
Steamboat
Garden of the Gods
Great Sand Dunes National Park
Glenwood Springs
Red Rocks Park and Amphitheater
Trail Ridge Road, Rocky Mountain National Park
Vail
Rocky Mountain National Park hiking
Manitou Incline
Mesa Verde National Park
Mt. Evans
Old Fall River Road
Grand Lake
Black Canyon of the Gunnison
RiNo Street Art
Colorado Speedway
Geyser Spring
Pagosa Springs
Florissant Fossil Beds National Monument
Related content you might like:
12 Epic Scenic Drives Colorado
32 Awe-inspiring Adventurous Bucket List Ideas You Gotta See to Believe
Find this post helpful? Save it for later or share it on social media!