It's a thrilling drive – one of the best in your lifetime! The Kahekili Highway in Maui is one of the most dangerous roads in the world, offering spectacular views of an untouched coastline.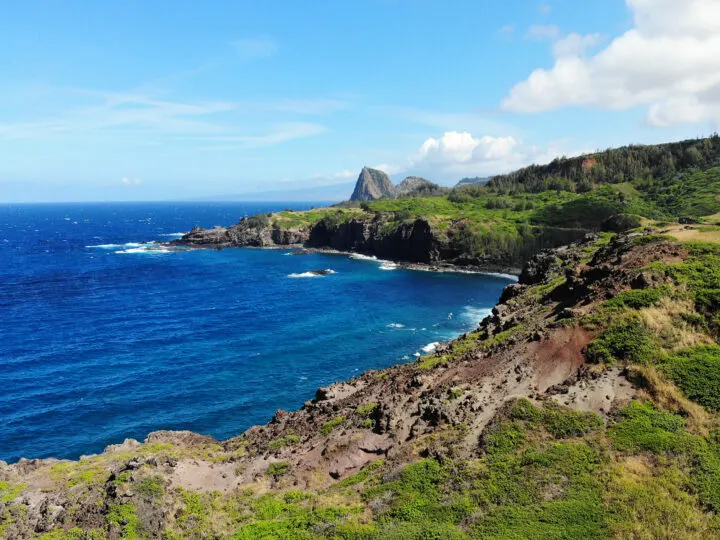 This post may contain affiliate links. For more info, see my disclosures.
It's some of Maui's most gorgeous land. Those vivid blue waters met with Maui's rustic northwest coastline. It's perfection, really!
This one-lane highway has been ranked as one of the most dangerous roads in the world time and time again. Its scenery is quite literally to die for. However, if it's done safely, this can be one of the most unique and memorable experiences you'll have in the Hawaiian islands.
Many areas around Kahekili Highway and Maui Highway 340 are privately owned and not accessible by tourists. Please respect the locals and their private land.
However, a greater part of this area is part of the West Maui Natural Area Reserve and there are some public spots worth exploring! This guide will walk you through exactly what to do along the way – and the necessary precautions you'll need to make if you dare to explore this area.
Kahekili Highway and Highway 340 Maui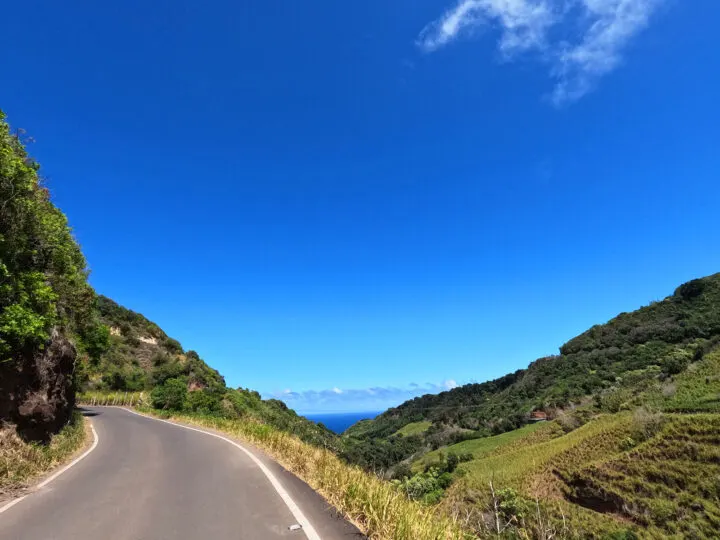 It's a fun road trip is around the entire side of West Maui! But for the purposes of this guide, we're going to cover the space on the northwest coast between Kapalua and Waihee-Waiehu. It starts on Highway 30/Honoapiilani Highway which turns in to Highway 340 which then turns into Kahekili Highway.
This stretch of road is far less touristy than most of the island of Maui. You might just feel like you've got the area to yourself! Especially if you've done the Road to Hana, which has gotten incredibly popular and busy.
Must-see video: Kahekili Highway
Map of the Kahekili Highway
If you're a visual person, this map will help you see the location of the route.
The icons on the map are some of the recommended stops and things to do while taking a road trip along part of the Kahekili Highway. Zoom in or tap the icons within the map for more details. And of course, written details are below in this post!
Driving the West Maui Mountains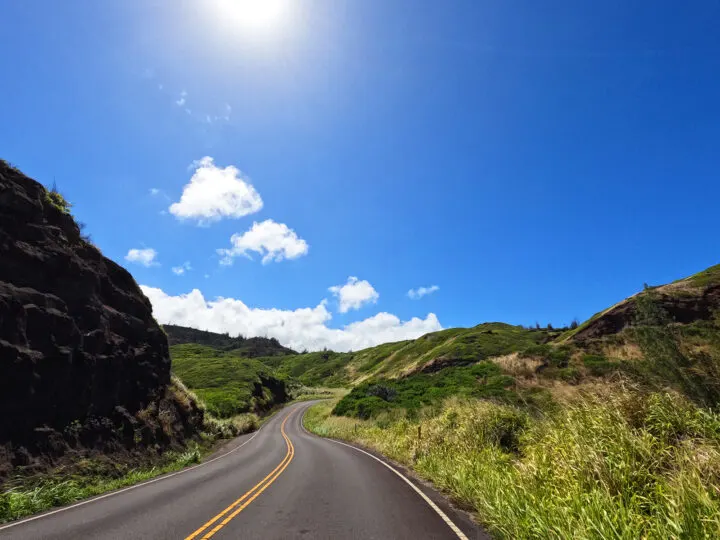 This is probably a great time for your official warning: driving the Kahekili Highway Maui is not for the faint of heart.
Yes, it's a beautiful – no, stunning – stretch of road along northwest Maui. But it's also extremely narrow at points. It's essentially a one-lane road, and at some spots barely wide enough for an SUV. Large trucks don't dare drive this stretch – and inexperienced drivers shouldn't either.
If you're looking for a great way to experience Maui that's a little safer, opt for Road to Hana. But if you're confident (and safe) while driving, the Kahekili Highway and Maui Highway 340 road trip might just be for you!
Let's start with a few basics…
Why is it called Kahekili Highway?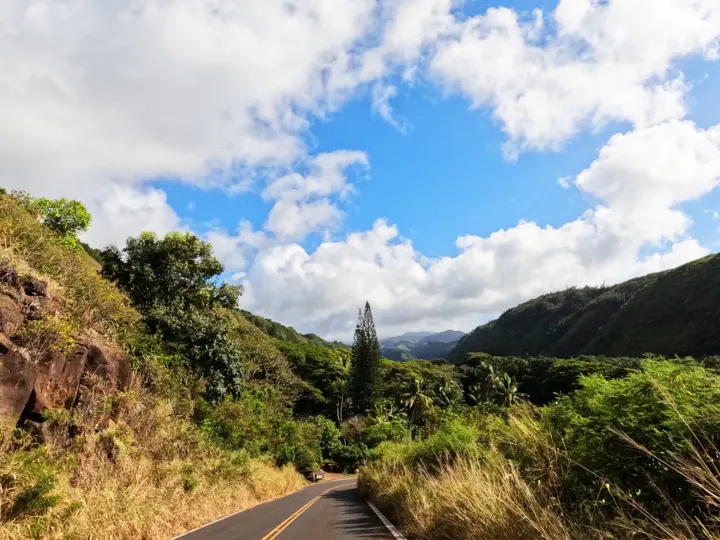 First of all, let's just say that using the term 'highway' is generous! At just 12 feet wide in spots, it's definitely not comfortable for vehicles to pass side-by-side at times.
Ultimately this stretch of road was named after a brazen Hawaiian ruler, Kahekili. Born on Maui in the 1700's, he ruled all of Maui Nui, and then went onto conquer Oahu, Lanai and Kauai, according to legend. His bold approach to leadership warrior spirit made him well-known during his reign and for centuries after.
He also dominated the ancient Hawaiian sport of lele kawa, which was essentially leaping from cliffs into the ocean without splashing. And given this stretch of highway has deep cliffs that dive straight into the water, the name is certainly fitting!
Kahekili Highway vs Road to Hana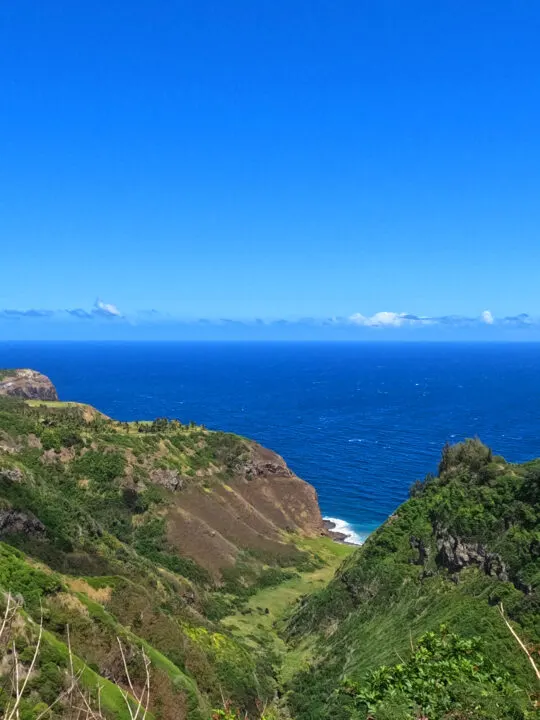 As someone who's experienced each of these roads twice, I can say they're both truly unique in the experiences you'll get. Here are some pros and cons to each…
Road to Hana is much longer of a road trip – at least 1 full day or better with 2 days
Kahekili Highway can be done in 1/2 day to 1 full day
Road to Hana has more activities and public stops
Kahekili Highway has wayyyy less people and traffic
Road to Hana has more beaches if you want to go for swimming
Kahekili Highway still feels undiscovered and not yet commercialized
Road to Hana has tours and more food options
Kahekili Highway is more dangerous based on the width of the road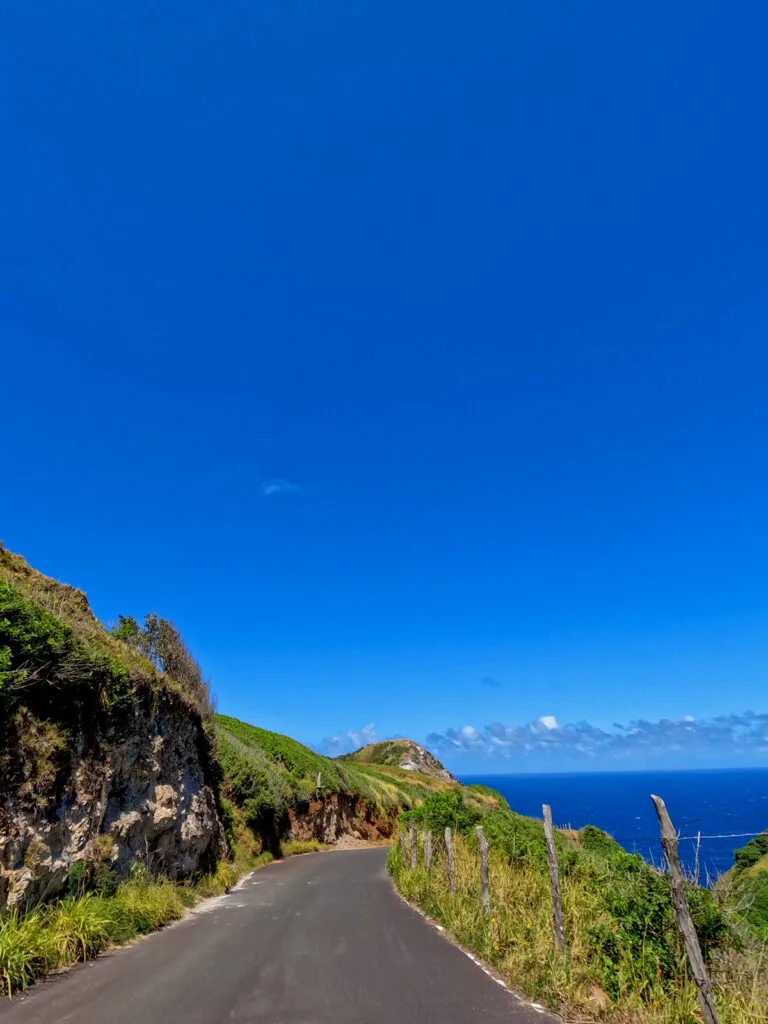 Honestly, if you have to choose just one adventure, it will be difficult! The Road to Hana has unique attractions like the black sand beach (Honokalani Beach within the Waianapanapa State Park) and more waterfalls.
Kahekili Highway Maui is just more remote and has far less traffic. The hiking is fabulous and the coastline is pristine.
So in the case of Kahekili Highway vs Road to Hana: you really can't go wrong with either decision!
Tips for driving this epic Maui road trip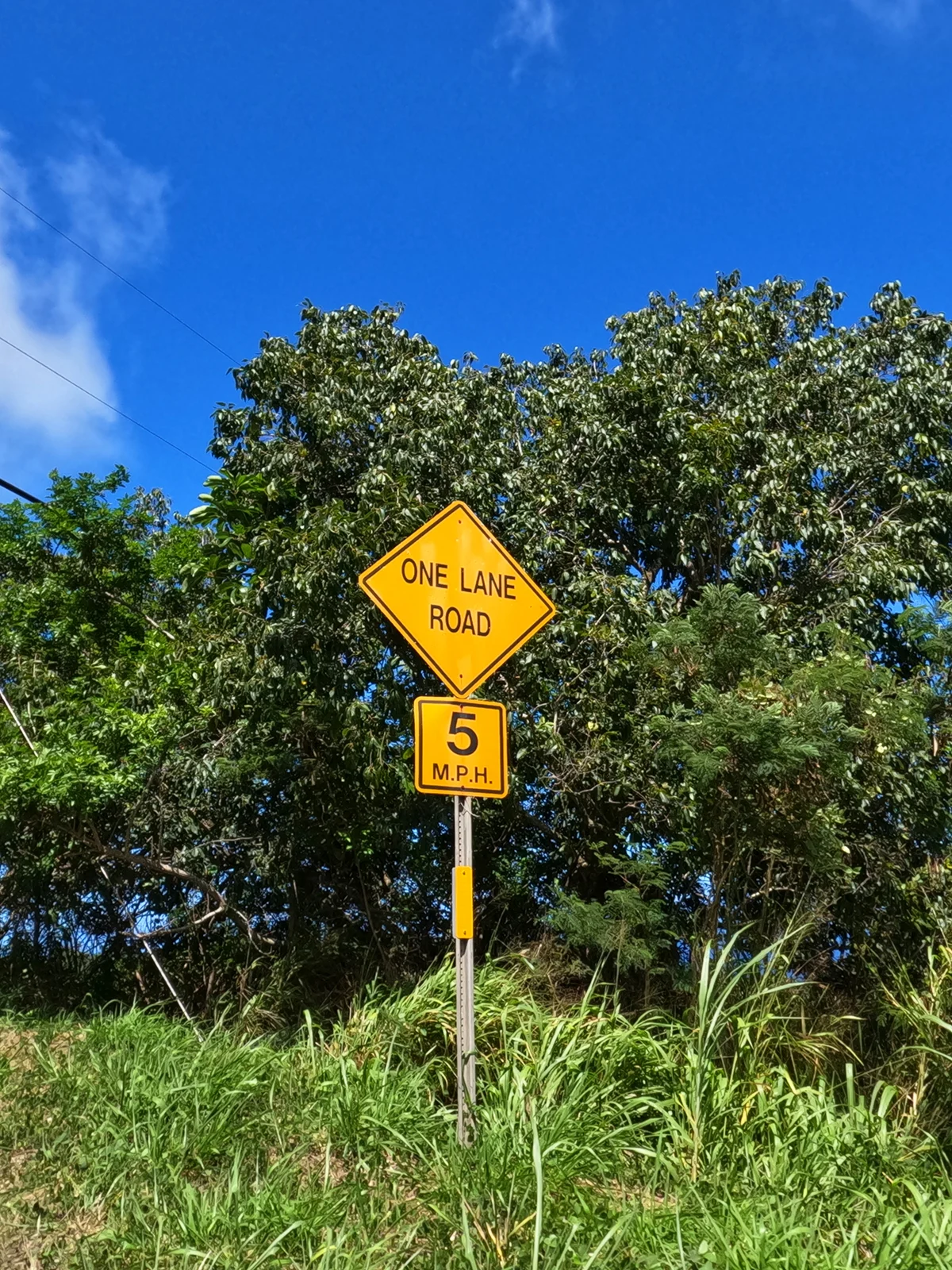 You'll see many warning signs along the road. Here are some additional tips to consider…
Be safe. I'm talking safer driving than you've ever been in your life!
Drive clockwise. Start at the western side of the island and make your way east. That way, when you're squeezing by another car, you can hug the mountain instead of a cliff! (This guide has stops west to east.)
Bring a GoPro. This drive is epic and you'll want to document it. You'll get epic photos and videos with this GoPro (which is what the video above was shot with.) It's way better than trying to hold your phone out the window!
Go with a full tank. There's no gas on the northern side of Maui, and you don't want to run out on this stretch of road. Trust me on this!
Bring the right gear. Hiking shoes, water shoes, protein snacks, swimming suits….all the things.
Start early. There's a lot to see in the West Maui Mountains – and you definitely don't want to drive this road in the dark so get an early start on your day.
Be respectful. Remember to only stay on public areas and never venture onto private property…for any reason!
As someone who's driven some sketchy roads in Belize, Costa Rica, Colorado and really all over, I can honestly say, it's not for everyone. There's your warning!
Kahekili Highway itinerary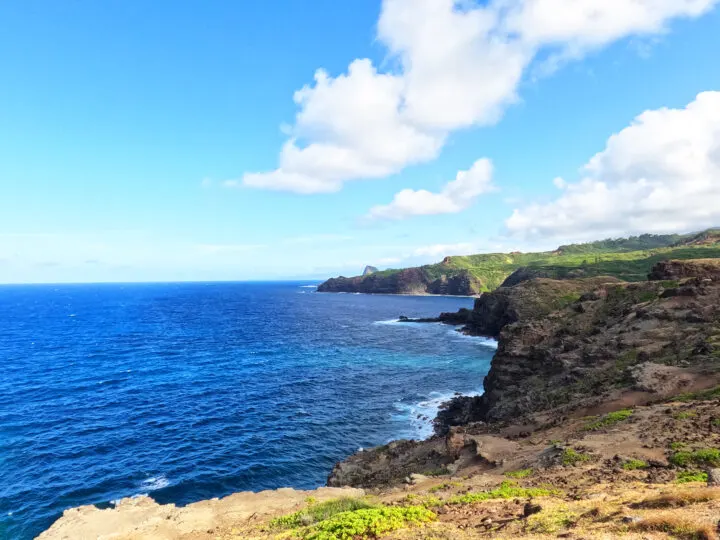 This scenic drive is really around the entire side of west Maui. But since you're probably not here to read about all the things to do in Kaanapali or Lahaina, so let's start north of the ultra-touristy spots and work our way around.
Related read: 20 Things to Do in Maui on a Budget
You'll start off on Highway 30/Honoapiilani Highway until just past Punalau Beach, when it becomes Highway 340 Maui. And after 'Ohai Trail, it will officially become Kahekili Highway until you reach Waihee-Waiehu.
1. Slaughterhouse Beach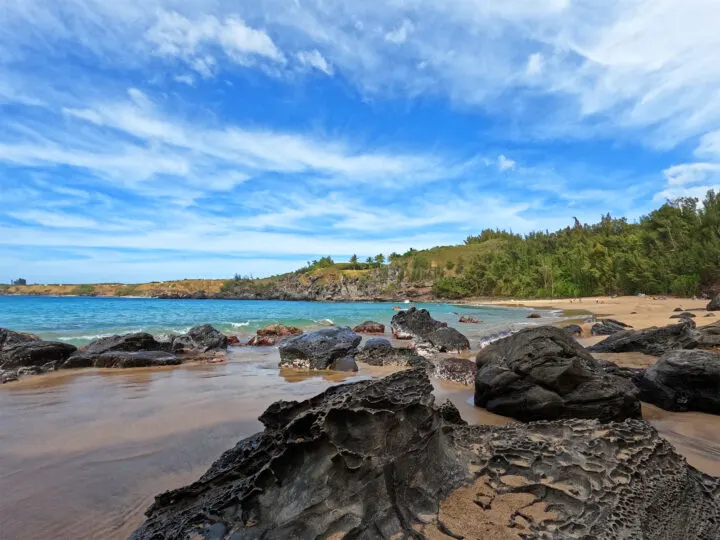 Starting along the coast where the crowds start to fade away, one of your first stops along the highway is just outside of Kapalua at Slaughterhouse Beach. If you're up for some swimming and surfing, this is your spot!
With swaying palm trees and vibrant blue water, this is a great spot to catch a wave or two in the water before getting sweaty on land. You could literally hang out here for a day, or just park at the lookout and see it briefly.
If you're up for some beach time, be sure to bring your lightweight beach towel and reef-safe mineral sunscreen to protect Hawaii's ocean life.
2. Coconut Shack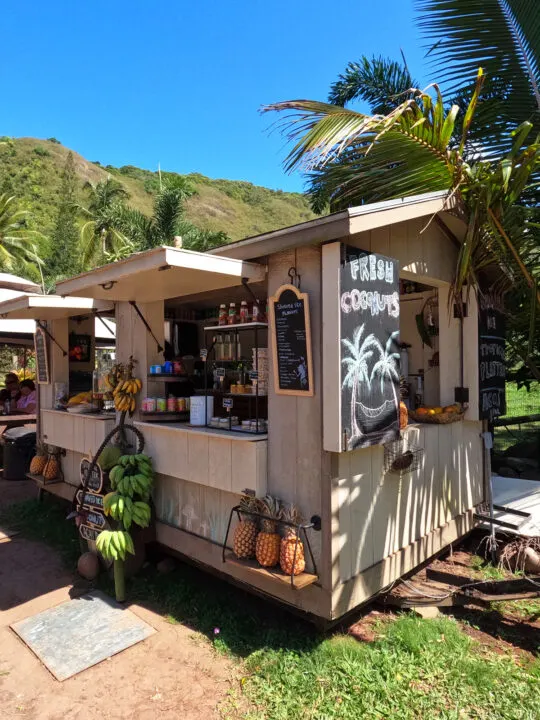 It's early in your trip, but every great road trip includes awesome food. So stop at the little hut just before Honolulu Bay and grab some fresh coconuts, shave ice, fruit or drinks and be on your way. You'll be glad you did!
Also, there aren't many spots to stop for food along this part of the West Maui loop and you never know when one of these small food shacks will be open. Refer to tips above to be fully prepared.
3. Honolua Bay Overlook (one of the most beautiful stops along the Kahekili Highway Maui)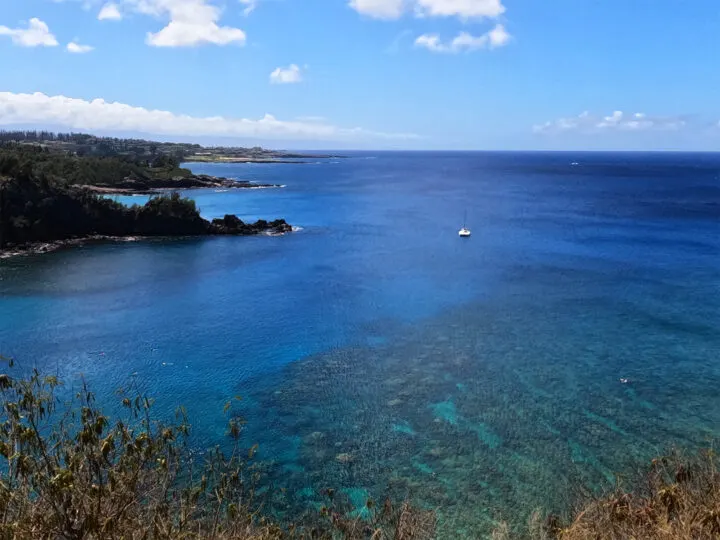 One of the most picturesque bays in Hawaii, Honolua Bay is stunning! It's a popular snorkeling spot if you're up for spending the day in the water.
Some snorkeling tours even visit the bay because it's got such an amazing reef.
Be sure to always wear reef-safe sunscreen when in Hawaii, or any ocean destination for that manner. Keep our reefs and sea life safe by using the proper stuff. This is my favorite reef-safe sunscreen I used in Maui and it worked great!
Anyway, after you pass the parking to walk to the beach, drive up the hill to the overlook. There's a small parking area or road you can take for great pictures.
4. Punalau Beach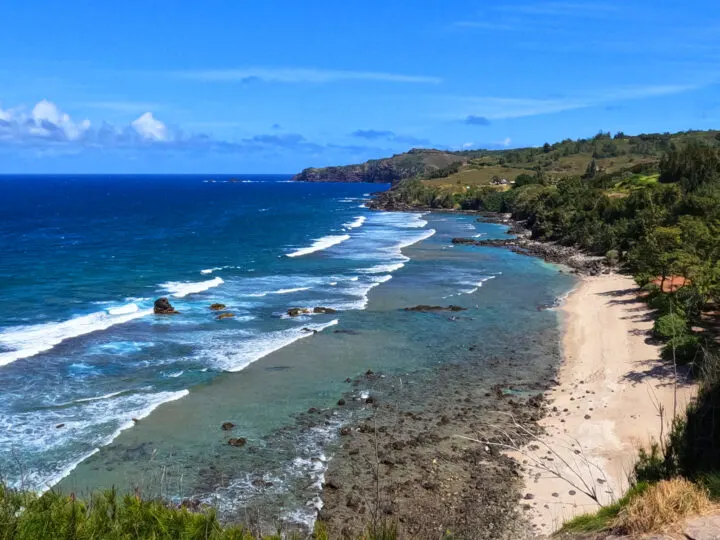 By the time you reach Punalau Beach, you've really escaped the crowds of West Maui. You'll start to see undisturbed beaches with rocky shores. It's the same gorgeous blue water you're used to in Hawaii – only without the loads of tourists.
Simply beautiful!
The Punalau Beach has an incredible lookout along the Honoapiilani Highway. If you're looking for a true adventure and have a 4×4 vehicle, you can take the dirt road down to the beach. There's a very small parking area, but you know it will be secluded!
The Punalau Beach is better for surfing and watching the waves than for swimming. Large rocks line the coast and it can be hard to keep steady while standing or swimming in the water. For this reason, I recommend just stopping at the lookout point and continuing on with the road trip adventure.
Honoapiilani Highway and Kahekili Highway road trip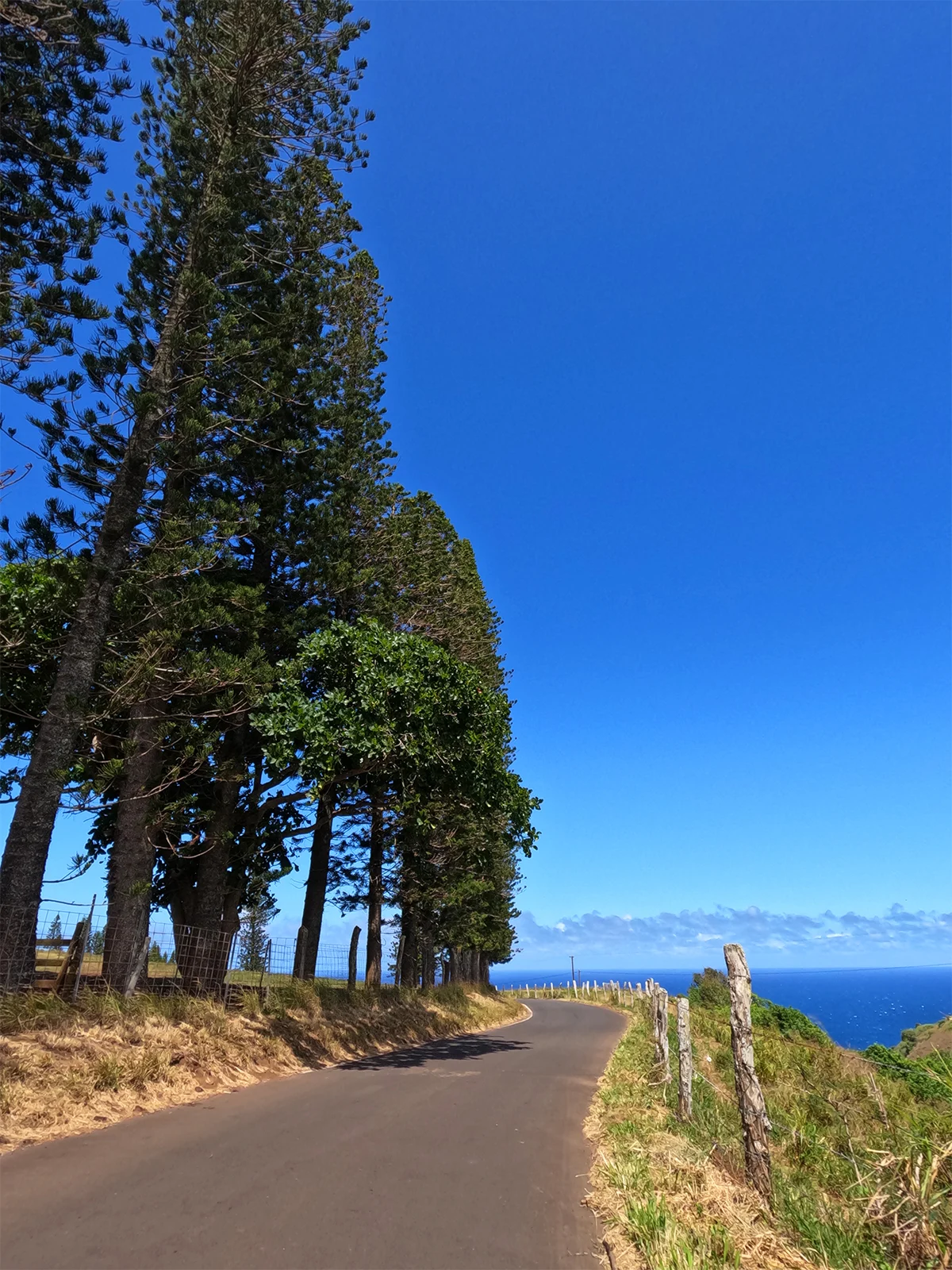 You're reaching the point where the Honoapiilani Highway/Maui Highway 340 and Kahekili Highway merge.
From here, you'll start to approach the narrowest – and most dangerous – part of the Kahekili Highway. For a few more miles there's a dividing line in the highway, then the real driving adventure begins!
5. Nakalele Blowhole (last stop on Highway 340 Maui before Kahekili Highway merge)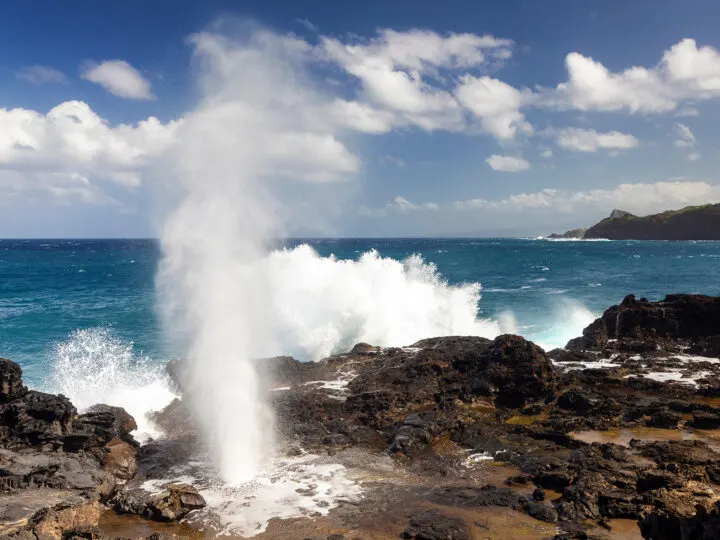 One of the most popular stops along the Kahekili Highway, this is a must-do! There's a fairly large parking area at the Nakalele Blowhole so you can't miss this one!
Depending on the tide and weather conditions when you go, the blowhole could be showing off or pretty minimal.
Located at mile marker 38.5 on the Honoapiilani Highway (Highway 30), this is one of the last things you can see on the road before it drops down to one lane. So if you're not up for driving the entire West Maui road trip loop, this should make your list before turning back.
At the parking lot, there's a short walk out to the overlook. If you're wanting to make this stop quick or are traveling with young kids, just going to the overlook is adequate.
There is a hiking trail to the blowhole if you're up for the adventure! The Nakalele Blowhole via Acid War Zone Trail is just about 1.3 miles round trip, but rated as moderate because it's really steep and has a rocky terrain that can be difficult to hike, especially when wet.
Pro tip: take athletic shoes or comfortable water shoes with you! These are my favorite dual-purpose water shoes. I've worn them hiking the Mahaulepu Heritage Trail in Kauai and many other spots around the islands. Don't hike this one in flip flops, it's way to steep and slippery for that!
6. MamaLei's Banana Bread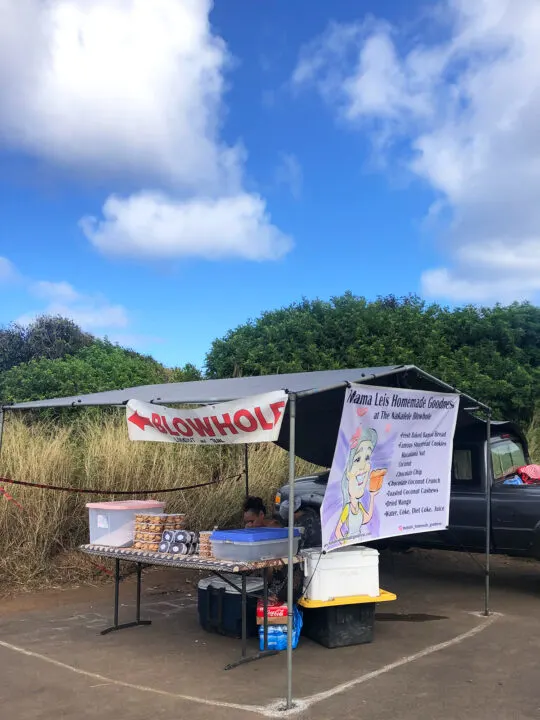 Whether this is your first time to Maui or your 10th there's something you should know: the banana bread competition here is fierce! Banana bread is sold at many roadside stands on the island, including a few convenient spots on the Road to Hana.
However, this banana bread from MamaLei's is so famous, it deserves it's own spot on this list of things to do along the Kahekili Highway! They literally set up at the Nakalele Blowhole parking lot, so if it's open you can't miss it.
Enjoy all kinds of goodies and take some to go. But don't miss out on the famous banana bread – yum! 😋
7. Ohai Loop Trail (one of my favorite activities on the Kahekili Highway)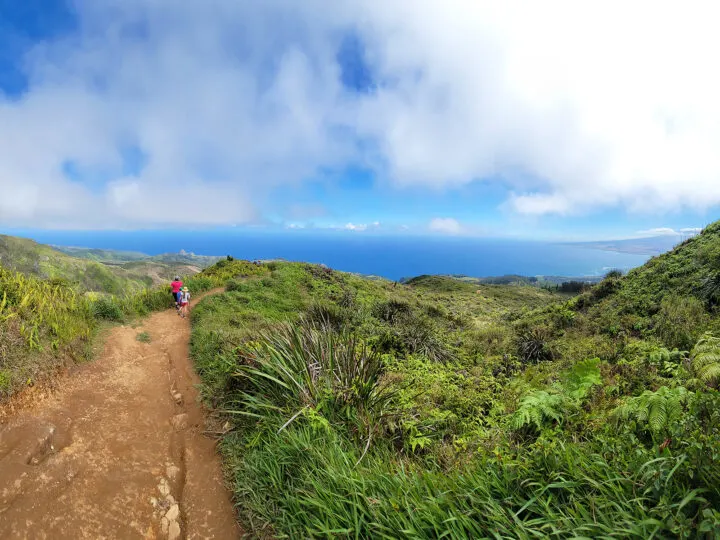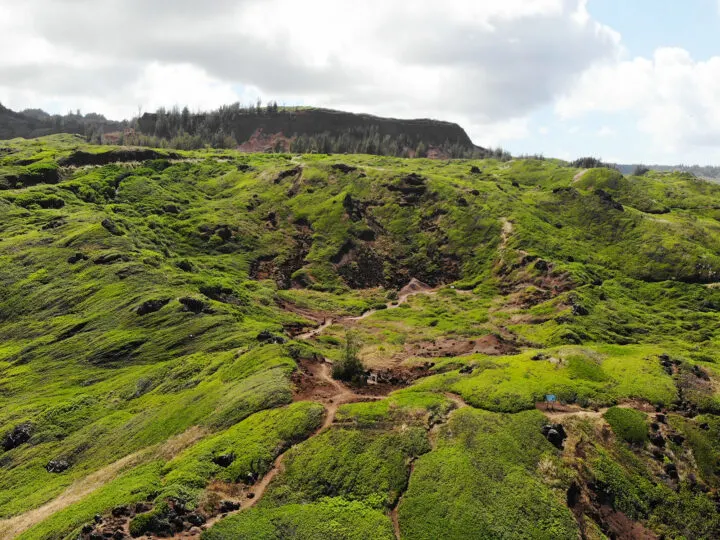 One of the easiest hikes – and perhaps the most scenic along this coast and the West Maui loop is the Ohai Loop Trail!
Coming in at just 1.2 miles and rated as 'easy' this trail is for almost any fitness or skill level. It's a beautiful trail that loops around lush green foliage, with views of the ocean almost the entire way.
Serious hiking shoes are not necessary, although a comfortable set of athletic shoes is preferred over sandals.
Pro tip: hike the Ohai Loop Trail in a counter-clockwise position for the best views! Oh, and don't forget the ocean-safe sunblock. There's no shade on this trail.
8. Olivine Natural Pools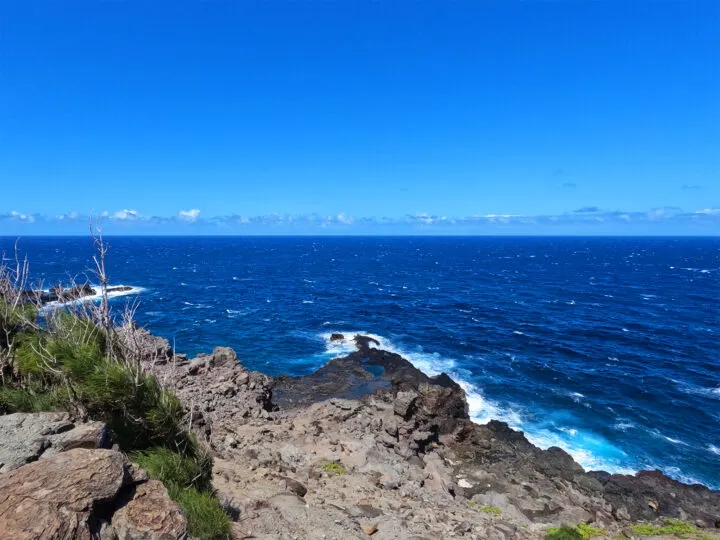 One of the most controversial areas of this drive is the Olivine Pools.
It's available to everyone, although only to be used with extreme caution. You'll see warning signs and a grave of a 17-year old who passed away at the site.
The reason? The water can push over the natural pools wall and when it recedes it can pull you overboard and into the ocean. The rocky shoreline is a dangerous spot to be out of control, causing head trauma and/or drowning.
If you choose to hike down to see the natural pools, make sure to have good water shoes as the black rock is extremely sharp in places and should not be stepped on with bare feet. These are my favorite water shoes that travel with me every time I go to Hawaii…or anywhere else for that matter!
Note: I am absolutely not encouraging you to swim in the natural pools. I do think it's worth the stop to see this unique part of the coastline! There have been many injuries and deaths here, so enter at your own risk.
There is a lookout point here that's quite beautiful! You can see the natural pools easily, and all along the coast.
By the way, if you want a bucket-list road trip adventure, add the Canary Islands in Spain to your list! The perfect Fuerteventura itinerary includes quaint village, amazing beaches and stunning island scenery.
9. Cliffs at Pu'u Koa'e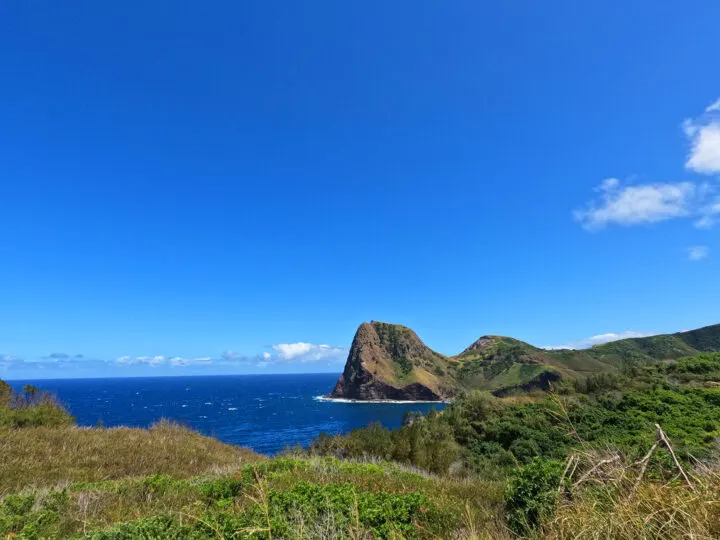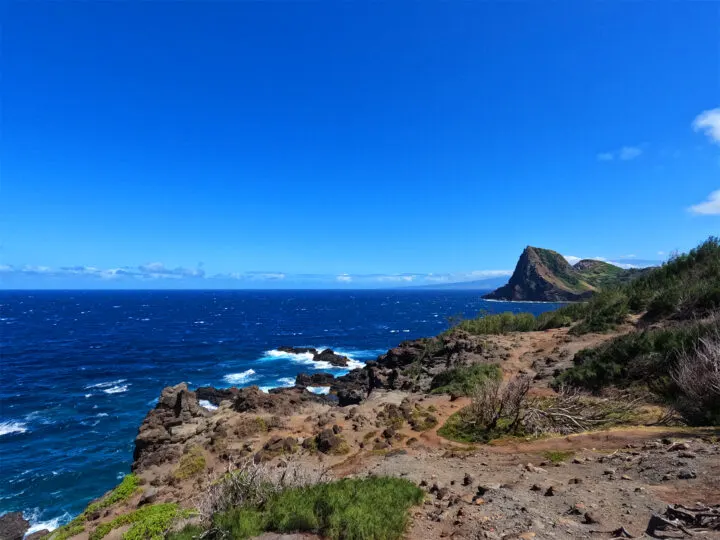 One of the most picturesque spots on the northern coast of Maui is the 2 large rock formations that jut up out of the ground.
You can see them for miles along the coast, but as you drive the Kahekili Highway, you'll get closer and eventually pass them. There's not a viewing point per se for this, but there are spots to pull off the side of the road, especially as you approach them
Kahekili Highway Maui – continued
It's somewhere around this point that the road gets unbelievably narrow. I honestly cannot tell you where it was, because I was too busy fearing for my life!
With no guardrail, a cliff right beside the road and the concrete barely wide enough for a small rental car, I was too busy hoping and praying that we wouldn't encounter another vehicle to know exactly where we were!
Regardless, this area has a one-mile stretch where cars cannot pass. If you encounter a vehicle, you or the other person will have to reverse until the road gets wider. And yes, we did (unfortunately) run into this situation!
10. Braddah Chic's Stop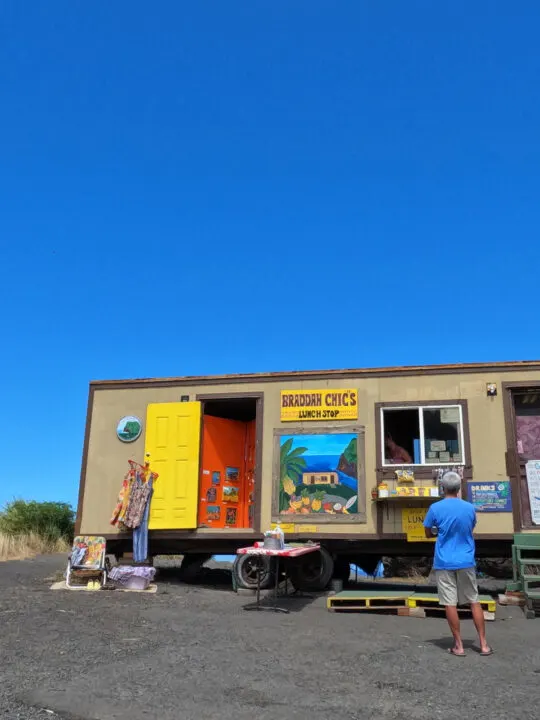 Stop at one – if not the only – restaurant serving whole meals on this adventure! If you're hungry at all, you've gotta do Braddah Chic's Stop! It's located on the side of the road right before you pass the Pu'u Koa'e.
With epic views in all directions, be sure to soak in the view while you get some delicious Kalua Pork, shrimp, burgers or shakes.
11. Must-see village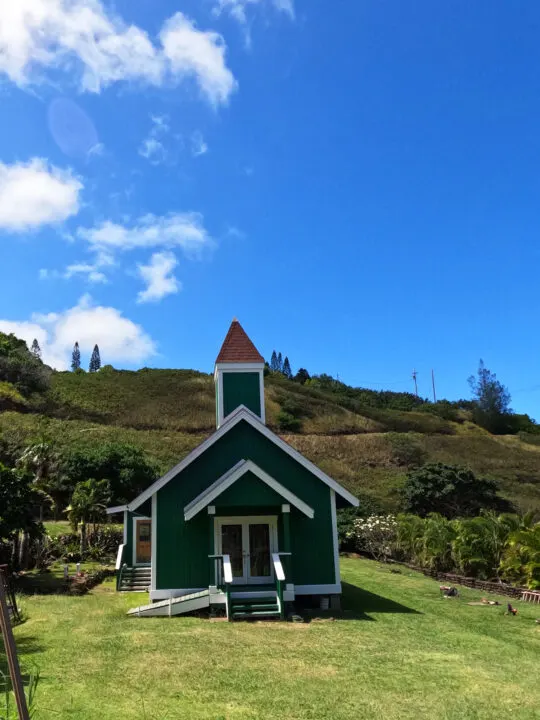 This has got to be one of the most beautiful places to live on the planet! Although the addresses here are technically Wailuku, this small village is a cluster of a few homes and businesses in the most picturesque valley on earth.😍
There's not a lot of things to do here – and rightfully so. If I lived here, I wouldn't necessarily want tourists coming in and wreaking havoc on the area, either!
I did see this adorable church. I took a photo from the road because I'm not sure if it's public access or not. Tread lightly in this area and as always – respect private property.
West Maui mountains road trip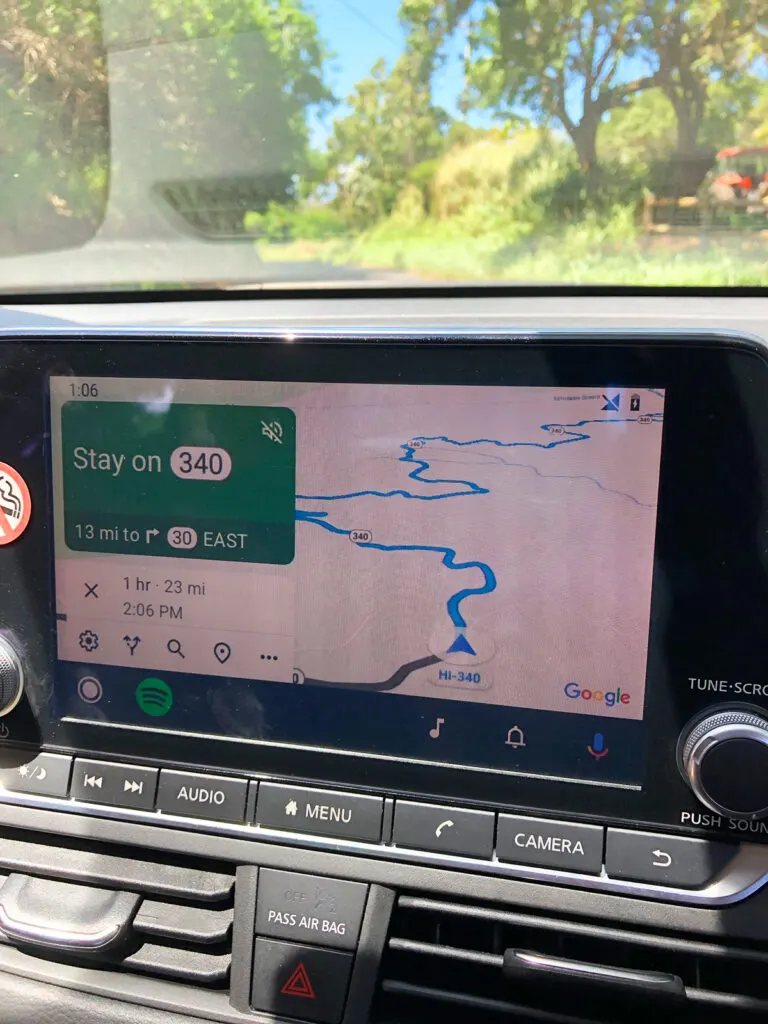 As you continue on this epic road trip, you won't find places to stop for the next few miles. There's a lot of privately owned land and undeveloped coastline. There's not really many overlooks so just sit back, relax and soak in the sights as you drive these curvy roads.
Oh, and the roads are still very narrow the next 5 miles or so. Enjoy!
12. Overlook around mile marker 14 (such a beautiful stop on this Kahekili Highway adventure)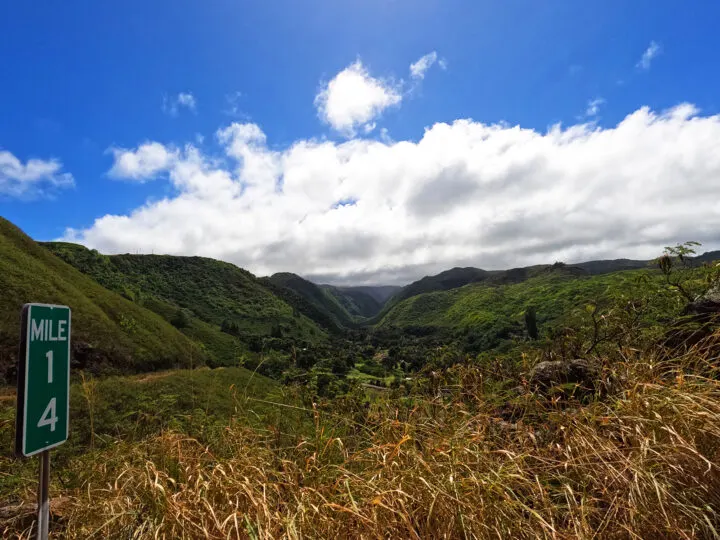 It's so stunning here! I seriously want to go back just getting the photos ready for this article.
Anyway, just past mile marker 14, there is a scenic lookout. It's rather small and room for just a couple cars. Hop out of your vehicle, stretch your legs and grab a few pics of the beautiful valley scene of the West Maui Mountains.
It's so stunning!
13. Rainbow Eucalyptus trees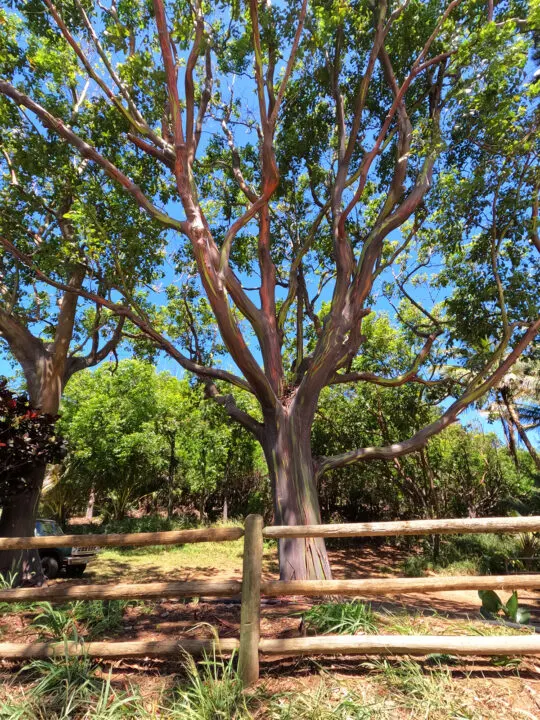 Just after mile marker 16, watch for rainbow eucalyptus trees. After doing the Road to Hana a few times and seeing so many of these trees, you'll start to notice them popping up in different areas of the island!
I happened to see some on private property, so this picture is from the road. Again, no trespassing just for a photo!
14. Waterfall hike: Makamakaole Stream 13 Crossings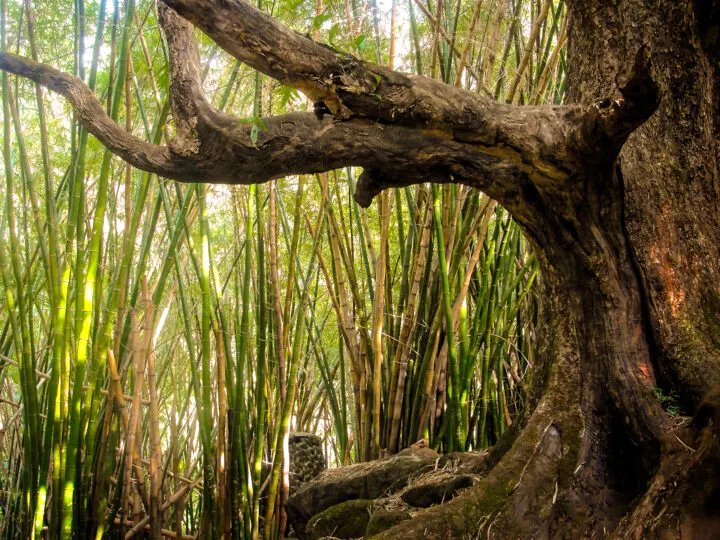 You're making it to the end of this epic road trip – but not without 2 more amazing hikes ahead!
Located near mile marker 18 on the Kahekili Highway is the trailhead for 13 Crossings Makamakaole Stream. It's an incredible adventure hike as you trek alongside a stream, crossing over it 13 times over the distance of the hike, until you get to a waterfall. So fun!
Coming in at just 2.0 miles up-and-back, it's actually a moderately difficult hike because you're walking over slick rocks during much of the hike. Quality water shoes with traction are imperative for this adventure!
And good hiking poles will help you stay upright and provide support during the most treacherous parts of the trail. But you're rewarded with a lush waterfall in the West Maui Mountains! Amazing!
15. Waihee Ridge Trail (must-do on a Kahekili Highway road trip)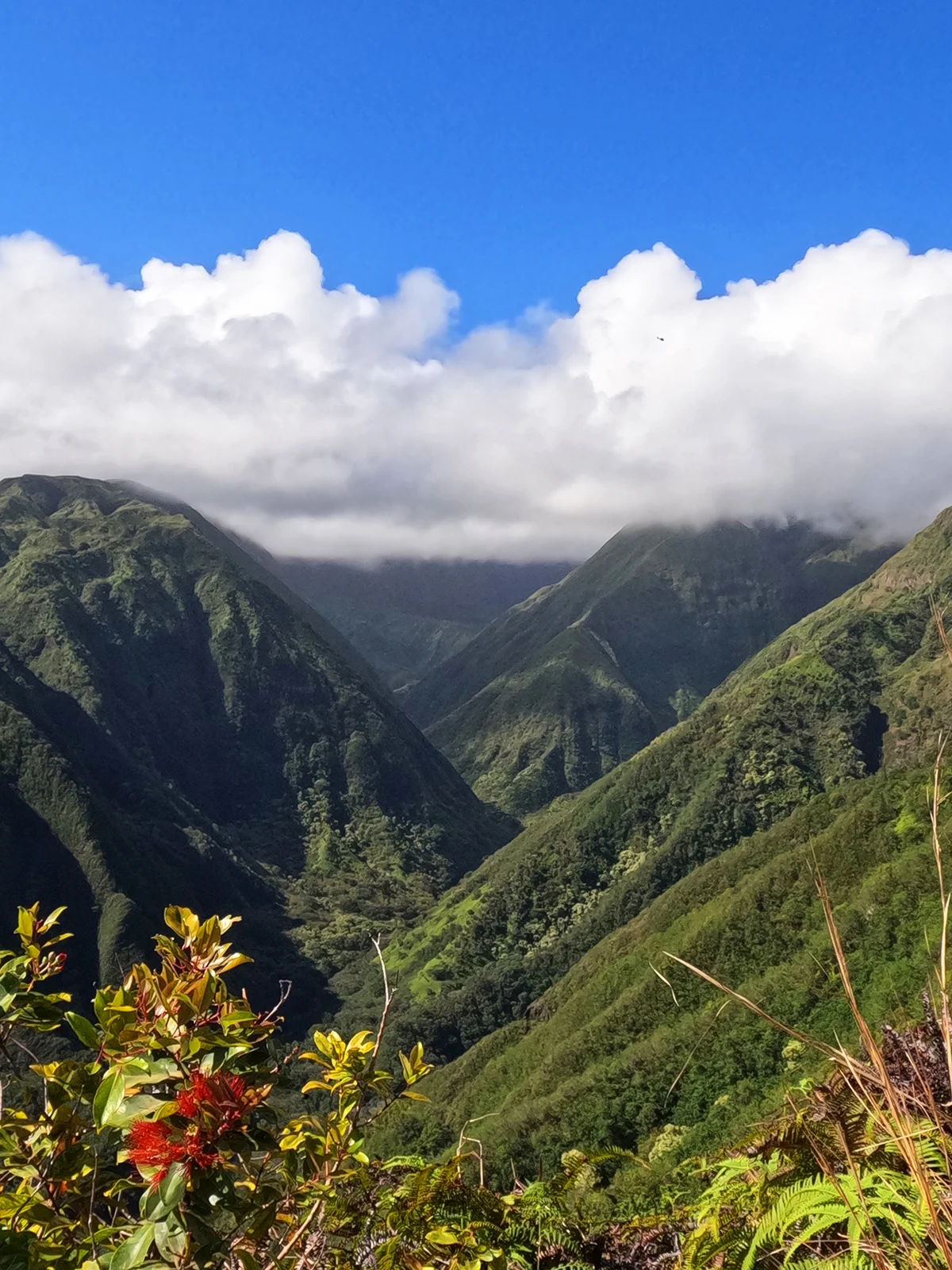 Coming in at 4 miles, 1600+ feet in elevation gain and rated as moderate, the Waihee Ridge Trail is one of the most scenic spots along the north shore. It's a great way to end – or start – your road trip on the Kahekili Highway!
The trail is stunning and one of my favorite things to do in Maui! This trail requires good shoes with traction and some endurance. The way up is steep and unforgiving.
My family hiked this with hiking shoes and trekking poles, which I recommend, especially if it's recently rained. It kind of reminded me of the Waimea Canyon Trail in Kauai.
The West Maui Mountains are so scenic and gorgeous!
Continuing on the West Maui loop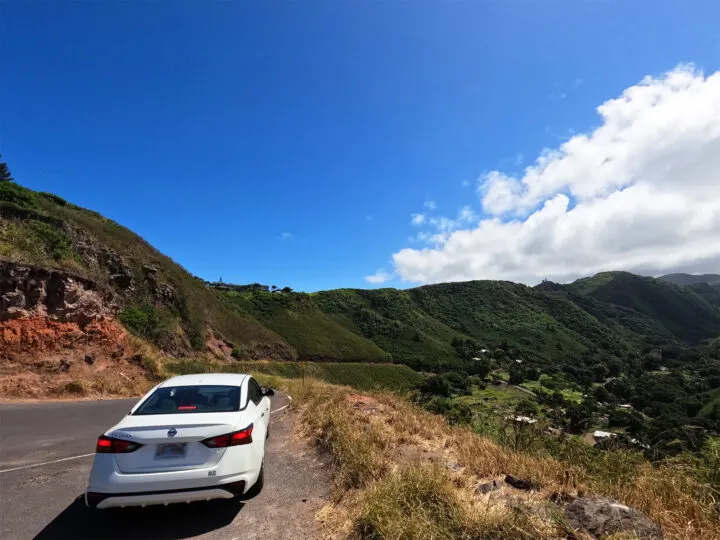 After the Waihee Ridge Trail, you'll hop onto the Kahekili Highway and after driving through neighborhoods, you'll get to Waihee-Waiehu and Kahului, which is the end of this road trip!
To complete the full West Maui loop, take Highway 30 back. Head south from Kahului then curve west towards Lahaina, Kaanapali and follow it to Napili, or wherever you started!
On your way south from Kahului, be sure to check out the ʻĪao Valley State Monument or the Maui Ocean Center, one of the top things to do with kids in Maui.
Nearby accommodations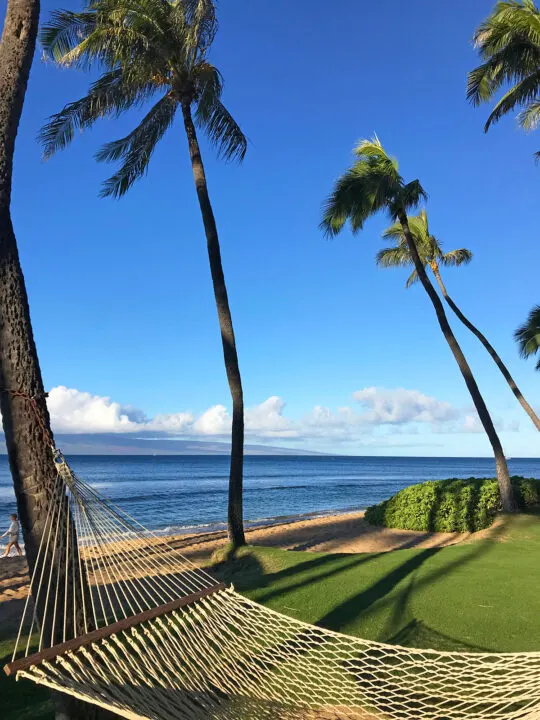 If you aren't settled yet on where you'll stay on Maui, here are a few options, including some of my favorite spots!
Maui Seaside Hotel. Close to the Kahekili Highway in Kahului, this hotel is perfect if you're planing to see a lot of Maui, like the Road to Hana!
Hyatt Regency Maui Resort & Spa. On Kaanapali Beach, this hotel is prime location for restaurants and swimming.
Maui Sunset Condos. Excellent for groups or families, these condos in Kihei come in a variety of sizes, perfect for your Hawaiian getaway.
I love using Booking.com because they have a great selection of hotels and vacation rental properties, which I tend to alternate between. And bonus – it's one of the more affordable hotel booking tools out there.
Note: if you stay in Kaanapali Beach, you absolutely must try the fish tacos at Leilani's on the Beach! They're absolutely my favorite fish tacos in the world and every time I think of fish tacos, Leilani's comes to mind. Back home, the closest I can find are the fish tacos at Pacific Eating House, one of the best Omaha restaurants.
Kahekili Highway and Highway 340 Maui road trip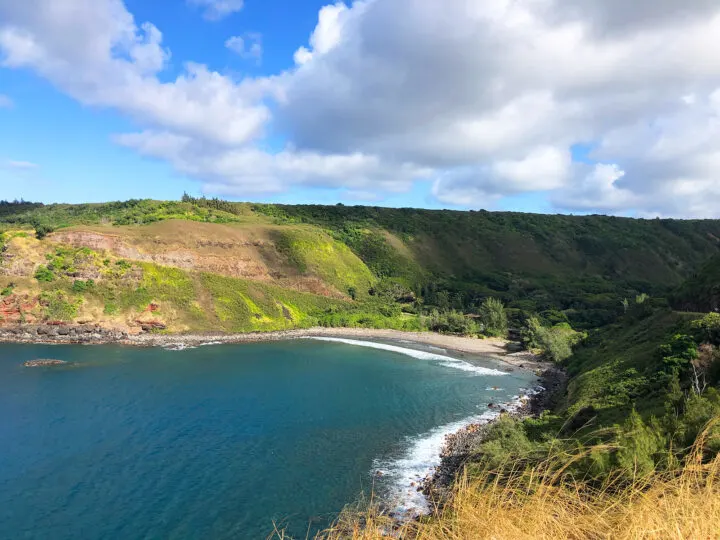 Well, that's a wrap! Are you so ready to hit the road? Or are you thinking the Road to Hana is a better alternative for you?
With so many fabulous stops along the Kahekili Highway in Maui, it's quite the adventure!
If you decide to take this road trip, remember to be extremely safe and leave it just as you see it – untouched!
Related content you might like:
29 Amazing Road Trips USA: Scenic (& Underrated) Routes You'll Love
Find this post helpful? Save it for later or share it on social media!