The incredible jagged peaks of the Grand Teton mountains are accented with beautiful lakes, waterfalls and rivers, making for an amazing landscape in the wide-open spaces of Western Wyoming. It's one of the most scenic parks, excellent for viewing wildlife, hiking and adventure. This is your guide to what you absolutely must see in Grand Teton National Park!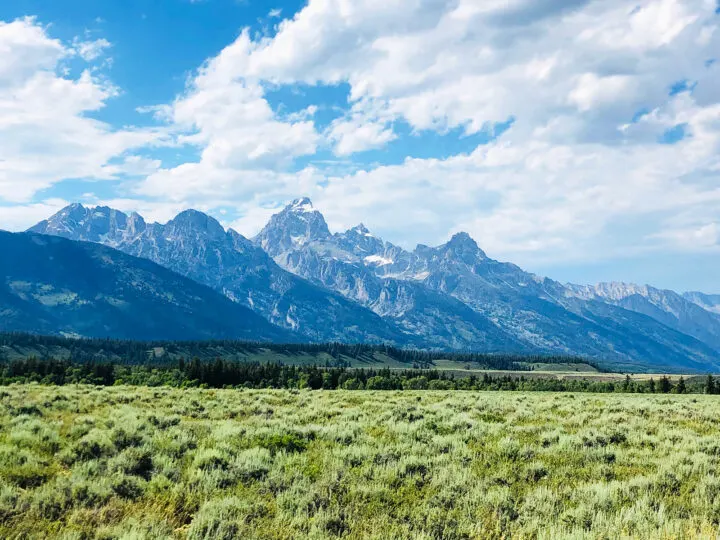 This post may contain affiliate links. For more info, see my disclosures.
Often overshadowed by its popular neighbor to the north, Yellowstone National Park, the Grand Teton mountain range is a spectacular, to say the least. It's truly the kind of place that's begging to be explored. (Responsibly, that is!😉)
Waterfalls and lakes, hiking and viewpoints – how do you even begin to plan your Grand Teton vacation?
While you could read lists of 30+ 'best' things to do at Grand Teton, this list is more succinct and breaks down the sights and adventures you absolutely must do in Grand Teton National Park!
So whether you're limited on time in the park, or you're splitting your time with Yellowstone, here's what you actually need to do in Grand Teton National Park.
Must see in Grand Teton National Park: map
If you're a visual person, this map of things to do in Grand Teton will help you plan your visit.
Must-see video: absolute best things to do in Grand Teton
Must see in Grand Teton National Park
Gah! You're going to love this park! Let's dive in…
1. Take the Jenny Lake scenic drive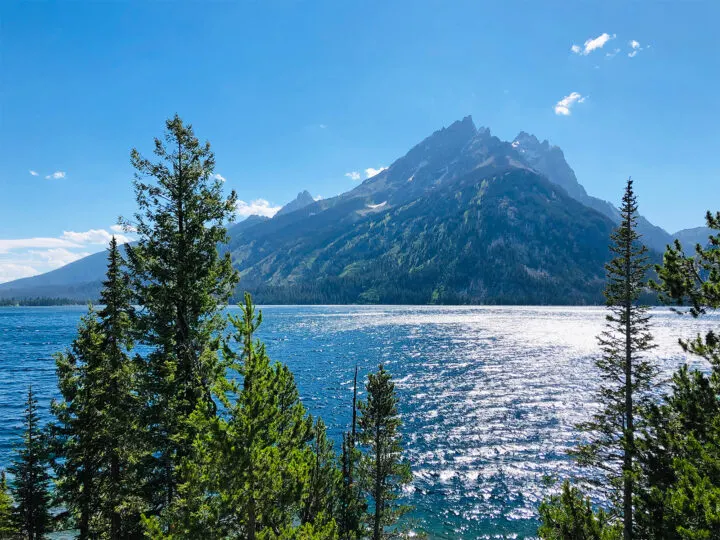 This scenic drive within the park provides a beautiful variety of vantage points to see the Tetons and Jenny Lake.
The Jenny Lake Scenic Drive is a one-way drive starts just to the north of the lake along Teton Park Road. As you loop south, you'll pass the Leigh Lake Trailhead and String Lake Trailhead. (Both those hikes are spectacular if you're spending a few days in the park and want to see more of it.)
As you drive the scenic route, you can stop at the Jenny Lake Lodge for a bite to eat. However, the main attraction is the Jenny Lake Overlook.
It's a picturesque setting with the vibrant lake and the Tetons as the backdrop!
Like most other picture-worthy spots on this list, getting there in the first half of the day provides better views without harsh reflections.
2. Hike to Hidden Falls and Inspiration Point (one of the most popular things to do in Grand Teton)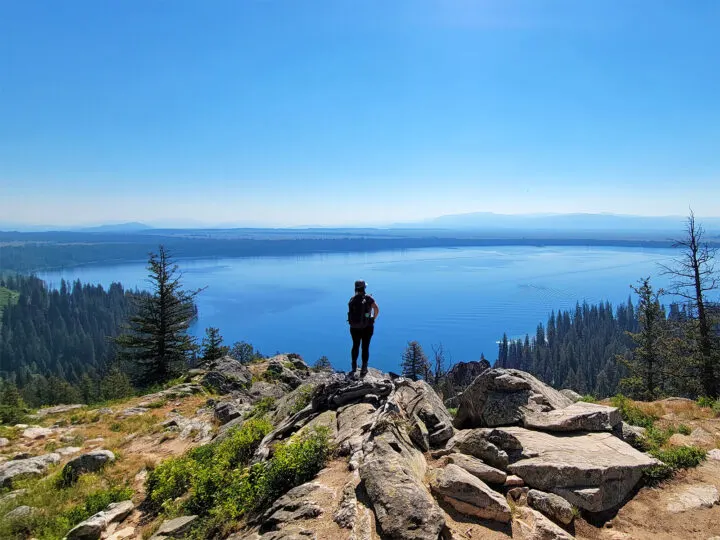 One of the best hikes in Grand Teton is the trail to Hidden Falls and Inspiration Point. Located at Lake Jenny, this hike provides spectacular views!
You have 2 options for this trail: hike along the lake and up to Hidden Falls and Inspiration Point (5.8 miles, rated as moderate) or take a boat across the lake, cutting off 4 miles.
I spent nearly a week visiting Grand Teton with kids, so we took the boat and opted for the shorter trail. Most visitors hiking the trail opt for this when the boat is running during the summer.
Check out the full guide to Inspiration Point Grand Teton for what to expect and things to bring, boat details etc.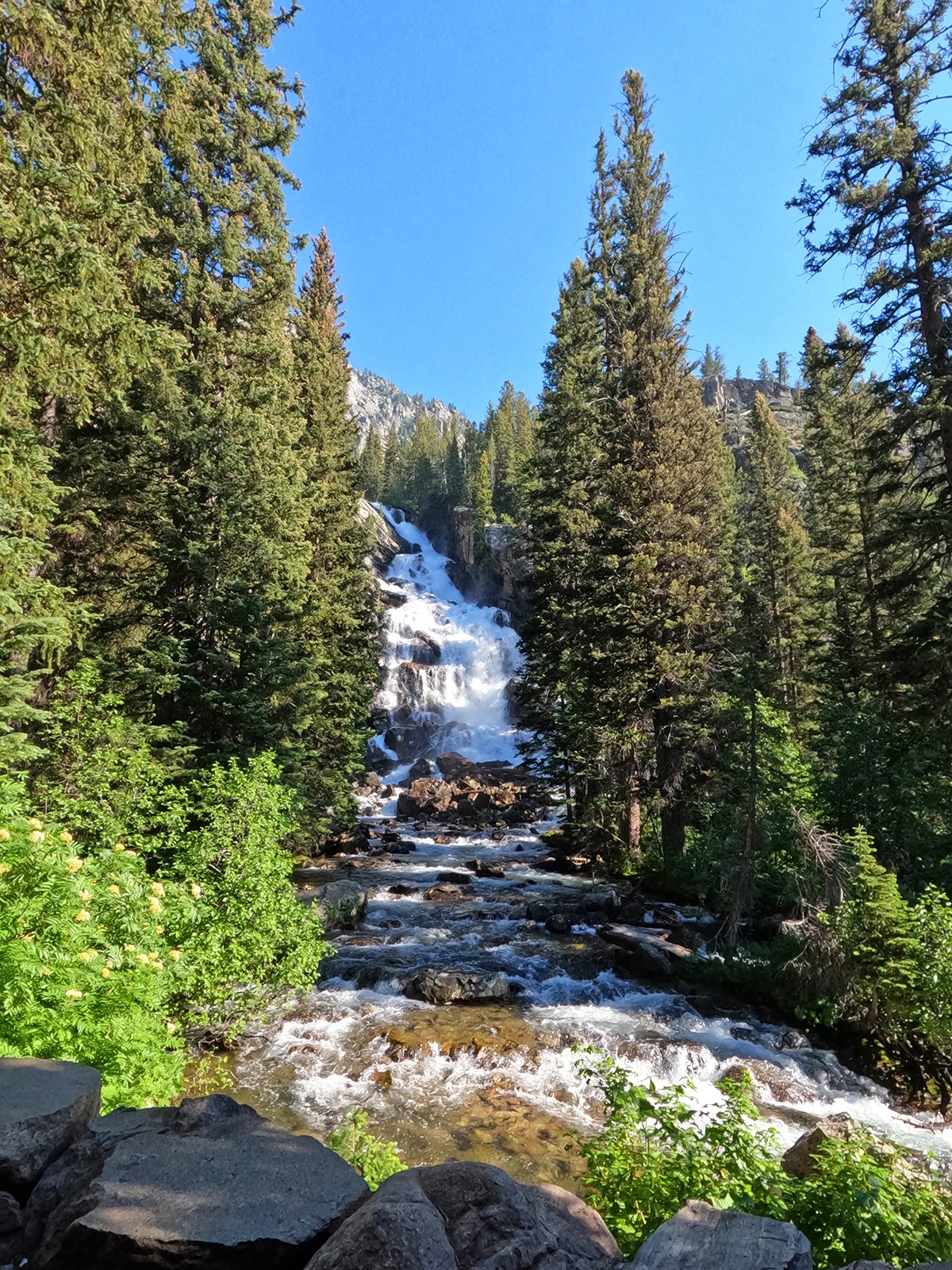 The hike up to Hidden Falls is an incline but do-able for most skill levels. Then from there it gets a bit more intense as the steps are steeper and there's a sharp drop-off. Take lots of breaks and it's manageable!
You'll definitely want good hiking shoes with traction for the inclines and rocky areas of this hike to help with stability. And trekking poles will come in handy as you climb, especially from Hidden Falls to Inspiration Point. See more gear recommendations below.
It's a really fun hike that offers awesome views of Lake Jenny!
3. Visit spectacular turnouts on the 42-mile scenic loop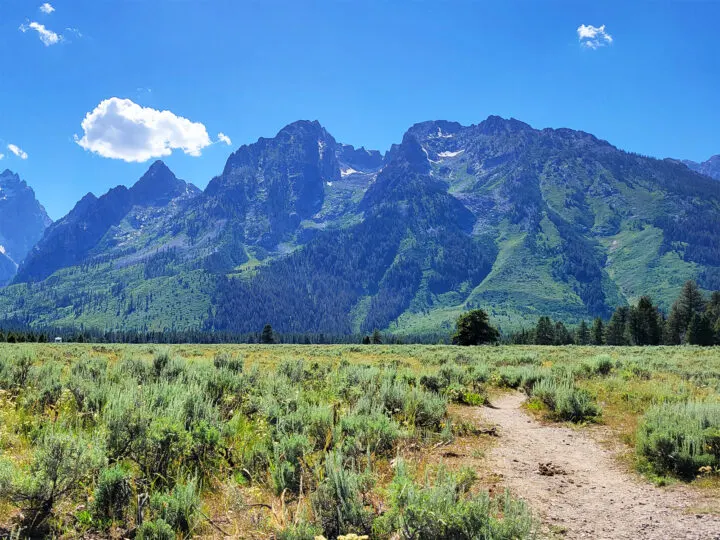 Most of the best things to do in Grand Teton National Park are located along the 42-mile scenic loop. Part of that loop is on the exterior of the park along Highway 191 and the western part of the loop goes closer to the mountains and lakes.
There are more than 10 overlooks and turnouts along this scenic loop. If you have time to do the whole thing, it's pretty cool. But if not I'd recommend these 2:
Cathedral Group Turnout
Snake River Overlook
Pro tip: stop at both of them in the first half of the day if possible. When the sun starts to set, you'll get a glare as the scene is backlit.
4. Enjoy ice cream at Colter Bay Village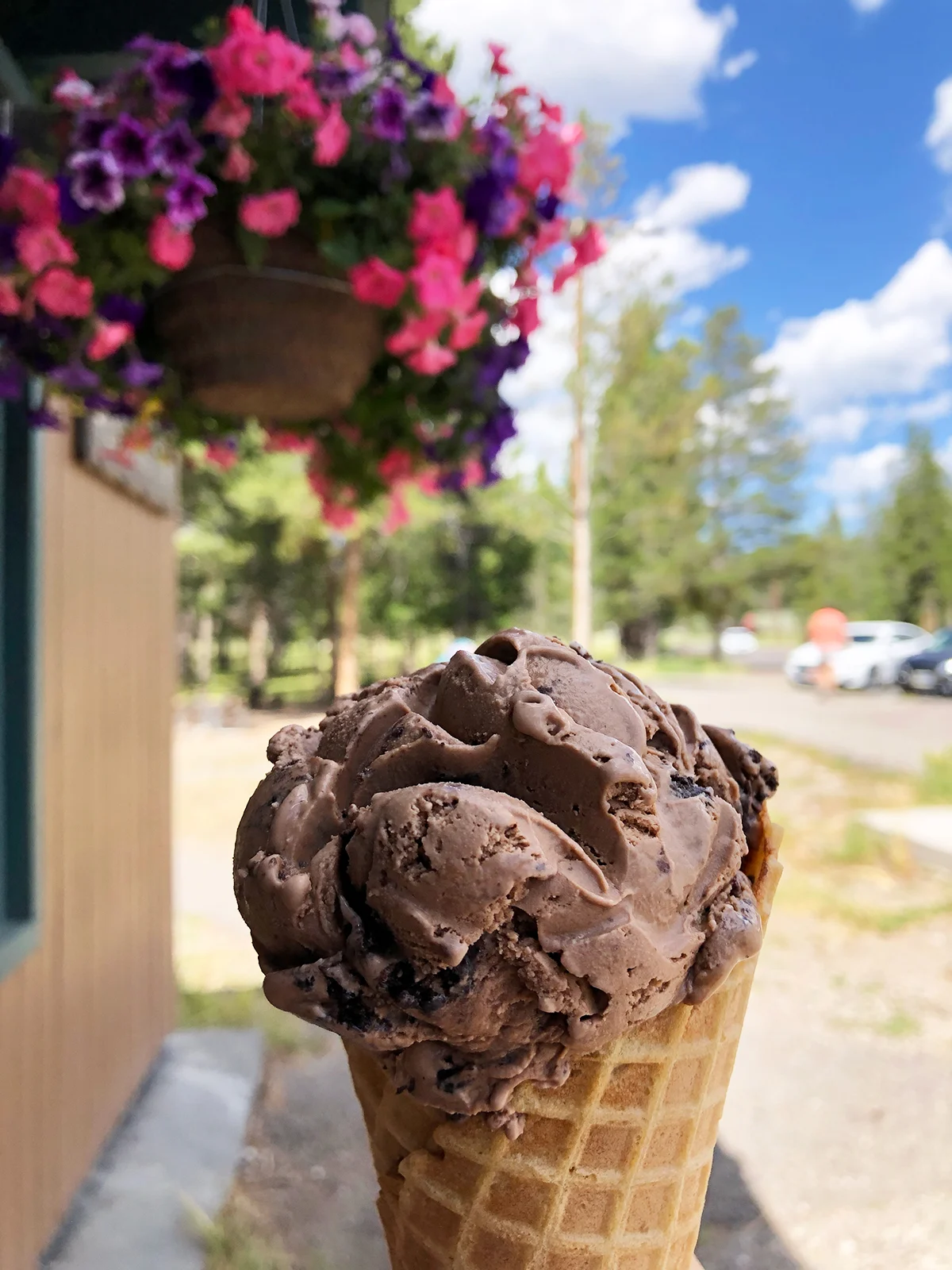 After all that adventuring and sightseeing, you're apt to be hungry. Colter Bay Village has one of the best set-ups of restaurants and food options I've seen at any national park!
You can grab lunch or a picnic, but when you're in the area, you definitely need to try some huckleberry ice cream! It reminds me of my visit to Glacier National Park in Montana – so delicious!
Anyway, the ice cream shop inside the general store was actually out of huckleberry, so we opted for other flavors until we went into Jackson to find some huckleberry.
It's a refreshing spot to stop, and even has souvenirs available, too.
5. Skip rocks at Jackson Lake Beach (a must see in Grand Teton National Park)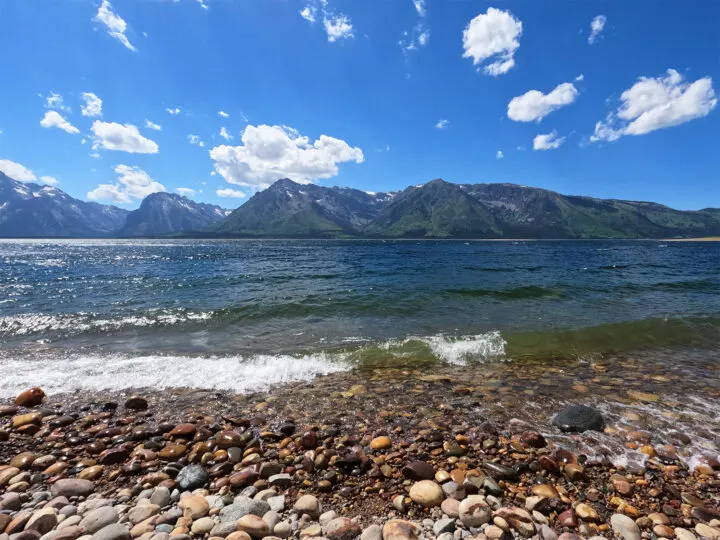 While you're at Colter Bay Village, head down to the lake to enjoy the water. It's one of the only beaches within the park.
The rocky shoreline makes for perfect rock-skipping competition! With a picturesque background of the huge Jackson Lake and the Tetons in the distance, it's a perfect way to spend a leisurely afternoon.
We saw lots of families with beach chairs and towels or floaties enjoying the water. Just be sure to bring water shoes because the beach isn't soft sand like you'll find at Gulf State Park in Alabama. Instead, it's completely rocky so water shoes are essential to your enjoyment in the water.
A true must see in Grand Teton National Park, you'll love Jackson Lake!
Must see in Grand Teton National Park – continued
Can you believe this park? It's an amazing place to explore. Let's keep going with this list of what to do in Grand Tetons. 😊
6. Spot some wildlife (a favorite must see in Grand Teton National Park)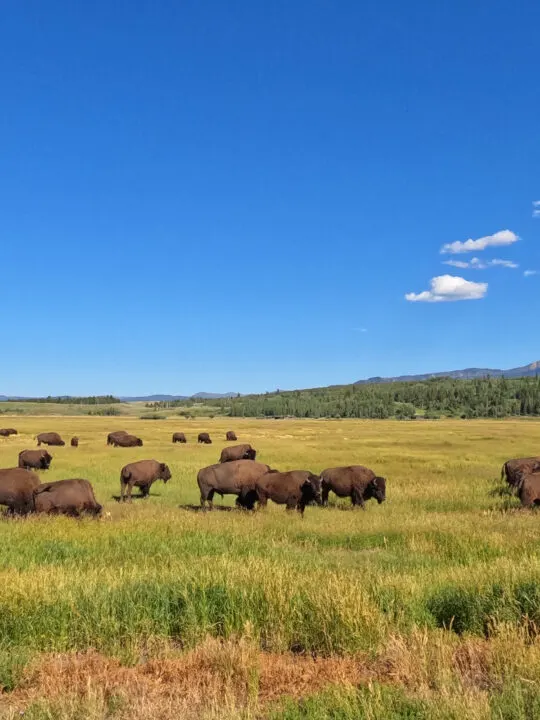 Wildlife is abundant in Grand Teton National Park! From bears to bald eagles, badgers to moose, fox and buffalo, there's a really healthy animal ecosystem within the park and it's neighboring national forests.
Be sure to always carry bear spray with you, especially when you hike! If you're driving to the area, this is the bear spray I have and recommend. You can't fly with bear spray, so if you're flying in, you can buy or rent some in Jackson.
Anyway, we saw a heard of buffalo multiple times along the outer road of the 42-mile scenic loop (Highway 191). Buffalo are most prevalent between the Elk Ranch Flats Turnout and the Moran Junction.
You can also opt for wildlife tours where knowledgeable experts take you to the hot spots for common wildlife sightings. Take a sunrise wildlife tour or Grand Teton sunset tour for the chance at seeing bear, elk, fox, bald eagles, buffalo and more.
7. Hike along the Snake River at Schwabacher Landing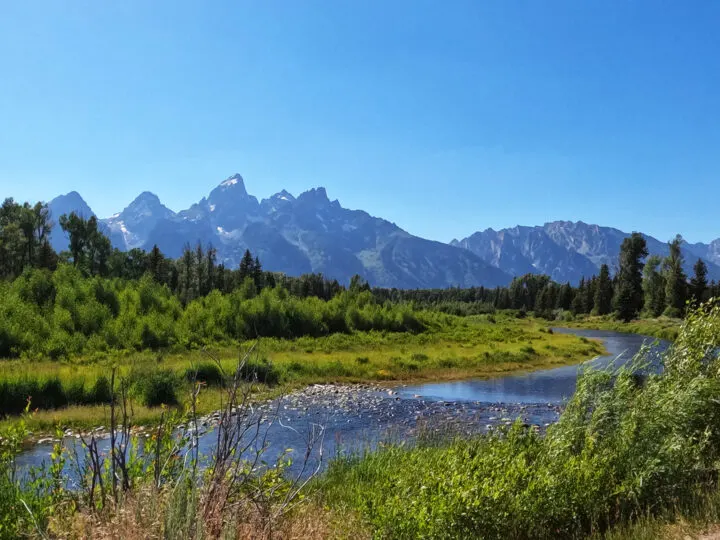 One of the most fun and picturesque hikes you can do in the park is the Schwabacher Landing Trail. It's just 1.8 miles and rated as easy, so it's perfect for a shorter hike and great for families or those who want to take it easy.
You'll walk along the Snake River with the Tetons in the distance. During the morning hours it's common to see moose enjoying a drink at the river. Remember to keep your distance from wildlife and observe from afar.
Note: in 2022 the last part of the trail is closed to restoration. At the time of publication, the NPS hasn't marked the closure, so check the recent AllTrails reviews to see if it's open when you plan to hike. The beginning part of the trail is still incredibly picturesque and worth driving the gravel road to the parking lot.
8. Experience the lake: water sports at Signal Mountain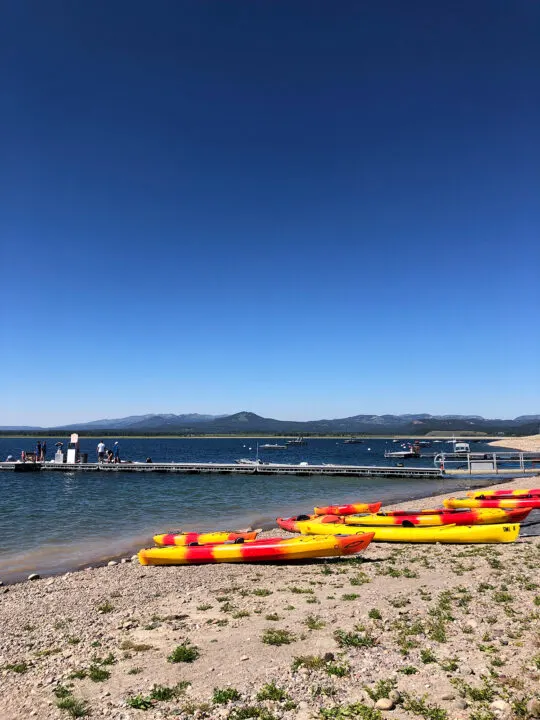 Located on Jackson Lake north of Colter Bay is the Signal Mountain area. It's another beautiful lake setting where you'll enjoy the Tetons from the shoreline.
Signal Mountain is a must see in Grand Teton National Park as it's at the north end of the Tetons. It still provides a great mountain view, with a slightly less jagged appearance.
The marina at the Signal Mountain Lodge rents out kayaks, boats, pontoons and more. If you have an afternoon – or even just a few hours – to hang out on the lake, this is a fun way to see the Tetons from a different perspective!
9. Enjoy a huckleberry margarita (one of the most unique things to do in Grand Teton National Park)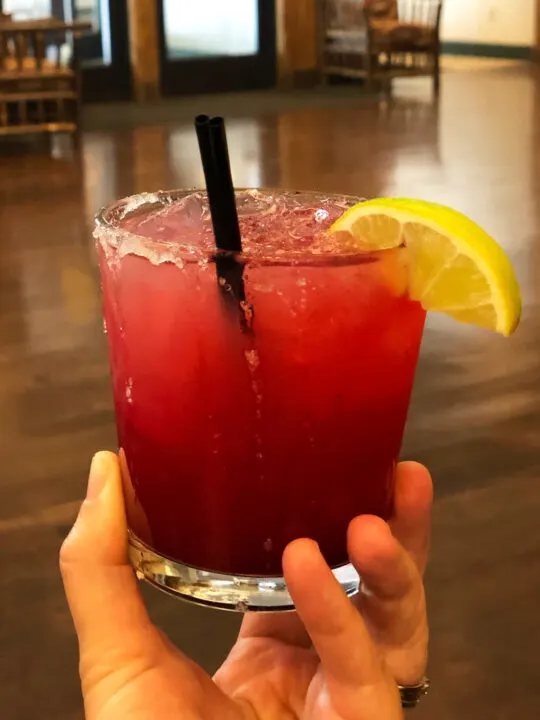 I know, I know, this is a strange must see at Grand Teton National Park! But it's a must-taste if you enjoy margaritas!
Huckleberry is a berry not found to most of the USA, so when you're in this region, you should definitely give it a try! You can find a huckleberry margarita at John Colter's Ranch House Restaurant-Bar or the Blue Heron Lounge inside the Jackson Lake Lodge.
My husband and I had some in the town of Jackson, too, but they weren't nearly as good!
You could also consider this must-do activity some much deserved down time after all the hiking and sightseeing you're doing in Grand Teton National Park. 😊
10. Hike to Taggart Lake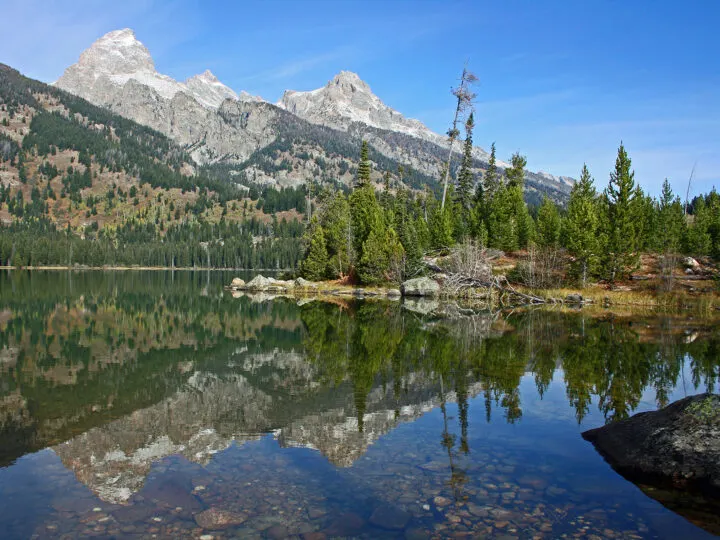 Saved one of the best for last! This is a must see in Grand Teton National Park for it's remoteness and beauty.
You can only get to Taggart Lake by hiking, and the trail isn't too difficult. It's 3.8 miles and rated as an easy hike.
While technically a loop, many people take the shorter side of the loop from the parking lot to the lake and back, shaving off about 0.5 miles from the hike. If doing the whole loop, going couter clockwise makes for better views and easier hiking on your way back from the lake.
Anyways, expect spectacular views of the Tetons as you hike this fun trail to the lake. Taggart Lake is breathtakingly gorgeous, and the picturesque mountain scene will leave a lasting memory for years to come.
Pro tip: this trail gets busy! Go early or late, or expect to use overflow parking on the main road. During the summer and weekends, expect the trail to fill up by 9:00 or 10:00am.
Bonus things to do in Grand Teton National Park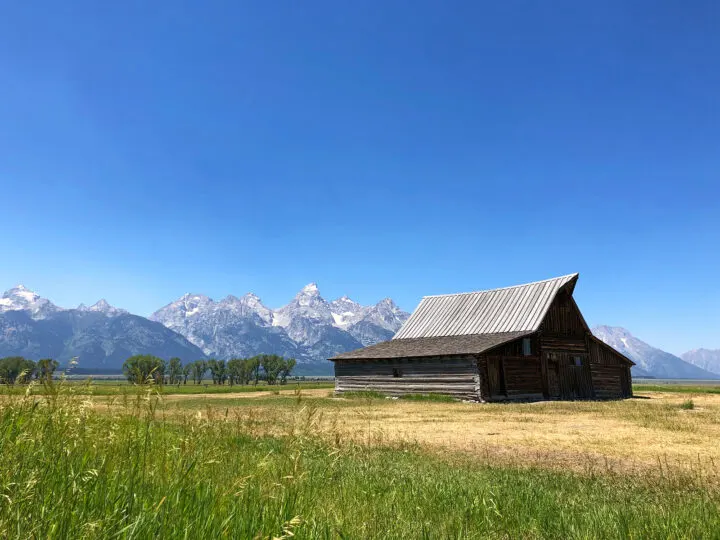 The 10 things above are the absolute must see items in Grand Tetons! However, because I know you like options, I've included a few more bonus items that just might interest you.
See the Moulton Barns on Mormon Row. Visit the community that thrived in the early 1900's and envision yourself living on a farm at the base of the Tetons. Oh, and the Moulton Barn is the most photographed barn in the world.

Oxbow Bend. Nestled along the north end of the 42 mile loop is this overlook. It's one of the most scenic stops along the northern side of the park. Visit in the morning for the best photos!
Hike to Phelps Lake Overlook. At just 2 miles and a gradual ascent until the lookout, you could easily add this to your Grand Teton National Park itinerary if you're visiting the park for a few days.

Visit the Jackson Lake Dam. Fun for kids and adults, this quick stop on the 42-mile scenic loop is a fun sight that doesn't require any hiking. 😆
Must See in Grand Teton National Park in 1 day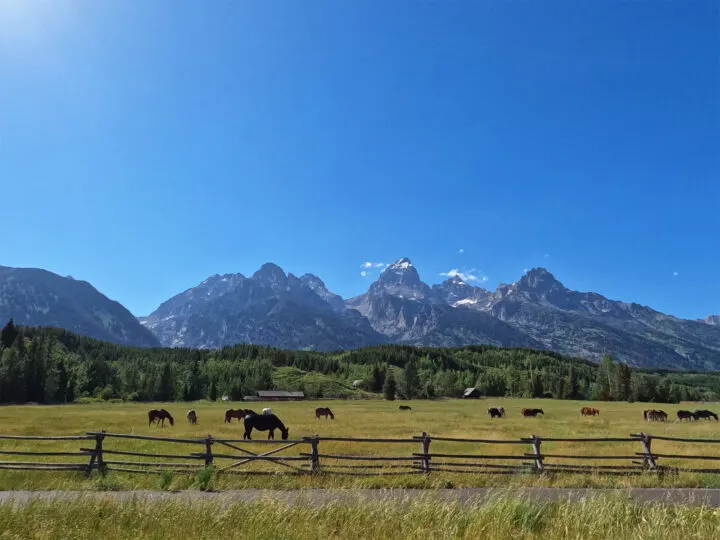 If you're truly short on time and only have a single day to visit the park, I'd recommend these top activities:
42-mile scenic drive, stopping at the Cathedral Group Turnout and Snake River Overlook
Hike to Hidden Falls and Inspiration Point
Spend some time at Jackson Lake either walking the shore at Colter Bay or kayaking at Signal Mountain
Recommended gear for the park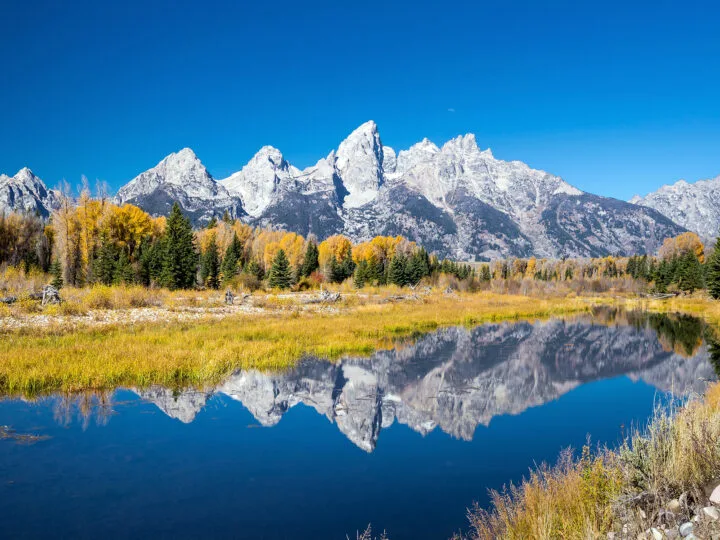 Before wrapping up this guide, here's a few more pieces of info that may help with planning.
National parks are amazing landscapes that this country should truly cherish. But that doesn't always mean there are a lot of amenities at hand. So here's a list of things you'll likely want to pack for the park.
Layers for weather. Dress according to the weather depending on what time of year you visit this gorgeous park. The temperature can fluctuate dramatically throughout the day. This is my favorite rain jacket for being outdoors and this is the medium hiking coat I wore in the Tetons.

Satellite communicator. National parks are notorious for not having cell phone reception. In the event of an emergency – hiking or not – you'll want to be able to reach out for help. I love my Garmin satellite communicator. It's gone with me while exploring Zion with kids, hiking in Point Lobos State Preserve and so many other places.
Hiking backpack. Snacks, water, rain gear – you name it, you'll want to carry the 10 essentials while hiking in Grand Teton National Park. A hiking backpack magically distributes the weight so it feels a lot easier to hike. My husband and I both have the Osprey Sirrus 24 backpacks and we love them!

Collapsable cooler. Compact and lightweight, this cooler keeps your drinks, snacks and lunch cold while exploring Grand Teton and Yellowstone. Whether you're spending one day in the park or a week exploring the whole Jackson Hole area, bring a cooler along for the ride.
Accommodations near Grand Teton National Park
There's a ton of options for staying close to the park. Whether you're wishing to be out in nature by camping or are more comfortable with walls between you and the outdoors when you sleep, here are a few options to consider.
Camping near Grand Tetons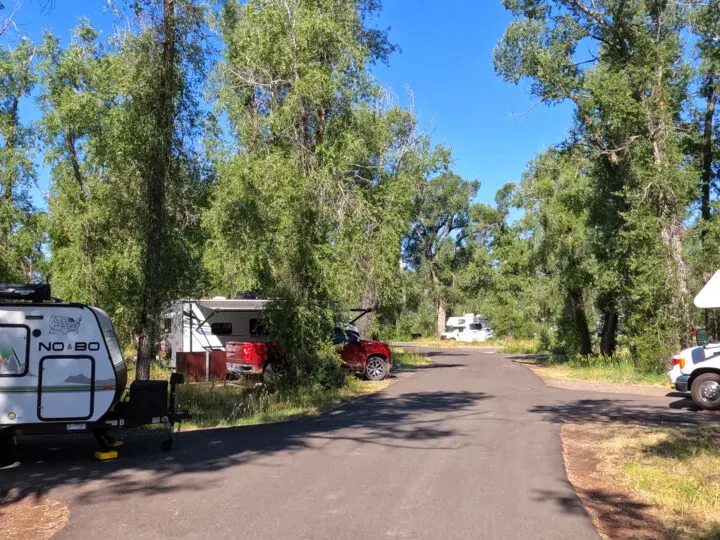 The good news is that there's a lot of campgrounds inside and surrounding the park. The bad news is they book up months in advance so you'll want to reserve them early!
Gros Ventre Campground. It was my favorite campground, and located inside the park it's pretty close to the action.
Colter Bay Campground. With more amenities in Colter Bay Village, this is a prime spot to camp in Grand Teton National Park.
Where to stay in Jackson Hole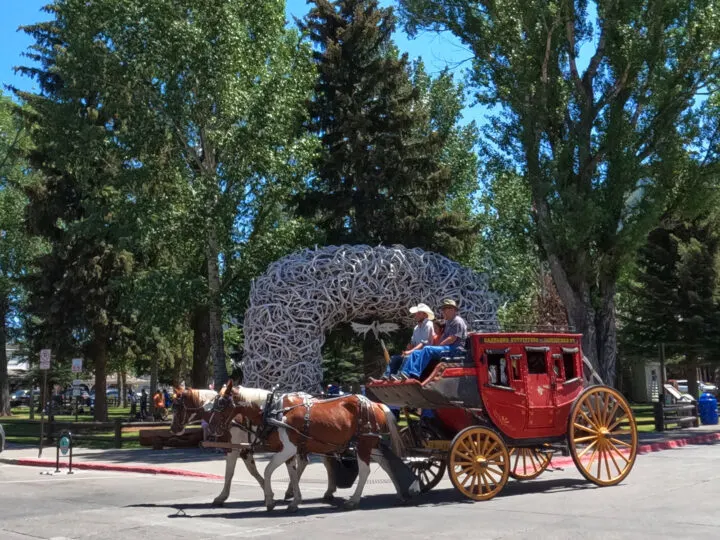 If you prefer more modern day conveniences, you'll find plenty of vacation rentals and hotels in Jackson. With a bustling downtown, there's plenty to see and do before or after visiting the park, too!
Rustic Inn Creekside. Despite 'rustic' in the name, this resort is all about luxury! Enjoy the spa, sauna or pool after a great day exploring the park.
Elk Country Inn. Perfectly situated near all the action in Jackson Hole, this hotel can accommodate couples or families with the variety of rooms on hand.
By the way, I personally love using Booking.com for accommodations because I can search vacation rentals and hotels at the same time. Plus the pricing is really great, which is a bonus!
Must see in Grand Teton National Park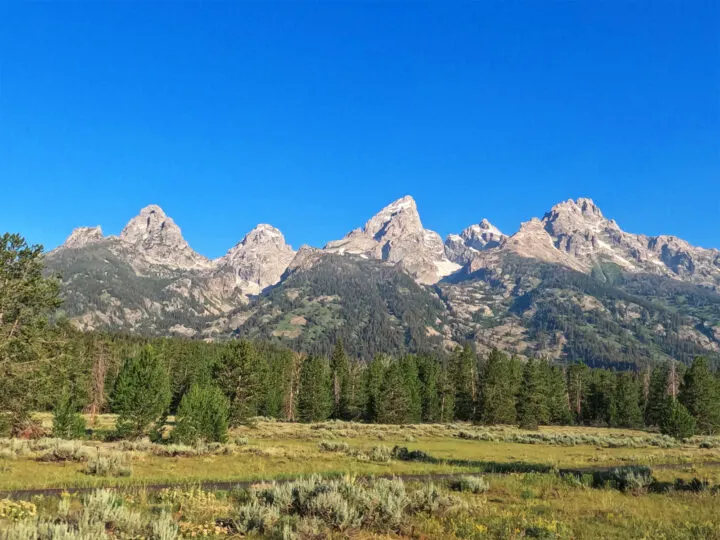 Well, that's a wrap! There are some unique things to do in Grand Teton on this list, as well as some of the most popular spots. Of course you could spend a week exploring this park, but if you want to stick to the highlights, follow this list!
Let's recap that list again, in a more succinct manner…
Things to Do in Grand Teton
Jenny Lake scenic drive
Hidden Falls and Inspiration Point
42-mile scenic loop
Ice cream at Colter Bay Village
Jackson Lake Beach
Wildlife viewing
Schwabacher Landing Trail
Water sports at Signal Mountain
Huckleberry margarita
Taggart Lake
Related content you might like:
Inspiration Point Grand Teton: Epic Hike You Gotta See to Believe
Find this post helpful? Save it for later or share it on social media!