Are you ready for it?! (cue the intense move music) These adventure ideas will have you exploring beautiful landscapes, seeing unique places and maybe even get some adrenaline pumping! Here are the best adventurous bucket list ideas you can't miss.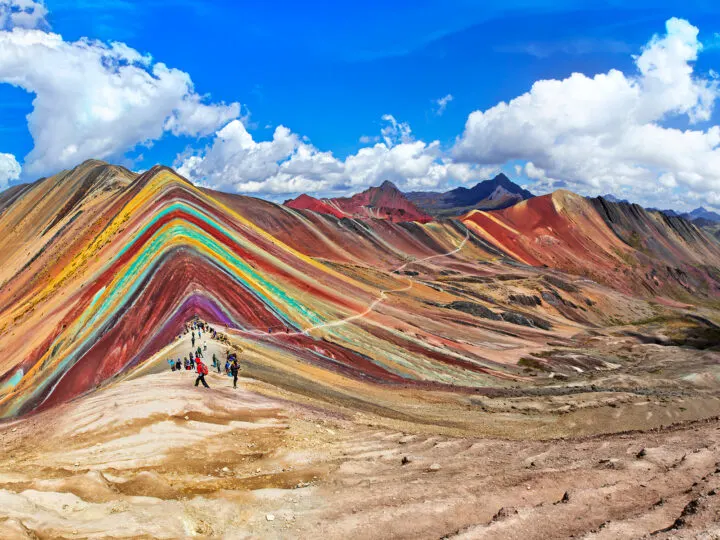 This post may contain affiliate links. For more info, see my disclosures.
From exploring Antartica to road tripping through Andalucia, volcano boarding in Nicaragua to bungee jumping in New Zealand, this adventure list is going to blow you away!
These are unbelievable adventure ideas where you'll see incredible landscapes, nature and culture. Oh, and the hidden spots you haven't even heard of are a fun twist, too!
If you're interested in staying local, check out these adventure vacations in the US. Otherwise, get ready to go global with this mega list!
Adventure Bucket List map
If you're a visual person, this map will help you plan. These adventure ideas are all over the globe. Pinch and zoom for more details – and of course, check out the guide below!
Let's dive into the list!
Adventurous bucket list destinations
Gah! I'm so pumped for you to check this list out and start planning your next adventurous getaway! Starting the list off with a few favorites.
Oh, and by the way, since I haven't done it all yet, I asked some of my favorite travel writers to help out on this list of the most adventurous bucket list ideas. You're going to love them!
1. Hike the NaPali Coast in Kauai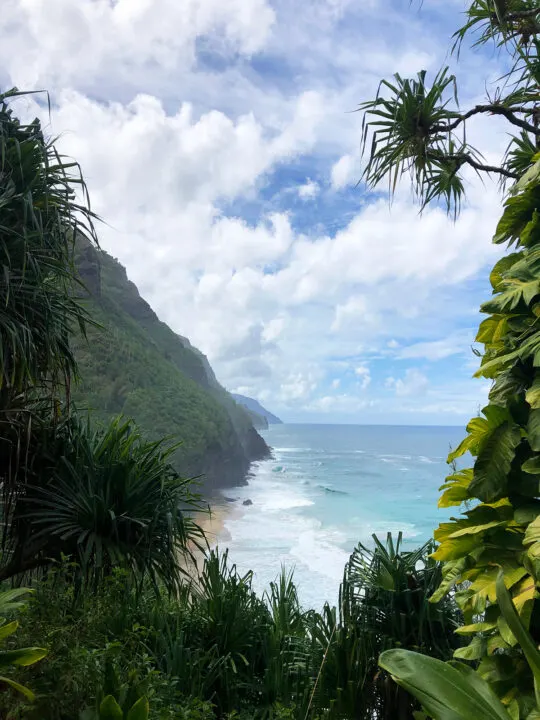 Region: North America
Fly into: Lihue Airport, Lihue
It's one of the most gorgeous coastlines in the world! The NaPali Coast on the island of Kauai, Hawaii is where rugged mountains dive into the sea.
The Kalalau Trail is routinely listed as one of the most dangerous hiking trails in the world! Completely undeveloped, the only thing out there is you, the trail and the ocean.
This full hike is not for the faint of heart. Most adventure travelers take 2 days to hike the 11-mile Kalalau Trail along the breathtaking coast. It requires a permit and reservations to camp overnight.
Nicknamed 'the garden isle' the terrain on the NaPali Coast is lush and simply stunning. You'll be hiking through a dense rainforest so bring all the proper hiking gear and be sure you're in great shape. From natural beaches to hiking along cliffs, this is an experience of a lifetime!
If you're looking for some of the beauty without all the extreme danger, you can always hike the first 2 miles of the Kalalau Trail, to Hanakapiai Beach. This is 4 miles round trip and is more of a moderate hike, perfect for an afternoon. You'll still need reservations for Ha'ena State Park to access this beautiful hiking destination.
While you're on the island of Kauai, be sure to visit – and hike the Waimea Canyon! Known as the Grand Canyon of the Pacific, it's massive in size, considering it's on an island.
And of course, check out the water activities and the best beaches for snorkeling in Kauai like Hanalei Bay, Anini Beach and Kiahuna Beach. Kauai is full of adventure, and you'll want to spend at least 5 – 10 days there to see the highlights.
Recommended by me – Nikki of Inspired Routes – follow on Pinterest
2. Desert Safari in Wadi Rum (one of my favorite adventure ideas!)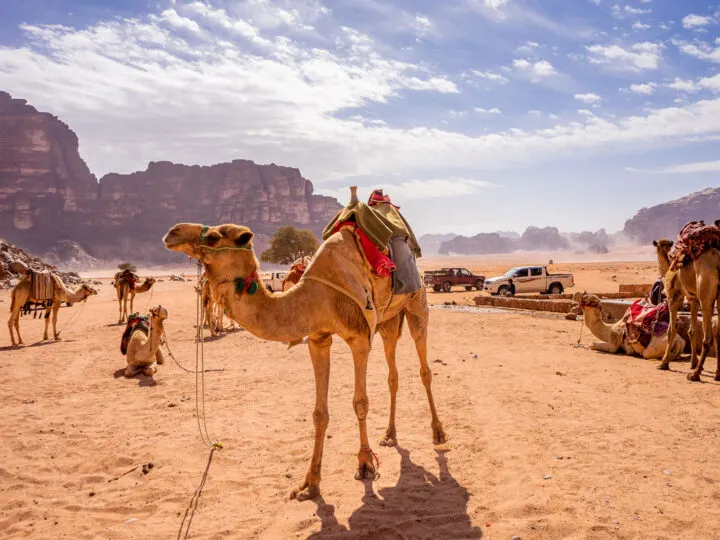 Region: Middle East
Fly into: King Hussein International, Aqaba
Are you looking for an adventure bucket list activity that will take your breath away? Then look no further than a desert safari in Wadi Rum. This Jordanian desert is unlike any other place on Earth, and a safari here is sure to be an unforgettable experience.
Wadi Rum is known for its dramatic red sandstone mountains and vast empty valleys. It's a place where you can truly experience the silence and stillness of the desert.
A safari in Wadi Rum is the perfect way to explore this unique landscape and a worthy addition to every Jordan itinerary.
There are many ways to experience a desert safari in Wadi Rum. You can hire a 4×4 and go off-roading, however, it's strongly recommended to book a tour with a local guide. This will not only ensure your safety but also give you a more authentic experience.
There are many different activities that can be included in a Wadi Rum safari, such as camel riding, hiking and sandboarding.
If you're up for a real adventure, you can also spend the night in the desert under the stars. There are many camping options available, or you can stay in a traditional Bedouin camp.
Wadi Rum is located in southern Jordan, about a 3-hour drive from the capital city of Amman. The easiest way to get to Wadi Rum is by car, but you can also take a bus or a shared taxi from Amman.
Alternatively, Aqaba is the closest major city to Wadi Rum and you can fly into King Hussein International Airport. From Aqaba, it's about a 45-minute drive to Wadi Rum.
Whichever way you choose to get there, a desert safari in Wadi Rum is one of the top adventure ideas, and one you won't want to miss!
And, if you're looking for more amazing adventures a little further south, be sure to add a safari in South Africa to add to your bucket list!
Recommended by Kriszti of She Wanders Abroad – follow on Instagram
3. Road trip through Norway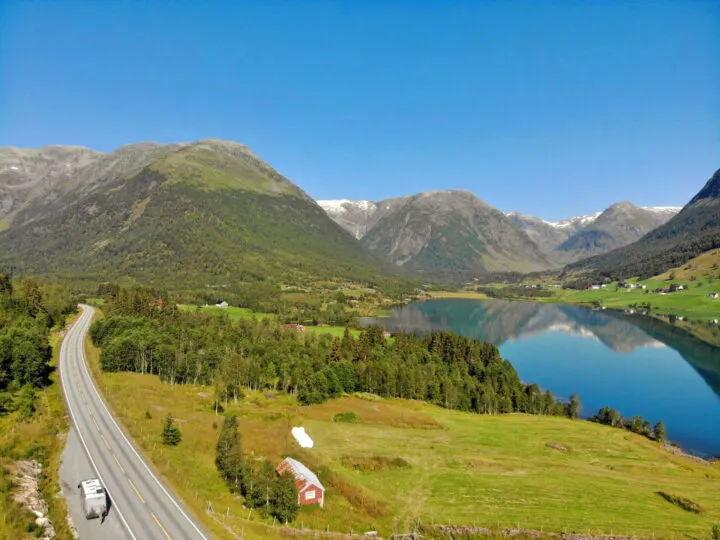 Region: Northern Europe
Fly into: Bergen, Norway
If you love the journey more than the destination, the Western Fjords are a wonderful place for a Norwegian road trip. Starkly beautiful, with glistening deep blue fjords, dramatic mountains, ancient glaciers and waterfalls everywhere you look, this is a country to travel through slowly as you explore at each new landscape.
Taking in iconic Norwegian sights as you drive. The roads of western Norway will take you through some of the longest road tunnels in the world, over ice cold fjords, along the spectacular Atlantic Ocean Road, and up the snaking Trollstigen Mountain Road to picture perfect Gerainger.
Along the way you can explore Norway by hiking, cycling, paddling and zip lining. Or try your hand at climbing the via ferrata, to get to some of the best spots.
Fly into Bergen, Norway's second largest city, for the start of this road trip and head north to Loen on the edge of Lake Lovatnet. There you can swim and kayak in the glacial waters, and catch the sky lift for incredible views of the blue-white Jostedal Glacier.
From here, the stunning UNESCO Geraingerfjord calls, with its steep walls, blue depths and wild waterfalls.
Next up Trollstigen will challenge even the most experienced drivers with its 11 hairpins and 9% gradient. You'll make your way for Atlanterhavsvege, for the Atlantic Ocean Road, which runs between 7 islands like a silver ribbon.
From Trondheim, pick up the wonderfully scenic Kystriksveien Coastal Route north until you reach the Arctic Circle, on the fjord boat between Kilborghavn and Jektvik. The ocean is endless, the fishing villages picturesque and the sky may reward you with the Northern Lights.
From there, it's a hop and a skip (for Norway anyway) to Tromso and Nordkapp, the furthest north you can dive in continental Europe. Look out for moose on the road, they're a common sight this far north!
Road tripping through Norway absolutely needs to be on your adventurous bucket list!
Recommended by Izzy of The Gap Decaders – follow on Facebook
4. Bungee jump in New Zealand (heart-pumping fun on this adventurous bucket list)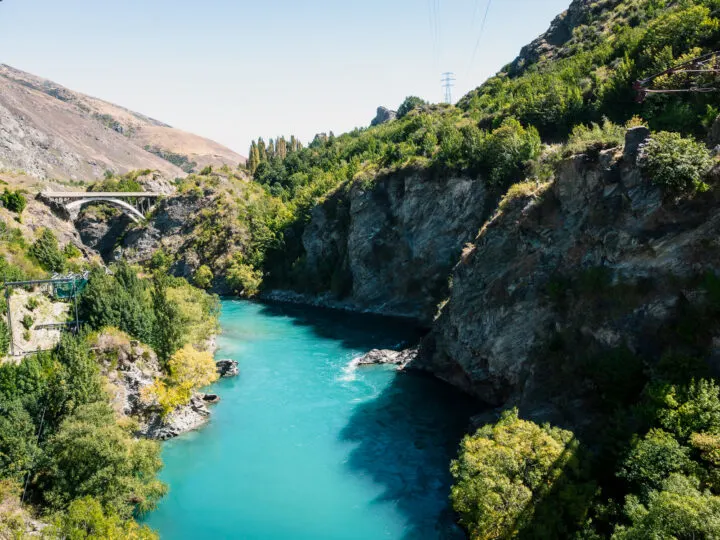 Region: Oceana / New Zealand
Fly into: Queenstown Airport
Flinging yourself off a bridge whilst tied to a rubber band should definitely sit on any adventure bucket list, and there's nowhere better than New Zealand to tick this one off!
Bungee jumping, although technically hailing from a tribe in Vanuatu, was first made commercially available in New Zealand by AJ Hackett. It was Hackett who put New Zealand on the map as an adventure destination and as the real home of bungee jumping.
The main reason you should pick New Zealand as the place to try out bungee jumping is for the epic scenery. If you're going to try bungee jumping, then why not pick the most beautiful place in the world to do it?
You'll want to make your way to Queenstown in New Zealand's South Island. As the adventure capital of the world, bungee jumping is one of the top things to do in Queenstown thanks to the official AJ Hackett Bungee Centre being located here.
To get here you'll need to either drive or fly to Queenstown airport. The Bungee Center is located a 15-minute drive from the airport, or 20-minutes from the city center. Most people rent a car in Queenstown, however there is a bus that departs from the city center.
Bungee jumping in New Zealand itself is, naturally, a fast-paced adrenaline rush. The build up can take a bit of time while you book your tickets, get a safety brief and get strapped into the harness. However, the activity itself lasts just a few seconds as you free-fall to the water – where you can opt to be dunked or not.
Once this is all over, then the good news is you'll be in one of the best places in the world, packed with gorgeous hikes, world-class vineyards and countless other adventure activities if bungee jumping wasn't enough.
Five days is the perfect length of time to spend in Queenstown. However, if you're visiting New Zealand then it's definitely worth giving yourself at least a few weeks (ideally longer) to explore the whole country.
Recommended by Delilah of Our Travel Mix – follow on Instagram
5. Cage dive with Great White Sharks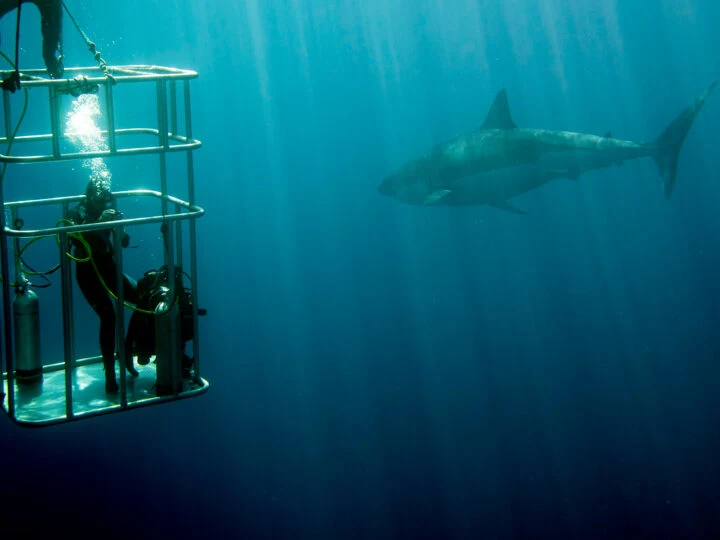 Region: Oceana / Southern Australia
Fly into: Adelaide Airport or Port Lincoln Airport in North Shields
One of the best adventure ideas in Australia is cage diving with Great White Sharks. Diving with the biggest and strongest predators in the ocean, the Great White Sharks provide the required adrenaline for thrill and adventure seekers.
The activity happens at Port Lincoln, a city located on the Eyre Peninsula in South Australia. Port Lincoln is a popular place for its fishing industry, sea lion colonies and Great White Sharks population.
Even though one can drive from Adelaide to Port Lincoln, there are 2 quick ways to get to Port Lincoln. One way is by taking a short flight ride from Adelaide airport and the other way is by taking a ferry from Lucky Bay.
Operated by Calypso Star Charters, the divers are taken to a place that have a huge number of Great White Sharks. It is an entire day tour from Port Lincoln. The cage is then dropped into the ocean and the divers get into the cage one after the other.
As the Great White Sharks live in colder waters, the best season to do the cage diving is between March and May. And it's advisable to wear thick wetsuit and hood for protection against cold water.
Seeing the ocean's powerful predator underwater is a unique and daring experience! As the Great White Sharks swim around the cage, they look stunning and massive. The best part of the dive is also seeing other abundant marine life.
Recommended by Raksha of Solopassport – follow on Instagram
6. Stay in a Treehouse in the Amazon Rainforest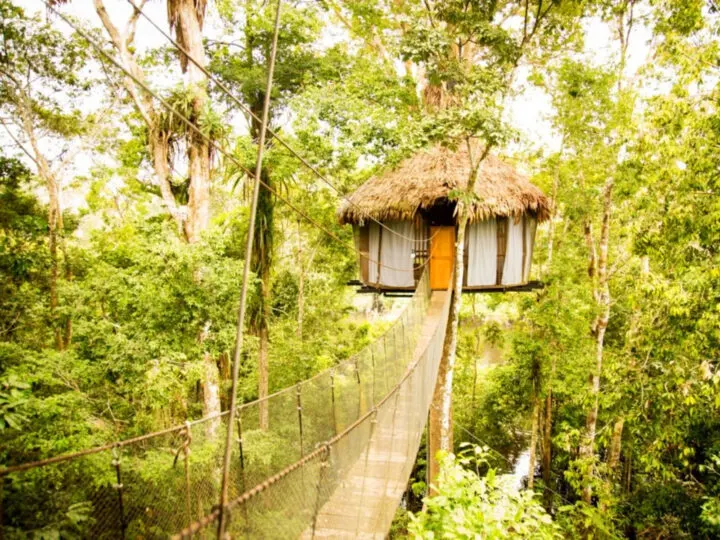 Region: South America
Fly into: Iquitos International Airport, Iquitos
Spending a few nights in an honest-to-goodness treehouse is most little kids' dream. Now, the Treehouse Lodge in Iquitos, Peru is making sure it's on every adult's adventurous bucket list too!
The Treehouse Lodge is a unique experience that's located in Peru's Amazon Rainforest. It features 10 private treehouses that come in all different sizes and heights off the ground. The tallest treehouse is 67 feet off the ground!
Each treehouse has a cold-water shower, sink, toilet and beds. This is "glamping" at its finest!
You'll be treated to monkeys swinging from the trees outside your treehouse, and some of the treehouses even have river views – which means you'll be able to see pink dolphins swimming by. (You may even want to add earplugs to your Peru packing list, as the monkeys can be quite feisty some nights!)
The stay here is also all-inclusive (excluding alcohol). So, you won't have to worry about paying for your meals or excursions while you stay at the Treehouse Lodge either. And the excursions are AMAZING.
You can go wild-life spotting, swim in the Amazon River, fish for piranhas, visit a local village, go boating through the forest during the wet season, or hiking in the rainforest during the dry season (the best time to visit Peru)…. just to name a few.
Spending 2 nights at the Treehouse Lodge is considered the ideal amount of time. You'll need to fly into the Iquitos airport.
Then, the Treehouse Lodge will assist in transferring you 90 minutes by car to a waiting boat. This boat will then take you on a 90-minute ride, deep into the Amazon Rainforest. Just getting to the Treehouse Lodge is an adventure in and of itself!
Recommended by Lindsey of Have Clothes, Will Travel – follow on Instagram
7. Hike Rainbow Mountain in Peru (one of the most photo-worthy activity vacations)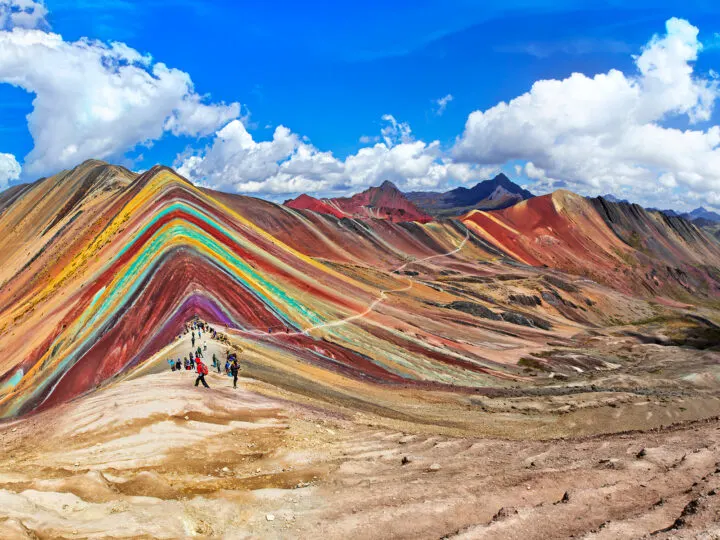 Region: Northern South America
Fly into: Alejandro Velasco Astete Cusco International Airport, Cusco
Peru is home to many amazing natural wonders, but one of the most spectacular is Rainbow Mountain.
Located near the city of Cusco, the mountain gets its name from the colorful mineral deposits that cover its surface, creating a spectrum of colors that is truly stunning.
I have to be honest: hiking up Rainbow Mountain is no joke. Although the trek to Rainbow Mountain is challenging, it is well worth the effort. The views from the summit are simply incredible!
Visiting Rainbow Mountain usually takes a full-day trip, and it is really recommended that you go with a group. Around Cusco, you will find dozens of tourism agencies offering the tour for about 70 soles (that includes breakfast and lunch!). The tours usually leave pretty early, around 4 in the morning, in order to beat the crowds.
At over 5,000 meters (16,404 feet) above sea level, Rainbow Mountain in Peru is one of the most unique and breathtaking landscapes on Earth. The mountain is also home to a wide variety of wildlife, including llamas and alpacas, which you can easily spot when hiking!
If after getting to the top of Rainbow Mountain you feel like you could still walk a little bit more, you can stretch the hike all the way to the Red Valley, which is located right behind the mountain.
Hiking the Rainbow Mountain in Peru should be on everyone's adventurous bucket list!
Recommended by Cami of Travel Cami
8. Dhoni Cruise in the Maldives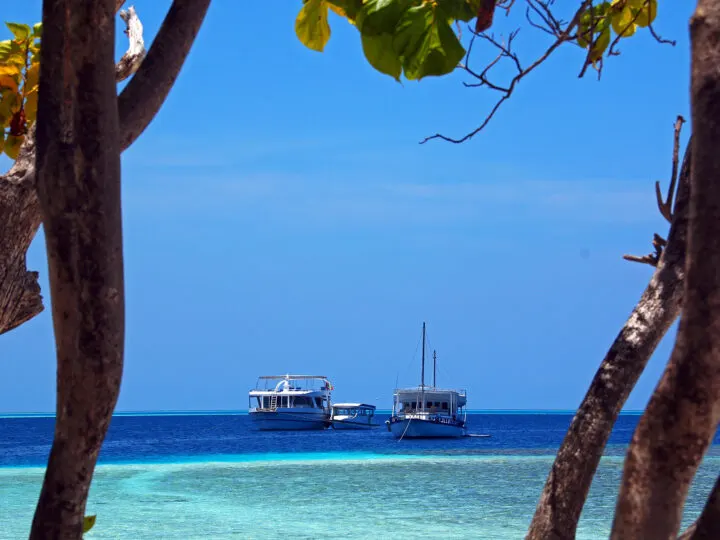 Region: South Asia
Fly into: Male International Airport
This next activity is one of the best adventure ideas if you love the ocean!
The best way to explore the Maldives off the beaten path is on a traditional Dhoni cruise. Dhonis are the traditional boats of the Maldives and were formerly mainly used for fishing and local transportation but now you can also do multi-day cruises on a Dhoni.
The best way to get there is to fly to Male. From there it is only a few minutes by boat to the starting point of your Maldives Dhoni cruise through the South Male Atoll.
During this cruise, you'll experience the underwater world of the Maldives on daily snorkeling trips. You'll encounter numerous colorful fish, crustaceans, squids, and turtles. If you're lucky you'll also dolphins, nurse sharks, Stingrays and Manta Rays.
Furthermore, you'll have the opportunity to snorkel at a shipwreck and visit inhabited and uninhabited local islands and remote sandbars. Besides that, you can relax at picture-perfect beaches and enjoy the sunset. At night the Dhoni always anchors in bays where you will spend the night on the boat.
Onboard you get breakfast, lunch and dinner daily as well as tea and coffee with or after meals. Juice, fruit and pastries between meals are also common.
You have the choice between a traditional Dhoni and a premium Dhoni. The traditional Dhoni offers space for 8 passengers and 5 crew members.
The premium Dhoni is designed for 14 passengers and 6 crew members. It's more than twice the length of the traditional Dhoni, more comfortable and has more space and storage space per passenger.
No matter which Dhoni you choose, a Dhoni cruise offers you the opportunity to experience the Maldives off the beaten path. You will also get a deep insight into the country, its culture and the underwater world of this island archipelago.
Recommended by Vanessa of Travelling Colognian – follow on Facebook
Adventure bucket list ideas
Can you believe this list?! And we're just getting started! Only about 25% done, let's keep going for more spectacular sights and epic adventures!
9. Road trip through Icefields Parkway in the Candadian Rockies (one of the most adventurous getaways on this huge list)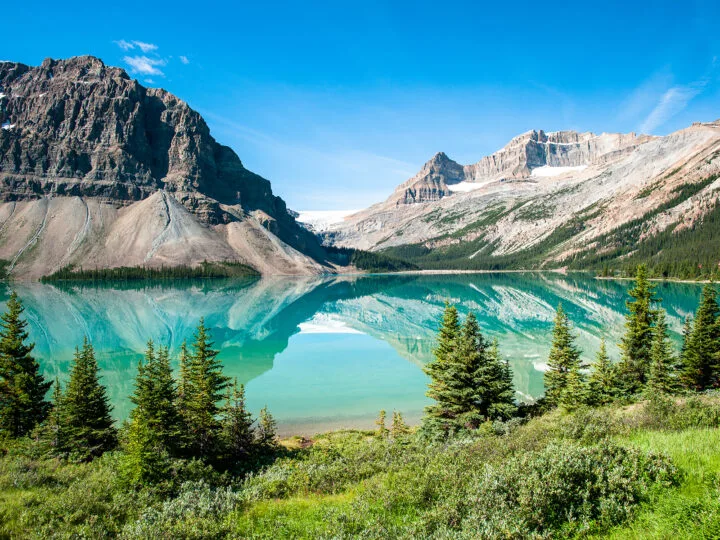 Region: North America / Canada
Fly into: Calgary International Airport, Calgary
The Icefields Parkway is one of the most scenic drives in the world and connects Banff National Park with Jasper National Park. Not only are the views incredible but there is plenty to see and do along the way. It's one of the best adventure ideas in North America!
The Banff to Jasper drive one-way takes around 3.5 hours, but you'll want to reserve a whole day for this trip. If possible, more than a day is recommended.
You can drive the Icefields Parkway in either direction, but starting in Banff and ending in Jasper is the most popular route. Getting to the Icefields Parkway is relatively easy with the nearest airport being Calgary International.
There are many stunning lakes along the Icefields Parkway. Bow Lake is the first lake you'll come to and is beautiful first thing in the morning. Peyto Lake is another bright turquoise glacial lake that is a must see on the parkway.
The Columbia Icefields is the biggest icefield south of the arctic and is where Banff and Jasper National Parks meet. Here is a great place to stop and stretch your legs. You can opt to take an Ice Explorer tour on the Athabasca Glacier or simply take in the sights at the Toe of the Glacier hike.
North of the Icefields are some amazing waterfalls such as Athabasca Falls and Sunwapta Falls. Both are very popular in the summer so getting here earlier is recommended.
If you are wanting to take a hike, both the Wilcox Pass and Parker Ridge hikes are gorgeous and both feature stunning glacier views.
If you are venturing out on this bucket list road trip, filling up your car before you leave is the best way to go. The only gas station along the Icefields Parkway is at the Saskatchewan Crossing, open seasonally, and prices here are quite high.
Recommended by Rachael at A City Girl Outside – follow on Instagram
10. Hike to Everest Base Camp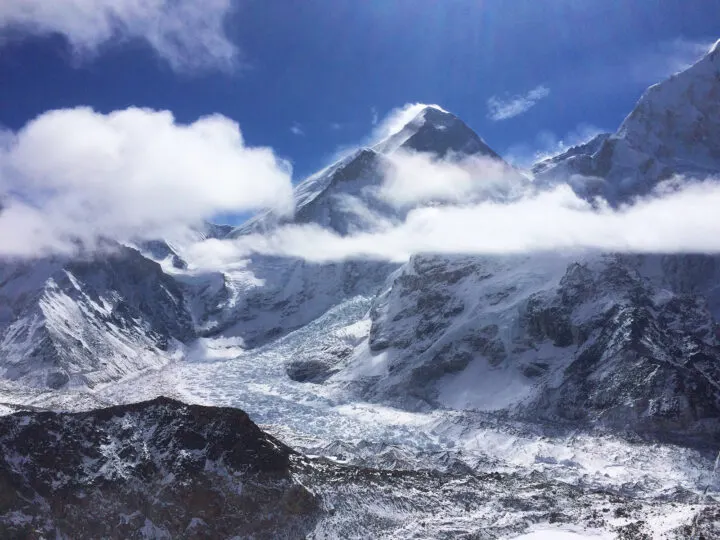 Region: Southern Asia
Fly into: Kathmandu Tribhuvan Airport in Kathmandu
This next hike absolutely should be on your adventurous bucket list!
The trek to Everest Base Camp is about 110 kilometers (68 miles) over around 14 days and the walking isn't difficult. However, it's the altitude that makes this tough and a major bucket list item!
Most treks start from Lukla at 2,800m, (9,186 feet) which trekkers fly into from Kathmandu, Nepal. It's the most dangerous airport in the world and incredible to fly into.
The hike up Everest can be very intense! As you slowly acclimatize on the way up (it's dangerous to go too quickly), you'll eventually arrive at Everest Base Camp at 5,364m (17,598 feet). It's important to take it slow and to ensure that you drink lots of water, to try and avoid altitude sickness.
Most trekkers will go straight to Everest Base Camp. However, it's worth taking a detour to see the Gokyo Lakes and Gokyo Ri (5,483m / 17,988 ft) and you'll escape the paths which are most heavily trafficked.
It's also worth ascending Kala Pattar(5,545m / 18,192 ft) for stunning views of base camp and Everest.
Acclimatizing on the way up allows you to check out places like the Khumbu Valley with hospitals and schools built by Sir Edmund Hillary. There are stunning monasteries to visit too, at Tengboche and Dingboche.
Most tours will not let you join if you don't have appropriate travel and medical insurance. Helicopter evacuations for altitude sickness cost in excess of US$5,000 and must be paid for before the helicopter takes off!
Recommended by Sarah of A Social Nomad
11. Epic adventures in Antartica (fantastic idea for activity vacations)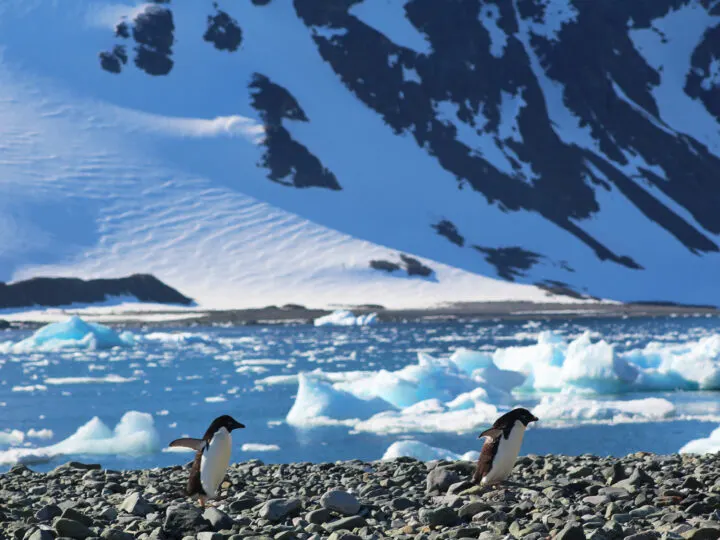 Region: Antartica
Fly into: Ushuaia Airport, Argentina, then boat to Antartica
One amazing adventure destination that many people dream of visiting, but few actually get to experience, is the incredible continent of Antarctica. It's an amazing place unlike any other on Earth.
About 10,000 people visit Antarctica each year to see its untouched beauty and experience the nature unique to this continent.
You can visit Antarctica only between November and March. Most people visit via cruise ship from Argentina, but there are options to visit from Australia and New Zealand.
Look for smaller ships that carry fewer than 500 passengers. These ships allow for more time on land. Some of the larger ships do not allow people to go on land and you will miss the opportunity to walk a safe distance from penguins and seals!
The pristine beauty of the continent is well known, but there are also a variety of things to do in Antarctica.
Adventure lovers will enjoy hiking dormant volcanoes and kayaking past icebergs near penguins and seals. If you're truly brave, you can take a polar plunge in Antarctica or even go camping on the ice. Every one of these activities will leave you awestruck at the breathtaking beauty of Antarctica!
Many trips to Antarctica visit the Antarctic peninsula but don't go further south. A 2-week cruise from Ushuaia, Argentina would allow you ample time to see the peninsula and potentially cross the Antarctic Circle at 66°30′ South.
It's not easy to travel to Antarctica, but it's an experience that you'll remember forever. If it's been on your adventure bucket list for a long time, put it at the top and make sure you visit this amazing place!
Recommended by Pamela of The Directionally Challenged Traveler – follow on Facebook
12. Gorge hiking in Crete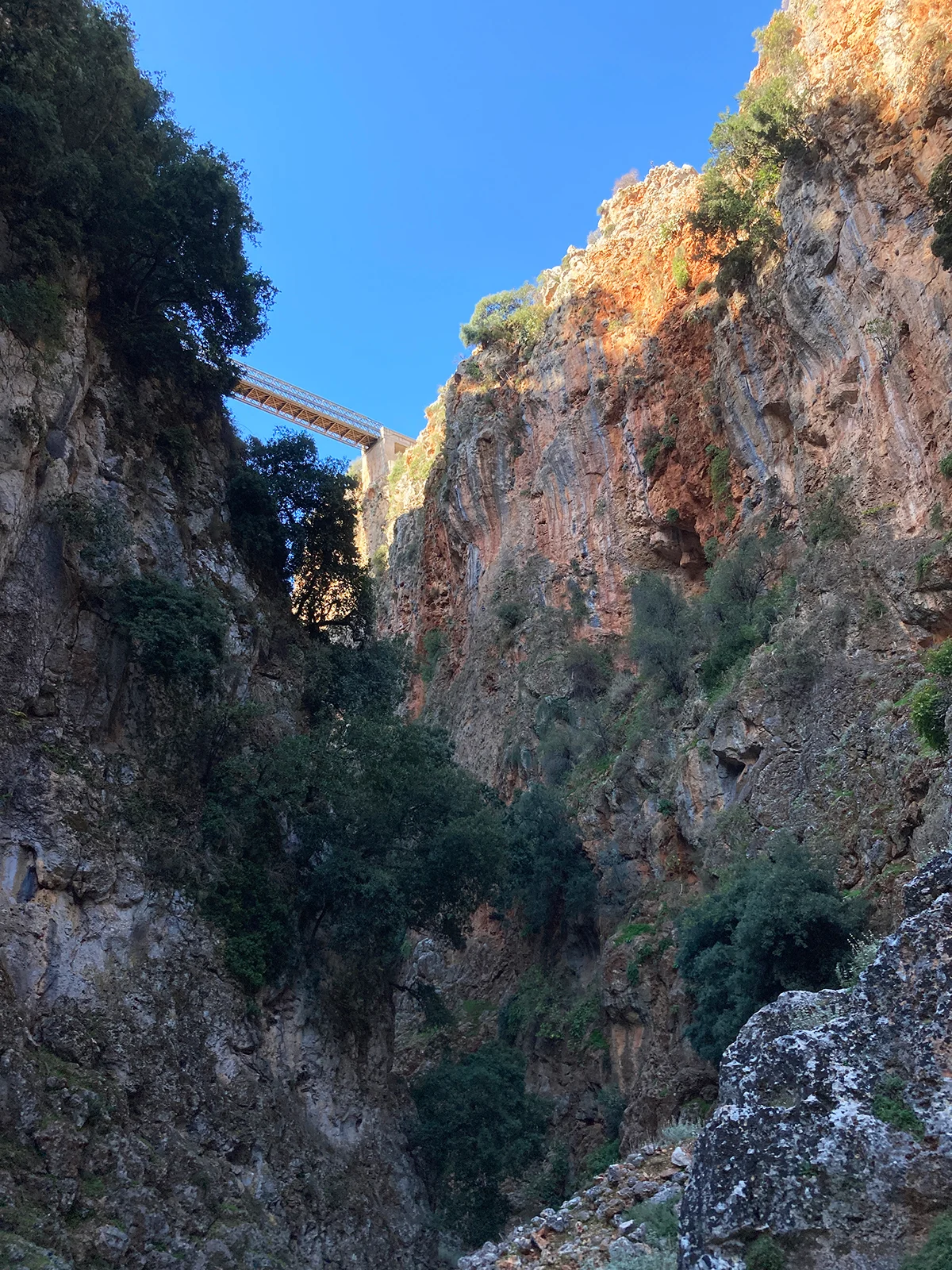 Region: Southeastern Europe
Fly into: Chania International Airport Ioannis Daskalogiannis, Heraklion Airport N. Kazantzakis or Athens International Airport
Greek island hopping is endlessly fascinating – whitewashed villages, startling blue water, fantastic beaches. Choosing just one can be difficult. However, very few offer the incredible hiking and natural scenery of Crete, the largest island in Greece.
Big, mountainous and extremely rugged, the ridge running the length of Crete features over a dozen outstanding gorges where highlands rainfall makes its way down to the ocean. These gorges are also very diverse, from easy strolls through lush palm forests to tricky descents involving ropes, ladders and plenty of scrambling.
The most famous canyon in Crete is the world-renowned Samaria Gorge. Boasting exceptional scenery, moderately challenging terrain and a well-oiled infrastructure (transfers to the trailhead, boats and buses from the bottom), it draws hikers from all over the world in high season.
A lesser known and arguably better choice, however, is the stunning Aradena Gorge. Not far from Samaria Gorge but infinitely quieter, this is one of the best activities to add to your adventure bucket list.
The difficult trail leads down from a superbly photogenic bridge, over and under a fascinating collection of boulders and pools, ending with a gentle walk along the coast to spectacular Loutro, considered by many to be the most beautiful village on Crete.
Of course, there is no need to stop there, as avid walkers can make their way around the entire island. You'll want a week or more to check out other highlight gorges such as narrow Imbros, lush Patsos, historic Zakros, lovely Agia Irini, peaceful Richtis and the difficult climbs and waterfalls of Ha Gorge.
Crete has international airports in Chania and Heraklion. It's also conveniently connected to Athens and many other Greek islands by ferry.
Crete is very large and has only very basic public transportation so if you plan to tackle some of these amazing gorges it is best to rent a car. This amazing island is also one of the best Greek islands for couples to visit – especially adventurous ones!
This is by far one of the best bucket list travel adventures in Europe!
Recommended by Dean and Laynni of Routinely Nomadic – follow on Instagram
13. Zipline in Costa Rica (a personal favorite activity on this adventurous bucket list)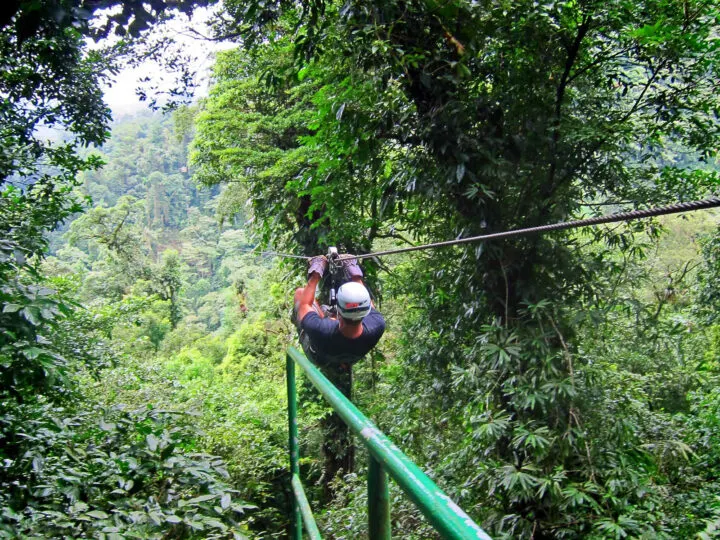 Region: Central America
Fly into: Juan Santamaría International Airport, San José
Ziplining is one of the most intense, adrenaline-pumping activities in Costa Rica. People come to Costa Rica from all over the world to experience some of the longest, fastest and most scenic zipline courses on earth.
There are several places you can experience adventure activity A few popular spots include the things to do in Monteverde like the Cloud Forest, Manuel Antonio National Park and the Arenal Rainforest.
These immense ecosystems are home to some of the world's most incredible floral and fauna. And with 90 percent of Costa Rica's animals living in the upper levels of the country's rainforests, a zipline canopy tour is the best way to see some of the native wildlife safely.
You can spot native birds like toucans, howler monkeys and even sloths as you soar through the air on a steel cable. Some of the ziplines reach speeds up to 50 miles per hour and are almost 1 mile long!
Although they promise a thrill ride, the zipline courses are still incredibly safe, so even if you are visiting Costa Rica with kids, you can be assured your whole family will have a blast and do so safely.
Allow approximately 3 hours to complete one of the guided zipline adventures in Costa Rica. Be sure to wear close-toed shoes, clothes you don't mind getting dirty and mosquito repellent.
Pair ziplining with a hanging bridge trek through the rainforest, a beautiful waterfall hike, or a dip in one of Costa Rica's natural hot springs and you've got the perfect vacation for adventure travelers. There's so much to do in the country; here's a fun 7 days Costa Rica itinerary to plan your ziplining and other adventures.
While ziplining in Costa Rica is just a day trip, you'll want at least a week to explore this beautiful country. Visit the best beaches in Manuel Antonio, swim in the hot springs near Arenal Volcano National Park or go whitewater rafting on the Pacuare River.
Editor note: ziplining was one of my favorite things to do in Costa Rica! Be sure to book your tour in advance as they sell out, especially during peak travel season.
Read next: 26 Incredibly Fun Things to Do in Manuel Antonio Costa Rica You Gotta See to Believe
Recommended by Melissa of Parenthood and Passports – follow on Instagram
14. Road trip through the Dolomites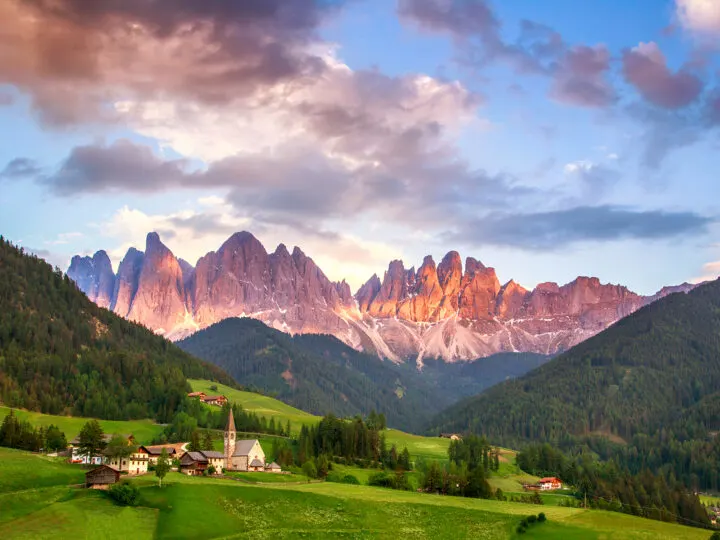 Region: Southern Europe
Fly into: Venice Marco Polo Airport or Munich International Airport
The Dolomites in the Northern Italian Alps are one of the most impressive sights you'll find in all of Italy! It's a bucket list destination for lovers of hiking and mountainscapes.
But what makes The Dolomites one of the best areas to visit around the globe? Well, the Dolomites are unique in appearance, being formed from volcanic and dolomitic rock. They have 18 peaks and rise above 11,000 feet above sea level and take up 6,155 sq mi of space.
To properly visit this impressive UNESCO World Heritage Site, taking a road trip through the Dolomites is highly recommended.
Over the course of the first couple of days, some of the most impressive things you will get to see and do are visiting St. Valentine Church and the church of Santa Magdalena, visiting the rainbow lake called Lago di Carezza, swinging on a mountain swing at Malga Sanon and hiking to Saltria.
The last few days in the Dolomites will be spent hiking Gardenia Pass. You'll want to stop at several impressive lakes including Lago di Landro, Lake Misurina, and Lago di Braies. At Lago di Braies you can even rent a rowboat and go out on the water!
Before you go make sure to pack warmer gear, especially in the winter. Just note it can also be cool up in the mountains even in summer. Also, never go hiking without a great pair of hiking boots!
Five days is the minimum amount of time you will need to be able to stop at many of the most scenic spots. That will give you enough time for hikes, eating, Dolomites tours and resting thrown into the mix.
The closest airport to begin your adventure is either the Venice or Munich airport. There are plenty of hotels in all of the popular regions of The Dolomites but many of them do close during the off-season so research this ahead of time!
Editor note: this road trip reminds me of the epic scenic drives in Colorado, USA with its incredible scenery! So beautiful!
Recommended by Chelsey of Chelsey Explores – follow on Instagram
15. Hike in El Chaltén, Patagonia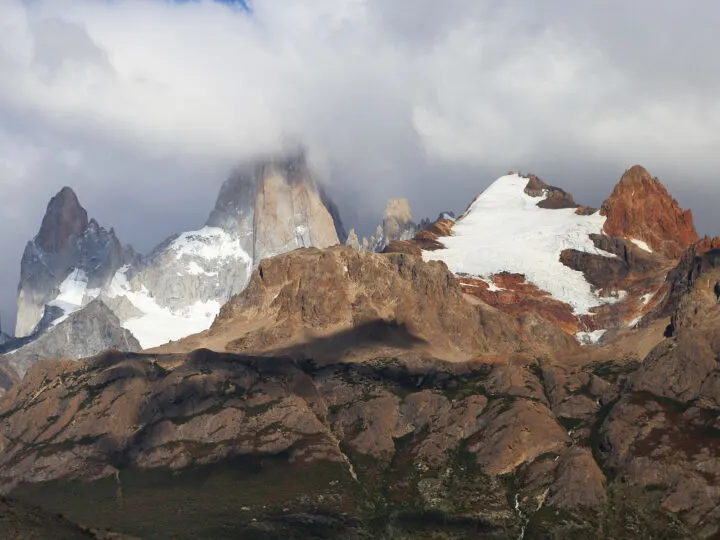 Region: South America
Fly into: El Calafate Airport, Santa Cruz
For adventurous getaways in Argentina, you must head south to Patagonia. From novice trekkers to professional adrenaline junkies, hiking in the Patagonian Andes should be on every outdoors lovers' Argentina itinerary.
And out of Patagonia's many natural wonders, El Chalten stands out. This is the hiking capital of Argentina and all of the tiny village's many trails all lie within a national park, Parque Nacional de los Glaciares.
To get there fly into El Calafate. This small city is 3 hours from El Chalten and also part of the national park. Consider spending a couple of days here before moving on to El Chalten to see the country's famous glaciers.
Once in El Chalten, more time is better. Spend at least 5-6 days here. But 10-14 is ideal for the hiking obsessed and to include more rest days or to allow for chances of inclement weather.
The best time to visit is in the warm summer months from December through February and the shoulder seasons of Fall and Spring. Warm temperatures and long days in the summer allow hikers to cover more ground.
All of the hikes in El Chalten are day hikes and free of charge. Hikers can base themselves in the many cabins and hostels in town, embarking each morning into the mountains to see glaciers, lagoons, and rugged peaks.
The most iconic hike in El Chalten is Laguna de los Tres. This difficult trail leads to Mount Fitz Roy and its turquoise lagoon. Other adventure activities include glacier treks, horseback rides, and white water rafting.
Recommended by Erin of Sol Salute – follow on Instagram
16. Scuba dive in the Komodo Islands (one of the most unique items on this adventurous bucket list)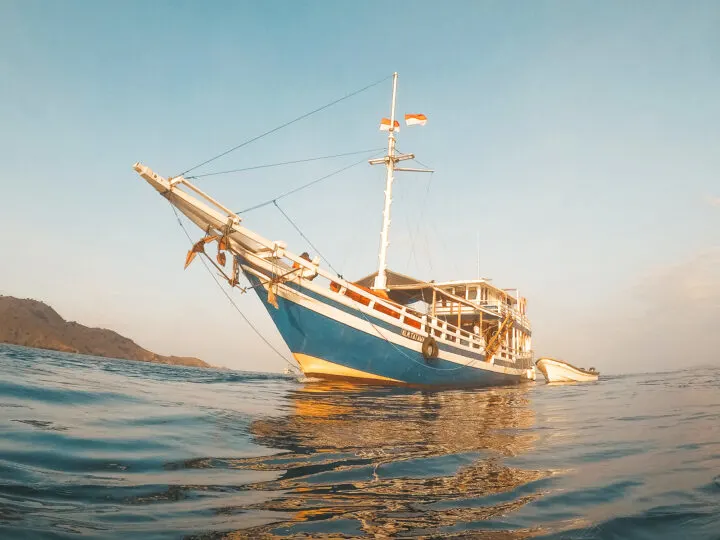 Region: Indonesia
Fly into: Komodo International Airport, Labuan Bajo
The Komodo National Park is found off the coast of Flores Island and is fast becoming the most popular place to visit in Indonesia and one of the best adventure ideas on this list. Famous for its resident Komodo Dragons and spectacular landscapes, it's the perfect destination for any adventure traveler.
But what makes the Komodo Islands even more appealing is the tropical marine life and vibrant underwater world that surrounds these islands. It's a diving mecca with manta rays, sharks, turtles and more.
The best way to experience the Komodo Islands is on a scuba diving liveaboard that takes you to all the iconic sites over 2 or 3 days. Choosing a liveaboard option also ensures that your group is first in the water, so you can enjoy the magnificent dive sites with very few people around.
The best time to visit the Komodo Islands is between June and September. These months provide clear, sunny skies and optimal diving conditions – but one thing you can't escape is the notoriously strong currents that will make your dives even more thrilling!
To get to the Komodo Islands, you'll need to fly into Labuan Bajo in Flores. There are daily flights from Bali and it's easy to add a trip to the Komodo Islands to your Indonesia itinerary.
Recommended by Carryn of Torn Tackies
Adventure ideas
We're at the 1/2 way point. Is your personal adventure bucket list full yet?
Between incredible road trips and adrenaline-pumping activities, we've got a lot more to see!😊
17. Hike to the Lost City in Colombia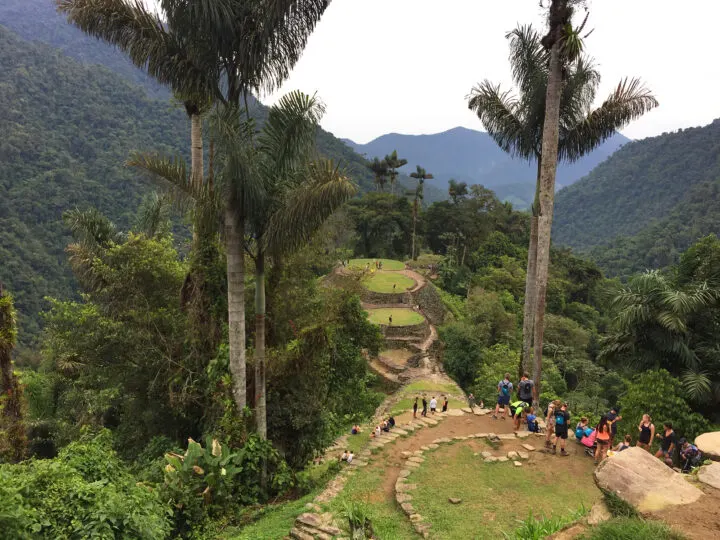 Region: Northern South America
Fly into: Simón Bolívar International Airport in Santa Marta or Rafael Núñez International Airport in Cartagena
One of the best adventure activities in the world is visiting Ciudad Perdida, which translates to Lost City in English. It's an ancient city that was only discovered around 50 years ago and is located within the Sierra Nevada de Santa Marta mountain range.
What makes this place unique is that it can only be reached by foot as part of a 4-day trek through the jungle.
The trek can only be done as part of an organised tour, as the path crosses through lands owned by indigenous tribes. However, there are several tour operators that offer tours to the Lost City, which include the tour guide, food, accommodation and transportation to the starting point of the hike.
Most tours depart from Santa Marta, where you either fly to directly or you can fly to Cartagena instead and take a 4-hour bus ride to Santa Marta.
It's not an easy hike, so you will have to have at least a moderate level of fitness, but it is totally worth it! Especially since the Lost City can only be reached as part of a 4-day hike, it makes it even more unique once you reach your final destination.
Make sure to bring sunscreen, mosquito spray and of course comfortable clothing. But try to bring as little as possible, as you will have to carry your luggage around throughout the hike. The rest of your luggage can be left at your accommodation in Santa Marta, or you can leave it at the tour company.
Other than hiking to the Lost City, which should be included in your Colombia itinerary, there are also many other incredible things to do around Santa Marta, such as visit Tayrona National Park, or travel to Minca, a village located in the mountains.
Recommended by Becky of Becksplore – follow on Twitter
18. Go scootering in the Mekong Delta of Vietnam (another favorite on this list of adventure ideas)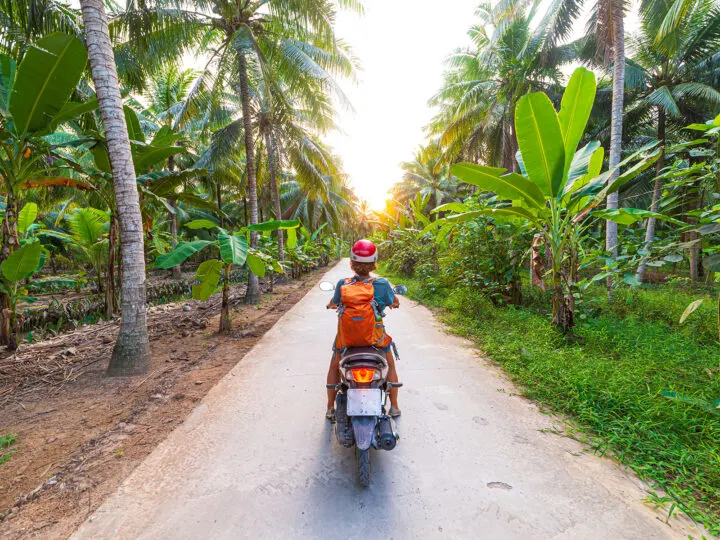 Region: Southeast Asia
Fly into: Tan Son Nhat International Airport, Ho Chi Minh City
If you like offbeat adventure and gorgeous scenery, zooming on a scooter across the Mekong Delta of Vietnam should absolutely be on your adventurous bucket list! The delta is famous for the fern-lined Mekong River, which runs through China, Myanmar, Thailand and Cambodia before reaching Vietnam.
Fun fact: more than half of Vietnam's food comes from the lush, green rice paddies surrounding it the Mekong Delta.
To reach the Mekong Delta, you'll need to fly into the bustling Ho Chi Minh City, rent a scooter there and make the one and a half hour drive south. Once you're flying down the bumpy dirt roads, you'll have a variety of options to explore within the delta itself.
Visit the floating market in Mỹ Tho or Cai Rang to taste a stunning array of fruits and veggies and pick up some fresh Vietnamese coffee. Explore the Cần Giờ Biosphere Reserve, protected by UNESCO, where you can float through a mangrove island or see an island, home to over 2,000 monkeys.
Take a boat to Thoi Son island and visit (and taste!) the rambutan, longan and sapoche orchards that line its shores. The highlight of exploring the Mekong Delta is simply puttering around its network of dusty backroads and catching boats and ferries to explore the islets and small towns dotting the delta.
But be forewarned – between many roads not appearing on Google Maps and the river's seemingly constant criss-crossing of the land, navigating the area is certainly for the adventurous, and those who aren't in hurry!
While you can easily take a daytrip from Ho Chi Minh City to the Mekong Delta, it's best savored over at least a couple of days, to truly get to know the beating heart of Vietnam.
Recommended by Jessica of Uprooted Traveler – follow in Instagram
19. Trek for orangutans in Borneo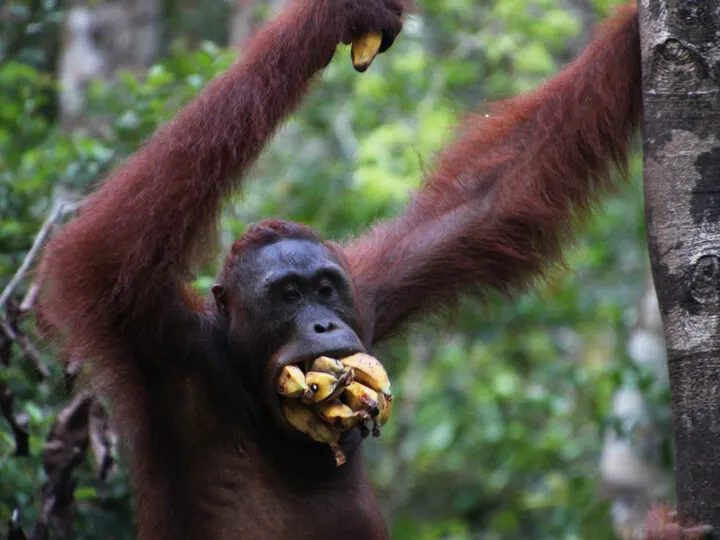 Region: Indonesia
Fly into: Bali + 2 regional flights
One of the most extraordinary adventure travel experiences that you should add to any Indonesia itinerary is to go to Tanjung Puting National Park in Borneo and trek for wild and habituated orangutans. These majestic creatures are endangered and are under daily threat of extinction as their natural jungle habitat is being cleared for farming.
By visiting Borneo and exploring the jungles for orangutans, you are not only seeing animals that may potentially be extinct one day, but you are also helping support the local economy. By doing so, you are making tourism a viable economic alternative to farming.
Borneo is the 3rd largest island in the world and the largest island in Asia. It is made up of 3 countries – Indonesia, Malaysia and Bhutan. Tanjung Puting National Park is part of Indonesia.
Tanjung Puting National Park is the largest and most diversified coastal tropical heath and peat swamp forest in the world. It offers remarkable wildlife including crocodiles, snakes and incredibly, 9 different primates, including the Proboscis monkey and orangutans.
Reaching Tanjung is not easy. It isn't far from Bali, but there are no direct flights to Pangkalan Bun, the closest airport to the National Park. Instead, you have to take two flights from Bali, then drive 20 minutes to the Port of Kumai, followed by a 2 hour boat ride on the Java Sea and Sekonyer River, a very narrow river just feet from the shores of the jungle.
You have 2 options for exploring Tanjung National Park. First, stay on a Klotok, a traditional Indonesian river boat. You will eat and sleep on the boat, and use it to travel along the river. Second, stay in a traditional hotel and eat breakfast and dinner there. Then, take the Klotok with a guide during the day for your ecotour.
Your day to day experiences are the same. You glide along the river catching sight of crocodiles, spectacular birds, Proboscis monkeys, and the occasional wild orangutan. Orangutans are incredibly shy so it is rare to see completely wild ones.
Throughout the day, you stop and hike in the jungle, often to scientific outposts that study orangutans. Here the orangutans are "habituated." That means that they are wild – they are free to come and go as they please – but for whatever reason, they are used to being around humans.
Maybe they were taken as pets as babies, or their mothers were killed while their jungle homes were being cleared for farming. In these situations, you get to be mere feet away from the orangutans as they live their day. They are calm and no longer shy. It's an absolutely thrilling experience. There is nothing between you and the orangutans!
You should stay between 4-5 days. There is so much to see and discover in Tanjung Puting. Every day you wake up and can only wonder which animals you will stumble across or what other authentic experiences that you will have.
Recommended by Nicole of Go Far Grow Close – follow on Facebook
20. Travel solo in Pakistan (one of the most adventurous getaways on this list!)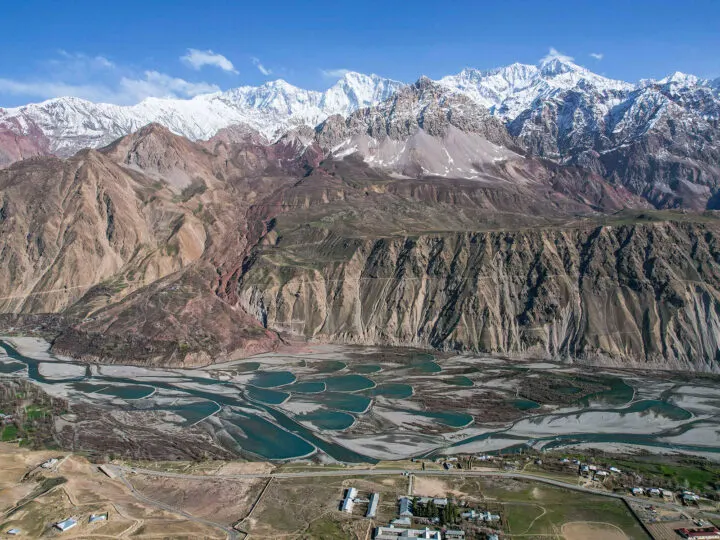 Region: Middle East
Fly into: Islamabad International Airport in Islamabad
If you're looking for a truly killer adventure bucket list item, look no further than a backpacking trip in Pakistan! These days, Pakistan is safe for travel and those that make it to this infrequently visited country are truly in for a treat.
Thousands of glaciers and some of the planet's tallest mountains make for some truly incredible trekking opportunities. You can cross glaciers, putz around in empty meadows, see the second-highest mountain in the world (K2), and camp at some of the highest alpine lakes in existence.
What sets Pakistan's incredible nature apart is the fact that it has yet to become highly commercialized–only a few spots attract tourist groups, and it's very easy to be alone in nature.
The true adventure of a trip to Pakistan is all of the spontaneous happenings that occur along the way, which is why this country is best explored independently. That's when you'll likely get invited into strangers' homes, and get a taste of the most incredible hospitality on Earth.
To really get a feel for the vastly different regions of the country, you should absolutely try to spend at least a month exploring. The best time to visit Pakistan is definitely from May-October, when the true highlight of the country–Gilgit Baltistan–has the most pleasant weather.
If you love mountains, focus on Hunza and Skardu. If you're looking for a bit of culture in a completely raw city, make sure you don't skip Peshawar and Lahore, both of which are true historical icons.
While it's a bit newer to tourism and thus more difficult to travel to, the Upper Chitral region of the KPK province will easily steal the hearts of adventure travelers. Epic landscapes, amazing people and virtually zero package tourism will almost make you feel like you're in a movie!
To enter the country I recommend flying into Islamabad International Airport, and the best airport to access Gilgit Baltistan is via a domestic flight from Islamabad to Skardu International Airport (as of present they have yet to begin actual international routes.)
Travelers can also access GB via the Gilgit Airport, however this is a much smaller airport with miniature planes so flights are often cancelled even due to clouds. The Upper Chitral region does not have a functional airport. The best way to access it is by road either from Islamabad, or via the Shandur Pass that connects it with Gilgit Baltistan.
Recommended by Samantha of Intentional Detours – follow on YouTube
21. Hike Antelope Canyon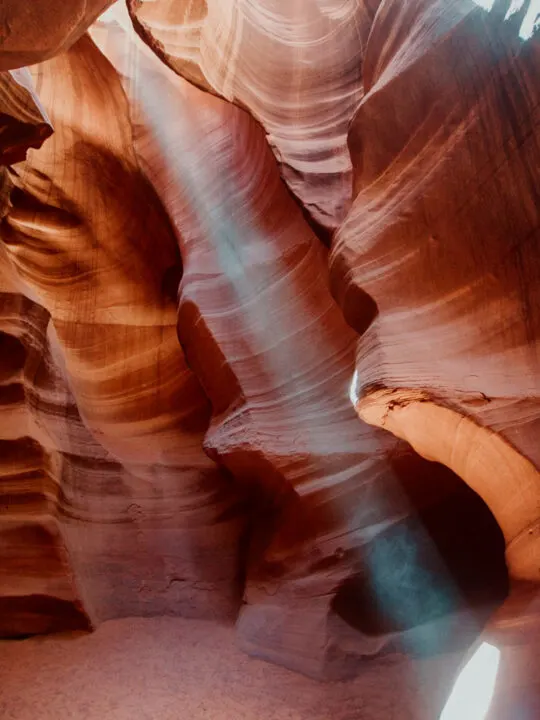 Region: Western USA
Fly into: Las Vegas McCarran International Airport in Las Vegas or Flagstaff Pulliam Airport in Flagstaff
Hiking through Antelope Canyon in Arizona has to be on your adventure travel bucket list because this slot canyon is one of a kind. It's one of the world's most beautiful slot canyons!
There are lots of beautiful slot canyons in Arizona to choose from, but Antelope Canyon is one of the best for its wave-like walls, gorgeous colors and the light beam that shines down from the thin opening at the top.
To get to Antelope Canyon, the closest airport to fly into is either Las Vegas or Flagstaff. From there you will need to rent a car and drive the 3-5 hour drive to Page, Arizona where the canyon is located.
To visit Antelope Canyon, you will need to book a tour through one of the operators in the area. Antelope Canyon and the other slot canyons in the area are located on Navajo land, so your ticket price will include the mandatory Navajo tax.
Each tour operator has a different meeting place where the tour will begin and they will transport you to the canyon where you will be led by a certified guide through the canyon. If you'd like to see more than one slot canyon, some tour operators include visits to other amazing canyons in the area so make sure to check out their offerings.
Because of the nature of the hike, you cannot bring any hiking backpacks into the canyon. It's recommended to bring water though, so if you don't want to carry water, have a water bottle carrier for your reusable water bottle.
There are some other amazing things to visit in the Page area such as Horseshoe Bend, Lake Powell and Vermillion Cliffs National Monument. You'll want to spend at least 2 days in the area to check out everything Page has to offer!
This is by far one of the best bucket list travel adventures in the USA!
Recommended by Jessica of Unearth the Voyage – follow on Instagram
22. Hot air balloon ride in Cappadocia (a must-do on this adventure list)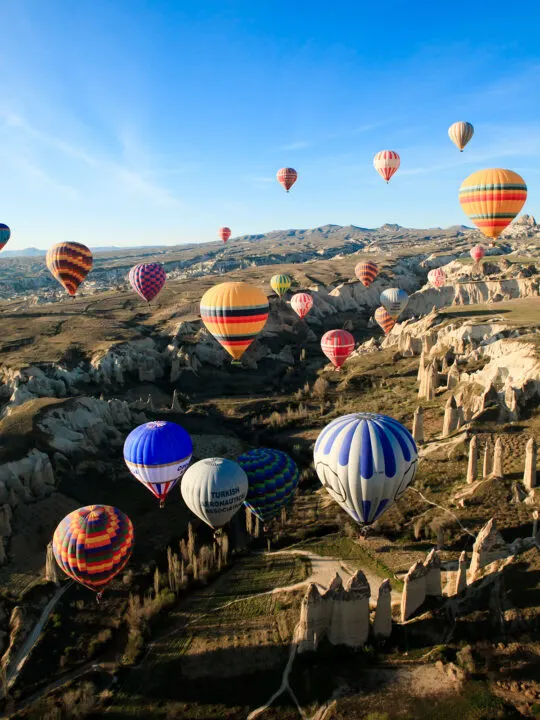 Region: Middle East
Fly into: Kayseri Erkilet Airport in Kayseri
Taking a hot air balloon ride in Cappadocia, Turkey is a once-in-a-lifetime experience that should be on everyone's adventure bucket list. Hundreds of balloons fill up the sky each sunrise to view the unique Cappadocia landscape.
The 3 mile-long valley that the balloons float over is full of fairy chimneys and caves and will provide the most unique view ever! The fairy chimneys are rock formations in the shape of long spires that have been formed by wind and erosion.
There are so many of them that the area has been nicknamed Love Valley because of all the phallic rock shapes spread out across the landscape.
Make sure to capture that amazing photo with the fairy chimneys in the background, surrounded by colorful hot air balloon dotting the skyline as the sun starts to peak over the horizon.
A typical hot air balloon ride will last 1 hour. Your whole experience lasts a lot longer since you will be picked up from your hotel at 3:30am with your eyes still half-shut from sleep. The balloon operator will take you to the big field to watch your huge balloon inflate right in front of those sleepy eyes.
The size of that balloon will amaze you! Your eyes will be wide open after that with nothing but amazing views of peaks and valleys, close encounters with adjacent balloons and even a spectacular sunrise to go with it.
Cappadocia has many hiking trails, UNESCO heritage sites, archeological discoveries and cave hotels for accommodations. After you complete your sunrise Cappadocia balloon adventure there will be no shortage of other things to do in this area of Turkey. You'll want to spend at least 2 – 3 days to see the major sites in the area, but you can spend a week and still not see it all!
Recommended by Michelle of Moyer Memoirs – follow on Instagram
23. Hike for wildlife in the Sumatran Rainforest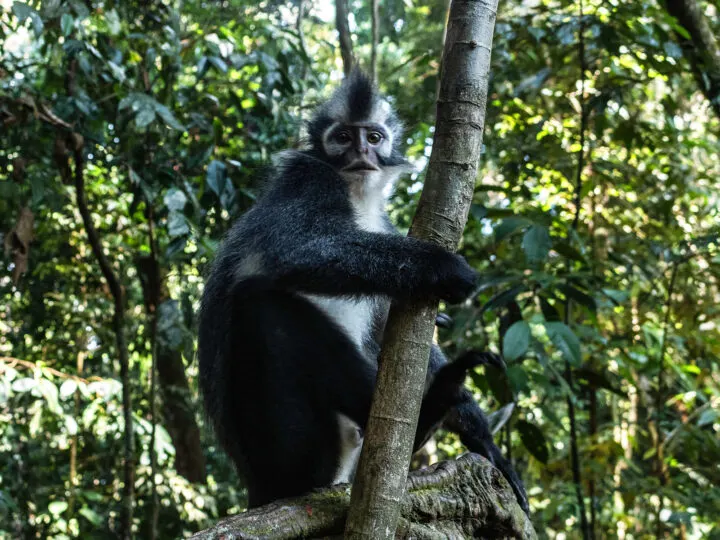 Region: Indonesia
Fly into: Kualanamu International Airport, Medan
Trekking through the Sumatran rainforest is one of the best adventure ideas in travel!
There are a couple of national parks to choose from, but Gunung Leuser National Park is the best place to visit.
This park is a UNESCO World Heritage Site and is one of the best places in the country to see the Sumatran Orangutan. Gunung Leuser is home to a variety of wildlife including elephants, rhinos, tigers, gibbons, sun bears, and leopard cats.
If you're looking to trek through this national park, then Bukit Lawang is the best place to stay. It's located on the edge of Gunung Leuser and is where most of the treks start.
You can either choose to go on a one-day hike through the rainforest, or you can go on a multi-day hike ranging from 2 to 10 days.
The longer you spend hiking through Gunung Leuser National Park, the higher chance you'll have of spotting some of the rarer wildlife. Try to find the Sumatran rhinoceros, and the Sumatran tiger.
In order to go trekking through the Sumatran rainforest, you'll first need to hire a licensed guide or go on a tour. A permit is also required to enter the park.
During your time in Bukit Lawang, you can even go tubing down the Bohorok River.
Jungle trekking in Gunung Leuser National Park is a once-in-a-lifetime experience, as it's one of the most biologically diverse areas in the world.
To get to Gunung Leuser, you'll first have to fly into Kualanamu International Airport which is located near North Sumatra's capital, Medan.
Bukit Lawang is located 130 km (81 miles) from the airport, and there are several ways to get there. You can either catch a shared taxi from one of the airport counters organize a private transfer, or use the public buses.
Recommended by A Couples Calling – follow on Instagram
24. Hitchhike on the Iron Ore Train in Mauritania (one of the most unique activities on this adventure bucket list)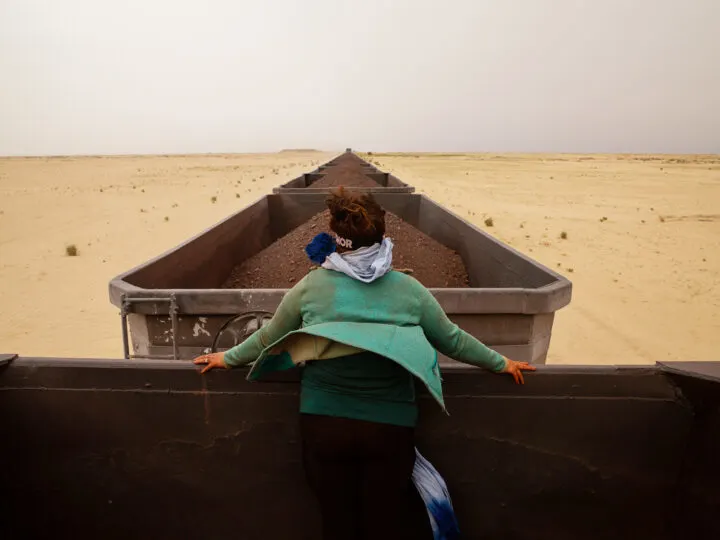 Region: Western Africa
Fly into: Nouakchott–Oumtounsy International Airport in Nouakchott
If you're looking for the ultimate experience to add to your adventure bucket list, then you absolutely must consider adding hitchhiking on the iron ore train through the Sahara Desert in Mauritania.
Mauritania is a country in Western Africa that borders Western Sahara and Mali. This country's biggest claim to fame is that fact that is home to the longest and heaviest train in the world: The iron ore train.
This incredible train is 2km long (1.2 mi) and travels a 700km (434 mi) route that runs deep into the Sahara Desert to the iron ore mines in Zouerat.
This train travels through one of the most intense and remote environments in the world, and you can hitchhike on it. This train is by no means a passenger train!
Its massive train cars carry rocks from the mines in the desert to the Atlantic Ocean, and that's it. However, you can legally jump onto the train and ride on the rocks for hundreds of kilometers. It's the ultimate adventure for thrill-seekers!
If you plan to complete this intense ride, there are a few things that you need to know:
It's incredibly uncomfortable on the rocks.
The heat can unbearable if you don't plan for it.
The iron ore will get in everything, including your eyes so you absolutely need to bring ski goggles.
You will need your own plan for water and bathroom needs.
The train has no schedule, and it may not stop for you to be able to jump on.
Making this incredible adventure happen can be an incredibly complicated task if you don't have the help of a local guide.
To get to Mauritania, you will need to fly into the capital city of Nouakchott. From there you will need to hire a driver to drive you deep into the desert cities of either Chuom or Zouerat (depending on the point you have chosen to jump onto the train).
After spending the night on the train, you will arrive in the coastal city of Nouadibou and will need to hire a driver to take you back to Nouakchott. The whole excursion could be done in 3 days if you're rushing it.
Recommended by Shannon of Adventuring With Shannon – follow on Instagram
More activity vacations
In the final stretch here. Grab something to drink and keep checking out these incredible adventure ideas. Oh, and hats off to my fellow travel writers who are really bringing their 'A' game on this list!
25. Climb the highest peak in the Caribbean, Pico Duarte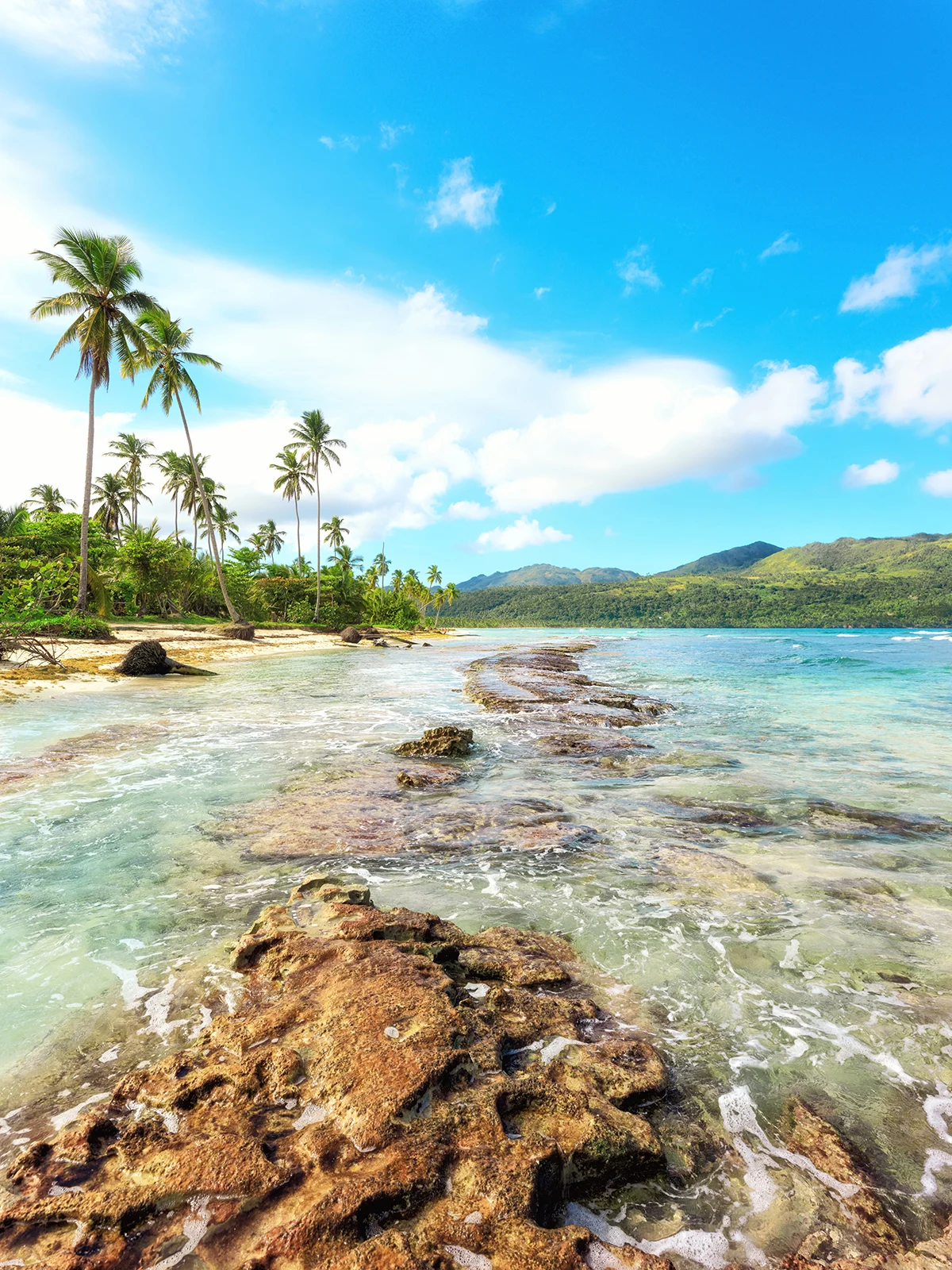 Region: Caribbean / North America
Fly into: Las Americas International Airport in Santo Domingo or Aeropuerto Internacional del Cibao in Santiago
The Caribbean is famous for tiny beautiful islands, gorgeous beaches and welcoming people, but not that much for crazy adventures in nature. At the most, you can find activities on most islands, such as ziplining, diving or rainforest walking.
But if you're looking for adventure bucket list ideas in the Caribbean, you shall head to the Dominican Republic, which offers some of the most exciting hikes in the entire subcontinent.
One of them is the hike to the highest peak in the Caribbean, the Pico Duarte. It is more than 10,000 feet tall and is only accessible by a 14-mile hike (one-way; 28 miles in total) through completely untouched and pristine terrain.
While competitive hikers do the trip in 2 days, it's recommended to plan 3 days for the entire trip. This allows you more time to enjoy the fascinating scenery while spending 2 nights in a tent or a basic mountain shelter at La Compartición base camp at around 8,800 feet altitude.
The hike is not technical, it is just a long and steady climb up, hence self-motivation and at least a decent physical shape are recommended. Over 5800 feet in altitude change are awaiting you on the first day up to La Compartición.
The second day is an easy one with just about 2.5 hours of hiking. It's 1.5 hours to summit Pico Duarte, 1 hour back to the base camp, before going all the way down on day 3.
During the hike and especially at the peak, you get rewarded by amazing views over the completely unpopulated central mountain area of the Dominican Republic.
For climbing Pico Duarte, you have 2 options. The cheaper (but very time-consuming) one is to organize equipment and food on your own and head to the trailhead in La Cienaga (Jarabaoca). You just have to take the mandatory guide to enter the national park.
The second and much easier one is to book an organized excursion, which is offered by some of the accommodations in Jarabacoa or by several tour operators. The best airports to fly to are Santo Domingo or Santiago Airport.
When heading for the Pico Duarte trek, it is recommended to include the tour in a road trip through the Dominican Republic.
Like this, you are flexible and can also head on some more extremely adventurous day and waterfall hikes. Check out as Salto La Gritona (the second-highest waterfall in the Dominican Republic) close to Bonao, La Rejolla hike (a combination of 4 incredibly beautiful waterfalls) close to Puerto Plata or the 7 beaches hike in Las Galeras.
Recommended by Christian of Punta Cana Travel Blog – follow on Facebook
26. Road trip through Andalucia, Southern Spain (one of the most unique road trips and adventure ideas)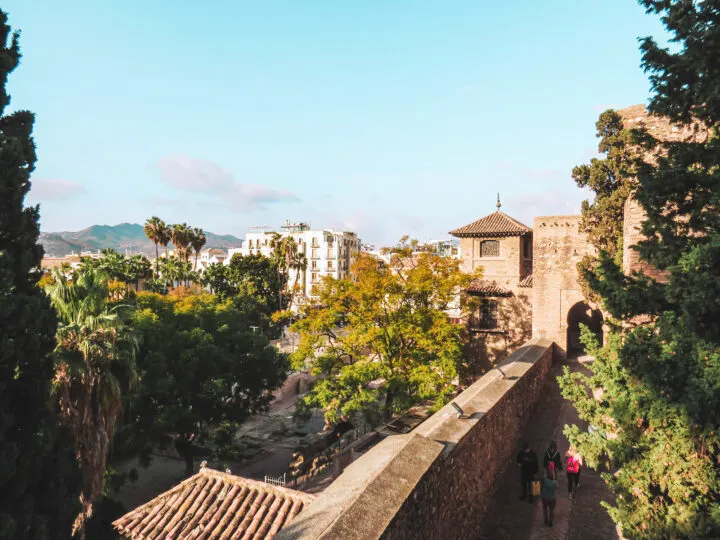 Region: Southern Europe
Fly into: Malaga-Costa del Sol Airport, Malaga
This next road trip absolutely must be on your adventure bucket list!
Road tripping through Andalusia is a unique experience. If you love visiting historical buildings, seeing unique landscapes and eating local food, this adventure is for you!
Start your road trip by flying to Malaga-Costa del Sol Airport, a great base to travel to other cities and towns.
From here you can visit Nerja, a beautiful whitewashed town building with stunning views of the coast. Next you'll see Granada, where you will find the Alhambra, a UNESCO World Heritage Site.
Then Seville, which is the capital of Andalusia and birthplace of flamenco. Continuing your road trip through Cordoba, a beautiful city to visit the Mosque and Andalusian courtyards. Finally you'll get to Cadiz, one of the oldest cities in Spain.
To make the most of your time in Andalusia, you will need at least 7 days although 14 to 15 days is perfect to see key attractions in major cities and a few villages.
If you love discovering hidden gems and travelling to off the beaten track destinations, add cities like Almeria, Jaen and Huelva to your itinerary. Of course, you can also stop in the small towns like Setenil de las Bodegas, Mojacar and Frigiliana for extra sights, food and cultural experiences.
The best time to go on a road trip through Andalusia is spring or early autumn as the weather is good and there are fewer crowds. The worst time to do it is in summer (July and August) as temperatures reach over 100 degrees Fahrenheit which makes exploring and sightseeing very difficult.
When packing for traveling through Andalusia, bring comfortable shoes because there are many pebbled streets and hills, especially in towns.
Recommended by Cristina of My Little World of Travelling – follow on Pinterest
27. Go volcano boarding in Nicaragua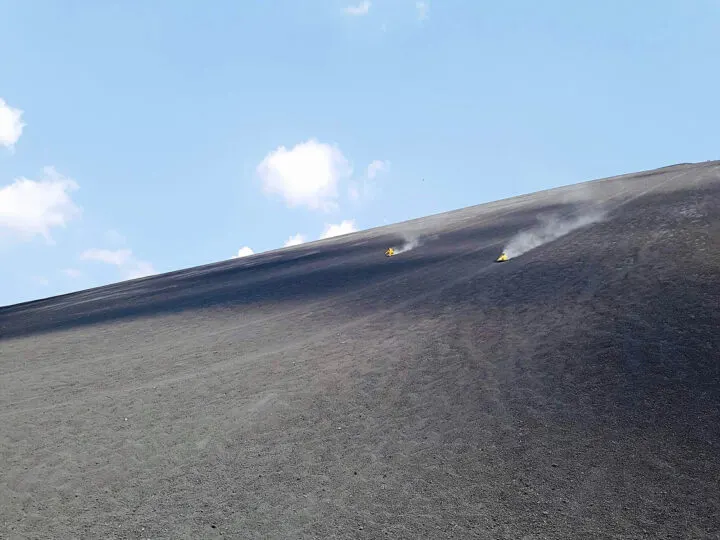 Region: Central America
Fly into: Augusto Cesar Sandino International Airport, Managua
If you like adrenaline-pumping activities, volcano boarding in Nicaragua is a must! There are only a few places in the world where you can ride down a volcano. Plus, everything in Nicaragua is affordable so it won't hurt your wallet.
After flying into Managua airport, it's just a 3 hour shuttle or private car to the historic city of Leon. You'll reach the site of Cerro Negro, a volcano that's smooth enough to board down.
Cerro Negro, which means Black Mountain, is an active volcano, with visible smoke and scents of sulfur on sections of the trail. Black ash comprises most of the volcano, setting up ideal conditions for boarding.
Multiple tour operators run daily trips to hike up and slide down the volcano. The guides provide all the gear to comfortably volcano board: a jumpsuit to cover your clothes, protective headware and goggles, and the board! Most will follow up with a video file to relive and share this adventure bucket list activity.
Volcano boarding in Nicaragua is a half-day experience and includes hotel pick-up and drop off, guided hike, instruction and the ride itself. The board allows for foot braking to control speed. Some opt to surf down the volcano, but most sit on the board and go, sledding downhill as fast as they can.
Wear comfortable clothes and walking shoes and bring your filled reusable water bottle. The hike is uphill and Nicaragua can be hot.
While volcano boarding is reason enough to visit Leon, the city is worth a stay-over. While there, take a walking tour to learn the history and see the street art. Don't miss a visit to the cathedral with a rooftop so pristine you can only walk on it barefoot!
Recommended by Mel of Mel on the Go – follow on Instagram
28. See wild chimpanzees in Tanzania (one of the best adventure activities in the world, for sure)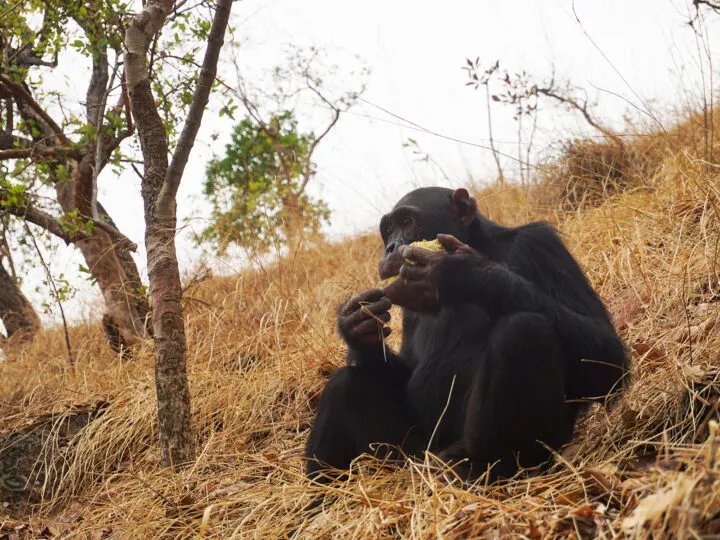 Region: Eastern Africa
Fly into: Kigoma Airport
Most people picture the sandy beaches of Zanzibar and the 4WD safaris in the Serengeti when they think of Tanzania. But a much more off-the-beaten path alternative to those crowded places is Gombe National Park.
Although you might have heard of it due to the renowned Jane Goodall, this park gets in a year the same amount of people Serengeti gets in a day!
There are a few ways to get there. The easiest is to fly to Kigoma. A much more adventurous, fun way is to take a pre-Great War train. It's the infamous Central Line railway, and cross the entire country overland from Dar es Salaam.
Once you get to Kigoma, you'll need to jump into a boat that will take you north for a few hours through the beautiful Lake Tanganyika to the border with Burundi, where Gombe National Park lays. Although the whole journey is exciting, here's where the real bucket list adventure begins.
You'll be greeted by park rangers, and before you're shown around the accommodation, you'll meet the friendliest inhabitants of the park: the baboons.
But the star of the show are the chimpanzees. To see them you'll hike up the mountain rainforest for hours, surrounded by a dense jungle that will open up as you reach the hilltop.
Along the way the park ranger that guides your hike will tell you about the families of chimps that live there. In a single hike you might see a family or two in their natural habitat.
You'll get to witness them jumping around trees, finding food and grooming each other. It's such a breathtaking way to see our closest relatives up close!
Since the protected area is so far away and hard to access, count on at least 2 days in Gombe. Although you can stay for as long as you'd like (and your budget allows).
Recommended by Coni of Experiencing the Globe – follow on Instagram
29. Hike Volcan Acatenango in Guatemala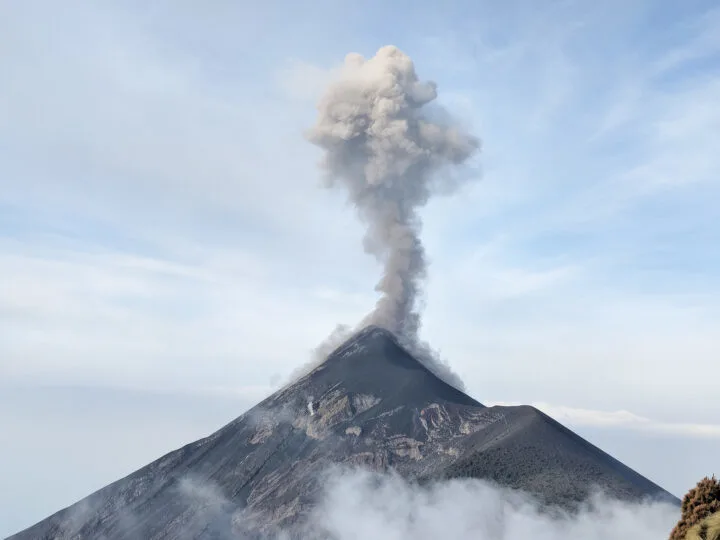 Region: Central America
Fly into: La Aurora International Airport, Guatemala City
Near the city of Antigua, Guatemala is the famous Volcan Acatenango. This stratovolcano has been dormant since the early 20th century, and as a result, it's safe to hike.
In recent years, hiking Acatenango has become popular with those who love activity vacations because when you reach the summit, you're treated to incredible views of an actively erupting volcano: Volcan Fuego.
Volcan Fuego is directly next to Acatenango. Since 2002, it has been having small eruptions every day. When at the summit of Acatenango, you can see these small eruptions in action. You'll have views of the smoke, ash, and lava as it explodes from Volcan Fuego's crater. And, you'll feel the earth trembling and shaking as well.
Hiking Volcano Acatenango to see Fuego erupt is super challenging because most of the journey is on a steep incline that becomes tougher the higher you go. With the total elevation gain being 5150 ft, the final hour of the trek is especially grueling.
At that stage, you're at high altitude, and you're trekking through volcanic sand rather than solid ground. But it's worth the pain for unprecedented views of an erupting volcano!
To climb Acatenango, you'll join a guided tour out of Antigua. The hike is usually done over the course of 2 days.
On the first day you hike to base camp where you spend 1 night. The overnight is special, because in the dark you can see lava erupting out of Volcan Fuego very well. The following day you summit Acatenango, before hiking back down and returning to Antigua.
Hiking Volcan Acatenango is the perfect adventurous bucket list item to combine with a visit to Antigua, as well as other beautiful regions of Guatemala like Lake Atitlan.
Recommended by Erin of Pina Travels – follow on Instagram
30. Climb Mount Etna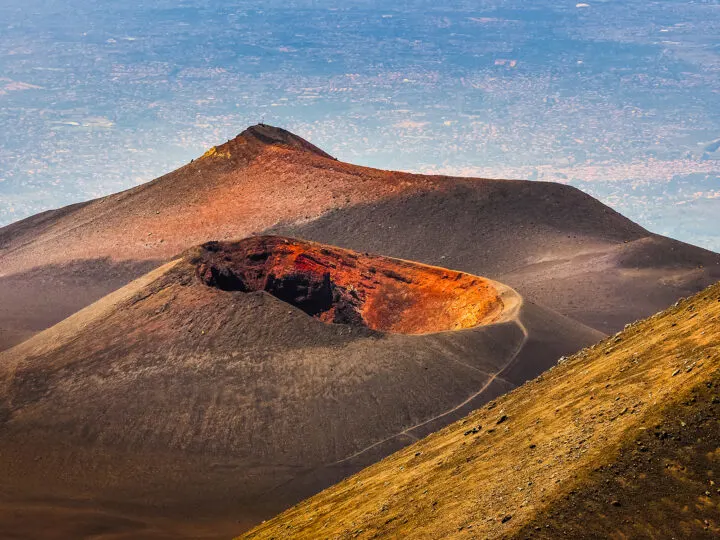 Region: Southern Europe
Fly into: Catania Airport
Mount Etna is one of the most active volcanoes and one of the most interesting natural wonders in the world. Moreover, it's one of the hikeable volcanoes in Europe.
Being as high as 3,326 m / 10,912 ft, Mount Etna is the highest active volcano in Europe outside the Caucasus region.
How high you can hike depends on the current volcanic activities. The highest crater you can climb now is situated at 2,900 m / 9,515 ft.
If you're an adventure aficionado and fit hiker, surely you want to hike Mount Etna. For hiking Mount Etna, you need a whole day.
You reach Mount Etna from Catania by bus provided by the bus company called AST. From other locations, you will need to have a car to reach Mount Etna.
The first bus from Catania, which is the closest city to Mount Etna, the bus departs at 8:15 from Plazza Giovanni XCIII. The distance is only approximately 35 km / 22km from Catania to the Sapienza Refuge at Mount Etna. A two-way ticket costs only 6.60 €.
You can start your hike from 1,923 m / 6,310 ft where the bus drops you, at Sapienza Refuge. For the entire hike, you will need 5 – 6 hours.
In case, you want to save time, you can take the funicular to 2,500 m / 8,202 ft.
The landscape on the way up is stunning and naturally diverse. The beginning is very steep and rocky. Then, the landscape changes after 2,500 m / 8,202 ft. Everything is black and sandy as the black lava changed the landscape.
As you get higher on the mountain, the terrain makes you feel like you are on the moon. It's sandy and on the sand, there are huge blackish rocks scattered everywhere.
Then, you can see several volcanic cones and at times you see nothing because the steam clouds coming from the fumarole cover everything. That's really scary actually.
The highlight of this epic hike is the colorful crater situated at an altitude of 2,900 m / 9,515 ft. Walking around it is an out-of-the-world experience.
The weather keeps changing minute by minute as you move up and around the volcano. It can be sunny, then all of a sudden, it can be colder, foggy, cloudy, windy, rainy, or snowy. It's seriously one of the weirdest places in the world!
You can definitely see why this makes it on the adventurous bucket list destinations around the world!
Recommended by Diana from The Globetrotting Detective
31. Boat ride through the karst scenery in Ninh Binh (some of the most stunning sights and adventure ideas)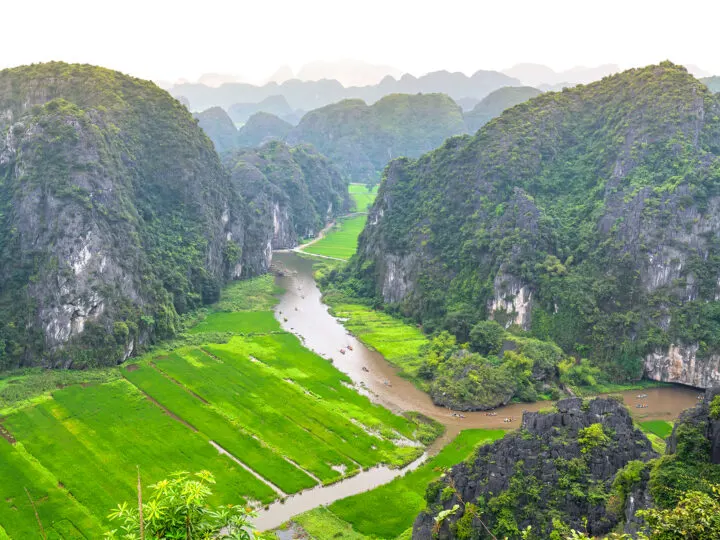 Region: Southeast Asia
Fly into: Noi Bai International Airport, Hanoi
Located in northern Vietnam and just an hour-and-half away from Hanoi is the beautiful town of Ninh Binh. Once there, you will be surprised that such a small town in Vietnam is packed with so much natural beauty.
Tam Coc is hands down one of the best places to visit in Ninh Binh. Boating on a meandering river passing through the karst mountains is an experience any traveler would cherish forever and absolutely must be on the top of your adventure bucket list ideas!
Interestingly, the boat trip is guided by the rowers who push the oars with their feet! You will embark on a gentle cruise taking you through limestone caves, pagodas, and old stone bridges.
As the place gets quite busy with daytrippers from Hanoi, it's best to come early or late evening. Trang An Grottoes is another attraction quite similar to Ninh Binh but unique for the caves you will pass through.
About 5km from Tam Coc is the majestic Hang Mua Peak, a viewpoint like no other. Bear in mind you will have to do a short but strenuous trek to reach the top. From the peak, you will be rewarded with sweeping views of Tam Coc's karst scenery.
Also popular amongst visitors is the Bich Dong Pagoda, a temple surrounded by forest and located inside a cave! In fact, the whole Tam Coc is dotted with charming mountainside pagodas.
The best way to get around the area is by a bike ride, slowly taking in the scenic countryside. And to get to Tam Coc from Ninh Binh railway station rent a motorbike.
Recommended by Vidyut of The Himalayan Tsunami – follow on Facebook
32. Visit Mt Bromo, an active volcano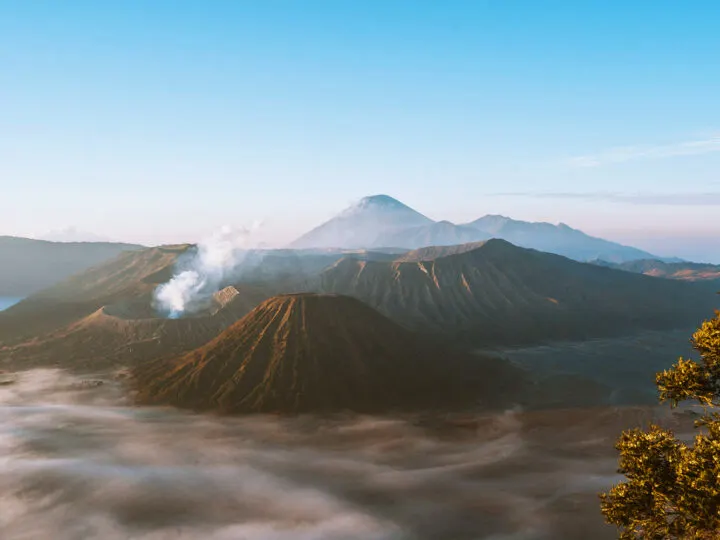 Region: Indonesia
Fly into: Abdul Rachman Saleh Airport, Malang
One of the best activity vacations is located in Indonesia, and one that you'll love!
Mount Bromo is an active volcano on the island of Java. The magnificent attraction is inside Bromo Tengger Semeru National Park, a place that draws nature lovers to see steamy calderas, drive around green valleys and enjoy stunning views of the park.
Bromo is in the eastern part of Java, Indonesia. It's 3 hours away from the city of Malang and about 4 hours from Surabaya, the country's second-largest city.
Both cities have an airport and are connected to Jakarta and Bali. However, since Malang is the closest, it's the best one to stay to explore the park.
Once in Malang, you can hire a guided tour to visit Mount Bromo. Tours usually start with a 1 am hotel pick-up and a Jeep ride. So, it's important to dress in layers, as it gets cold at night.
After the 3-hour drive, you arrive at Bromo while it's still dark and the sky is shining with stars. Then, it's time to wait for the sun to rise bringing an epic and unforgettable scene of smoky peaks in the misty morning.
You can see why this makes it on the adventure bucket list activities around the globe!
Following the sunrise, the tour continues to explore other parts of Bromo Tengger Semeru National Park, like the green mountains of Teletubbies Hill and the sandy landscape of Whispering Sands.
When you return to the city, you can also explore other attractions of Malang. See Kampung Jodipan, a small village with colorful houses, rainbow-painted umbrellas and vibrant murals.
And if you prefer more natural attractions, head over to Tumpak Sewu, an incredible waterfall with several cascades at almost 120 meters in height. You'll want at least 3 days to explore Mount Bromo and the surrounding area.
Recommended by Elen of Elen Pradera – follow on Instagram
Adventurous bucket list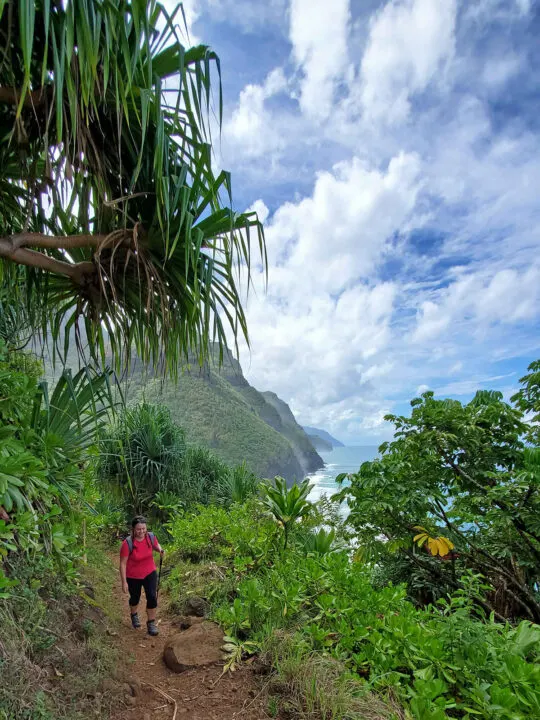 Well, that's a wrap! This beautiful place we call earth has amazing activity vacations around the world. So whether you're looking for adventurous getaways for the weekend or you'd like to explore a corner of the world for weeks or months, you're sure to have a thrilling time!
Let's take a look at the best adventure activities in the world again, in a quick list!
Adventure bucket list:
Hike the NaPali Coast in Kauai
Desert Safari in Wadi Rum
Road tripping through Norway
Bungee jump in New Zealand
Cage dive with Great White Sharks
Stay in a Treehouse in the Amazon Rainforest
Hike Rainbow Mountain in Peru
Dhoni Cruise in the Maldives
Road trip through Icefields Parkway in the Candadian Rockies
Hike to Everest Base Camp
Epic adventures in Antartica
Gorge hiking in Crete
Zipline in Costa Rica
Road trip through the Dolomites
Hike in El Chaltén, Patagonia
Scuba dive in the Komodo Islands
Hiking to the Lost City in Colombia
Go scootering in the Mekong Delta of Vietnam
Trek for orangutans in Borneo
Travel solo in Pakistan
Hike Antelope Canyon
Hot air balloon ride in Cappadocia
Hike for wildlife in the Sumatran Rainforest
Hitchhike on the Iron Ore Train in Mauritania
Climb the highest peak in the Caribbean, Pico Duarte
Road trip through Andalucia, Southern Spain
Go volcano boarding in Nicaragua
See wild chimpanzees in Tanzania
Hike Volcan Acatenango in Guatemala
Climbing Mount Etna
Boat ride through the karst scenery in Ninh Binh
Visit Mt Bromo, an active volcano
Find this post helpful? Save it for later or share it on social media!