It's one of the most underrated hikes in Mount Rainier National Park. The Bench and Snow Lake Trail is a gorgeous hike in a serene setting. In fact, it might just be the picturesque Pacific Northwest trail you're expecting when visiting this national park!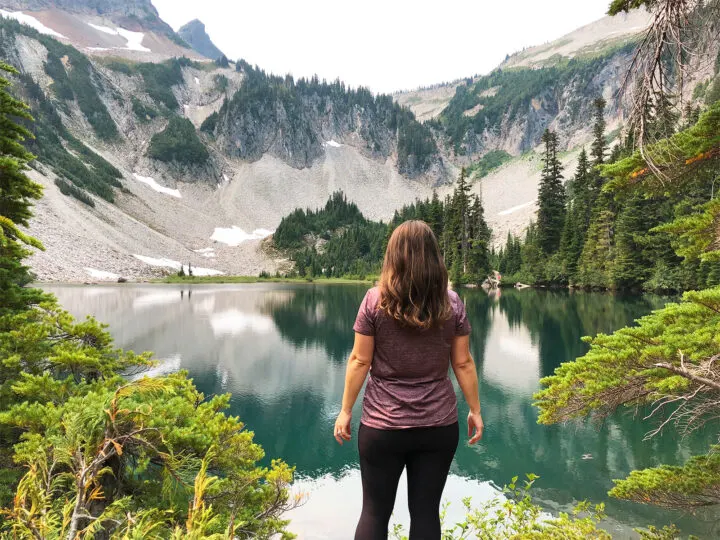 This post may contain affiliate links. For more info, see my disclosures.
The Bench and Snow Lake trail takes a back seat to popular attractions like Reflection Lakes, Skyline Trail or Grove of the Patriarchs. But it's so spectacular and completely worth your time! Located in the Paradise area, it's located near other attractions, and is one of the best things to do in Mt Rainier, without a doubt!
If you're looking for a moderate hike that's shorter than most in the park, this is the trail for you. And don't just stop at Bench Lake – the gorgeous blue water at Snow Lake is a must-see in the park.
In fact, this trail is a great example that there's a lot to see in Mount Rainier National Park than just Rainier herself!
Bench and Snow Lake Trail stats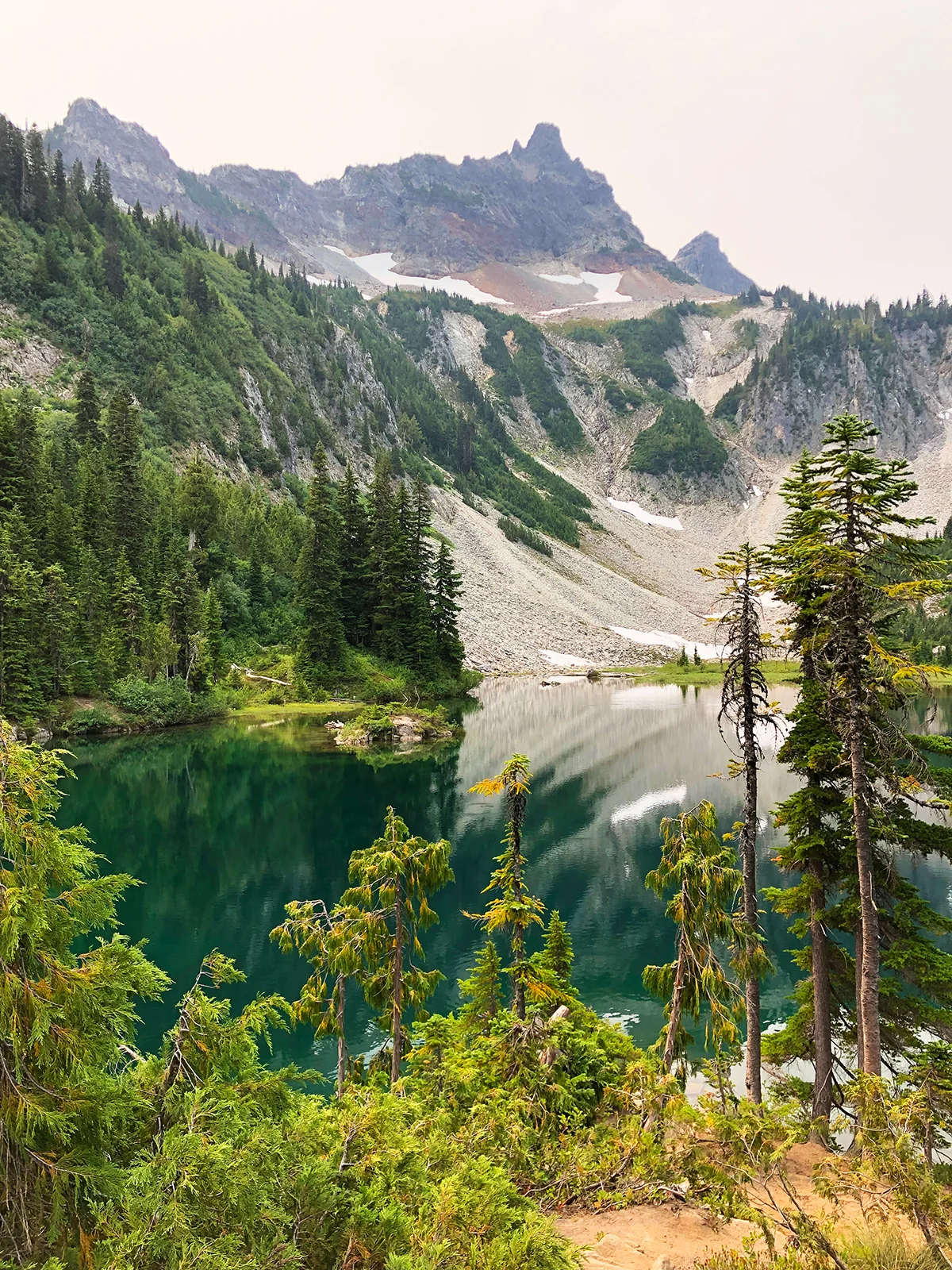 Distance: 2.2 miles
Elevation gain: 446 feet
Rating: moderate
Estimated time: 1.5 hours
There aren't any amenities at the trailhead, so be prepared and stop by the Jackson Visitor Center just down the road.
This is a family-friendly hike but there is some inclines and the terrain can be tricky at times. Just a reminder, pets are not allowed on this trail (or most other national park trails).
Mt Rainier National Park was home to 6 Native American tribes: Nisqually, Puyallup, Yakama, Coast Salish, Muckleshoot, Cowlitz and Squaxin Island. They referred to the mountain as Tahoma or Tacoma, so you may hear it called that. Please be respectful of this land and let's celebrate it's origins.
How to get to Bench and Snow Lake Trailhead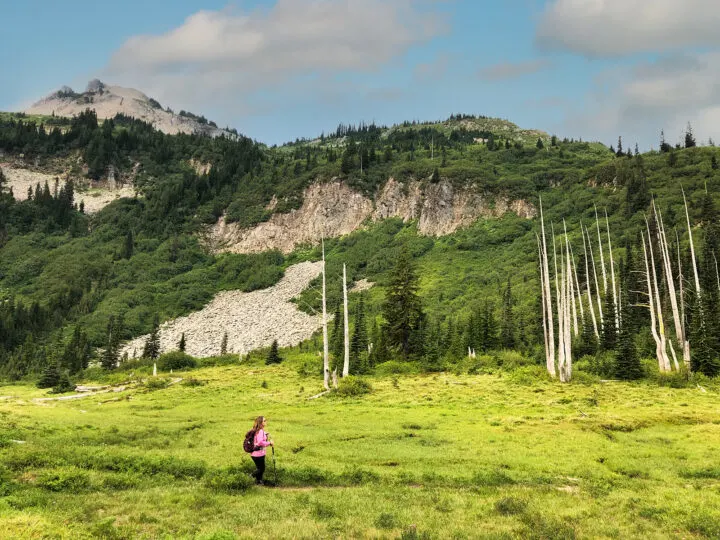 The closest entrance to the Bench and Snow Lake trailhead is the southeast side of the park, at Stevens Canyon Entrance. Although, if you're looking to visit the Paradise Visitor Center you could do that first and enter through the southwest side at the Nisqually Entrance. That may be closer to accommodations depending on where you're staying.
The Bench and Snow Lake trailhead is almost equal distance from both entrances, so either one would work.
The trailhead is marked and the parking lot is rather small – accommodating maybe 15 cars or so.
Map of Bench and Snow Lake Trail
If you're a visual person, here's a map of the trailhead. It may come in handy as you plan for your hike. The trailhead is in yellow, park entrances are in orange and the blue icons are other nearby attractions.
Depending on traffic, it will likely take you at least 30 minutes to get to the trailhead from either park entrance, without stops. And by the way, whether you're planning a Mt Rainier day trip or are spending a few days in the park, I highly recommend exploring more in the Paradise Mt Rainier region. It's stunning!
Tips for hiking the trail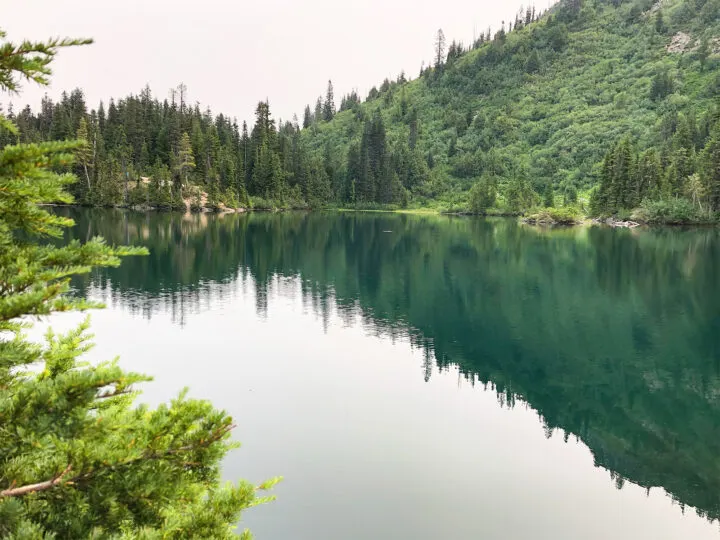 Keep these things in mind as you prepare for and hike the trail. It will make your experience better!
Bring bug spray. Might as well shower in it. I cannot stress this enough. It's like mosquito forest – they'll literally swarm you! (After applying a thick layer of bug spray to start and re-applying 3 times on the trail, I only walked away with one bite – which I was very proud of!)

Go early. With limited parking spaces and even more limited shoreline, getting there early in the day will work in your favor. Plus, fewer annoying flies that tend to get worse as the day goes along.

Watch for wildlife. This is such a narrow trail that's mostly in the trees. So keep your eyes peeled and your ears open for wildlife.

Bring bear spray. Each hiking adult should have a can of bear spray in Mount Rainier National Park. You can't take it on the airplane, so if you're flying in be sure to buy them when you arrive in Seattle or Portland. If you're taking a road trip there, this is the bear spray I use when hiking. Other bear deterrents include hiking in groups or making lots of noise (even clapping and singing). More gear recommendations below.

Leave no trace. Any food waste or wrappers need to be packed back out and thrown away later. Stay on the trail and otherwise don't disturb nature.
What to expect hiking to Bench and Snow Lakes Trail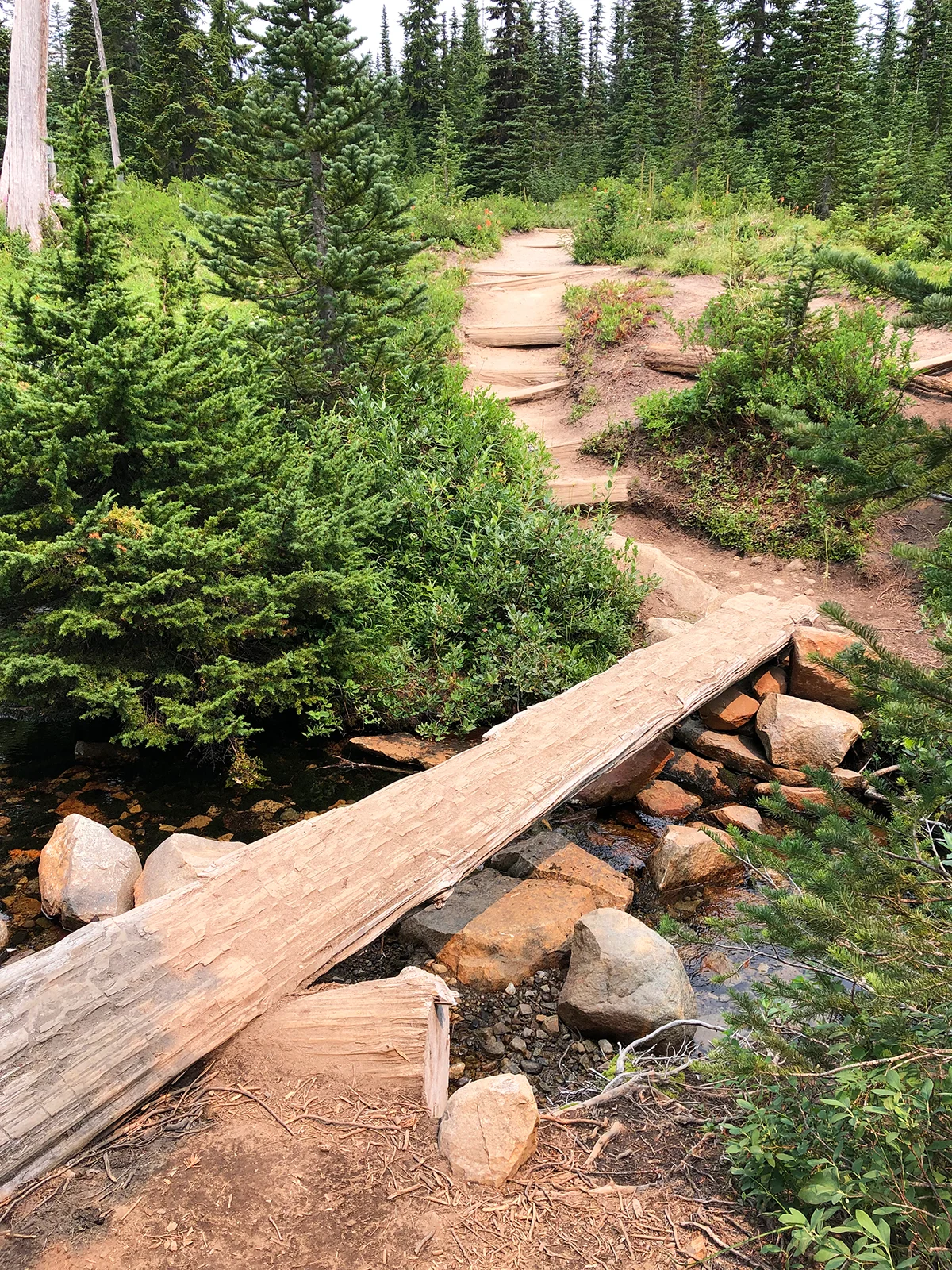 Once you reach the trailhead, you move into the forest, away from Mount Rainier. Most of the trail is tree-covered with a somewhat narrow path. It's a shady option, perfect for a warm sunny day!
There are 3 sections of the trail that you'll climb up then descend again, the third one being the most vertical. At just 446 feet in elevation gain, the trail is a fun one! It's a true 'moderate' trail and very interactive.
The Bench and Snow Lake Trail is built up with log steps to prevent erosion and it's a dirt path. Expect mud on a rainy day!
There's a couple clearings where you'll see the open meadows and wildflowers against the nearby mountains. It's so serene! Have fun enjoying the view, but remember to stay on the trail.
Keep your eyes out for wildlife, including bears. The trail is less traveled and so you're less likely to see other people, which means less noise to scare away the bears.
Getting to Bench Lake Mt Rainier
The first almost glimpse of the Bench Lake is when you come to the top of a lookout. But don't be fooled! It's not actually Bench Lake. The real one is further up the road yet. That's just a murky pond.
Continue on to the trail for about 5 – 10 minutes, and you'll see this sign: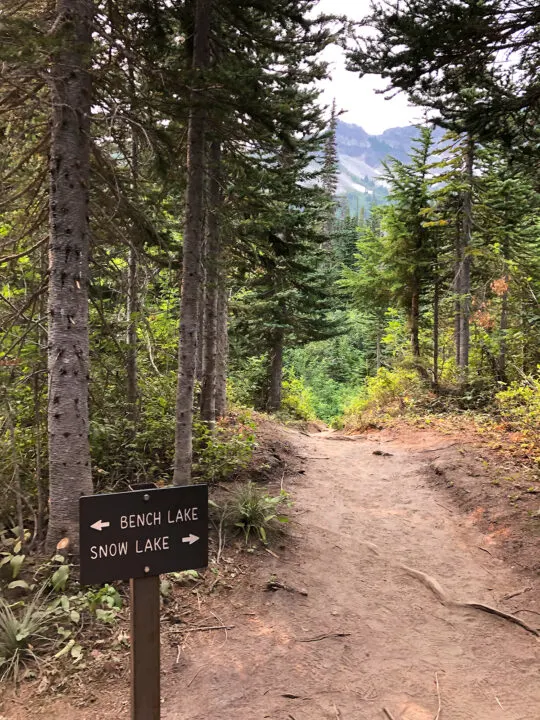 Turn left to see Bench Lake and this is where the trail gets extremely narrow. Depending on the time of year, you'll likely be brushing through the overgrowth to get to the lake. Hike down a short hill and take the path to the right when you see the Bench Lake.
Bench Lake Mt Rainier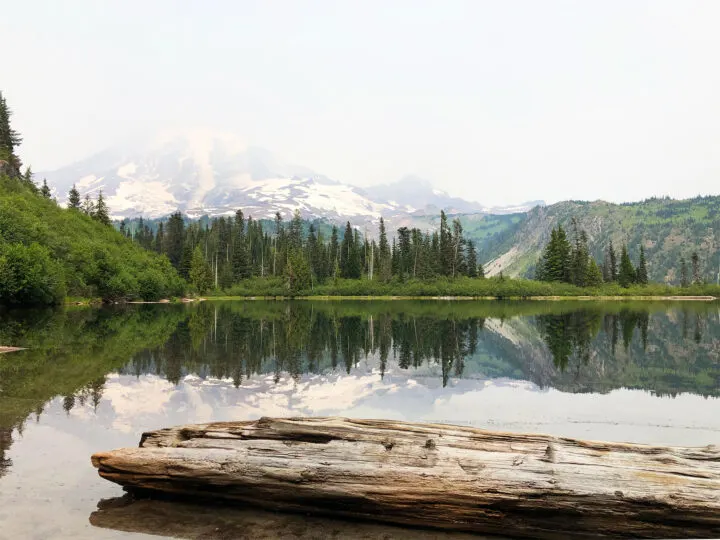 Once you see the lake, you'll be glad you took the narrow trail to it! You can walk the shore a bit more to see awesome reflections of Mount Rainier.
On a clear day, the lake is glossy like glass, and a perfect spot to take a break, soaking in the beauty. Take a seat on a log near the shore and hang out at the lake awhile. It's a gorgeous spot!
There's no trail around Bench Lake, so when you've had your fill of this scene, continue back up the path to Snow Lake.
Hiking to Snow Lake Mt Rainier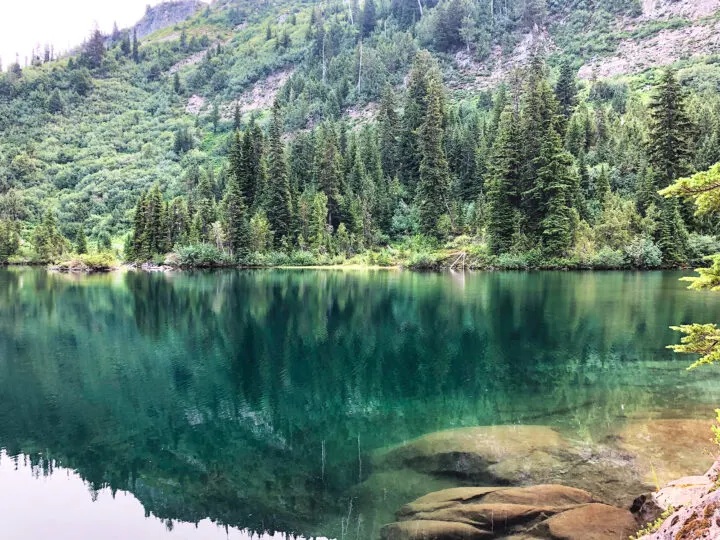 Back on the trail, continue on to find Snow Lake. It's just 0.4 miles further, and a gorgeous lake that you cannot miss! When the wildflowers are blooming, you'll see pinks, purples, greens and almost any other color of the rainbow along the trail.
Cross 2 easy log bridges before making it to the lake. It's a fun trail for any age, but kids will definitely enjoy this one!
You'll see a sign for Snow Lake or Snow Lake Camp. You can see the lake by taking either path.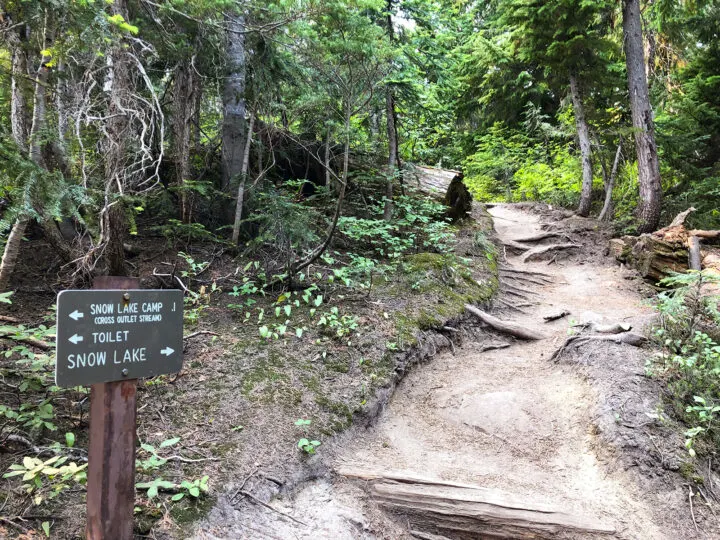 If you turn right and go towards the lake, you'll see a peek of the beautiful blue views and a picturesque setting.
Hiking towards the Snow Lake Camp is a bigger spot to enjoy the lake, as long as there isn't a tent and camp set up at sites 1 or 2.
Honestly, hike to the overlook and to the campsite to see which view you like best! The views are one of the many reasons this trail deserves a spot on the list of best hikes in Mount Rainier National Park!
Snow Lake Mt Rainier
It's such a picturesque lake setting, you're going to love it! And the best part is that even during peak travel season, the trail and lake shore never really get over crowded!
Snow Lake Camp site 1 has the best views of the lake – so it's a great spot to grab a seat on a log and soak in the alpine lake scene. Enjoy a snack and refreshing drink of water. The mountainside may be snow covered, making for beautiful snow photos.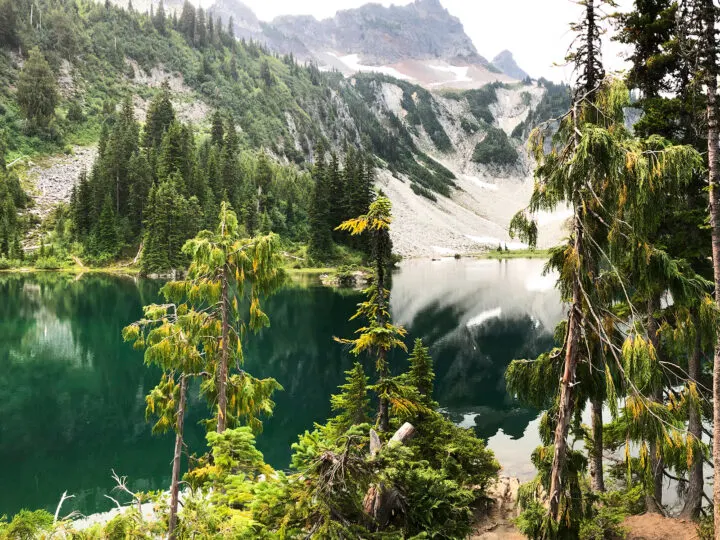 Watch for fish in the crystal clear water, too. After you spend however much time you'd like at the lake, it's time to hit the trail and go back to the car. It's just straight back to the parking lot from here, so at 1.1 miles, it may not take long!
Wildlife in the park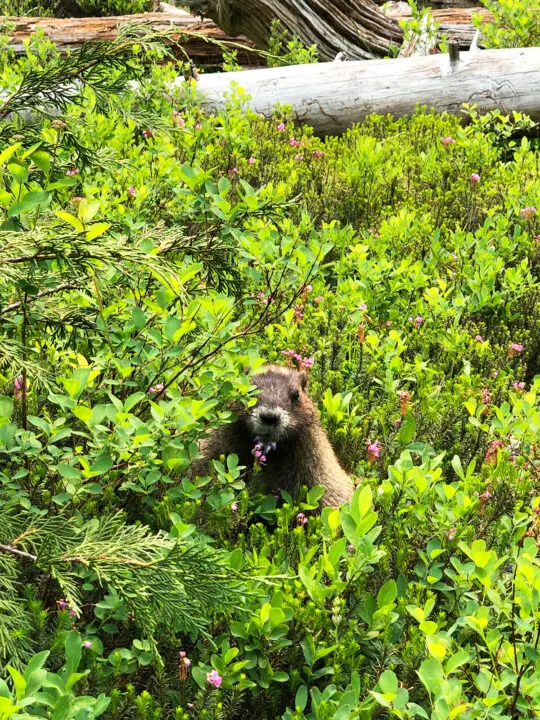 Just like hiking the Avalanche Lake Trail in Glacier National Park, you'll need to be on the lookout for wildlife!
In Mt Rainier, Black Bear are prevalent as previously mentioned. It's also possible to spot deer, elk and mountain goats. Fox and marmots make their way around the park too, as well as lots of other species.
Be sure to pick up food crumbs and anything biodegradable so animals don't rely on humans for food. Keep a safe distance and have your camera ready for encounters. I saw this cute marmot chowing down on some wildflowers just past the Snow Lake lookout – so cool!
Best gear for this hike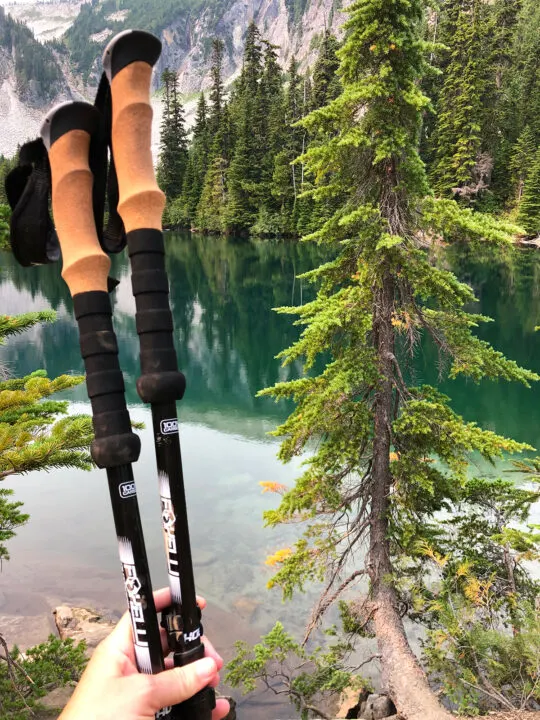 Having the right hiking gear for this hike will help make it comfortable and memorable – in a good way! Here are some items that will make your experience a good one…
Hiking shoes and hiking socks. Lightweight hiking shoes with moisture-wicking socks are perfect for this hike. With the tricky terrain and inclines, you'll want good traction, especially if it's recently rained.

Water and protein snacks. Stay hydrated by packing your reusable water bottle (or multiple) on this hike. And when hunger strikes, protein is the answer. 😄

Hiking backpack. To carry the 10 essentials, your bear spray and anything else you may need. A good hiking backpack works like magic, taking the weight off your shoulders! This is my favorite hiking backpack (my husband has the men's version). It's come with us on hiking adventures in Point Lobos State Natural Reserve, Zion National Park, hikes in Red Rock Canyon and so many more spots.

Trekking poles. When you hit those inclines and descents, you'll be glad for them. These are my favorite hiking poles and go with me everywhere.

Layers. You're in the Pacific Northwest, after all! Depending on the time of year, dress accordingly. This is my favorite rain jacket I pack for all my hikes, and my favorite medium coat I had to wear while hiking Inspiration Point at Grand Teton, and many more spots.

Bear spray. Mentioning this again because it's so important!

Satellite communicator or personal locator beacon. This device literally saves lives for hikers who get injured, lost or caught in severe weather. My Garmin stays on my backpack so I don't have to worry about myself or someone else on the trail.
Camping near Bench and Snow Lake Washington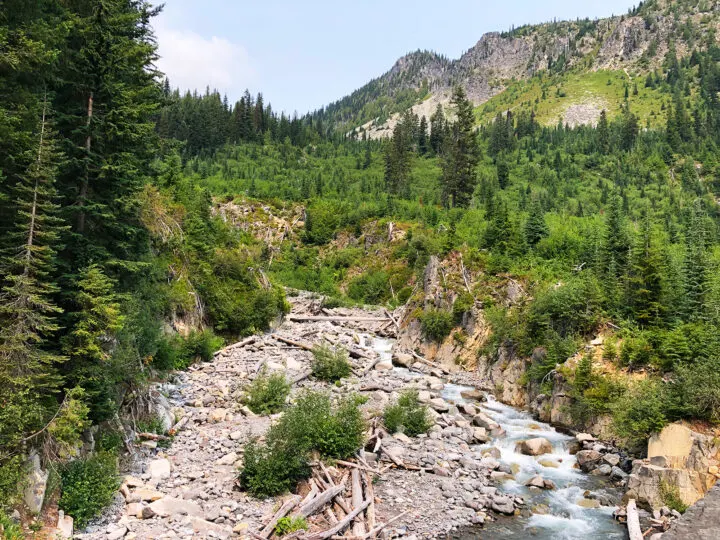 Mount Rainier National Park is such a large park, there are actually 4 campgrounds located within the park boundaries.
I recommend the Ohanapecosh Campground for RV or tent camping. The hookups are minimal so you'll need to do dry camping if in an RV. But the spots are very spacious and you're so submersed into nature, you'll barely notice others camping nearby.
As with other national park campgrounds, they fill up early so reservations are required far in advance.
There's obviously a campground at Snow Lake but it's extremely limited. It's great for backpackers!
Where to stay nearby
If you're looking for more amenities, the area surrounding Mt Rainier National Park is pretty rural. Here are a few spots worth checking out:
Mountain Meadows Inn. Directly west of the park in Ashford, this lodge is eco-friendly and able to accommodate groups larger than 2, which is helpful if you're traveling with a family or group.

Cowlitz River Lodge. Located south of the park in Packwood, equal distance from the southwest and southeast entrances, this lodge is cozy and includes breakfast.
For additional accommodations, check out Booking.com. I love using their site because they have hotels and vacation rentals, which fit most budgets and needs!
Bench and Snow Lake Trail Mt Rainier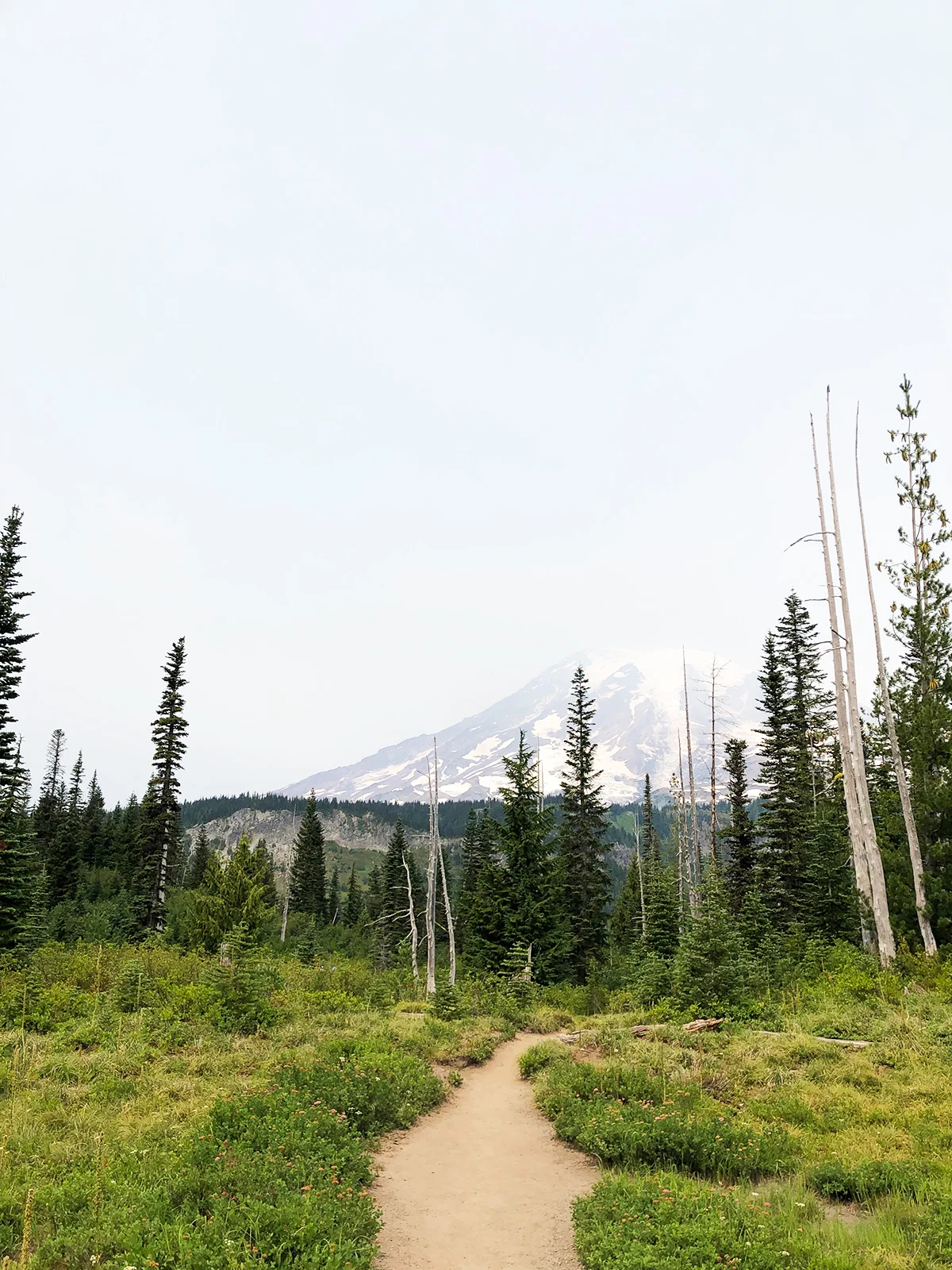 So, are you ready for this cool lake hike? Bench and Snow Lake Trail is worth the hike to see these beautiful lakes in such a picturesque setting.
You'll love experiencing the uncrowded trail (compared to others in the park), and the lakes are so fabulous.
Related content you might like:
22 Best Hikes in Mt Rainier: Cool Trails You'll Love
22 Incredibly Fun Things to Do in Mt Rainier You Can't Miss
Paradise Mt Rainier: What to See, Do and Bring Plus Best Hikes
Skyline Trail Mt Rainier: Ultimate Guide to this Epic Hike
Find this post helpful? Save it for later or share it on social media!