Although the air may be getting colder and most of the vibrant fall leaves have fallen, November can be a magical month to travel in the United States. From coast to coast and a few bonus spots, here's an epic list of the best places to visit in November in the USA!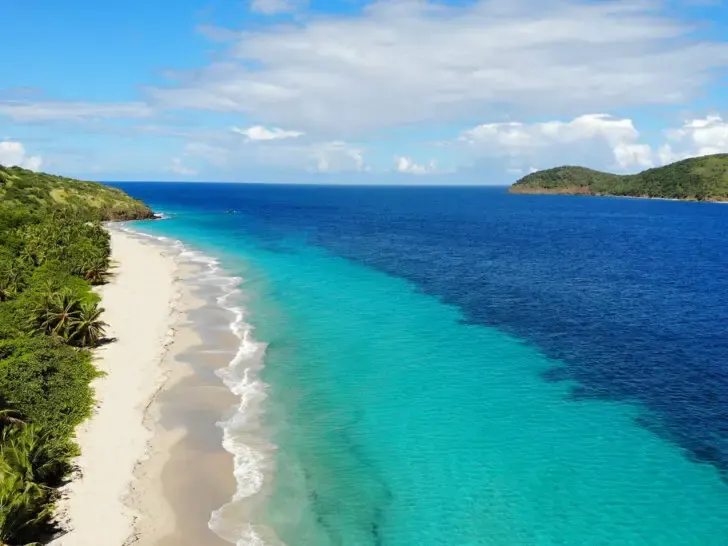 This post may contain affiliate links. For more info, see my disclosures.
With fewer crowds than the busy holiday season and summer break, November is a great time to take a vacation. And since it's low season in most destinations, that typically means lower pricing, too!
Whether you're traveling with your partner, family, friends or even solo, there's so many amazing destinations to see in the US! From beautiful warm places to visit in November in USA to the unexpected destinations you've never heard of, this list has a bit of everything.
Map of the best places to visit in November
Stunning beaches, snowy mountains and the lingering fall festivities on the East Coast, this list of best vacation spots in the US in November is sure to have you planning your next getaway in no time!
Check out the map below to help you get started planning your November getaway.
Oh, and by the way, since I haven't been everywhere yet, I asked my fellow travel writers to help create the perfect list of best places to visit November.
Let's dive in!
Must-see video: best November vacations USA
Best places to visit in November USA
It's time! Without further ado, here are the very best places to visit in the US in November. Fair warning: it will be hard to decide which getaway to start planning first! 😉
1. St. John, US Virgin Islands (no passport needed!)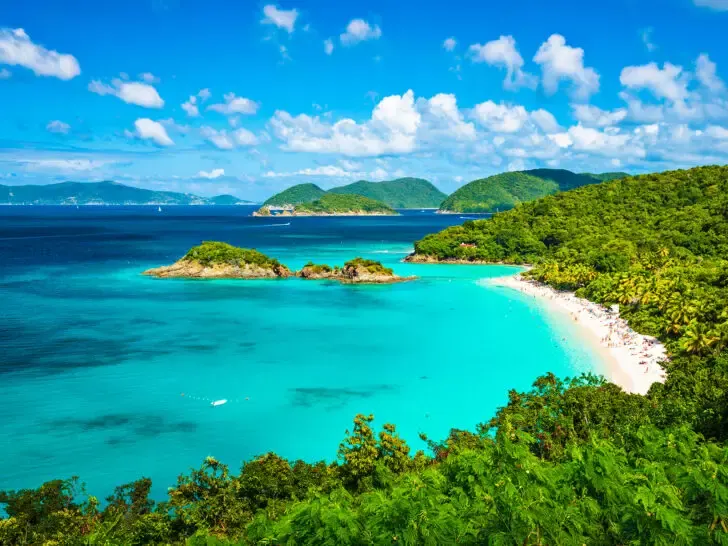 Average temp: high 87, low 75
If you're looking for one of the best beaches to visit in November in the USA, look no further than St. John in the US Virgin Islands. St. John may be the smallest of the three main US Virgin Islands but it is packed with tons of things to do for beach, nature, and food lovers.
The hurricanes are mostly over by November although it is still a wet month on the island. Cost-savvy travelers can use this off-season opportunity to snag great deals on flights and hotels at an otherwise expensive destination.
There are several beaches to choose from along North Shore Road, each with soft white Caribbean sand and turquoise waters. You can paddle a clear kayak in Maho Bay, snorkel at the Reef Underwater National Park Trail at Trunk Bay, or walk amidst historic sugar factory ruins at Cinnamon Bay.
About two-thirds of the island is National Park with trails like Cinnamon Bay Loop, America Hill, Petroglyphs, and Reef Bay that take you everywhere from fantastic viewpoints to beaches and notable ruins.
The swimming and hiking will whet your appetite for interesting food and unique drinks like Bushwacker and Painkiller. You can enjoy traditional foods like roti and patés at The Roti King, local craft beer and pizza at The Tap Room, and creative cocktails with poke bowls at The Longboard.
All this without the need for a passport or visa makes St. John a truly special November vacation destination.
Recommended by Farha of Trips Come True
2. Paso Robles, California (one of the best places to visit in November for wine lovers)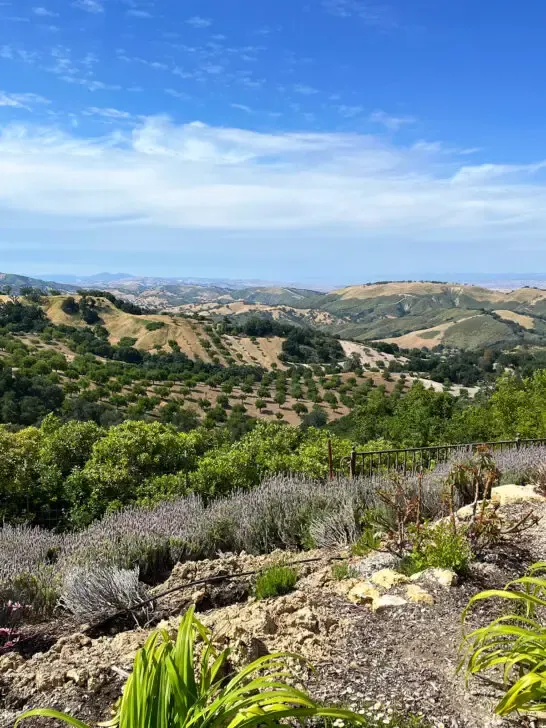 Average temp: high 69, low 36
November is the perfect time for a getaway to Paso Robles, California – a town in Coastal California famous for its wine scene.
The busy tourist season in Paso Robles is in the summer, as well as in October, when harvest at the vineyards is in full swing. By the time November rolls around, Paso Robles gets much quieter, which means you'll have a better chance at snagging a good deal on accommodations.
Additionally, while the temperatures cool down, the weather is still pleasant, and there typically is little (if any) rain.
Any vacation to Paso Robles isn't complete without a stop at at least a couple wineries. The natural landscape in the area is beautiful, so you'll get to enjoy tastings as you look out at the picturesque rolling hills and vineyards.
While travelers come to Paso Robles for the wine, there are plenty of other activities worth doing during your trip. Anyone looking to relax and unwind can also make a stop by the Franklin Hot Springs to soak in the mineral-rich water.
In the evening, you can purchase tickets for Light at Sensorio, a mesmerizing outdoor light installation (just be sure to bring layers, as it will be chilly!). The small Downtown Paso Robles area is also incredibly charming, and boasts plenty of great restaurants, bars, and shops worth visiting.
After your trip, it will be no surprise why Paso Robles is one of the best vacation spots in the US in November.
Recommended by Kyra of Sea to Sequoia
3. Leavenworth, Washington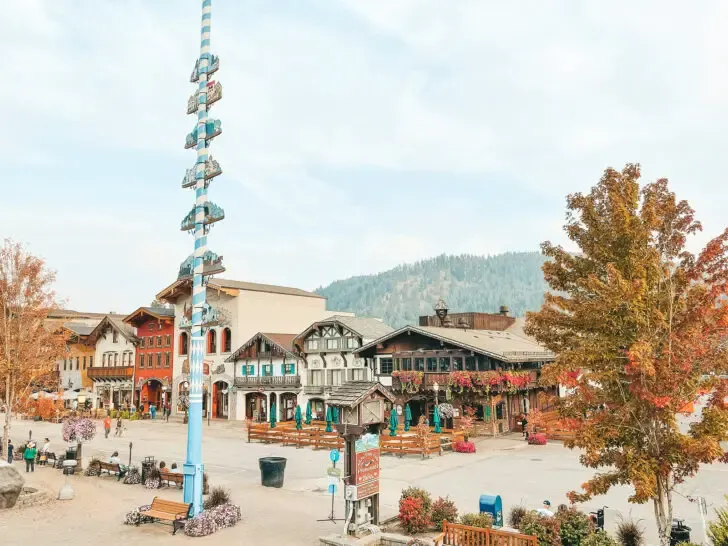 Average temp: high 44, low 28
November is a great time to travel to the Bavarian-themed village of Leavenworth, Washington, for smaller crowds and low-season prices between the most popular seasons — Oktoberfest and Christmas.
Plus, in early November, you'll be able to catch the last of the fall leaves, and in late November, you'll likely catch the first snowfall in this charming town in the Cascade Mountains.
While November in Leavenworth is usually too cold for most outdoor activities, like horseback riding and hiking, there are plenty of other fun things to do in Leavenworth during the last few weeks of fall.
You can get up close and personal with Santa's reindeer at the Leavenworth Reindeer Farm, sample wine or beer at local wineries and breweries, or get an early start on your holiday shopping at the quaint boutiques downtown.
If you visit during the last weekend of November (after Thanksgiving), you can even attend Christkindlmarkt — a Bavarian Christmas festival — and see the entire town covered in twinkling lights.
Of course, while you're in Leavenworth, check out some of the best places to eat in Leavenworth, WA, for traditional German fare. Andreas Keller is a popular restaurant for an authentic Bavarian-style meal, while Munchen Haus is a more casual beer garden that offers pretzels, brats, and beer.
You can also grab breakfast, coffee, or a pastry at the adorable Gingerbread House, or a craft coffee for a brisk fall day at Argonaut Coffee & Biscuits.
With the fewer crowds, lower prices, and festive things to do, it's no surprise that Leavenworth is one of the best places in the US to visit in November.
Recommended by Brittany of Travel By Brit
4. Woodstock, Vermont (cozy November getaway)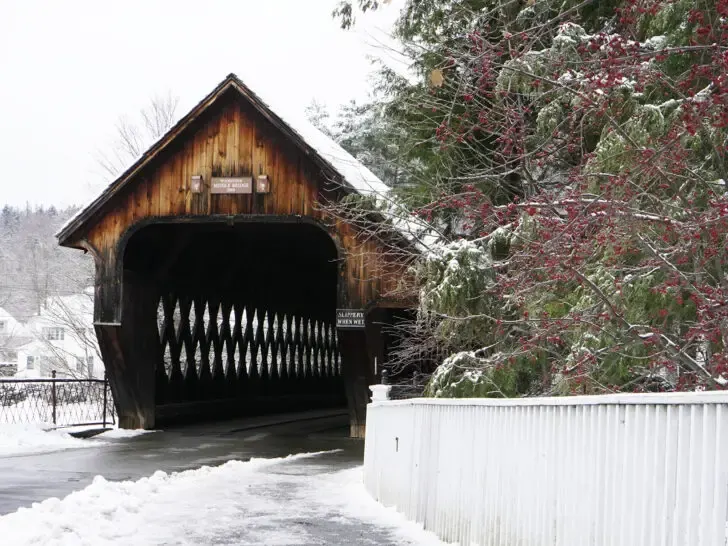 Average temp: high 47, low 27
Visiting Vermont in the winter is truly magical, and a trip to Woodstock in November is an experience that seamlessly blends natural beauty with cozy charm.
Woodstock is considered one of the most beautiful cities in America for a reason. And it won't disappoint you! This picturesque town is a must-see destination during this time of year, offering a variety of seasonal attractions that are sure to delight anyone.
In November, Woodstock provides a refreshing and chilly atmosphere that enhances the ambiance, making outdoor activities even more delightful.
Woodstock's charm comes from its peaceful and less crowded environment. As the season's vibrant foliage gradually fades, tourists can appreciate the tranquil streets and relaxed pace, perfect for a serene and restful retreat.
Walking around the historic town center, filled with charming boutiques, art galleries, and cozy cafes, transforms into a magical experience amidst the stunning natural scenery.
There are plenty of things to do in Vermont, such as exploring local trails, embarking on scenic drives to nearby covered bridges, or indulging in warm apple cider by the fireplace. The town's inviting inns and bed-and-breakfast accommodations provide a cozy retreat after a day of exploration.
Exploring Main Street in Woodstock is a delightful experience as you admire the stunning 18th and 19th-century architectural styles of the buildings.
To fully appreciate the beauty of Woodstock, make sure to mark The Green, Central Street, and Elm Street on your map and take a leisurely stroll down these picturesque streets. It's truly one of the best places to visit in US in November!
Recommended by Paula of Paula Pins the Planet
5. Kauai, Hawaii (a favorite on this list of best places to visit in November)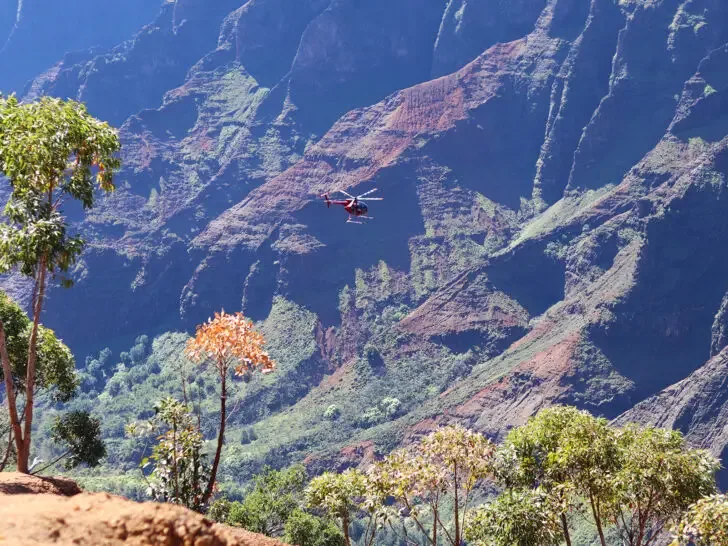 Average temp: high 80, low 71
Kauai, also known as the "Garden Isle," offers an exceptional travel experience, particularly in November. With milder crowds compared to the peak tourist season, November allows travelers to enjoy Kauai's attractions without feeling overwhelmed, creating memorable experiences while enjoying discounted prices.
One of the best things to do in Kauai is to see the Napali Coast. It's one of America's most beautiful natural wonders.
Picture towering cliffs, hidden valleys, cascading waterfalls, and eye-catching sea arches, all set against perfect blue waters. Visitors can see the Napali Coast via a boat or helicopter tour or hike the famous Kalalau Trail.
Kauai is also home to several beautiful beaches where you can relax and soak up the sun. Some of the best include Poipu Beach Park, Hanalei Bay, and Ke'e Beach. There are also plenty of water activities like snorkeling, kayaking, and paddleboarding to take advantage of the beautiful setting.
For adventure seekers, kayaking the Wailua River to the Secret Falls is a must-do activity. The serene river setting provides a peaceful escape and a chance to connect with the island's natural tranquility.
If you're looking for breathtaking vistas, Waimea Canyon, often called the "Grand Canyon of the Pacific," is a must-see. The colorful canyon offers numerous hiking opportunities, unveiling spectacular views and leaving travelers in awe of nature's magnificent beauty.
Hāʻena State Park is yet another gem worth exploring. It's home to picturesque beaches, lush forests, and access to the famous Kalalau Trail. Adventurers can hike to Hanakapiai Falls or enjoy the beach and coastal scenery.
If you are a budget traveler looking for cheap flights and affordable accommodations, avoid booking around Thanksgiving week, as the prices can be quite high. However, if you plan your trip for November's shoulder season, you will find plenty of great deals and discounts! Kauai is by far one of the best places to visit in November USA!
Recommended by Trysta of This Travel Dream
6. Bryce Canyon National Park, Utah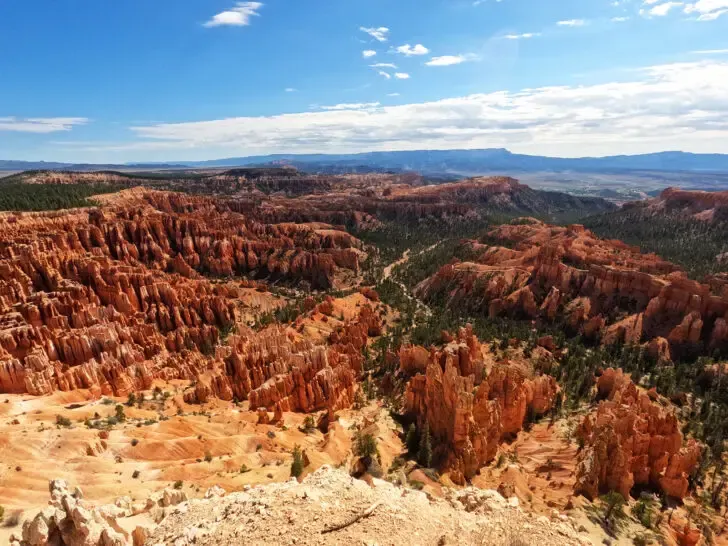 Average temp: High 44, low 18
If you want to visit one of the best places in the US in November, then you cannot miss a trip to Bryce Canyon National Park.
Located in Southern Utah, this 35,000+ acre park is famous for otherworldly rock formations and vibrant colored hoodoos. However, with over 2 million visitors per year, the park can get quite crowded.
Therefore, if you want to enjoy a bit of solitude while exploring the great outdoors then be sure to visit Bryce Canyon National Park in November.
Not only will the crowds be minimal, but the weather won't be oppressively hot either. You can easily do iconic hikes, like the Navajo Loop Queen's Garden Trail, since daily highs are 44 F and daily lows are 18 F.
Just be aware that all the trails beneath the rim require steep climbs out of the canyon! As a result, always come prepared with the right gear.
You also won't have to worry about traffic while doing the Bryce Canyon Scenic Drive either.
Just start at the end of the road at Rainbow Point and then make your way back towards the amphitheater. This way, scenic overlooks, including Yovimpa Point, are on the right, making it easier to go into and out of on-site parking lots.
Recommended by Jamie of Photo Jeepers
7. Hood River, Oregon (unexpected spot on this list of best places to visit in US in November)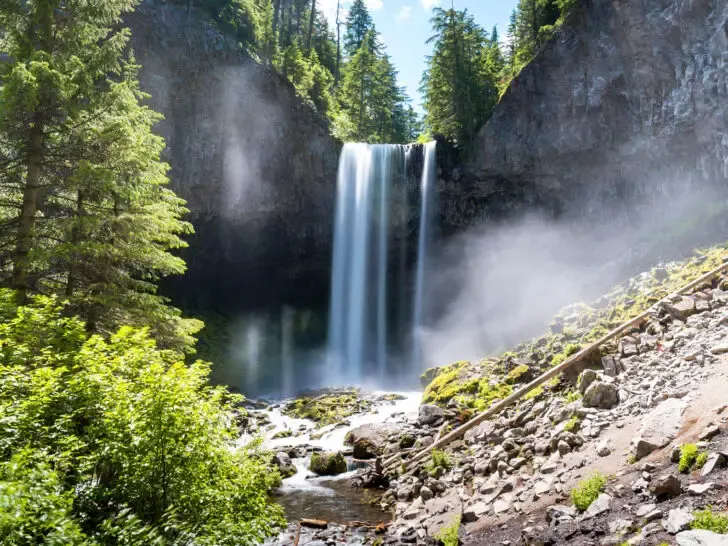 Average temp: high 49, low 34
Hood River is a charming mountain town, tucked along the stunning Columbia River Gorge and sitting at the base of Mount Hood, the tallest mountain in the state of Oregon.
November is the perfect time to explore this area. The crowds of summer have died down, but you can still access some of the incredible things to do in Hood River.
For example, take a drive around the Fruit Loop, a 35-mile scenic drive past 28 cideries, farm stands, and wineries. Stop for a glass of wine and take in the gorgeous views of Mount Hood. Alternatively, you could stop at a U-pick field for chestnuts and hazelnuts (right in time for the holidays!).
With its access to both the Columbia River Gorge and Mount Hood, it should be no surprise that Hood River offers incredible hiking.
Come November, you may even get to break out the snowshoes for certain trails around Mount Hood, like Trillium Lake or the Twin Lakes Loop.
Alternatively, the Columbia River Gorge generally stays snow-free year round, offering so much natural beauty to explore. In fact, the Oregon side of the river alone offers over 90 waterfalls!
Just be sure to pack a rain jacket! Like a lot of the Pacific Northwest, Hood River can see a decent amount of rain in November. But all that rain just makes the waterfalls that much more beautiful! You'll quickly realize why its one of the very best November vacations.
Recommended by Jessica of Uprooted Traveler
Best November vacations USA continued…
We have only covered a few of the best vacation sports in the US in November…are you ready to book my plane ticket yet? 😉Let's keep going!
8. San Antonio, Texas
Average temp: 74°F high, 51°F low
San Antonio is one of the best November vacations in the USA! The weather in San Antonio in November is typically pleasant and mild, making it an ideal time to explore the city without the scorching summer heat. The comfortable climate allows travelers to enjoy outdoor activities and sightsee comfortably.
One of the highlights of visiting San Antonio in November is experiencing the city's vibrant cultural events. The most famous being Dia de los Muertos (Day of the Dead) on 1st and 2nd November. This event offers a unique opportunity to immerse yourself in Mexican traditions and vibrant displays of art.
There are also many other things to do in San Antonio in November. You can start your trip with a stroll along the picturesque and atmospheric San Antonio Riverwalk. It's Texas' most visited tourist attraction lined with charming cafes and shops.
Be sure to also check out the largest Mexican market outside of Mexico and the world-famous Alamo.
November is an excellent time to explore San Antonio's historical landmarks and cultural attractions without the large crowds of peak tourist seasons.
For outdoor enthusiasts, November in San Antonio offers enjoyable activities like hiking in the nearby Hill Country, exploring natural parks, and enjoying a boat ride along the San Antonio River.
Be sure to also indulge in the city's famous Tex-Mex cuisine! November's pleasant weather allows for lots of al fresco dining options.
While November in San Antonio usually experiences mild weather, it is advisable to pack layers of clothing to adapt to the changing temperatures throughout the day!
Recommended by Catrina from 24 Hours Layover
9. Puerto Rico (another favorite of the best warm places to visit in November in USA)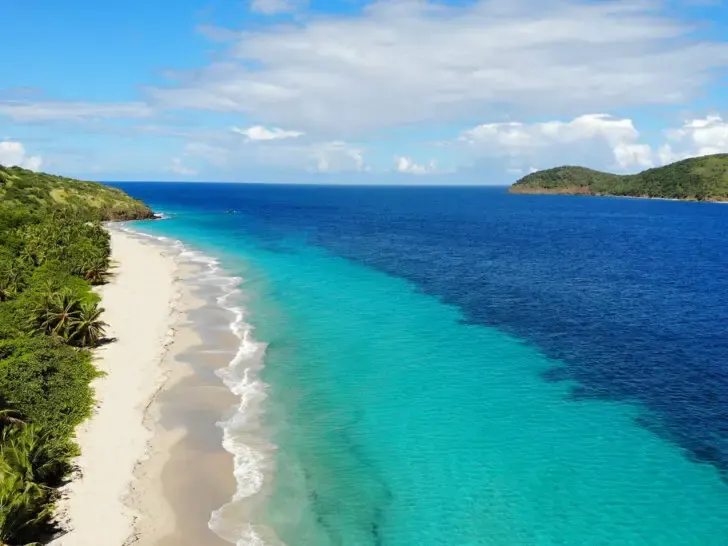 Average temp: high 84, low 77
Hands down, one of the best places to visit in November USA is Puerto Rico! The weather is beautiful for a late fall or early winter escape, especially when many of the contiguous 48 states are to get cold.
Puerto Rico is a fun destination, and one that you can have fun exploring over a long weekend, although a full week (or more ) is better. There's plenty of things to do in Old San Juan that you could easily fill 2-3 days there.
Explore El Morro, walk the streets of the oldest city in the US and check out El Yunque Rainforest, for epic views and waterfall hikes. Then, if you'd like to explore some amazing beaches, take a few days to head to a neighboring island of Culebra or Vieques.
With a quick 30-minute flight from San Juan to a neighboring Puerto Rico island, you can see amazing places like the Bioluminescent Bay or the Black Sand Beach in Vieques. Or, experience the world-famous Flamenco Beach in Culebra for stunning crescent-shaped all-natural beach.
Puerto Rico has so much to offer visitors, you could easily explore 3 or more areas of the islands within a week vacation. It's by far one of the best places to visit in November
Recommended by me – Nikki of Inspired Routes
10. Phoenix, Arizona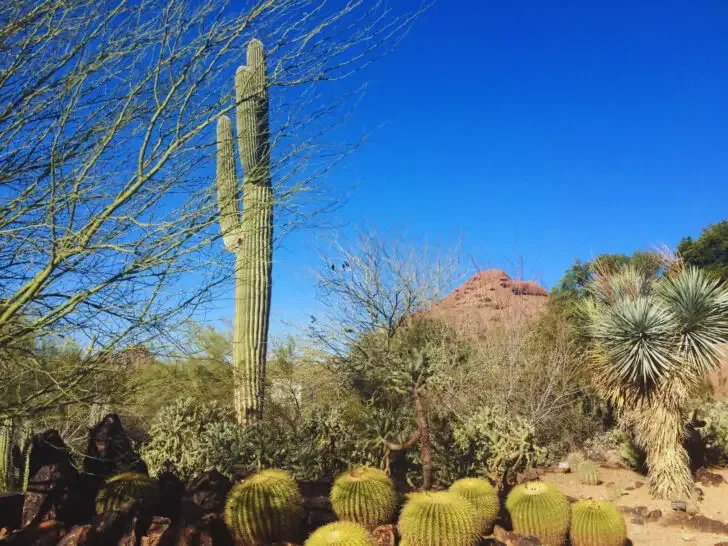 Average temp: high 75°F, low 50°F
Phoenix Arizona has so much to offer for tourists seeking the perfect November vacation destination. It's definitely one of the best warm places to visit in the US in November.
From the excellent weather that makes outdoor activities enjoyable to the many attractions that can be found in the city, Phoenix offers something for everyone.
Cultural activities include the renowned Heard Museum, a showcase of Native American culture, and Frank Lloyd Wright's architectural wonder, Taliesin West.
For outdoor lovers, Papago Park is one of the best spots to explore the area's natural beauty. This beautiful public park offers hiking trails, fishing opportunities, and scenic views of the area's dramatic sandstone buttes.
Also located within Papago Park are the Arizona Heritage Center, the Phoenix Zoo, and the Desert Botanical Garden. With more than 55 acres of stunning desert landscapes, thousands of species of cacti and wildflowers, and a variety of trails to explore, the Botanical Garden is truly a must-see for any visitor.
Finally, no trip is complete without taking a day trip to experience the historic Apache Trail. It offers you a glimpse of Arizona's natural beauty and the old west gold mining towns.
This stagecoach trail offers an unparalleled opportunity to soak up the beauty of the Sonoran Desert. See towering saguaro cacti as you wind through the Tonto National Forest toward Canyon Lake. Here, you can explore the water's edge or enjoy the Dolly Steamboat nature cruise.
If you're brave enough to continue on the unpaved portion, make your way over to the impressive Roosevelt Dam. It's a feat of engineering that still stands strong after nearly a century.
Arizona is one of the best states to visit in November, and Phoenix is worthy of your time in this desert oasis!
Recommended by Julie of Chickery's Travels
11. Catalina Island, California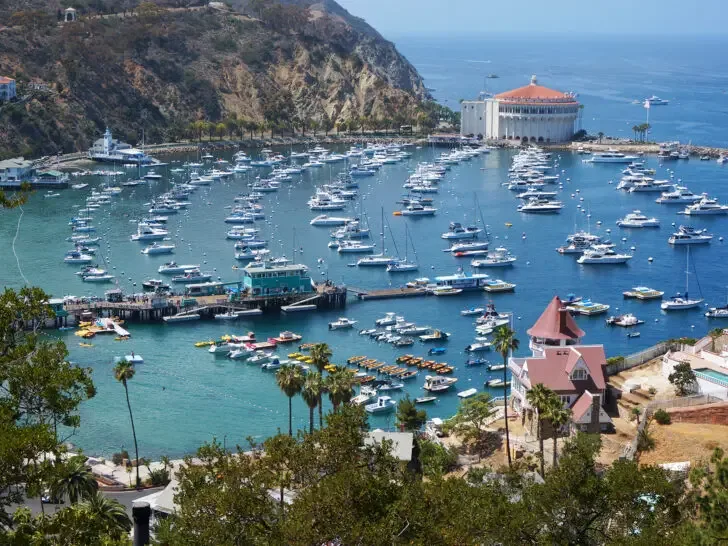 Average temp: high 63, low 47
Catalina Island is one of the most beautiful places in California. As a matter of fact, Catalina Island's weather makes it a perfect destination to visit in November.
The lowest average temperature averages in the high 40s, while daytime highs are in the 60s. Therefore, Catalina Island is a great November escape without shivering in the winter cold.
If you are couple looking for a romantic getaway or family looking for a family escape, Catalina Island
have it all. You can relax in one of the many luxurious hotels, take a golf-cart tour of the island, or dine on fresh seafood at one of the many restaurants.
If feeling adventurous, you can try out parasailing, snorkeling, or even a submarine tour!
You can also relieve all your worries with a meditative hike or rent a bike to venture across Catalina's trails that overlook the Vast Pacific. The November temperatures are perfect for these activities!
It is an optimal place to connect with nature and escape from the hustle and bustle of a busy life. Catalina Island is definitely one of the best places to travel in November in USA.
Recommended by Ossama of Aweseome Traveler
12. New Orleans, Louisiana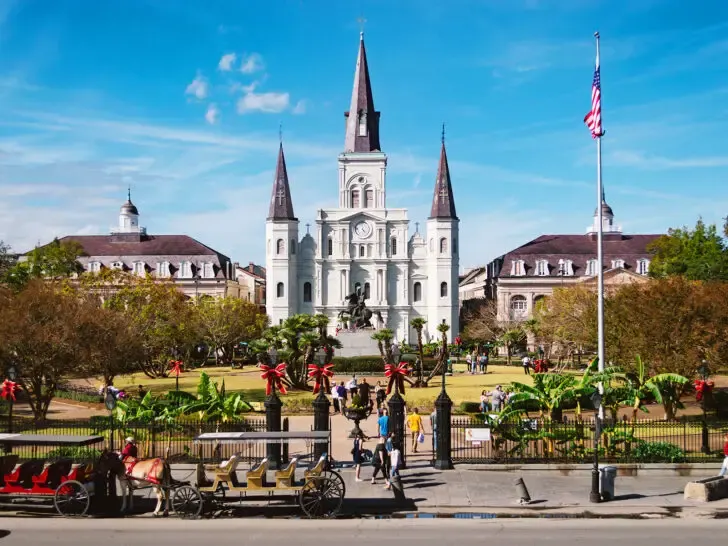 Average temp: high 72, low 53
New Orleans in November is fantastic for a number of reasons including, lower temperatures with less humidity, fewer crowds, and fun events that encourage you to truly "laissez les bon temps roulez,"(or let the good times roll).
During the first weekend of November, celebrate Caribbean culture in New Orleans at Bayou Bacchanal!
Or, taste your way through the Oak Street Po-Boy Festival in early November, where you can try po-boys from 30+ vendors. Finally, the Bayou Classic happens every Thanksgiving weekend, which is the football matchup between Grambling State and Southern universities.
Aside from these November events, don't miss these attractions that are must-do's on every New Orleans itinerary.
Take a tour of the Garden District and the lavish homes found there. Then be sure to try beignets at the Café du Monde in City Park (it's heaps better than the location in the French Quarter).
If you're into New Orleans' haunted history, take a ghost tour or a tour of one of their cemeteries hailed as Cities of the Dead.
If you find yourself in New Orleans for Thanksgiving, this foodie city is a fantastic place to have a Thanksgiving meal. The Fair Grounds Race Course celebrates annually with a traditional dinner and prime viewing of the horse races.
Alternatively, grab a meal in town, but be sure to make reservations in advance. Bourbon House is perfect for a traditional dinner and Mister Mao offers a delicious 3-course non-traditional meal.
Overall, the Big Easy is one of the best vacations spots in the US in November!
Recommended by Alanna of Periodic Adventures
13. Sedona, Arizona (amazing time of year to visit and best places to travel in November in USA)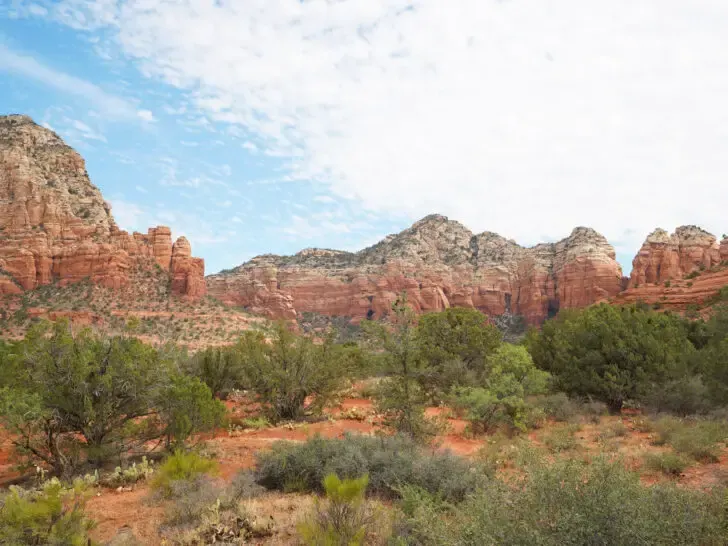 Average temp: high 64, low 36
Visiting Sedona in November is a great idea for anyone who wants to see the stunning red rocks without the triple digit heat.
November is a great time to experience Sedona because the crowds of peak season have thinned out, which means more peace and quiet, and cheaper prices on accommodations and activities. The weather is comfortable with a fall chill, but not yet freezing cold.
It's also a perfect time for hiking, since the temperature is more manageable for strenuous activities. Explore some of the iconic rock formations, like Cathedral Rock, Bell Rock and Devil's Bridge.
I recommend spending at least three days in Sedona in order to experience the town's natural beauty and culture.
Check out the local art galleries like Tlaquepaque Arts and Crafts Village, practice yoga in a serene setting, see one of Sedona's famous energy vortexes for a more spiritual experience. Don't forget to check out the Chapel of the Holy Cross church, set in the red rocks, for surreal views.
Sedona is also well known for their spa and relaxation offerings, like massages and reiki. So if you are looking for relaxation, it is more than possible here. And, Sedona is even home to several local wineries. If you like to go wine tasting, you will be pleasantly surprised by Arizona's wine.
There are so many reasons Sedona deserves a spot on this list of the best places to visit in November USA!
Recommended by Monica of This Rare Earth
More of the best places to visit in November…
Grab a snack and a your favorite fall drink because we are just getting started! Keep reading for more of the best places to visit in November in the US.
14. Bayfield, Wisconsin (plus Apostle Islands & Madeline Island)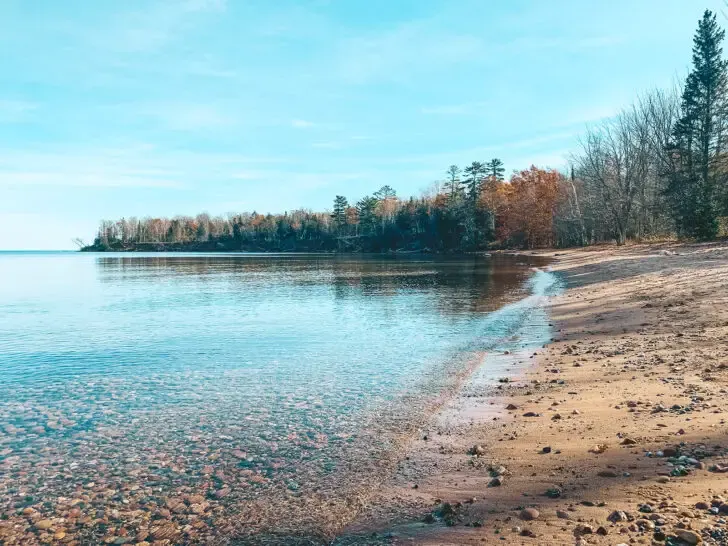 Average temp: high 40, low 26
Bayfield, Wisconsin and the surrounding islands, including the Apostle Islands and Madeline Island, are sure to pleasantly surprise you in November! Peak season has come to an end and it will feel like a fairy tale as you experience this charming destination during the quiet month of November.
There are so many wonderful things to do in Bayfield including hiking, kayaking, shopping and more!
In early November you will still catch some fall foliage which is absolutely stunning, especially along the Lake Superior shoreline.
The Brownstone Trail in Bayfield takes you along Lake Superior and will offer views of the harbor before you venture along the shore. This is also a great bike trail if you prefer an adventure on wheels!
Typically boat tours to the Apostle Islands wrap up mid-October, but that just means you can experience the islands with far less people. A few of the islands are reachable by kayak. Bring a kayak or plan to rent one and you are all set!
A trip to Bayfield is not complete without experiencing its well known fruit orchards and wineries. November is the perfect time to pick up some delicious apples, apple cider or jams!
Madeline Island is reachable via a short ferry ride and is a full day adventure. Take the ferry to Madeline Island where you can explore Big Bay State Park and enjoy some delicious fresh catch for dinner.
Lastly, downtown Bayfield is an incredibly charming little town lined with shops and restaurants. Each store is one of a kind and it's the perfect place to pick up your souvenir from your trip before heading home.
Although it may be a bit chilly during your visit, Bayfield is surely one of the best places to travel in November in USA.
Recommended by Julie of Ruhls of the Road
15. Portland, Oregon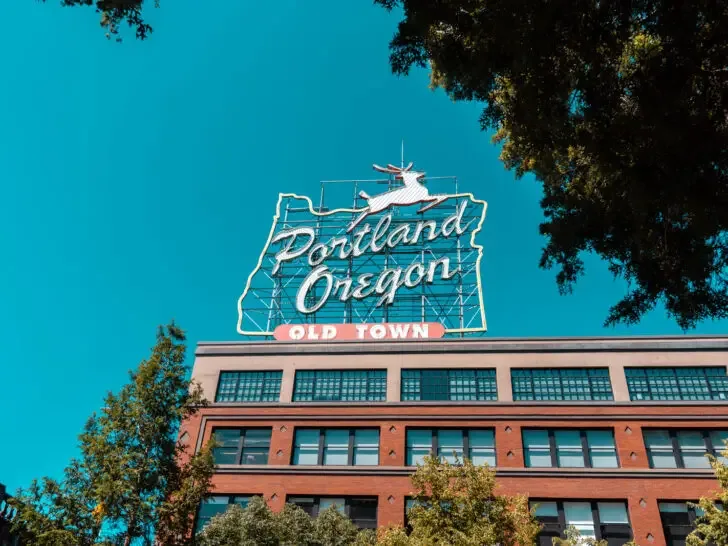 Average temp: high 52, low 42
Portland is one of the best November vacations in the USA as there are so many fun things to do, places to eat, and it will not be crowded. You will want at least two days in Portland to see all the fun sites.
November in Portland is a fabulous time to vacation because the weather will not be in full on rainy winter mode yet, but you will not experience the crowdedness of summertime. The average temperature is a high of 52 and low of 42.
Another plus of visiting Portland in November is all of the fall colors. The Portland area has a ton of hikes to go on where you can see fall colors. This includes Multnomah Falls, the Witches Castle, Forest Park, and Washington Park.
Wine tasting in Willamette Valley is also a fun activity in Portland in November. The wineries will have completed harvest a few months prior, so there may be some new bottle releases from previous years during this time.
If the weather ends up not cooperating, November is also a great time to check out museums such as the Portland Art Museum or the Oregon Historical Society.
You can also dine at one of the many delicious Portland restaurants, distilleries, and breweries which offer indoor tasting rooms. Farmhouse Kitchen Thai, Mucca Osteria, and Hat Yai are good options.
Recommended by Francesca of Homeroom Travel
16. Boston, Massachusetts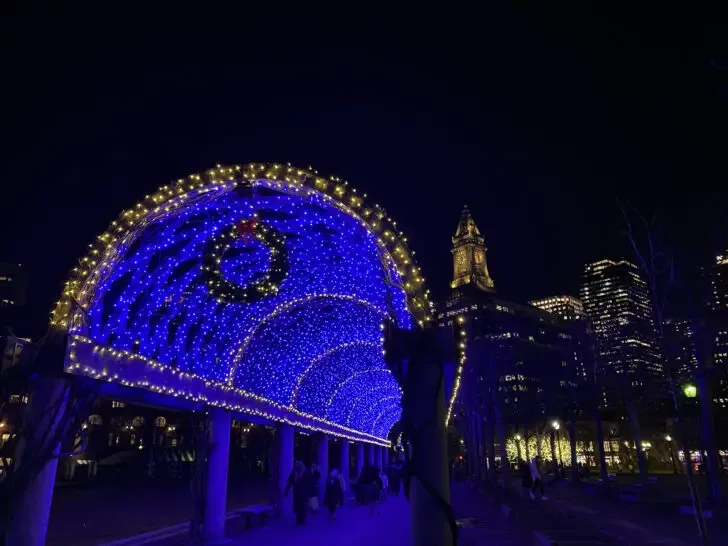 Average temp: high 52, low 38
While the weather in Boston in November might not be ideal, there are still some days you'll luck out with great walking weather! It's also an excellent time to get your holiday shopping started amidst pretty seasonal decorations and Christmas lights strewn across the city.
There's a lovely atmosphere throughout the city by November, without the huge crowds that tend to accumulate in December.
By November, several holiday markets are already up and running across the city. Head to the Seaport for a variety of vendors; grab a festive drink before you start your shopping and you'll stay warm and full of good cheer.
There are several spots where you can see Christmas lights in Boston by the end of November. Head to Christopher Columbus Waterfront Park to see the trellis lit up in 50,000 LEDs; it's a beautiful walk for a date night.
The lights at the Public Garden come on around Thanksgiving each year, so plan a walk-through to enjoy the ambiance before heading over to Frog Pond for ice skating on the Common (that starts in late November, too).
Don't skip the Faneuil Hall Tree Lighting Spectacular on the Tuesday after Thanksgiving! It's an iconic Boston holiday moment!
The Christmas tree at Macy's in Downtown Crossing is also lit up just after Thanksgiving, so plan to start your holiday shopping before December even starts. And the Downtown Holiday Market is perfect for shopping local.
Recommended by Amanda of Hey! East Coast USA
17. Big Bend National Park, Texas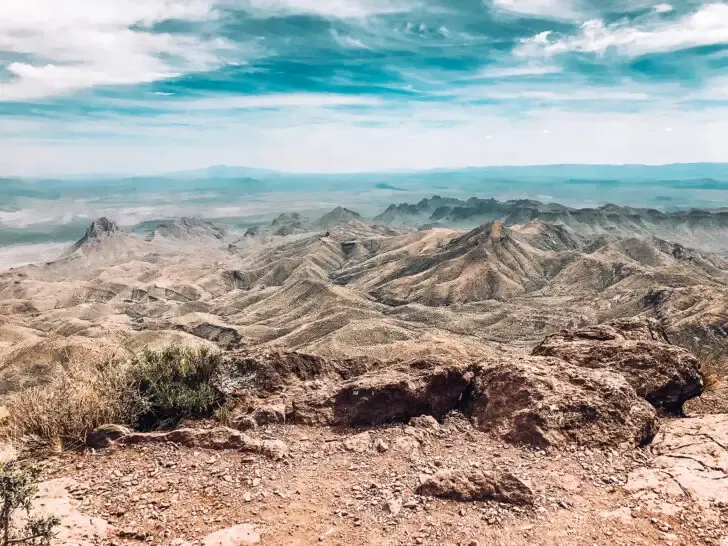 Average temp: high 65, low 46
Big Bend National Park is one of the best places in the US to visit in November! It is the perfect place for an adventurous traveler who loves to camp and hike.
Due to its remote location, Big Bend is one of the least visited National Parks in the United States, meaning it's the perfect destination for those looking to escape the crowds and enjoy the outdoors.
November will bring temps into the 60's which is ideal hiking weather. Hike the South Rim Trail, Emory Peak and the Window Trail to see the amazing views Big Bend has to offer.
Then, the all-natural and free hot spring is the perfect place to spend your evenings as the weather begins to cool off.
Lastly, the night sky in Big Bend is something you must witness during your trip. Big Bend National Park has the darkest night sky of all national parks in the lower 48 states. The stars are incredibly bright and you can usually see the Milky Way.
To see the night sky in all its glory, try camping in the park for an amazing experience. The primitive campsites are extremely affordable making Big Bend, not only a beautiful place to explore but also a super budget friendly destination as well.
Don't wait! Start planning a hiking and camping trip to explore Big Bend National Park in November!
Recommended by Julie of Ruhls of the Road
18. Denver, Colorado (top of the list for best states to visit in November too)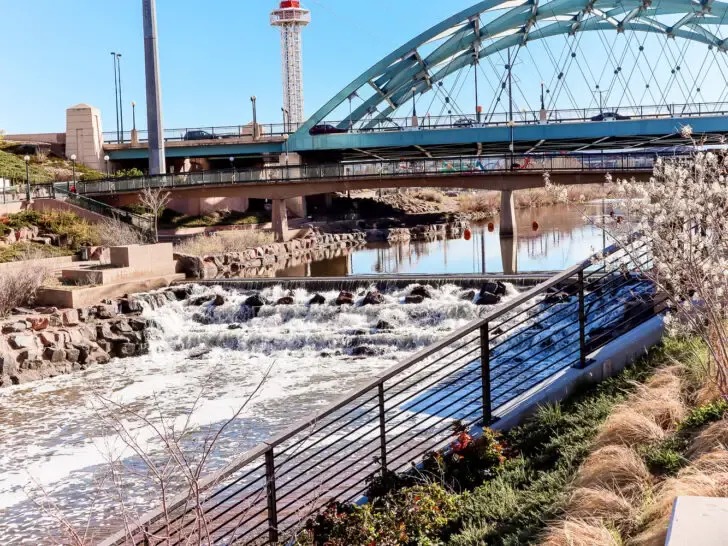 Average temp: high 57, low 27
Looking for the best November vacation in the USA? You absolutely can't miss out on experiencing fall in Denver, Colorado.
This gorgeous city, which many refer to as the Mile High City, is located at the foothills of the Rocky Mountains and is a short drive from popular destinations like Vail, Aspen, Boulder, and even Rocky Mountain National Park.
While you can vacation in Denver any time of year, locals will agree that fall is the most beautiful.
Not only are the temperatures a bit more mild, but the city comes alive thanks to the many parks that feature breathtaking fall foliage. Confluence Park is centrally located and is beautiful in fall.
Often, accommodation prices can drop during this time of year, too, as it's the shoulder season between the popular summer and winter months.
Fun activities during the month of November include attending the annual Denver Film Festival, exploring the creative parts of the Mile High City with Denver Arts Week, and attending Denver Christkindlmarket, which normally starts right around the Thanksgiving holiday and features German cuisine.
This is also a great time of year to explore Denver's RiNo neighborhood, filled with local breweries. Stem Ciders, a local cidery right in the city, is a must-see!
To get out of the city a bit, definitely take the quick day trip over to Rocky Mountain National Park. This is one of the most stunning parks in the entire country and is filled with hiking trails galore.
It is also a lovely place to see fall foliage and get some fresh air. Rental cars can be picked up at the Denver International Airport.
Recommended by KP from Delightfully Denver
19. St. Augustine, Florida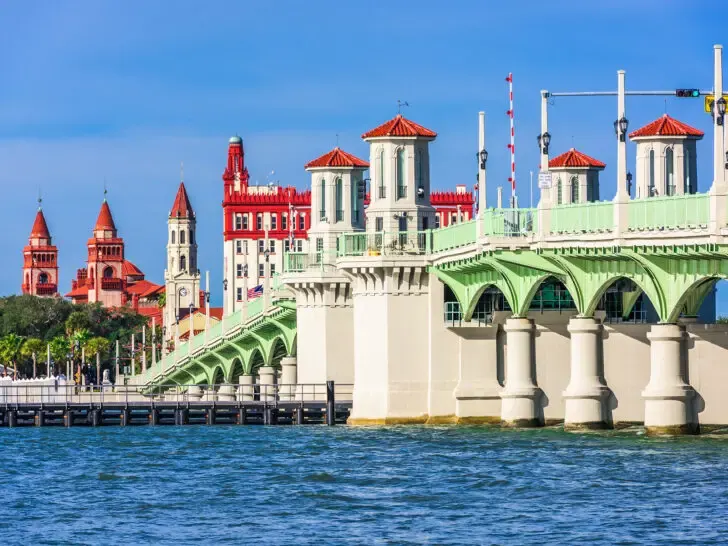 Average temp: high 75, low 57
St. Augustine, Florida is a popular destination year round, as it offers the Florida sunshine during the summer, a mild winter season, and great weather to explore in the spring and fall. It's no doubt that Florida is one of the very best states to visit in November.
November is one of the most popular times of year to vacation to St. Augustine, not only since the weather cools down, but also because of the kickoff for the popular "Nights of Lights" celebration in the historic district.
During the Nights of Lights celebration, the historic district is lit up with over 3 million warm white Christmas lights. Town is festive from top to bottom, with carols on trolleys, pop-up Christmas restaurants, and tons of holiday celebrations.
St. Augustine was even named one of the top places in the world to see Christmas lights by National Geographic a few years ago. If you want to plan a trip to see the Nights of Lights, this travel guide has tons of information from a local!
If you are traveling during November, be sure to pack in layers. St. Augustine is in North Florida, and the temperature can be variable. Some days it may be warm enough to enjoy the beach, while at night you'd be more comfortable bundling up.
If you are going to enjoy the Nights of Lights, consider carpooling, taking a rideshare, or even walking (if you're staying close by), as parking and traffic can get super busy. If you're trying to avoid the Nights of Lights crowds, consider visiting in early November, as the lights are generally illuminated in the middle of the month.
Recommended by Taylor of Tea N' Sea Travel
Epic places to visit in November USA, continued
We've covered a lot of the USA, and this list just keeps getting better and better! Let's keep going for more beaches, cities and underrated places, perfect for a fall vacation.
20. New York City, New York (A festive place to visit in November in the USA!)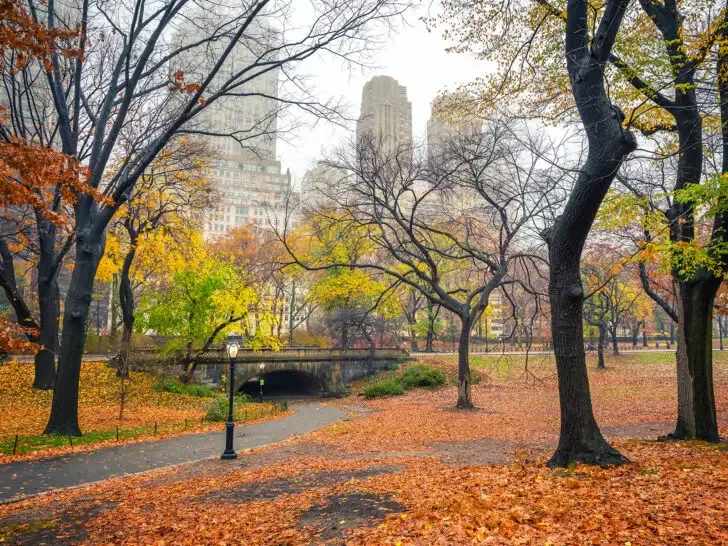 Average temp: high 54, low 42
One of the best places to visit in the US for November is New York. You'll be traveling right before the influx of Christmas tourists, and you'll still get to experience all the fun NYC fall activities and even fall foliage.
Some of the best activities to enjoy in November include exploring Central Park and seeing the beautiful fall colors and the Macy's Thanksgiving Day Parade. The parade consists of a live marching band and giant balloons. It is likely one of the most iconic parades that happens each year in the city.
Visit near the end of November, and you'll beat the crowds for the Christmas holidays. But, you'll still get to see the festive Christmas decorations. The Rockefeller Christmas Tree gets put up at the end of November.
Make sure to also check out the Bryant Winter Village and discover a spectacular ice skating rink. You will need to book in advance, but admission is completely free as long as you have your own skates. While there, check out the Christmas markets that are run by the locals.
Make sure to pack layers and bundle up, as the temperatures are usually low at this time of year.
New York can also be pretty expensive, but if you book far enough in advance, use food carts instead of visiting restaurants and take advantage of the free attractions, you can easily have a great time on a budget.
Recommended by Sam of Find Love and Travel
21. Asheville, North Carolina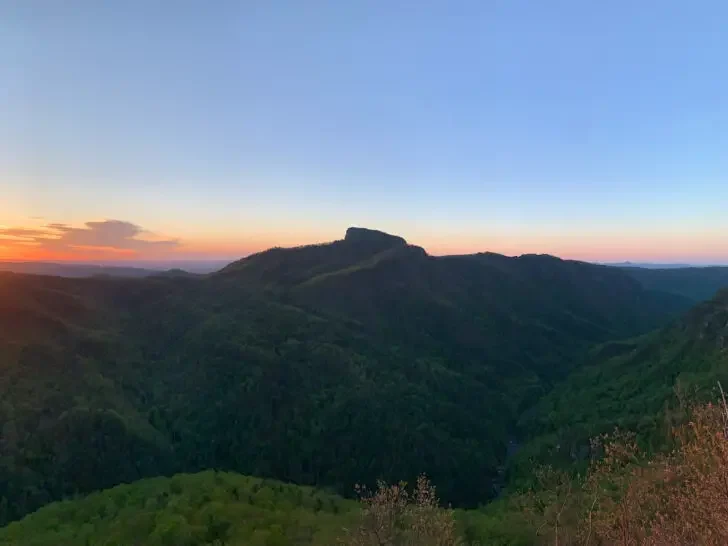 Average temp: High 58, Low 38
Asheville, North Carolina is one of the best places to visit in November in the USA due to its fantastic weather. This makes it perfect for getting outdoors, enjoying craft beer, and exploring all that Asheville has to offer.
The city of Asheville sits in between the Blue Ridge Mountains and is located right near Pisgah National Forest and the Blue Ridge Parkway. During the month of November, the temperatures are perfect for those looking to get outside and go hiking or for those that would like to go on a scenic drive and take in the incredible views.
For craft beer enthusiasts, Asheville is known for its large array of breweries. Whether you would like to experience one of the bigger name brand brewing companies such as Wicked Weed or you would like to enjoy one of the lesser known brew pubs in the area such as Eurisko Beer Company. Each craft beer joint is unique and serves up a wide array of beverages for all craft beer fans to enjoy.
For those looking to appreciate the last little bit of the fall season, Asheville has plenty of apple orchards nearby as well. This is the perfect autumn activity for those looking to get outside, pick some delicious apples, and take in the surrounding mountain scenery.
Asheville is totally worth a visit for those looking for a November getaway due to its fabulous weather, close proximity to the mountains, and endless things to see and do around the city.
Recommended by Abby of Trekking Prices
22. South Padre Island, Texas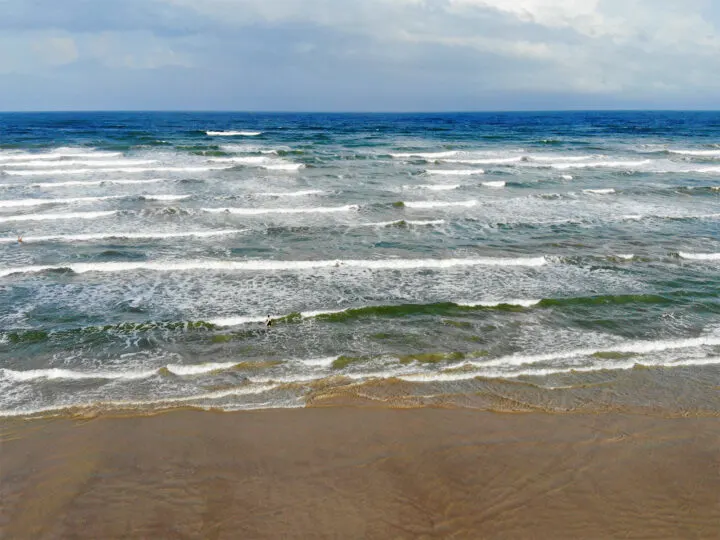 Average temp: high 75, low 62
Escape the encroaching winter chill and head to South Padre Island for a rejuvenating November vacation. With typical highs of 75°F and lows of 62°F, the island provides the ideal weather for vacationers looking for a late-fall vacation.
This treasure is one of the most beautiful white sand beaches in Texas and one of the best beaches to visit in November in the US. It provides the backdrop for a tranquil and gorgeous experience.
For a number of reasons, November is a great month to travel to South Padre Island. It's delightfully warm outside, so you may engage in outdoor activities without feeling the sweltering heat of the summer.
Compared to busy travel times, there are fewer people around, giving you a more serene getaway. With migratory birds making their yearly stopover on the island, the natural beauty is still as mesmerizing as ever and offers a terrific opportunity for birdwatching aficionados.
Beyond the stunning beaches, South Padre Island offers a range of activities for every traveler. Water sports enthusiasts can enjoy kayaking, paddleboarding, and snorkeling in the Gulf of Mexico's crystal-clear waters.
Both dolphin viewing tours and fishing charters give the chance to reel in outstanding catches while giving travelers a chance to see these magnificent animals in their natural environment.
The neighboring Laguna Atascosa National Wildlife Refuge is a great place for nature lovers to explore. It's home to a variety of wildlife and rich ecosystems
While the temperatures are generally mild, packing layers is recommended to stay comfortable as temperatures can vary throughout the day.
By making reservations in advance, you can choose from a variety of accommodation options.
As the sea turtle nesting season begins in November, taking part in turtle release activities or attending educational programs can be a memorable and educational experience.
Recommended by Trijit Mallick of Budget Travel Buff
23. Clearwater, Florida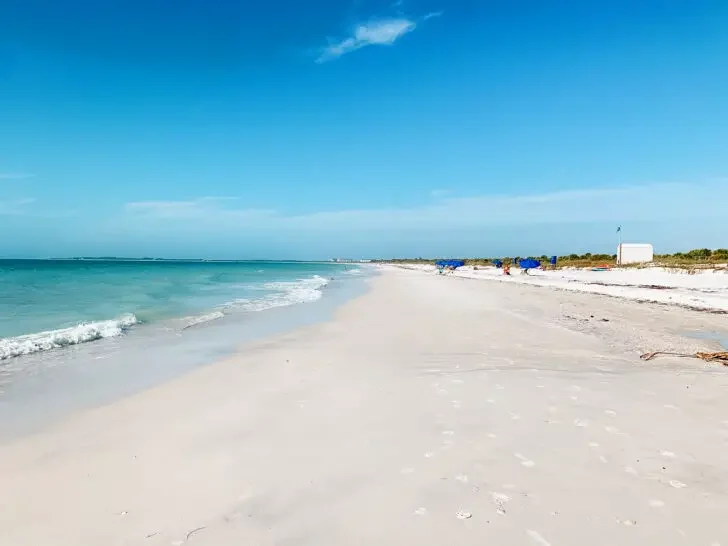 Average Temp: high 75, low 64
If you are seeking an unforgettable November vacation destination, look no further than Clearwater, Florida, one of the best beaches on the Gulf Coast! This charming city offers a delightful escape with its mesmerizing sunsets and pristine beaches.
This month is an excellent time to vacation in Clearwater. The weather is comfortably mild, making it an ideal time to explore outdoor activities without the sweltering summer heat. That's part of what makes it one of the best warm places to visit in November in USA.
During your stay, make sure to indulge in a sunset cruise in Clearwater. Witnessing the breathtaking sunsets over the Gulf is a magical experience you won't want to miss. These cruises offer a serene setting to relax and offer the opportunity for some dolphin sightings.
Beyond cruises, you can indulge in water sports, fishing, and exploring the vibrant downtown with its charming shops, restaurants, and captivating entertainment. Don't forget the Clearwater Beach Walk, which promises breathtaking coastal views.
When vacationing in Clearwater in November, be sure to pack some layers, as the evenings can get cool. However, you can still relish the beach ambiance and even swim as the water temperature remains comfortably inviting.
November is an excellent time to book your vacation as it offers lower humidity, reduced crowds, and a plethora of delightful holiday events. So, immerse yourself in the beauty of Clearwater this November, and create lasting memories in this enchanting Gulf Coast gem.
Recommended by Candice of Exploring the Gulf
24. Indiana Dunes National Park, Indiana (one of the most underrated places to visit in November USA)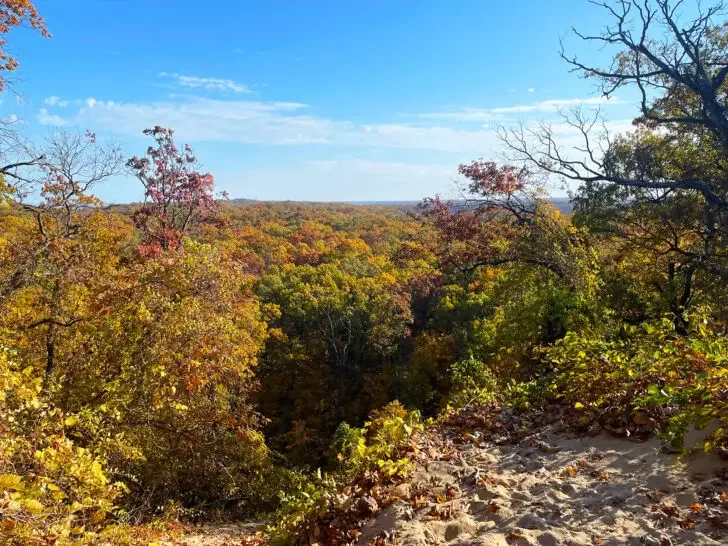 Average temp: high 50, low 35
Indiana Dunes National Park is an absolutely beautiful underrated travel vacation for the month of November in the United States. Why November? Indiana Dunes sees incredible foliage sweeping over its dusty sand dunes with rainbow leaves in the distance.
This Midwest getaway makes you feel almost like you are on the east coast!
The Three Dune Challenge is especially amazing during November. Visitors can view the park's excellent foliage from three different viewpoints. And who doesn't love playing in the sand?
After climbing down the Dunes, you'll be greeted with beautiful water at the beaches of Lake Michigan. Fall foliage, sandy dunes, AND the great lakes in one day? It really is a great experience.
After hiking adventures, you can admire the beaches of Beverly Shores, enjoy the light house in Union Pier, and some historical homes!
Just outside of the national park is Century of Progress homes from the 1933 World's Fair in Chicago. These vibrant, historical homes are above the sandy shoreline of Beverly Shores, Indiana.
Indiana Dunes will always be a special experience because it is one of the newest USA National Parks! It officially achieved national park status in 2019.
Travelers of all types will find something they enjoy at Indiana Dunes, from stunning beaches along Lake Michigan to hiking and exploring sand dunes. It's certainly deserving of a spot on this list of best places to visit in November USA!
Recommended by Alyssa of An Apple A Plane
25. Los Angeles, California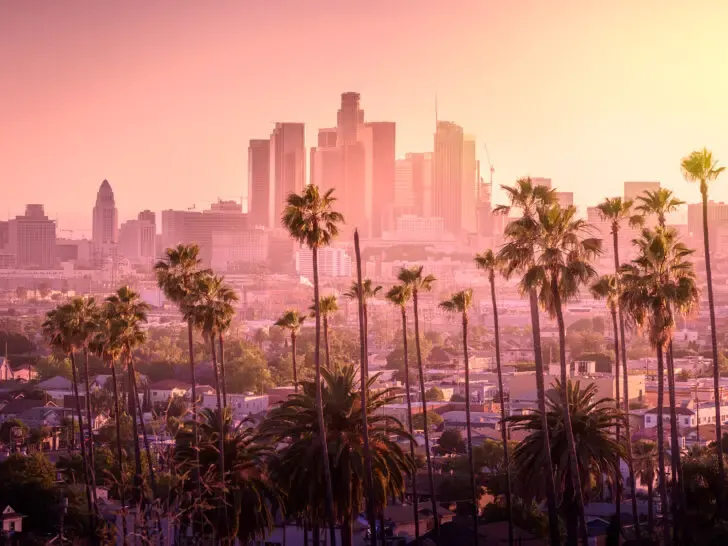 Average temp: high 73, low 53
Visiting Los Angeles in November promises the perfect fall weather and variety of indoor/outdoor activities to build yourself an amazing itinerary.
Although the weather is relatively warm in Los Angeles year-round, visitors should pack layers and several favorite fall sweaters for vacationing in November, especially for the chilly evenings.
The daytime weather is perfect for strolling around all the iconic LA destinations and beaches. Walking along the iconic Venice Beach Boardwalk, hiking the trails of Griffith Park or eating your way through the Smorgasburg outdoor food market are great ways to experience the City of Angels.
The shortest railway in the world, Angel's Flight, offers a great view of the city that can be followed up with a meal at the indoor/outdoor Grand Central Market across the street.
Speaking of the Los Angeles food scene, LA is known for being diverse and full of highly-rated restaurants including farm-to-table spots and locally-sourced menus. A trip in November will give you a chance to explore the amazing fall flavors that LA has to offer like the smoked chicory latte at Verve, pastries at République or mulled wine at Wurstküche.
There are many amazing day trips from Los Angeles that are perfect for the month of November.
If you plan to visit the happiest place on earth, Disneyland usually starts their holiday decor, themed food and activities in early November. This is a great time to visit and experience the holiday magic in warmer temperatures and smaller holiday crowds.
While most people consider Los Angeles a summer beach destination, it's definitely one of the best warm places to visit in the US in November.
Recommended by Hannah of Plate & Compass
Still more of the best places to visit in November USA
We aren't done yet! There are SO many amazing places to visit in November. A few more fall vacation ideas to round out this huge list…
26. Charlottesville, Virginia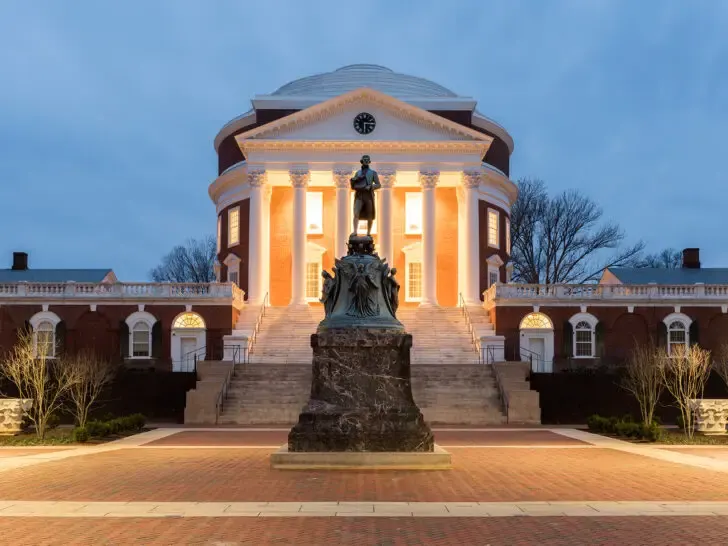 Average temp: high 59, low 34
Tucked away in the heart of Virginia is the charming city of Charlottesville and is an excellent escape in November!
Charlottesville is one of the top wine producing states in the US with more than 40 wineries in the area and when the weather turns in November, it is simply incredible.
If you're looking to unwind in nature, then this is it; the valley's landscape is something to witness; with rolling hills, lush vineyards, and the charming city steeped in history.
The region's reputation as a wine lover's paradise precedes it, particularly renowned for its Bordeaux style blended vineyards. Be sure to secure a spot for at least one of the wine tastings and a vineyard tour.
Regardless of the time of year, the landscape is a sight to behold. But, autumn is when the vineyards truly shine, transitioning from radiant golds to deep reds. Sipping world-class wines while surrounded by the valley's tranquil beauty during autumn is an experience you will not want to miss.
Make sure you head to Keswick Hall; and incredible stay with luxurious spa treatments, giving you the opportunity to relax and rejuvenate before the festive season.
Once you're done with the spa, have a look around town, known for its history. The 3 previous US presidents that resided here, as well as being home to the only UNESCO world heritage site in Virginia, and only one in ten in the USA.
There's plenty of things to do and you will not be bored at one of he best places to visit in US in November. Start off learning about the presidential history in the museum of Monticello.
Then head to the University of Virginia which was deemed a UNESCO world heritage site due to its 'Statement of Significance'. It details US President Thomas Jefferson's incredible architecture and life. A tour here would not go amiss!
Recommended by Adriana of Wanderlicious
27. Florida Keys, Florida (a beautiful spot on this list of bes places to visit in November)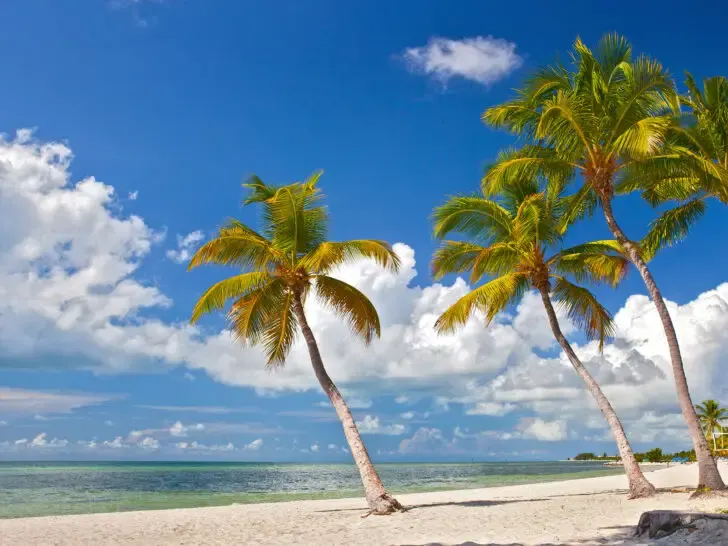 Average Temp: High 80, low 72
The Florida Keys have to be one of the best November vacation destinations in the USA. See, the weather on these islands at the southernmost tip of Florida tends to cool down a bit.
Therefore, you can enjoy a lot of fun activities like SUPing, kayaking, scuba diving, and snorkeling around coral reefs without getting too hot.
Just be aware that November is the very tail end of Hurricane season in the region. So, while you probably won't encounter a hurricane during your vacation, it's definitely a good idea to purchase travel insurance before your trip.
You can do a day trip to Dry Tortugas National Park or enjoy the best things to do in Key West, like sunset at Mallory Square, without the crowds. After all, this tends to be a quiet time to visit the Florida Keys. So, you can also get amazing deals on flights and hotels at this time of year.
You can also take part in fun local events like the Key West Film Festival, Power Boat Races, and the Taste of the Islands in Marathon.
Or, keep it simple and do a bit of parasailing before exploring the National Key Deer Refuge Nature Center on Big Pine Key. You can even indulge in a delicious slice of authentic Key Lime Pie at Kermit's Key West Key Lime Shoppe.
No matter how you choose to spend your time, it'll surely be a memorable November vacation.
Recommended by Victoria of Florida Trippers
28. Washington DC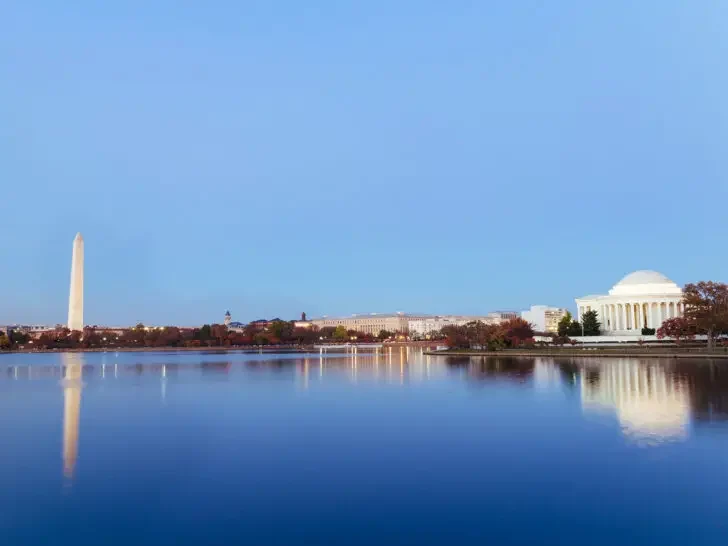 Average temp: high 59 / low 37
Washington DC, the capital of the United States is the perfect destination to visit during the Fall Season.
The temperatures remain mild and autumn colors will make most alive the surroundings! There are so many places to see in Washington DC but Capitol Hill Building and the White House are the two most prominent Places to visit in DC.
You can see the stunning fall display at the National Mall and Tidal Basin Area. The cherry blossom trees turned to vibrant fall colours at the Tidal Basin!
Your Washington DC Itinerary is incomplete without visiting the Smithsonian Museums which are free!
Spend a day exploring the National Air and Space Museum, National Museum of Natural History, and other fascinating institutions to delve into art, history, science, and culture. Do not forget to take the guided tour of the Library of Congress!
It is highly recommend visiting DC's vibrant neighborhoods like Georgetown and Dupont Circle. These areas are known for their charming architecture, local shops, cafes, and restaurants. Enjoy a leisurely stroll along tree-lined streets and soak up the autumn atmosphere.
Also, stop by National Cathedral to admire its stunning architecture.
As fall is all about the colors and outdoors, you can rent a bike and ride along the Potomac River. Or, take a boat tour along the waterfront to watch the amazing sunset colors!
If you rent the car, drive the Skyline Drive through Shenandoah National Park for the amazing fall foliage of the region! You can explore Luray Caverns and sip the wine from pretty mountain vineyards with views near DC.
Recommended by Mayuri of fernwehrahee
29. Boulder, Colorado (another favorite places to visit in November USA)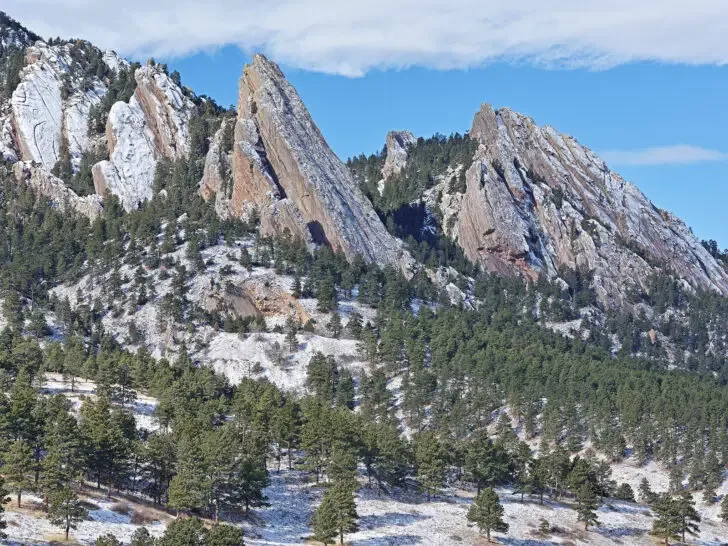 Average temp: high 55, low 29
November is a great time to visit Boulder, Colorado because you can enjoy a mix of outdoor activities.
If the weather is dry, you can hike on the trails just outside of downtown Boulder. Or, you can head up to Rocky Mountain National Park for a day of cross country skiing or snowshoeing in the mountains.
For those who like to ski and snowboard at small local resorts, Eldora Mountain is just a short drive from downtown Boulder. It's a local favorite, and it's even accessible by public transit, if needed.
When visiting Boulder in the winter, you can generally expect cooler temperatures, but snowfall isn't guaranteed.
That means you might get the chance to see locals cross country skiing through the streets of Boulder, or you could have great weather for hiking the Flatirons. No matter the weather, locals usually find a way to get outside and enjoy it.
Be sure to also squeeze in a visit to Pearl Street, Boulder's main pedestrian mall. Pearl Street has an eclectic selection of local artisan shops, restaurants, breweries, cafes, and bookstores for you to peruse.
November is the perfect month for a cozy brunch with a loved one or friends. Lucile's Creole Cafe is set in a cozy house just off of Pearl Street. It is known locally for their enormous buttermilk biscuits. You can enjoy the biscuits with homemade strawberry rhubarb jam, alongside chicory coffee and other breakfast staples.
No matter how you choose to spend your time, you'll quickly realize that Boulder is one of the best places to visit in November in the USA.
Recommended by Amber of Amber Everywhere
30. Savannah, Georgia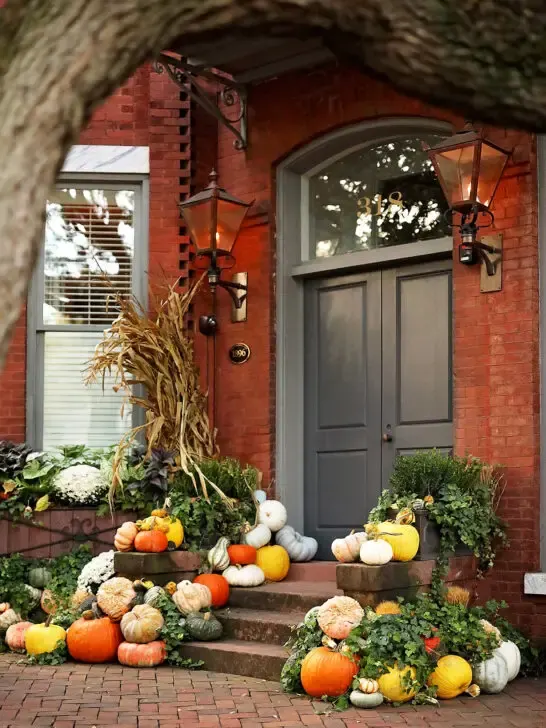 Average temp: high 70, low 48
November is easily one of the best times to visit Savannah GA. The city is less crowded then, and accommodations are more affordable compared to many other times of the year. November is also when fall color truly arrives in the city, and many of the trees in Forsyth Park begin to turn bright yellow.
Bonaventure Cemetery is one of the prettiest spots to visit in Savannah. The fall colors contrasting against the Spanish moss make the cemetery even more beautiful than usual — and perhaps a little spookier, too!
It's also fun to stroll along River Street while enjoying the festive fall décor in the storefronts. Be sure to sample seasonal treats such as caramel apples, seasoned nuts, and the world-famous pralines from River Street Sweets.
November is a fantastic time of the year to venture out on a ghost tour. Nighttime falls a little earlier then and the cool breezes stir the Spanish moss – often tricking your eye into thinking something is moving in the shadows.
Since Savannah has such a complicated history, it's important to set aside time to learn more about it during your visit.
Try touring the Owens Thomas House and Slave Quarters to learn more about the life of enslavers and the enslaved during Savannah's formative years, or head to the Ralph Mark Gilbert Civil Rights Museum to learn how African American residents staged some of the most peaceful and effective protests in the entire country during the Jim Crow era.
Once Thanksgiving arrives, local businesses begin preparing for the holiday season with fun events, light shows, and festivities. The official city Christmas tree is lit the day after Thanksgiving, and the Holiday Boat Parade ushers in Santa for the season that same weekend.
Savannah is a delight year-round, but certainly one of the best places to visit in November!
Recommended by Erin of Savannah First Timer
31. Maui, Hawaii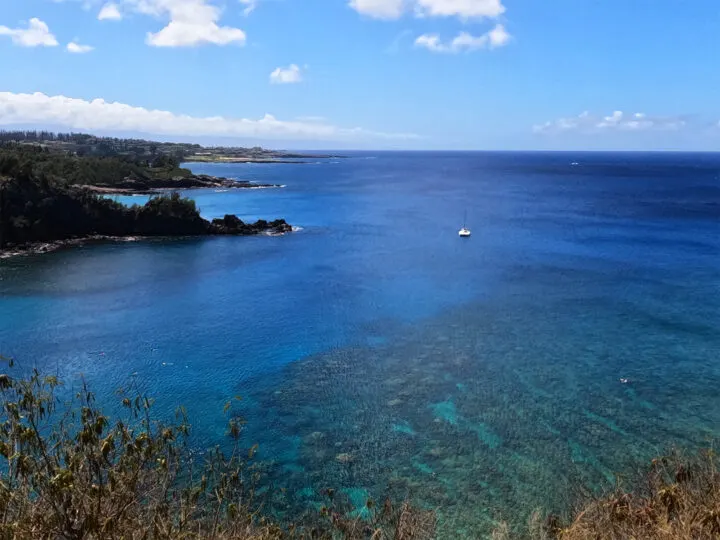 Average temp: high 82, low 70
November is a wonderful time to travel to Maui, Hawaii. It's truly one of the best warm places to visit in the US in November.
The very popular Hawaiian island is over-loved in the summer and during the winter break, making November a less crowded and more responsible time to visit. Vacationers do spike at the Thanksgiving break, so if you want a quiet time, plan outside of that time.
But if you do vacation in Maui for the holiday, you can celebrate Thanksgiving in a very unique way. Plan a feast prepared from local foods at your vacation rental, or attend a Hawaiian luau!
The weather is nicer too! With pleasant enough daytime temperatures, you don't have to look for shade all the time. Water temperatures are still pleasantly warm, so you can plan plenty of beach time!
Visiting Haleakala at sunset or sunrise is a fun thing to do, but bundle up to see the summit. If you have a nice day on the lush wetter side of Maui, plan to take in the many stops on the Road to Hana. Be sure to stop for some delicious banana bread!
Hiking the Kapalua Trail or the Waihee Ridge Trail is a must-do November activity. The land and water views are phenomenal.
Take a sunset cruise at Kaanapali, and go snorkeling at the Molokini crater or at Turtle Town, where you may be able to swim with turtles!
Recommended by Dhara of Travel Hawaii with Us
Best places to visit in November USA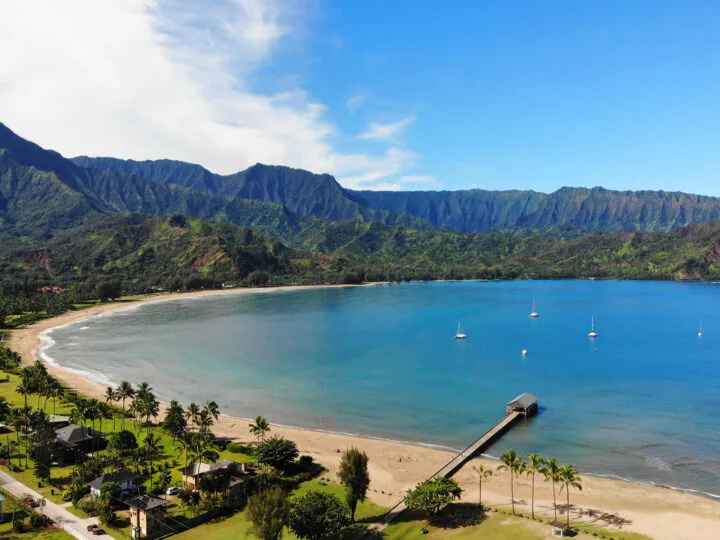 What an amazing list! Who knew there were so many amazing places to visit in November in the USA!? From beaches to mountains, deserts and lively cities, there's certainly so many options for a fun getaway.
So, have you decided where you want to go yet? Let's recap that list one more time, in a succinct fashion…
Vacation destinations and best states to visit in November
St. John, US Virgin Islands
Paso Robles, California
Leavenworth, Washington
Woodstock, Vermont
Kauai, Hawaii
Bryce Canyon National Park, Utah
Hood River, Oregon
San Antonio, Texas
Puerto Rico
Phoenix, Arizona
Catalina Island, California
New Orleans, Louisiana
Sedona, Arizona
Bayfield, Wisconsin
Portland, Oregon
Boston, Massachusetts
Big Bend National Park, Texas
Denver, Colorado
St. Augustine, Florida
New York City, New York
Asheville, North Carolina
South Padre Island, Texas
Clearwater, Florida
Indiana Dunes National Park, Indiana
Los Angeles, California
Charlottesville, Virginia
Florida Keys, Florida
Washington DC
Boulder, Colorado
Savannah, Georgia
Maui, Hawaii
Related content you might like:
26 Absolute Best (and Underrated) Fall Drives in the US You've Gotta See to Believe
32 Warm Places to Visit in December in USA (Best Spots to Escape the Cold)
26 Best National Parks to Visit in October (Amazing Spots You Need to See)
Find this post helpful? Save it for later or share it on social media!