Simply majestic. The Paradise area within the Mount Rainier National Park is the most popular area in the park, and for good reason. Epic hiking trails, waterfalls and beautiful lakes unmatched by any other area, here's your complete guide to Paradise Mt Rainier!
This post may contain affiliate links. For more info, see my disclosures.
If you have only one day to spend at Mount Rainier or a week, Paradise absolutely must be on your agenda. The best photos you've seen of Mount Rainier are likely from the Paradise area of the park because it's just that gorgeous!
Whether you're traveling solo, with your significant other, family or friends, you're going to have a great time in this national park in Washington. I'll let you in on a little secret: while there are so many things to do in Mt Rainier, the Paradise area is the best. 🙂
So let's dive in!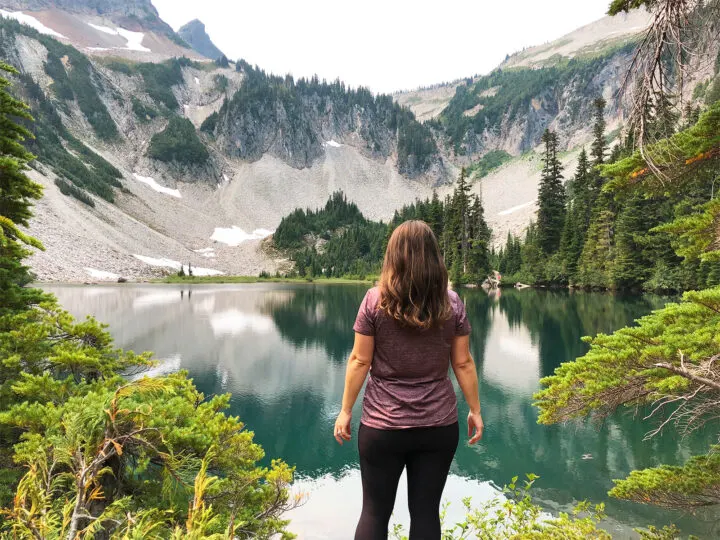 Must-see video: Paradise, Mt Rainier
Ultimate guide to Paradise Mt Rainier
This post is going to cover a lot so use it to plan your time in this beautiful park. Here's what you can expect:
Location of Paradise within the park
How to get to Paradise Mt Rainier
Paradise elevation
Average temperatures in Paradise, WA
Where to stay for easy access
Scenic drives getting there
Jackson (Paradise) Visitor Center
8 Paradise hikes Mt Rainier
Paradise Inn
Mount Rainier Webcam info
Places to eat
Other things to do in the Paradise area
What to pack for Paradise Mt Rainier
How to plan a day trip
Wintertime in Paradise
First, where is Paradise in Mount Rainier National Park?
Paradise is just to the south of Mount Rainier. It's as close to the park center as you can get.
Here's a map with markers for each area of the park – click through to see more. Paradise is the "C" or star icon.
Oh and by the way, Mount Rainier National Park is huge! It can take hours of driving to get from one side to another. Plan your time in the park wisely.
How to get to Paradise Mt Rainier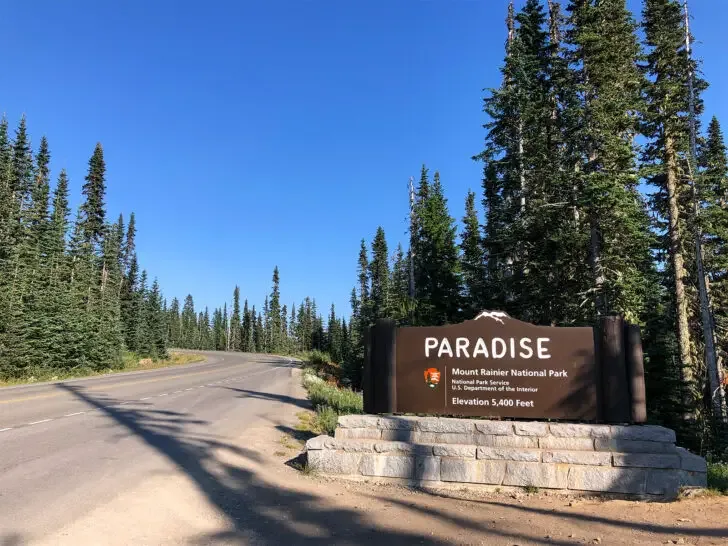 If you're looking for Paradise Mount Rainier directions, it's pretty easy to navigate to the Paradise section of the park using GPS. You could punch in Paradise, Washington or the Jackson Visitor Center in Mount Rainier National Park.
Pro tip: download an offline map of the park before you get out of cell service. There's very little in the park. And be sure to grab a park map on your way through the entrance!
Here are a few common spots you may be traveling from, and how long it will take to get to this area of the park.
Nisqually Entrance / Longmire to Paradise: 30 to 40 minutes
Stevens Canyon Entrance (AKA Ohanapecosh): 40 to 50 minutes
Seattle-Tacoma International Airport to Paradise: 2.5 hours, depending on traffic
Portland, OR to Paradise: 3 hours, depending on traffic
Paradise Mt Rainier elevation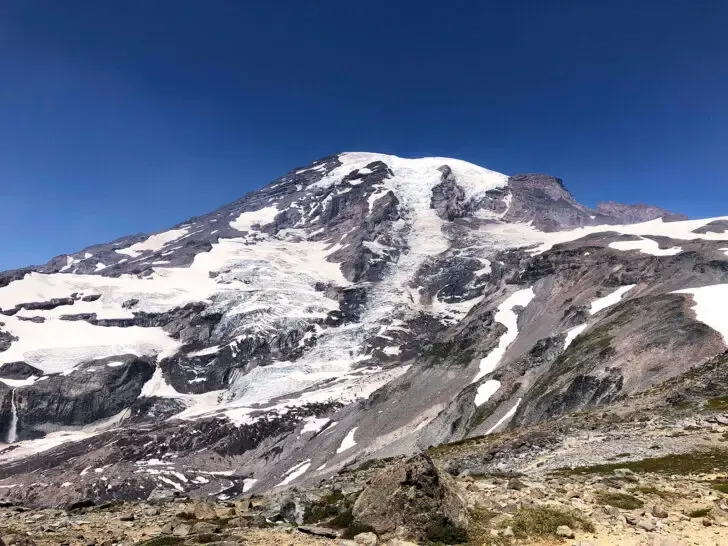 The Paradise Visitor Center, Paradise Inn and parking lot are 5,400 feet in elevation. Panorama Point in Paradise can be reached by hiking and is at 6,800 feet in elevation.
Furthermore, the High Skyline Trail at Paradise peaks at over 7,000 feet, and the Camp Muir sits at 10,188 feet!
Paradise, Washington temperatures
If you're wondering when the best time to go to Paradise in Mount Rainier NP, here's a look at the average temperatures by month. Note that these are averages… temperature can change dramatically throughout the day even.
And when you're up in that high of elevation, the sun is strong so it's warm during summer months. In winter, the winds make the 'feels like' temperature even colder. Keep these things in mind when planning your trip!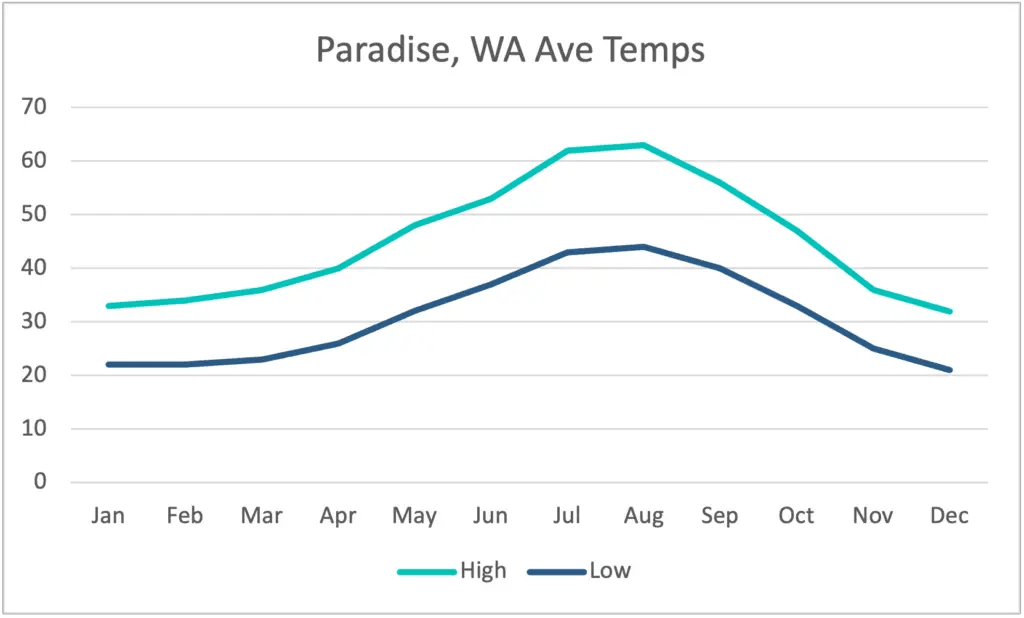 And in this day of extreme temperatures, I can safely say that 75 degrees in August, while hiking in full sun was hot! Just be prepared for any weather. A list of what to pack for Paradise Mt Rainier is below!
Where to stay for easy access to Paradise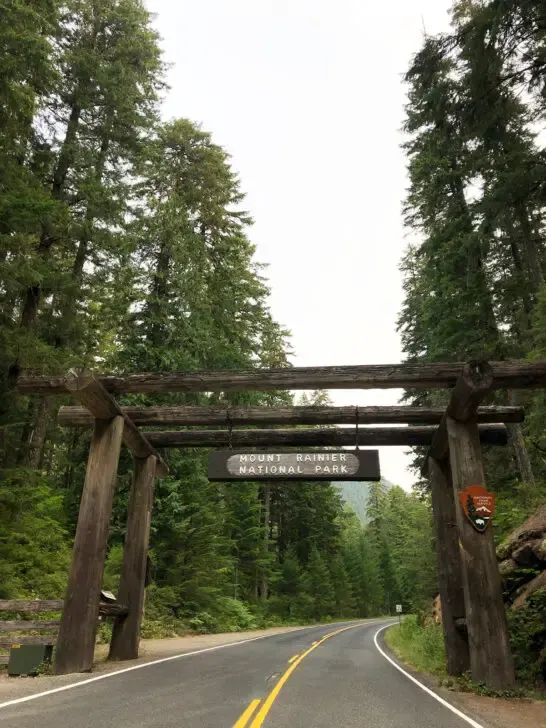 The most common entrance to the park is the Nisqually Entrance, on the southwest side of the park. Staying in Tacoma or a suburb of Seattle gets you within driving distance, but can be a little challenging if you're planning multiple days in the park.
If you want to stay close to the Nisqually Entrance/Longmire area, try the cute mountain towns of Ashford to the west, or Packwood or Cora on the southern side of the park. If entering from the Stevens Canyon entrance, you can also stay in Packwood to the south or Greenwater to the north.
Be aware these are small mountain towns with just a few services, but it definitely adds to the mountain experience! I booked our vacation rentals in Packwood and Greenwater, since there are very limited hotels close to Mt Rainier.
Alternatively, you could camp in a tent, RV or campervan throughout the park and surrounding forests. It seemed like every road we were on in close proximity to the park had converted vans with overnight tenants. So fun!
There are 4 campgrounds at Mount Rainier National Park:
Cougar Rock (southwest)
Ohanapecosh (southeast)
White River (northeast)
Mowich Lake (northwest)
Here's a detailed guide to camping in Mt Rainier.
Taking the scenic drive to Paradise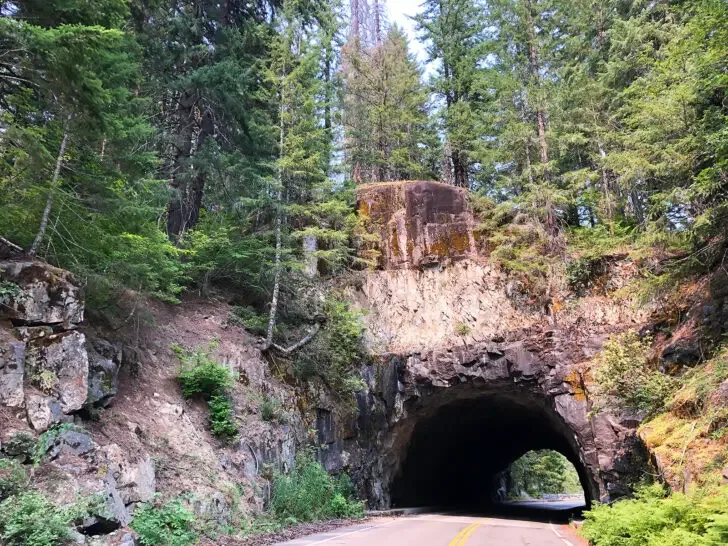 Prepare yourself! Regardless if you arrive at the park through the Nisqually or Stevens Canyon entrances, you're in for a scenic drive.
Nisqually entrance to Paradise starts off with tall tree cover that continues for several miles. After climbing in elevation, the trees open up to gorgeous views of the Cascade Range. It's beautiful!
Stevens Canyon entrance to Paradise does have some trees, but not as many and the road is actually more scenic. With tunnels and the amazing Stevens Canyon to navigate through, it's a fun drive!
Henry M. Jackson Memorial (Paradise) Visitor Center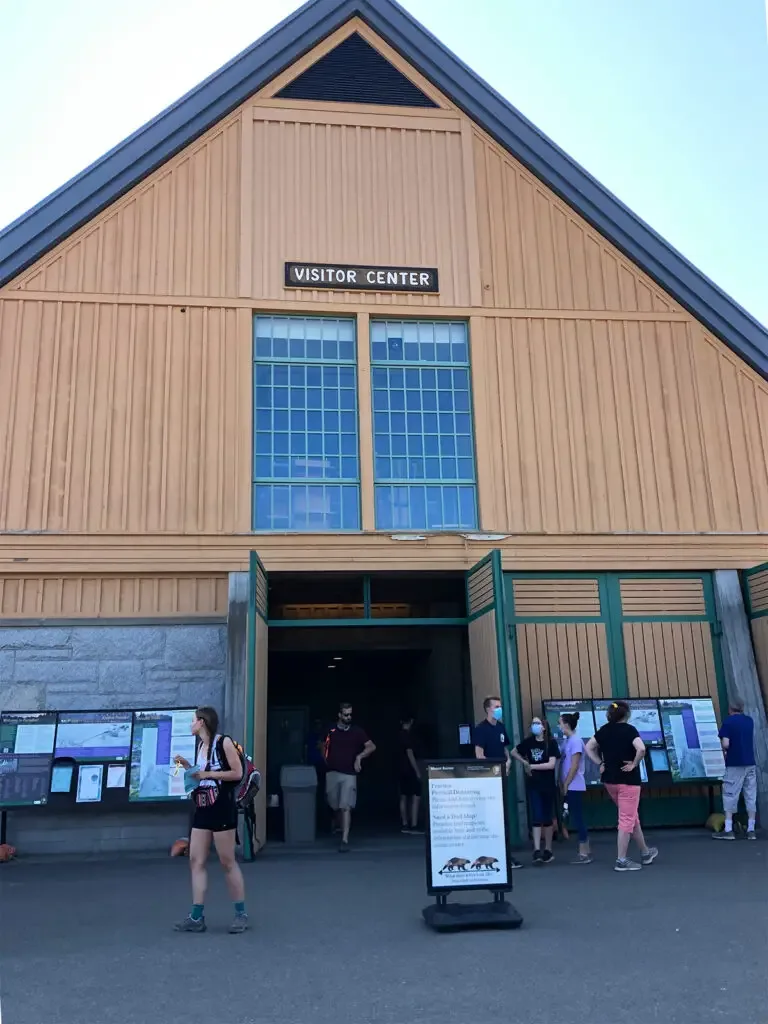 Once you get through your scenic drive, you'll arrive at the visitor center. It's the most popular Mt Rainier visitor center.
Since Paradise sees more visitors than any other area of the park, you can bet it's busy in the summer, weekends and holidays. During peak travel season, the parking lot fills up by 8am most days, so be prepared and come early.There's overflow parking that typically follows the road for another .25 miles.
At the Jackson Visitor Center, you'll find hiking trail maps and information, restrooms, souvenirs and snacks. A park movie and exhibits about the park's animals, plants and the volcano are very informative! There are a few picnic tables to sit and eat or just enjoy the view.
If you're traveling with kids and they're a part of the Junior Ranger Passport program, be sure to stop at the Paradise Visitor Center to receive their stamp!
Paradise hikes Mt Rainier
Alright, I can't take it any more! I absolutely must tell you about hiking before we get any further! After all, that's one of the main draws to the area. Here are the top 8 hikes in Paradise.
Let's start with the best of the best…
1. Skyline Trail, Paradise, Mt Rainier
Also referred to as the Paradise trail Mt Rainier, it's the trail with the best views in the park. If you only have time to do one trail, this is it! If you're in good athletic shape, I highly recommend hiking the entire 5.5 mile Skyline Trail Loop.
The trail starts at the visitor center, loops around to Panorama Point, past amazing waterfalls, fields of wildflowers and pretty much anything else dreams are made of. Seriously. You're practically so close to Mt. Rainier that you can kiss it!
Okay, in all serious, the National Park Service rates it as a strenuous trail. I'd say it's moderately strenuous, in that gray area between a moderate and difficult hike. It takes an average of 4.5 hours to complete too, so it's not a commitment to take lightly.
If you want to hike this trail, be sure to come prepared with the proper gear, shoes and enough water. Here's a complete guide to Skyline Trail Mt Rainier to help you plan your adventure.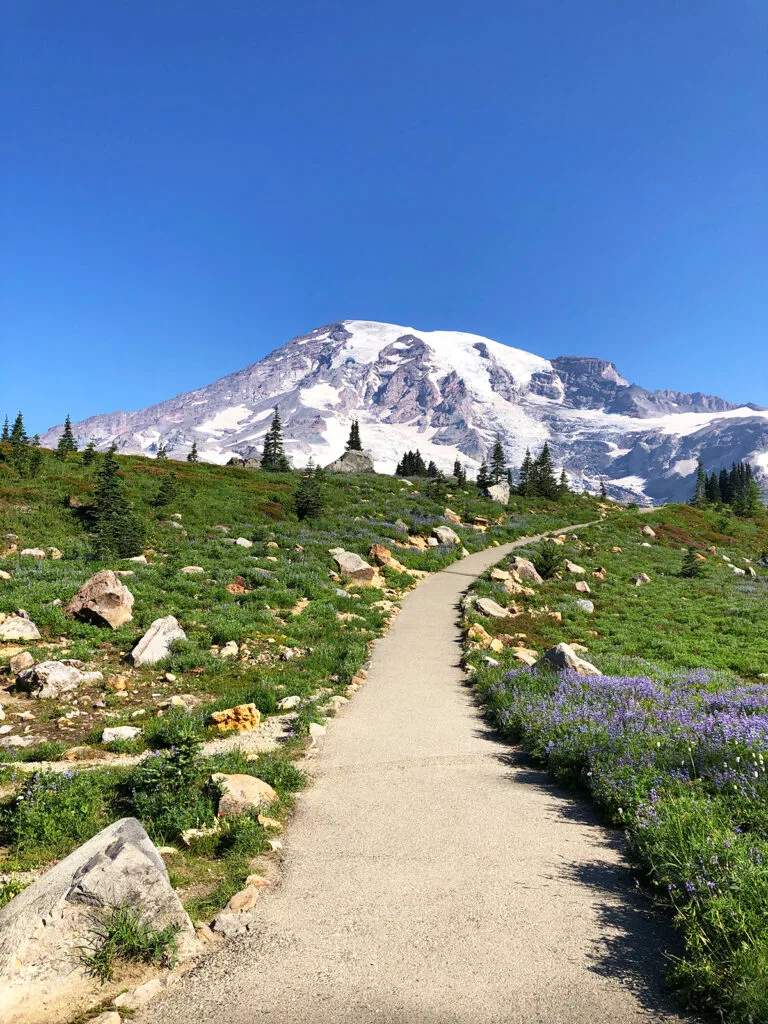 There's so much more! Let's keep going with hikes. After all, it's one of the main things to do in the park.
2. Nisqually Vista Trail
If you're looking for an easy trail, this is the one for you! The Nisqually Vista trail is 1.1 miles and fully paved. There are a few steep inclines, but overall it's on the easier side rather than moderate. This trail offers excellent views of Mount Rainier and the Nisqually Glacier.
Perhaps the best part of the Nisqually Vista Trail in Paradise is the wildflowers during the peak of summer. With the full color of the rainbow coming out to play, the trail is simply stunning!
Pro tip: once you get to the loop, walk it clockwise. That way the best lookouts are more toward the end of the loop, which is motivating to keep going.
3. Alta Vista Trail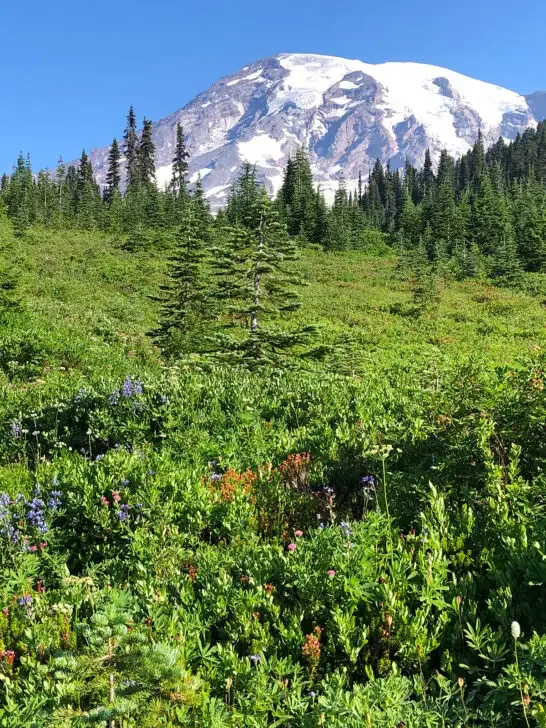 This Paradise hiking trail is one awesome trail, full of adventure. The Alta Vista Trail is in the heart of Paradise and with stunning views of the mountain and wildflower meadows, this is one of the best hikes in Mt Rainier.
Coming in at 1.8 miles, it's definitely rated as moderate, and the kind of trail that will get your thighs burning and your heart racing. The trail is intermingled with the Skyline trail, and you can add extra sections or cut over to the Skyline Tail as you choose.
Pro tip: at the end of the Alta Vista trail, if you're up for even better views, keep right and continue on the path to Skyline Trail. Hike another .3 miles and you'll see a sign for Deadhorse Creek Trail. That will take you closer to Mt Rainier with even more spectacular views. Loop back down from there to the trailhead.
4. Skyline Trail to Myrtle Falls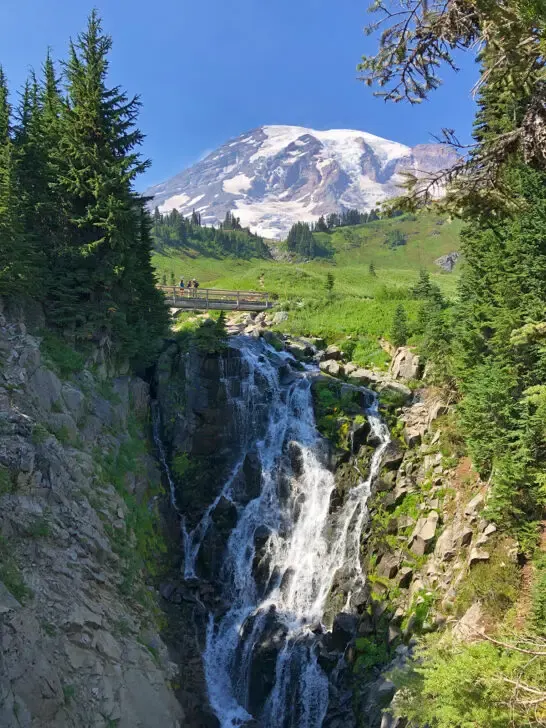 While still technically part of Skyline Trail, this quick up-and-back 1.0 mile trail is one of the easiest in the park, and offers stunning views! It's paved so it's the perfect trail for strollers, wheelchairs or young kids.
The trail is somewhat steep, and it's at high altitude. But take breaks as needed and its doable for most.
The feature is the gorgeous Myrtle Falls. This 72-foot waterfall will light up all your senses as you marvel in awe at it's beauty!
5. Pinnacle Peak Trail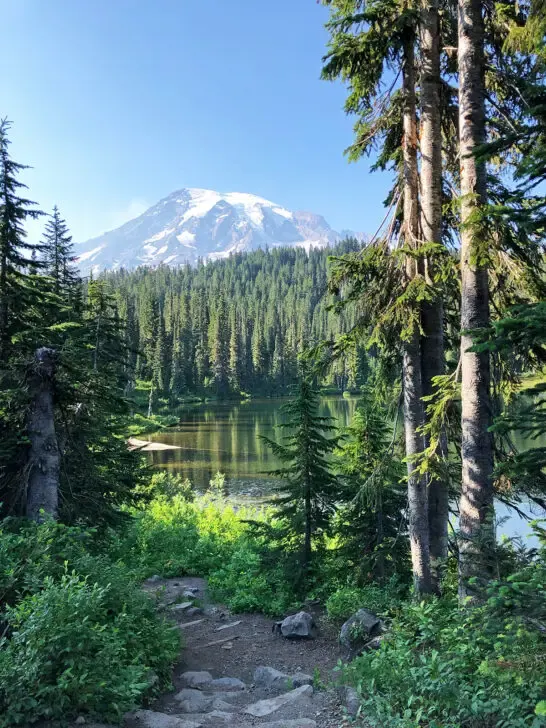 For spectacular lake and mountain views, look no further than Pinnacle Peak Trail. The trailhead is located at the gorgeous Reflection Lakes and once you leave the lake, you'll start to climb up, up, up!
Pinnacle Peak Trail is on the difficult side of moderate, as you'll ascend almost 1500 feet in 1.4 miles. It's an out and back trail, with rewarding views at the top. You'll see Reflection Lakes, Louise Lake (which is stunning!) and Pinnacle Glacier, not to mention Mt. Rainier.
Pro tip: be sure to take bug spray, hiking boots with good ankle support and trekking poles. This trail is mostly rock so use caution while hiking…and enjoy those views!
6. Comet Falls
One of the most popular waterfalls in Mount Rainier National Park, Comet Falls is a 462-foot waterfall just begging to be seen! Oh and bonus: you'll get to see Christine Falls on the way to Comet Falls.
At 3.8 miles and elevation gain of 900 feet, it's a strenuous, steep trail that sharply descends from the trailhead. But the reward? Amazing views of Comet Falls!
Pro tip: parking at this trailhead is limited and fills up quickly. Get an early start to your day or expect to do 'plan B' as needed.
7. Bench and Snow Lake Trail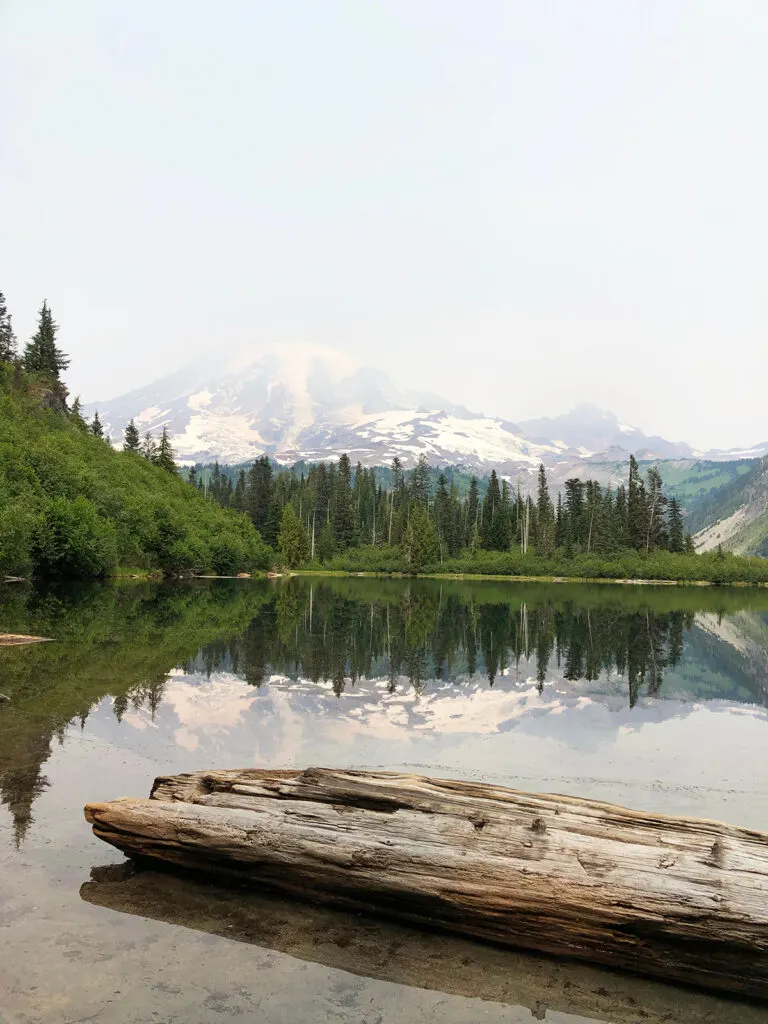 This is one of my very favorite hikes in Mt Rainier! And it's proof that there's more to see at Mount Rainier National Park than it's famous mountain!
Coming in at 2.2 miles round trip, this trail is located just east of the Paradise area, but still in the south-central part of the park. The Bench and Snow Lake Trail is rated at moderate, and it's just a fun hike. The trail weaves in and out of the trees, providing peek-a-boo scenes throughout.
The highlight of this trail are the gorgeous Bench Lake and Snow Lake. Take a picnic to Snow Lake – it's a perfect spot to enjoy the views! But be sure to pack bug spray – the mosquitos in this area are intense!
8. High Lakes Loop Trail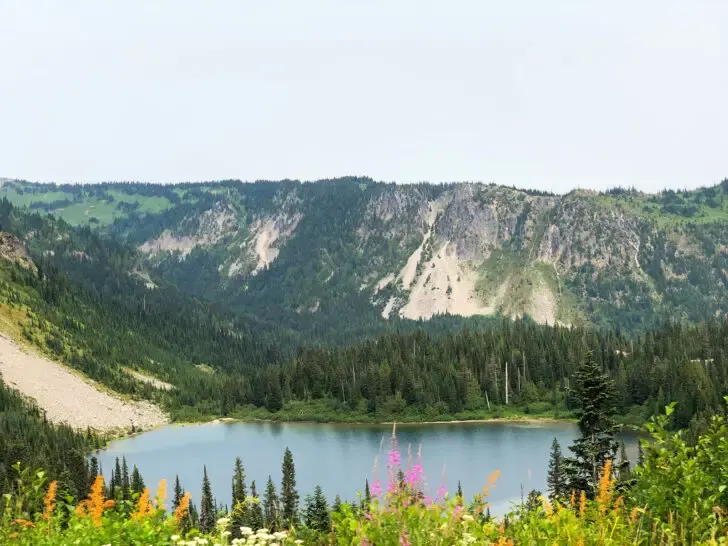 One of the most underrated Paradise hikes Mt Rainier, this 3.2 mile hike is a moderately strenuous trail. It's feature is the gorgeous Louise Lake.
One of the fun parts of hiking this trail is the uphill portions followed by downhill then back uphill again. With a variety of terrain, you feel like it's a new trail over and over again.
Pro tip: this trail typically sees snow until late July. Be prepared with the right gear, trekking poles and download a trail map beforehand.
I also always carry a portable power bank when hiking and using my phone a lot (like looking at a trail map!) That way your phone doesn't die and you don't get lost on the trail.
More of Paradise Mt Rainier
Okay, it's pretty obvious by now there are some amazing hiking trails in the area! Let's get back to more things to see and do in the most popular section of the park.
Paradise Inn, Mount Rainier National Park
Located in the heart of Paradise and near the Jackson Visitor Center is the iconic Paradise Inn. Since 1917, the Paradise Inn has welcomed visitors looking for an up close and personal view of the mountain.
Surrounded by wildflower meadows and with direct access to the Skyline Trail, Paradise Inn is the perfect spot to stay in Paradise – if you can snag a spot! Although basic accommodations, the hotel sells out really quickly. Check availability here.
Mt Rainier Webcam
While planning your trip, be sure to check out Mount Rainier webcams for inspiration! Once you're in the area, you can take a look at the webcams to see the weather on the mountain, if parking lots are full, etc.
The National Park Service has installed handy webcams in 5 areas of the park: Longmire, Paradise, Sunrise and at the high altitude camps of Muir and Schurman.
View Mount Rainier webcam here
Places to eat in Paradise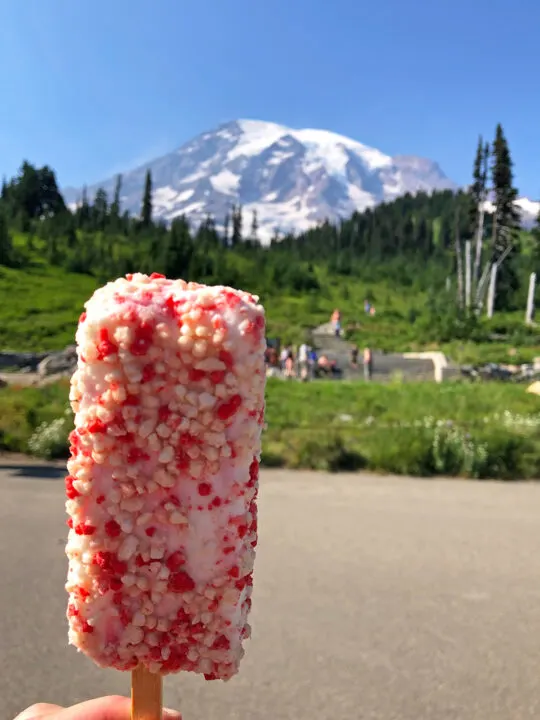 Well, I'll be honest with you, this is a short list!
National parks typically don't have a lot of food options, but there are a few within Mount Rainier. Because restaurant operations and food availability varies greatly, I'd highly recommend to bring food into the park with you.
There are typically 3 food options in Mount Rainier Paradise:
Camp Deli at the Jackson Visitor Center
Paradise Inn Dining Hall at the Paradise Inn
Tatoosh Cafe in the Paradise lobby
Check out hours and availability here.
More things to do in Paradise Mt Rainier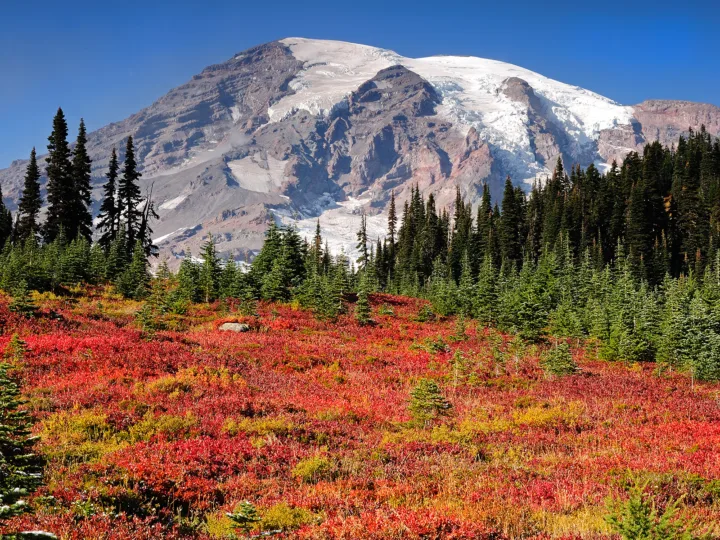 Still wanting more? There's simply so much to see in this area of Mount Rainier National Park. You could seriously spend days exploring (which is exactly what I did 😉).
Let's keep going!
Drive the scenic Valley Road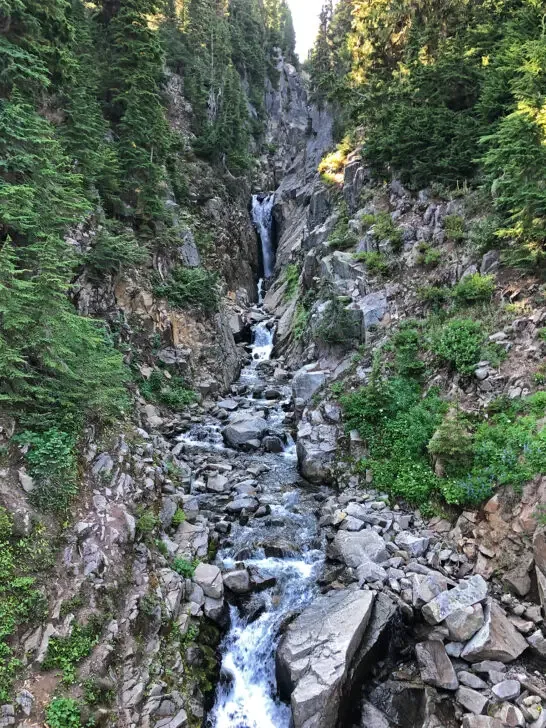 After leaving the Paradise Inn and Jackson Visitor Center, you can head back down the mountain to the west, towards Longmire. Or you can take the cool scenic route on a one-way road out. The road meets back up with Paradise Road (to the west) or Stevens Canyon Road (to the east).
You'll see the lower part of Myrtle Falls, AKA Edith Gorge Falls along the route. Furthermore, beautiful valley views entice you as you descend from the Paradise area of the park.
Inspiration Point Mount Rainier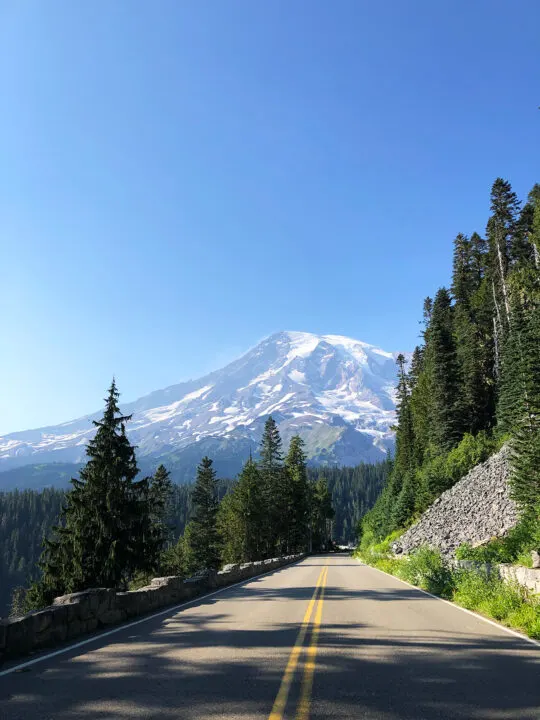 If driving from east to west toward Paradise, you'll pop around the curve and see the majestic mountain straight ahead. There's a pull out to stop by and soak in the views.
This is Inspiration Point! Panoramic views of the valley are incredible and the mountain, shining in all it's glory seems lit up from here.
Visit Reflection Lakes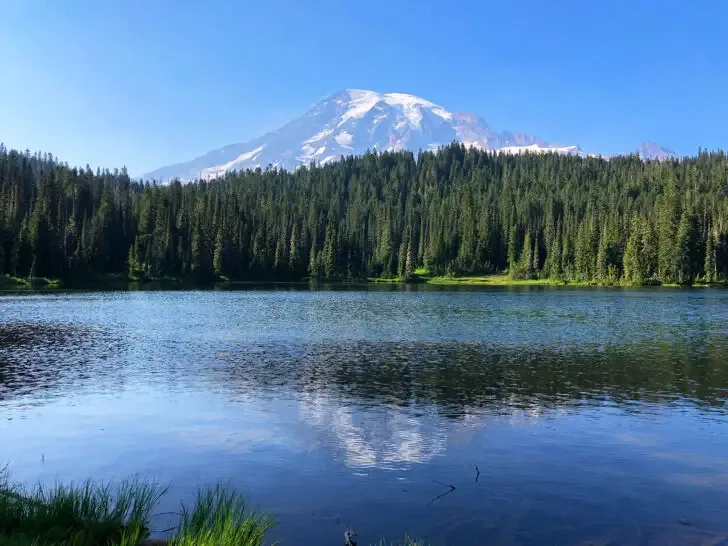 As you hop back onto Stevens Canyon Road toward the east, the first major stop is Reflection Lakes. A series of lakes that often cast a perfect reflection of Mount Rainier, this is a sight to see!
There's one large lake that's the typical stopping point. The parking lot has quite a bit of space, and each time I've been in the area there has been open parking since it doesn't take long to see it.
There's a very short trail to walk to the shoreline of the lake. Or you can see it from the sidewalk by the parking lot, too.
Pro tip: Try the early morning or evening for the best reflections. The reflections are best on calm, clear days.
See Narada Falls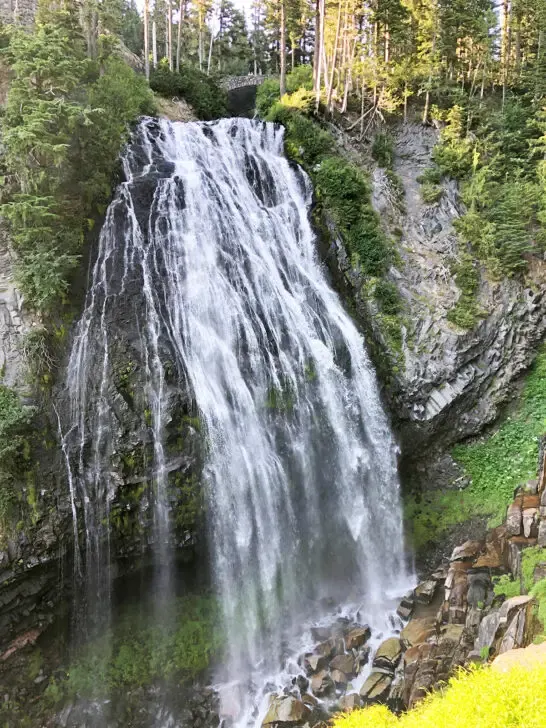 It's the kind of waterfall that will take your breath away. Quite literally when you see it…but also while hiking back up the steep .1 mile trail!
Soak in the beautiful wildflowers at the base of the falls and watch in wonder as water gushes from this beautiful scene.
There's a decent sized parking lot so no need to worry about hurrying here and bonus – restrooms are nearby too!
Check out Christine Falls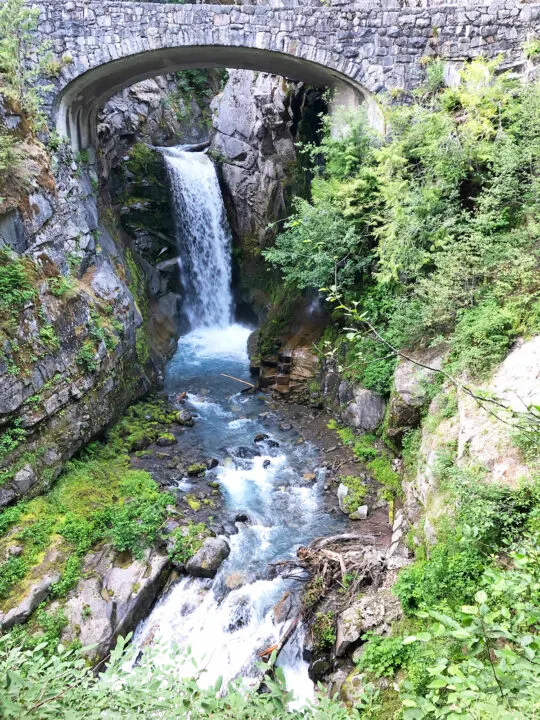 Between the Longmire and Paradise areas lies Christine Falls. This roadside stop is a beauty!
One of the most accessible waterfalls in all of Mount Rainier National Park, Christine Falls is in a picturesque setting. I mean, don't you love an arched bridge over a waterfall? It's just so pretty!
You can see the falls from the road. Or there's only a few steps that will give you a closer look. #worthit
What to pack for Paradise Mt Rainier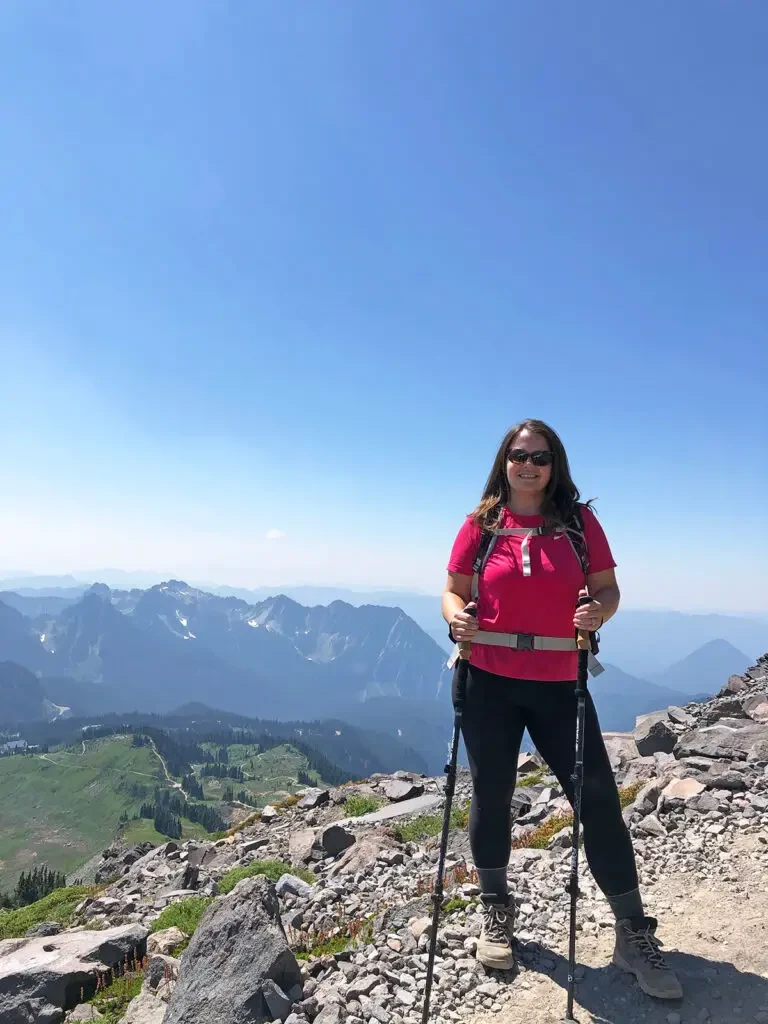 Guyyyysss this is so critical to get right. There are very limited services in the park so be sure you're prepared with enough food, water and the right gear!
Check out the full guide to what to pack for day hikes. Here are a few things specific to this park you'll need:
Bear spray. Unless you plan on staying with your vehicle the whole time, you need bear spray. Buy it local if you're flying in, or order bear spray online if you're road tripping to the park.

Good hiking boots with traction. If you plan to step foot on any of the hiking trails in Paradise, you need the proper footwear. Support your ankles on these crazy inclines! Here are my favorite hiking boots I wear to pretty much every national park.

Hiking backpack. Good ones take the pressure off your back and if fit right, they seem like you're not carrying anything at all. My favorite day hiking pack is the Osprey Sirrus 24, which I wore on these trails and many others, like Calico Tanks Trail near Las Vegas, many hikes on my Colorado bucket list and Delicate Arch trail.
Hiking poles. These trails are steep and using poles helps with balance and to distribute the effort among your body as you hike. I love these trekking poles and they're perfect for traveling, too.

Water, snacks and food. Better too much than not enough (learned from experience 😬) Consider how much you'll need based on how many hours you'll be in the park. Then add more!
Sun gear and rain gear. The sun is powerful at this altitude – plan accordingly! And prepare for rain too. You just never know on this mountain! This is the rain jacket I took with me to Mt Rainier and it worked out perfectly!

Bug spray. If you're planning to do any hiking, this is a must. It's especially important near Reflection Lakes, Bench Lake and Snow Lake. This is the bug spray I wore and it worked phenomenally.

Layers. You can check the weather before you go, but sun, rain, wind and activity all factor in to what clothing you'll be most comfortable in. Plan accordingly!
Plan a day trip to Paradise Mt Rainier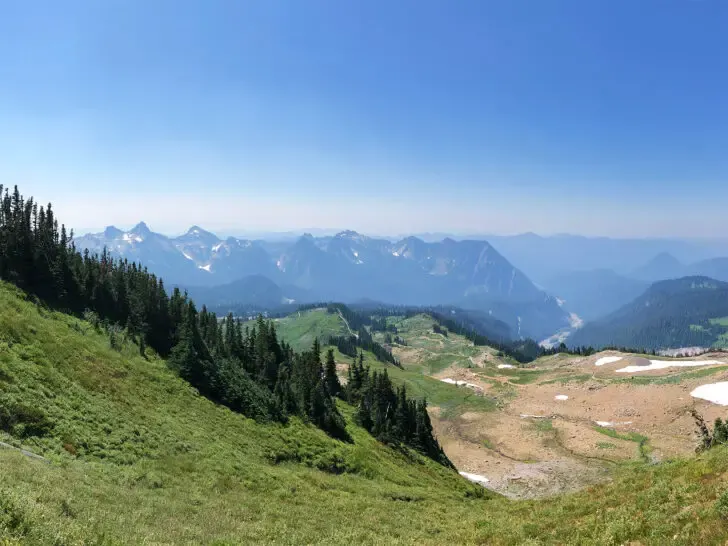 ttle or Tacoma and can get an early start to your day!
One day in Paradise itinerary
Arrive at Jackson Visitor Center by 8am (enter through Nisqually entrance)
8:00 – 10:00 hike the Skyline Trail to Myrtle Falls and back (1 mile), the Nisqually Vista Trail (1.1 miles) or the Alta Vista Trail (1.8 miles)
10:00 – 11:00 Visitor Center, restrooms and scenic drive to Reflection Lakes
11:00 – 12:00 picnic and hang out at Reflection Lakes
12:00 – 2:00 hike the Bench and Snow Lakes trail (2.2 miles)
2:00-4:00 chase waterfalls and scenic overlooks as you exit the park (via the Nisqually exit / Longmire area)
This timeline has left plenty of room for extra photo opportunities. And since you're making it back to Seattle at a decent hour, you'll be able to clean up and have dinner.
If you're starving on the way out of the park, try stopping in Enumclaw. They have the cutest downtown area with some delicious food!
Wintertime in Paradise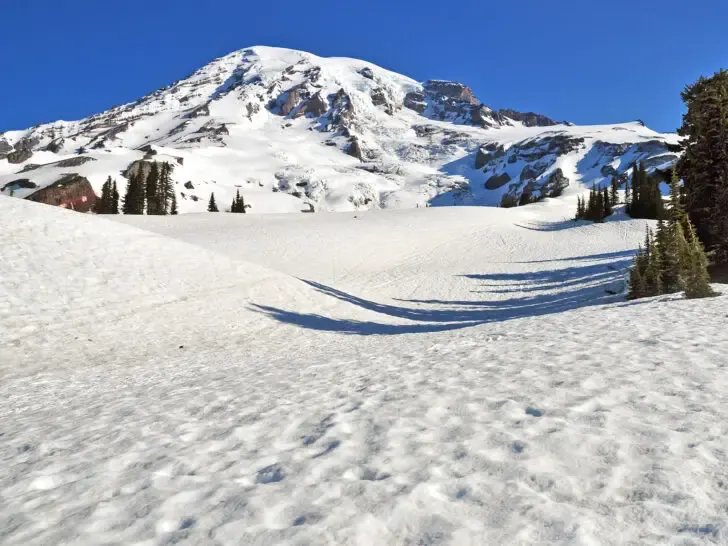 The great news is that Paradise in Mt Rainier is one of the only places open in the park in the winter. The southeast entrance (Stevens Canyon / Ohanapecosh) closes for the winter, so Paradise is only accessible through the southwest (Nisqually) entrance.
Note: the road in and out of the park closes at night during the winter, so plan accordingly! Check park road status here.
You've gotta love the snow if you're planning to visit Paradise Mt Rainier during winter. With an average of 639 inches of snow annually, the whole area is covered in snow for 8-9 months of the year!
Winter activities at Mount Rainier Paradise
Snowshoeing (including Ranger-guided walks)
Cross-country sking
Sledding
Skiing
Snowboarding
The best snow activities are December through mid-March, when the snow is at it's finest. In addition, because of the delicate ecosystem of the meadows and park, packed snow is required in order to preserve the environment. Once the snow starts melting, stick to the trails!
Use caution when visiting in the winter. There are certain areas of Paradise that have avalanche zones, so sled only in the official Snowplay Area. More info here.
Paradise Mt Rainier (a recap)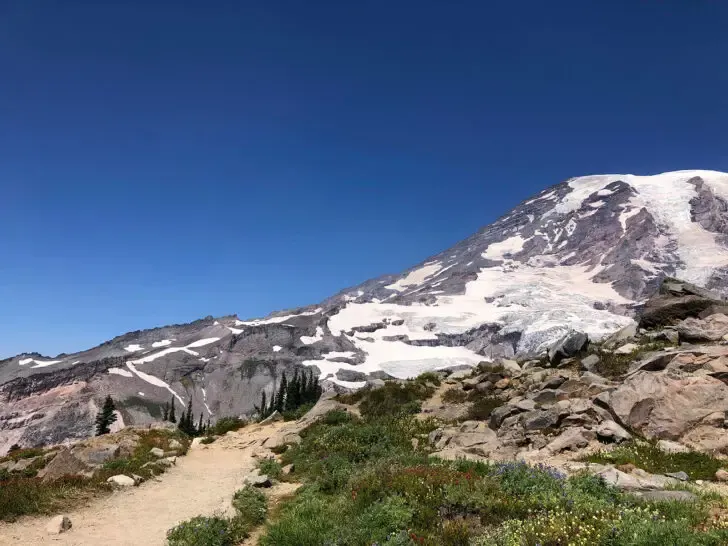 What an incredible park, right? The Paradise area in Mt Rainier is majestic and bold. Crowds flock to this area in the summer months for incredible hiking and wildflowers. Yet in the winter, it's just as gorgeous under a white blanket of snow, perfect for enjoying the fresh powder.
Now that you've seen all there is to know about Mount Rainier Paradise, are you ready to get there? It's a fun place to explore. Happy travels!
Related content to read next:
22 Incredibly Fun Things to Do in Mt Rainier You Can't Miss
Skyline Trail Mt Rainier: Ultimate Guide to this Epic Hike
Bench and Snow Lake Trail: Underrated Mt Rainier Hike You Can't Miss
22 Best Hikes in Mt Rainier: Cool Trails You'll Love
Find this post helpful? Save this for later or share it on social media!