This is it! One of the most beautiful places on the planet! Banff is literally jaw-dropping, and with so many things to do during summertime, it's a fabulous time to visit and enjoy the outdoors. Here's your guide to everything you need to know about a Banff summer.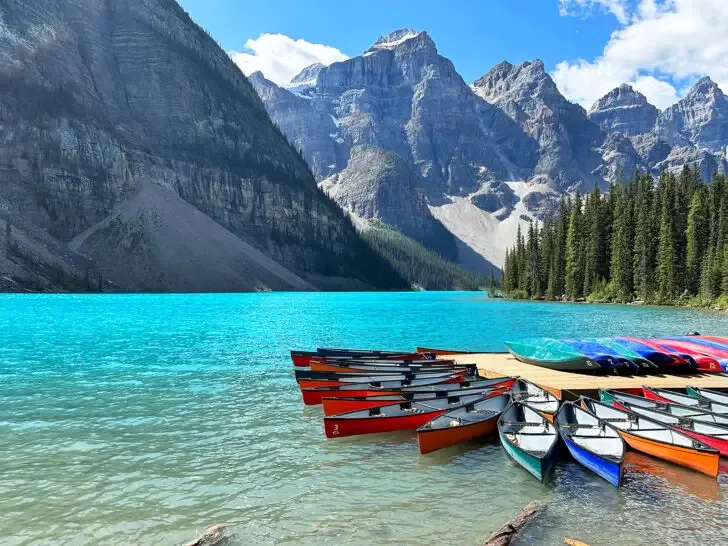 This post may contain affiliate links. For more info, see my disclosures.
The gorgeous lakes leave you speechless as you bounce from spot to spot that's so picture-perfect, it truly looks unreal. Only to be topped off by beautiful waterfalls, gushing rivers and abundant wildlife.🤯
Banff, Alberta is a popular destination year-round. With stunning mountain peaks of the Canadian Rockies drawing visitors in during the winter season for skiing, ice skating and snowshoeing (just to name a few), it's hard to believe it's also quite the summertime destination.
But truth be told – this place really comes alive during a Banff summer!
It reminds me of visiting and hiking in Glacier National Park in the summer – so perfect!
If you're spending a week in Banff or you're making it part of your Canadian Rockies itinerary, there's plenty of things to do in Banff in summer.
Must-see video: A Banff Summer
Why visit Banff in summer?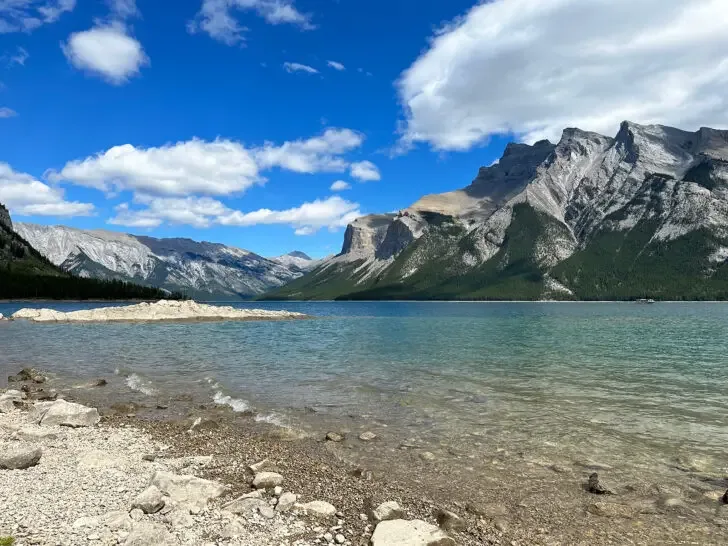 Before we go into all the best Banff activities in summer, let's go over why this is a great time to visit Banff National Park.
Although snow does happen in June, it's typically mostly melted and the roads are cleared. During a Banff summer, you're able to bike or get around relatively easily with your personal vehicle, or Roam, Banff's awesome public transportation system.
Of course, the nicer weather draws in the crowds. But with some proper planning, you can minimize the impact on your trip. More tips on that below!
Banff summer average temperatures:
June temps: 18C / 5C (65F / 41F)
July temps: 22C / 7C (73F / 45F)
August temps: 22C / 6C (72F / 44F)
Of course, this varies based on region. And if you're heading to a lake, take layers because the wind coming off the glacier lakes is very cold!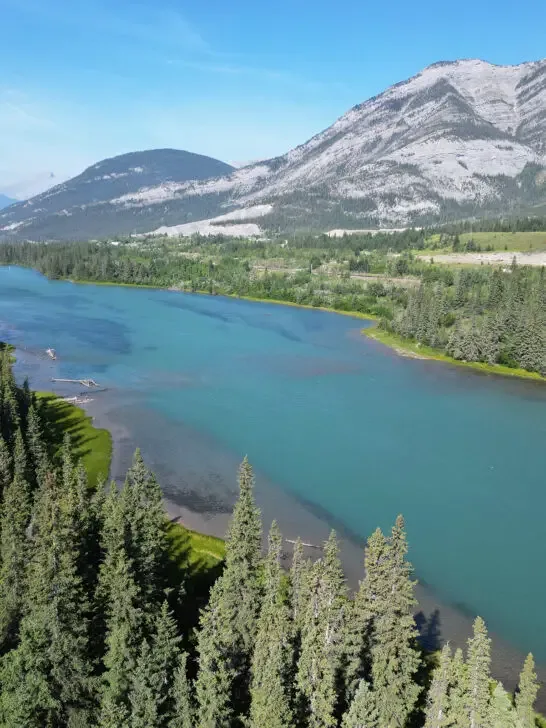 Honestly, Banff looks like a painting, or a screensaver. And in the summertime, the weather is typically nice enough to enjoy it comfortably!
The negative to visiting Banff in summer is that it's fairly crowded. Everyone wants to see this beautiful mountain town in it's shining moment! That means high pricing for accommodations, more crowds and longer lines for some activities.
Tips for enjoying summer in Banff, Alberta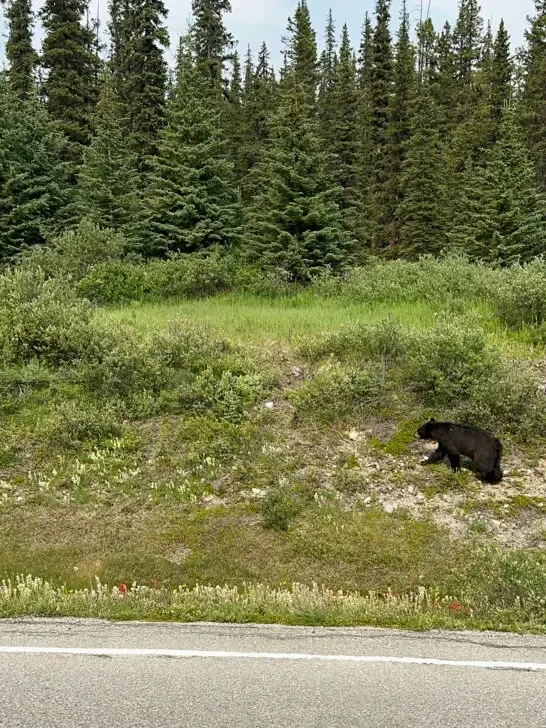 Gah!! You're going to love this beautiful place. Here are some top tips for enjoying summer in Banff!
Make reservations as far in advance as possible. Because Banff in summer is amazing, it books up quickly. This is important for accommodations but also activities, especially if you're only spending a few days in Banff and you have limited flexibility. Stay in Canmore, just outside of Banff National Park by 20 minutes is an alternative if you can't find a place to stay inside Banff.

A national parks pass is required for Banff. Each person, each day needs to be covered. Buy your Canada Parks pass in advance or when you arrive.
Parking lots fill quickly. Getting up early will help you secure a spot in most parking lots. Later in the day, it will take a bit of luck! There's also so many shuttle and public bus options for many of the spots on this guide.

View wildlife from a safe distance. Watch for signs in the park, but basically that's 3 bus lengths for deer, elk and moose and 10 bus lengths for coyotes, wolves and bears.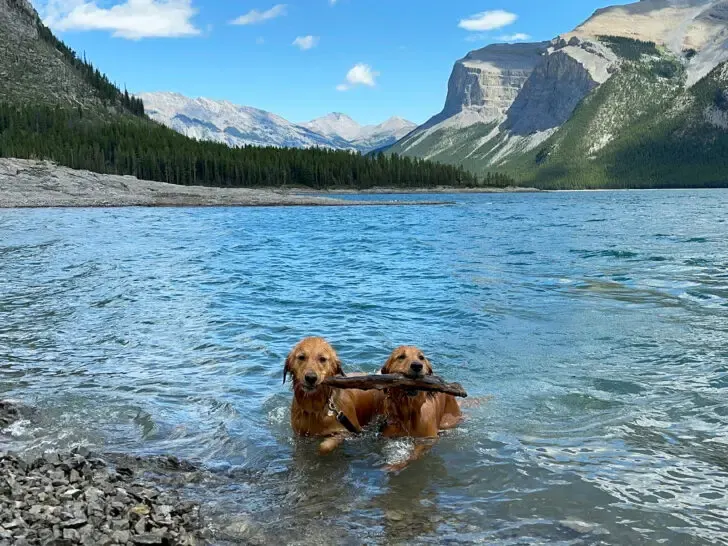 Carry bear spray with you at all times. While hiking, biking or heading to a viewpoint, be bear aware. Even in crowded areas, bears have been known to wander. Each adult should carry bear spray with them at all times while in Banff.
Respect local fire restrictions. Wildfires are no joke. Watch for posted signs about campfires or cooking devices while in Banff National Park.

Banff is dog-friendly! Most hiking trails allow well-behaved dogs on a leash. Please be mindful of others and pick up after your dog every time.

Expect crowds. Already mentioned, but it can be impactful. Plan ahead, have patience, and above all else – be kind.
What to pack for Banff summer vacation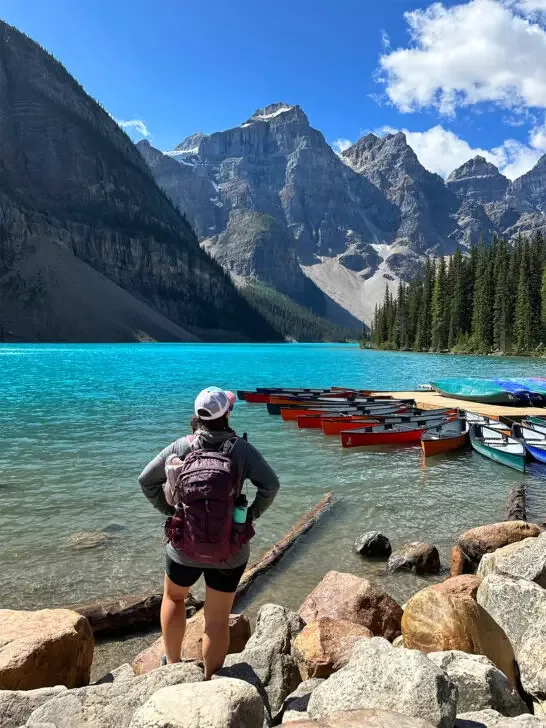 Before we get into what to do in Banff in summer, let's go over what to pack. It can make or break your trip so be prepared!
Bear spray! This is the #1 thing you'll need for safety in Banff and the Canadian Rockies. If you're driving, you can bring it with you. Bear spray isn't allowed on planes, so buy some in town before venturing off to a hiking trail, scenic drive, campground or overlook.

Layers! This is key! Although it's summertime, mornings and evenings are cold and the weather can fluctuate. When visiting glacial lakes, the wind coming off the lake can be really brisk! Pack breathable layers, windbreaker jackets and even a medium coat, gloves and a hat for the summer.

Hiking gear. Some of the best views in Banff are on the trail, so grab your hiking shoes and hiking socks, trekking poles and hiking backpack and the other 10 essentials and hit the trail!
Sun protection. The sun is powerful in the Rockies! Use a hat, sunscreen and layers to protect yourself. Note to always use mineral sunscreen when recreating outdoors near waterways. Chemicals in traditional sunscreen can kill lake and marine life – mineral sunscreen protects us and the environment.

Water shoes. Many of the lake shores are rocky and not comfortable for bare feet. Use a clip to attach your water shoes to your hiking backpack and swap them out when you get to a lake. These are the water shoes I take with me on hikes like Grinnell Glacier Trail in Glacier National Park, during my 2 weeks in Greece and pretty much every destination. So versatile!
Reusable water bottle or hydration system. Whether you're walking the streets of town or on a trail, be kind to the earth and take a reusable water bottle instead of single use plastic. These are my family's favorite brand of water bottles and this is the hydration bladder my husband uses in his backpack while hiking.

GoPro. Take excellent road trip and water footage without worrying if your phone will get wet or has enough battery. This GoPro goes with me everywhere, and even took some of the photos and videos in this Banff summer itinerary!

Satellite communicator. There's not much service in the national park, and calling for help in case of emergencies isn't always possible with a cell phone. This Garmin InReach Mini comes with me on all my hiking adventures and national park road trips. It allows for 2-way communication when there's no cell phone service.
Map of Banff summer activities
Banff, Alberta is in the Rocky Mountains, just 1.5 hours from Calgary and 3 hours south of Jasper. It just barely kisses British Columbia, so it's in the western part of Alberta.
If you're a visual person like me, this map will help you plan your time in Banff!
📍Banff National Park is located within Treaty 6, 7 and 8 First Nations and the Métis Homeland. It was original to many indigenous peoples, including but not limited to Siksika, (Blackfoot), Kainai (Blood), Tsuu T'ina, Piikani (Peigan), and the Stoney Nakoda Nations of Chiniki, Bearspaw and Goodstoney. Learn more about this important history and current relationship with the park. Be respectful and celebrate the origins of this land and treat it kindly.
Best things to do in Banff in summer
There's so many Banff National Park summer activities that no matter your vacation style, you'll find as much relaxation or adventure as you desire!
Truly a destination you can make your own, there are a lot of physical activities on this list, but you can really do whatever makes your heart content in this beautiful national park.
Let's dive in!
1. Moraine Lake (these Banff summer views are the best!)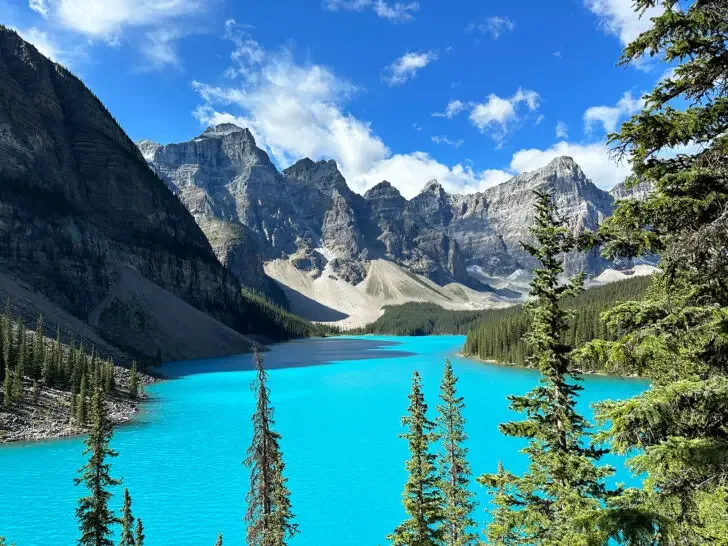 Moraine Lake is the shining star of Banff, and deserves every ounce of that recognition. It's the top of this Banff in summer list for a good reason!
It's the kind of place that's so stunning, it's hard to believe it exists. Kind of like hiking the Kalalau Trail on the NaPali Coast in Kauai or taking a long tail boat tour in the Phi Phi Islands in Thailand – it's hard to believe it's real!
The bright teal water of Lake Moraine really shines in the summer sun. This incredibly vivid scene takes your breath away, in the best way possible! It's a must-do on your Banff things to do in summer list!
Now, ready for the not-so-good news? You'll have to make a reservation to see Moraine Lake. This timed entry system is necessary to protect the lake and the effects of over tourism.
From June to October, you'll need a timed entry reservation for Lake Moraine as they no longer allow personal vehicles (except handicapped accessible vehicles). Permits are available in the spring (April) and they sell out extremely fast. More reservations are available 2 days before on a rolling basis during the summertime.
If you don't have tickets, you can always hike or bike in. It's 12km (7.4 mi) each way – plus the trek from your parking spot from Lake Louise Village. This 'trail' is considered difficult.
Alternatively, you can book a tour that includes Moraine Lake!
With advanced planning and a little luck, this once-in-a-lifetime view is 100% worth the effort!!
2. Drive Icefields Parkway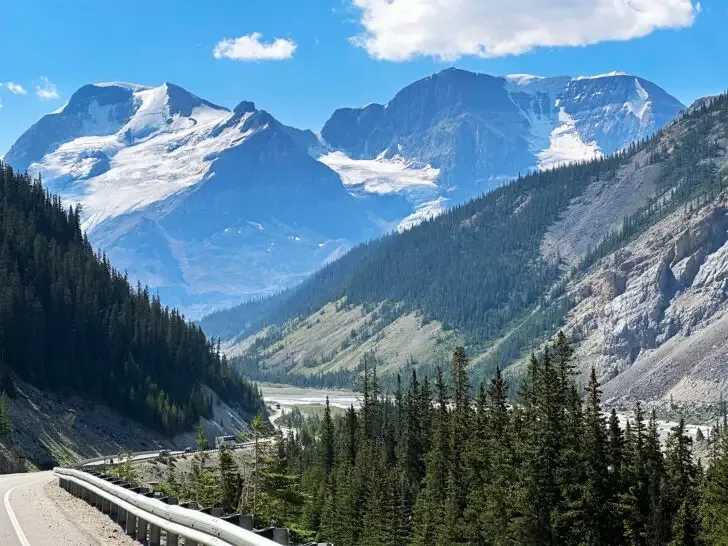 Wildly famous for good reason, and one of the best activites for those traveling to Banff during the summer is to take the Banff to Jasper drive up Highway 93, AKA the Icefields Parkway.
This stunning adventure connects the towns of Banff and Jasper. The start of Icefields Parkway is technically at the town of Lake Louise, and is is 230 km (143 mi) long.
You'll drive through one of the most scenic roads in North America, home to the best views of the Canadian Rockies. See glacially fed rivers, lakes, waterfalls and more. It's truly a stunning drive and worthy of your time.
The full drive takes 3 hours from Banff to Jasper. With so many amazing stops along the way, it's hard (but not impossible) to go out and back and squeeze it all in during a single day.
Here are the must-see's, with a few of the activities taking place further on this Banff in summer things to do list!
Icefields Parkway highlights
Bow Lake Viewpoint
Peyto Lake
Mistaya Canyon
Athabasca Glacier at Icefield Centre
Columbia Icefield Skywalk
Tangle Creek, Sunwapta and Athabasca Falls
3. Shop and dine in Banff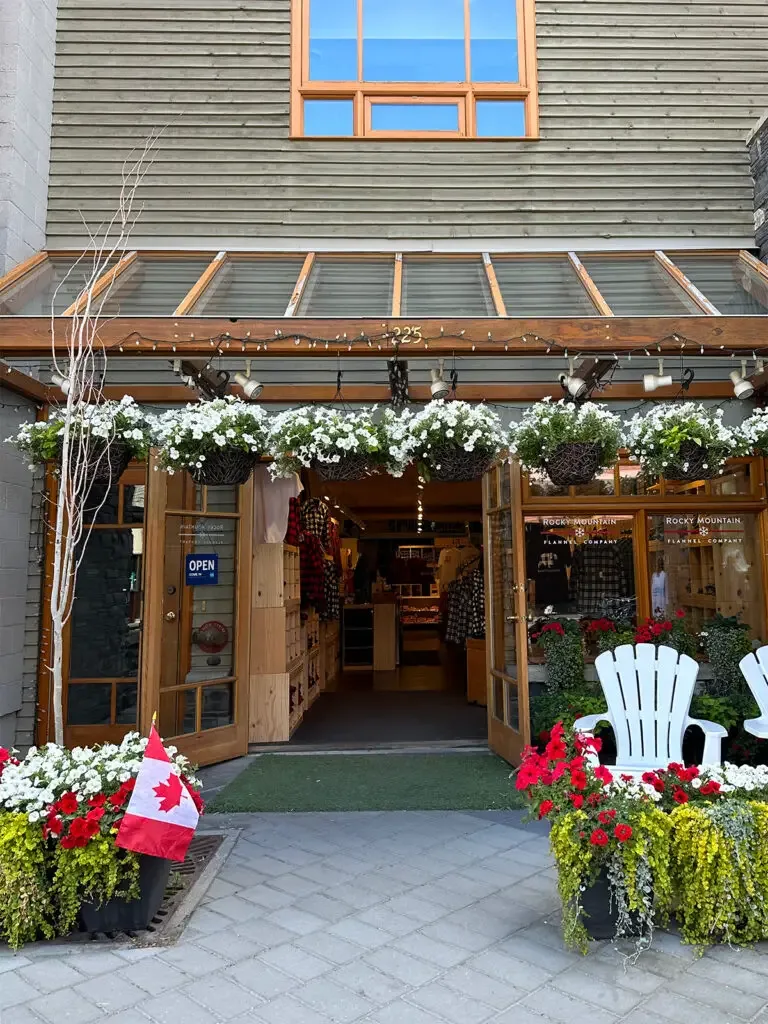 The town of Banff really comes alive during the summertime. This adorable mountain town has so much to see and do! And bonus: the public transportation is phenomenal so leave your worries and your vehicle at your campground or hotel.
Check out the shops along Banff Avenue to do some window shopping or pick out that perfect souvenir. Find shops of every kind! From specialty rock and gems to t-shirts, hats and of course, every kind of outdoorsy sport you can imagine.
And when you're hungry, take your pick of nearly anything your heart desires. Thai, Indian, Mexican and so many more cuisines to choose from!
4. Cruise on Lake Minnewanka (absolutely must do during a Banff summer)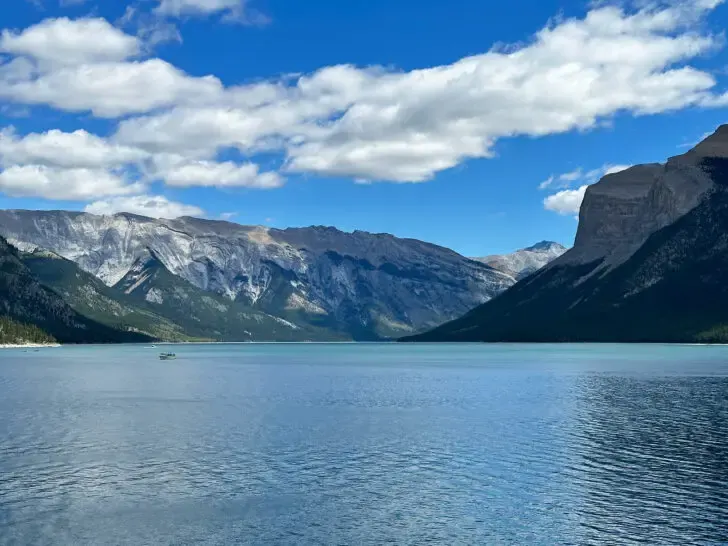 Another extremely popular activity during summer in Banff is to take a boat cruise on Lake Minnewanka. This picturesque lake is one of the most popular in the park, and the absolute best way to see it is via boat tour.
You'll want to book your tour in advance, as space sells out quickly during the summer months. The cruise is either 1 or 1.5 hours depending on which you choose.
During a cruise on Lake Minnewanka, you'll learn about the history of the lake, it's vibrant color, how the dam was built, the native people who lived on the land and many geological and environmental facts.
The boat doesn't actually dock anywhere, but there's a moment of silence at the turning point where the captain turns off the engine and everyone is quiet. It's a chance to enjoy nature and is so incredibly peaceful!
Pro tip: parking at Lake Minnewanka, like most other places in Banff, can be a challenge. Get there plenty early to ensure you have a spot before your tour time.
5. Go canoeing or kayaking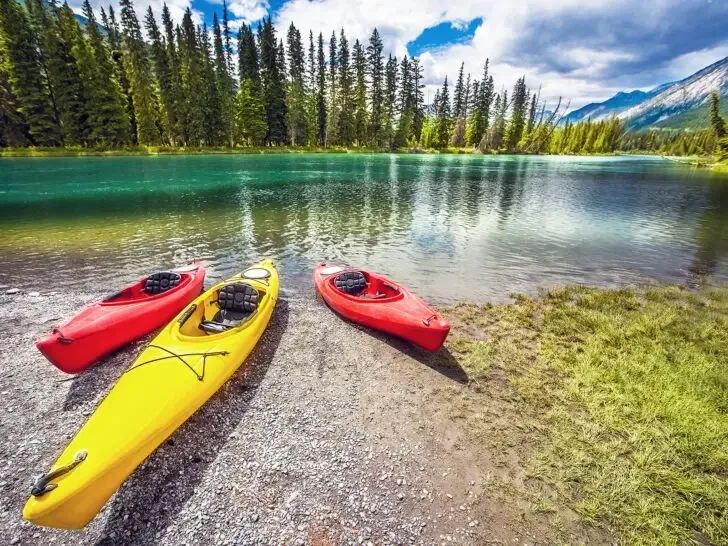 What a better way to see these gorgeous lakes and rivers than via paddling? It's one of the best things to do in Banff in summer!
Surround yourself with a beautiful mountain scene while floating. In fact, in an epic battle of Jasper vs Banff, it's one of the activities that fits perfectly with either destination. It's truly one of the best ways to explore the Canadian Rockies!
But with so many beautiful bodies of water, however will you choose? Well, one of the very best places to canoe during a Banff summer is the Bow River. Here, there are a few options for canoeing….
Take a guided canoe tour. Perfect for groups and families, this 12-seater canoe tour will peacefully guide you through beautiful mountain scenery.

Rent a canoe or kayak. Perfect if you want to go on your own time and for however long your arms want to paddle! Only con is that it's first come, first serve so rentals are not guaranteed.
Pro tip: take a dry bag with you to keep your valuables dry during your time on the water.
6. Take a gondola ride (popular activity on this list of things to do in Banff in summer)
This laid back activity is perfect on a rest day from hiking, or just as a slow day. And great news: you have options!
In the winter a gondola is the perfect sightseeing experience. You get to view gorgeous mountain peaks covered in snow without being too exposed to the elements. However, the Banff activities summer expand on your options with gondola and chair lifts with the typically nicer summer weather.
Scenic Rocky Mountain gondola ride options
Pro tip: add this to your vacation budget as it's not an inexpensive activity.
7. Banff town sign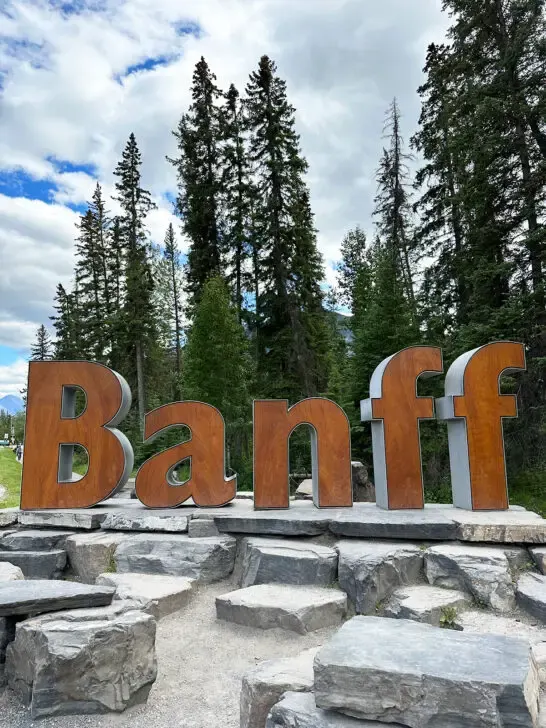 Do that touristy thing! Visit the Banff sign and grab your perfect photo. And get creative with it! Sure, it feels a bit cheesy, but did you even go to Banff in summer if you don't have a photo with the sign?! 😉
And bonus – there's even specific Banff sign parking too. The town of Banff really knows how to set things up smoothly!
More Banff summer must-do's
Can you believe this list?! Here's more of the very best things to do in and near Banff during summer…
8. Peyto Lake (a favorite on this list of things to do in Banff summer)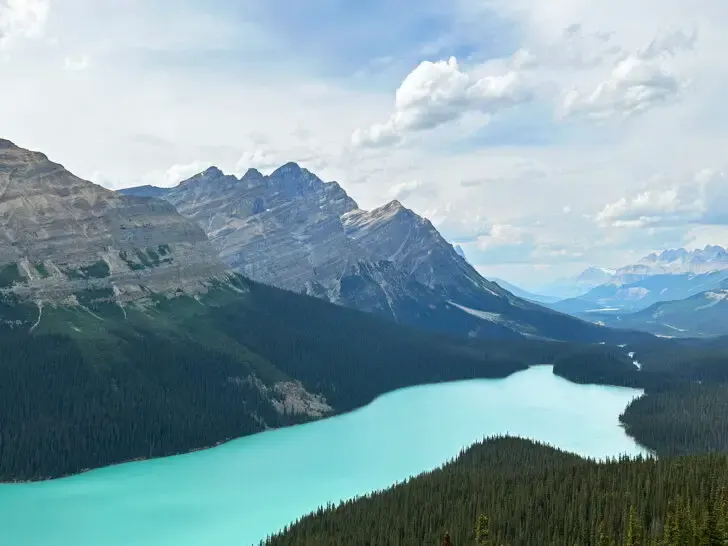 The third most popular lake in Banff, Peyto Lake is a stunning spot to see in real life. Located along the Icefields Parkway 43 km (26 mi) from Lake Louise, it's worth the drive!
Famous for its wolf head shape and gorgeous Rocky Mountain backdrop, getting amazing views of Peyto Lake is relatively easy. It has a large parking lot, which can get full in the summer but visitors rotate through pretty quickly.
Then it's about 10-15 minutes walk on a paved path to the overlook. It's 0.6 km (0.3mi) each way, but it's a bit of a steep incline. There's an ADA parking lot that's closer with less of an incline, making it easier for wheelchairs or those with mobility challenges.
At the overlook, there's a large platform, perfect for viewing Mother Nature's masterpiece! Grab your photos and videos then be courteous to others as it's a busy place.
There are also a few hiking trails in the area, including a Nature Trail and the Bow Summit Viewpoint, which provide alternative views to the lake and surrounding area without the heavy crowds.
9. Rent e-bikes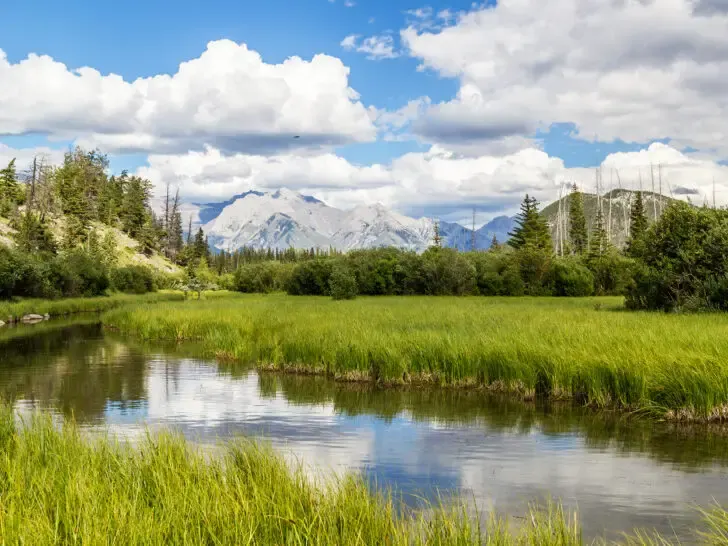 Ride through the Canadian Rockies on two wheels instead of four! And bonus: with an e-bike you'll barely break a sweat! 😉
There are so many e-bike tours in and around Banff. Renting e-bikes and having your own adventure is one of the best Banff summer activities, too!
Best Banff National Park e-bike routes
I personally love how renting an e-bike makes the journey so much easier, so you can fit more sightseeing in while you ride!
10. Lake Louise (another must-see on this list of Banff activities summer)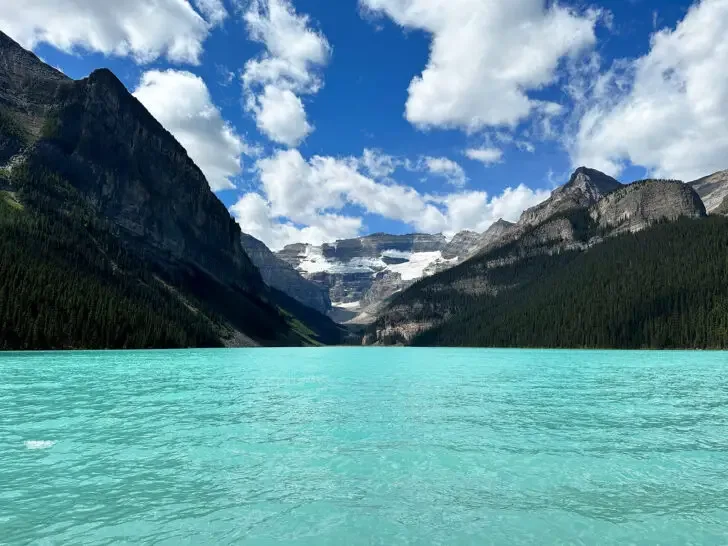 Well, were you waiting for it? You simply cannot visit Banff in summer without witnessing Lake Louise.
It's an extremely popular spot in Banff National Park, and takes some planning to visit. If you get reservations for Moraine Lake (#1 above), your transportation ticket will automatically come with a ride to Lake Louise, which makes it really easy!
However, if you're planning to visit Lake Louise on a different day or if you have limited time and can only visit Lake Louise, you'll want to consider your options.
Taking a Parks Canada shuttle guarantees you won't have to worry about finding a spot in the busy Lake Louise parking area. It's really cheap and helps cut down on pollution, too.
Shuttle passes are sold for the season beginning in April. The Lake Louise Park and Ride parking lot is located at the Lake Louise Ski Resort, just a few minutes down the road.
Secondly, and perhaps an easier way to shuttle in to this popular spot is the Roam Transit Route 8x. It's Banff's amazing public transportation that runs from the town of Banff to Lake Louise.
Alternatively, you'll need to pay for parking and should plan to arrive really early in the summer months to get a spot – by 7:00am at the latest.
Once you're at this beautiful spot, walk the Lake Louise Lakeshore trail along the edge of the water. Watch the scenery change as you get different perspectives of the lake.
And if you're up for epic views, strap on your hiking shoes for the Big Beehive hike, Little Beehive hike or the Beehive Circuit. In total, combining the trail and doing the circuit is over 14 km (8.6 mi) and 1032 m (3385 ft) in elevation gain. But you're rewarded with spectacular views of Lake Louise!
11. Johnston Canyon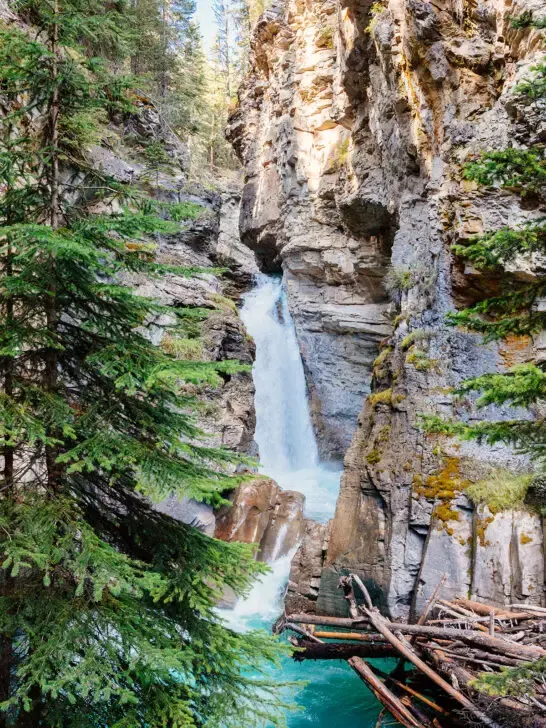 If you're looking for an unforgettable adventure in Banff, this is it!
But it comes with a caveat: it's an extremely busy area, including a popular tour bus stop. To make the most of your time in Johnston Canyon, arrive at the parking lot by 8:00am or late in the evening, after 7pm. It's a beautiful spot to see in the summer in Banff, and it's not a hidden gem anymore!
This 'trail' is a paved path to a lower and upper waterfall. It's a beautiful natural feature worth seeing. But fair warning; if you come during the middle of the day, the line to see the waterfall can be upwards of an hour.
The Johnston Canyon trail includes two waterfalls. By hiking to both of them, it's 5.3 km (3.3 mi) round trip. There's quite a bit of ups and downs but it's doable for most skill levels. Plan on around 2 hours, more if you go between 10am – 4pm.
This fun, interactive trail is sort of a bucket-list item on this list of things to do in Banff in summer. If you plan it right, it's a really enjoyable adventure to see how the powerful water is carving this canyon. So cool!
Note: there's ongoing construction on the road leading into Johnston Canyon. If it's closed during your visit, rent e-bikes to get there without a vehicle!
12. Bow Lake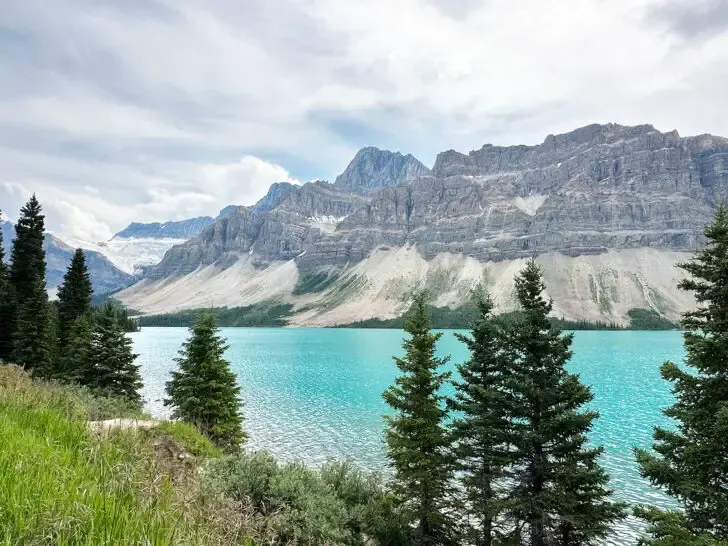 Another fun stop along the Icefields Parkway, Bow Lake is inside Banff National Park, just 37 km (23 mi) from Lake Louise. This stunning lake is not only one of the best stops along this incredibly scenic drive, but it's a really fun lake to see.
A Banff summer is the best time to see this lake too, when its vivid blue color really pops. Grab some food for a picnic and enjoy it sitting by the lake. During the summer, the wildflowers are abundant in this area, which is so stunning with the colors playing off the lake, too.
If you desire, and can get a reservation, stay a night (or two) at The Lodge at Bow Lake, right on the lake. Those views are so incredible!
And if you're up for a good hike, consider the best views typically come from the trail. In this case, the Mount Jimmy Simpson Trail has spectacular lake views. Be prepared with the right hiking gear though, as it's 14.9 km (9.3 mi) with an elevation gain of 1,170 meters (3,841 feet). So it's not for the faint of heart.
13. Food tour of Banff castle (one of the most unique things to do in Banff in summer)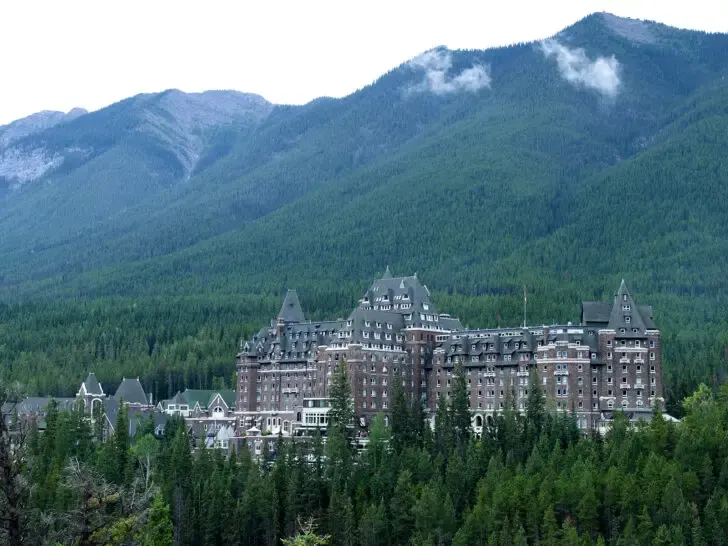 Okay so the castle is actually the Fairmont Banff Springs, which has been open since 1888. One of the most unique things to do in Banff in summer is take a food tour in the Banff castle and see this place! This historic landmark can be pricey to stay at, so if your accommodations are elsewhere, this is a great way to experience this place of grandeur.
Taking a Banff food tour of the castle is a delicious way to learn about the history of the castle. Taste amazing cuisine as you learn about the castle's history.
Because the Fairmont Banff Springs is a huge property, you'll bounce from restaurant to restaurant, dining on specialty food and drinks as you learn all about the castle. With stunning views of the castle inside and out, this is an activity you won't soon forget!
14. Swim at Johnson Lake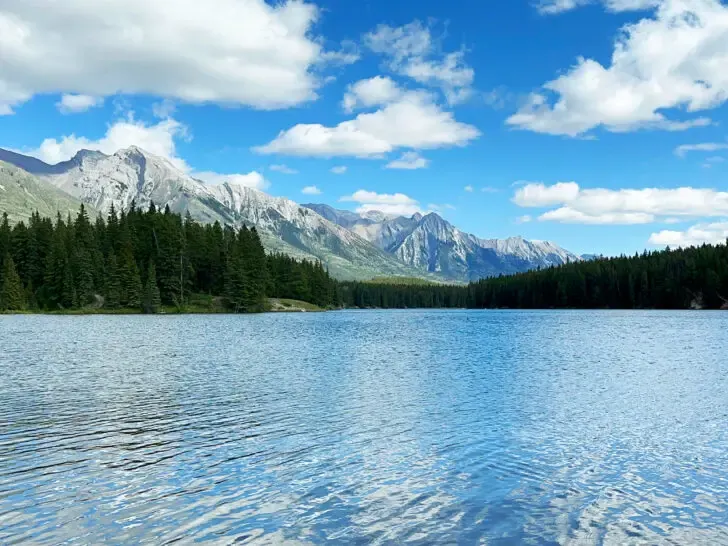 Johnson Lake is a gem in Banff National Park! This small lake is often overshadowed by the nearby Two Jack Lake and Lake Minnewanka. But it's honestly one of the best spots for spending an afternoon in the summer in Banff!
Johnson Lake isn't as windy as the other lakes, therefore the air temperature feels much warmer and it's a great spot for swimming in Banff! And because the lake is smaller, the water temperature is usually warmer, too.
When the weather is typically at its warmest – late July and early August is when the swimming is best at Johnson Lake.
Of course, it's also a great spot for picnicking, paddling and just enjoying nature, too. There's a nature walk around the lake, the Johnson Lake Lakeshore Trail, which is a 2.9 km 9 (1.8 mi) loop. Be sure to take your bear spray with you if you're walking the lake (and really anytime in Banff National Park).
What to do in Banff in summer, continued
Banff National Park truly feels magical in real life. ✨
Let's keep going for more stunning sights and fun Banff summer activities!
15. Athabasca Glacier Trail (a favorite on this list of things to do in Banff in summer)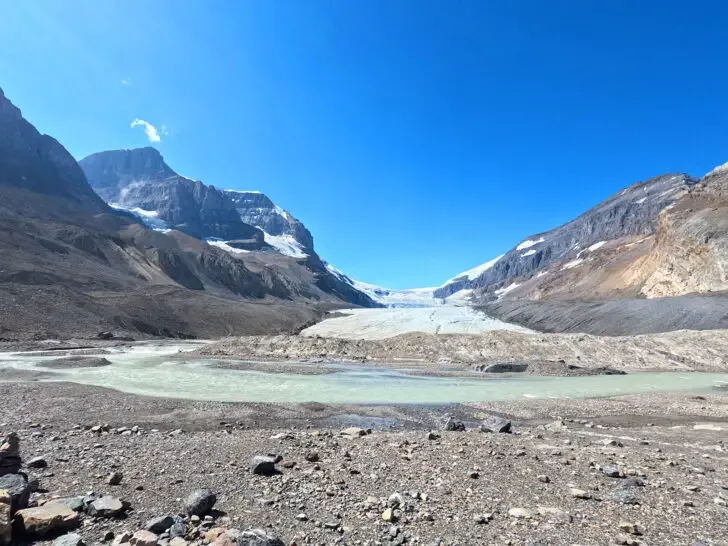 While not technically in Banff National Park, this is worthy of the adventure from Banff! A short trip up the Icefields Parkway, seeing the Athabasca Glacier close up is such a fun activity!
Located 130 km (80 mi) from Lake Louise (the start of the Icefields Parkway), you'll get picturesque mountain views as you drive along the Athabasca River. Then, as you make it to the Icefield Centre, there's a large building with restaurants and a good viewpoint.
Across the highway is the Athabasca Glacier Hike, also known as Toe of the Glacier trailhead. The hike isn't too intense, at just 1.4 km (0.9 mi) round trip, it's easily done in less than an hour.
And if you have extra time, take the Athabasca Glacier guided hike, which takes you up onto the ice of the glacier so you can stand on top of it. So fun!!
Note: you'll notice the signs as you're driving up to the Glacier and while on the hiking trail, indicating the location of the glacier over the years as it melts. You can easily see the first-hand effects of global warming in the decreasing size of the glacier. Crazy to think if radical action isn't taken, this glacier won't exist in the decades to come!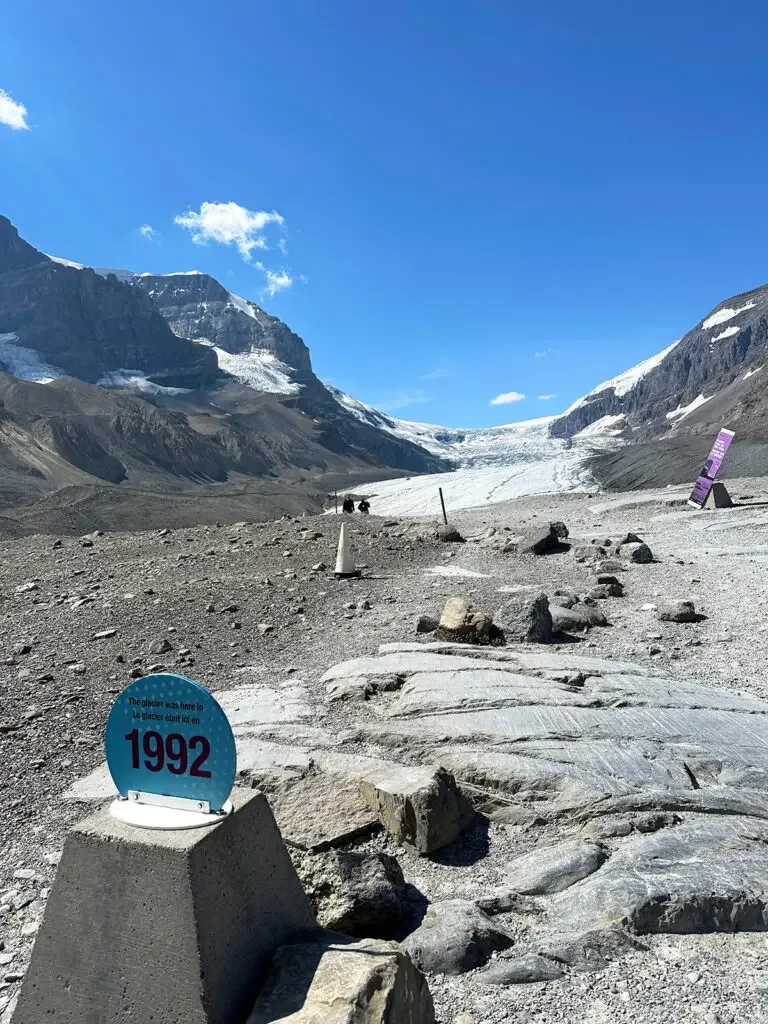 16. Spa day
Whether you're looking for relaxation after some epic hiking trails or you came to Banff to sightsee and relax, a spa day might just be what you need! From massage therapy to facials, stone treatments, nail services and saunas, find the spa service you desire in Banff.
Best spas in Banff
17. Two Jack Lake (underrated Banff National Park summer spot)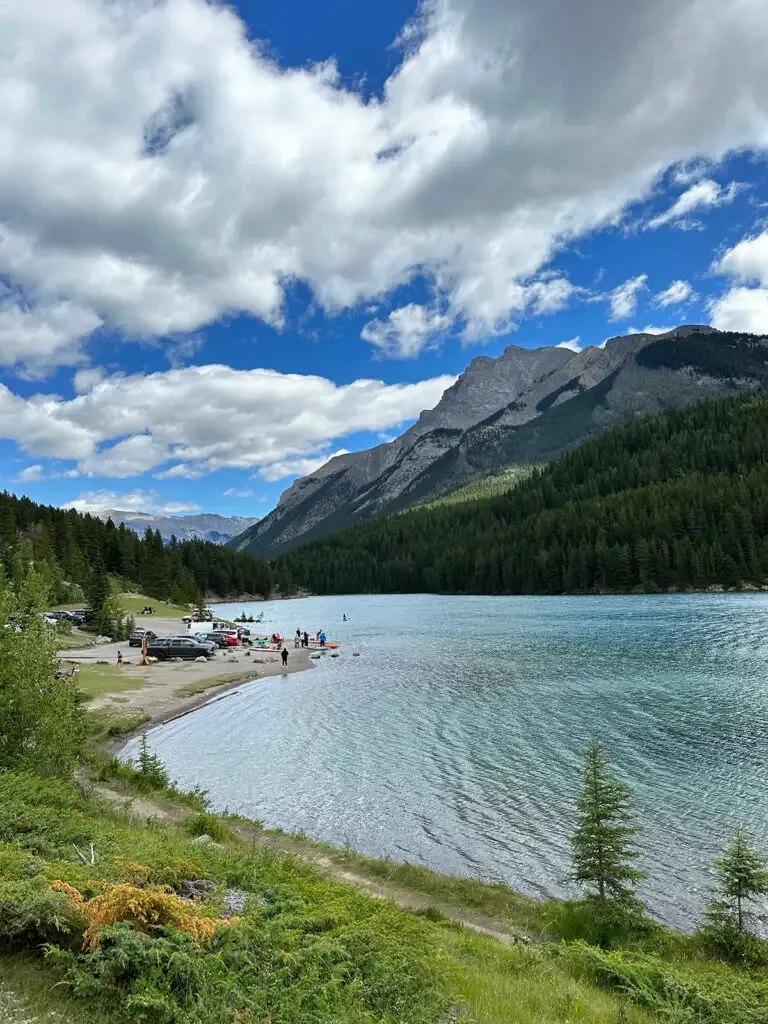 This is a really fun lake during a Banff summer vacation! Two Jack Lake is quite literally the perfect picnic destination. Pack up your cooler and enjoy water views with a picturesque scenic mountain backdrop as you enjoy your food.
Located near Lake Minnewanka, Two Jack Lake is less visited by tourists because it's a smaller lake and doesn't have as many amenities (like boat tours).
But that makes it all the better! Go swimming, listen to the gentle waves hit the shore and enjoy the views. It's such a pretty lake, especially with that peninsula with trees that goes into the lake. That actually reminds me of Spirit Island on Lake Maligne in Jasper National Park, an essential part to a Banff Jasper itinerary.
Pro tip: there are two parking lots at Two Jack Lake. The lower lot fills in quicker so opt for the top lot and get to your picnic spot!
18. Banff National Park Hot Springs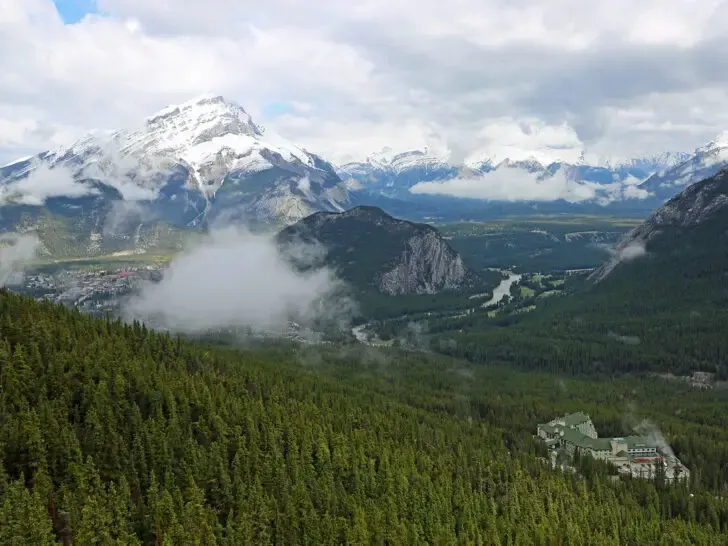 Fun fact: there are many hot springs locations in the Canadian Rockies, including Banff, Jasper, and Kootenay National Parks.
In the winter, the Banff Upper Hot Springs is an incredibly popular place. It's on this list of Banff things to do in summer because it's great to visit after a day of hiking, or just as a unique summertime experience.
It's a large facility with locker rooms, and even towels and bathing suits to rent! Don't think you'll have the place to yourself though – this is a busy spot any time of year. The views of the mountains are beautiful, and remind me of visiting the Glenwood Hot Springs, a Colorado bucket list item for sure.
Note: parking can be difficult during peak hours. And tickets are first come, first serve.
19. Emerald Lake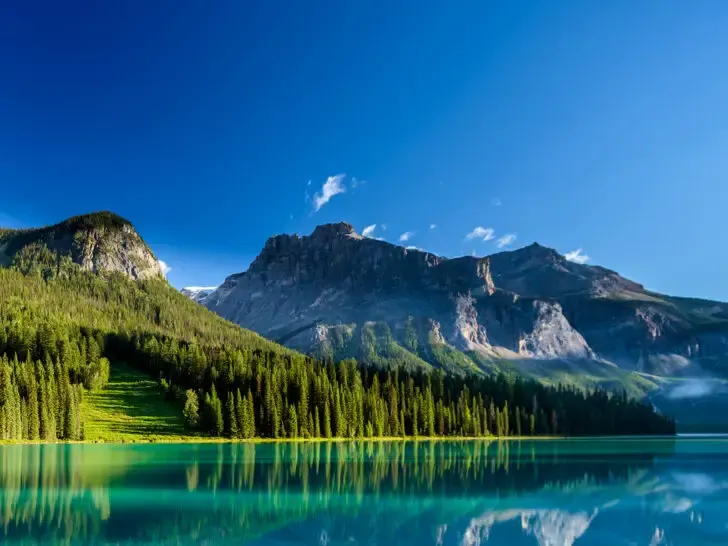 Fun fact: from November to June Emerald Lake is typically frozen. So to see the true emerald color, a Banff summer vacation is the best time to do it!
While it's technically located in Yoho National Park, it's a short 30 minute drive from Lake Louise in Banff National Park, and still worthy of a spot on this list of things to do in Banff in summer.
While you're there, you can walk the lake and see it as the landscape changes. You can also rent canoes at Emerald Lake. They rent by the hour and up to 3 people per canoe, and are first come, first serve (no reservations taken). What a stunning sight from a canoe!
Pro tip: arrive early or go late as the parking lot fills up quickly, especially during weekends in the summer in Alberta.
20. Columbia Icefield Skywalk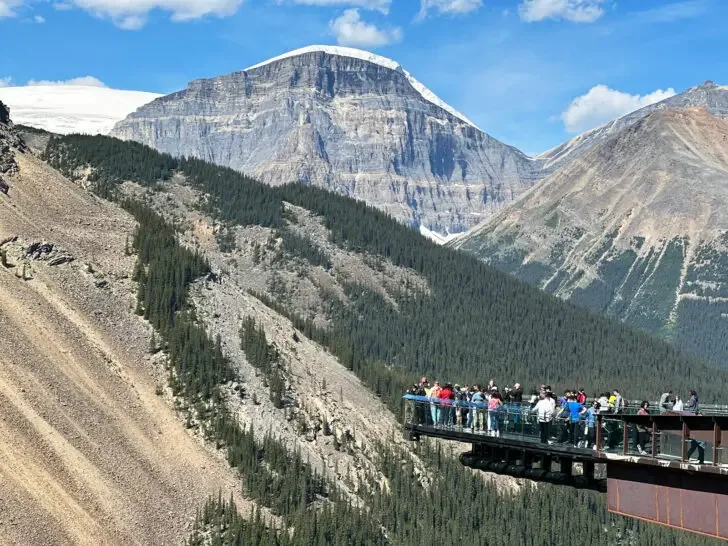 A bit of a touristy thing, but still really fun is the Columbia Icefield Skywalk. Located at nearly the half way point between Banff and Jasper along the Icefields Parkway is a man-made structure that's worthy of a visit.
Step out onto solid glass – strong enough to hold a commercial airplane – and witness the river valley below. See waterfall views and the glacier-shaped landscape from 280 meters (918 feet) above. The walkway is full of stories telling how the valley was created, the animals you could see and other interesting facts.
It's a once-in-a-lifetime thing, so why not do it when you're visiting Banff in summer?
Note: there's no parking at the Skywalk, instead you'll need to buy tickets in advance, park at the Columbia Icefield Discovery Center and take a bus to the Skywalk.
21. Banff Hoodoos (another underrated activity in Banff in summer)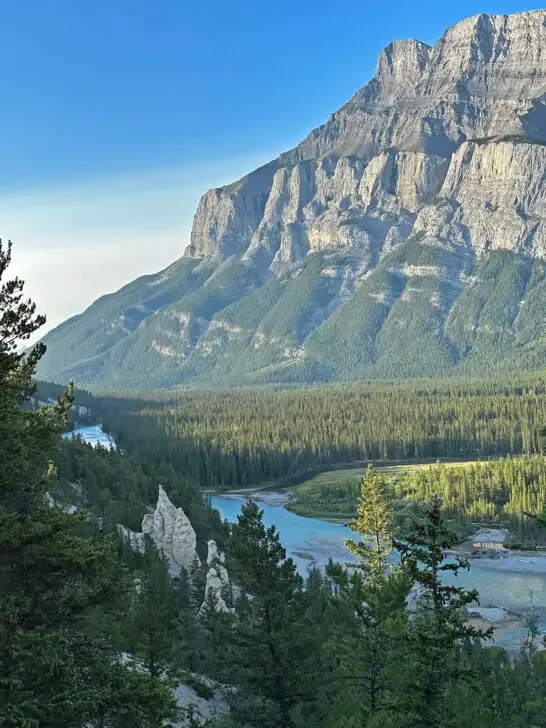 So this is an interesting summer activity in Banff National Park. Just outside of town, near Sacred Buffalo Guardian Mountain (AKA Tunnel Mountain) are the Banff hoodoos.
Now, these are nothing like what you'll see in Bryce Canyon National Park. In Utah, you can hike the Navajo Loop to Queens Garden Trail and see hundreds – maybe even thousands – of hoodoos! But in Banff, there are just a few.
Hoodoos are rock spires that have been carved down to points which almost look like fingers or people or stacked rock of some kind. They jut up from the ground and are funky to look at. In the photo above, they're the white rock in the lower left corner.
To see the Banff hoodoos, you have two options. You can hike the Surprise Corner to Banff Hoodoos Trail, which is 9 km (5.6 mi) round trip. This trail walks alongside the river, providing sweeping mountain views and wildlife possiblities.
Alternatively, you can drive to the viewpoint which is located just on the east side of Banff along Tunnel Mountain Road, just to the east of Tunnel Mountain Campground.
Banff summer – a recap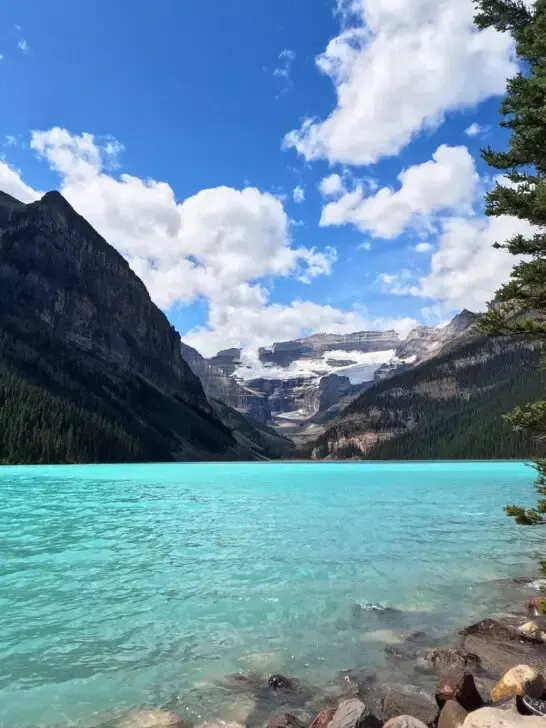 Whew what a list! This popular spot is worthy of any travel bucket list! With gorgeous scenery, plenty of activities for every vacation style, a Banff summer vacation is always a good choice!
Let's recap that list of Banff National Park summer must-do's, in a quicker fashion…
Banff National Park summer
Moraine Lake
Drive Icefields Parkway
Shop and dine in Banff
Cruise on Lake Minnewanka
Go canoeing
Take a gondola ride
Banff town sign
Peyto Lake
Rent e-bikes
Lake Louise
Johnston Canyon
Bow Lake
Food tour of Banff castle
Swim at Johnson Lake
Athabasca Glacier Trail
Spa day
Two Jack Lake
Banff Hot Springs
Emerald Lake
Columbia Icefield Skywalk
Banff Hoodoos
Related content to read next:
Banff to Jasper Drive: 12 Must-see Stops (Plus What to Expect Along the Icefields Parkway)
Find this post helpful? Save it for later or share it on social media!