There's nothing quite like a warm winter getaway to rejuvenate the soul just when you need it most! Ditch the winter coat, grab your sunglasses and enjoy the sunshine while you enjoy a new destination. If you've ever wondered where's the best warm winter vacations in the US – here's your list!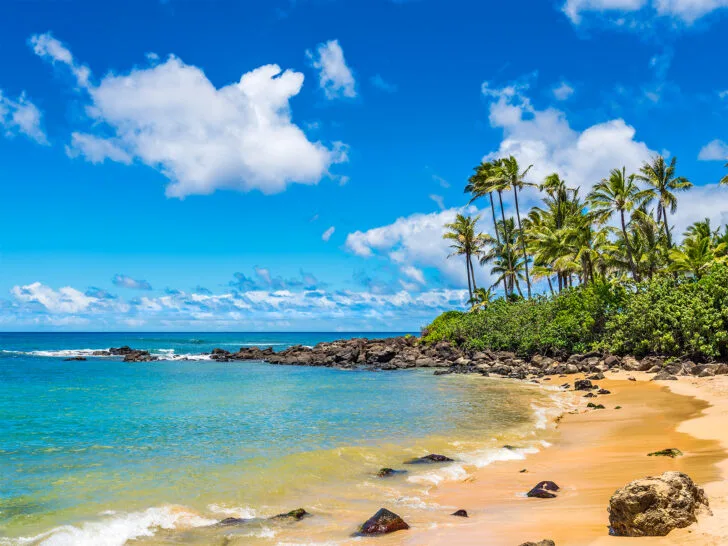 This post may contain affiliate links. For more info, see my disclosures.
As temperatures start to drop and snow covers the ground, many travelers are ready for a warm winter getaway. Whether you're dreaming of basking in the sun on the warm Florida beaches, or strolling though quaint downtowns, there are so many warm winter vacations in the USA!
Traveling during the winter is one of the best times to take a vacation. But not every spot is equally as great. That's why this list of the best warm winter vacations USA includes cool spots you've seen before, and even better destinations you haven't considered.
Must-see video: warm winter vacations in the US
Map of warm winter vacations USA
From popular beaches to underrated gems, this warm winter destinations list has something for everyone. Check out this map to see which direction you'd like to head first!
Oh, and by the way, since I haven't been everywhere yet, I asked my fellow travel writers to help create the perfect list of best warm winter destinations in USA. Enjoy!
Warm winter vacations in the US
Are you ready to find your next getaway? It's time to explore the best warm places to go in the winter. Let's dive in!
1. Gulf Shores, Alabama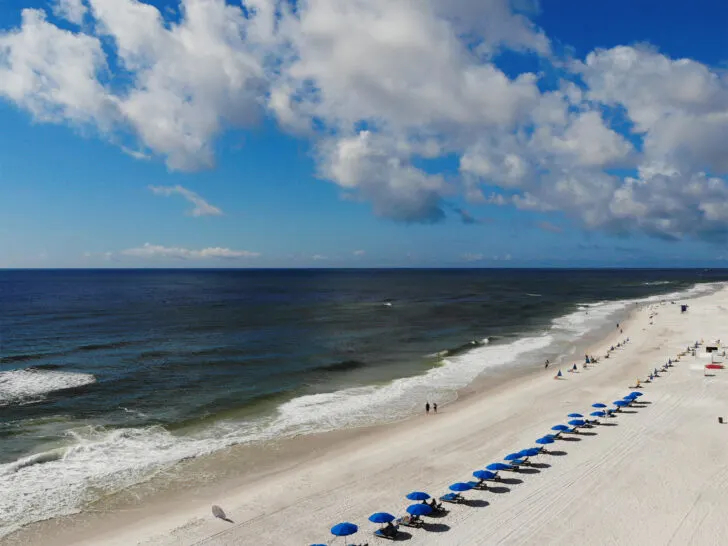 This underrated destination is home to amazing beaches, fun activities and a plethora of culinary delight. Unlike some pricier destinations in Florida or California, Gulf Shores is a more affordable destination during the wintertime, offering travelers an escape to a great beachy spot.
Whether you have a long weekend or a week to explore the area, Gulf Shores and the sister city, Orange Beach, are such charming beach towns. Outdoor activities are plentiful, which is a nice break if you've been cooped up during the winter.
Enjoy the free bike share program at Alabama's Gulf State Park and enjoy some of the 28 miles of interconnected trails throughout the park. Or play mini golf or go karting – perfect for all ages or those young at heart.
Be sure to visit the Wharf at Orange Beach, where you can ride the region's largest Ferris Wheel and catch the light show each night. Go on a dolphin cruise or take a sandcastle class – there's truly so many things to do in Gulf Shores during the wintertime!
With highs in the 60's in January in Gulf Shores, this sunny vacation spot could be just what you need. After all, it's one of the best warm winter destinations in the US!
Recommended by me – Nikki of Inspired Routes
2. Savannah, Georgia (classic choice for warm destinations in winter)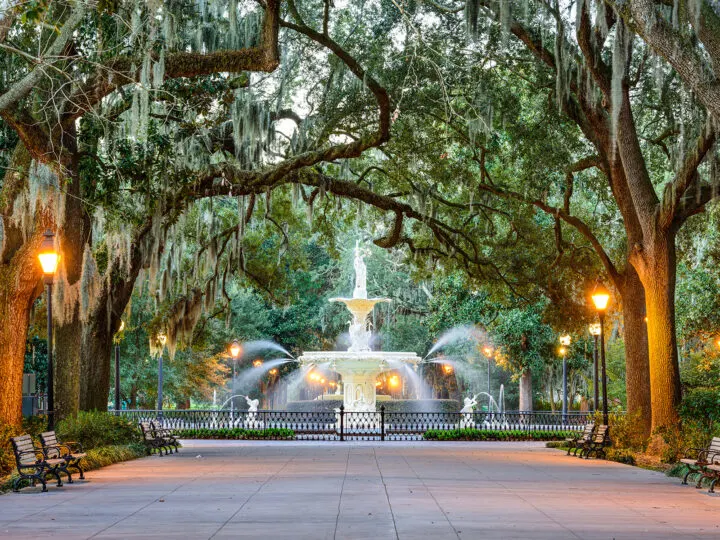 If you crave warmth during the winter months, then you should consider booking a weekend in Savannah, Georgia. It's a wonderful warm place to visit in the US!
During the winter months, the weather here ranges from 41°F to 64°F, making Savannah very comfortable to explore since the city is best explored on foot. However, if you get tired of walking, their hop-on hop-off trolley tour will also bring you to the best landmarks while also providing great information.
Some of the best things to explore during wintertime include a plethora of historic homes, haunted cemeteries, and cathedrals. Savannah also has some great museums to explore alongside the picturesque squares and Forsyth Park.
Alongside that, Savannah is well known for its popular restaurants. From plant-based cafes to classic southern cuisine, you will be spoiled for choice. There are also several rooftop bars where you dance into the early hours of the morning.
On a warmer day, you could even head to Tybee Island and spend time on the beach. There will hardly be any crowds at this time of year, which makes this area far more peaceful.
Despite the warmer temperatures during the day, you should pack an additional layer or two as the evenings can be quite chilly.
For somewhere to stay, you should try the Bohemian Hotel Savannah Riverfront, Autograph Collection This hotel is located right on the riverfront and has an excellent rooftop bar!
Recommended by Sam of Find Love and Travel
3. Laguna Beach, California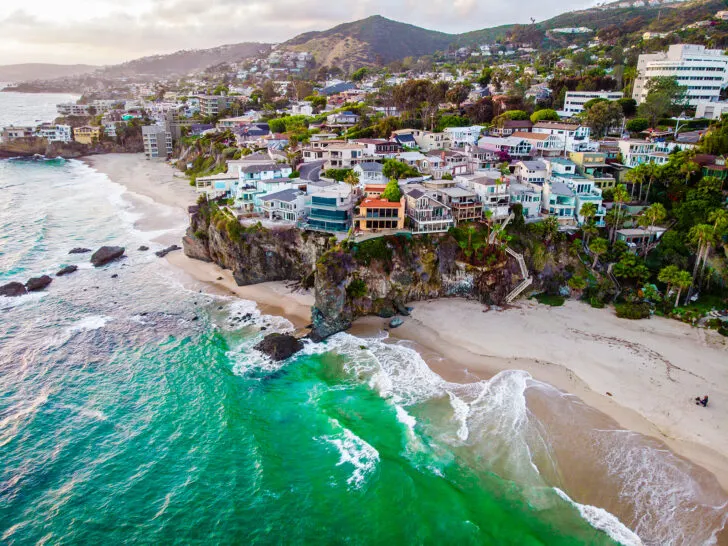 When winter sets in and you need to escape to a sunnier spot, Laguna Beach is the perfect place to go!
As the rest of the country shivers under a blanket of snow, Laguna Beach basks in mild and inviting temperatures, making it an ideal warm place to visit in the US.
Instead of being cooped up at home, in Laguna, you can stroll along the pristine sandy beaches, savor the captivating ocean views, and witness breathtaking sunsets, all without the summer crowds.
Adventure seekers can enjoy exploration through the charming tide pools or hiking in the beautiful coastal parks.
Art enthusiasts will love Laguna's thriving art scene, with numerous galleries and art festivals like Sawdust's famous Winter Fantasy.
And let's not forget the incredible food scene, best enjoyed from any of the stunning Laguna Beach restaurants with a view, like Larsen or The Cliff!
Winter offers the perfect opportunity to indulge in freshly caught local seafood, including Dungeness crab and Spiny Lobster, which are at their most plump and flavorful from December to February. It's also the best time to enjoy Pacific Oysters, famous for their creamy and briny taste!
Winter in Laguna Beach is a relatively mild affair, with temperatures averaging from 60°F-70°F. Expect sunny days and breezy nights. While a light jacket might be needed for evening strolls, don't forget your sunglasses for the daytime!
Remember, winter also sees slightly more rain, so pack an umbrella or raincoat just in case.
For more incredible ocean views, book a stay at The Inn at Laguna Beach where you'll find reasonable prices and a lovely rooftop happy hour every evening.
Recommended by Sydney of Sydney to Anywhere
4. Destin, Florida (a favorite on this list of warm winter vacation in the US)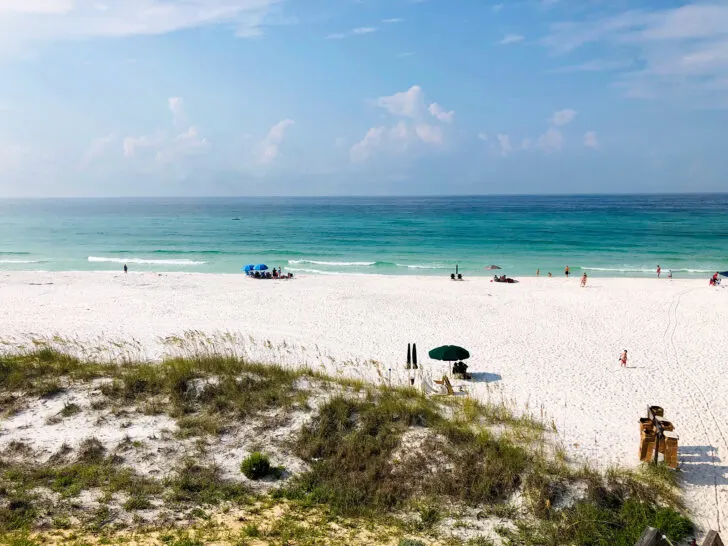 If you dream of escaping the cold winter weather, look no further than Destin, Florida. Destin offers a perfect warm winter vacation spot in the US with its gorgeous beaches and pleasant weather.
During the winter months, Destin experiences fewer crowds compared to the summer months. This means you can enjoy the stunning white sand beaches without the hustle and bustle, and accommodation prices are much lower since the winter months are considered the "off-season."
Destin also boasts mild and pleasant weather throughout the winter months. With average temperatures ranging from the mid-60s to the low-70s Fahrenheit with minimal rain, you'll find yourself comfortable enjoying the beach and other outdoor activities.
Despite the mild temperatures, it's a good idea to pack some layers and a jacket for cooler evenings. For example, if you go on a dolphin cruise, you'll want to bring a light sweater or jacket, as the temperatures can get chilly out on the water.
One of the best things to do in Destin is to explore the gorgeous beaches. Home to some of the whitest and softest sand in Florida, Destin's beaches are breathtaking. Henderson Beach State Park, Miramar Beach, and James Lee Beach are some of the top beaches in Destin.
Destin Harbor Boardwalk is also a great place to visit. The boardwalk offers many things to do, including shopping, dining, and fishing. You can also indulge in retail therapy at Destin Commons, an open-air shopping center filled with shops, boutiques, and restaurants.
Lastly, no visit to Destin is complete without savoring the fresh local seafood. Try the mahi mahi, grouper, red snapper and oysters.
The best place to stay in Destin is the Hilton Sandestin Beach Golf Resort & Spa.
Recommended by Disha of Disha Discovers
5. Big Bend National Park, Texas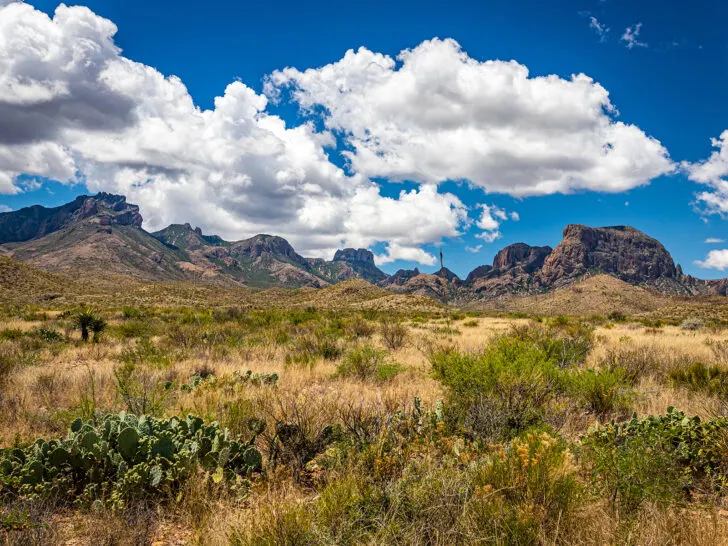 On the western border of Texas sits an underrated national park full of scenic views, wildlife, and hiking trails.
Big Bend National Park is so quiet during the winter months, making it a great place to visit this time of year. Enjoy the serenity of this enormous national park without the ever growing crowds that arrive in the summer months.
Winter is a great time to go hiking at Big Bend National Park since there won't be many people on the trails this time of year.
Another popular activity is kayaking in Santa Elena canyon, which is possible even in the winter. But if you want to opt for a warmer activity, enjoy the Ross Maxwell scenic drive from the comfort of your car.
The temperature reaches into the 60s and dips into the 40s during the winter in Big Bend. It's a very dry time of year which makes for great camping and hiking weather. Do be prepared for colder nights if you plan to camp here.
The best place to stay and enjoy Big Bend in the winter is at Chisos Mountains Lodge. Located in the Chisos Basin and surrounded by mountains, you'll be close to many of the best hiking trails.
Or if you're feeling adventurous, plan a winter camping trip and stay in Chisos Basin Campground for the ultimate adventure. This would make for a cheap warm winter vacations USA!
Recommended by Georgina of Alpacka My Bags
6. Big Island, Hawaii (excellent choice for warm winter vacations USA)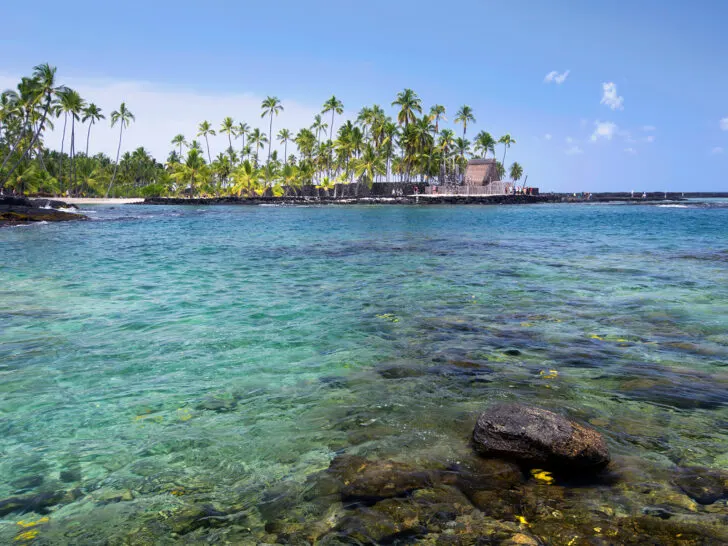 If you're looking for one of the best warm winter vacations in the USA, then the Big Island of Hawaii is the perfect option.
Boasting some of the highest winter temperatures in the US, you can expect highs of 81°F and lows of 67°F between December and February. In addition, December and January are the sunniest months of the year on the Big Island with less than 50% cloud cover.
Whether you're looking for a tropical beach getaway or something more adventurous, the Big Island has something for everyone.
An absolute must on your Big Island itinerary is a night snorkel with manta rays. It's hard to overstate the grace, beauty, and size of these gentle giants.
During the winter months, migratory whales return to the shores of Hawaii. On the Big Island, you can frequently see them off the Kohala coast and north Kona.
While on the Big Island, be sure to plan a visit to Hawaii Volcanoes National Park where you can witness the incredible power of mother nature in the form of bubbling lava at Kīlauea Crater.
With its soft white sand beaches and numerous resorts to choose from, Waikoloa in the Kohala region is arguably the best place to stay on the Big Island. If you're looking for a luxurious vacation, the Fairmont Orchid is a great option.
Recommended by Sophie of We Dream of Travel
More warm places to go in the winter
Swap out those snow boots out with some flip flops! Here are more of the best warm winter destinations in the USA.
7. Punta Gorda, Florida (underrated Florida gem for a warm winter getaway!)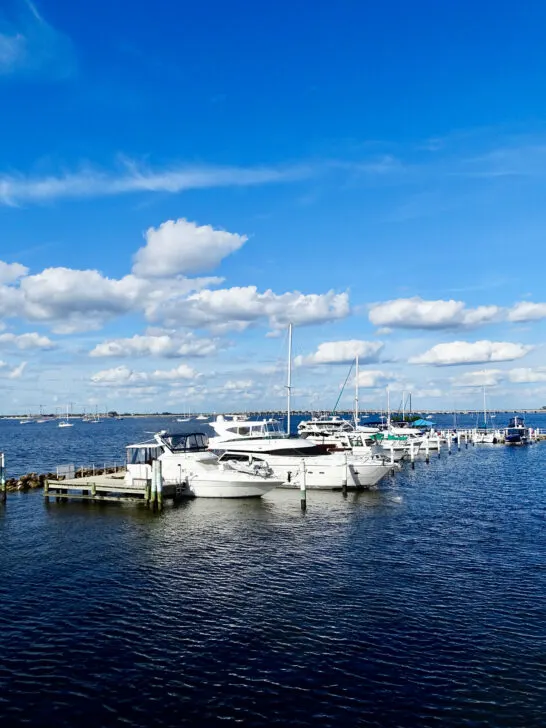 While it's perfectly normal for folks to escape to warm, sunny Florida during winter, Punta Gorda is a great off-the-beaten path destination. While others are flocking to more well-known hot spots, you'll be able to relax in peace during this warm winter getaway.
Punta Gorda lies on the western side of Florida, about a half-hour below Tampa, in a harbor that makes waterside activities possible, regardless of season. The city also has its own small airport, making it easy to fly in, no matter how long you want to stay.
The weather is also fairly temperate year-round, with highs in the mid-70s and lows in the low to mid-50s in the winter months.
Another perk of being close to the water is the accessibility of fresh seafood. While in town, plan to dine at Peace River Seafood, where you can experience a crab boil complete with corn and potatoes.
Highlights for culture lovers include the self-guided mural tour, which depicts Punta Gorda's vast history. If you're into beverages, stop by Alligator Bay Distillers or Peace River Beer Company to get your fix.
There's also plenty to do for outdoor lovers. Roam the Peace River Botanical and Sculpture Gardens, or rent a bike and ride along the harbor trail. Animal lovers should prioritize birdwatching by the harbor, taking an eco-tour at Babcock Ranch, and visiting Peace River Wildlife Center.
A sunset cruise with King Fisher Fleet is the highlight of any stay in Punta Gorda. Afterward, you can have sweet dreams at one of The Suites at Fisherman's Village, near where the cruise departs.
Recommended by Jennifer of Hill City Bride
8. Death Valley National Park, California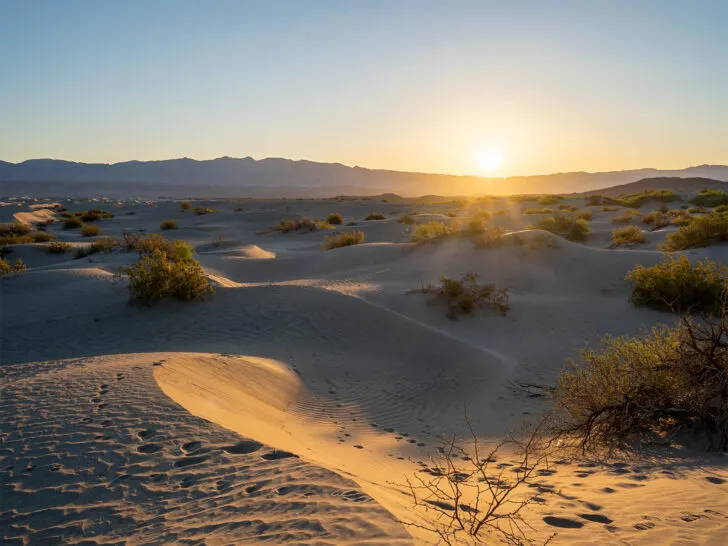 If you're looking for a warm winter getaway, what could be warmer than Death Valley National Park, which holds the world record for the highest recorded air temperature on the planet!
Found in Southern California, winter is the best time to visit Death Valley, with daily highs in the upper 60s and low 70s and clear skies. Plus, because of its warm climate, spring comes early to the park, with wildflowers carpeting the desert floor as early as February!
Given the lovely weather, winter is the perfect time to enjoy some of the best things to do in Death Valley.
For example, consider exploring Badwater Basin, which holds the impressive title of the lowest point in North America—282 feet below sea level! Here, you'll find an otherworldly land of salt flats that stretch on for literally hundreds of miles, with polygons of salt pushing its way through the ground.
For a more active adventure, head out on one of the park's hiking trails, like the Golden Canyon Trail. On this hike, you'll pass between towering badlands of swirling browns and golds and hike past dramatic rock faces.
Again, the landscapes look like they're from another planet—and fittingly, areas of this trail were used as filming locations for the original Star Wars trilogy!
Death Valley is enormous, ranking as the largest national park in the contiguous United States. So plan on staying at least a couple of days in the park to see its best highlights.
Luckily, there are some swanky options directly in the park itself, like The Inn at Death Valley, which offers two essentials – air conditioning and a pool – if you happen to visit during an unseasonably warm period.
Recommended by Jessica of Uprooted Traveler
9. Key West, Florida
One of the best warm winter destinations in USA is the Florida Keys! Visiting Key West in December is the perfect time, as December marks the end of hurricane season.
Being the southernmost point of continental USA, Key West is actually closer to Cuba than what it is Miami! Average daytime temperatures are around 75F.
It's also possible to still enjoy water-based activities, such as going on a snorkeling tour. The water temperature sits around 71F during the winter. If it is a little cold, some companies have wetsuits available to borrow.
For land-based activities, the sunset celebration continues to take place every evening in Mallory Square. In the two hours before the sunset and two hours after, the square fills up with food stalls and street performers. For December, sunset starts around 5.40pm.
Fort Zachary Taylor State Park has a beach with sun lounger and umbrella rentals. There is a small entrance fee to the park, but it also gives access to Fort Zachery Taylor. The fort was built back in 1845. Free guided tours of the fort take place at 11am.
Ibis Bay Beachfront Resort is a lovely hotel to stay at while in Key West. The beachfront rooms have hammocks, great for lazing around in the sun. It also has free parking which is convenient for those planning on visiting Key West as part Florida Keys road trip.
The stretch of Highway 1 from Marathon to Key West has lots of things to see and do along the way!
Recommended by Kylie of Between England and Everywhere
10. Matagorda, Texas (great, cheap warm winter vacations USA)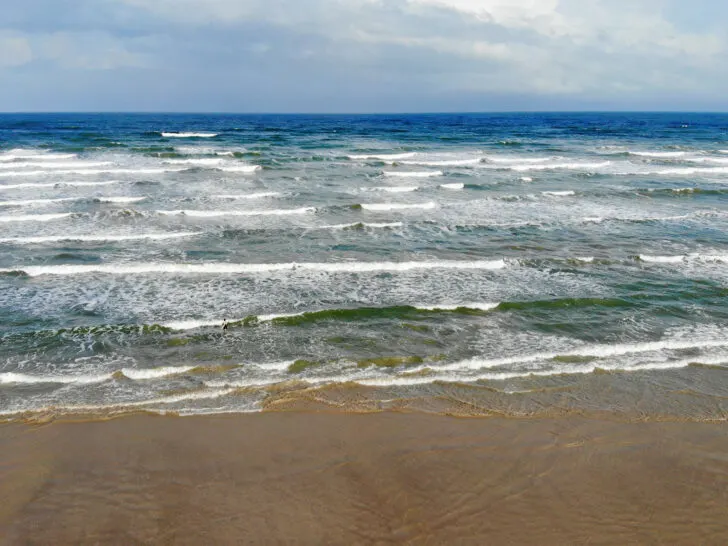 If you're looking for warm places to go in the winter, look no further than Texas!
Matagorda, Texas, is a hidden gem for those seeking romantic getaways in the US on a budget. Nestled along the Gulf Coast, this charming coastal town offers a delightful winter getaway with several compelling reasons to visit during the colder months.
Firstly, Matagorda is a haven of tranquility during the winter. With fewer crowds compared to the peak summer season, you can truly relish the serene beauty of its sandy beaches and pristine landscapes.
The weather, ranging from the mid-50s to 60s (°F) during December to February, is perfect for outdoor activities like bird watching, fishing, or simply strolling along the shores without the sweltering heat.
In December, Matagorda hosts its annual Christmas on the Square festival, illuminating the town with festive lights and a jovial atmosphere. It's a great time to experience local Texan culture and traditions.
Matagorda also offers excellent fishing opportunities. You can charter a fishing boat for an exciting day on the water.
Nature enthusiasts will also appreciate the Matagorda Nature Park, perfect for birdwatching and hiking. If you're into tours, consider a kayaking tour through the Colorado River, offering a unique perspective of Matagorda's natural beauty.
For accommodation, the Matagorda Bay Nature Park cabins provide a cozy and scenic lodging option right by the bay.
You should know that while winter in Matagorda is relatively mild, it's still a good idea to pack layers as temperatures can fluctuate.
Also, booking accommodations and activities in advance is advisable. Matagorda's popularity among budget-conscious winter travelers is on the rise. Although still considered a hidden gem, it's growing to be a sought-after cheap warm winter vacation in the USA.
Recommended by Trijit of Budget Travel Buff
11. Arecibo, Puerto Rico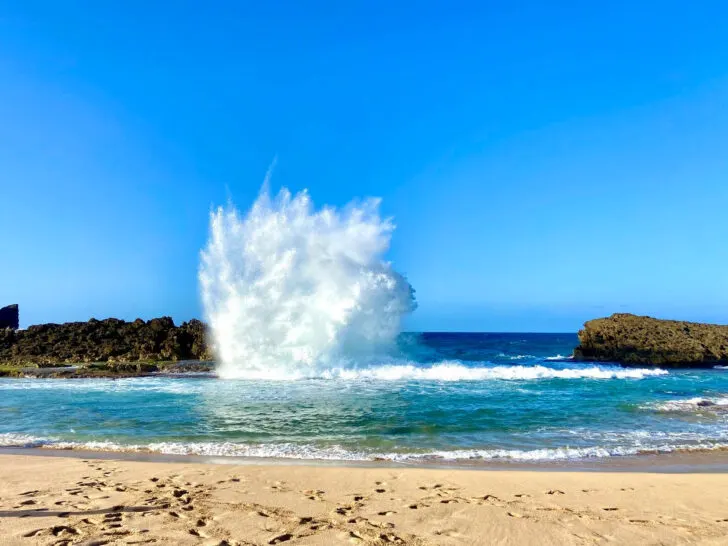 The beaches on the north coast of Puerto Rico near Arecibo is one of the very best warm winter vacations in the US.
The US territory of Puerto Rico is best to visit between December and February as the temperatures are a pleasant 70°F-83°F and it's the dry season. Relaxing on an uncrowded beach near Arecibo is perfect for all ages.
Arecibo beaches are an hour's drive from the airport in San Juan, the capital city that is also worth exploring. A car makes it easy to stop at the many beaches along the north coast.
La Poza Del Obispo is the most popular beach near Arecibo. A sheltered natural pool is ringed by limestone rocks that block the surf waves. The spray of water created when huge waves crash over the rocks is an exhilarating scene.
There's also a sand beach that stretches for miles is great for body boarding and surfing. Next to the La Poza beach, the Arecibo Lighthouse and Historical Park is a cultural theme park with attractions the whole family will enjoy.
La Cueva del Indio, a marine reserve and archeological site near Arecibo is also a popular attraction. Hiking along the beaches and arches here is one of the best outdoor adventures near Arecibo. You can squeeze through a cave and climb down to the ocean floor for a view of ancient Taino rock art in the cavern.
The Ventana al Atlantico Boutique Hotel with a pool and ocean view is close to the beaches of Arecibo and makes for a memorable stay.
Recommended by Karen of Outdoor Adventure Sampler
12. Marco Island, Florida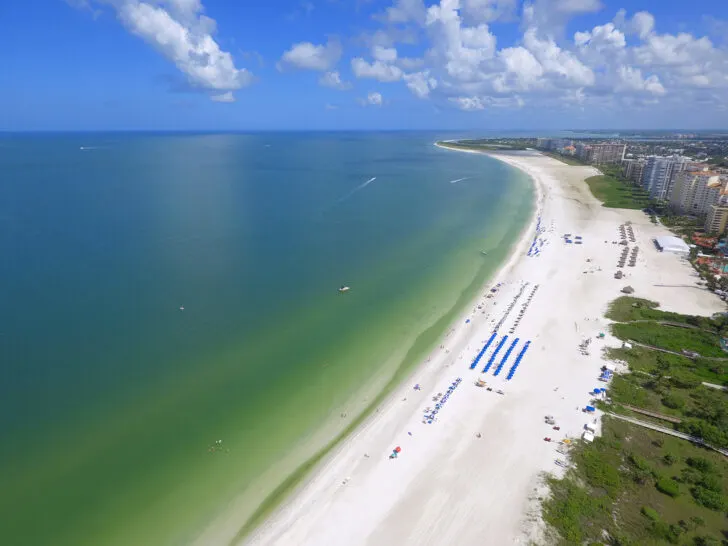 Marco Island Florida is without doubt one of the best warm winter vacations in the US.
Weather in Marco Island is perfect in winter as it is the island's dry season, with very few rainy days. The island has a warm average of 77°F (25°C) during winter, making it the ideal place for snowbirds to get away from freezing temperatures around the rest of the country.
While it is a sleepier town than places like Miami in Florida, there are still lots of really fun things to do in Marco Island.
There are two beautiful beaches in Marco Island which are great to visit, even in winter: Tigertail Beach and South Beach.
Tigertail Beach is an amazing place for spotting wildlife including large tortoises which meander around the beach areas.
There is also a lot of interesting bird life to observe on the trails around Tigertail Beach. It is regarded by many bird watching enthusiasts as some of the best bird watching in the country.
Aside from beaches, there are lots of other fun activities to enjoy on the island including exploring the local museums like the Marco Island Historical Museum and playing mini golf at the popular Marco Island Golf and Garden.
You can also take a fun shelling tour to Cape Romano Island, where if you are lucky you might find a rare Junonia shell.
There are lots of great places to stay in Marco Island with one of the best being JW Marriott Marco Island Beach Resort. It's a stunning hotel with clean and comfortable rooms, sun loungers galore and direct beach access.
Recommended by Florida Vacationers
Warm winter getaways continued
Have you decided where you will take a warm winter vacation in the USA yet? If not, here are more sunny ideas!
13. New Orleans, Louisiana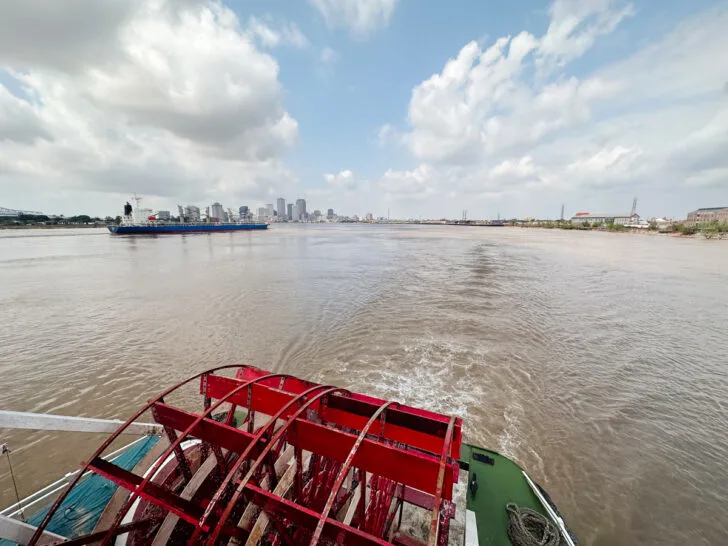 We love New Orleans as a warm winter vacation in the USA for many reasons.
The most obvious of course is because of the pleasant weather. From December to February, the weather stays around the mid-60s for the highs and around mid-40s for the lows. This is also a great time to visit the city since you'll avoid the typical high temperatures of the other seasons.
Visiting New Orleans in winter also has the benefit of reduced crowds compared to the higher tourist seasons. You will get to enjoy all the popular attractions like Jackson Square, the cemeteries, and the Mississippi River in a more relaxed atmosphere. It'll be easier to get a tasty beignet as well!
Perhaps one of the best highlights of a winter trip is Mardi Gras. This festival is about experiencing lively parades, colorful costumes, and fun street parties.
If you're looking to explore the historic French Quarter, try lodging nearby at the Balcony Guest House Bed and Breakfast. This quaint establishment is cozy, has a lot of character, and is a short drive to the hotspots of the city.
Something that we love about this city is its rich and blended cultural history. If you're looking to learn more about some of its American history, you need to check out a plantation tour. There is something so unique and bittersweet about these places with their grand mansions and stunning live oaks.
However, you will find true beauty in learning more about the people who used to live in them. One of our favorite ones is the "From New Orleans: Swamp Airboat, 2 Plantation Tours & Lunch." Like its name suggests it offers tours to two different plantations, an airboat expedition and a gourmet Creole lunch.
Keep in mind that even though New Orleans is less crowded in winter, prices tend to trend higher around Mardi Gras, so plan ahead.
Don't underestimate the weather, it can still get chilly here, so make sure you pack a coat. We love New Orleans no matter the season, but with winter's festive spirit, fewer crowds, and mild climate, this city makes for a fantastic winter getaway.
Recommended by Candice of Exploring the Gulf
14. Phoenix, Arizona (classic spot for warm winter vacations USA)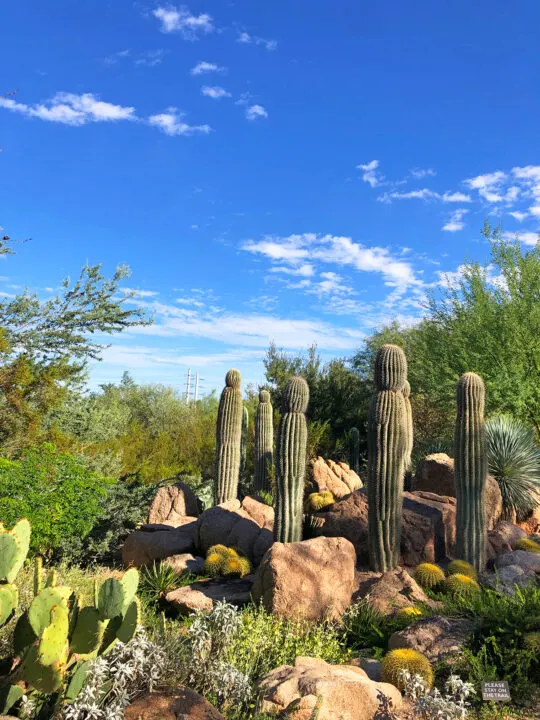 Phoenix is a fantastic warm place to visit in the US during the winter season. The weather is pleasant, with average temperatures ranging from 46°F (8°C) to 68°F (20°C) in December through February.
This mild weather provides ample opportunity for exploring the many hiking trails around the city, which showcase the picturesque Sonoran Desert. Phoenix has been able to maintain many nature parks speckled throughout the city's skyscrapers and neighborhoods.
Visitors should definitely spend one day in Phoenix's downtown area, walking around the city and visiting the various history and art museums. Phoenix is also well known for trendy eateries and breweries, found near the art murals of Roosevelt Row.
The Valley Metro Rail is a convenient and affordable way to reach the city's many attractions. So even those traveling on a budget can still see everything that Phoenix has to offer.
Visitors should note that Phoenix can feel crowded during winter, especially around the holidays. As more locals spend time outdoors, the trails and festivities come alive.
One of the best places to stay in downtown Phoenix is the Hotel San Carlos. Located in the heart of downtown, this historic hotel offers luxury amenities and is near top attractions like Chase Field and Arizona Science Center.
Lastly, while enjoying the beautiful outdoors, it is important to remember to stay hydrated and wear sunscreen, even in the winter months. Overall, Phoenix offers an ideal winter getaway, with its pleasant weather, outdoor adventures, and vibrant cultural scene.
Recommended by Monica from This Rare Earth
15. Miami, Florida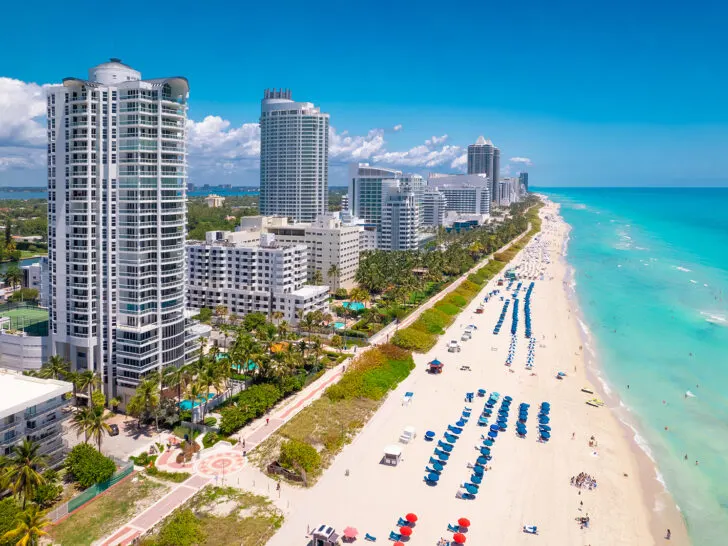 Miami is one of the best warm places to visit in the US. The city is less crowded and various festivals take place, such as Art Basel and Miami International Boat Show.
You can spend time at the Miami beach sunbathing or swimming. You can also enjoy watersports such as kayaking or stand-up paddle boarding. Boat or speedboat tours are another fun activity in Miami and a good way to explore the coastline.
Miami is a hub for great festivals and events, Art Basel being one of the most famous ones. You can also enjoy other festivals like the South Beach Jazz Festival and Miami Art Deco.
Christmas in Miami is absolutely alluring and full of entertainment. You can visit Santa's Enchanted Forest for a fun adventure since it's only open on Christmas Day, or marvel at South Florida's tallest Christmas tree while enjoying a delicious meal.
You can also enjoy fireworks on New Year's Eve.
Miami has a pleasant weather from December to February. Temperatures range between 70 and 80 degrees Fahrenheit. There is plenty of sunshine, no rainfall and the hurricane season has passed you can surf the waves peacefully.
The EAST Miami Hotel is a great place to stay as it's close to the city center and offers rooms with sea views. Make sure you book accommodations and flights in advance to get the best prices.
Miami is a delight, and I recommended spending at least 2 days here to enjoy all the sights during your winter getaway.
Recommended by Lavina of Continent Hop
16. San Diego, California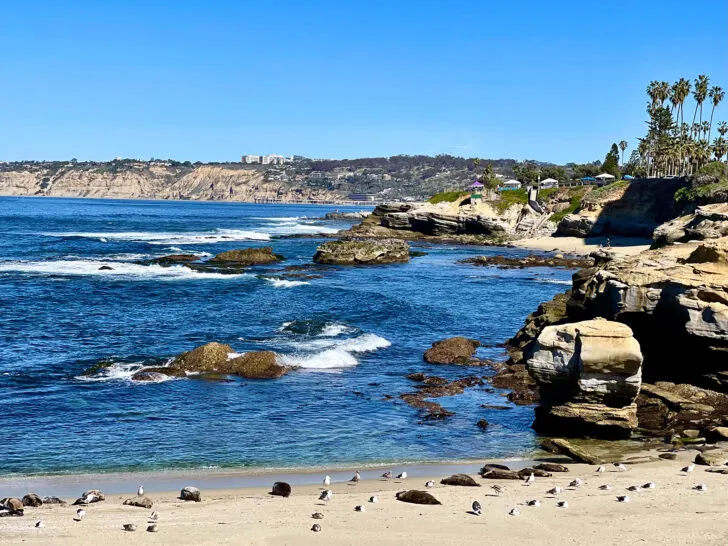 If you're looking for a warm winter vacation with lots of sunshine, San Diego, California is one of the best cities in the US to visit. Daytime temperatures tend to hover in the high sixties making it perfect to see the sights and enjoy outdoor activities.
As the US's 8th largest city, San Diego offers much more than sunny days. You'll have all the makings for amazing memories: gorgeous beaches, historic neighborhoods, wildlife, and lots of culinary delights.
Although San Diego is large, it's broken up into different neighborhoods. For the most beautiful beaches, head to La Jolla.
In the winter you're likely to see baby seals at La Jolla Children's Pool Beach as December trough April is seal pupping season. Animal lovers should also walk from there to see the sea lions at the La Jolla Cove.
Winter is also whale migration season, so keep an eye out for the blows of gray whales passing by on their way to Mexico.
La Jolla is also the perfect area to stay. In the center of the village, the The Grande Colonial, is just a block from the cove.
If you're looking for history, visit San Diego's Gaslamp District, Little Italy, and Old Town. Old Town San Diego is more than a neighborhood, it's actually a state historic park and is considered the birthplace of California. Nearby you'll find another San Diego landmark, Balboa Park, home to museums, gardens, and the famous San Diego Zoo.
San Diego easily makes a top spot on this list of the warm winter vacations in the US!
Recommended by Denise of Chef Denise
17. White Sands National Park, New Mexico (a warm vacation spot in the US for hikers)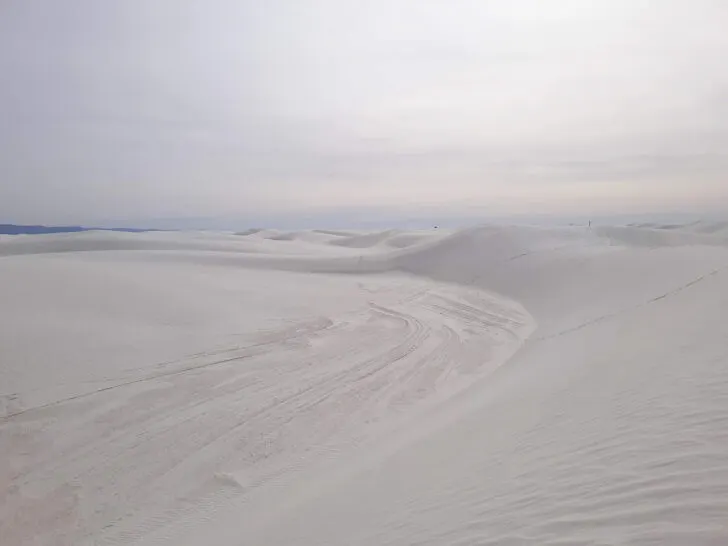 Want to experience those warm, beachy vibes in the middle of winter, thousands of miles from an actual beach? You can do just that at White Sands National Park!
White Sands is the perfect winter destination, where daytime temperatures between December and February average in the 60's Fahrenheit!
As other parts of the country trudge through their coldest months, the sand dunes of this National Park are continually warmed by the mild southern New Mexico sun, which is much gentler in the winter than it is in the scorching summer.
White Sands National Park is the perfect escape, and one of the best on this list of warm winter vacations USA!
Favorite winter pastimes include sand sledding, camping, and exploring the best hikes in White Sands National Park.
The trails at White Sands range in length from half a mile to almost 5 miles. There are trails up and over sand dunes, boardwalk trails, and nature trails – something for everyone! It's a perfect way to enjoy the winter sun on your face, while you explore and learn more about this one of a kind desert environment!
Sand sledding is easy to do – bring your own sled, or rent one from the Visitor Center. Then just drive down the main park road, Dunes Drive, until you reach the park's interior with the largest and most sled-able sand dunes!
Camping at White Sands is an unforgettable experience, where you can witness the solitude of the desert at night, and also some stunning sunsets and sunrises! There are also hotels and vacation rentals in nearby Alamogordo, New Mexico, about a 30 minute drive.
Recommended by Kristen of Yonderlust Ramblings
18. St Pete, Florida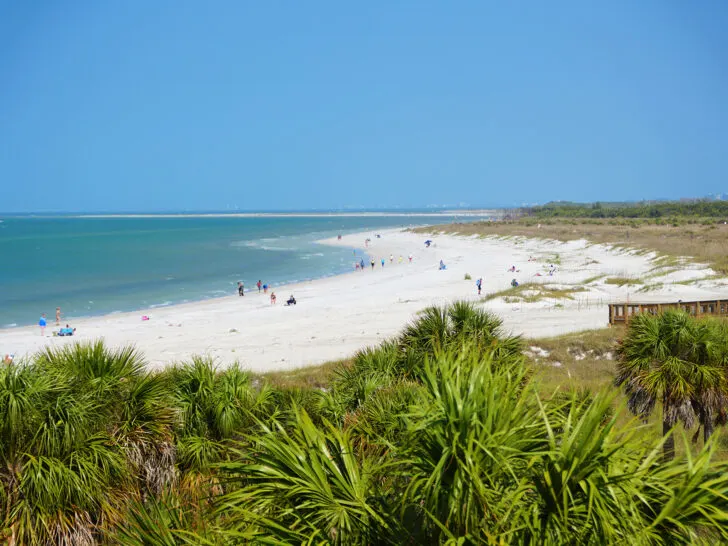 When it comes to warm winter vacation spots in US, Florida sets the standard. The Sunshine State is the ideal destination for people looking for some winter sun.
While a lot of places can be considered, St Petersburg in Tampa Bay is one of the best locations if you want to enjoy the beaches, art and culture and do some water sports.
The downtown area is a hot spot for art lovers. It's home to the Dali Museum as well as the Morean Arts Center.
It's also a nice place to enjoy the nightlife. There are a lot of bars and restaurants on Central Avenue. If you are into music, make sure to check out what's on at Jannus Live. It's a fantastic open air venue.
But the best place to enjoy the sunshine is St Pete Beach. Here you will discover one of the best beaches in North America as well as a lot of spots for snorkeling, clear kayaking and paddleboarding.
Usually, temperatures are around 70F in winter so it's very pleasant. It also gives you the opportunity to go for walks. Fort De Soto and Honeymoon Island are two state parks that are particularly worth checking out.
In terms of accommodation, consider staying at the Don Cesar. It's the most famous hotel in St Pete. It is entirely pink (perfect for photos) and has direct access to the beach.
Recommended by Pauline of Beeloved City
Warm winter vacations in the US
Gah! Can you believe this list?! There's more great destinations ahead, including one of my favorites, up next!
19. Oahu, Hawaii (another favorite on this list of warm winter vacations in the US)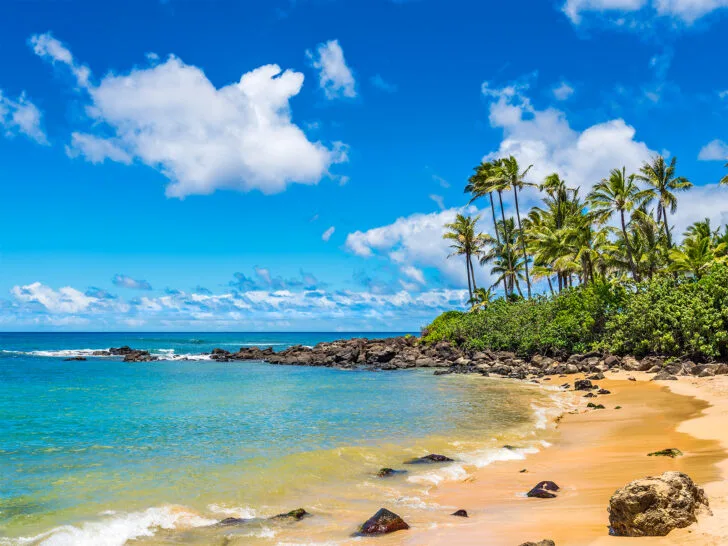 With its inviting weather, spectacular beaches, and laid-back atmosphere, Oahu, Hawaii is the ideal warm winter getaway in the United States.
Except for holidays, you'll find fewer crowds in the winter than in the bustling summer months, plus discounted prices on flights and accommodations.
The weather is perfect, with daily high temperatures averaging below 81°F and pleasant lows around 71°F—the ocean water temperature hovers around 74°F, ideal for water activities.
Winter is also whale-watching season in Hawaii, with humpback whales migrating from Alaska to breed, calve, and nurse their young ones in the warm waters of Hawaii. Visitors can watch whales from shoreline spots like Makapu'u Point and Waikiki Beach.
Alternatively, you can book a whale-watching tour to get closer to these magnificent creatures while learning about their behavior and conservation efforts.
For those looking for a perfect beach day, Oahu has some of the best beaches in Hawaii. From the stunning Lanikai and Kailua Beaches to the lively Waikiki Beach, there is a beach to suit every beachgoer's taste.
Watching the waves on Oahu's North Shore during winter is another must-do activity.
The North Shore is known for its massive waves, which attract surfers worldwide. Watching these skilled athletes ride the waves and perform impressive maneuvers is a thrilling experience that shouldn't be missed.
Aside from surfing and beach activities, there are many cultural experiences to enjoy. Attending a top luau on Oahu, such as the Polynesian Cultural Center's Ali'i Luau, is a great way to experience Hawaiian culture and cuisine. Visitors can enjoy traditional Hawaiian music and dance performances while feasting on delicious local dishes.
For an iconic stay on Oahu, we highly recommend The Royal Hawaiian. Known as the "Pink Palace of the Pacific," this historic hotel offers unparalleled elegance and beachfront access in the heart of Waikiki.
Recommended by Trysta of This Travel Dream
20. Palm Springs, California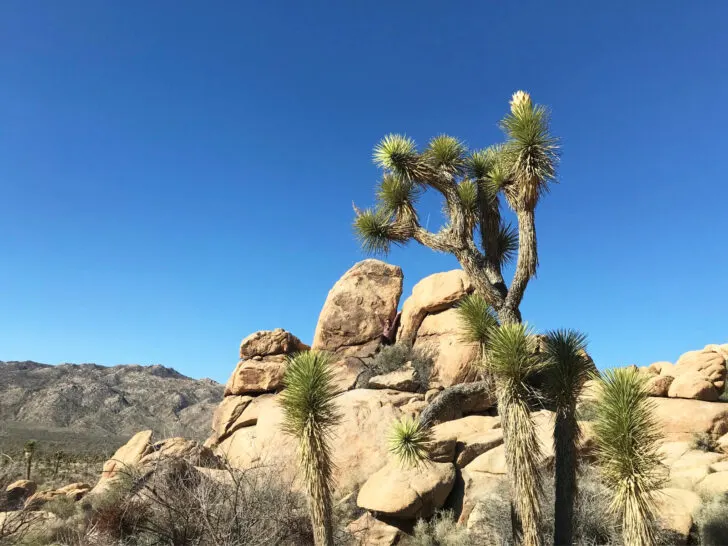 One of the most sought-after destinations to visit in the winter months is Palm Springs, California. This desert oasis is the perfect location if you are looking for some R&R, upscale restaurants, outdoor activities, and lots of sunshine.
What makes Palm Springs the best winter getaway is its weather! Throughout the winter months, Palm Springs experiences pleasant sunny days with an average high in the low to mid-70 degrees Fahrenheit. The nights can be chilly and dip down into the 40s, so it is essential to pack layers.
The weather is ideal for enjoying outdoor activities like golfing, with more than 130 pristine courses in the area.
Also, there are numerous incredible hikes in the surrounding desert and mountains, including Joshua Tree National Park. About an hour's drive from Palm Springs, Joshua Tree is a must-visit to experience the unique desert landscape, the distinctive Joshua Trees, and the miles and miles of trails.
Downtown Palm Springs offers a plethora of things to do. You can stroll Main Street and visit the Palm Springs Art Museum, an array of boutiques, galleries, high-end shops, and numerous restaurants and cafes.
Talavera Palm Springs is a small boutique hotel in the heart of downtown Palm Springs. Each suite includes its own personal patio and private jacuzzi. The property features stunning views of the San Jacinto Mountains and two outdoor swimming pools.
A trip to Palm Springs will surely be a memorable warm winter getaway!
Recommended by Alisha of Travel Today Work Tomorrow
21. St. Augustine, Florida (one of the best warm places to go in the winter)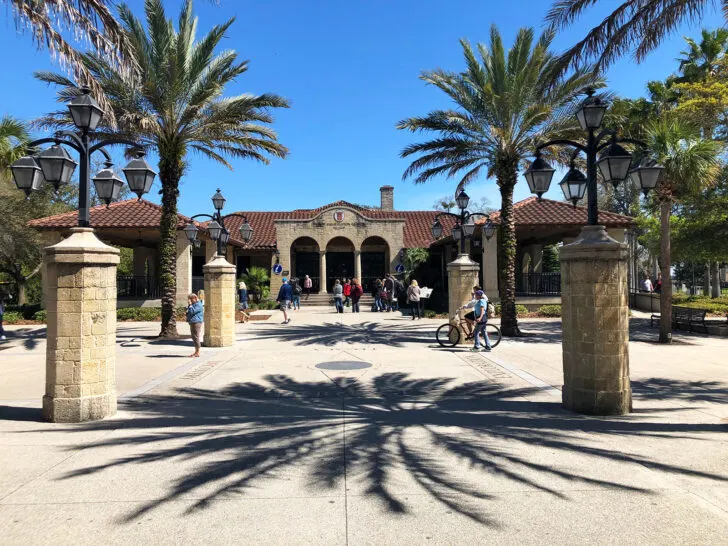 The city of St. Augustine on Florida's northwest coast is a treasure trove of historic and entertaining sites. St. Augustine was founded in 1565 by the Spanish and is the oldest permanent European settlement in the continental U.S.
It's one of the best warm vacations spots in the US!
There are a number of places of historical importance to visit like The Government House, which has photos and exhibits about the city of Saint Augustine, and the old Alcazar Hotel, which is now a museum.
The most famous site is Castillo San Marcos, or Saint Mark's Fort. This National Monument is over 450 years old and has been under Spanish, British and American rule. There are regular reenactments and daily cannon firings here.
Because St. Augustine is a popular tourist destination there are also a number of more "cheesy" tourist attractions like the Fountain of Youth, Ripley's Believe It Or Not, and a number of ghost tours.
The weather during the winter is in the high 60s and it's much drier than the summer or fall. You may not want to swim at the nearby beaches, but you can still enjoy boat rides, golf and outdoor dining.
During December, be sure to check out the city's winter festival, the Nights of Lights in St. Augustine. It's an event the whole family can enjoy!
If you can afford it, the place to stay is the historic Casa Monica Hotel. Casa Monica opened in 1888 and is the sort of neo-Spanish colonial architecture that makes the city unique.
For nightlife, there are dinner cruises, great dining and the Colonial Oak Music Park, which is a unique outdoor venue for live music and shows.
Recommended by Kristen of Growing Global Citizens
22. Tucson, Arizona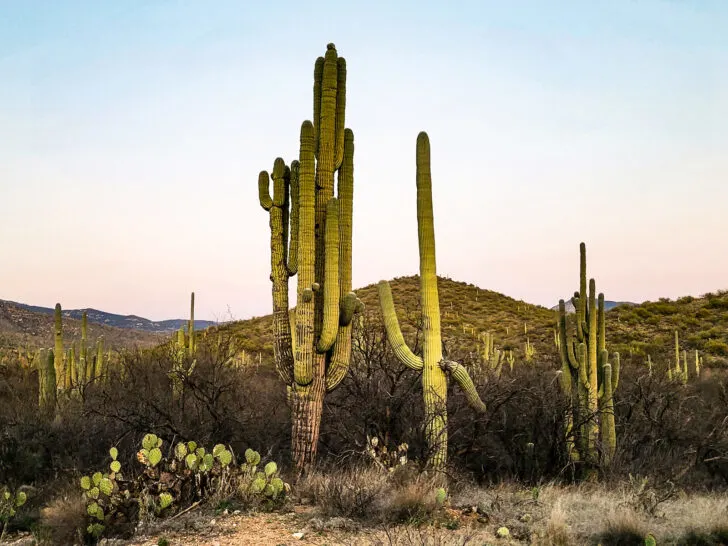 With endless sunshine and mild weather Tucson is a perfect place for a winter getaway in the USA! As highs hit the upper 60s, winter is the perfect time to go explore the Sonoran Desert.
Visitors can hike through Saguaro cactus forests at Saguaro National Park or Sabino Canyon. Other fun things to see and do at this warm winter vacations USA destination include the Arizona-Sonora Desert Museum, the Pima Air & Space Museum, Trail Dust Town, and Mission San Xavier del Bac.
If festivals are more of your vibe, come for Tucson's winter festivals! Winterhaven Festival of Lights in December, Tucson Jazz Festival in January, and the Tucson Gem and Mineral Show in February.
And, foodie travelers will not be disappointed! Tucson is recognized as a UNESCO City of Gastronomy. Two local favorites are the Sonoran hot dog and an Eegees.
If you do plan on visiting Tucson during the winter, keep in mind that the temperature drops 30 degrees Fahrenheit when the sun goes down. Layers are a must for desert winters!
Wondering where to stay in Tucson? The city is home to a handful of resorts -many with golf courses for some winter golfing! Some include the JW Marriott Starr Pass, The Westin La Paloma Resort & Spa, Hacienda del Sol Guest Ranch, and Lodge on the Desert.
But, if you're interested in something more local and more affordable, consider Hotel McCoy or the historic Hotel Congress. Winter is high season for Tucson so make sure to book your accommodation early.
Recommended by Yvonne of MPA Project Travels
23. Orlando, Florida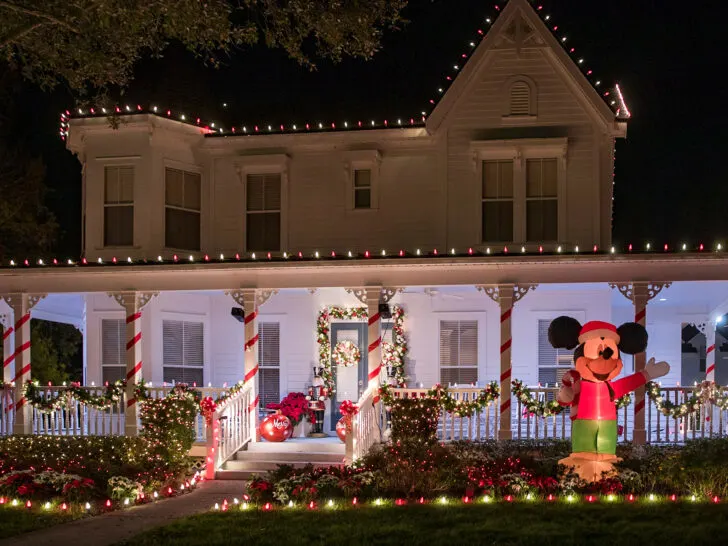 Orlando, Florida, is one of the best warm places to visit in winter in USA. With highs in the 70s and lows in the 50s, you can enjoy shorts most winter days in Orlando. Plus, there is a lower chance of rain in the winter giving you more sunny days to enjoy the Sunshine State.
January and February offer great weather and lower crowds when school is in session, but December is the best month to visit to experience Christmas in Orlando. From outrageous amounts of Christmas lights to community Christmas parades to the theme parks going all out, you'll find something for everyone in Orlando at Christmas.
If you visit in December, don't miss out on the Jeater Bend Drive synchronized Christmas lights or the Winter Park Christmas Parade. Visit Lake Eola to see the Orlando Christmas tree and to take a walk through the Christmas decorations.
January and February are the favorite months of locals to visit the theme parks because of the beautiful weather. Try to visit on a school day when school is in session for fewer people in the parks.
If the parks aren't your thing, enjoy a walk through Central Park and eat a meal on Park Avenue in Winter Park or check out one of Orlando's many museums like the Orlando Museum of Art or the Orlando Science Center.
Take a day trip to one of the nearby springs (they stay 72 degrees all year) or go for an airboat ride on the St. John's River to look for alligators and other wildlife.
Depending on what you want to see, there are a lot of hotel options in Orlando. Many people choose to stay out by the parks. The Hyatt Regency Orlando is a central location for exploring the top things to do in Orlando.
With options for everyone, Orlando is a great winter destination to escape the cold and enjoy some warm sunshine.
Recommended by Christine of Live Love Run Travel
24. Disneyland, California (a festive warm winter destination!)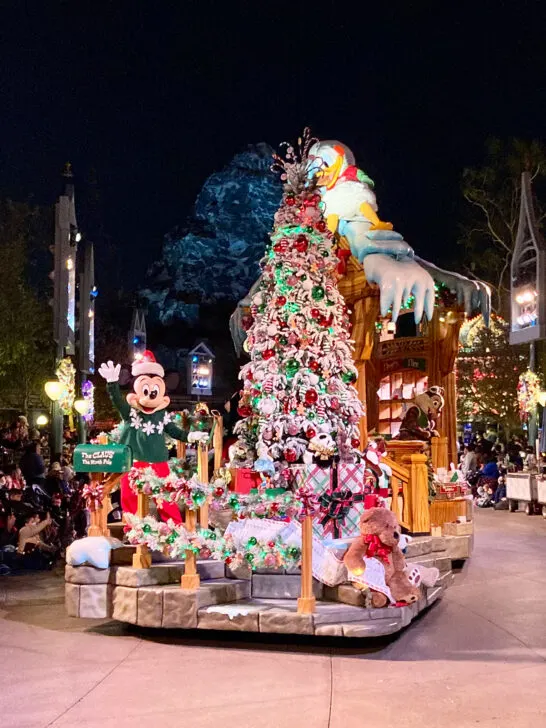 If you are looking for perfect weather with all the decorations and celebrations of the winter holidays then Disneyland is your perfect winter getaway in the USA. The "Happiest Place on Earth" truly gets a whole lot happier during the holiday season.
From mid-November through the first of the year, Sleeping Beauty's castle is aglow with over 100,000 twinkling lights, and "It's A Small World" is transformed to celebrate the holidays around the world. Every night there are spectacular lighting festivals, a special holiday parade, and extra delicious holiday sweets that you can only get during the winter season.
California Adventure celebrates with their "Festival of Holidays," with a holiday food marketplace. Around the park, there are special kiosks where you can sample holiday tastes and drinks from around the world.
Crowds definitely swell during the weeks around Christmas and over New Year's. If you want to enjoy the magic that is Disneyland, you should aim for a week or weekend during the first two weeks of December.
If budget is not an issue, you can stay in one of the three Disney hotels. Good Neighbor Hotels are the best choice for those who want the best price for location.
A great Good Neighbor hotel for families that need a bit more room to spread out is Clementine Hotel and Suites. The apartment-style hotels have kitchens so you can save a little money eating breakfast at home before a full day at the park.
Disneyland of course makes one of the best warm winter vacations in the US!
Recommended by Faith of 3 Tickets Please
Warm places to visit in the US, continued
There's still more! You don't want to miss out on the vibrant scene in Las Vegas or the serene beaches in 30A! Let's keep going…
25. Everglades, Florida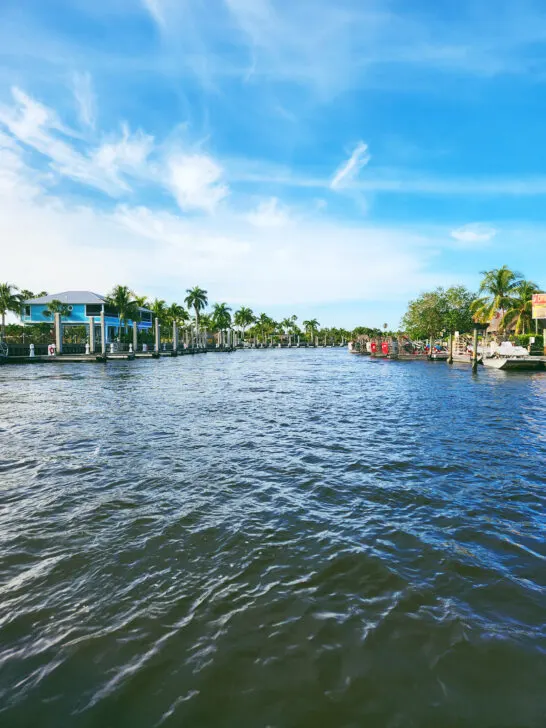 One of the best warm winter destinations in the US is the Florida Everglades. The massive region is a UNESCO World Heritage Site and International Biosphere Reserve, so it's always an incredible place to visit. However, it truly shines during winter.
From December to February, the weather is significantly drier (both in terms of rain and less humidity), flying insects like mosquitoes aren't such an annoyance, and crowds are lighter.
Daytime highs hover in the 70s and 80s, so you don't have to battle sweltering heat or oppressive humidity.
Unsurprisingly, the best ways to explore the Everglades involve getting on the water! Book an airboat tour or go kayaking to explore the area's unique ecosystems and wildlife up close.
Specifically in the winter, you have an excellent chance of kayaking with manatees, which hang out in the Everglades' warm waters. Rent kayaks at the Flamingo Visitor Center or from Everglades Adventures Kayak & Eco Tours.
If you're interested in airboat tours, there are several outfitters on both sides of the Everglades. NPS works with three operators inside the park, and outside official park boundaries, you have endless options depending on where you're staying.
Base your visit from Everglades City, near Naples on the Gulf Coast, or Homestead (near Miami) on the east side. Both areas offer similar experiences, and the Everglades is a truly huge expanse, so we recommend choosing one, to avoid a ton of driving.
You could also stay in Everglades City one day, then travel toward Miami and spend a full day (or more!) there, too.
On the east side, TownePlace Suites by Marriott Miami Homestead is one of the best-reviewed hotels. And in Everglades City, you can't go wrong with River Wilderness Waterfront Cabins.
Recommended by Taryn of Chasing Trail
26. Santa Barbara, California (fun spot for warm destinations in winter)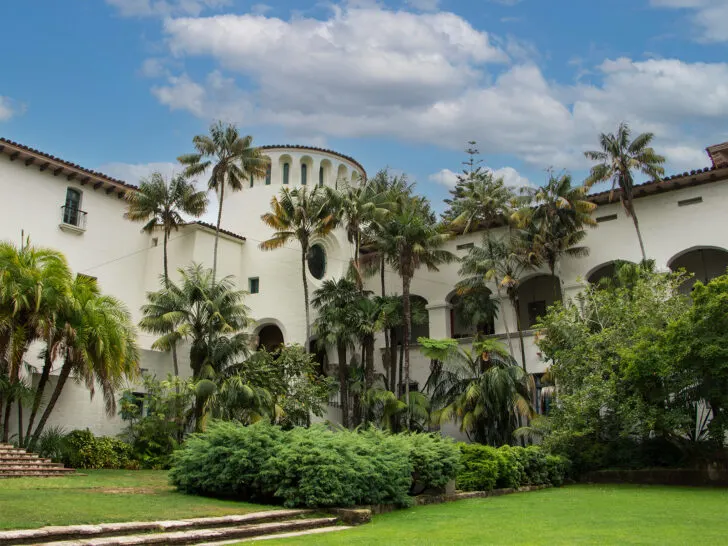 If you want to spend your winter vacation on the coast, plan a getaway to Santa Barbara, California. This is the off-season in the area, which means you'll experience fewer crowds, and likely will be able to snag a good deal on accommodations.
It could make for a great cheap warm winter vacation in the USA!
The winter weather is mild in Santa Barbara, with average temperatures hitting the mid-60s in the daytime. While you'll likely get plenty of sun, there's a chance you may experience a bit of rain. Be sure to bring an umbrella just to be safe!
It may not be quite warm enough to jump in the water, but you can still enjoy the pleasant weather while hanging out at the beach.
Two popular spots within walking distance of downtown are West Beach and East Beach. You can also drive about 15-minutes west of downtown and visit Arroyo Burro Beach, which is known for its beautiful coastal cliffs.
During your visit, you'll also want to stop by the Santa Barbara County Courthouse. The historic property features Spanish-Colonial architecture with ornate detailing. Be sure to climb up the clock tower, where you'll get the most incredible views of the city and the surrounding area.
Wine enthusiasts will also want to visit The Funk Zone – the city's arts and wine district. There are tons of great wine tasting rooms here, including Pali Wine Co. and The Valley Project.
If you plan on staying at a hotel during your stay, check out Santa Barbara Inn. It's steps from the beach, and is just a mile away from The Funk Zone and many other key attractions.
Recommended by Kyra of Sea to Sequoia
27. Las Vegas, Nevada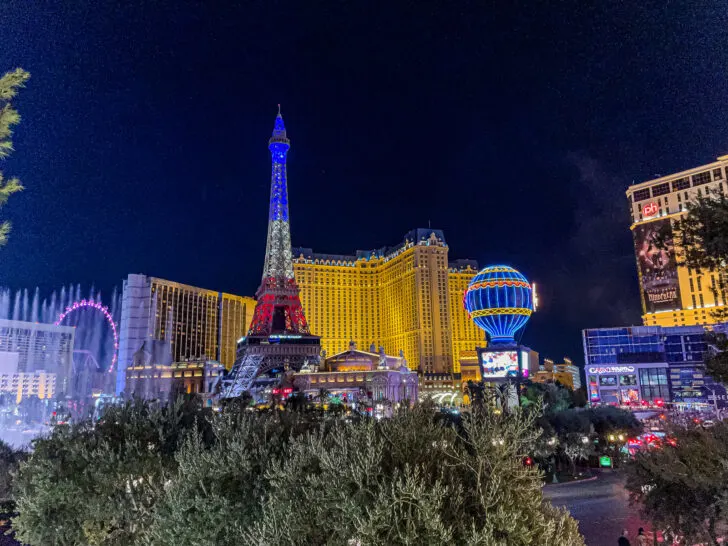 If you're looking for one of the best warm vacation spots in US, don't sleep on Las Vegas, Nevada.
Vegas is known for its absolutely scorching heat, but in winter, the weather is just right. Unlike the summer, winter brings along mild and comfortable temperatures, usually around the mid-50s to low 70s Fahrenheit.
Vegas in winter also has smaller crowds if you avoid the holidays. Lines to check into hotels tend to be a little shorter during this time and you can often find better room rates, especially on weekdays.
But it doesn't stop there because winter in Vegas is also a great time for joining in on local festivities. There's the famous Las Vegas Great Santa Run in December (which has been going on for almost 20 years).
And, you definitely don't want to miss the glamorous New Year's Eve celebrations on the Strip. Plus, you can cozy up in the city's many bars and lounges to escape the cool desert evenings.
Winter is also the best time to visit the outdoor parks in the area so you can hike near Vegas without the desert weather, like Red Rock Canyon and Valley of Fire. These are also some of the best day trips from Las Vegas. And, some parts of the local parks actually close in the summer due to the heat and re-open in the cooler months.
When booking a hotel, stay centrally on the Strip. The Venetian is a great accommodation for first-time visitors, featuring incredible restaurants and a mid-Strip location so you can easily see the sights.
Recommended by KP of Lively Las Vegas
28. 30A Florida (one of the best warm winter getaways!)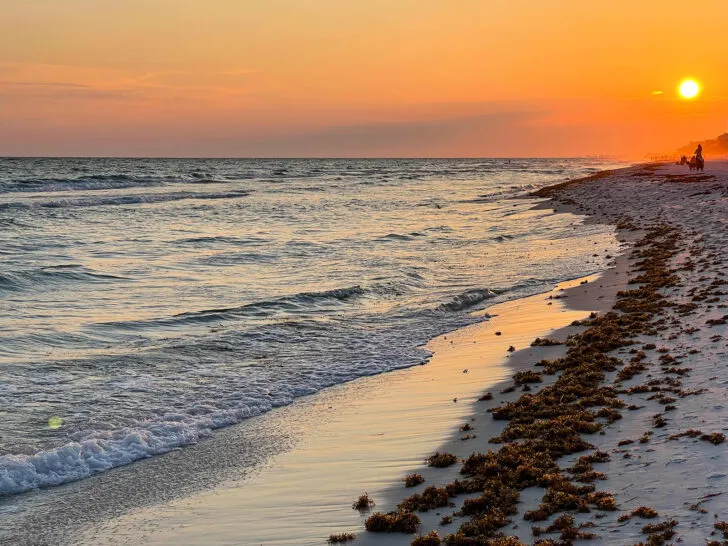 30A Florida makes for one of the BEST warm winter getaways in the USA for several reasons. Most importantly, you'll avoid the heavy summer crowds, resulting in more affordable hotels and vacation home rentals. You can typically find prices 25-35% cheaper than peak season.
It's also easier to secure reservations at popular 30A restaurants that typically book up weeks in advance or require long waits.
During the winter months, the beaches and dune lakes along 30A are known for being calm. So it's the perfect time to enjoy stand-up paddle boarding or kayaking. Another activity that is ideal for this time of year is having a bonfire on the beach while you watch the sun go down.
If you find yourself in 30A for the holidays, you're in for a treat with events like New Year's fireworks, festive parties, and the December Seaside Holiday Market, perfect for celebrating with friends and family.
But, the most popular 30A event occurs in the month of January. The 30A Songwriters Festival includes performances by more than 175 nationally recognized songwriters and takes place every year on Martin Luther King holiday weekend.
The average temperatures during the winter months on 30A (December – February) usually range from 45°F to 66°F. It's typically too cold to swim in the water (unless you have a wetsuit), but you can still certainly relax on the beach.
While you're here, be sure to explore the winter season deals at The Pearl Hotel in Rosemary Beach, where room rates start at $292 per night, a fantastic value for 30A.
Recommended by Devon of Say Yes to the Trip
29. San Antonio, Texas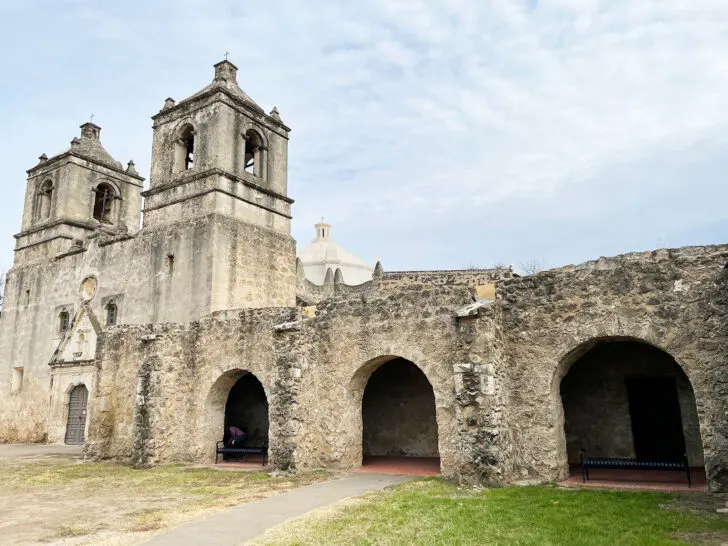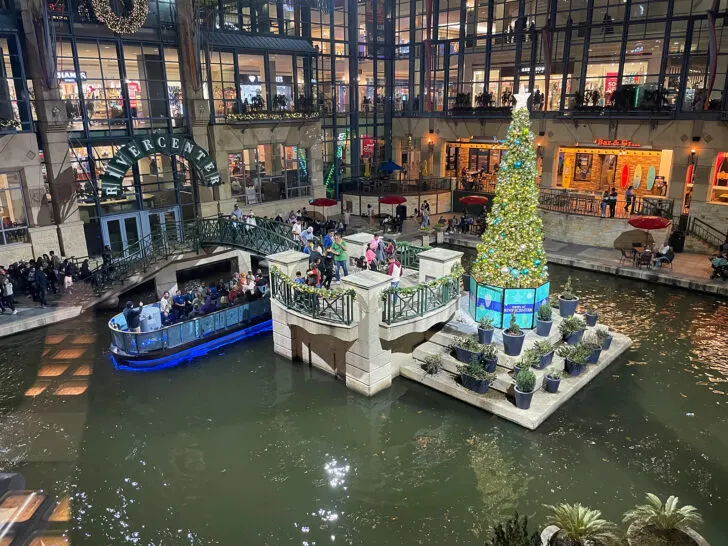 San Antonio, Texas is not just a cultural, historical, nature-filled place to getaway, it is also the perfect warm winter destination.
With average temperatures in the mid to high 60s, you can take advantage of all the outdoor activities in this city without freezing – or baking in the summer heat.
The Alamo is San Antonio's most popular place to visit. Tickets are free, but reservations are recommended.
What most travelers miss are the other four missions along the Mission Trail that offer a deeper look into San Antonio's history. Rent a bike and ride along the trail or consider taking a Mission Trail tour cover all the sites.
Families will love the San Antonio Zoo, Fiesta Six Flags Texas, and the gorgeous (and free!) Japanese Botanical Gardens.
The Pearl is a great spot for dining and shopping. And do not miss the historic Market Square for their famous Mi Tierra baked goods and fresh tamales!
For travelers looking to spend Christmas in Texas, San Antonio is a festive place to be with plenty of activities. River Walk is decked out in millions of lights, with carolers floating by on boats, twinkling trees, luminarias lighting the path, and the most gorgeous tree in the middle of the river.
The Alamo offers a nighttime light experience and ice skating in Travis Park is magical.
In early January each year, the river is drained and cleaned, and San Antonio hosts a Mud Festival to celebrate the event drawing thousands of visitors. This is a fun time, but if you'd rather see the river and take a boat ride, then be sure to plan around this!
In February, Rodeo San Antonio takes over the city. For three weeks, there will be constant rodeo shows, concerts, and plenty of tasty, authentic food. This month is also host to the Mardi Gras parade on River Walk.
No matter which month you visit San Antonio this winter, there is sure to be plenty to do and see! After all, it's one of the best warm winter vacations in the US!
Recommended by Sierra of Very Truly Texas
30. Tampa, Florida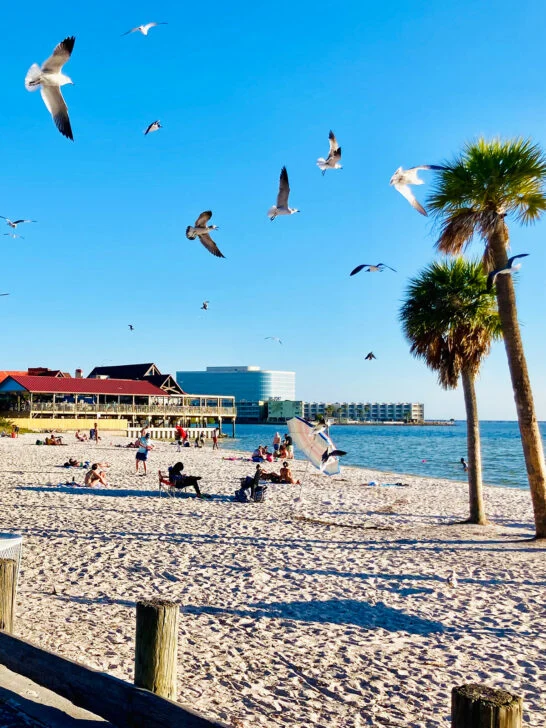 Tampa is a great winter destination in the U.S. because of the unbeatable weather and abundance of things to do in the area. In the winter months, you can expect a lot of sunny days and temperatures in the mid-70's.
Plus, if you visit Tampa in January you can join in a truly unique Tampa experience — the Gasparilla Pirate Festival. Each year, Tampa turns into a huge pirate party as a "surprise" pirate invasion takes over the city. You can hop on a Gasparilla invasion boat tour to join in on the flotilla or watch from the land.
In addition to Gasparilla, explore ZooTampa for another uniquely Florida experience: seeing Florida manatees. ZooTampa is one of only four federal manatee rehabilitation centers in the country.
If you're feeling ambitious, Tampa also puts you about an hour drive to Disney World. January is a great time to take a day trip to Disney because it is traditionally a low season after the holiday rush but before the Spring Breakers arrive.
Staying at the downtown Tampa Hyatt will put you centrally located in the heart of Tampa. You'll be within walking distance of a lot of food and attraction options, like Hyde Park, Sparkman's Wharf and the Florida Aquarium.
When packing for your trip, remember to pack for wide-ranging temperatures. Florida winter days are known to have you in a sweater in the morning and in a swimsuit by the afternoon.
Recommended by Elizabeth of Suncoast Family Fun
Warm winter vacations in the US recap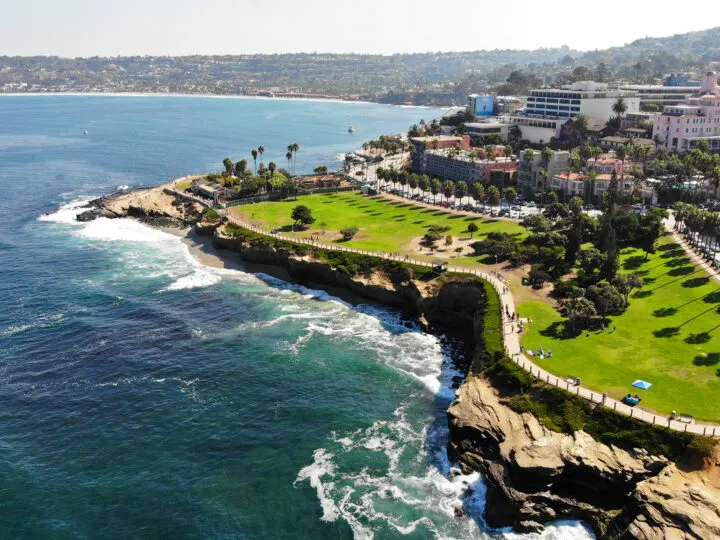 So, are you ready for some sun? From Florida's beaches to beautiful desert landscapes and fun cities, there's so many warm vacation spots in the US!
Have you decided which warm winter destination are you heading to first?
Here's a quick recap of the warm winter vacations in the US we covered on this list – in a much quicker fashion!
Warm winter destinations
Gulf Shores, Alabama
Savannah, Georgia
Laguna Beach, California
Destin, Florida
Big Bend National Park, Texas
Big Island, Hawaii
Punta Gorda, Florida
Death Valley National Park, California
Key West, Florida
Matagorda, Texas
Arecibo, Puerto Rico
Marco Island, Florida
New Orleans, Louisiana
Phoenix, Arizona
Miami, Florida
San Diego, California
White Sands National Park, New Mexico
St Pete, Florida
Oahu, Hawaii
Palm Springs, California
St. Augustine, Florida
Tucson, Arizona
Orlando, Florida
Disneyland, California
Everglades, Florida
Santa Barbara, California
Las Vegas, Nevada
30A Florida
San Antonio, Texas
Tampa, Florida
Related content to read next:
32 Warm Places to Visit in December in USA (Best Spots to Escape the Cold)
29 Amazing Road Trips USA: Scenic (& Underrated) Routes You'll Love
Find this guide helpful? Save it for later or share it on social media!